How to Make a Park-Friendly Costume
This year guests are allowed to wear costumes to Magic Kingdom during the day, due to the cancellation of Mickey's Not So Scary Halloween Party. I decided that it would be fun for my toddler son and I to take advantage of this. There was just one problem: I don't like putting together elaborate costumes. So I aimed to devise a costume that would be comfortable and easy to put together.
If you're like me and prefer to put together practical costumes, especially if you're attending an outdoor event, comfort is key. Here are my tips for putting together a park-friendly costume. These tips can apply to any outdoor events you may attend, not just heading to Magic Kingdom.
Look for clothing that resembles the colors of the character or item you wish to portray.
Wearing regular clothes that resemble the character will allow for mobility and comfort.
Look for materials that breathe, like 100% cotton or performance wear, rather than stretch and polyester.
Loose fitting apparel helps with breathability, but be sure it won't be a potential tripping hazard.
Pick out at least one accessory to add to your outfit that will help complete the look.
Bring a change of clothes in case the weather doesn't match with your costume.
I selected Sorcerer Mickey and one of his brooms as our costumes. My son loves the movie "Fantasia 2000" and he likes to pretend we're the brooms from the Sorcerer Mickey segment, carrying around buckets through the house. I figured I could easily put together clothing that would resemble Sorcerer Mickey, since he wears a large red tunic, and his black legs are mostly covered by it. This led me to use a red shirt that was slightly too big for my son, and a pair of black leggings. Of course, we had to complete the look with a Sorcerer Mickey hat.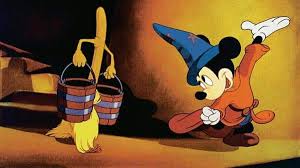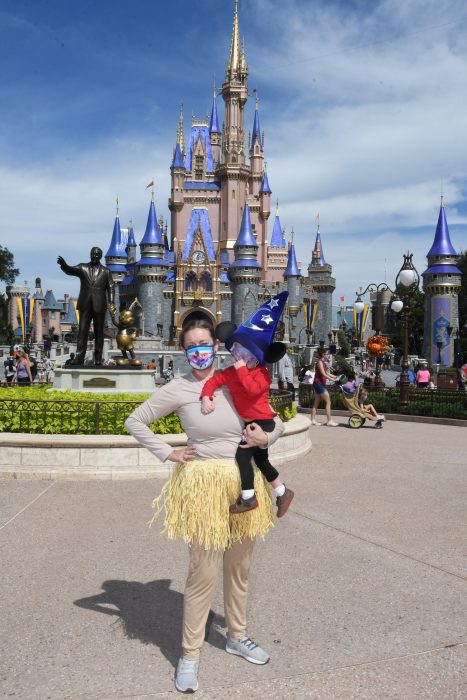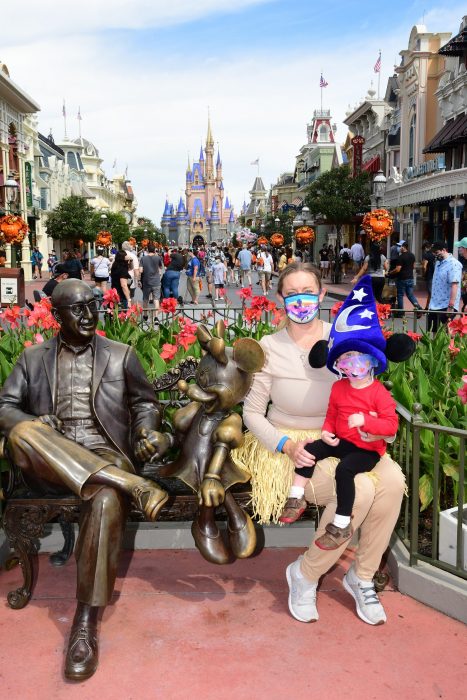 For my costume I was totally about comfort. When I visit the theme parks, just me and my toddler, I am all about being able to move easy and take care of my toddler. I opted for beige pants and a long sleeve top. In hopes of conveying the image of a brooms bristles I used a brown hula skirt. The only way this look kind of worked is if my son was right next to me. Even then I am sure a few people thought I was a reject from Festival of the Lion King. I had hoped to have a wooden bucket to carry with me, sadly Amazon did not come through in time.
I did bring a change of clothes for us both. My son was not interested in changing, but I did change out of my long sleeve shirt after our photos were taken. I was so concerned with keeping him hydrated that I should have done a better job hydrating myself.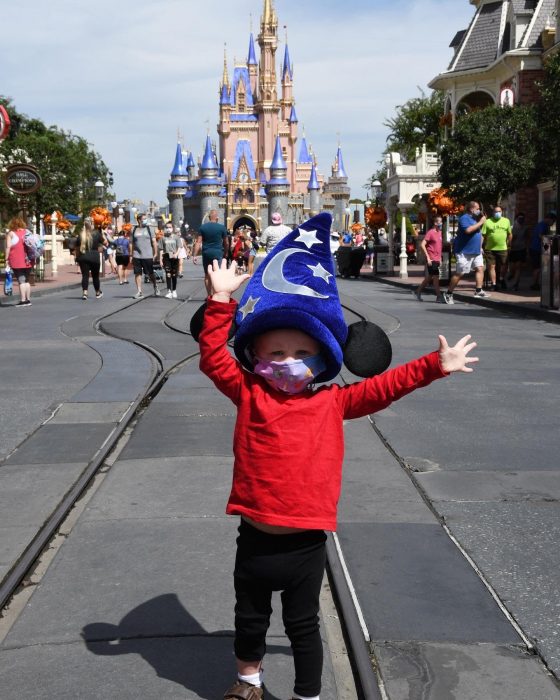 We were fairly comfortable, and I think the look I was going for was accomplished in the end. I will certainly cherish the photos we have, and we can easily put these outfits together again if we end up having another outdoor Halloween event to attend.
What costume tips do you have? Have you dressed up in costume or done Disney Bound in the parks? Let us know in the comments.