Islands of Adventure's 20th Anniversary — Looking at Our Reader's Favorites
Twenty years ago the highly anticipated Universal's Islands of Adventure theme park opened to guests. Billed as the theme park for the 21st century, IOA combined highly themed lands with groundbreaking attractions to redefine the theme park. In celebration of the park's 20th anniversary I will reveal Touring Plans readers' favorite attractions, shows, and restaurants at this incredible park.
First, some rules. Ratings are based on seven years of Touring Plans survey data. Rankings determined by the average ratings between six age ranges (Pre-School, Grade School, Teens, Young Adults, Over 30, and Seniors) or the thumbs up score. There are two exceptions: I ignored the pre-school ratings for thrill rides and any locations with statistically small ratings. (Sorry to the one person who voted Thumbs Up for Wimpy's.)

Harry Potter and the Forbidden Journey nudges out The Amazing Adventures of Spider-man and The Incredible Hulk as the hotly contested best thrill ride at IOA. Forbidden Journey combines every visual trick in Universal's arsenal: iconic characters, a state-of-the-art ride system, all-encompassing sets, and domed projection screens that thrust guests into the Wizarding World.
Additionally Forbidden Journey redefined queueing with a long, wandering trip through Hogwarts Castle. If riding a thrill ride will end with a visit to Madam Pomfrey, it is worth the time to tour the castle. Nearly a decade later Harry Potter and the Forbidden Journey still stands out as a pinnacle of themed entertainment. It remains one of the most popular attractions in the resort and around the world. 

Between four water rides and two wet/dry playgrounds Islands of Adventure has a reputation of soaking guests to the bone. Touring Plans readers rate Toon Lagoon's Popeye & Bluto's Bilge-Rat Barges as the best.
What initially started as a trip with Popeye's top-rated raft company is foiled by Bluto as guests are sent through rapids in his rickety rafts. Riders are drenched to the bone through waterfalls, narrow caverns, and a giant octopus before Popeye saves us (and Olive Oyl). Bilge-Rat Barges is so well designed they hid the required lift hill in the middle of the ride as a boat washing station. Popeye's stands with Splash Mountain as one of the two best water rides in Florida.
Our readers rate Hogwarts Express as the best attraction for the whole family. Unique in execution and design, the iconic train connects London and the Scottish highlands like in the films. It also connects to the two Wizarding World, IOA, and Universal Studios Florida, too. The whole experience is replicated, from walking through the wall to Platform 9 3/4 to the trolley cart lady's snacks.
This attraction really hits it out the park with its accessibility for all guests. Each train has multiple ADA accessible cabins, no height requirement, and motion is mild enough not to trigger any side effects. Plus guests are allowed to bring food and beverage on the attraction. Yes, I drank a beer while riding the train to Hogsmeade.
Islands of Adventure did not have a nighttime show until the Nighttime Lights at Hogwarts Castle debuted in early 2018. There are three seasonal nighttime projections shows on the castle: The Magic of Christmas, The Nighttime Lights, and the soon to debut Dark Arts at Hogwarts Castle. Each uses advanced projection mapping technology and pyrotechnics to magically bring Hogwarts Castle to life. The Hogwarts Castle shows are a perfect way to end a night at Islands and is our readers' favorite show at the park.
Shows run constantly from dusk till park close on select nights.

Remember the iconic scene from Jurassic World where Chris Pratt's character Owen jumps into the corral to diffuse a conflict with raptors? Now you too can get that close. Raptor Encounter gives guests the opportunity to "meet" and interact with a trained raptor, with a handler present of course. After some sniffing and fun with guests everyone will strike a pose before running away from the screeches of the raptor.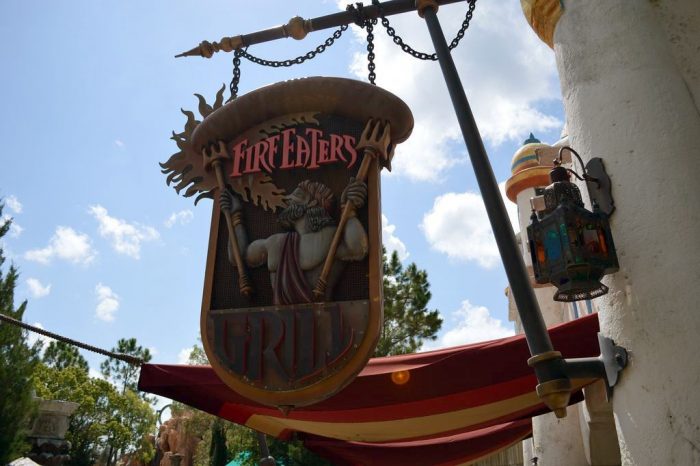 After factoring out locations with too few of votes to be statistically significant and do not serve meals the number one counter service location at Islands of Adventure is… Fire-Eater's Grille? Wait, is that right?
Fire-Eater's Grill finds a balance between classic theme park fare with just-exotic-enough options to appease everyone. Most importantly this location rarely has a line, something the next door Three Broomsticks cannot claim. A familiar meal, at a reasonable price, with a minimal wait is why our readers rate Fire-Eater's Grille the best counter service in Islands of Adventure.
Located at Port of Entry, the entrance to Islands of Adventure, Confisco Grille serves an eclectic menu inspired by the land. Port of Entry is a Mediterranean-inspired port in which all inhabitants of Islands pass through. Confisco is the port's customs house stocked with processed packages and confiscated goods. The menu is similarly inspired by the wide arrange of islands featuring a pizza of the day, fajitas, pad thai, sandwiches, and salads. What makes Confisco a home run are the prices: entrées are priced around $12-$20 a plate. Confisco's unique theme, picky-eater-friendly menu, and reasonable prices is why our readers vote it the best full service restaurant in Islands of Adventure.
Backwater Bar is the top bar by our readers thanks to its drink menu and having the only television for sports in Islands of Adventure! Backwater's drink menu includes craft beer, domestics, specialty mixed drinks, and wine in addition to the full food menu from Confisco Grille. Outdoor seating is available and overlooks the park's lagoon and Jurassic Park section.
What do you think of the top-rated offerings at Islands of Adventure? Do you agree or disagree? Leave your opinions in the comments below!