July 2020 Walt Disney World Crowd Calendar Update
On July 11, Magic Kingdom and Disney's Animal Kingdom will reopen after a four-month hiatus, but park operations will look a lot different. Disney announced several measures intended to control park attendance and increase physical distancing. You can read about all the changes here. Epcot and Hollywood Studios will open a few days later, on July 15.
We are updating the Disney World Crowd Calendar to reflect what we know about attraction wait times in the parks once they reopen. Remember that the calendar is based on standby wait times for key attractions during the busiest part of the day; it is not based on park attendance figures. This methodology will continue. As always, but even more than usual, the crowd calendar is subject to change.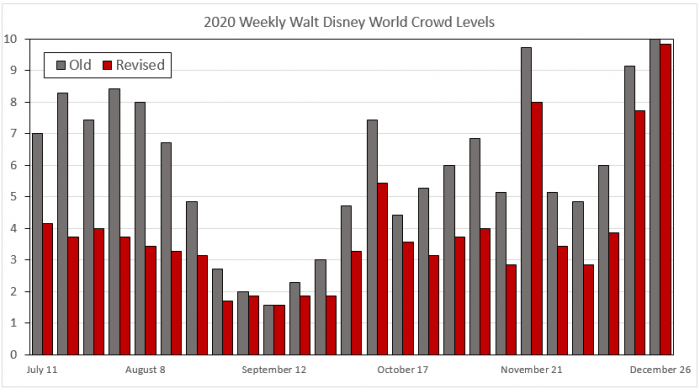 Crowd levels are dropping significantly on most days as a result of this update. This is a result of the assumptions we have made about park operations when they reopen. Here is a summary of those factors and how the attraction wait times might be affected.
No FastPass+, Standby Only
Depending on the attraction, as much as 80% of a ride's capacity can be used for FastPass+ guests. Obviously, this greatly increases the wait time for those in the standby line. Now that FastPass+ is suspended, 100% of the ride's capacity will be used for standby guests.
Result: Large Decrease in Standby Wait Times
Limited Attendance
In the past, on an average day at the Magic Kingdom, somewhere between 30,000 and 45,000 guests would enter the park. On a night when the park hosts an evening party (e.g., Mickey's Not-So-Scary Halloween Party), that number is limited to something close to 15,000, depending on the event and the number of tickets sold. We know a lot about what the wait times look like during when attendance is limited and FastPass+ is not available. We expect the wait times to look more like party nights than average days, but that is yet to be seen.
Result: Decrease in Standby Wait Times
Spacing on Attraction Vehicles
In order to maximize physical distancing and cleaning, some attractions may be loaded with gaps or spaces. This will greatly reduce the attraction's capacity per hour. In some cases, it may reduce it by as much as 50%. We have seen wait times affected by ride capacity before. Remember in 2014 when a guest injury on Pirates of the Caribbean led to the closure of the vehicle's back row? Wait times went up. We have also recorded many days when Soarin' and Tower of Terror operated with a portion of the ride closed. Wait times go up then, too.
Result: Large Increase in Standby Wait Times
Virtual Queues Without Posted Times
Disney World has made no announcement about using virtual queues when the parks reopen, but Shanghai Disneyland employed them when it reopened in May. If virtual queues are a part of the new park procedures at Disney World, that may make it difficult to measure the wait times. Let us cross that bridge when we come to it. For now, it's a wild card.
Result: Unknown
So, the no-FastPass+ and attraction spacing changes cancel each other out, leaving us with a decrease in standby times due to limited attendance. This crowd calendar update reflects that decrease. Crowd levels are dropping to the 1-5 range most days between now and Thanksgiving 2020.
I think it is a pretty good bet that guests will experience wait times similar to those during an evening party.
We don't know how long these park procedures will last, and we don't know how much demand there is for theme park touring with a mask in the heat of a Florida summer. Of course, we will be revisiting these crowd levels on a regular basis between now and July 11 as new information arises. Once we observe a few days of wait time data, more adjustments may be made.
2021
This update does not include days in 2021. With so many unknowns about park operations and the COVID-19 virus, we are not going to try to guess what next year will look like at this time. The next update will include 2021 predictions.
Do you have questions for the Crowd Calendar team? Let us know in the comments.