The SATURDAY SIX Looks at the Re-Opening of the Universal Orlando Resort: "Life Finds a Way…"
This week's SATURDAY SIX takes a look at the re-opening of the Universal Orlando Resort! Recently we checked out Universal's re-opening of CityWalk – their shopping and dining district – and discovered that most guests felt safer at Universal than they did at stores and restaurants anywhere else. This past week Universal took a huge step and re-opened the rest of the resort with the theme parks, Volcano Bay, and hotels.
TouringPlans' own Joe Matt did a great article covering the changes that guests encountered, and how they affect touring the parks, which you can read by CLICKING HERE. Today on the SATURDAY SIX we are going to look at some of the things we found most interesting, noteworthy, and even surprising during the re-opening….
# 6 – Welcome Back!
With worldwide travel restrictions still in place, along with many people still hesitant about going to places where a large grouping will be, it was unknown how guests would "come back" to theme parks. Some, like Disney's Bob Chapek, believe there is a good amount of pent-up demand. Others think that "Joe Q Public" is barely ready to dip their toe back into the water of large gatherings, let alone go to theme parks. After several days of Team Member and Annual Passholder previews, both Universal and Disney have to be encouraged that regular vacationers also made their way to the parks.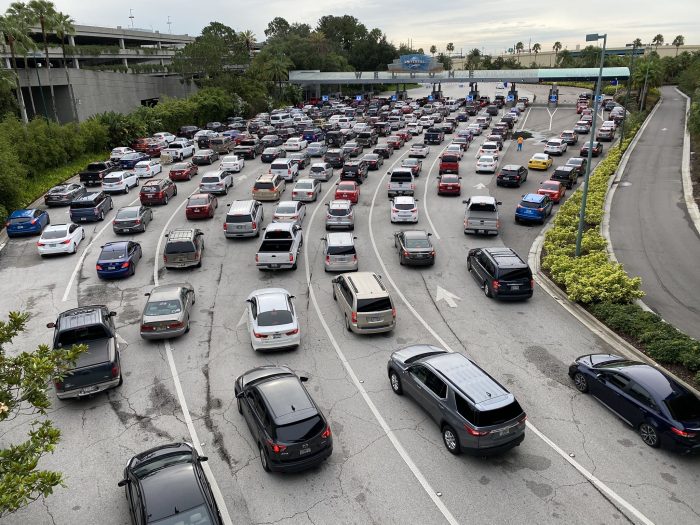 Guests line up for a temperature check.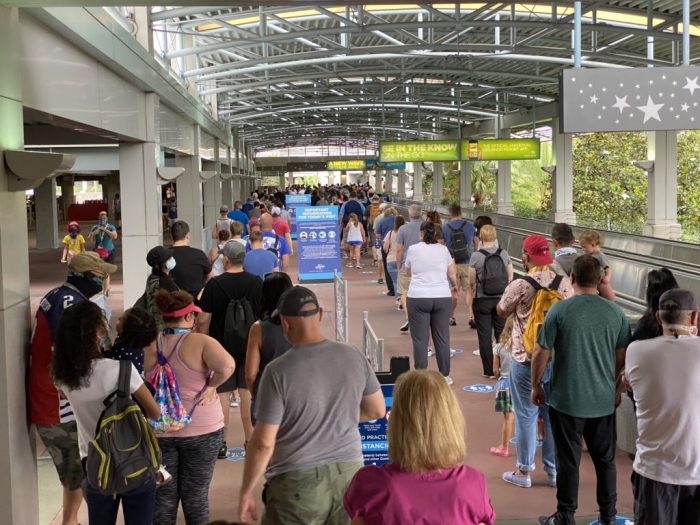 One thing to note is that – in general – social distancing can make things seem much crazier than it really is. With guests standing apart from each other, the lines move pretty quickly.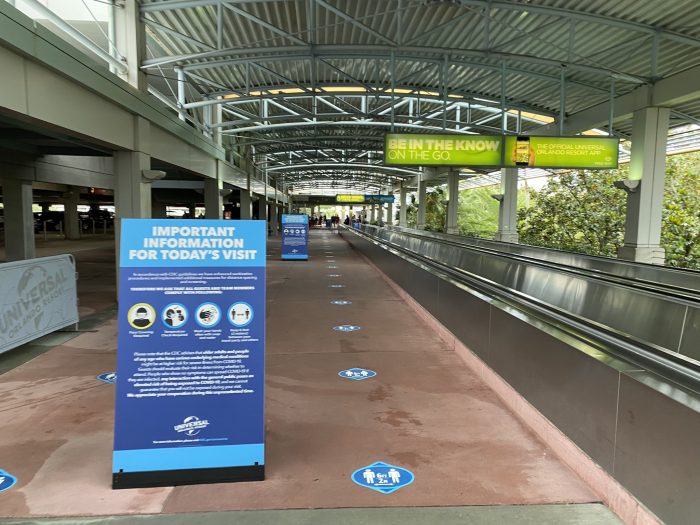 Hand sanitizer is available in places throughout the resort.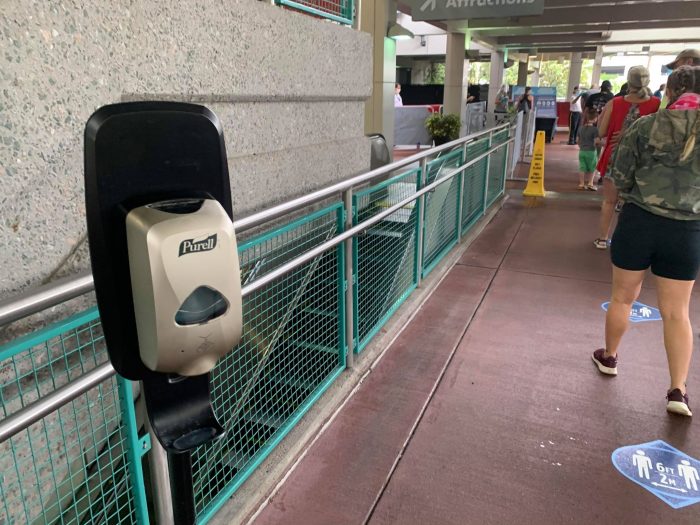 Universal was already ahead of the game when it came to security. The x-ray machines and metal detectors continue to get every guest through fast. We will see next month when Walt Disney World opens if they decide to change their crack security system of "guy with a stick poking through your stuff while wasting everyone's time with small talk."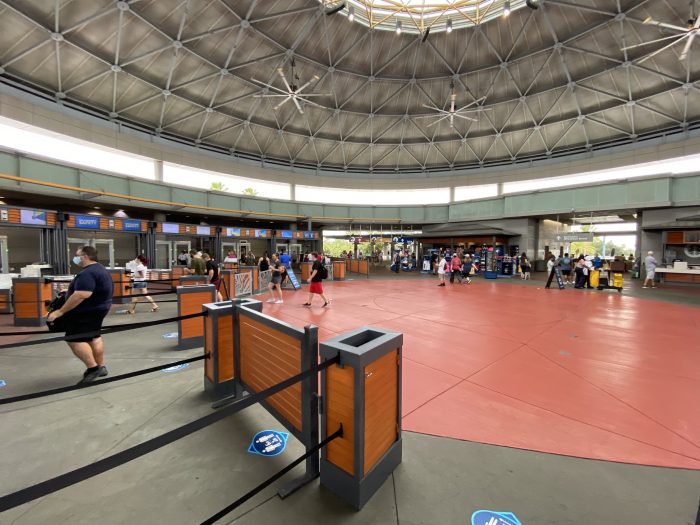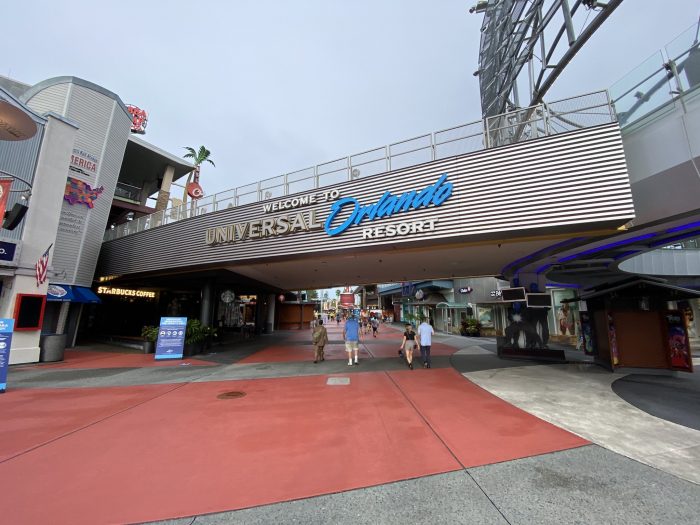 Outside the parks, guests are informed several times (with signage and Team Member spiels) about the new park rules.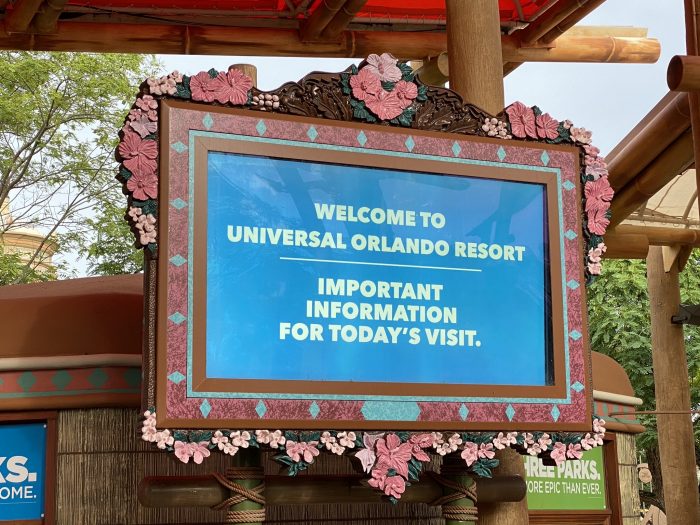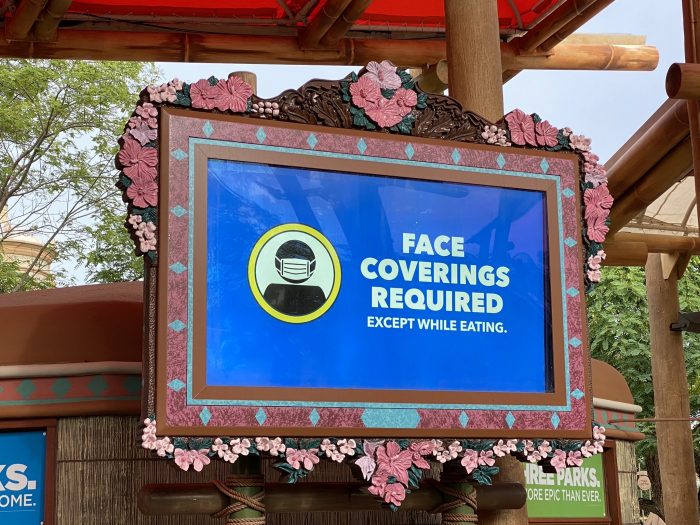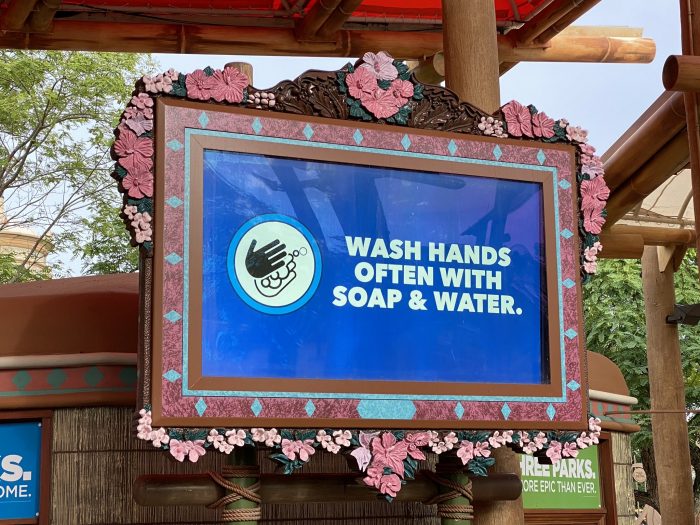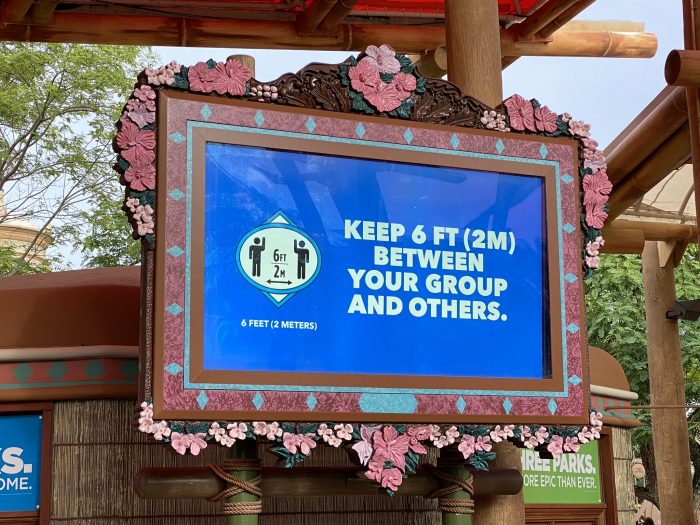 Some theme park fans – including myself – collect park maps from their visits. I personally like going back through my old park maps and having fond memories of enjoying attractions that are now long gone. I had feared that paper park maps might go away completely and have guests completely rely on their phone for information. My fears were not assuaged earlier in the week when park maps were not available during the Team Member or Annual Passholder preview days. Thankfully, a park map was available on Friday when regular guests could enter the parks.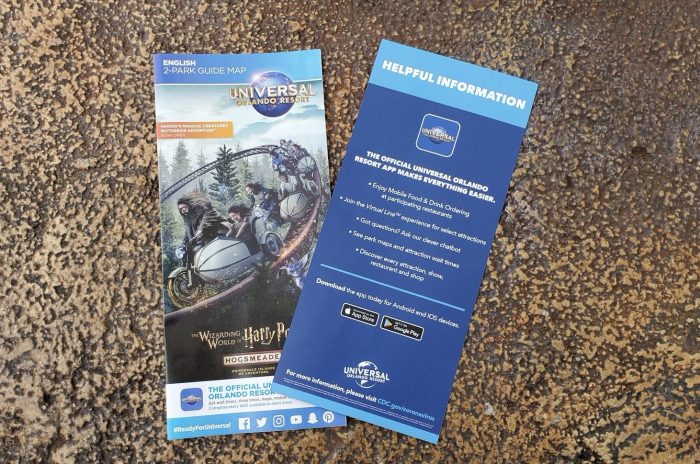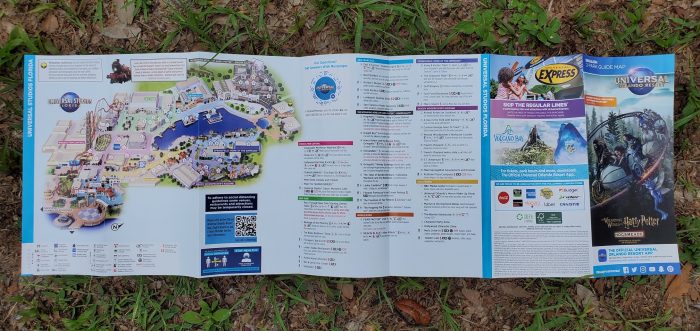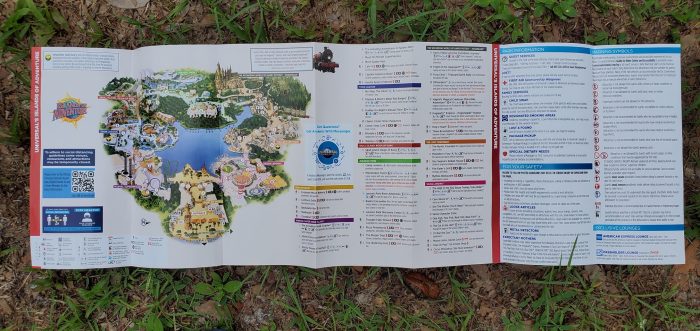 # 5 – New Stuff
While Walt Disney World stopped many of their projects during the past two months (some of which have had their construction recently resumed), Universal kept construction going. This allowed for a whole new Raptor Encounter to be ready when guests returned. The attraction's new home is located next to the Pizza Predattoria quick service restaurant.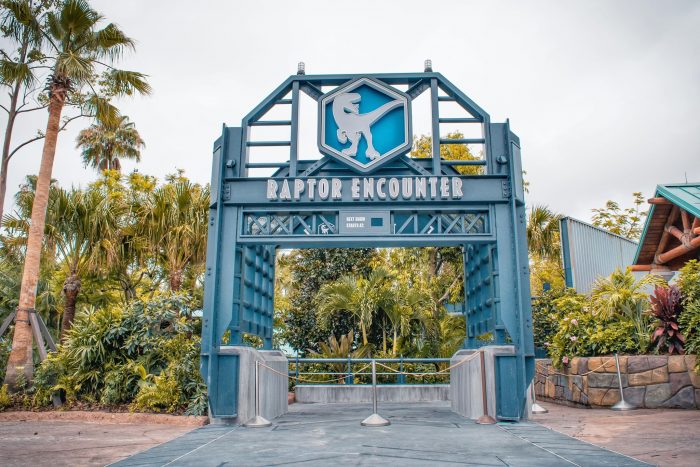 The design of the area feels more like the film Jurassic World than Jurassic Park, and this was confirmed in overhead announcements calling the area Jurassic World. This makes one think we will see even more changes coming to the land in the near future. Those In The Know report that Orlando will also be getting the amazing walk around Triceratops dinosaur once construction is further along on a certain coaster in the area.

The Raptor Encounter experience was great when it made its debut in 2015, but now it is even better with the new area.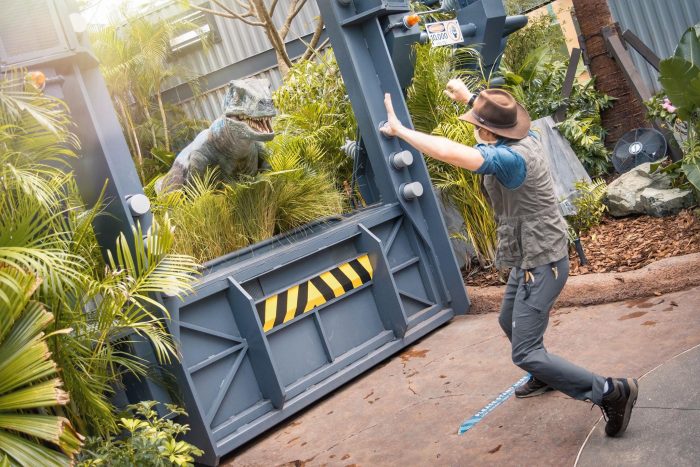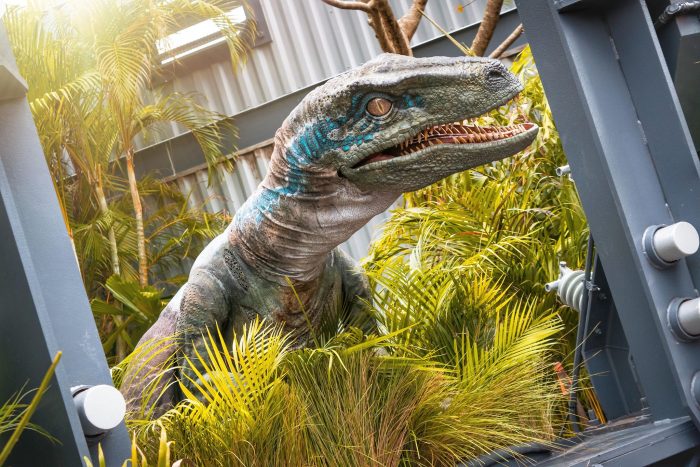 You would think having a snazzy new Raptor Encounter area would be enough, but Nay Nay, Universal also debuted an experience where guests can meet a baby Raptor named Sierra.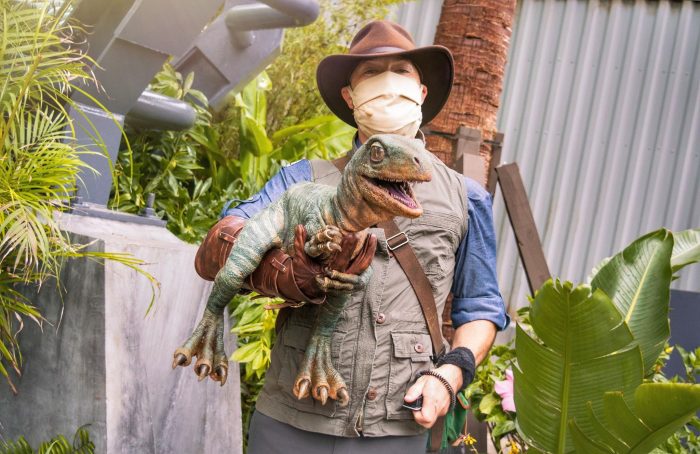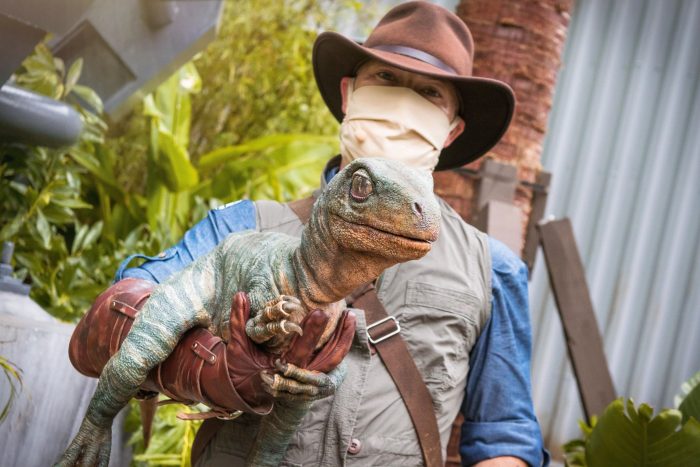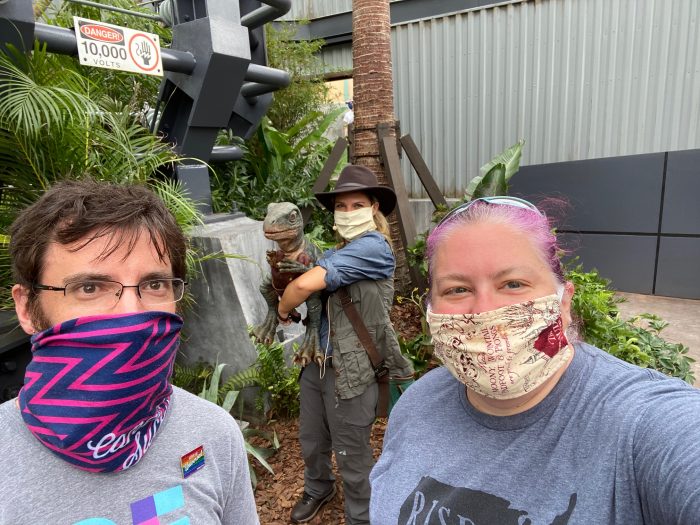 Time for an update on the Velociraptor-themed roller coaster that Universal has yet to acknowledge.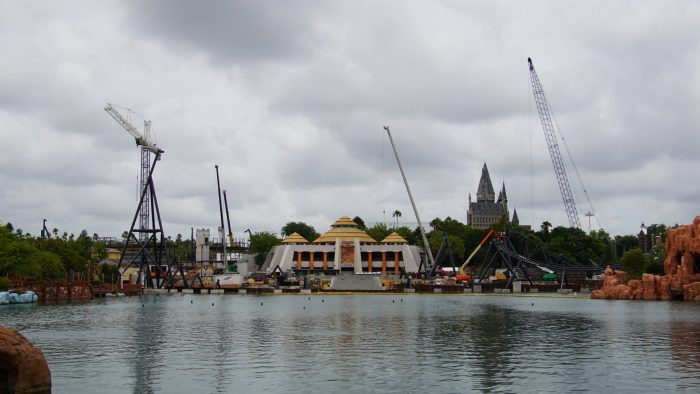 There is more track being put together by the day and this coaster is already looking AWESOME.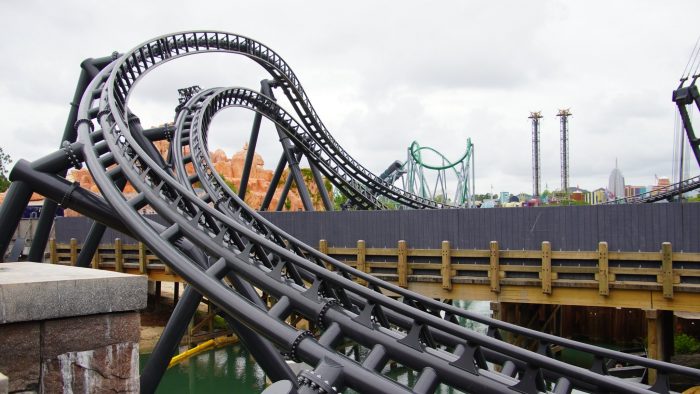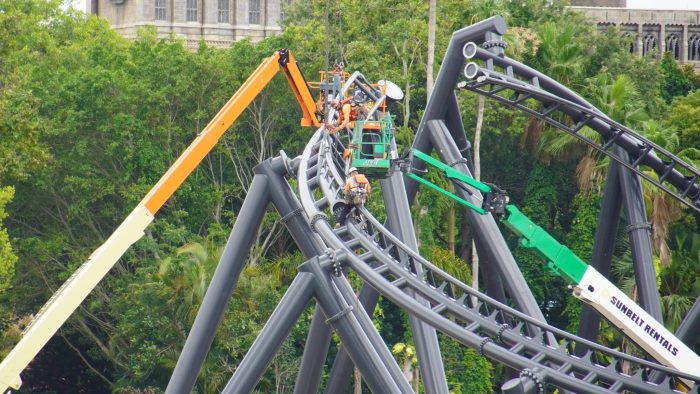 One of my favorite coasters in all of Florida is Cheetah Hunt at Busch Gardens Tampa, and the coaster in Jurassic Park is giving me that same feeling of a "need for speed!"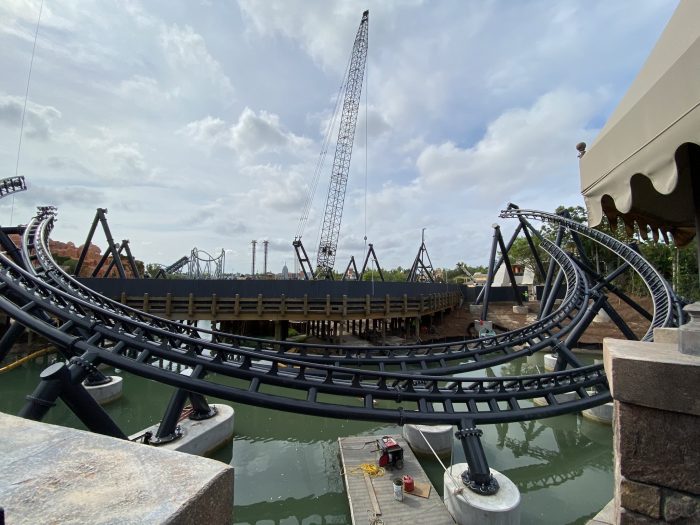 This photo shows how guests at the Three Broomsticks will be able to coaster watch while they enjoy their meal.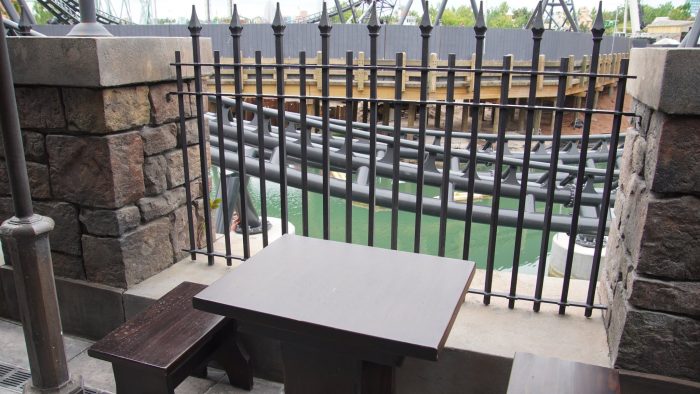 Everything I have heard about The Bourne Stuntacular makes it sound like the show will make its debut at the top of my list of theme park stunt shows. It better, because the more stuff they keep adding to the show building is not helping it in my opinion. I feel like there is a manager who keeps telling the Bourne attraction, "we need to talk about your flair."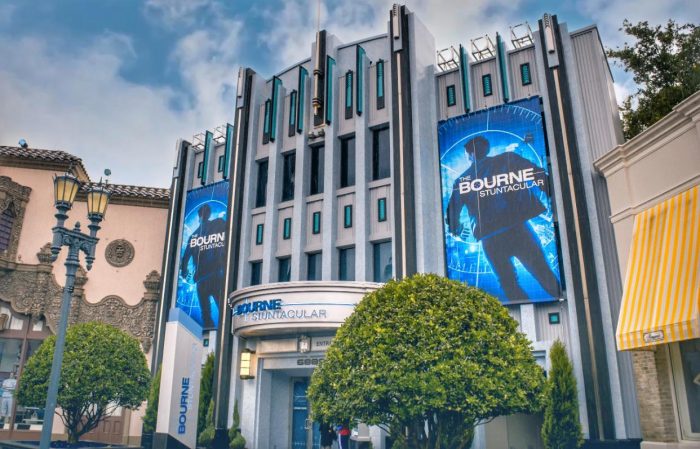 Another new thing to the resort is U-Rest Areas. These are dedicated spaces at CityWalk and the parks where guests can remove their face coverings. Outside of eating, face coverings are mandatory at the Universal Orlando Resort. Anyone in Florida will tell you that face coverings can start becoming unbearable in the heat, and it hasn't even been "that hot" down here yet. In a month or so, Florida is going to be "surface of the sun" hot, so having these areas where guests can safely remove their face coverings and relax will be a welcomed addition. Team Members have been reminding guests to keep their face coverings on while in the parks. If a guest doesn't want to wear a face covering they can leave the resort and head on over to Disney Springs where you can walk by 100 managers and security without wearing a mask and not one of them will say anything.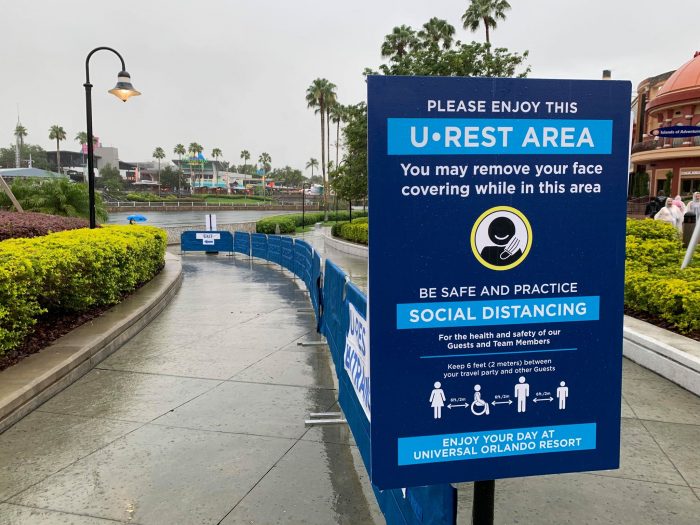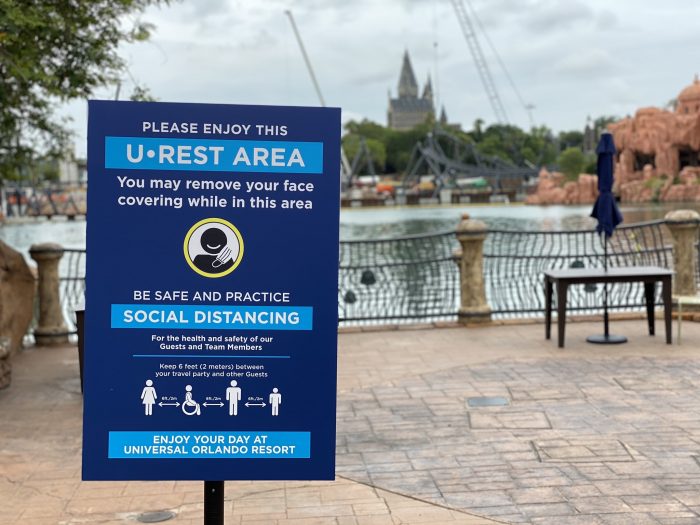 # 4 – Virtual Lines and Mobile Order
This is a dream come true for some guests, as Universal has started using the Virtual Line Experience for several of their attractions. Some attractions, including Race Through New York Starring Jimmy Fallon and Hagrid's Magical Creatures Motorbike Adventure, were built with Virtual Line Experience in mind, but it rarely – if ever – was used. Now the Virtual Line Experience is being used for several attractions at both theme parks.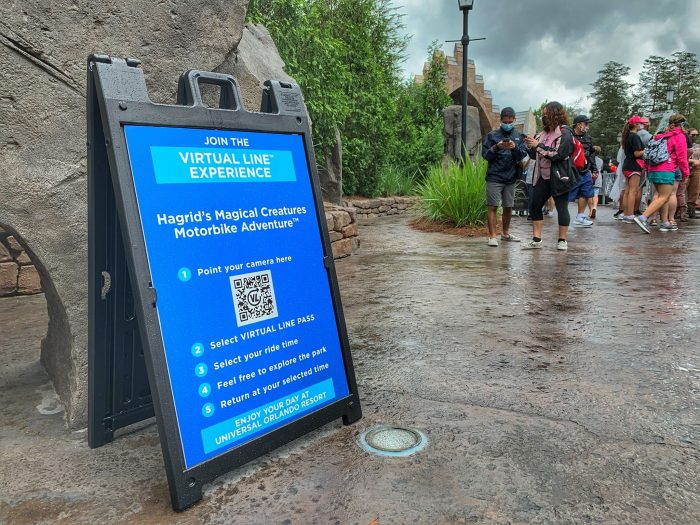 One big difference between Universal's Virtual Line Pass and Disney's FastPass+ system is that Universal doesn't give out all the Virtual Lines slots at once. When a Disney FastPass+ option is out, often times it is unavailable for the rest of the day. What that means is many guests get no shot at popular attractions like Flight of Passage, Slinky Dog Dash, or Seven Dwarfs Mine Train. So far, Universal has used the Virtual Line Pass as a way  to prevent an attraction from getting too crowded. After assigning a certain amount of guests Virtual Line Passes, it shuts the system off and doesn't allow guests to reserve a time. Once the attraction's line goes down, the Virtual Line Pass system is started up again and allows guests to get a return time. It seems as fair and equitable a situation as we'll ever get as theme park fans.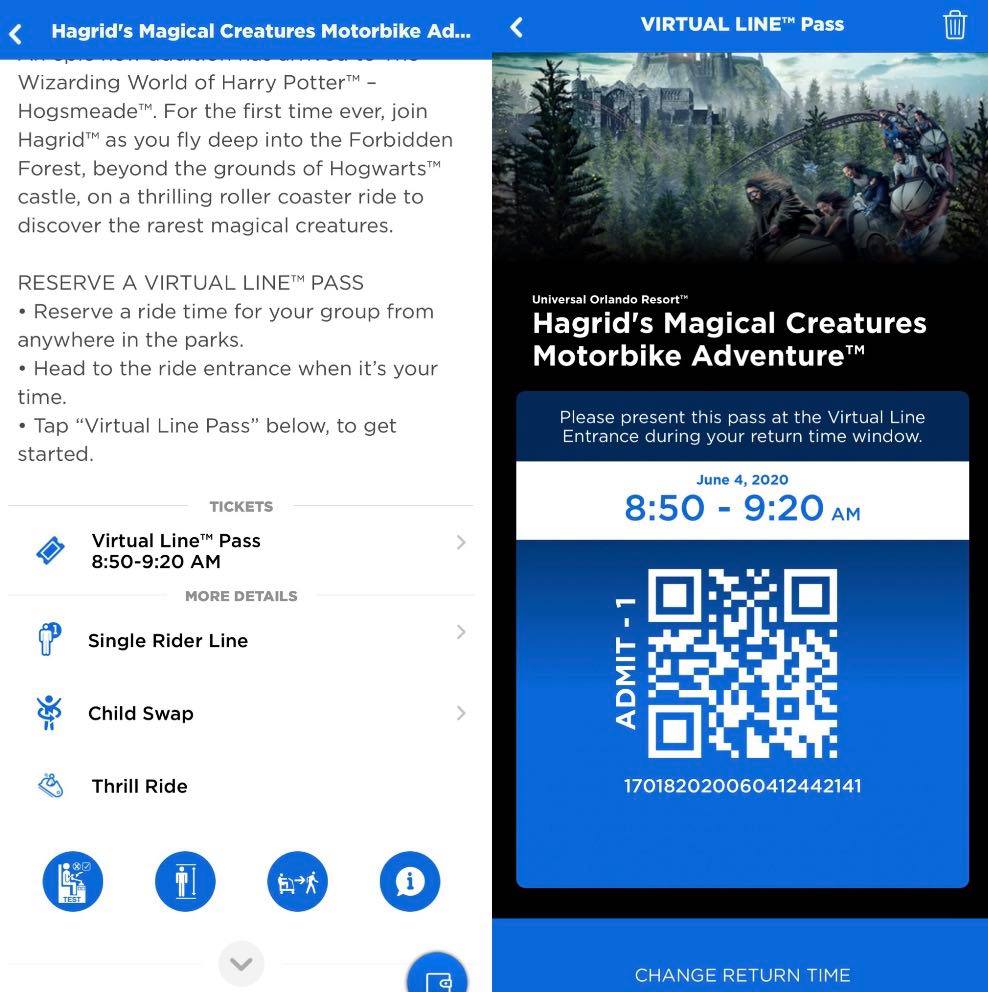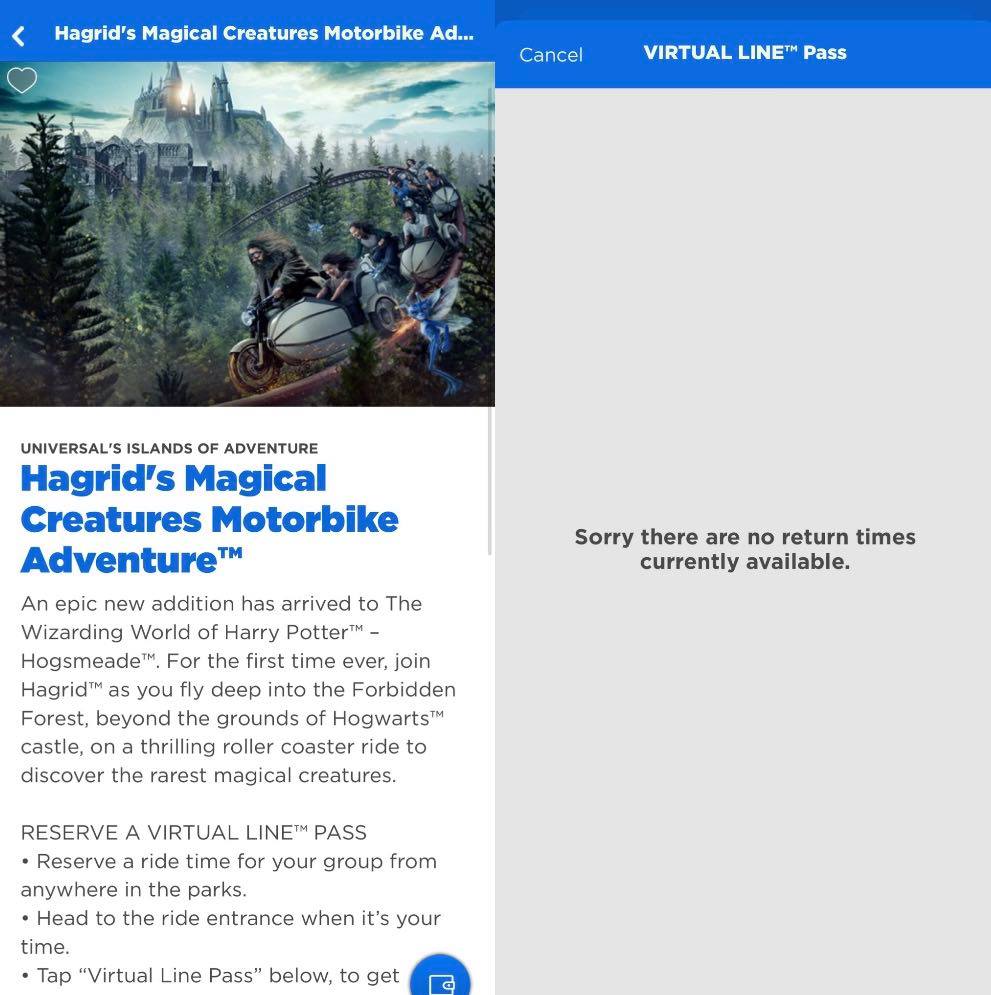 All this means that guests will be riding some incredible attractions with minimal wait, without having to get up at the crack of dawn 60 days earlier to reserve a time.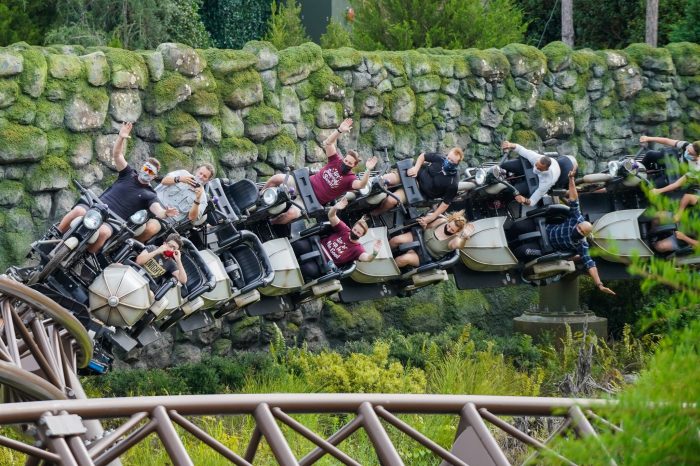 While Universal did have mobile ordering before the pandemic shut down the parks, it has returned with many more venues to choose from. This makes ordering your meals even easier and saves you from being behind that person in Captain America Diner who is looking at the menu like it is complex algebra. Here is the process of mobile ordering at the Universal Orlando Resort from the app.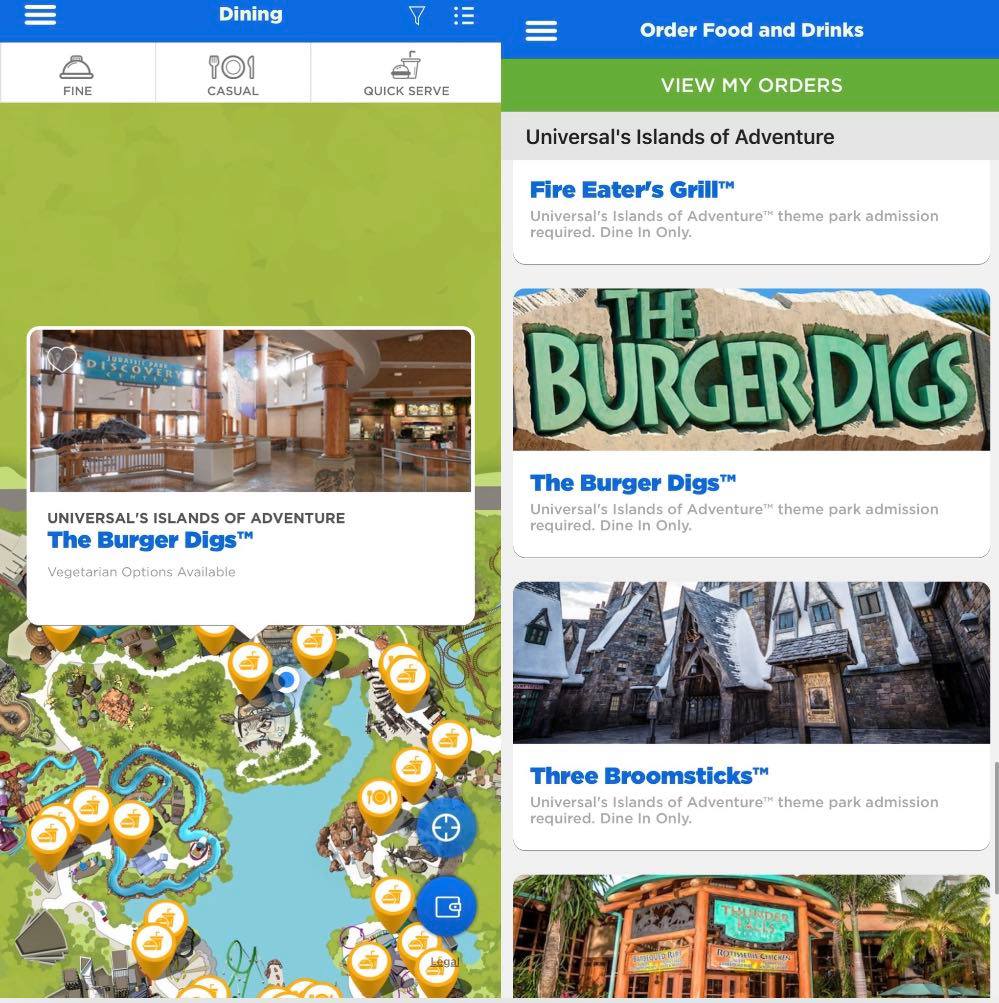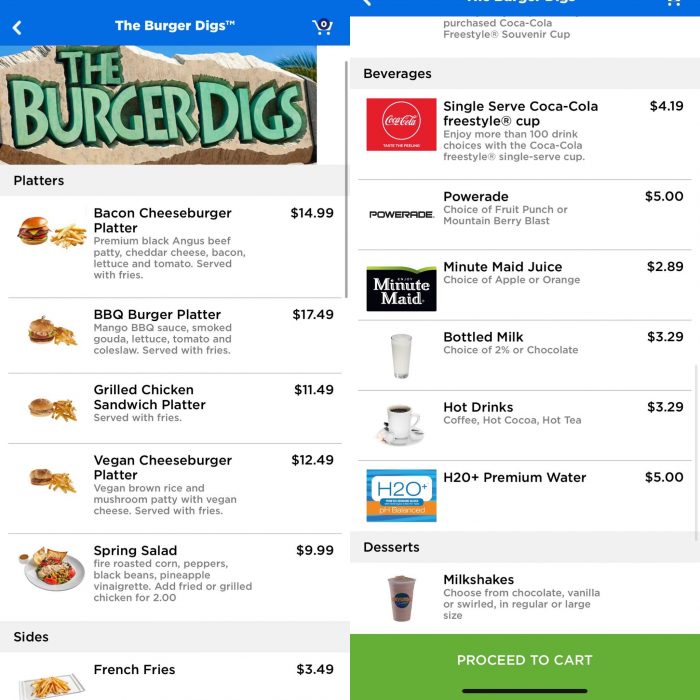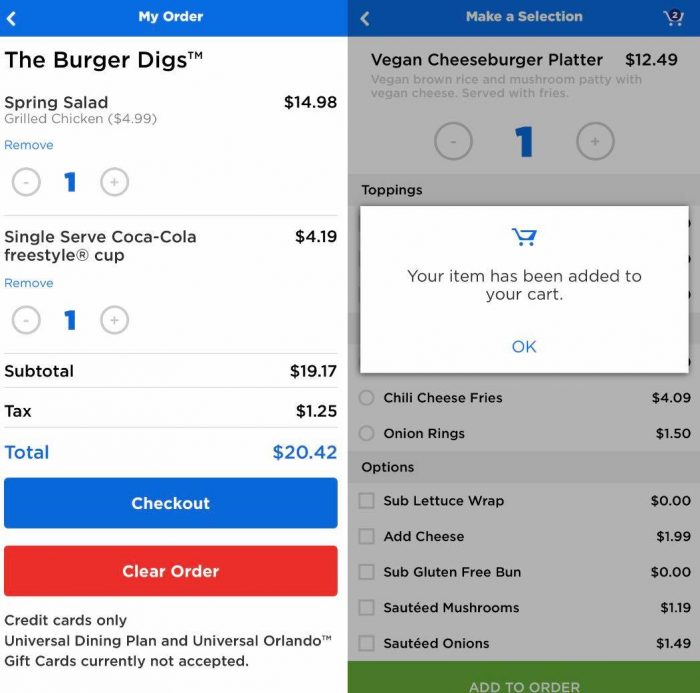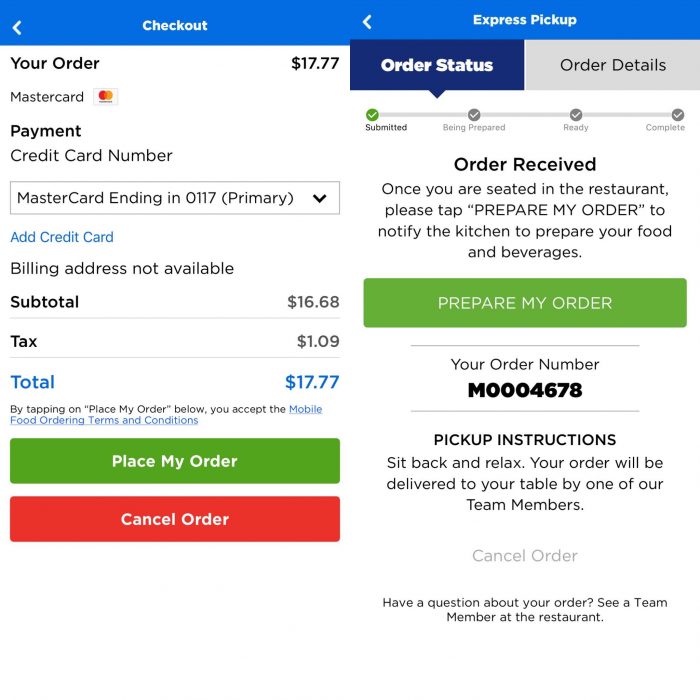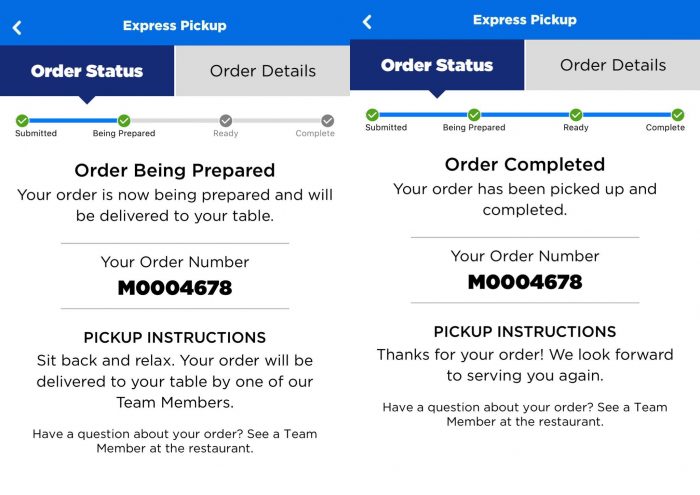 Now, instead of standing in line at Burger Digs, you can just go to a table and wait for your meal to be ready.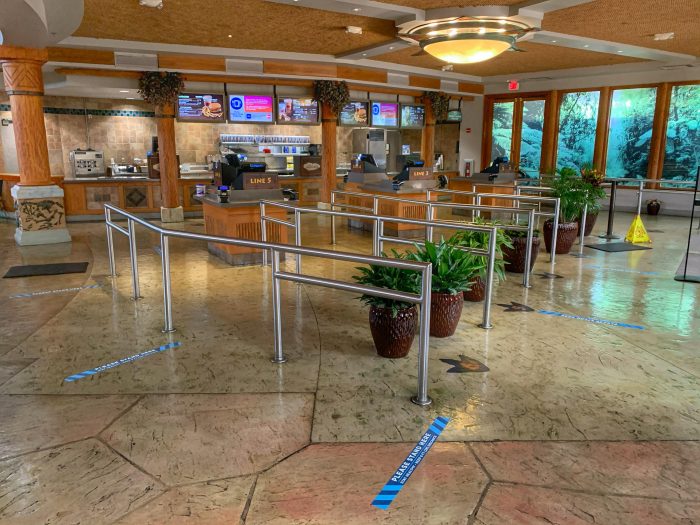 Some of the tables in restaurants throughout the resort will have a "reserved" sign on them to promote social distancing.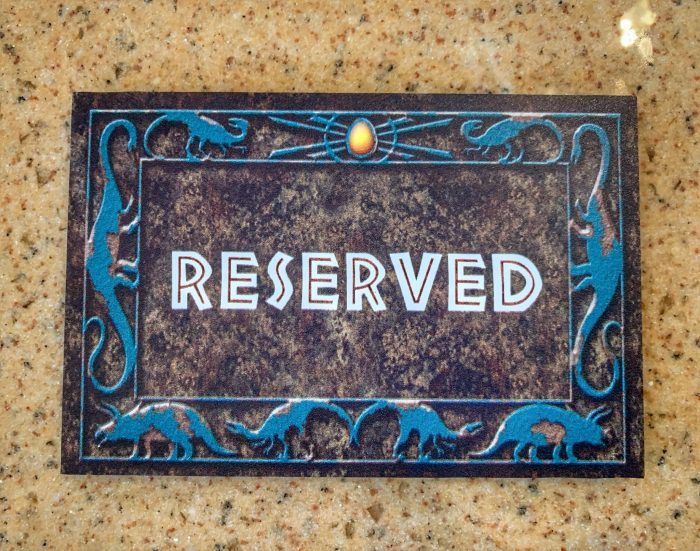 The tables you can sit at have a handy guide to the mobile ordering process.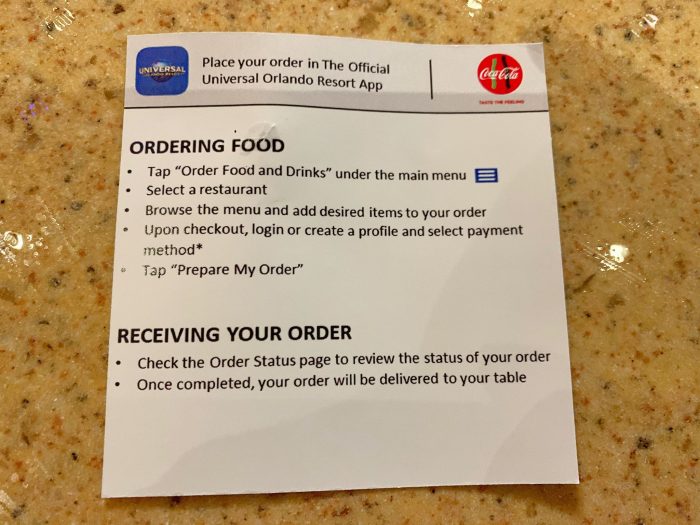 Voila!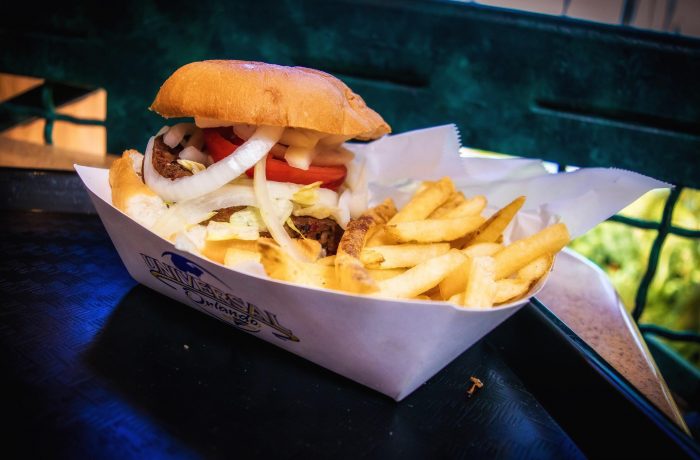 Pouring one out for all the toppings bars and make-your-own-salad bars across property. RIP, you will be missed.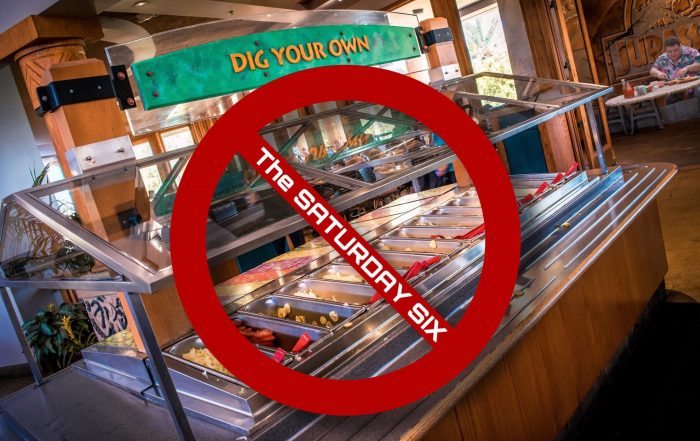 Not only can you mobile order at places like our beloved Voodoo Doughnut now, there's even a new option celebrating the 30th anniversary of Universal Studios Florida!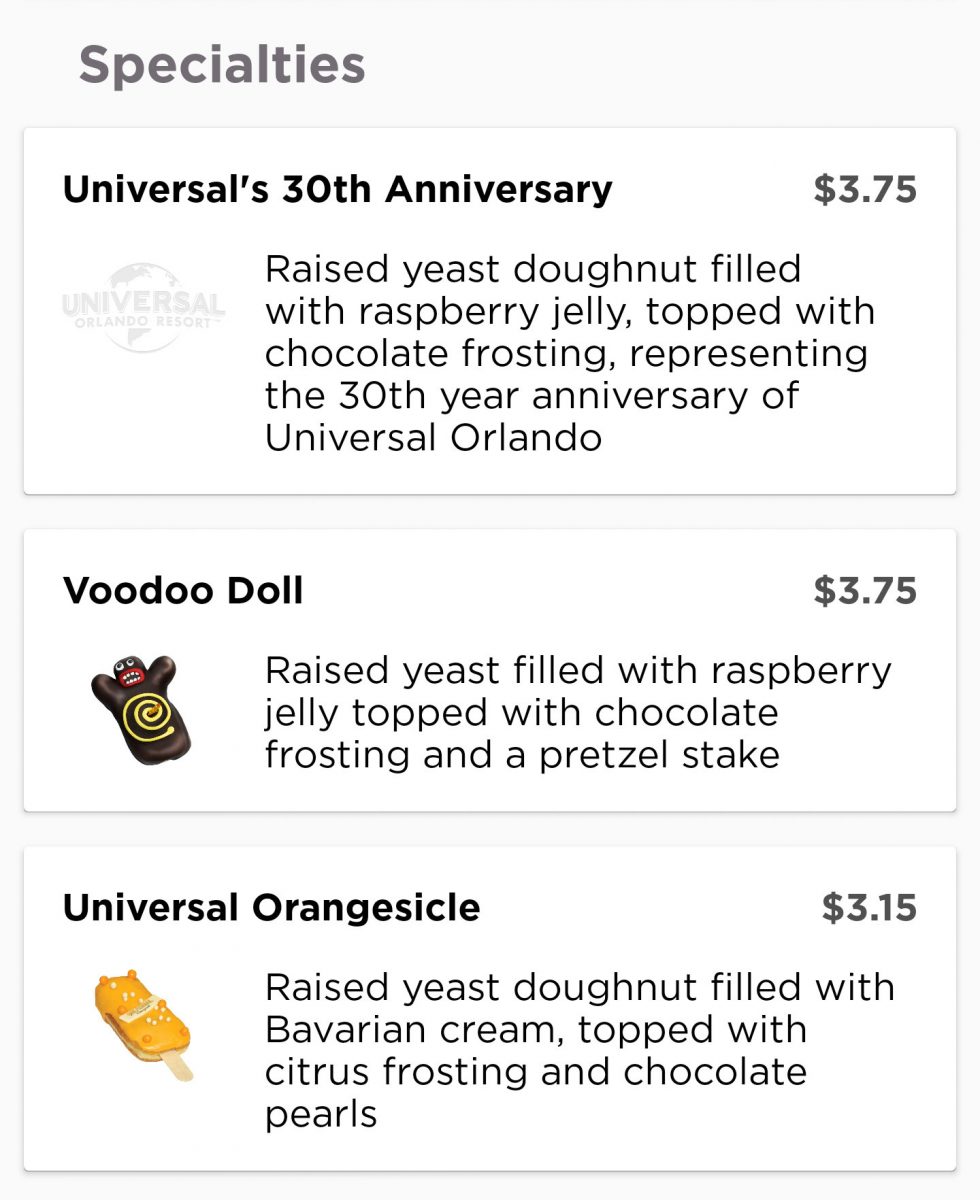 How great is this?!!!!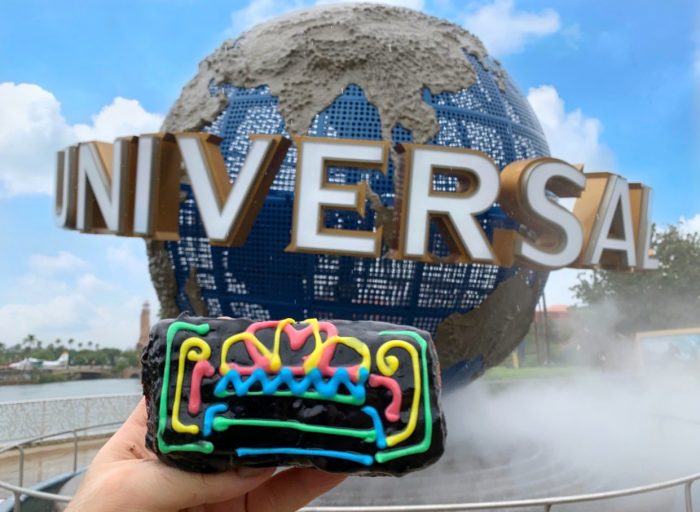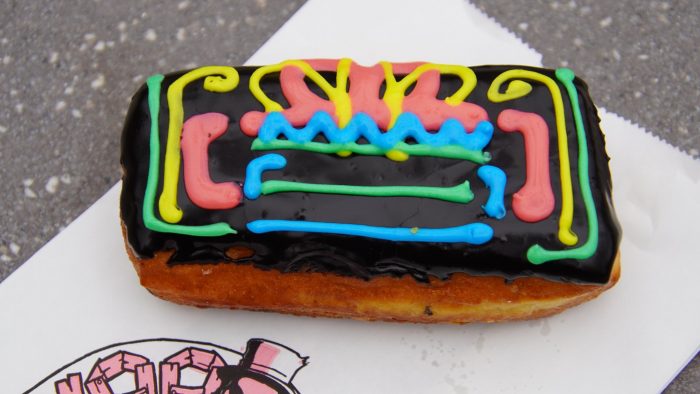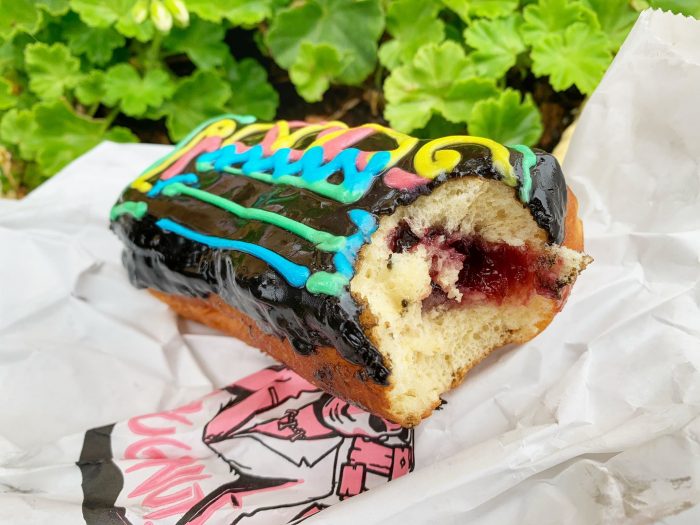 Florida recently went to "Phase 2" on Friday, June 5th. What this means for restaurants is they are allowed to have 50% capacity indoors, and as-much-as-they-want outdoors (as long as social distance methods are being done.) Like many restaurants around the state, Universal has put more outdoor seating available to guests, such as these tables for Captain American Diner.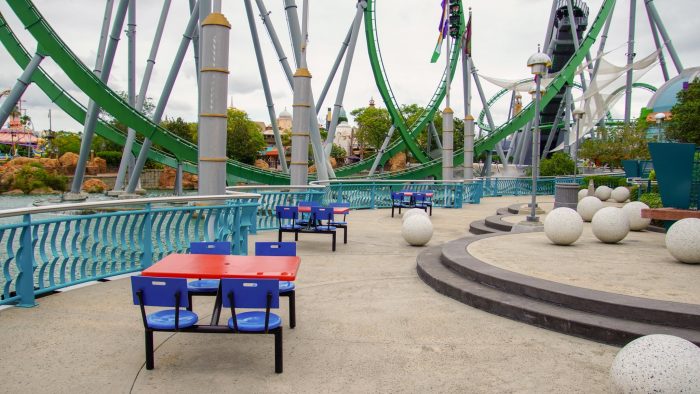 Over at the hotels, we have Bar 17 Bistro at Aventura Hotel putting tables in an area that was normally empty.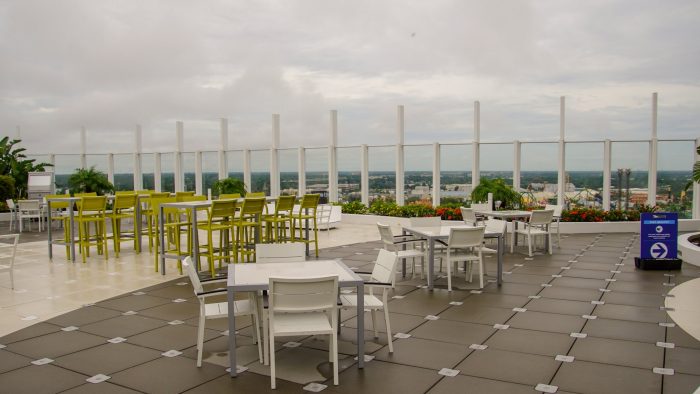 This aerial photo gives a better idea of where the tables are situated on the hotel's rooftop.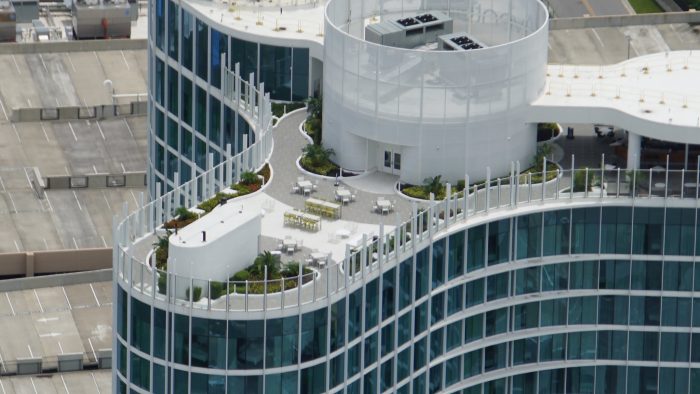 Like park maps, I was terrified that we would be losing Coke Freestyle machines at the resort, but it turns out they are safe too! They adhere to social distance guidelines, so if two machines are next to each other, one is turned off. Team Members clean the screens after each guest.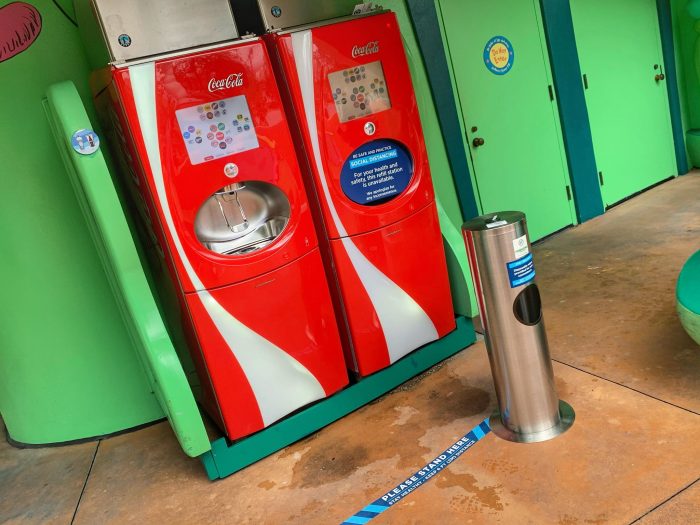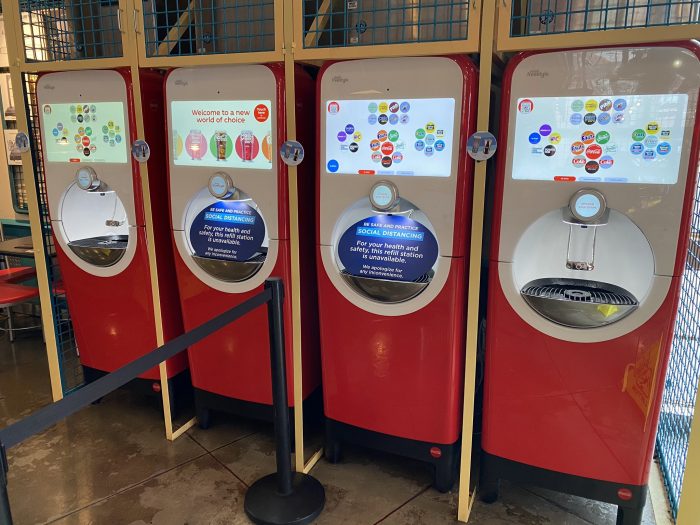 The refillable cup program has yet to return to the Universal on-site hotels, so their Coke Freestyle machines work slightly differently. Now guests get a new paper cup from a cashier before using.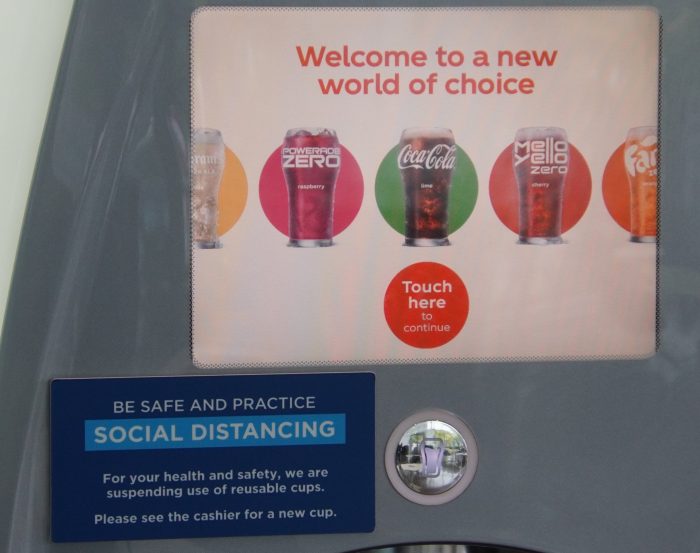 # 3 – The Characters
The Universal Orlando Resort has characters out in full force at the parks, and came up with some interesting ways on how to present them. For example, The Scooby Gang are some of the most iconic meet and greet characters at Universal Studios Florida. Staging was built in front of Mel's Diner so that guests could get pictures of all the characters.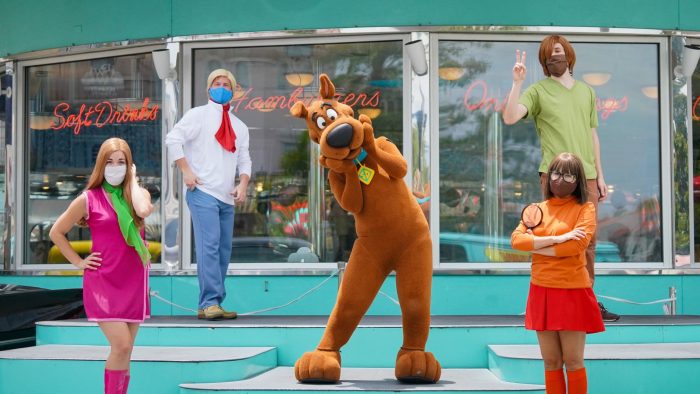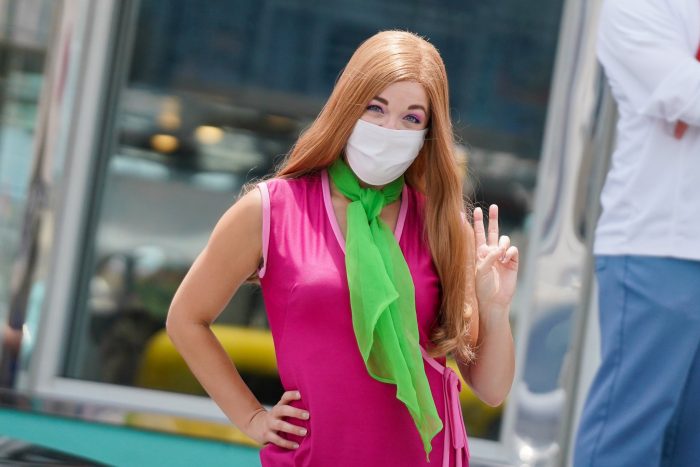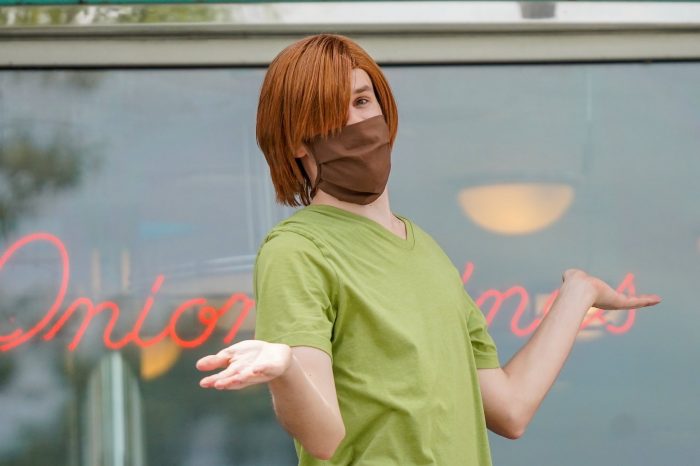 Elevated stages were also used in Marvel Superhero Island to present our favorite heroes.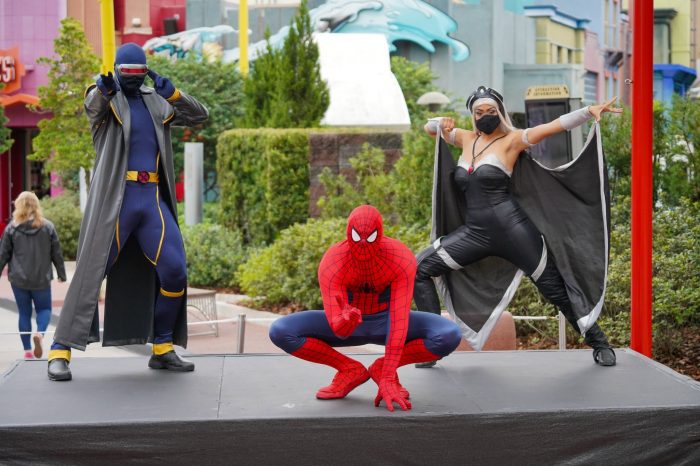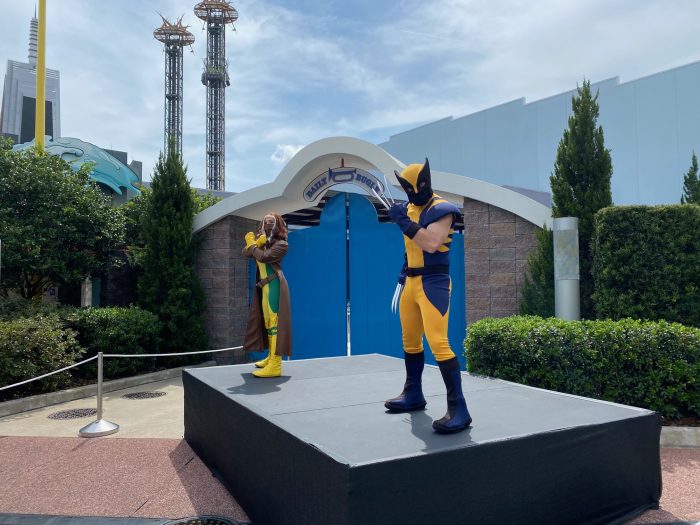 In Springfield USA, characters were behind fencing to allow for social distancing.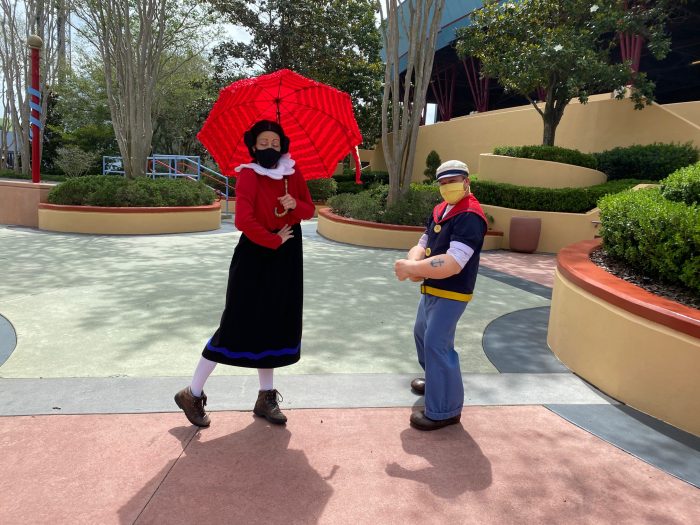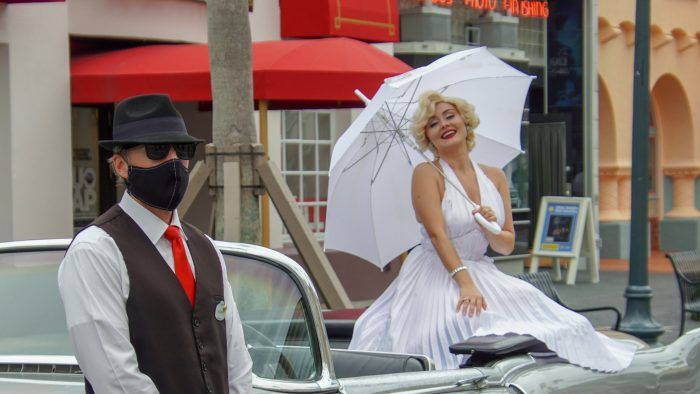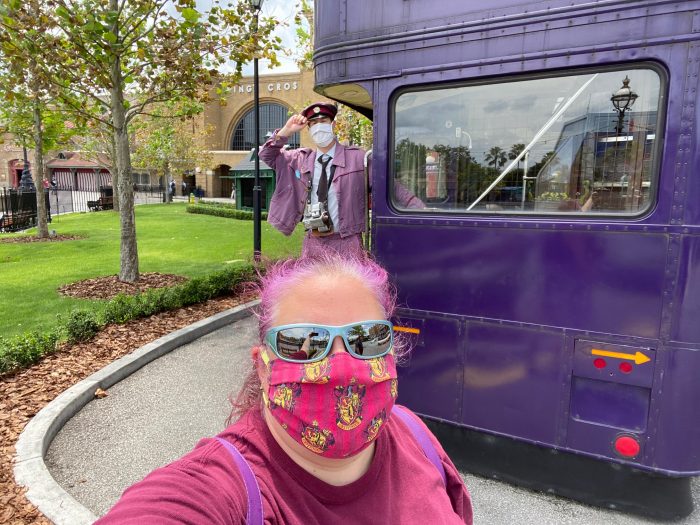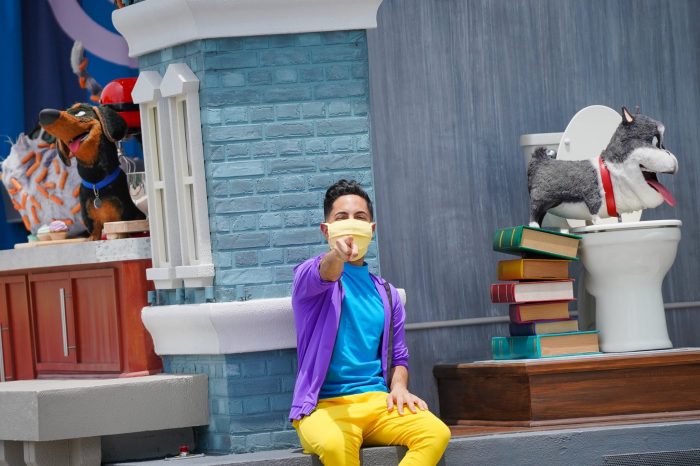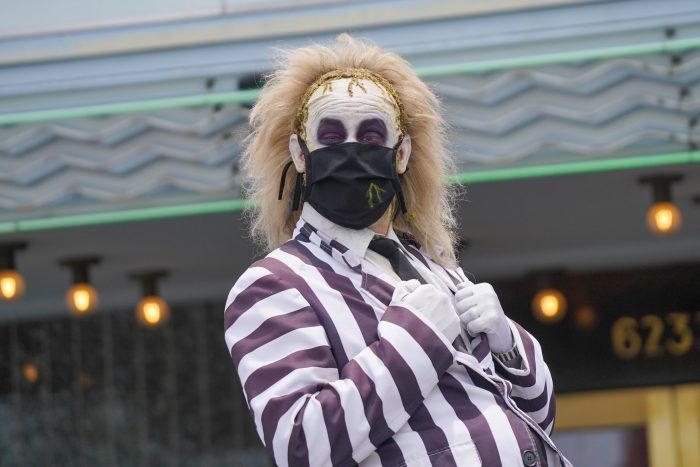 # 2 – Merchandise
It's well known to many that 2021 was going to be a major year for Walt Disney World, as the resort will be celebrating its 50th anniversary. Major plans for the 50th were put in place, much of which has been scaled back – if not outright cancelled – thanks to the pandemic. A lesser known fact is that 2020 is a major anniversary for the Universal Orlando Resort, because it is the 30th anniversary of the park which started it all, Universal Studios Florida. Fans of some older attractions are going to be very happy with some of the merchandise released in support of the anniversary. My favorite is a set of four glasses that pay tribute to some of my all-time favorite Universal attractions: Jaws, E.T., Back to the Future, and Kongfrontation. As the kids say, these glasses hit me "in the feels" because not only do they feature rides that I loved, but the glasses themselves bring back the type of glassware we often saw in Fast Food promotions during the 1980s and '90s. It may sound crazy to a reader today, but I fondly remember collecting Star Wars: Return of the Jedi glassware from – of all places –  Burger King.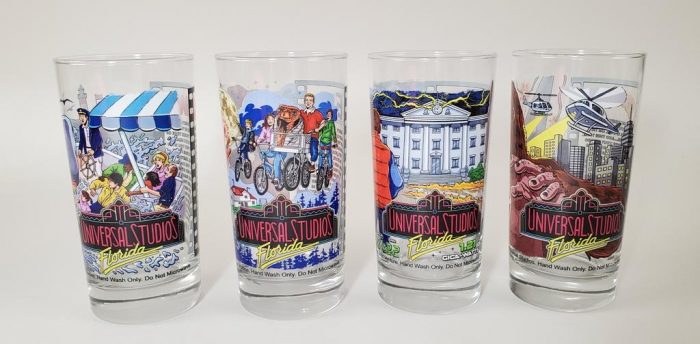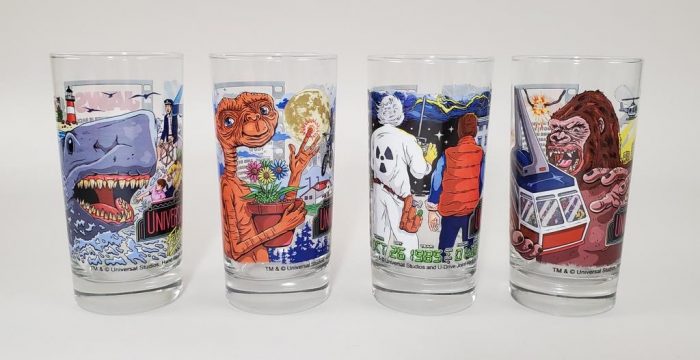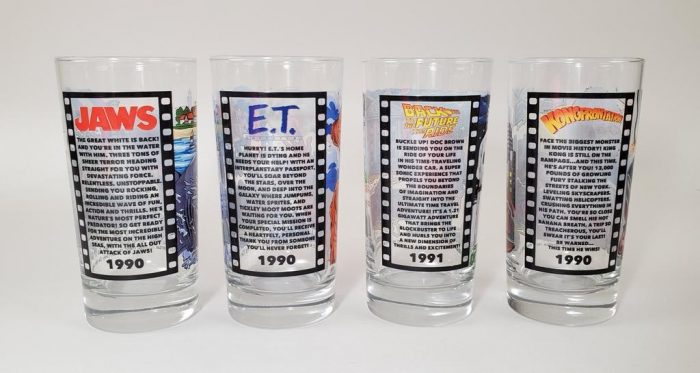 Speaking of classic Universal attractions, this E-Ticket coffee cup contains many favorites. Longtime readers of this fine blog's sister series – The Disney Outlet Store Photo Report – know that it takes an extra special coffee cup for me to even consider buying it. THIS is one of those cups.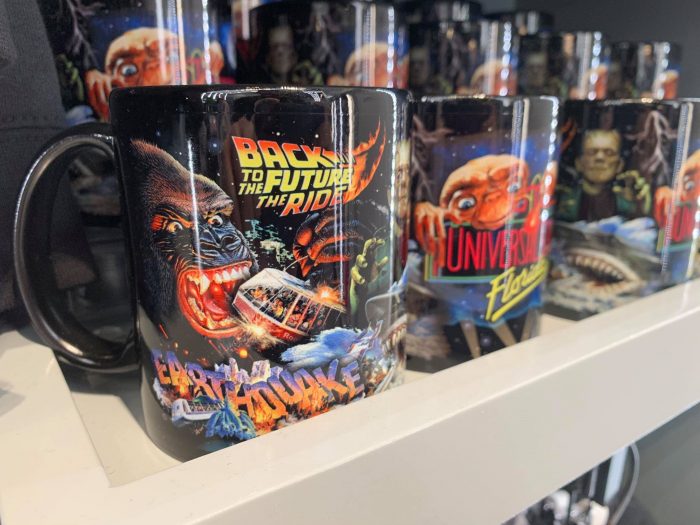 The old school Universal Studios Florida logo has been brought back for a a variety of merchandise, including pins.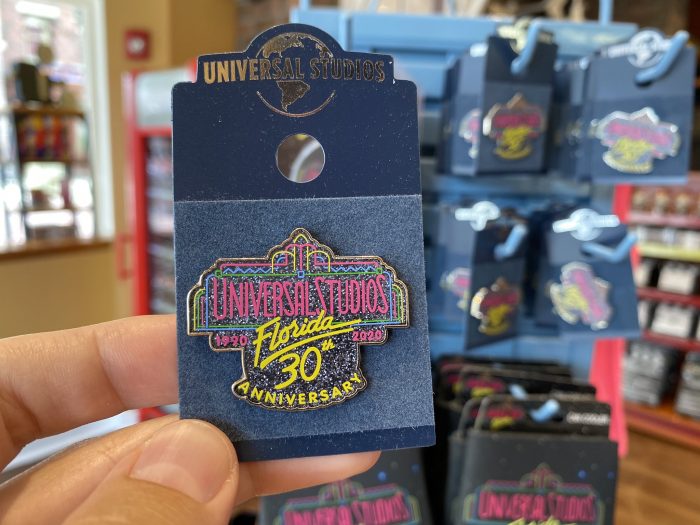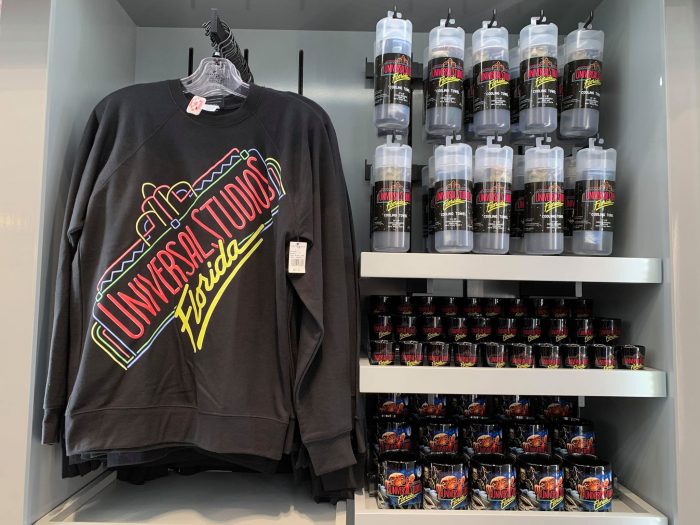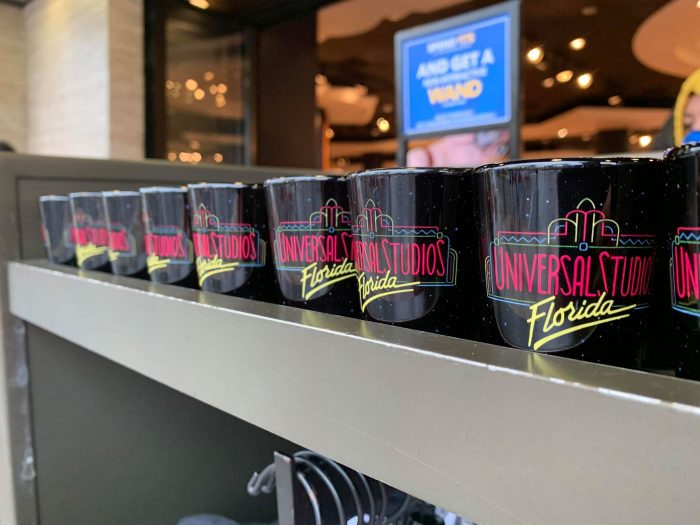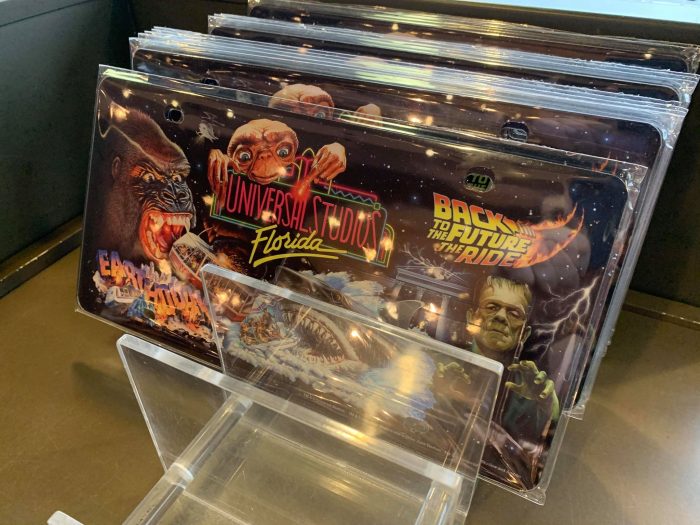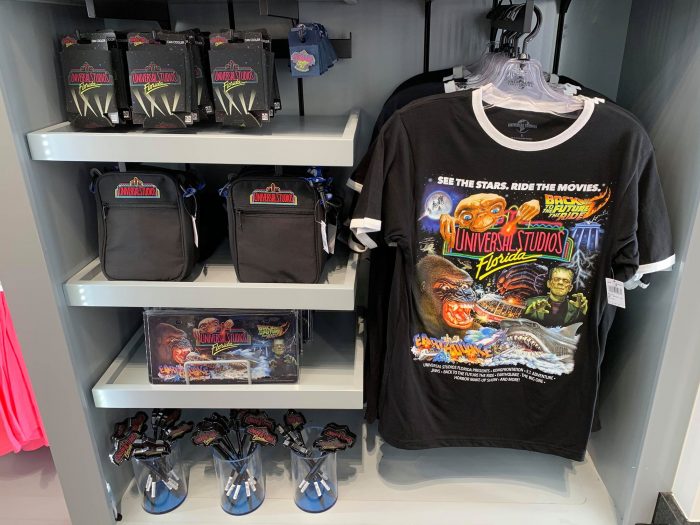 In complete awe of these hats and fanny packs. It has been a while since I have been this enamored with a line of merchandise at Universal or Disney. A complete home run.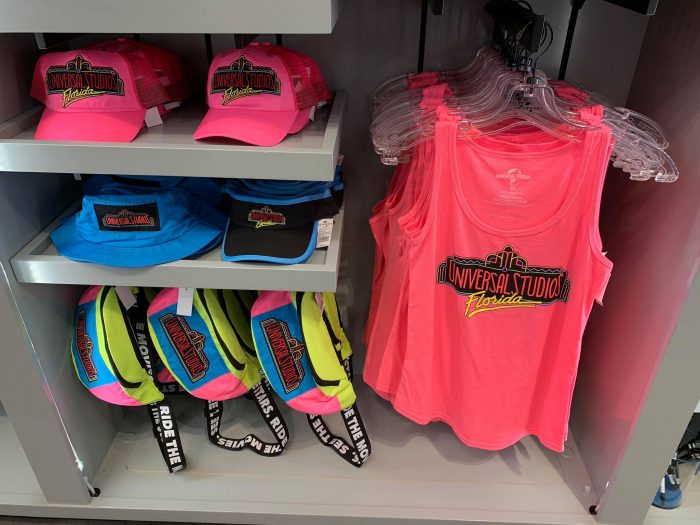 June is Pride month, so many options are available with the Love Is Universal logo.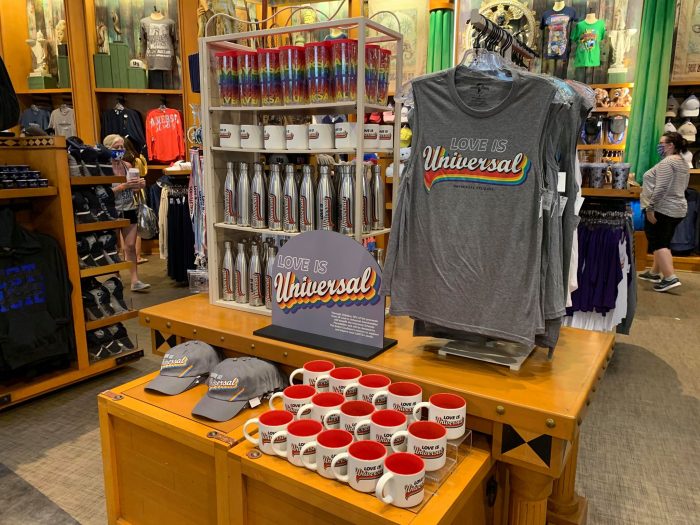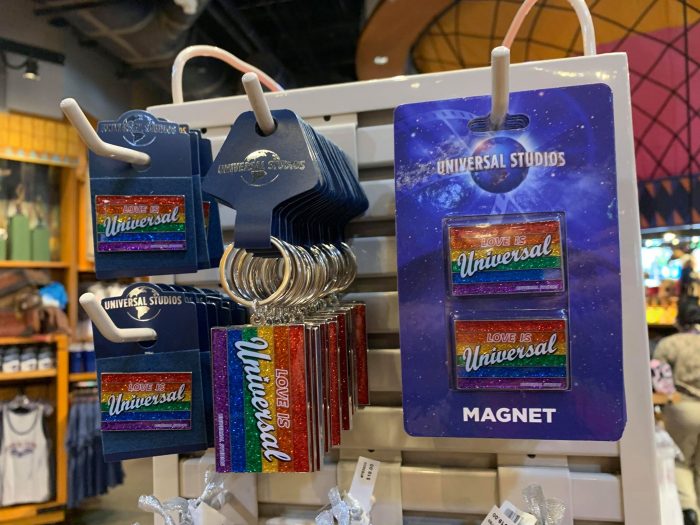 Throughout the resort there is signage offering a deal where guests spending $175 or more get a free non-interactive wand.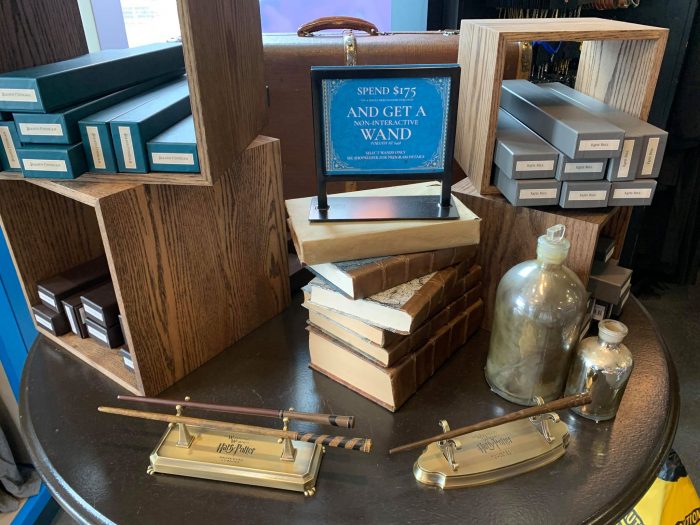 One wand from the Wizarding World was recently released that is not part of the promotion above. It is Hagrid's wand, and it certainly stands out.
When Universal re-opened CityWalk last month, it began selling face coverings. Recently it released Universal Orlando Annual Passholder masks, which have sold like hotcakes.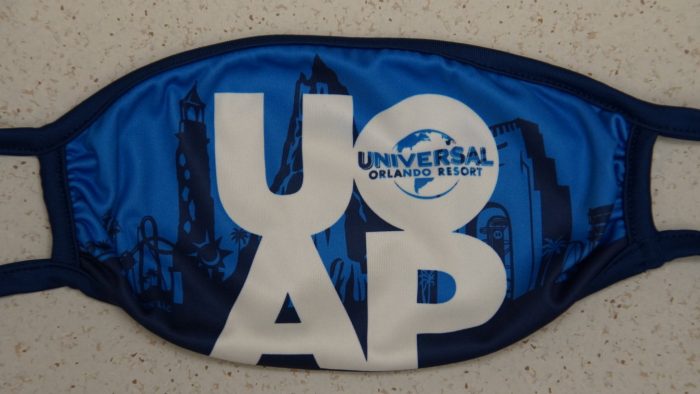 # 1 – Social Distancing and Theme Park Attractions
In "unprecedented" times, no one knew exactly how theme park attractions and queues would be run. Universal showed that rides can operate with social distancing measures in place. Another "complaint" people had was wearing masks on rides. Turns out masks stay on your head pretty well no matter what you are doing. Case in point: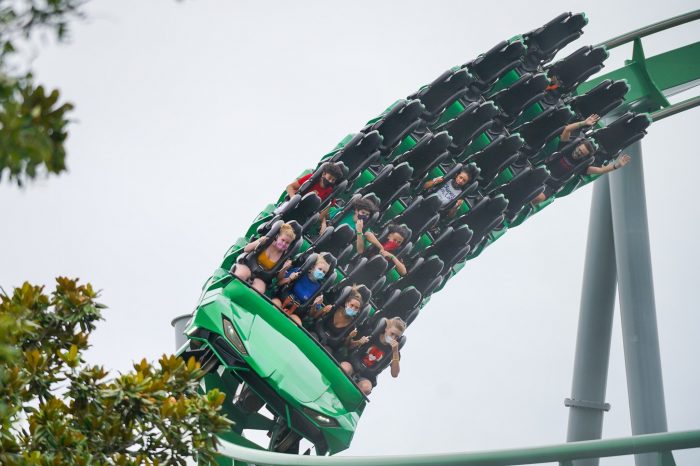 As you can see on The Incredible Hulk Coaster above and Rip Ride Rockit below, social distancing measures are put in place by not filling up every row.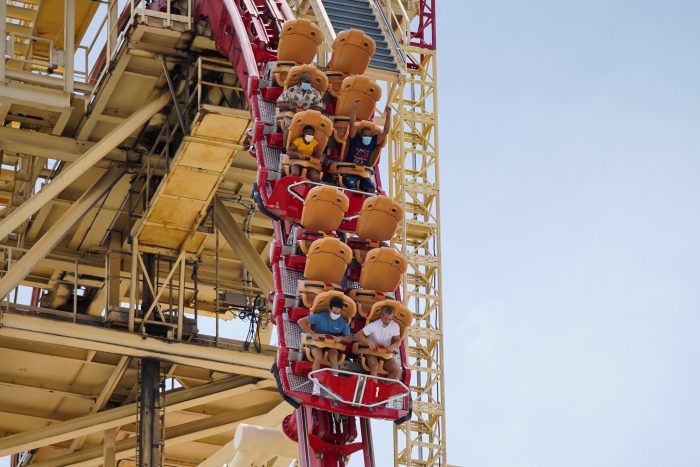 This is what we would call a "theme park blogger's" ride vehicle.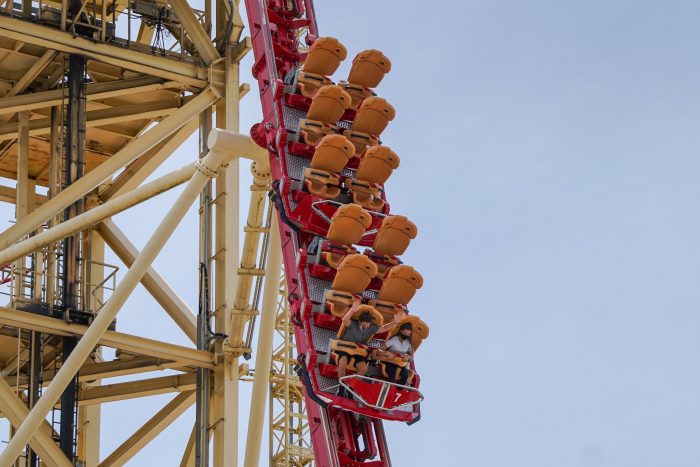 Rides such as Jurassic Park River Adventure and Skull Island: Reign of Kong also kept every other row empty, and the rows which did have guests were just one party per row.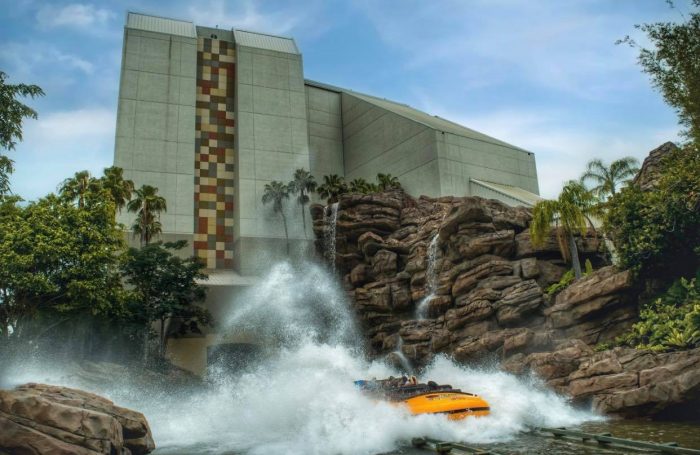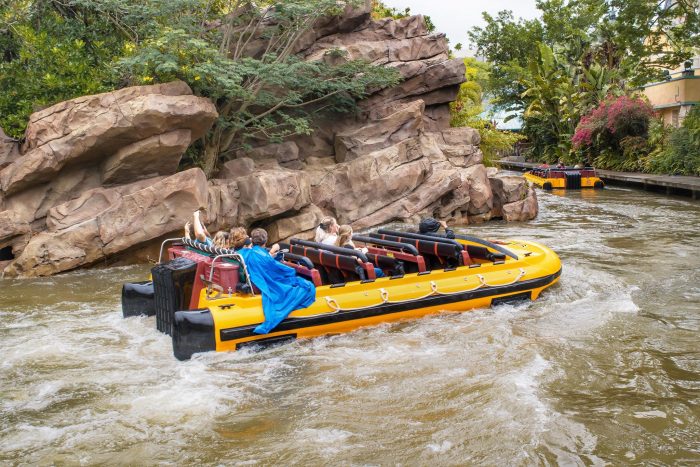 We mentioned earlier that some rides had Virtual Line Passes, but others still went by the traditional standby lines.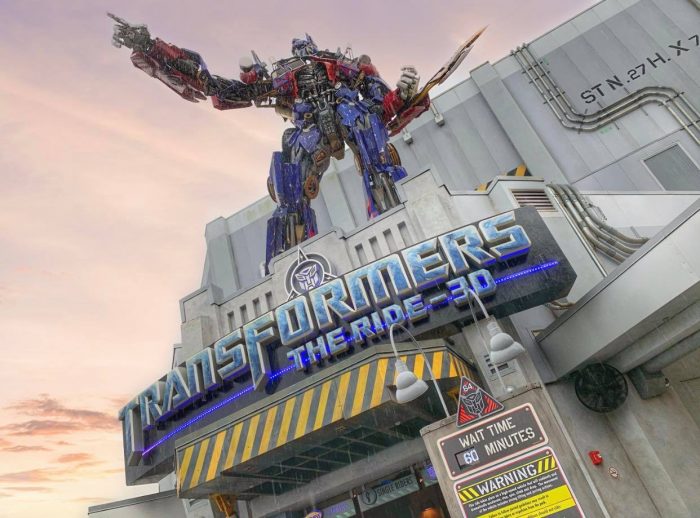 Signage was available at the attractions to remind guests of how to queue during this "new normal."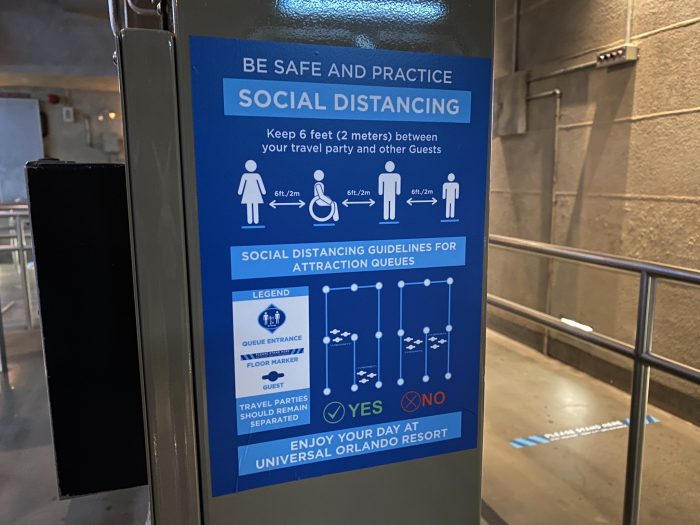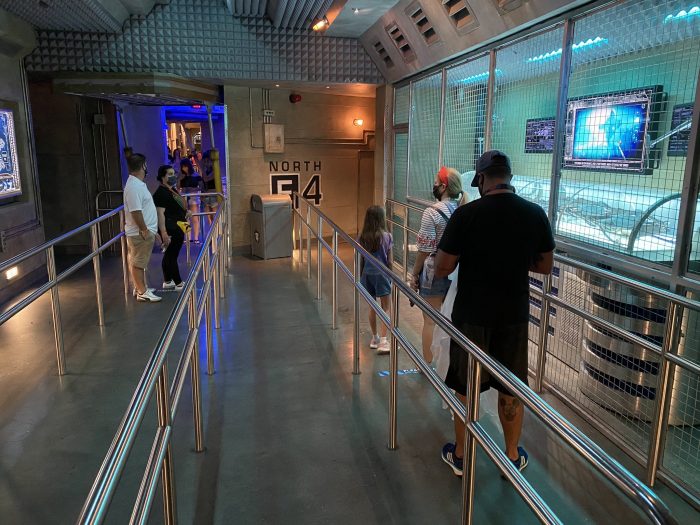 We've seen some major changes in the areas of pre-shows, the changes being they don't exist. Guests walk straight into the line for the attraction load. For me this is both good and bad. In a way, I like just cutting to the chase and getting to the attraction. However, I also like seeing some of the wonderful preshows that these rides have. For example, at the E.T. Adventure Ride, guests first would watch a short pre-show with Steven Spielberg and E.T. that sets up the story. It is absolutely BONKERS, and now you don't get that part of the experience.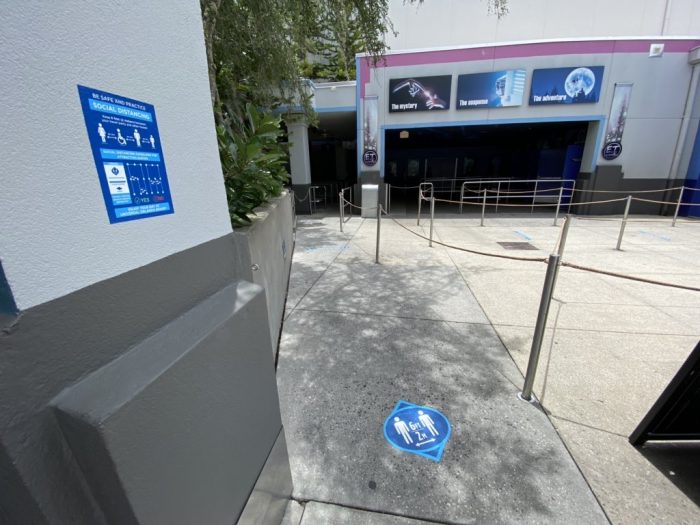 Normally both sets of doors in the picture below would be closed. They would open up to allow guests into the next "step" of the story.
This room is where Steven Spielberg talks to E.T. and explains the Green Planet. Now guests just walk straight through.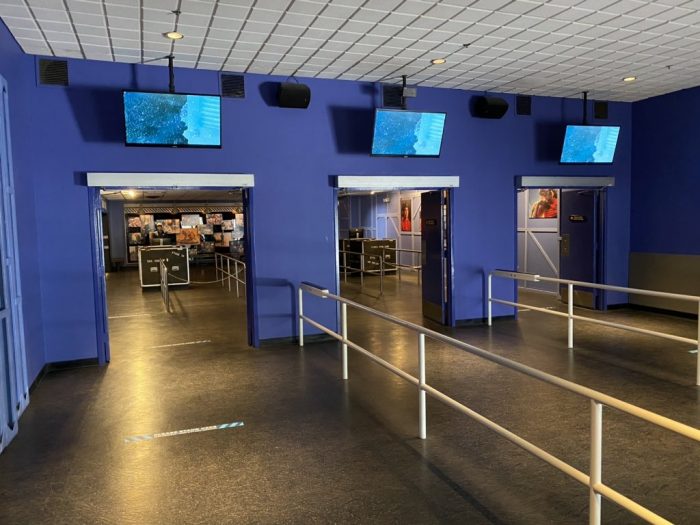 Here you can see the "elevator" from Harry Potter and the Escape From Gringotts attraction. Instead of being used as a way to stage guests waiting for the next part of the story, guests just walk through. It will be interesting to see how Disney tackles this challenge, because an attraction like Rise of the Resistance uses multiple pre-shows that you can argue are integral to getting the full experience of the ride. Meanwhile, are we going to just skip over the "and, uh, fly" guy at Flight of Passage?!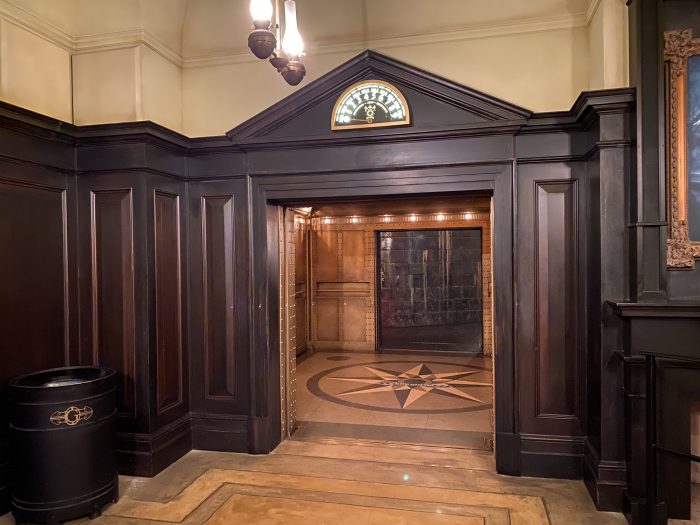 With the parks limiting their capacity combined with many guests still not back into "vacation mode," the parks can be a much more pleasant experience than we are used to. When was the last time you say Hogsmeade Village this empty during the day? To be honest, I'm not sure it's happened during the last decade.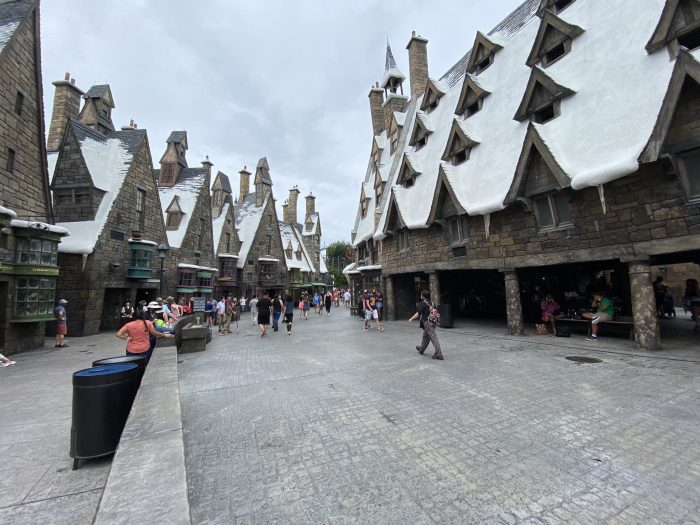 Outdoor shows like The Tales of Beedle the Bard are still taking place.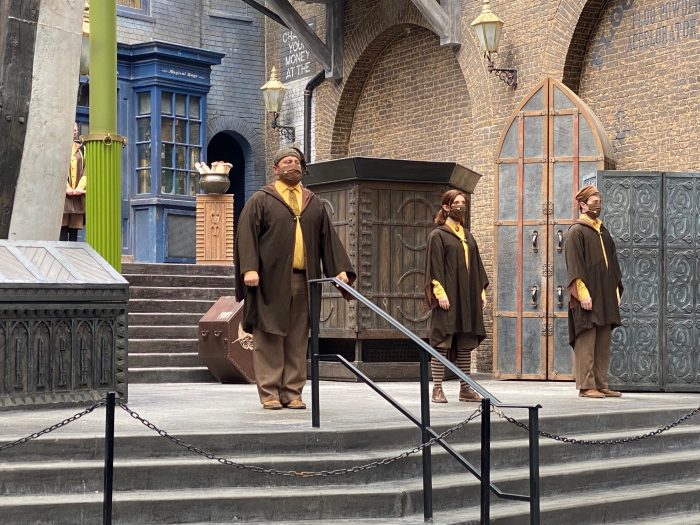 Celestina Warbeck and the Banshees entertain guests. Slight changes to the show include Celestina singing from the balcony, and the always popular segment which has a guest being brought on stage to dance is just skipped over.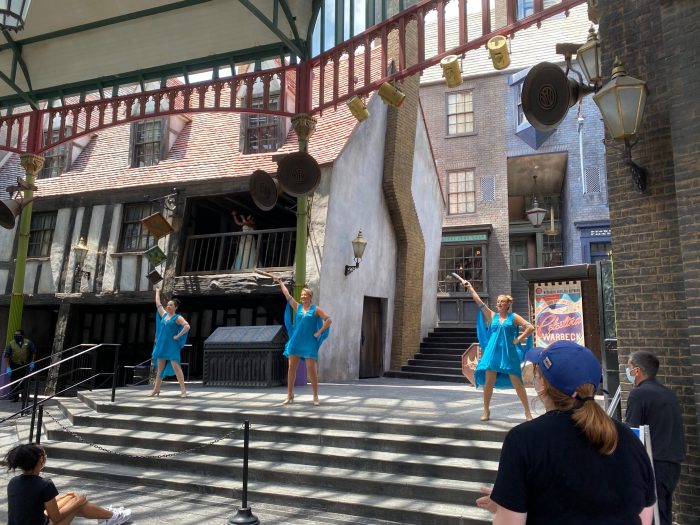 However, not everything is open. All play areas are currently closed. This includes the Jurassic Park Discovery Center.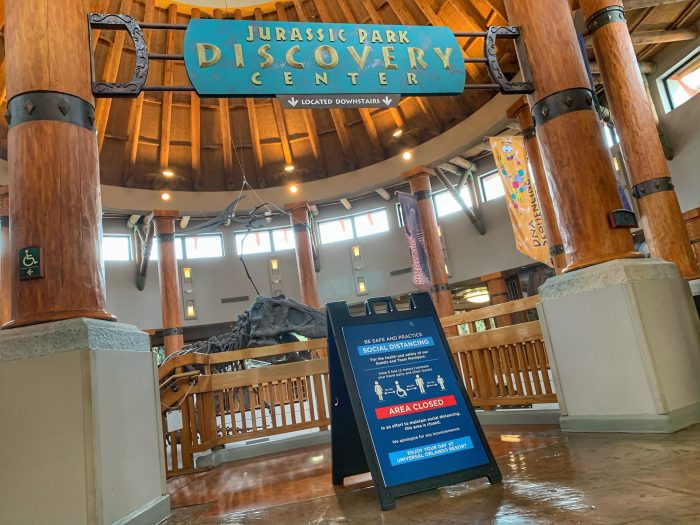 Some stores have not re-opened as well. In the Wizarding World, themed signage alerts guests to the closings.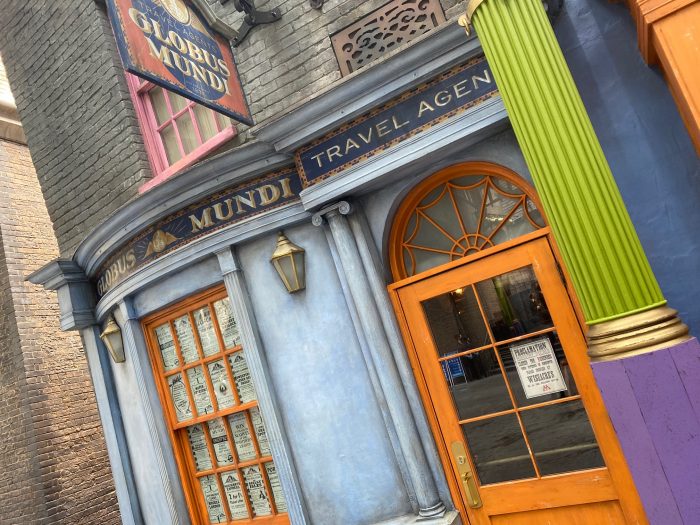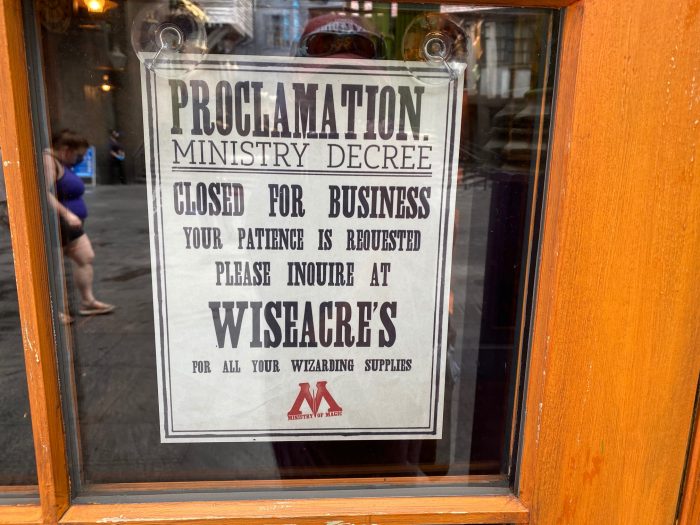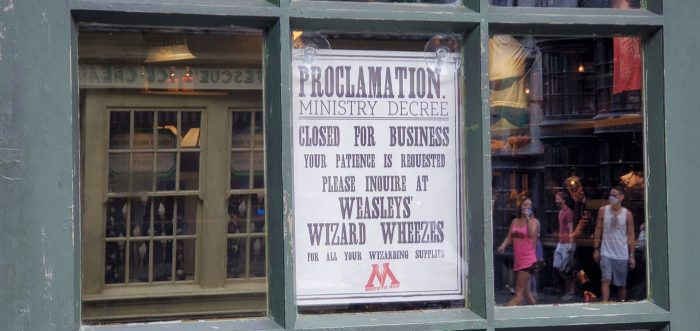 Over at Volcano Bay, social distancing has been put in place by spreading out the seating.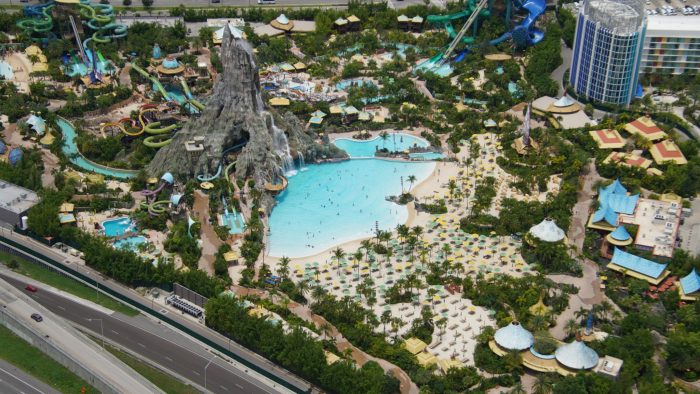 It actually makes you wish Volcano Bay was ALWAYS like this.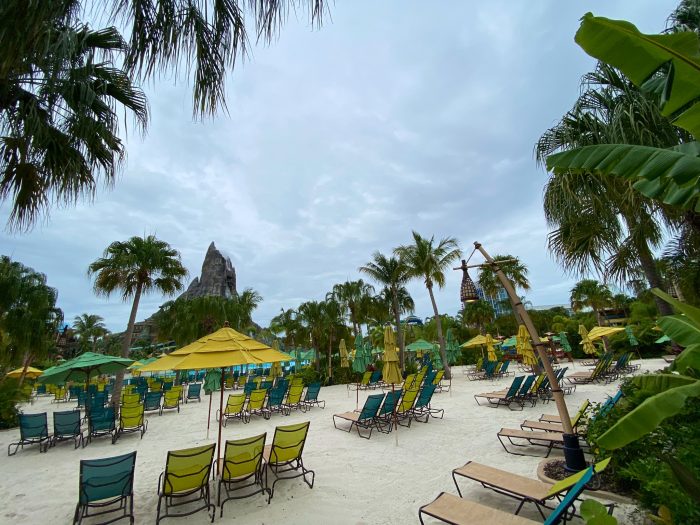 Volcano Bay's Tapu Tapu has notices for guests with the new rules and procedures.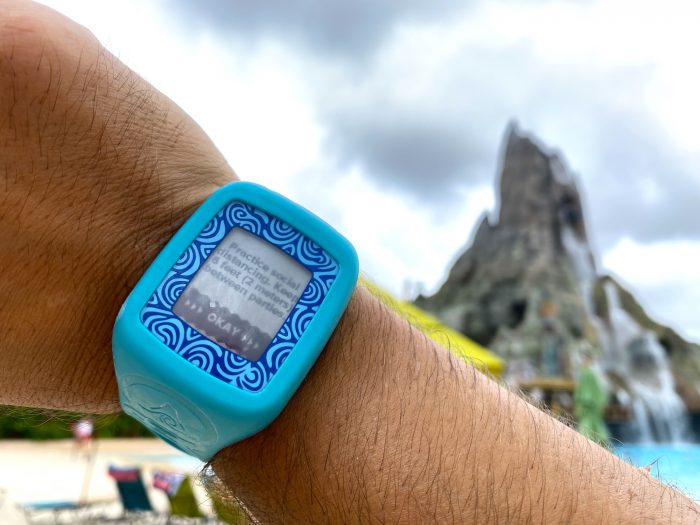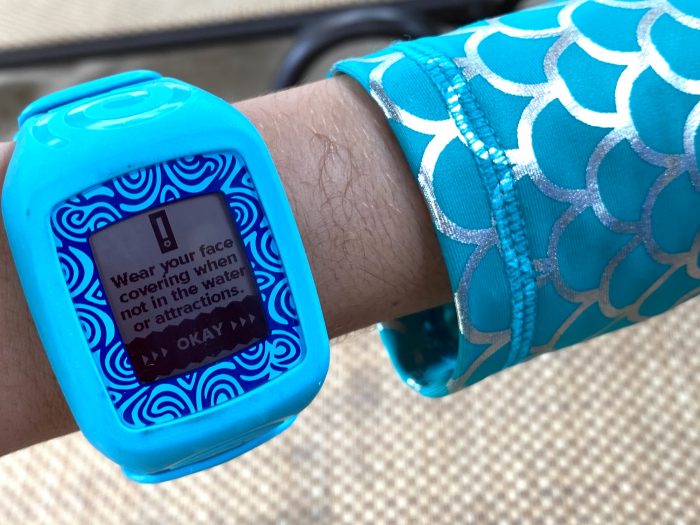 Honorable Mention – The On-Site Resorts
Most of Universal's on-site hotels have re-opened for business. Only Portofino Bay remains closed. The official opening of Dockside Inn and Suites has been delayed, it was scheduled to open just as everything shut down back in March.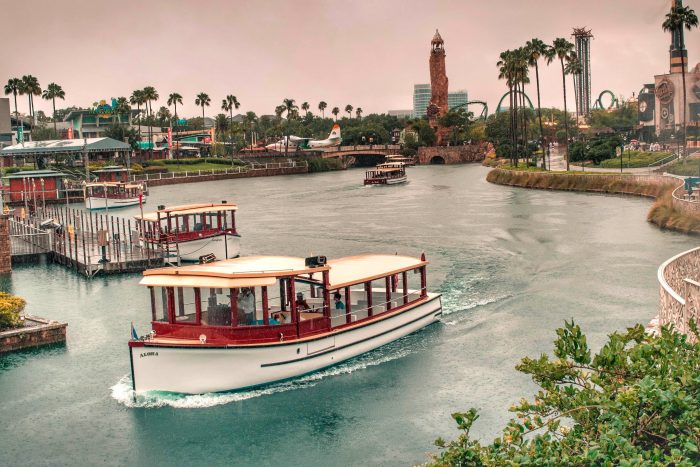 Temperature checks are taken at the hotels. Once your temperature is taken, guests are given a bracelet so that they don't have to get it taken again upon re-entering the hotel.
Changes have been made to encourage social distancing. Below is a picture taken in 2018 showing a long table in the food court for Aventura Hotel.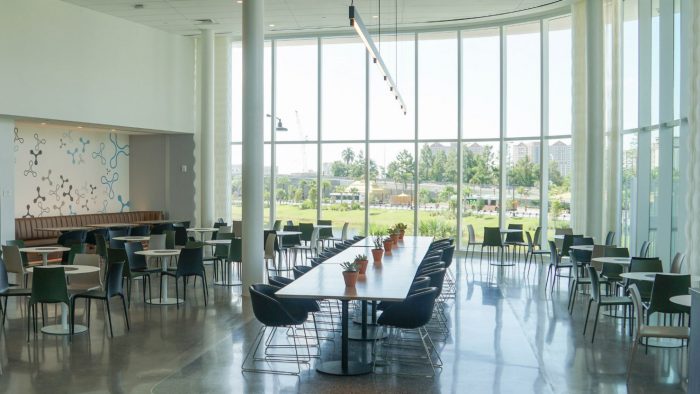 The tables have been separated.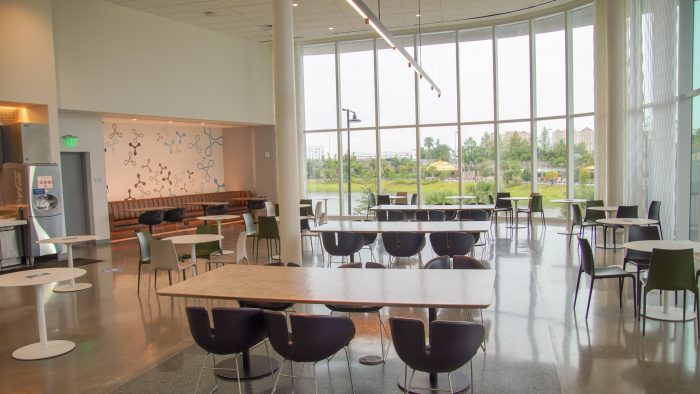 One bit of good news? Thanks to Florida entering Phase 2, bars are allowed to re-open!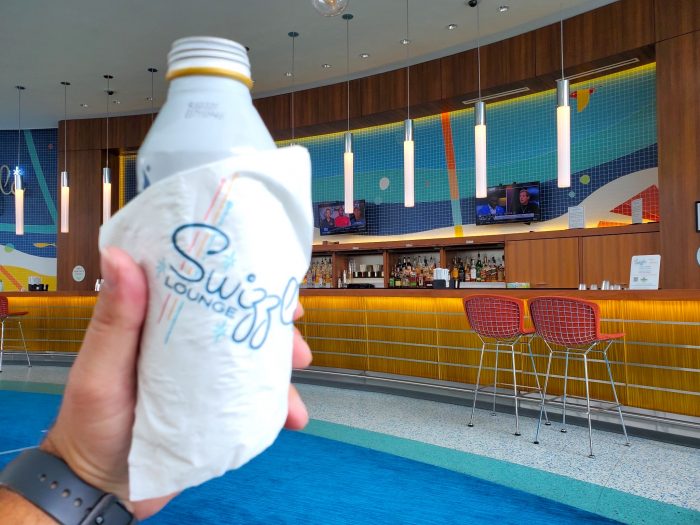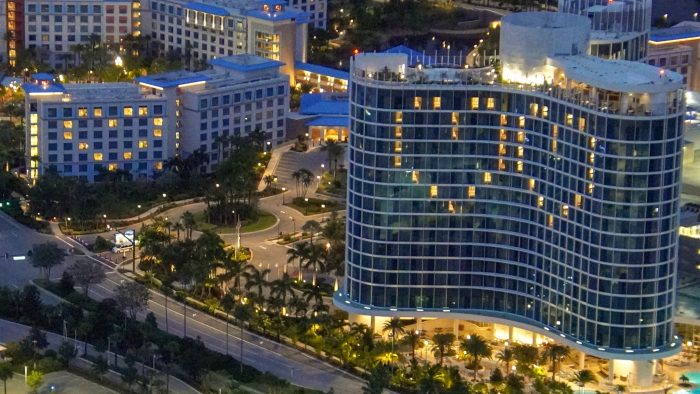 Double Secret Honorable Mention – UOAP Perks
Good news for Annual Passholders as the re-opening of the parks brings with it a lot of great perks!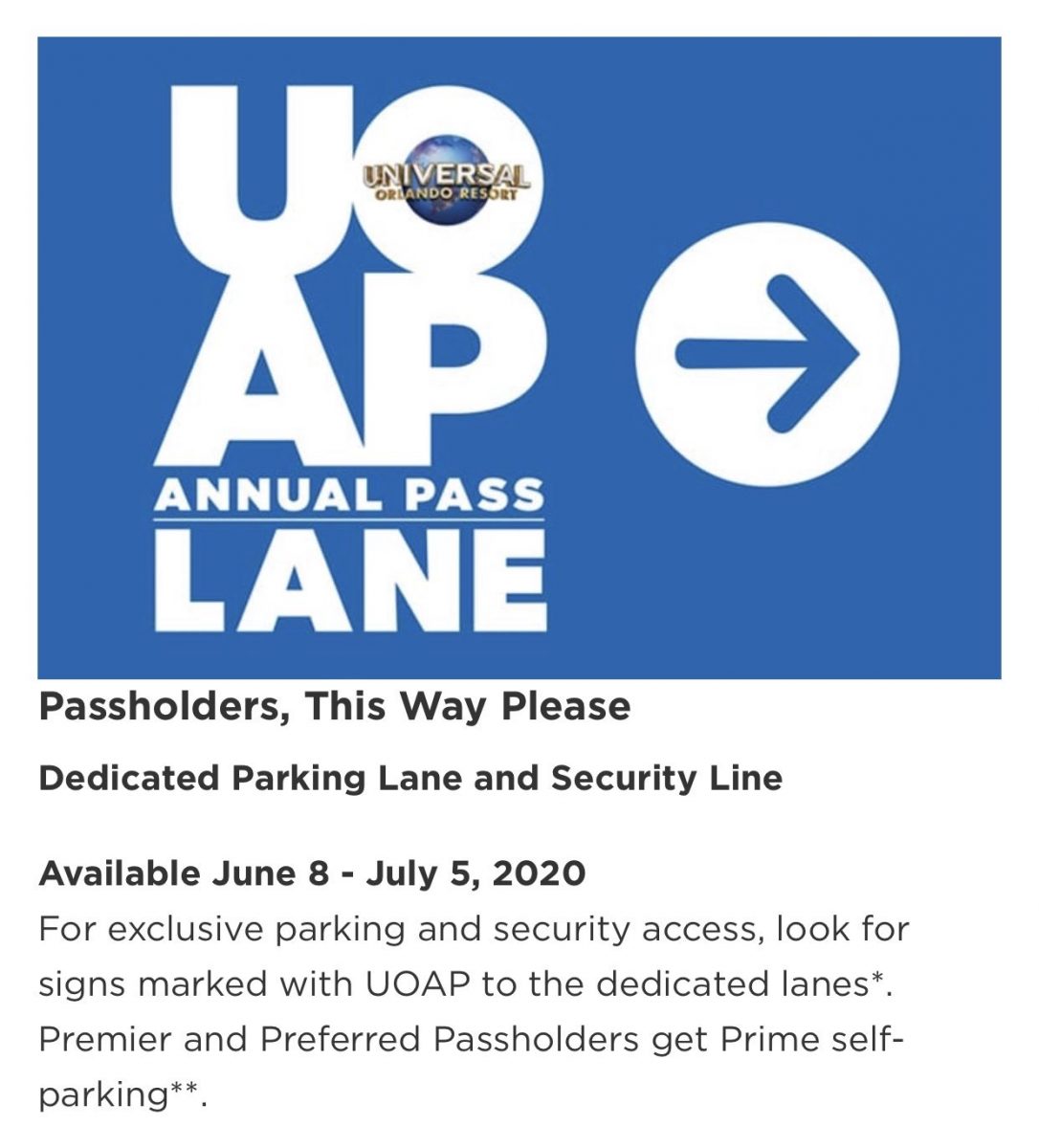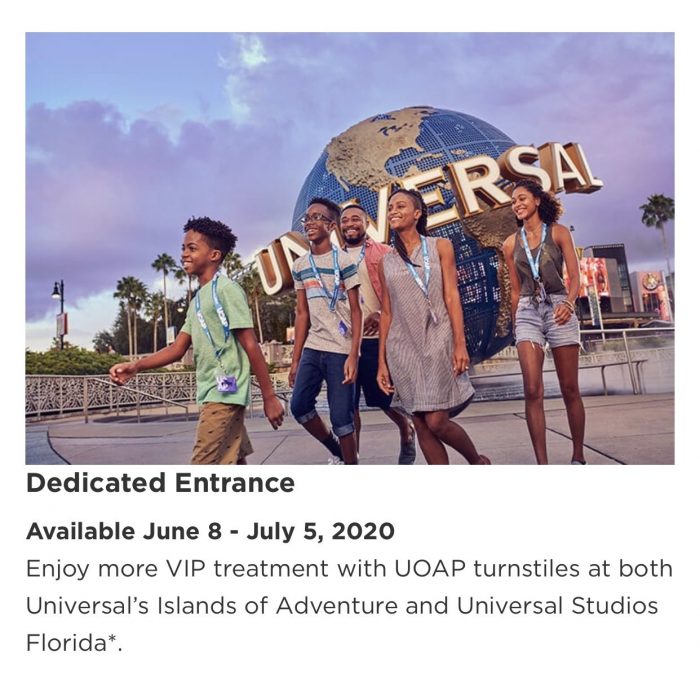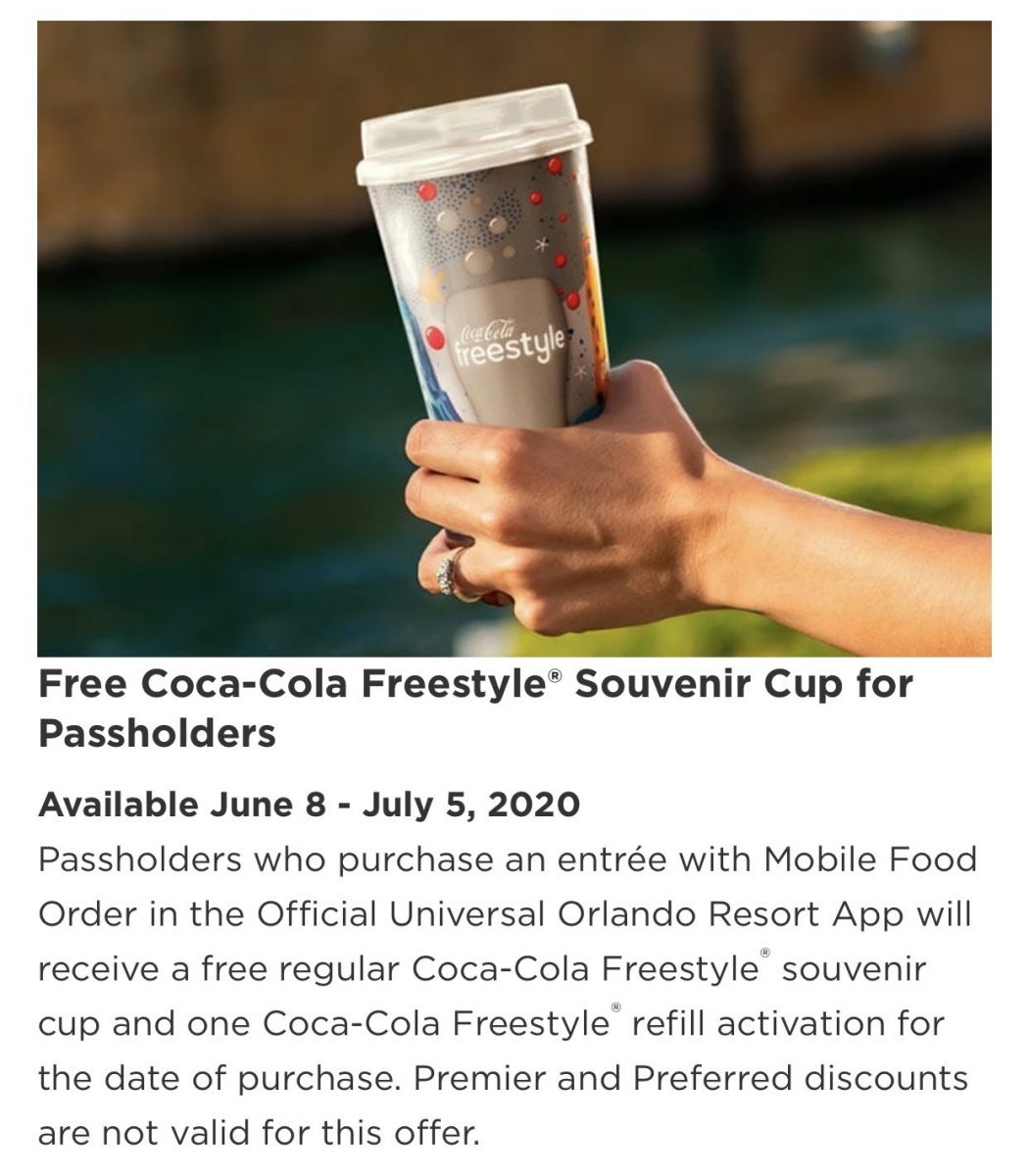 So there you have it: The SATURDAY SIX Looks at the Re-Opening of the UNIVERSAL ORLANDO RESORT! See you next weekend for the latest installment of the SATURDAY SIX, where we'll look at something fun from the world of Disney and Universal. If you enjoyed yourself, be sure to check out The Magic, The Memories, and Merch! articles covering the latest from the Disney Outlet Stores. You can also follow Your Humble Author on Twitter (@derekburgan).
If you enjoyed this article, you will surely like the following: 
6 Reasons We Love Universal's MARVEL SUPERHERO ISLAND
6 Reasons You Need to Check Out Universal's VOLCANO BAY
6 Reasons We Love Universals' SAPPHIRE FALLS RESORT
Special Thanks to The Elite Brandon Glover, the bio-est of all reconstructs @bioreconstruct, Captain Cruiseline Scott Sanders of the world famous Disney Cruise Line Blog, my personal protege Hunter "Elvey" Underwood, the SAT SIX Fun Squad of Parkscope Joe and "the Dadalorian" Nick, hot shot Michael Carelli, charter member of the Universal Four @Nitro230, and Hermione Granger's tutor Megan Stump for their invaluable assistance with this article. The SAT SIX is inspired each week by goofballs Aengus Mackenzie and LitemAndHyde and you Potterheads will  enjoy Meg's other blog work over at the Central Florida Slug Club.