Five Things to Know About Slinky Dog Dash
Ever since Slinky Dog Dash opened with Toy Story Land on June 30, 2018, it's become one of the most popular attractions at Walt Disney World. Inspired by the Toy Story movie franchise, it's one of the more family-friendly coasters you'll find at Disney World. But that doesn't mean it isn't fun! Read on to learn more about Slinky Dog Dash…but if you're the kind who prefers the tail to wag the dog, here's your shortcut to the whys, whats, and wheres of this attraction.
1. It's just doggone fun to ride.
Slinky Dog Dash is a roller coaster designed to look as if Andy built it in his backyard from his Dash & Dodge Mega Coaster Kit and other toys. Andy used Slinky Dog as the train on his coaster design, so the ride is designed to make you feel as if you're riding on the back of Slinky Dog.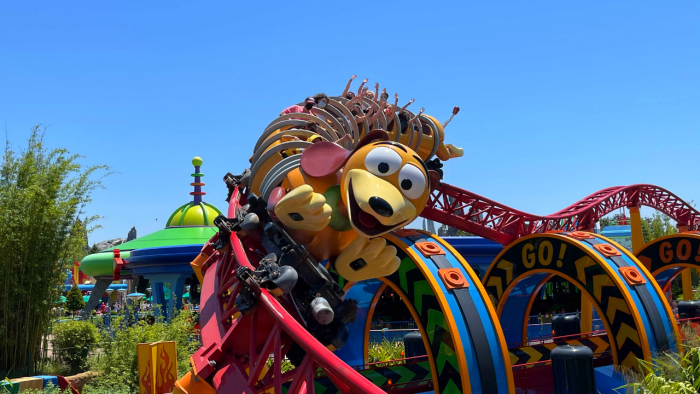 Slinky Dog Dash can look as if it's going to be a truly intense experience. The track is elevated, without scenery or props or mountains or anything on either side of it. But surprise! It's a gentle ride, with turns, dips, and hills providing the excitement and a top speed of 40 mph. No inversions or loops here (Andy wasn't sure how to build those out of his toy chest, I guess). And no free-falls, either. If you're familiar with other coasters at Disney World, the intensity is something like the Barnstormer or Seven Dwarfs Mine Train in the Magic Kingdom – and not nearly as rough as Big Thunder Mountain.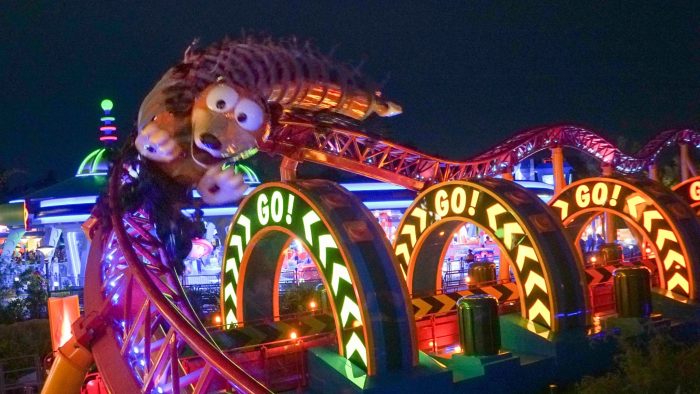 Altogether, this is a ride that provides a sense of adventure and excitement without being too intense for younger visitors. Each and every one of my seven grandchildren (ages 6 through 10 when they rode) thought it was terrific! The entire ride lasts three minutes, and the lack of cover that makes the coaster look intimidating from the ground provides sweeping views of Toy Story Land while you're riding. At the conclusion, an audio-animatronic Wheezy from Toy Story 2 sings "You've Got a Friend in Me" to send you on your way. Worth noting: Slinky Dog is really amazing at night. The track glows and the view you get of Toy Story Land is pretty cool.
2. You'll Go! Go! Go! twice with a double launch
There's one unique experience offered by this ride: Slinky Dog Dash is the only double-launch coaster at Disney World. As you approach the second part of your ride, your train stops at the Power Booster Station and Slinky Dog tells you to "Hold on!" Then your train backs up to get ready to launch again. Dave Minichiello, Executive Creative Director of Walt Disney Imagineering says, "The first half of the ride is many swirls, turns and dips, and after the second launch comes a drop and camelback humps — as if you were playing with a Slinky Dog toy."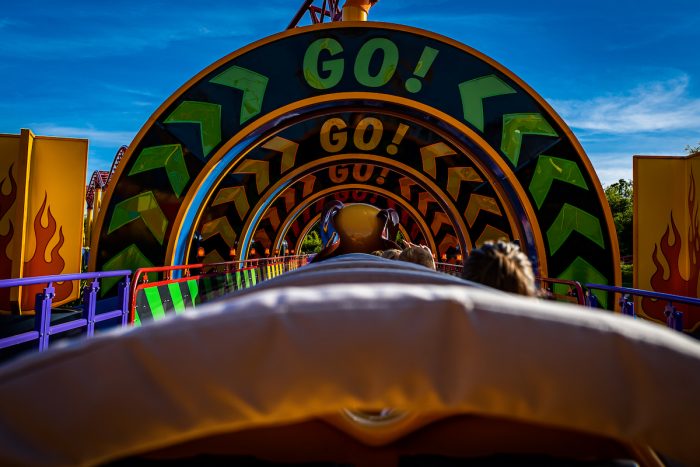 3. The queue can be paws-itively long but fun, too.
The whole of Toy Story Land is built so you experience it from a toy's viewpoint. Everything is larger than life. The queue for Slinky Dog Dash is no different in this regard. The main portion is built to look as if Andy made it from the boxes of the Mega Coaster kit and other toys and games that were used to construct the ride.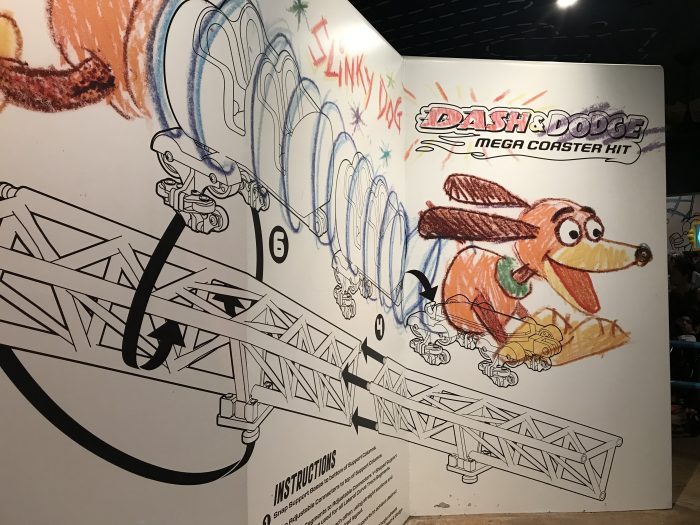 There's plenty to look at as you move through on your way to board, but the line can be pretty long. To help keep guests entertained while in line, the Disney Parks Play app has a game for families to play.
4. Yes, this dog hunts – for Easter eggs!
As is true for so many attractions at Walt Disney World, at Slinky Dog Dash the Imagineers have hidden Easter eggs and clever theming everywhere for your enjoyment. Just look at the back of the "Wait Time" sign. You'll see that Andy has used his dog Buster's dog tag for the sign.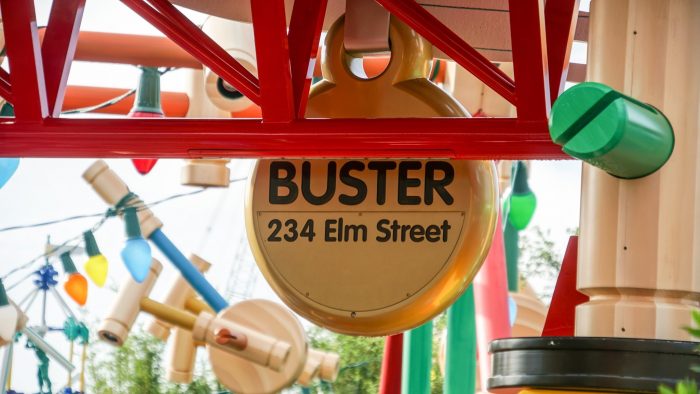 Then look at the Dash & Dodge Mega Coaster Kit box as you end your ride. There's a UPC Barcode on it with the number 2319861011971. Break the numbers into two groups and you get 231986 and 1011971.  Read the number 231986 as 2/3/1986 – and you have the day Pixar Animation Studios was founded. Read 1011971 as 10/1/1971 and you have October 1, 1971, the official opening date of the Magic Kingdom. Underneath the UPC barcode, you'll see that the Coaster Kit was "Made in Emeryville, CA." That's where Pixar Studios is based.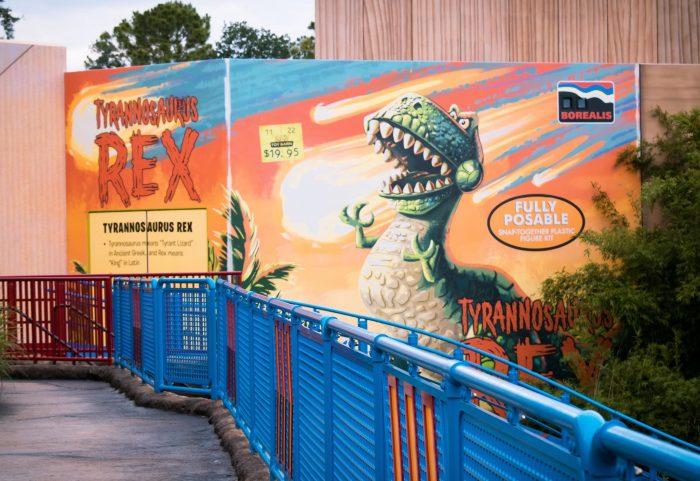 Take a close look at the price tag on the box that Rex originally came in. On the upper part are the numbers 11 and 22. The price is listed as $19.95. Taken together, that date is 11/22/1995, the day the first Toy Story feature was released.
5. The Nuts and Bolts.
Slinky Dog Dash is in Toy Story Land at Disney's Hollywood Studios. Since it's an outdoor attraction, it shuts down in heavy rain and if there's severe weather or lightning in the area. Much of the queue is exposed to the elements, and even the portion of the queue that's covered isn't enclosed. And it can get HOT. On our last visit we arrived mid-morning when the posted wait time was well over 100 minutes. It was a pretty typical late spring Florida day, sunny with the temperature in the low 90s. The queue stretched out into the uncovered area, and we did get a bit toasty. While there are umbrellas to provide shade, there aren't enough to accommodate everyone in line. So plan accordingly!
Each of the cars is designed to hold two passengers side-by-side. Each rider has their own height-adjustable lap bar with grips to hold onto, and there's a small, raised plastic "hump" between the two passengers to help prevent sliding into each other around the curves. There's a pouch in front of each seat where guests can store their stuff during the ride.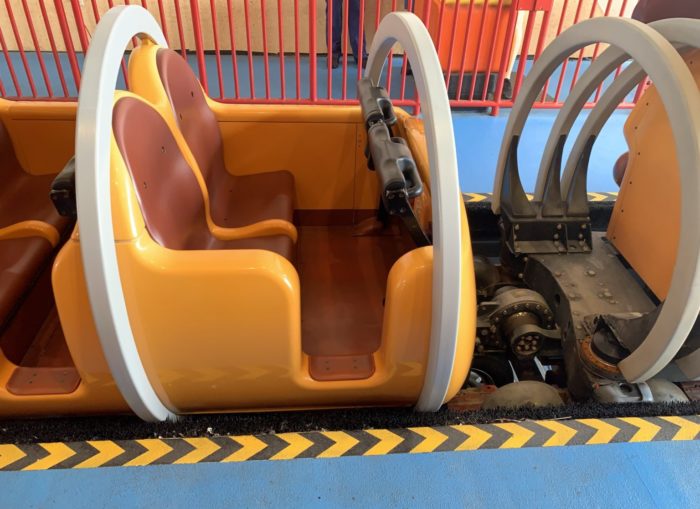 To ride, guests must transfer to a wheelchair, then to the ride vehicle. Service animals are not permitted. The height requirement is just 38 inches, making this one of the most family-friendly coasters at Disney World. But as with all rides that have a height requirement, Slinky Dog Dash offers Rider Switch. Expectant mothers should not ride Slinky Dog Dash. Also, guests with a fear of heights should be aware of the attraction's elevated track.
Slinky Dog Dash remains the most popular ride in all of Toy Story Land, regularly posting waits of an hour or more even on days with lower crowds. It's open for Early Theme Park Entry and a significant chunk of Early Entry guests will head to Slinky Dog first thing. To reduce your wait time in line, it's best to visit early in the day or nearer park closing time. You can also purchase Genie+ for Lightning Lane entry; but be aware that Slinky Dog is usually the Lightning Lane that books up the fastest and runs out the earliest in all of Hollywood Studios.
The Bottom Line.
We rate Slinky Dog Dash as not-to-be-missed. As a mild coaster, it's suitable for almost every member of the family. And even those who aren't fans of the Toy Story franchise will find this ride worth the time it takes to hop on board.
What's your experience with Slinky Dog Dash? One-time is enough, or have-to-do every visit? Let us know in the comments below.