The Magic, The Memories, and Merch! June 2019 Disney Outlet Store Photo Report
Welcome to the latest edition of The Magic, The Memories, and Merch!, the longest running monthly look at the Disney Outlet Stores in Orlando.  With Ben Wszalek covering Vineland and myself at I-Drive (addresses are at the end of every report) we found a bunch  of interesting pieces of merchandise this month, including items from the 20th anniversary of the Animal Kingdom, Star Wars, Disney Cruise Line, and some of the most next level bonkers t-shirts we've ever seen. Of course Christela McC is also here with a look at some Outlet items from out in California.
Enough jibber jabber! Ready to see what we we found? Alright, let's go!
First up are a couple handbags related to Alice in Wonderland. This version featuring the Queen of Hearts was originally $19.99, now $7.99.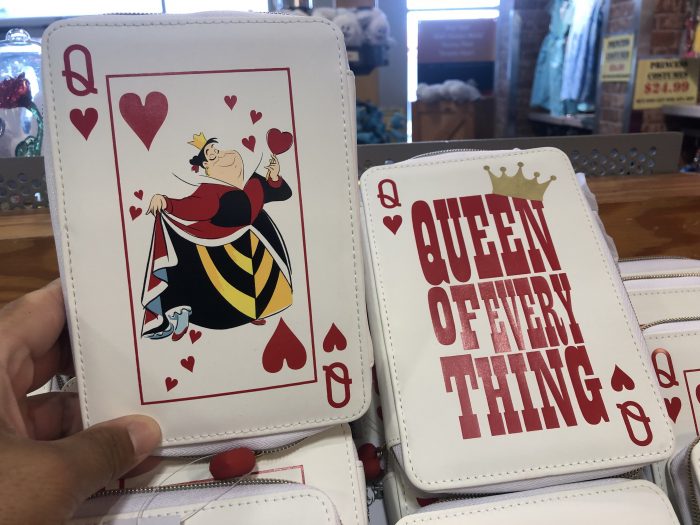 White Rabbit option, same price. It's one thing to see all this stuff in the vacation kingdom of the world, but I wonder what it would be like sitting on a bench in Idaho and the person next to you has a purse with plush rabbit ears coming off it.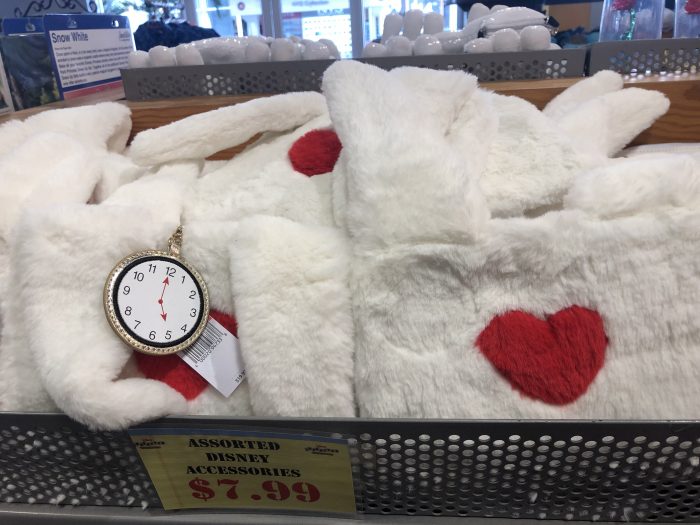 Picked up one of these cut Expedition Everest Yeti plush. Originally $14.99, now $7.99.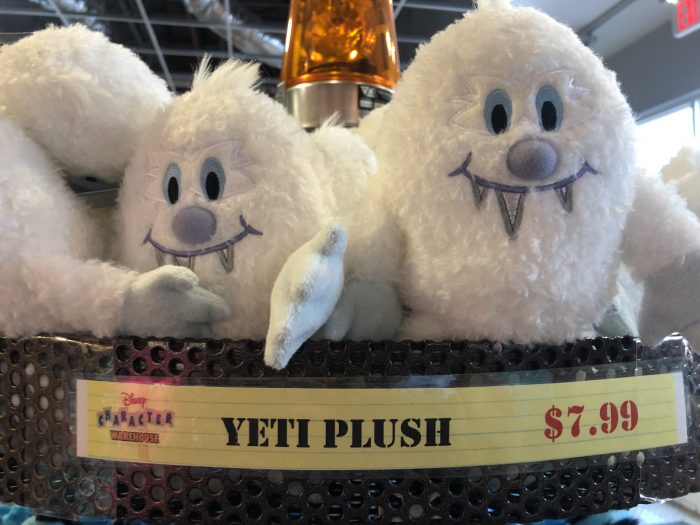 Last month we had a large plush of Destiny the whale shark from Finding Dory, this month has Bailey the beluga whale. Originally $21.99, now $7.99.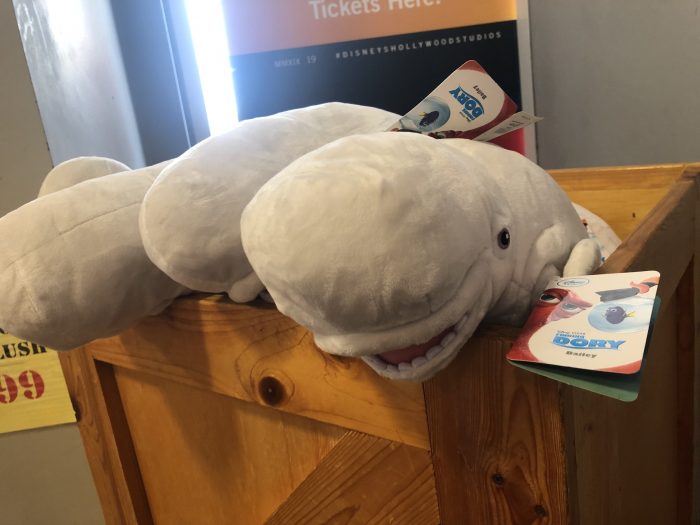 It sorta boggles my mind how many pieces of Edna Mode merchandise Disney made to support Incredibles 2. It was a great movie and she's a wonderful character, but who is a doll like this designed for? Something ironic for hipsters? Even better, the original price for this was $49.99. $50! Wow. Reduced to $29.99.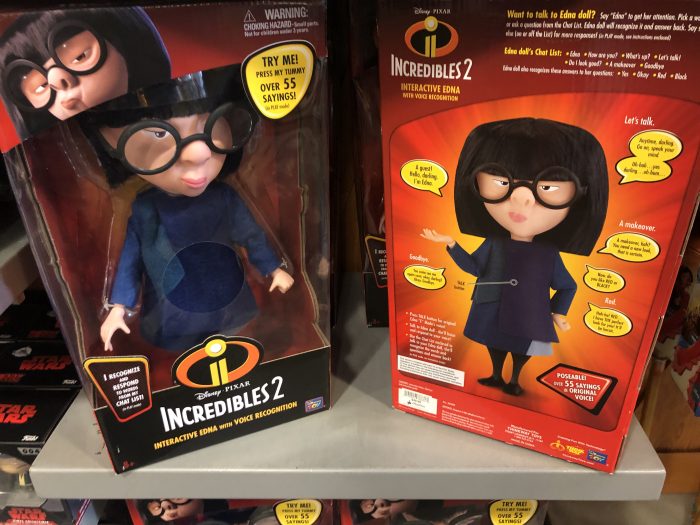 These Beauty & the Beast-themed light up spinners are still being sold in the parks for $10 each.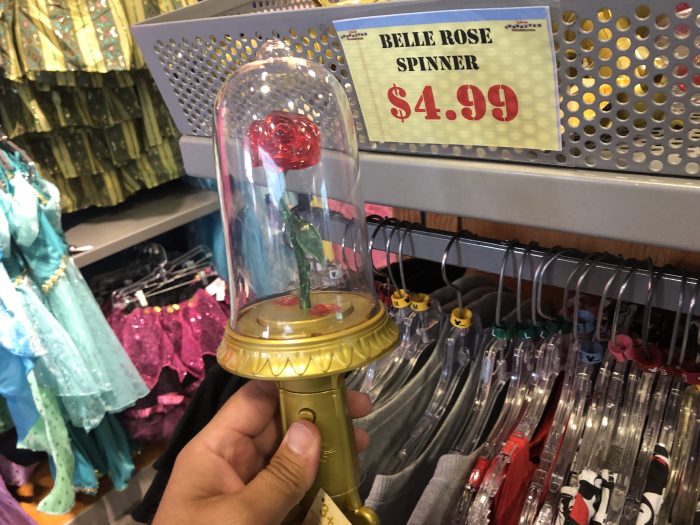 Ah, Metal Earth 3D kits. The bane of my existence. In yesterday's SATURDAY SIX I covered the pretty amazing Metal Earth items that are exclusive to the Universal parks, and the Outlets had one from Disney with the monorail. Reduced to $9.99.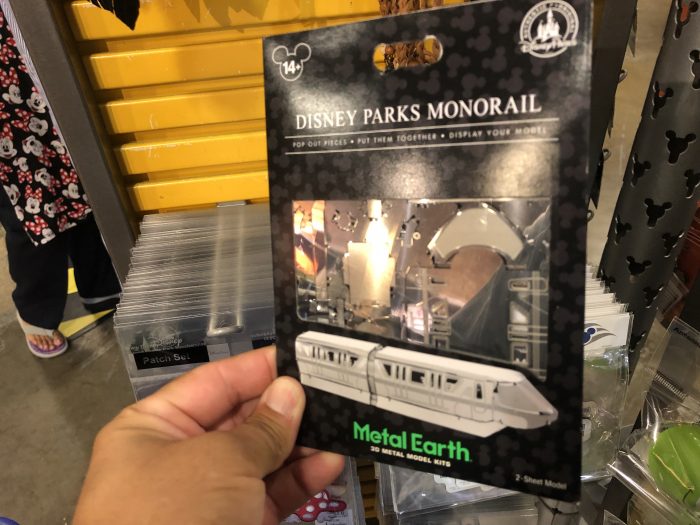 I need to contact Captain Cruiseline Scott Sanders of the world famous Disney Cruise Line Blog to figure out what these things are. Right now my best guess is a DCL lanyard from the Andre the Giant collection. It is HUGE. It has been reduced to $6.99.
Actually on the last day of a Disney Cruise you have to settle up all your "incidentals." Maybe if you can't pay that bill they put one of these things around your neck and throw you into the water. That makes more sense.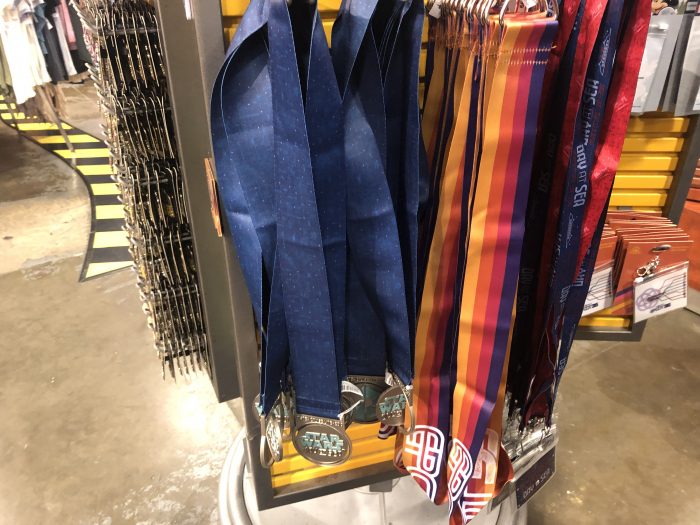 These are themed to the Star Wars Day at Sea.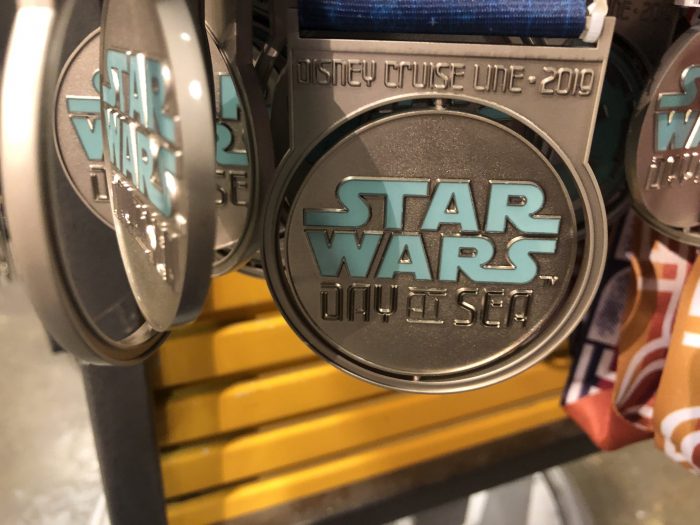 Here's the other side of the spinning medallion. Features the symbols for the Resistance and the Empire.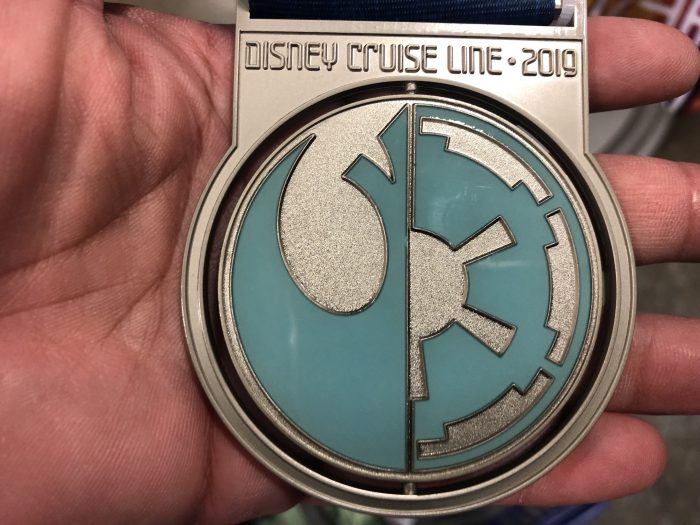 Speaking of Star Wars Day at Sea, here is a Christmas ornament with two lightsabers that look literally like churros. Originally $19.99, now $7.99.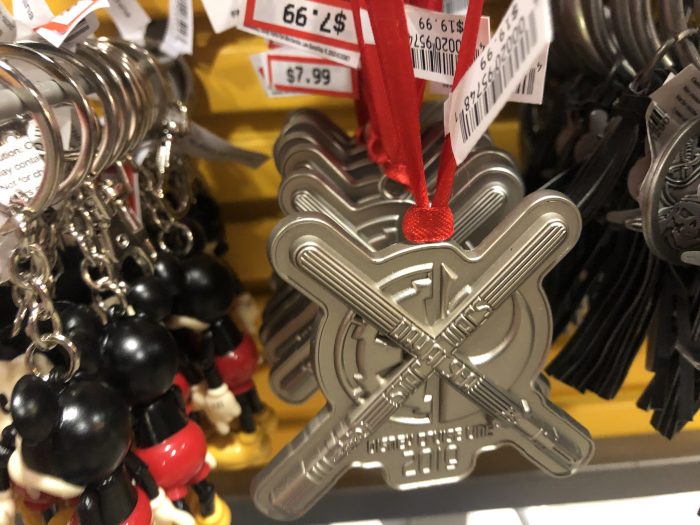 Magnets for your Disney Cruise Line stateroom door. Originally $12.99, now $5.99.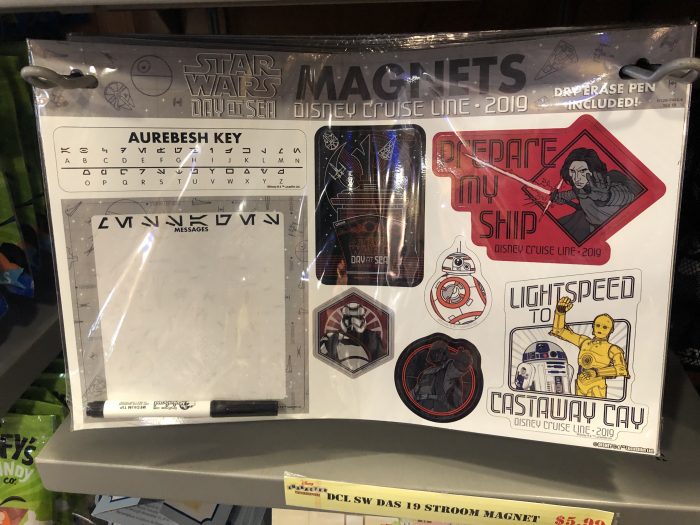 Tons and tons of these generic Stormtrooper pins. Reduced to $5.99.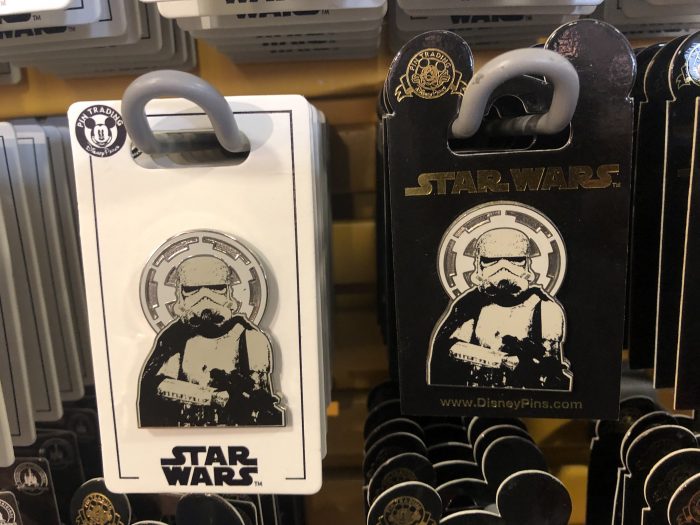 Star Wars glow ears. Reduced to $7.99.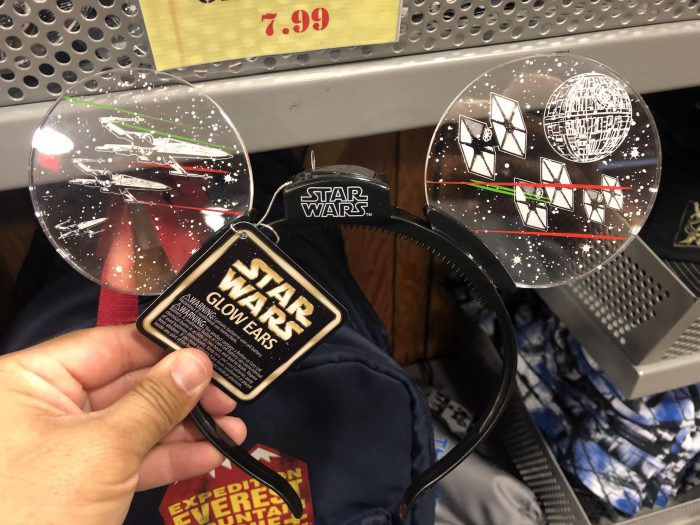 Was surprised to see this one, a Lucasfilm insulated cup. There was a time in my life where I would have done anything for this and used it as my primary drinking container. It's probably hard for people to imagine now, but when the trailer for Star Wars: Episode 1 was at the theaters, people cheered for the Lucasfilm logo. THE LOGO. Then Episode 1 actually came out and people don't cheer for the logo much anymore. Originally $22.99, now $7.99.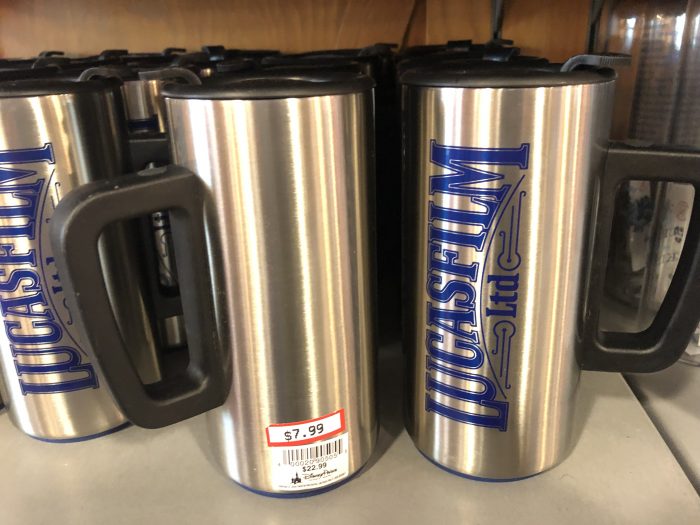 In previous months we have seen some cups featuring Disney Afternoon icons Darkwing Duck and Tale Spin, and this week we got the granddaddy of them all: DUCKTALES. (Woo-oo!) Originally $13.99, now $5.99.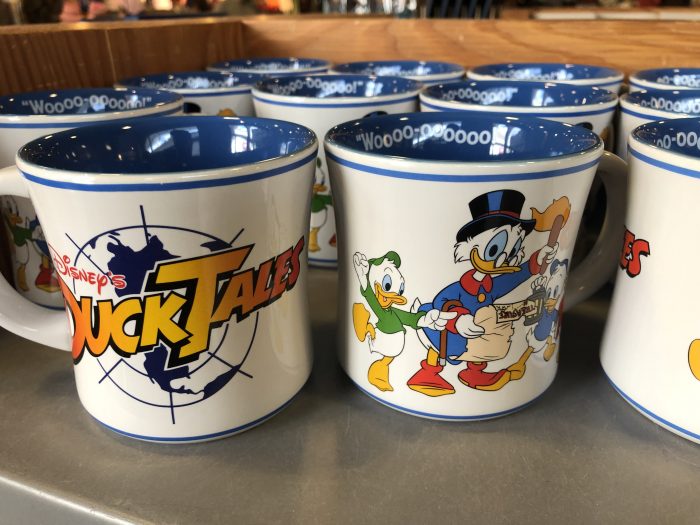 I absolutely adore the cartoony style on this cup featuring the characters on Magic Kingdom attractions. We saw a similar pin set at the Outlets not long ago. Originally $16.99, now $5.99.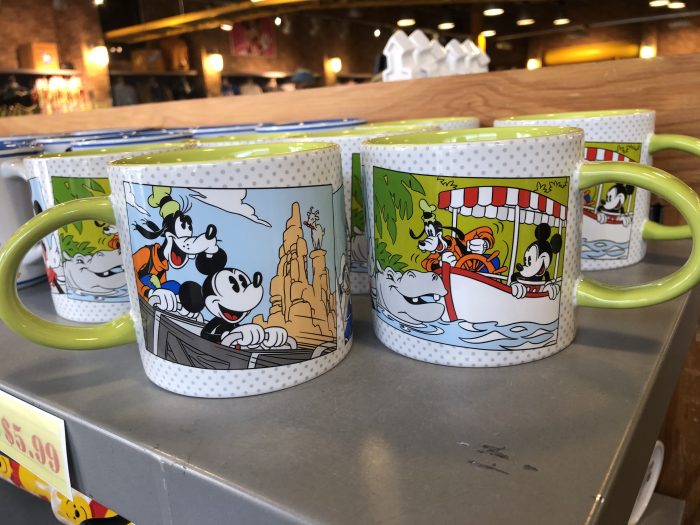 Not sure why you would want this Mickey Mouse clock in your house, but if you DID, the original price was $39.99, now $14.99.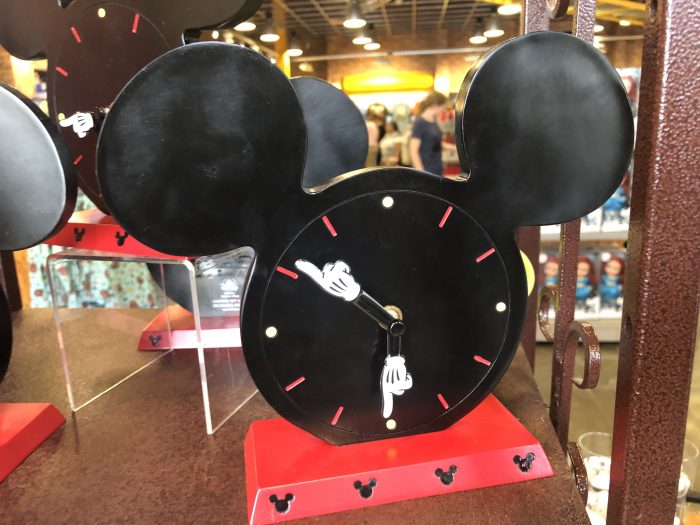 About to look at various sets of notepads, all of which are inherently flawed. Can you imagine trying to write a note on these, but especially the one the Mickey head silhouette?  Originally $12.99, now $3.99.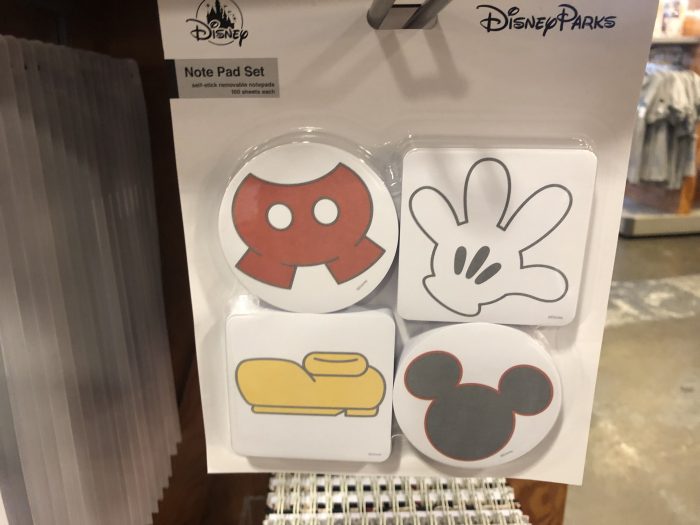 These notepads were the same price and the ones on the left were all equally unusable as a notepad as the one example above. Just mind boggling.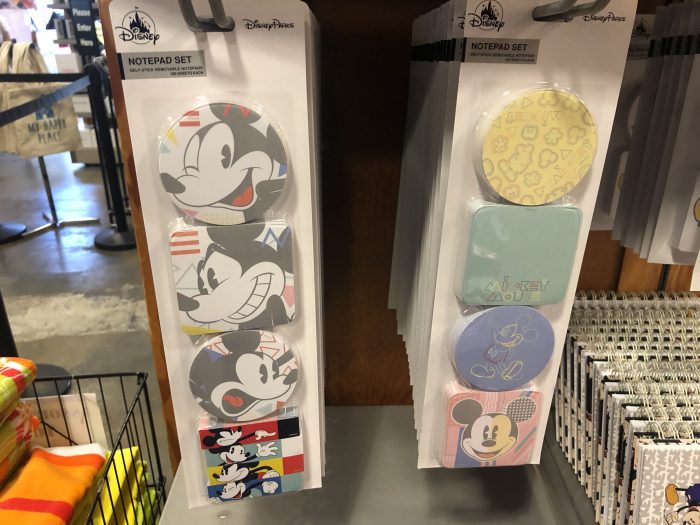 How about some magnets?! First up is a great design featuring the Castaway Cay 5K. Reduced to $3.99.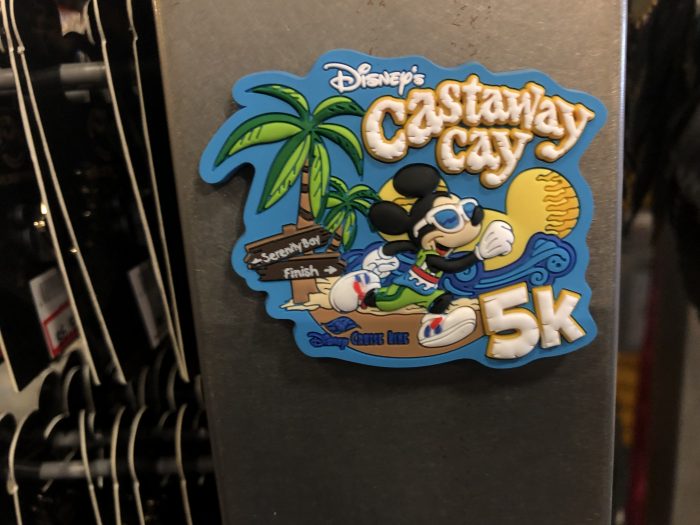 Peter Pan magnet. Reduced to $3.99.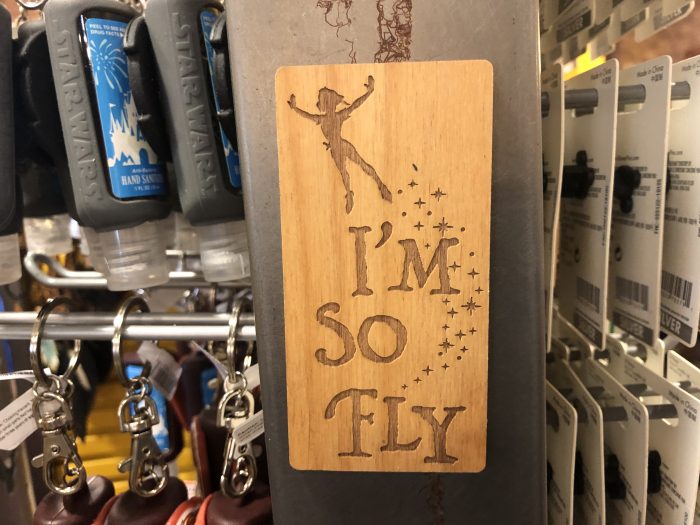 Second month in a row with a piece of Hilton Head merch. We're in unheard of territory now. It's like seeing Aulani items. Reduced to $3.99.
Speaking of DVC hotel merch we rarely see, here's a Vero Beach keychain. Reduced to $2.99.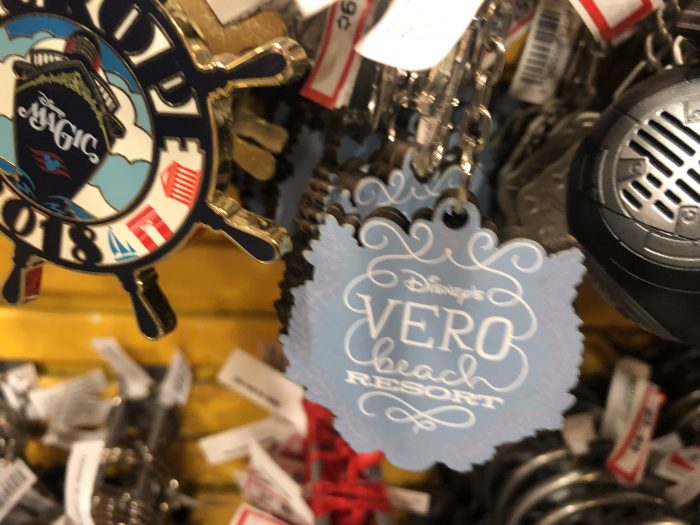 Both International Drive and Vineland Outlets had these alphabet magnets. Reduced to $1.99.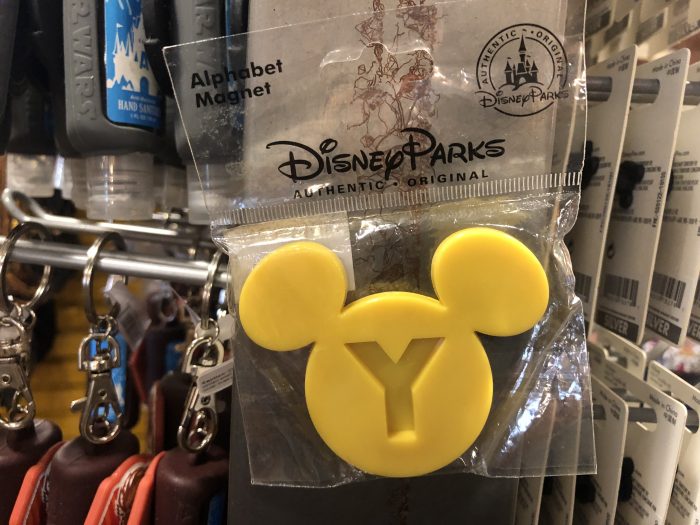 International Drive had a very limited selection.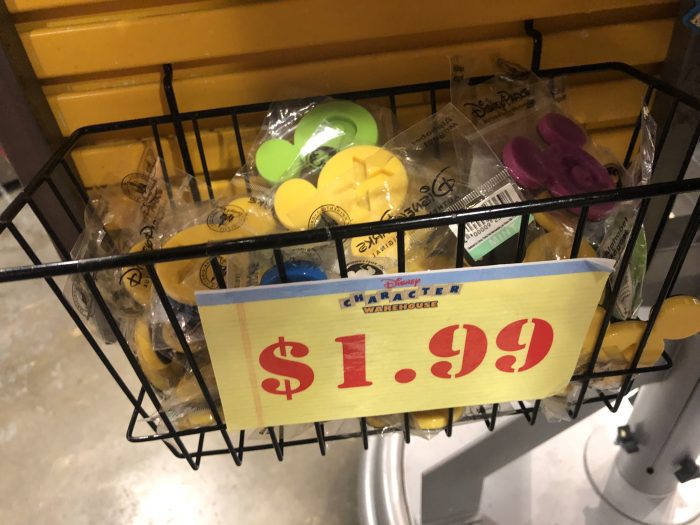 But Vineland had a whole bunch.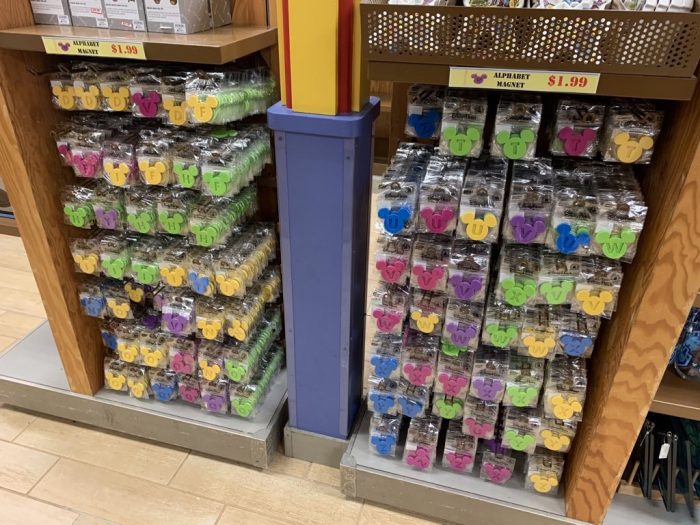 Time for a quick break in Florida while we head over to the West Coast and join @ChristelaMcC as she takes a look at the Disney Outlets out in CALIFORNIA.
First up is this it's a small world dress. Originally $44.95 and reduced to an extremely weird price of $15.75.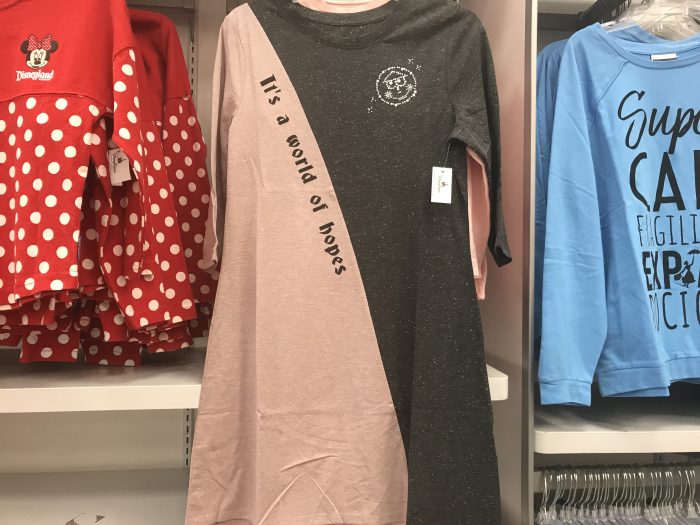 Close up of the design.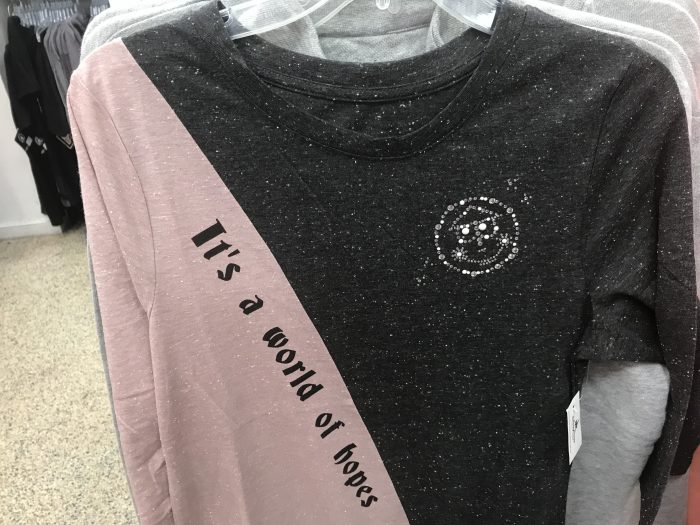 Kid's Disneyland shirt. Interestingly enough, the Sleeping Beauty castle on the front of the shirt is a 1:1 scale to the real thing. Originally $17.99, now $9.99.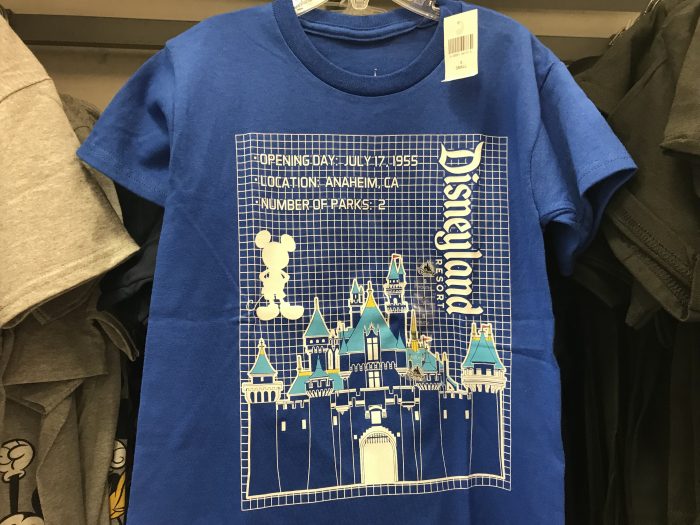 Big fan of this kid's Mission: Breakout shirt featuring baby Groot. Originally $19.99, now $8.99.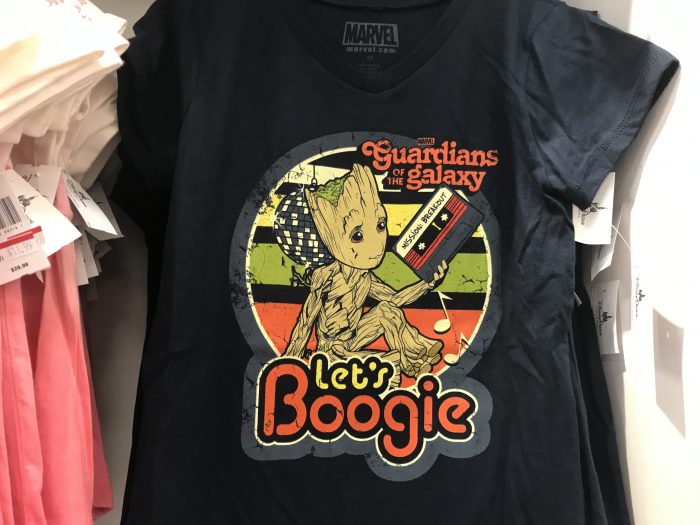 I didn't even know they made Star Wars Launch Bay merch. This shirt was originally $34.99, now $12.99.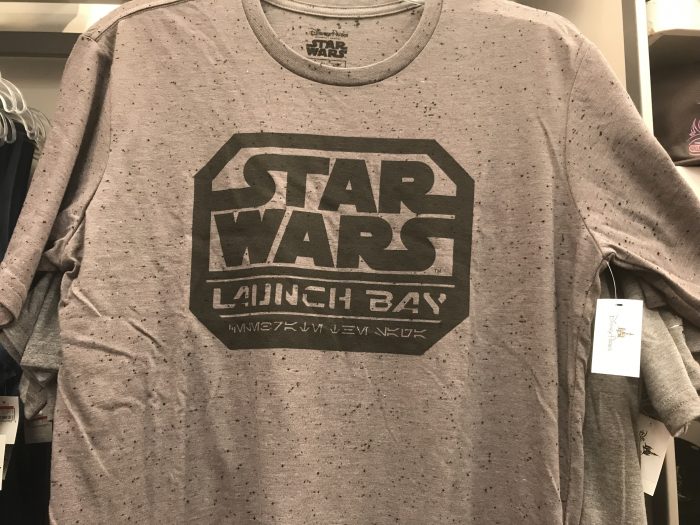 Apparently these two droids were in the Star Wars: The Last Jedi. Saw the movie, don't remember them at all. Originally $19.99, now $9.99.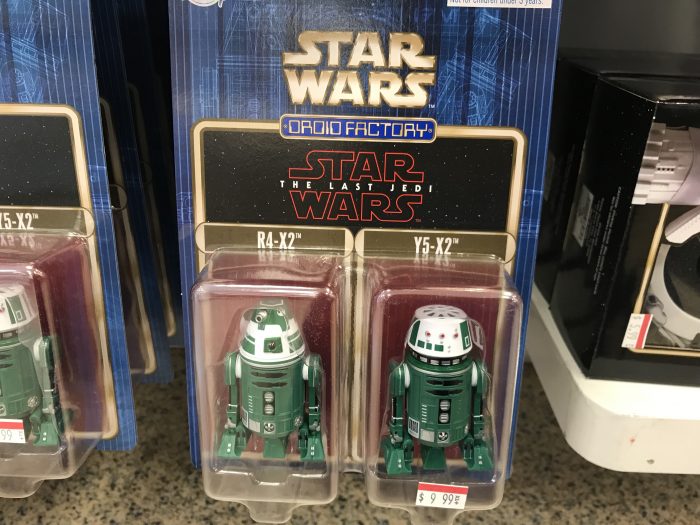 This was neat. A Pirates of the Caribbean themed playset for kids that is stored in a small treasure chest. Originally $32.99, now just $10.99.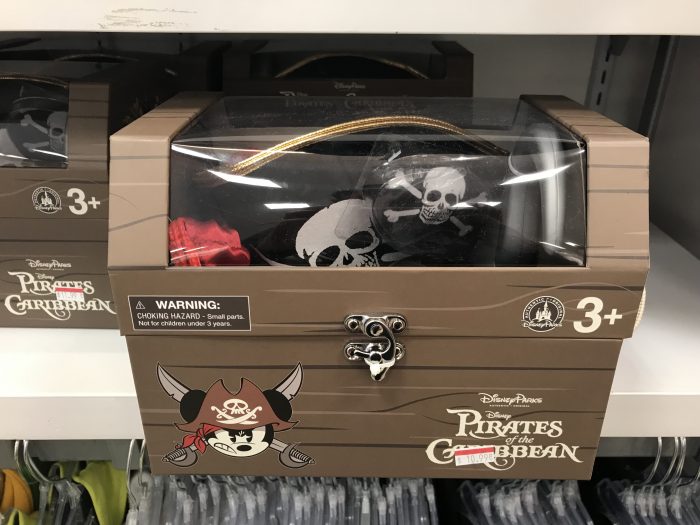 Here's a look at what's inside.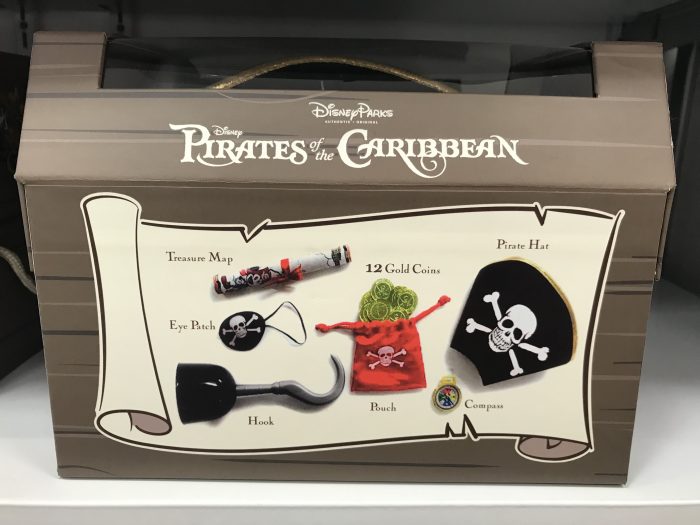 Pirates of the Caribbean backpack. Originally $19.99, now $8.99.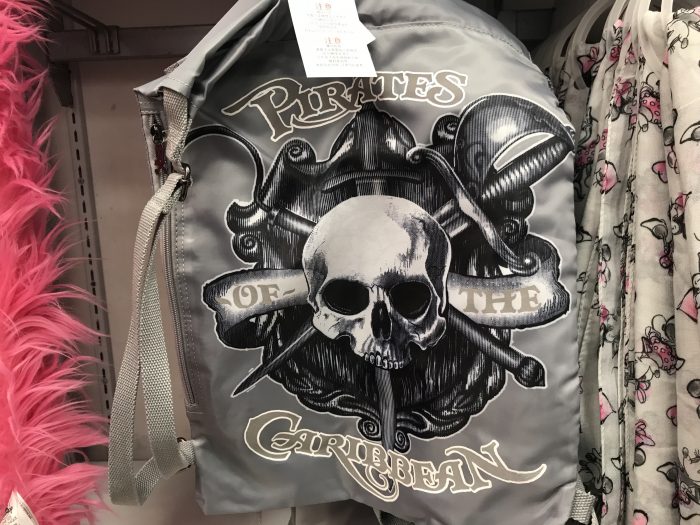 Mickey Mouse Christmas-themed cheese board. Originally $27.99, now $7.99.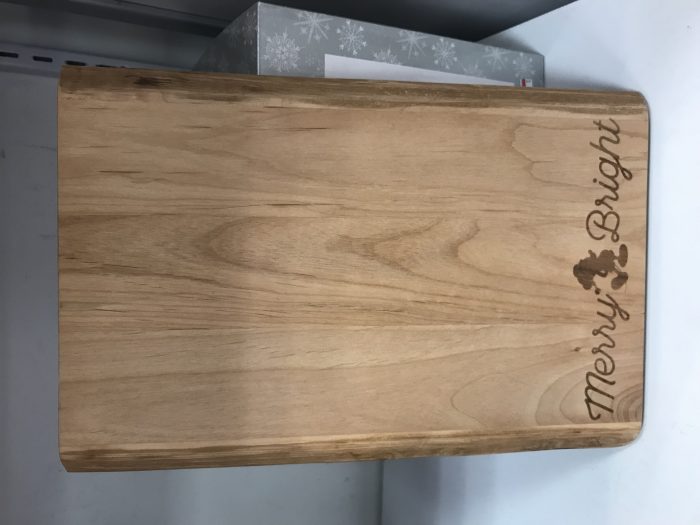 Alice in Wonderland themed wallets. Originally $19.99, now $11.99.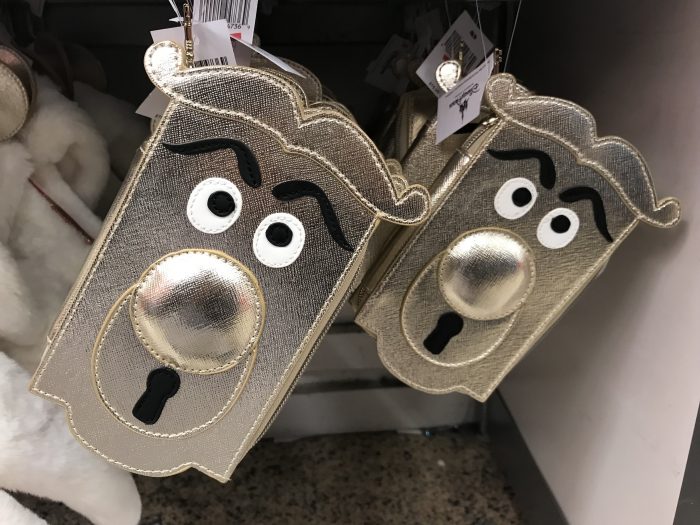 Looks like Bob Chapek already got to this one.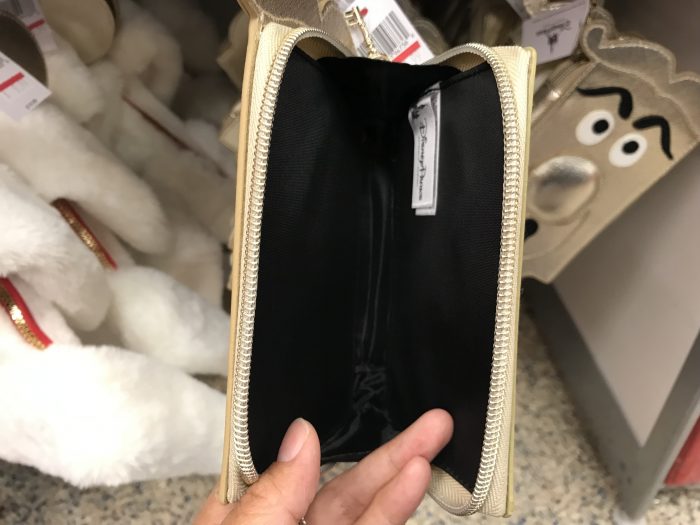 Okay, back to FLORIDA!
First up is this completely insane Single Rider: Seeking My Party of Two shirt, which just may be the creepiest piece of clothing Disney has EVER put out. Originally $24.99, now $9.99.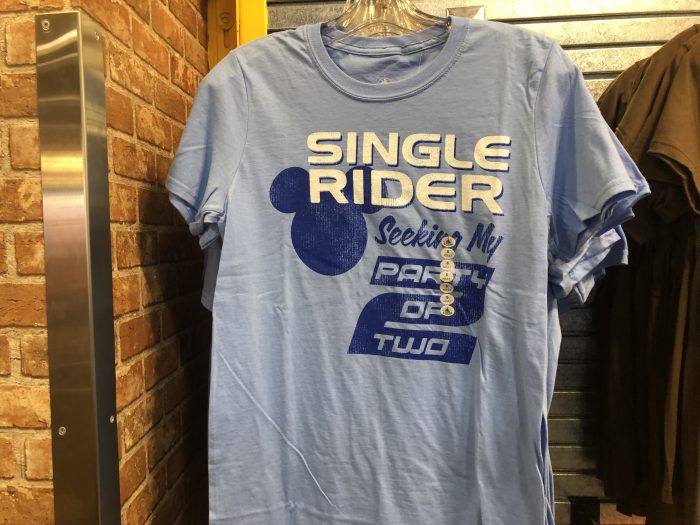 Is it me, or is this Mickey shirt particularly weird? Originally $19.99, now $7.99.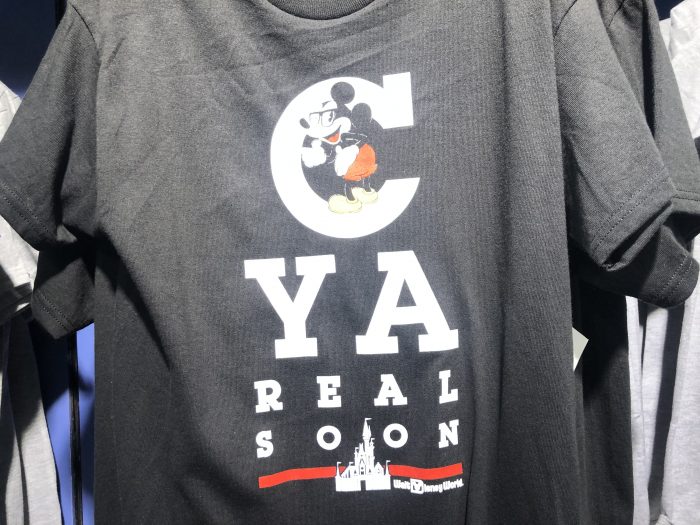 Is this supposed to be referencing something?!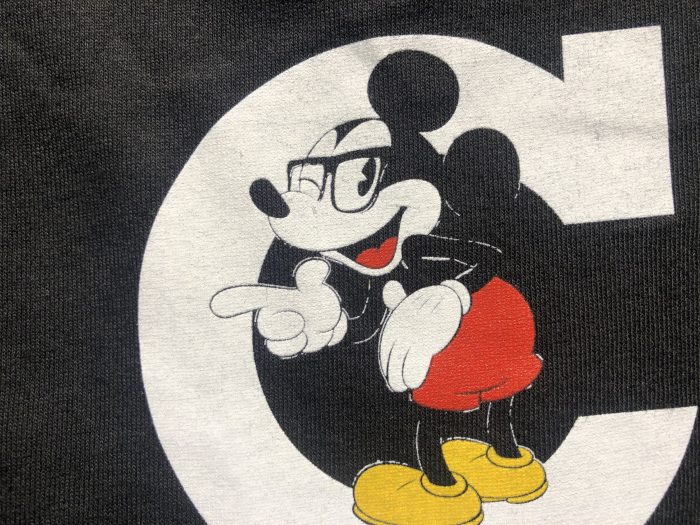 On the other end of the Mickey Mouse spectrum is this cute one for kids.  Originally $19.99, now $7.99.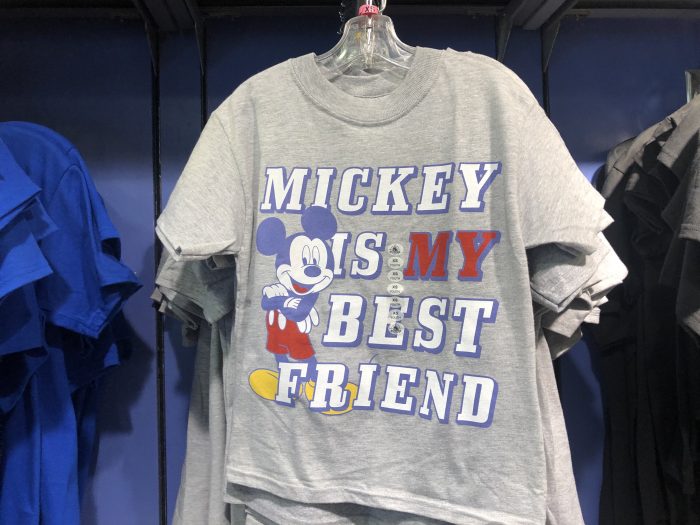 This shirt makes absolutely no sense. Is there a Simba, I Am  Your Father shirt? I mean that SORTA makes sense because the same voice actor who voiced Mufasa also did Darth Vader, but even if that is a thing it's certainly not popular enough that you could make a parody shirt out of it and expect to sell more than 5. Well, I guess that's why we're here. Originally $34.99, now $9.99.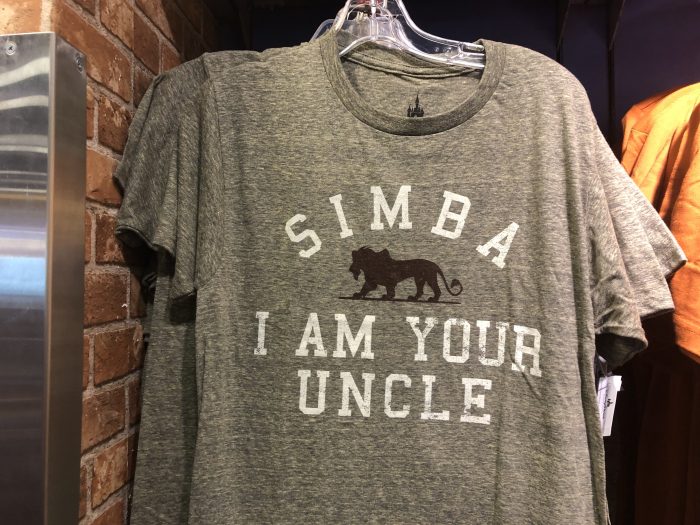 The ironic part about this shirt is that life is most certainly NOT better and without FastPass we'd all be getting on rides much faster and not have to worry about being up at 7 a.m. months before our vacation to try and score FP+ for rides like Flight of Passage, Mine Train etc. Originally $19.99, now $7.99.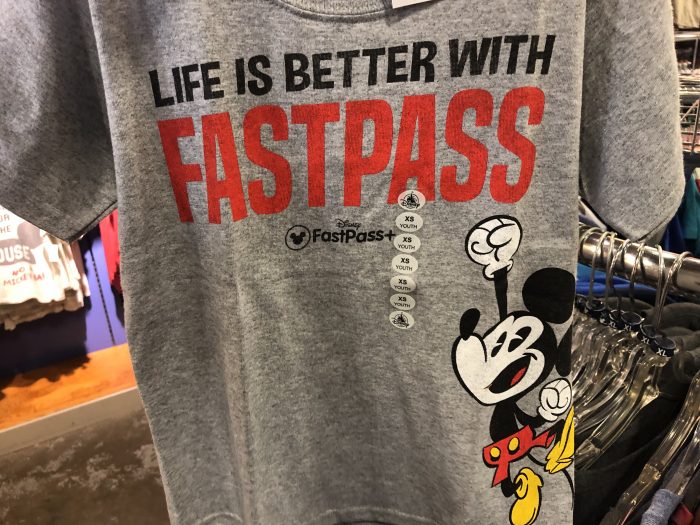 We've seen the My Other Car is a Monorail sticker for your car at the Outlets, but here is the accompanying t-shirt. This is not really an accurate drawing of a monorail because you can see that all the doors are closed and no parts are falling off. Originally $24.99, now $7.99.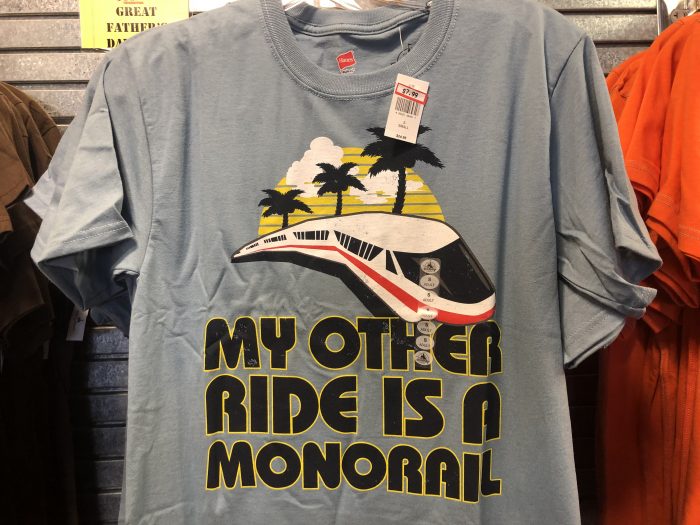 Now we're talking! This is a pretty sweet Jungle Cruise shirt for kids. Originally $29.99, now $9.99.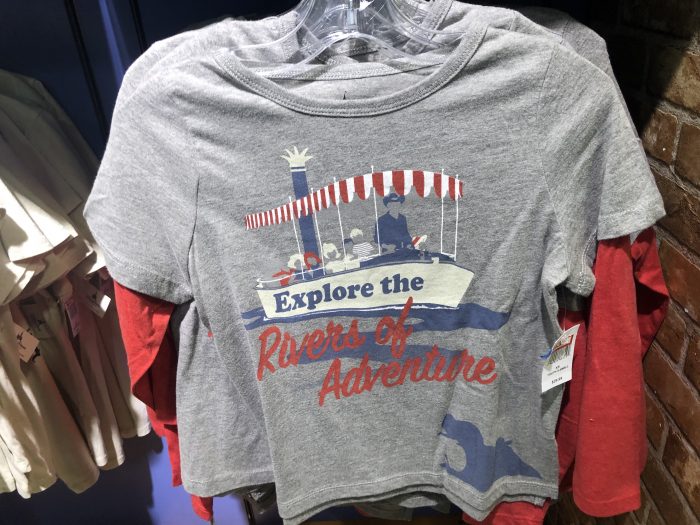 This is a Cinderella-themed shirt that is both long sleeved and has the shoulders cut out. I've been informed by the SATURDAY SIX Editor-in-Chief Megan Stump that this style is called "Cold Shoulder." I'm imagining there is a good reason we don't see too many humans wearing this style in public. Originally $39.99, now $12.99.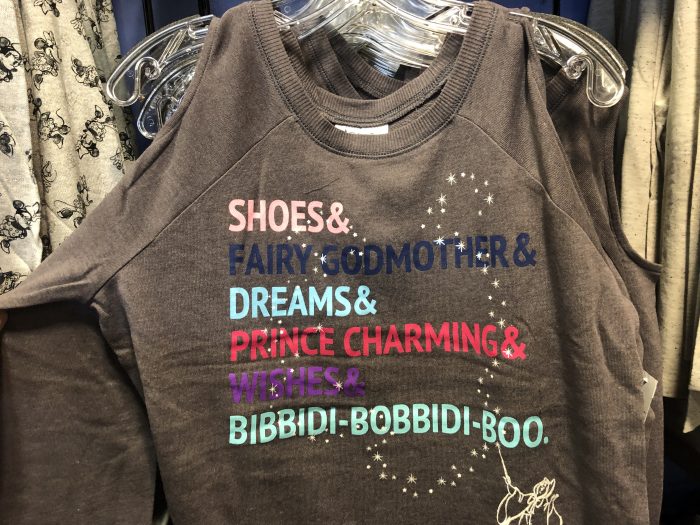 I'm definitely not a "tie dye" guy, but this Stitch shirt isn't that bad. Originally $44.99, now $12.99 and I should know by now to check out the back of this type of shirt because it's probably BONKERS. Sorry about that.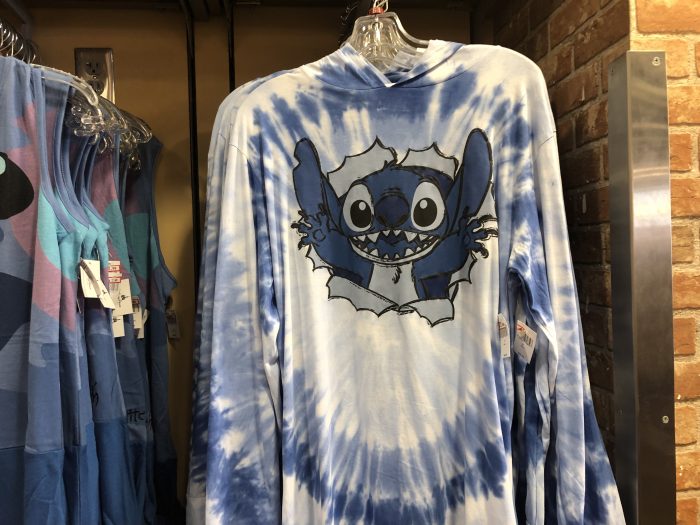 A Stitch "licking" shirt. I think this concept works better on the tumblers I've seen it on previously. On a shirt its just bizarre. Originally $29.99, now $7.99.
Women's Peter Pan shirt. Originally $29.99, now $12.99.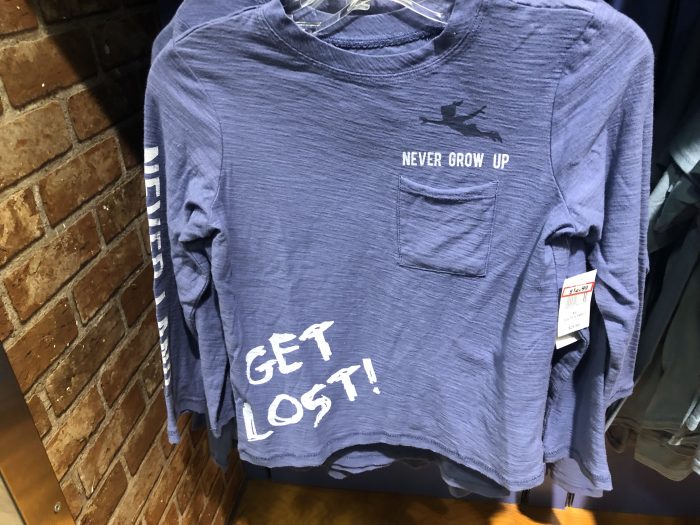 I like this next group of shirts that use a play on words for the four Disney Cruise Line ships. All were originally $32.99, marked down to $15.99.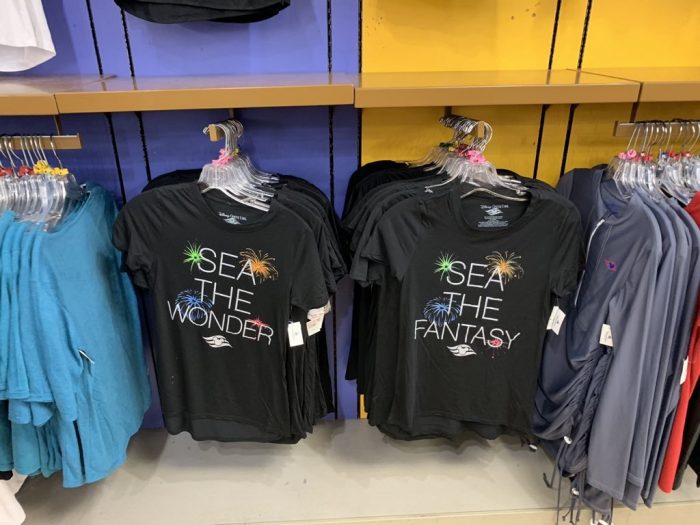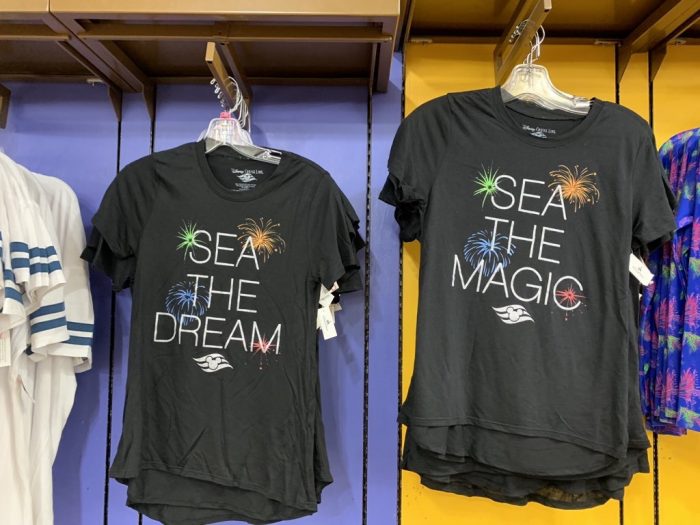 Big fan of this WDW Mountaineer Club t-shirt for kids. I think I would have picked one up if they had the adult version in stock. Originally $19.99, now $7.99.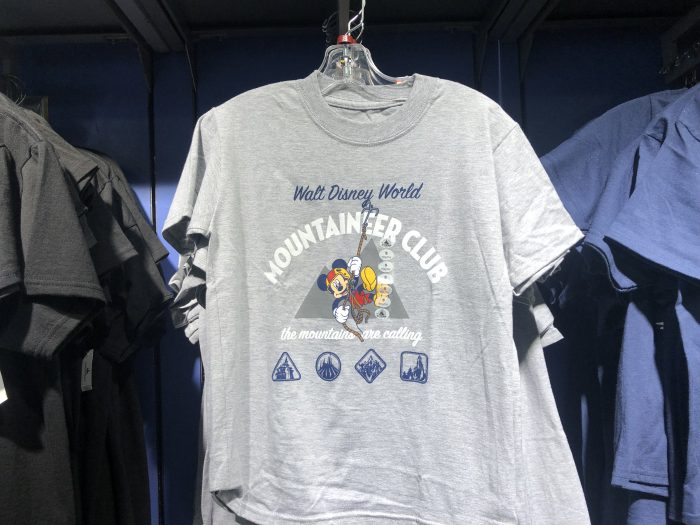 Hoodie version of the "mountain club." Originally $39.99, now 14.99.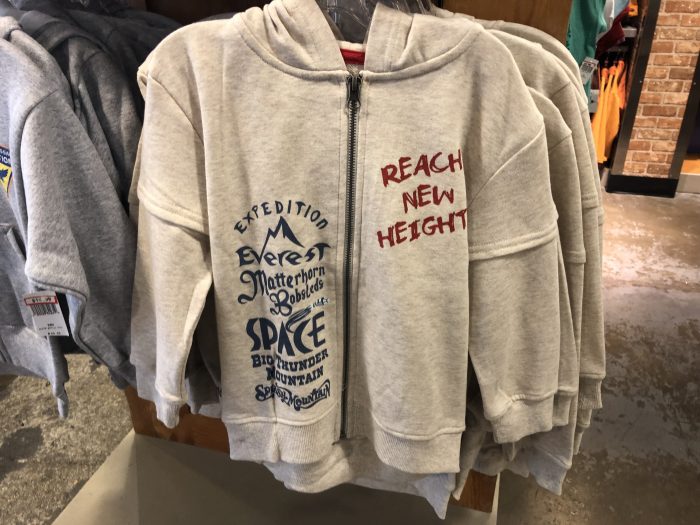 Moana-themed shirt featuring Maui. Originally $19.99, now $7.99. I consider Maui's "You're Welcome" song to be in my top five all time Disney songs. Also really like Scar's "Be Prepared" from the Lion King, Ursula's "Poor Unfortunate Souls" from Little Mermaid, and Gaston's "The Mob Song" from Beauty & the Beast. Starting to see a pattern there…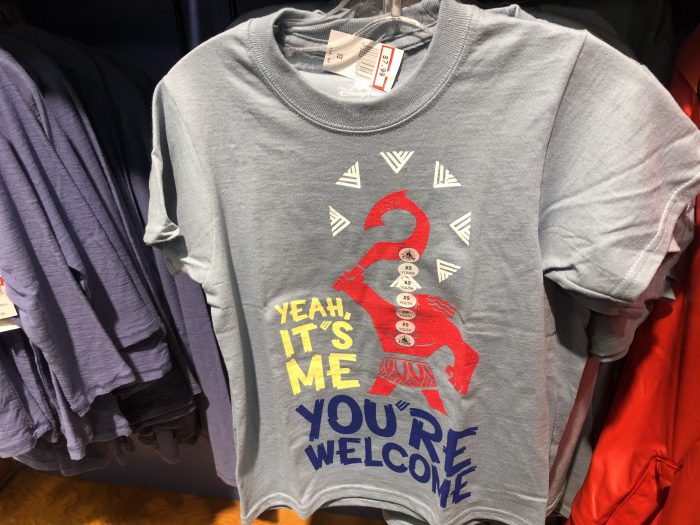 Surprised to see any Aladdin-themed shirts at the Outlet considering the movie had just recently come out and was a huge hit. As someone who wanted to pull out my eyes watching Dumbo, I went into Aladdin expecting the worst, especially because I absolutely LOVE the originally. One of the best Disney animated films in my book. Then a funny thing happened. I actually really liked it. Will Smith was fantastic as the Genie and those shoes couldn't have been bigger to fill. Anyway this shirt was originally $19.99, now $7.99.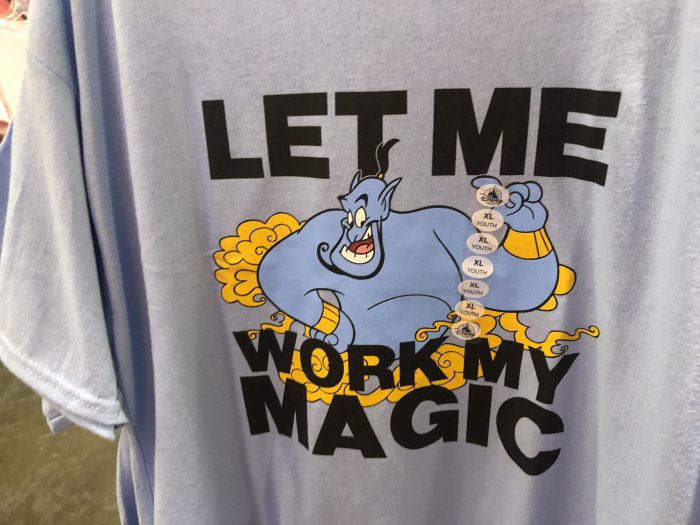 Another Genie shirt featuring the four WDW park icons. Originally $19.99, now $7.99.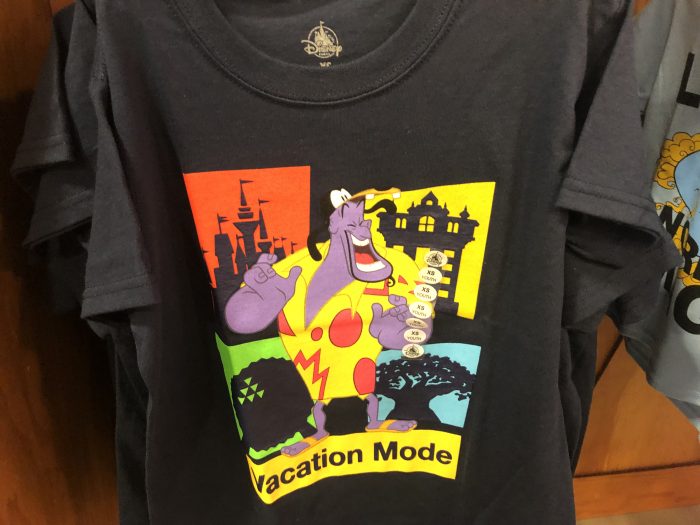 Kid's Buzz Lightyear shirt. Originally $19.99, now $7.99.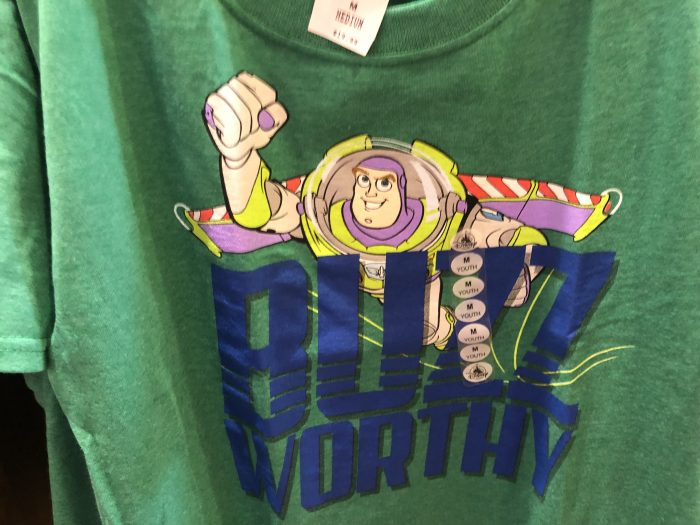 This Cars themed swimwear was pretty cool looking. Would have loved it when I was a kid. Shirt was Originally $19.99, now $5.99 while the shorts were originally $22.99, now $6.99.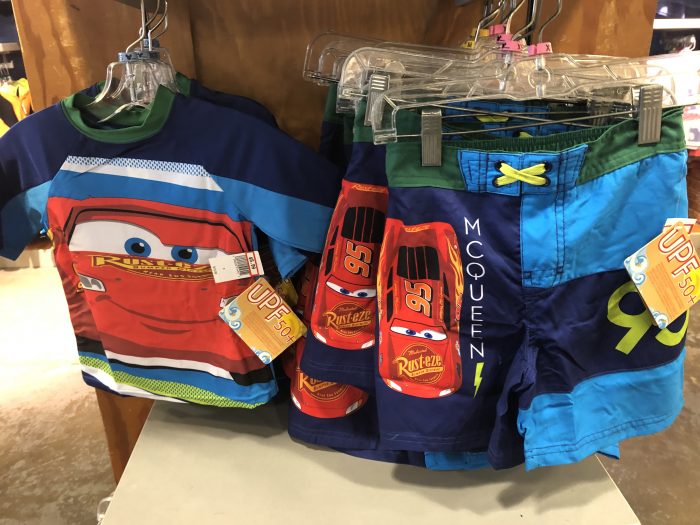 This is one of those pieces of clothing for Pandora's Flight of Passage that can only fit kids too short to be able to get on the ride. Trying to figure out why Disney does what it does can be an exercise in futility. I imagine if Disney had a vegan restaurant they would try to sell bacon-themed hats for it. Originally $39.99, now $14.99.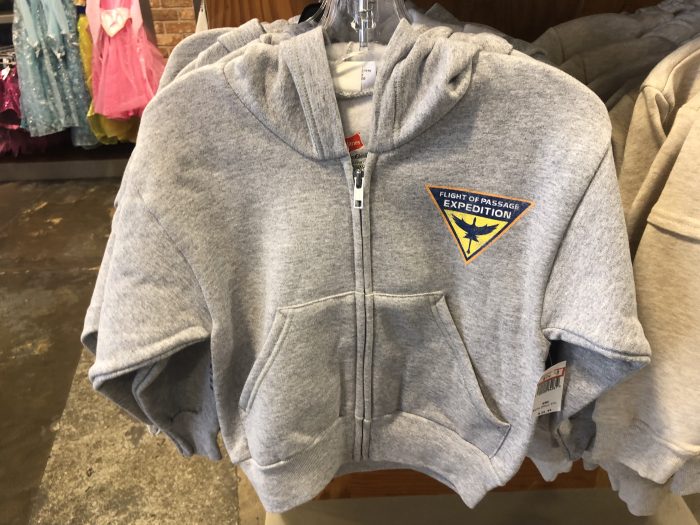 Whenever an item at the Outlet makes absolutely makes no sense whatsoever, I just assume it was made for Pandora: The World of Avatar. So this Pandora shirt was originally $29.99, now $12.99.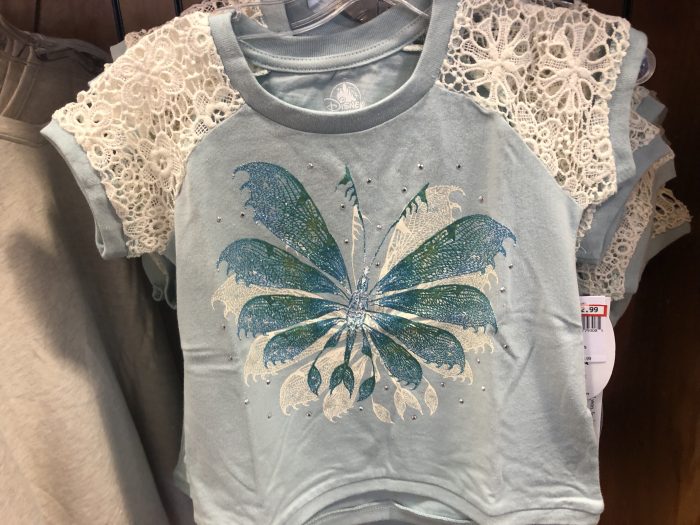 Artsy banshee shirt from Pandora. Originally $24.99, now $9.99.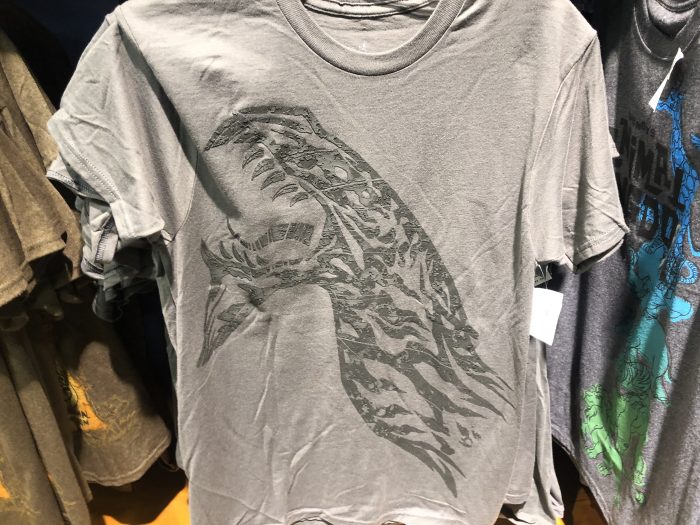 Two Animal Kingdom related shirts. The Pandora one of the left was originally $34.99, now $9.99 while the Kilimanjaro Safari's t-shirt was originally $24.99, now $9.99.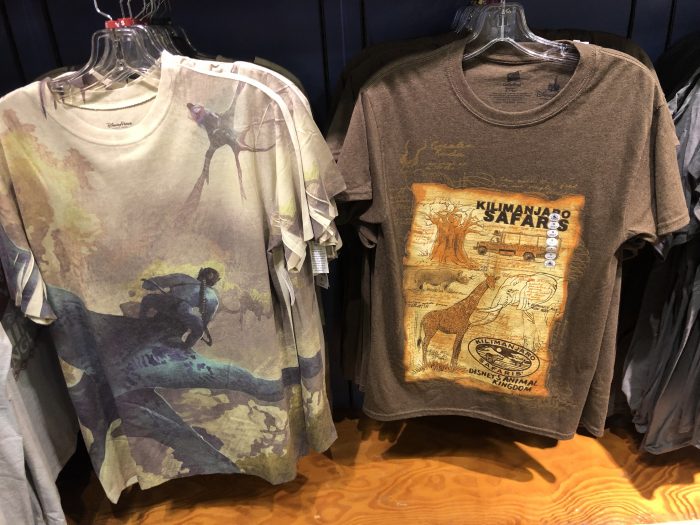 I bought this Animal Kingdom 20th Anniversary t-shirt for my girlfriend. Originally $34.99, now $9.99.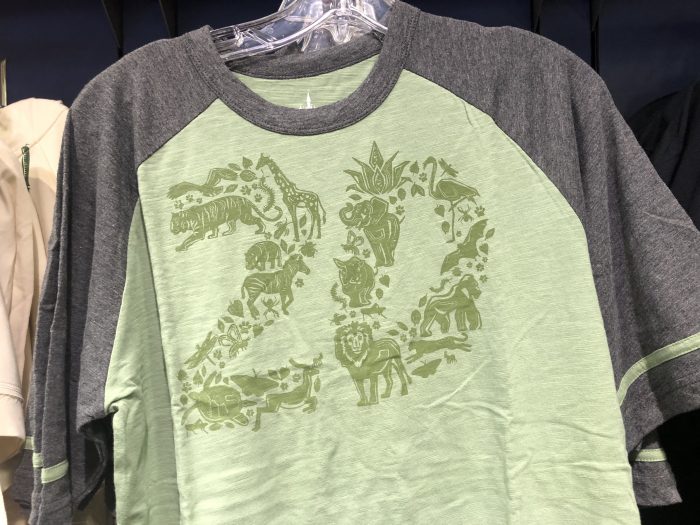 I don't know what's going on with this bamboo themed Animal Kingdom shirt, but feels like something Mickey Rooney's character would have worn in Breakfast at Tiffanys. Originally a whopping $44.99, now $14.99.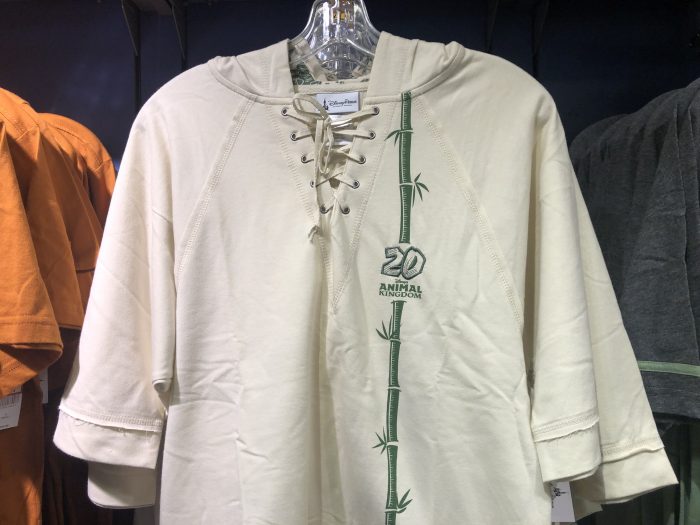 This 20th Anniversary shirt was a bit too "busy" for my tastes. Originally $34.99, now $9.99.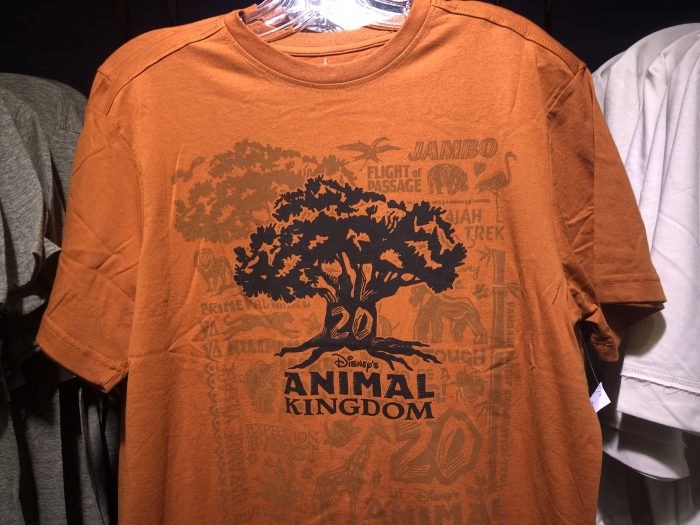 I kinda liked this women's WDW shirt, but those frills on the shoulder/armpit area? Not sure about that. Great logo though. Originally $49.99 (this is where I would put an "eyes bulging out" emoji if we were on Twitter), now $12.99.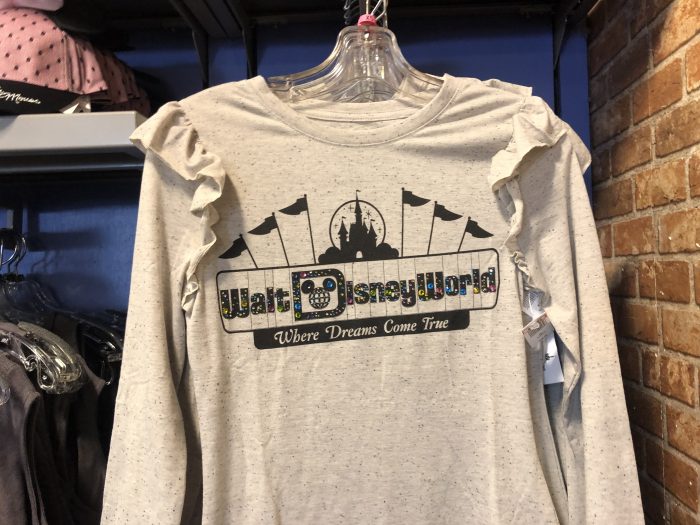 Cute Minnie Mouse shirt for kids. Originally $17.99, now $9.99.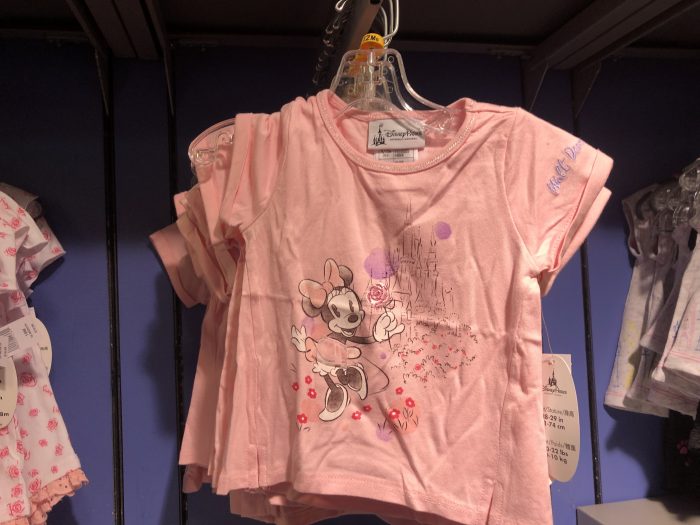 Minnie Mouse hat. The ears wouldn't stay up unless you physically held them up. Originally $24.99, now $6.99.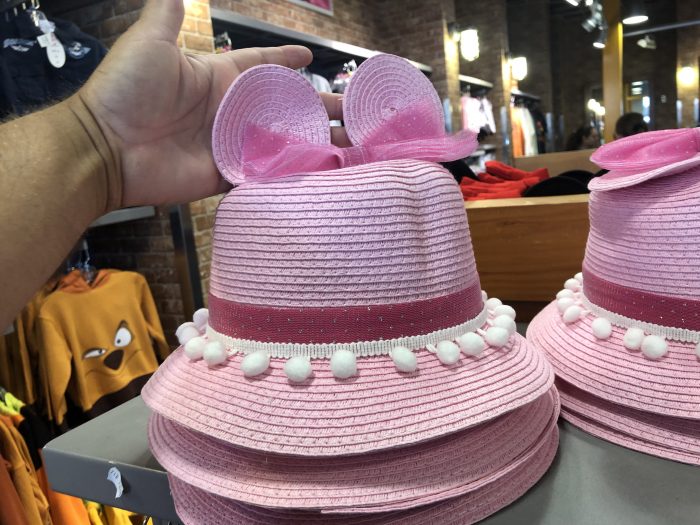 Kid's hats featuring Dory and Pascal. Both were originally $24.99, now $7.99.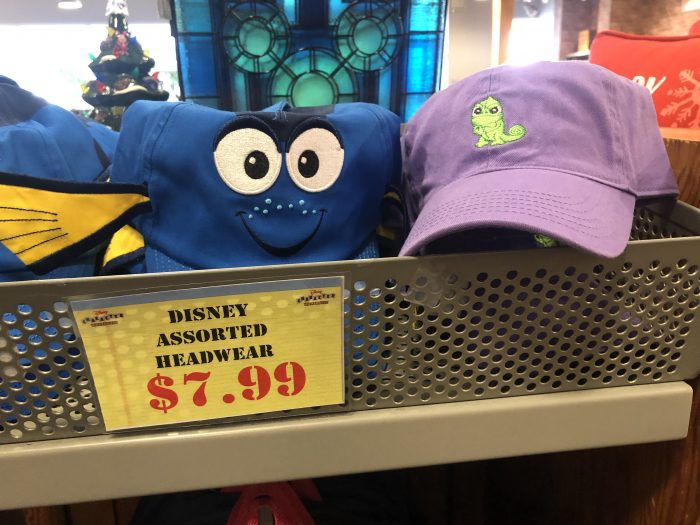 Putting this one in for the Disney Mom's Panel's own @JLap64. These Pandora lamps(?) have been sitting unsold for months now and she is the only person in the world that is verified to have bought one at full price. Originally $65, now $34.99.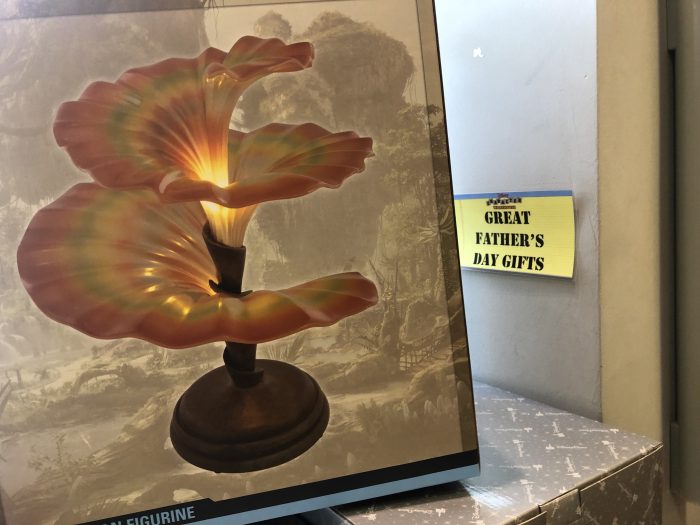 If you read last month's Outlet Report, you may remember me losing my mind when describing the various Pandora: The World of Avatar pins that were available. Well, they are still here.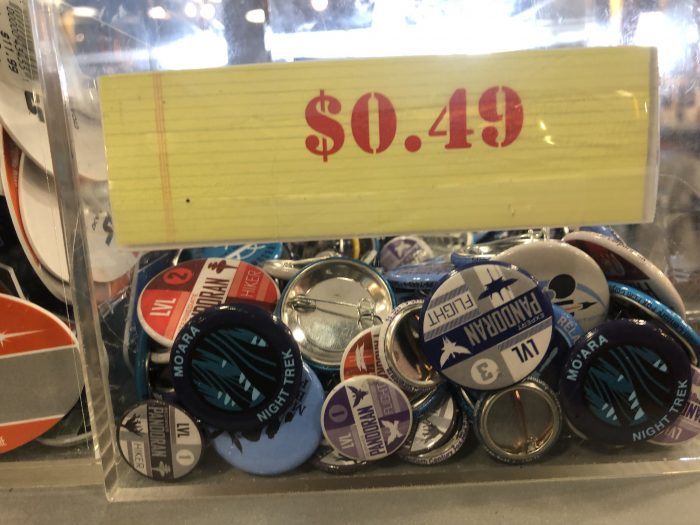 Frozen-themed antenna toppers. Originally $10.99, now $3.99.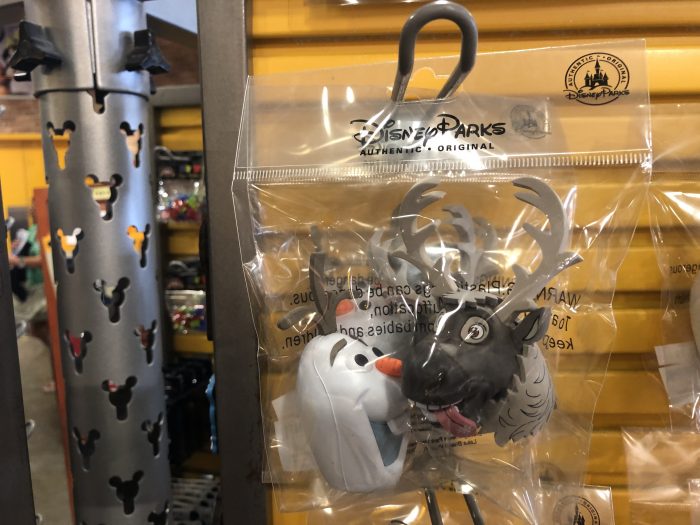 These Monsters Inc antenna toppers were also originally $10.99, now $3.99 and the Sully one is so incredibly BANANAS that I almost want to buy one. I mean, having one of these on your car is better than a fancy security system. Are you going to mess with someone's car who is crazy enough to put THIS on it?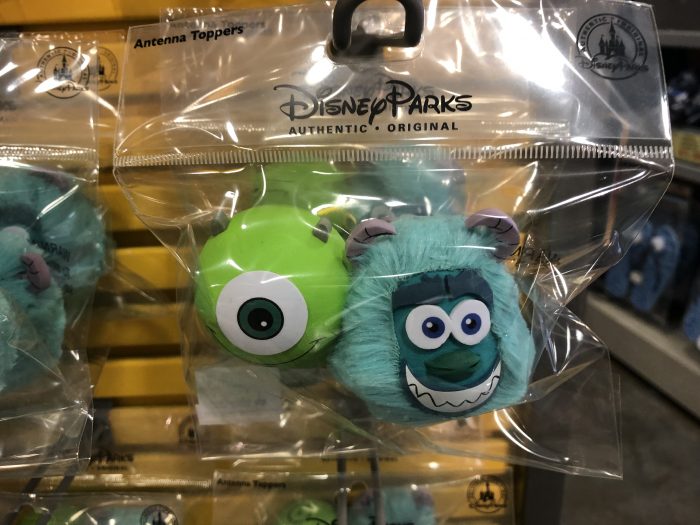 Minnie Mouse pen.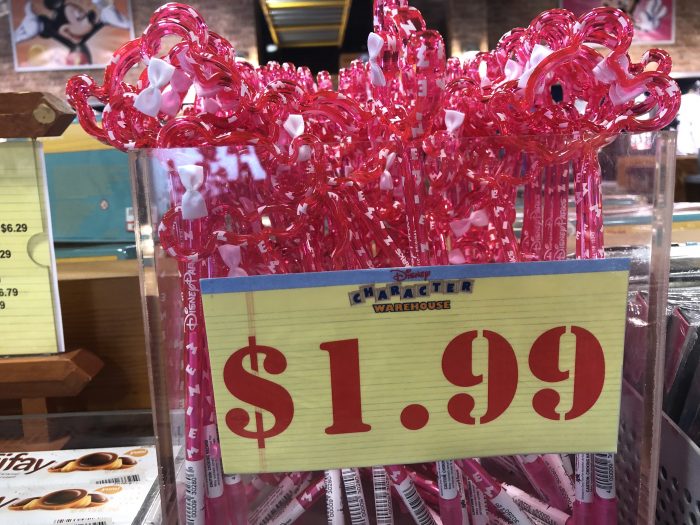 Both sides of a Magic Kingdom-themed Christmas pillow. Originally $34.99, now $7.99.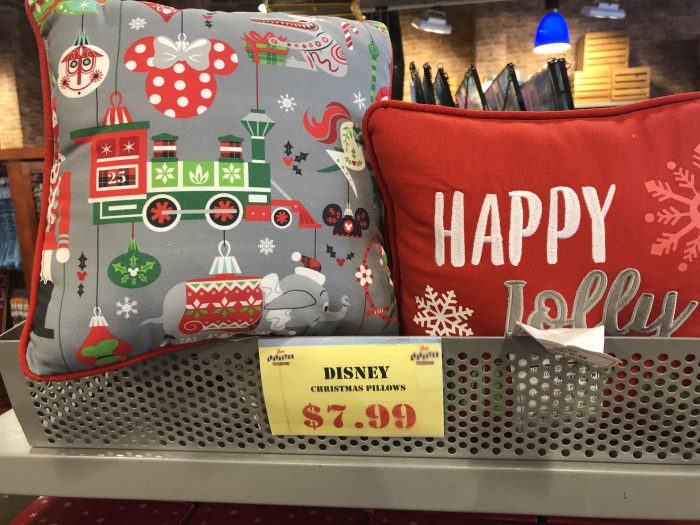 Disney Christmas lights. Originally $29.99, now $14.99.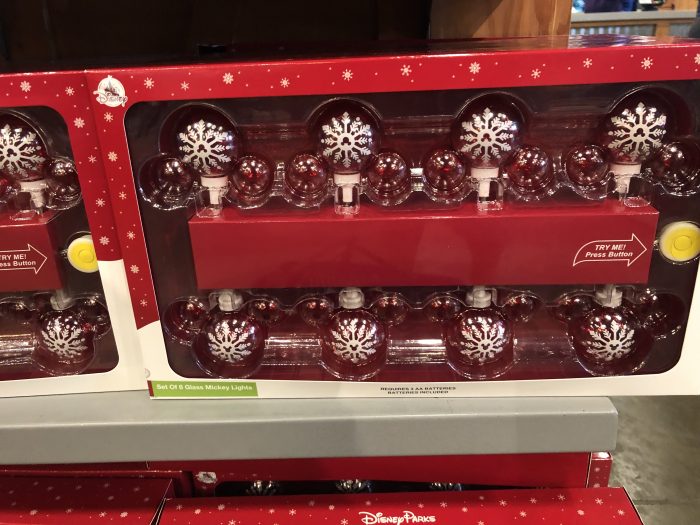 Disney Hannukah stained glass plate for hanging on the wall. Originally $32.99, now $15.99.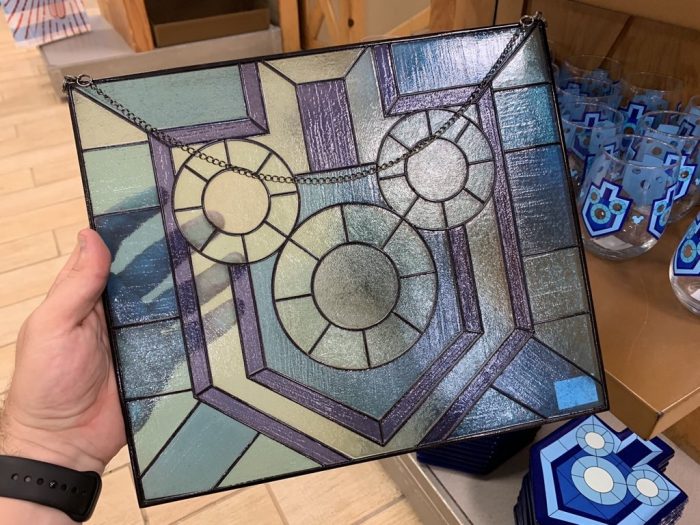 Hannukah plate. Originally $12.99, now $5.99.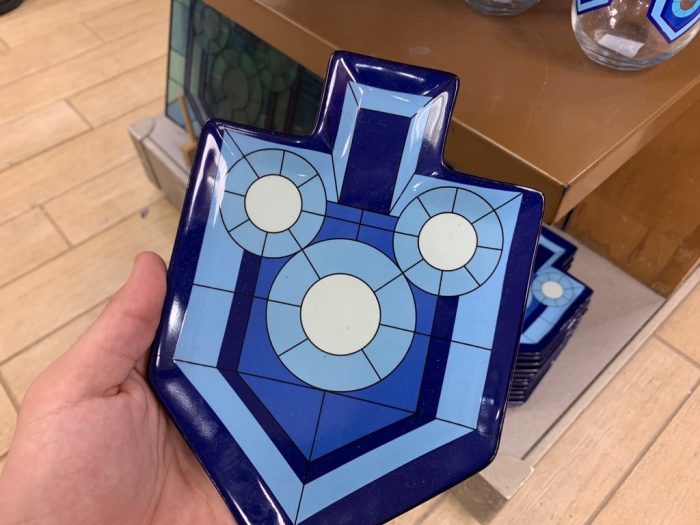 Hannukah glass. Originally $13.99, now $5.99.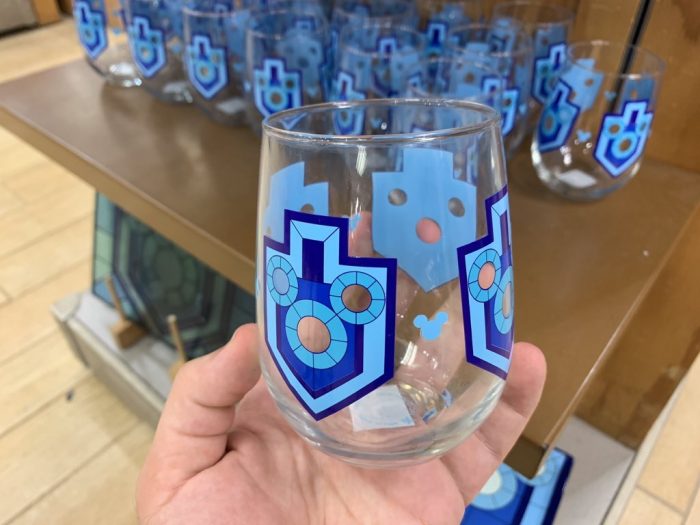 Hannukah light-up candle. Originally $24.99, now $5.99.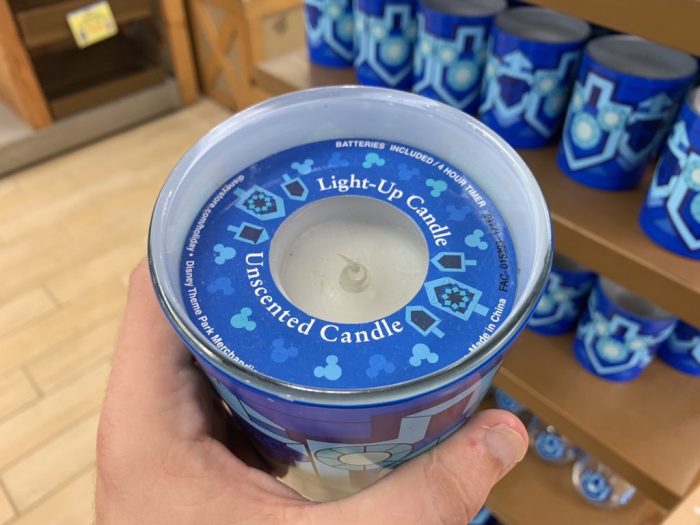 Disney character-themed dreidels. No idea if this is sacrilegious or not but makes me wonder if Disney would make a character-themed Nativity Scene if they thought it would sell. Originally $24.95, now $4.99.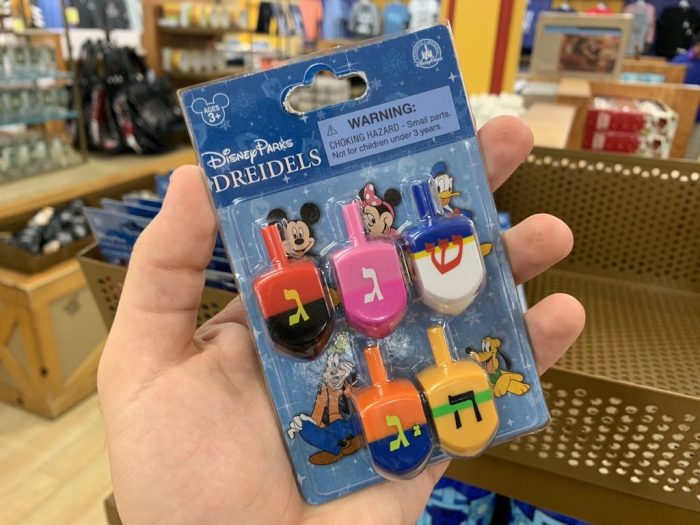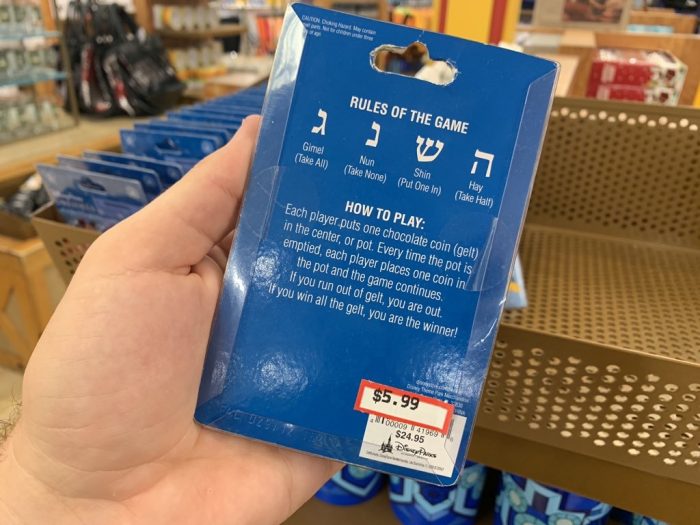 Update for those who have read about the parking situation at the Outlets. They've now coned off the walking lanes so that cars don't park in them.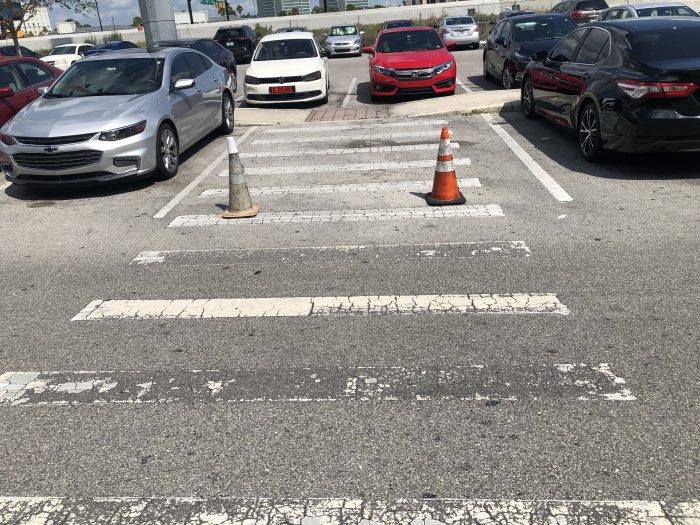 SEE YOU NEXT MONTH!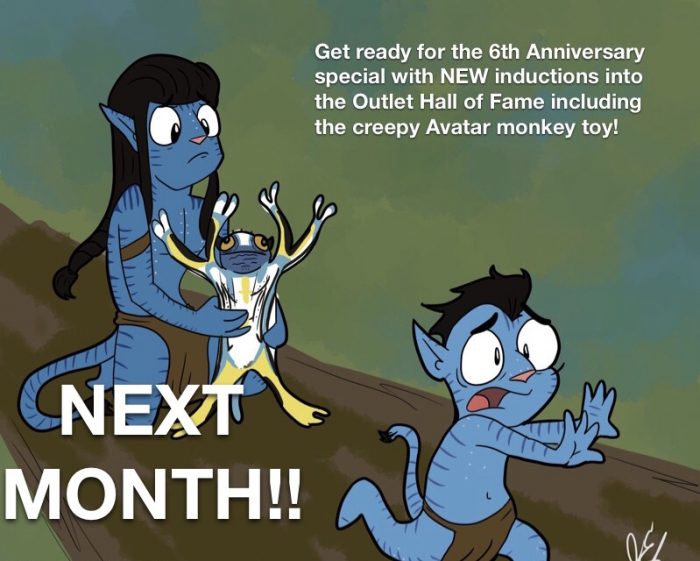 There are actually two Disney outlet stores in Orlando. Both are in Orlando Premium Outlet shopping complexes, and they are called Disney's Character Warehouse, presumably because The Land Of Misfit Toys was already trademarked. There is one Character Warehouse located on International Drive close to Universal Studios (4951 International Dr, Orlando, FL 32819), and the other is on Vineland Avenue, right across I-4 near the exits to Disney World (8200 Vineland Ave, Orlando, FL 32821). They do not ship. There are items at the Outlets that you can buy both in Disney stores along with the Shop Disney Parks app, but you will be paying full retail for the items. For our CALIFORNIA OUTLET trips, @ChristelaMcC goes to the Las Americas outlet in San Diego. It is located right off the last U.S. exit.
I often get asked "which store is better?" That depends. Vineland is close to Walt Disney World, while the I-Drive location is a hop, skip, and jump away from the Universal Orlando Resort. The Vineland Disney Outlet Store is much, MUCH bigger than the I-Drive location. However, the Vineland outlets in general are much, MUCH busier than I-Drive. Each have their pros and cons, and ultimately they carry much of the same items. For a Disney Outlet Store FAQ, check out this SATURDAY SIX Presents: Everything You Wanted To Know About The Disney Outlet Stores (But Were Afraid To Ask)
Previous editions of Magic, Memories, and Merch: July 2013, August 2013, September 2013, October 2013, November 2013, December 2013, January 2014, February 2014, March 2014, April 2014, May 2014, June 2014, July 2014, August 2014, September 2014, October 2014, November 2014, December 2015, January 2015, February 2015, March 2015, April 2015, May 2015. June 2015, July 2015, August 2015, September 2015, October 2015, November 2015. December 2015, January 2016, February 2016, March 2016, April 2016, May 2016, June 2016, July 2016, August 2016, September 2016, October 2016, November 2016, December 2016, January 2017, February 2017, March 2017, April 2017, May 2017, June 2017, July 2017: The FOUR YEAR ANNIVERSARY special, August 2017, September 2017, October 2017 (tribute to the O.O.G.), November 2017, December 2017, January 2018, February 2018, March 2018, April 2018, May 2018, June 2018, July 2018 (FIVE YEAR ANNIVERSARY special with the introduction of the OUTLET HALL OF FAME), August 2018, September 2018, October 2018, November 2018, and December 2018, January 2019, February 2019, March 2019, April 2019, and May 2019.
We also did an edition of Magic, Memories, and Junk for a non-Disney owned Outlet Store, and for you merch addicts like myself, you may also enjoy a look at the official Disney merchandise available on the Disney Cruise Line, Castaway Cay, and at the Orlando International Airport. Want to see our favorite WDW resort-specific merchandise? Well, CLICK HERE!
If you liked what you read here, you may enjoy THE SATURDAY SIX articles every week on the TouringPlans.com blog and you can follow your humble author on Twitter (@derekbugan).