JW Marriott Grande Lakes: A Great Home Base for an Orlando Trip
I've just returned from a wonderful trip to the Orlando area, staying at the JW Marriott Grande Lakes. It's a great resort, we really enjoyed our time there, and for those of you with Bonvoy points, you can stay here for free, so I thought it was worth discussing as a potential location for those coming to Orlando for a trip. Read on for more!
Location
I'm going to start with location, because it's going to be one of the most important factors in determining whether to even consider the resort. The JW Marriott Grande Lakes is located in, you guessed it, the Grande Lakes resort area south of Orlando. We know many of our readers devote their trips to Disney or Universal, and this resort isn't particularly close to either of them as compared to other off-property resorts that cater to those resorts. With that said, it is not particularly far from those resorts, either (and quite close to Seaworld), or other International Drive attractions.  Here's the distance and expected drive time to several area attractions:
| | | |
| --- | --- | --- |
| Destination | Distance | Drive Time |
| Magic Kingdom | 13 miles | 20 minutes |
| Disney Springs | 8 miles | 18 minutes |
| Universal Orlando | 9 miles | 19 minutes |
| SeaWorld | 3.5 miles | 11 minutes |
| Orlando Eye | 6 miles | 15 minutes |
| Gatorland | 5.5 miles | 13 minutes |
| Kennedy Space Center | 52 miles | 57 minutes |
| Cocoa Beach | 60 miles | 1 hr 8 minutes |
I reference these other area attractions not because many of our readers will build a trip around Gatorland, but to make a point — the JW Marriott Grande Lakes is particularly well-suited as a home base for a trip where you plan to visit a number of area attractions rather than focusing your attention on one specific resort. On this map, the JW Marriott is located at the purple star, and you can see its location with respect to Disney World (circled in green), Universal (red) and SeaWorld (blue).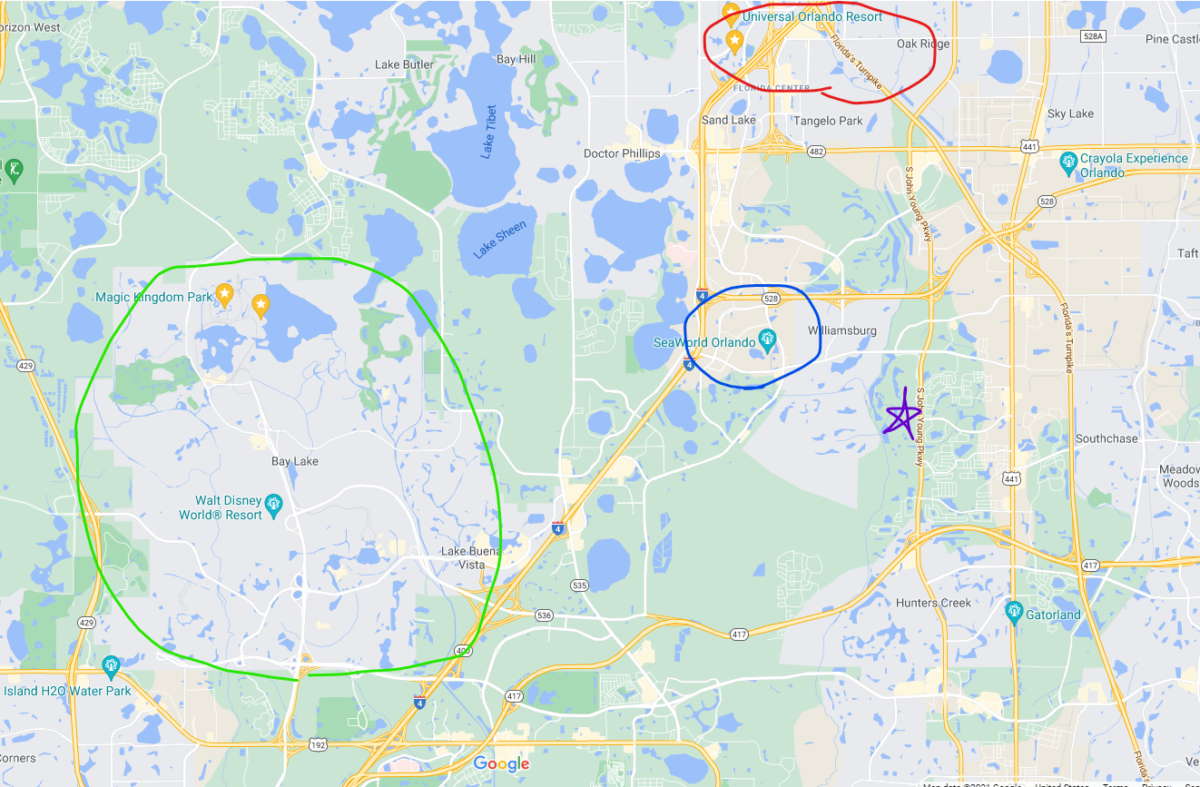 If you're spending every day at Disney, there are comparable resorts at or near this price point that are much closer, including another JW Marriott at Bonnet Creek. Likewise, if you're planning to spend your time at Universal, you're probably better off staying at one of the Deluxe Universal resorts for the money so you can take advantage of Express Pass.  The JW Marriott's central location and wonderful amenities make it a great option, however, for a trip where you're going to spend some time just relaxing at the resort, and maybe doing a day or two at Disney, a day or two at Universal, or heading to the beach for an afternoon.   
Property and Amenities
The resort amenities are probably the primary reason to consider this property as opposed to other "centrally located" properties in the Orlando area. The JW Marriott is physically connected to the Ritz-Carlton Orlando next door, guests at both resorts are able to use the pools and amenities at either resort and room charge between them, and it is for all intents and purposes one big resort complex. The common areas of the resort are beautiful and well-kept, and it feels very luxurious, far more so than anything on Disney or Universal property with the possible (and notable) exception of the Four Seasons near Golden Oak at Disney.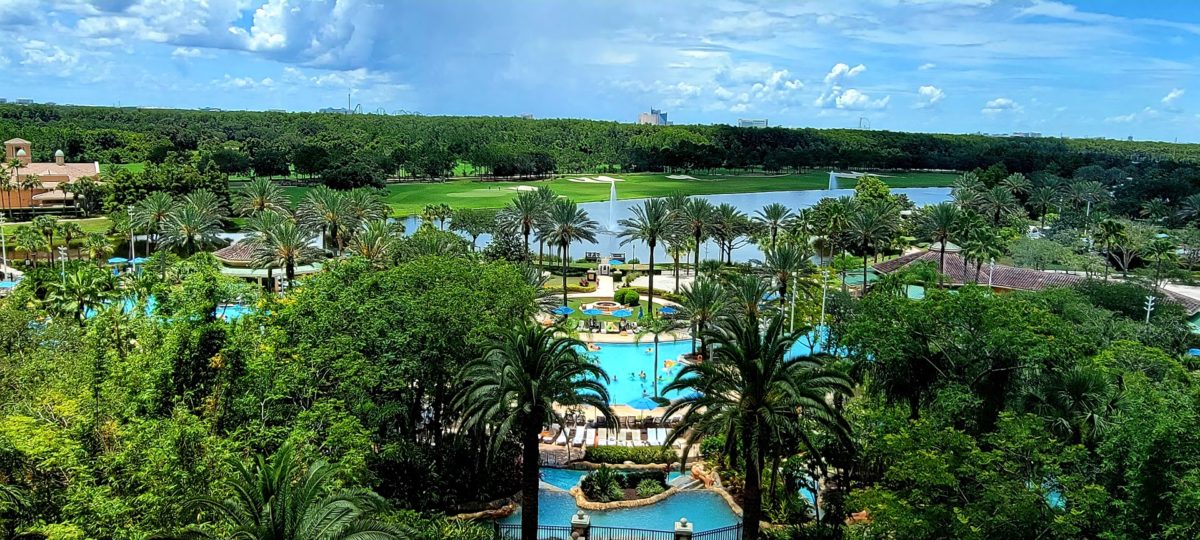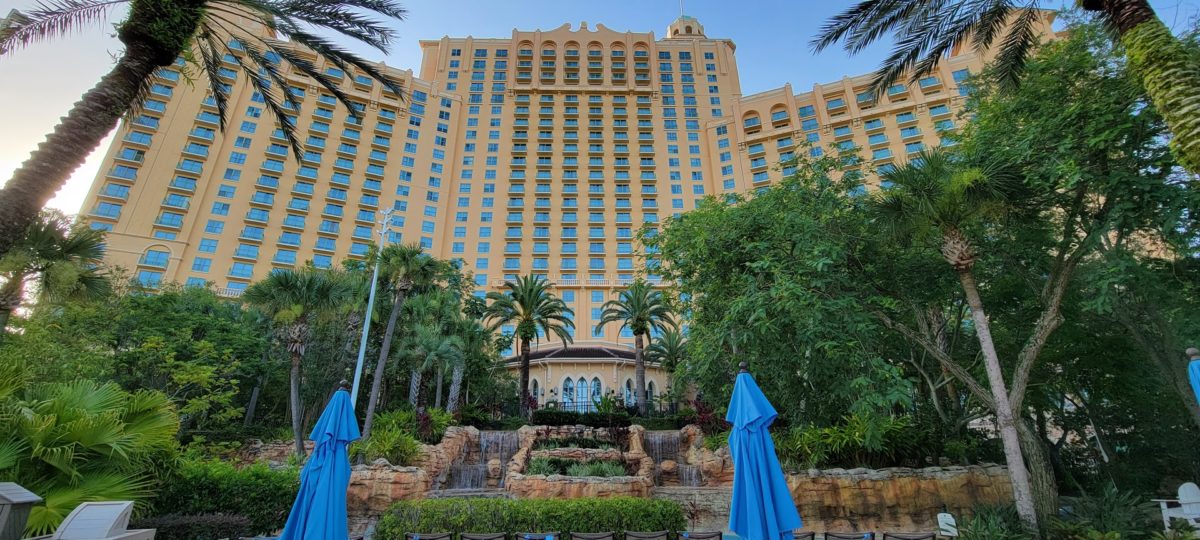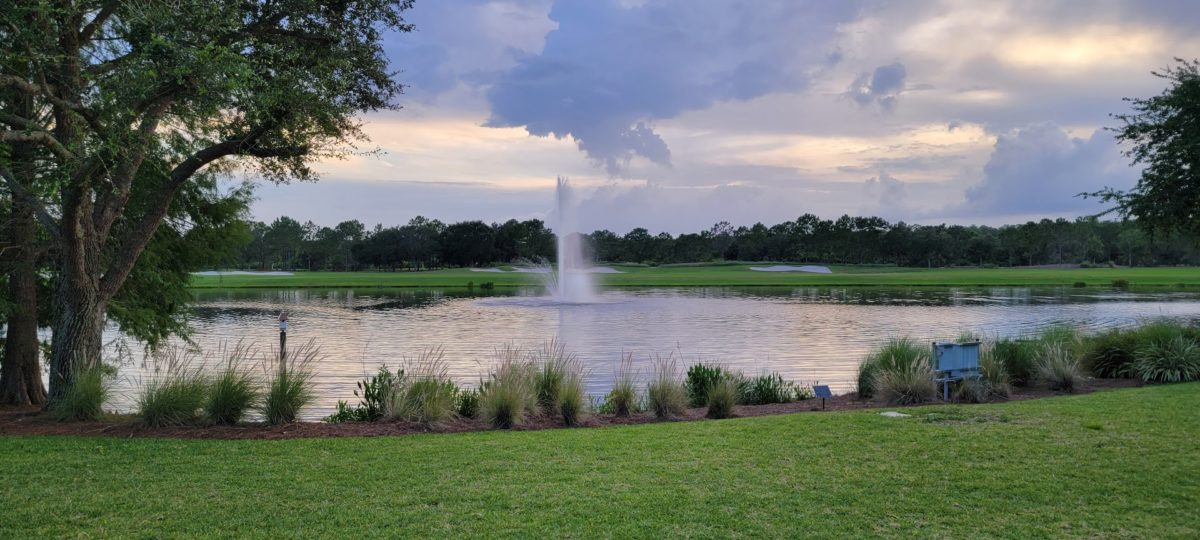 The pool situation is one of the main draws to the resort, with two main pools featuring very different energy. The pool at the Ritz-Carlton is elegant and beautiful, though it is just a straightforward, fairly traditional pool apart from the aesthetics. The pool at the JW Marriott, however, is essentially one big lazy river, and was one of my favorite aspects of the resort. It snakes throughout the entire pool area, ranges between 3 and 4 feet in depth, and takes about 15-20 minutes to complete a cycle if you just float with the current. The lazy river also passes through several larger pools along the way, so if you'd like to just stop and be in the pool, there are ample options to do that as well.  I'm not sure how many laps we did while we were there, but it's a pretty big number.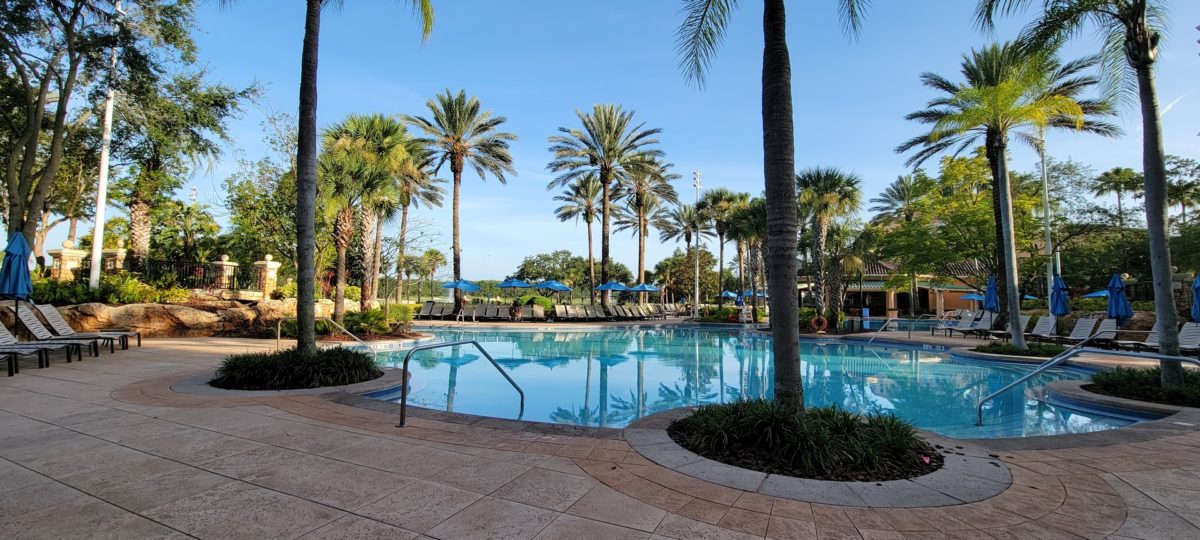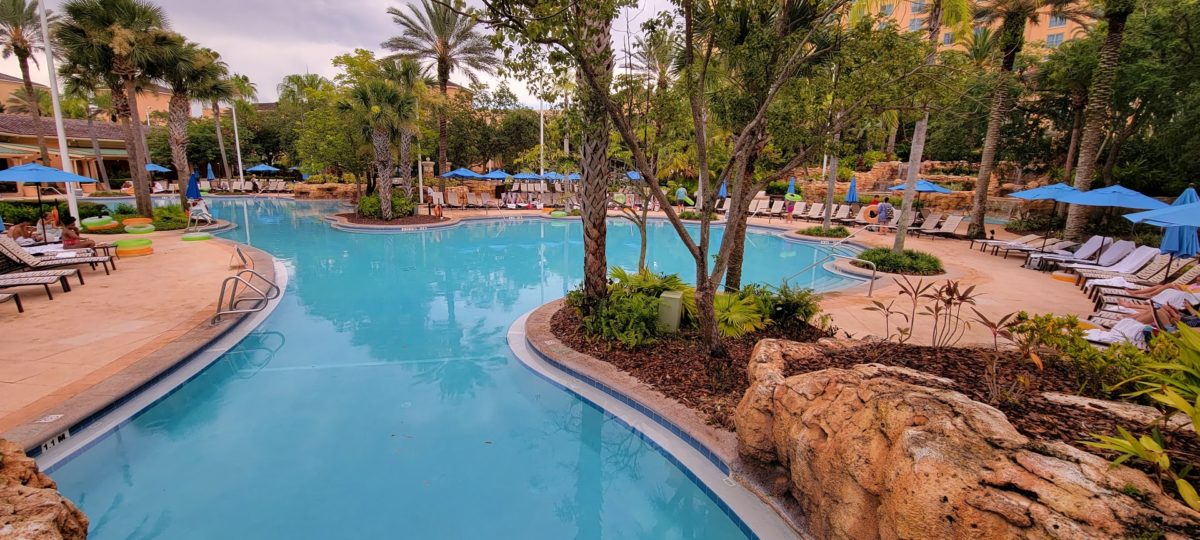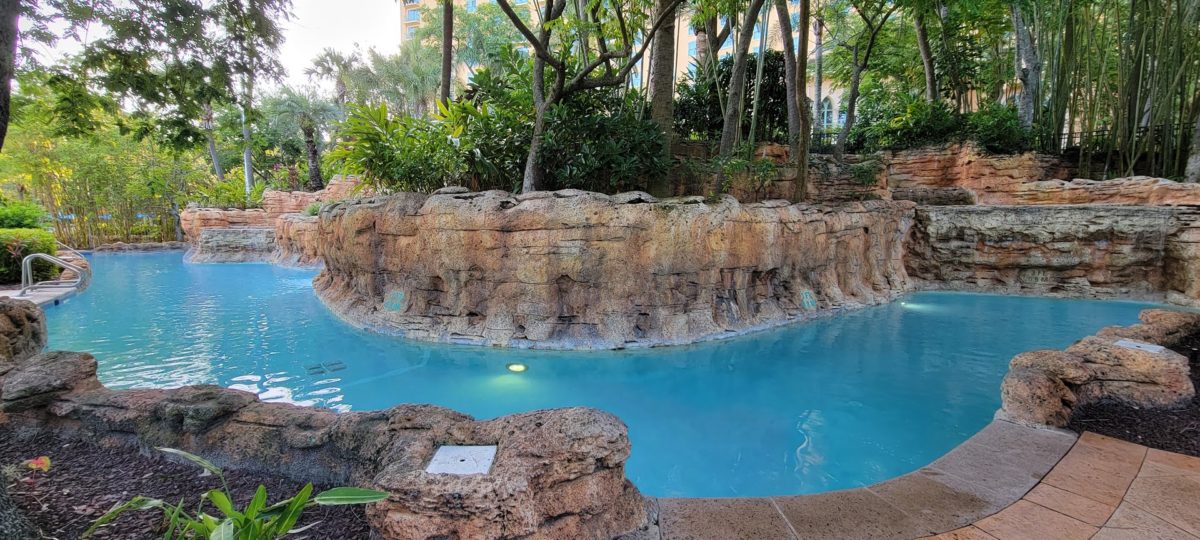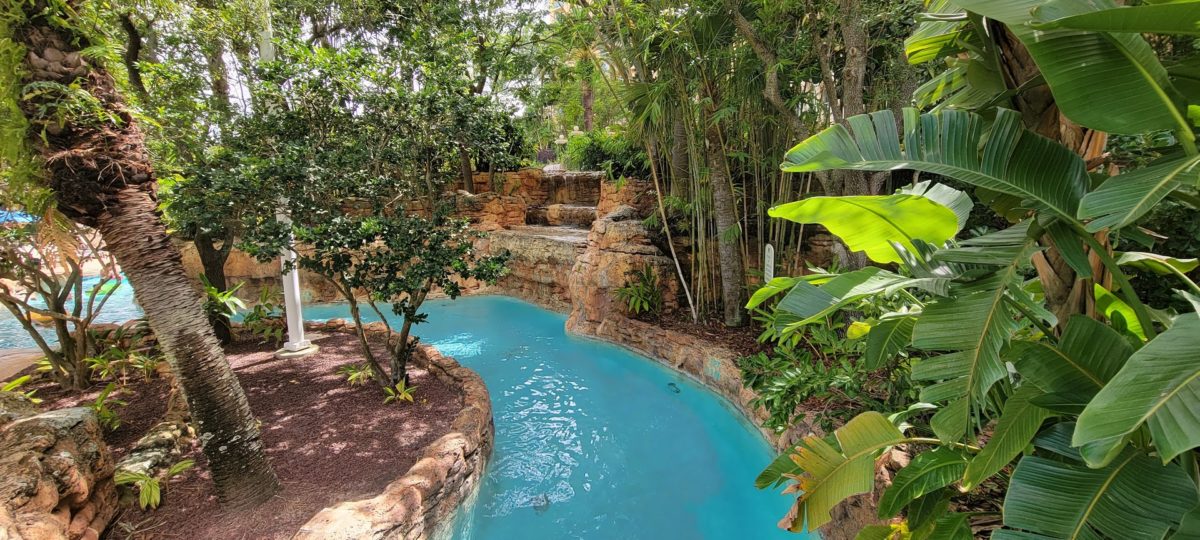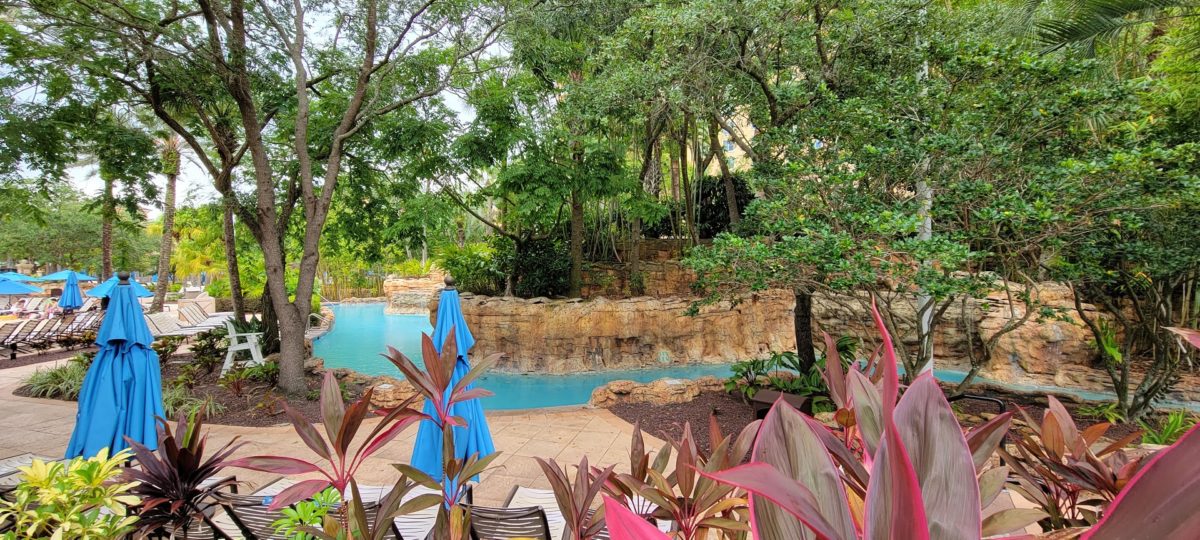 Servers will bring you food and drink at both pools, and the pool chairs have flags that you can raise to quietly alert your servers that you'd like to place an order without waving them down across the pool deck. 
There is an additional, adults-only pool in the spa area, which includes an area where the fitness-minded can swim laps, and others can enjoy some time without children. Worth noting, however, while there were plenty of families at the resort during our stay, even the lazy river pool was pretty sedate as compared to the sometimes chaotic energy you find at a Disney resort pool, and we never felt like there was a need to "escape." Your mileage may vary, though, of course. 
One thing worth noting, as we know many of our readers are accustomed to Disney resorts: none of the pools had a slide. We didn't miss it, but your family might, so take that into consideration if that matters to you. 
Other amenities at the resort are what you would expect from a luxury resort — spa, golf, fitness center, a kids club etc.– though there were several surprising options, including kayaking on the lakes throughout the property, biking trails, and sunrise wildlife tours. While we frankly spent most of our time just relaxing, we were impressed by the host of available activities, many of which were included in the daily resort fee. (Yes, I know, more on that later.) 
Rooms
We had a standard King room, and generally found the accommodations to be nice.  The level of finish is high, and the rooms are well-appointed, with high quality linens and granite and wood surfaces throughout.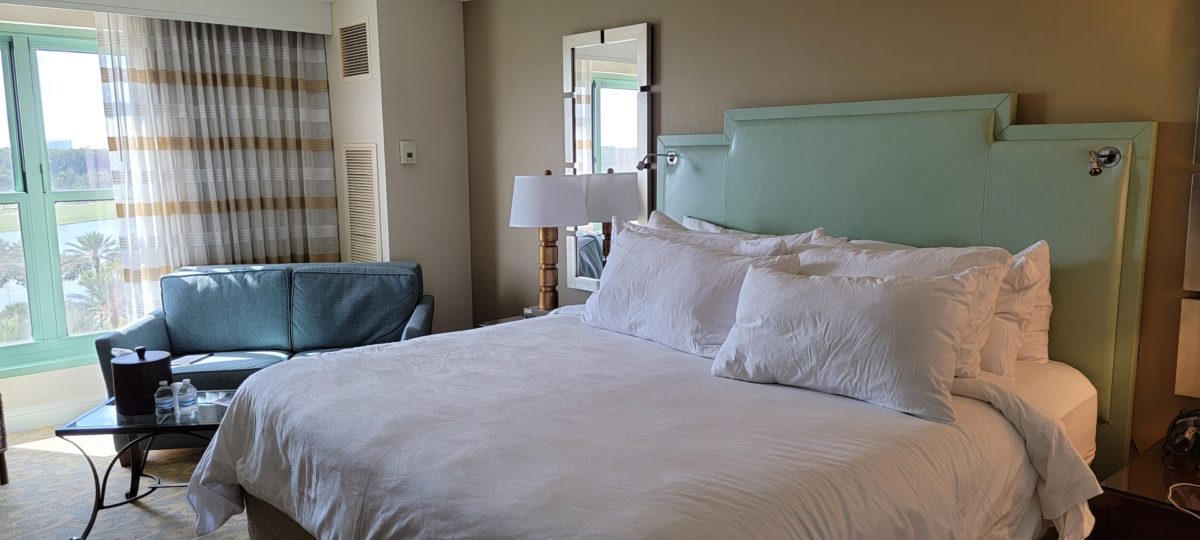 In addition to the bed, the room has a desk and chair, and a seating area with a small couch and a chair.  If I had to lodge a complaint, it's that we struggled to find a truly comfortable place to sit when we were hanging out in the room watching TV.  It was OK, but not as comfortable as just hanging out in the bed, so we ended up using the bed most of the time, which somewhat defeats the purpose of having a seating area. It was nice to have as an option, however.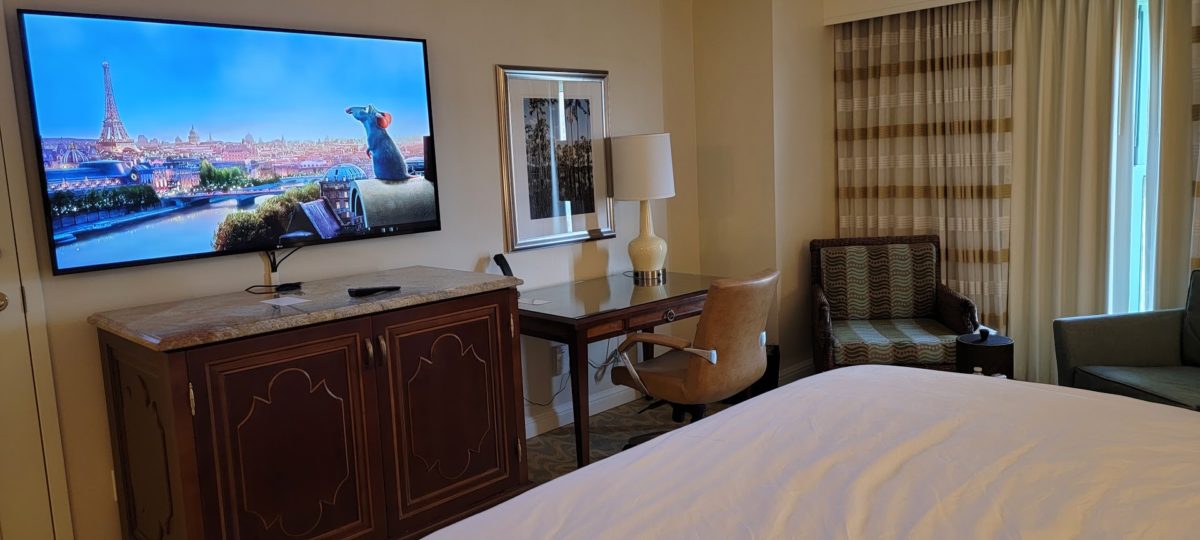 The bathroom is spacious, with a separate tub and shower, and dual sinks and granite countertops.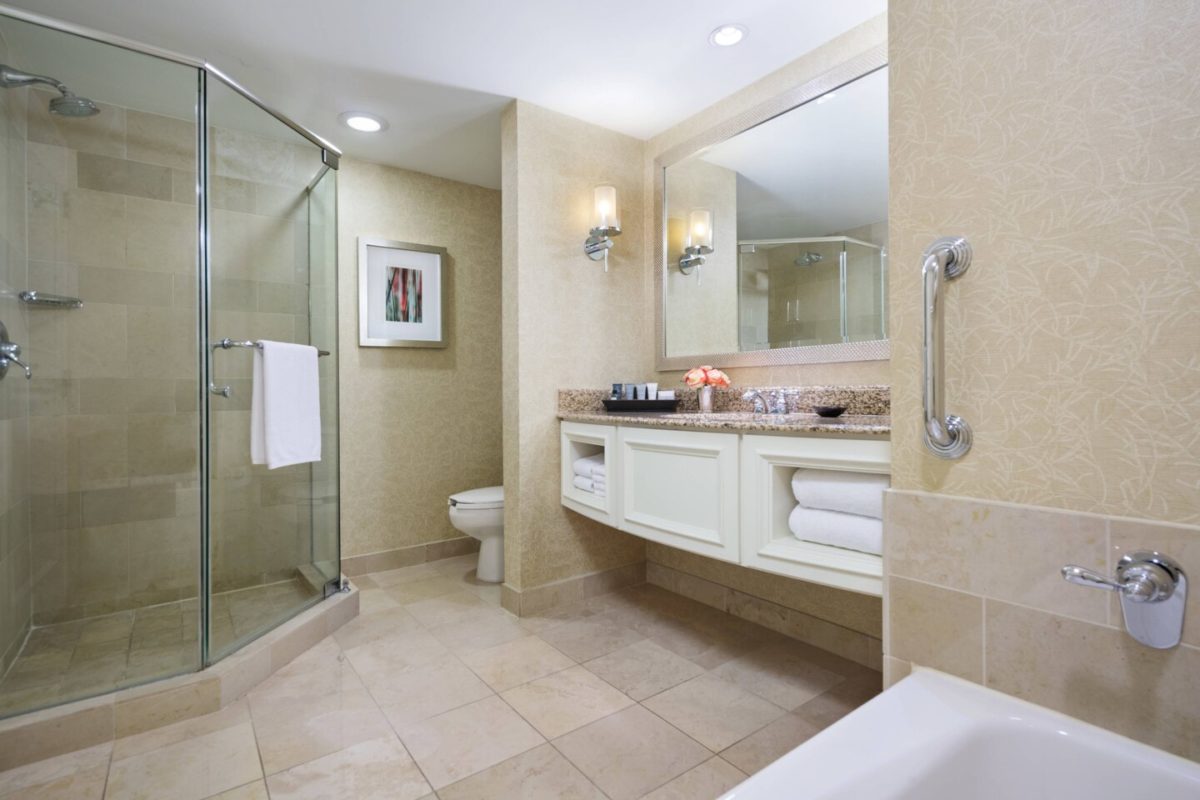 Our room was 425 square feet, and the standard rooms with 2 Queen Beds are the same size. By way of reference, this is larger than all of the Deluxe rooms at Disney except for the Contemporary and Grand Floridian.
Dining
There are several restaurants on property, and we found the food to be very good on the whole. Many of them are consistent with a "farm-to-table" concept and feature ingredients sourced from Whisper Creek Farm, which is on-site. The resort even hosts a nano-brewery that makes small batch beers featuring these ingredients that rotate regularly depending upon what they have on hand, which is a pretty cool feature. You could conceivably drink a beer that's brewed once and never repeated; it's a neat concept for beer geeks. 
For breakfast, Citron serves both buffet and a la carte options, and there is also a Starbucks for those that just want grab and go options. The buffet at Citron had tons of hot and cold options, and there was also an omelet station for a $7 upcharge.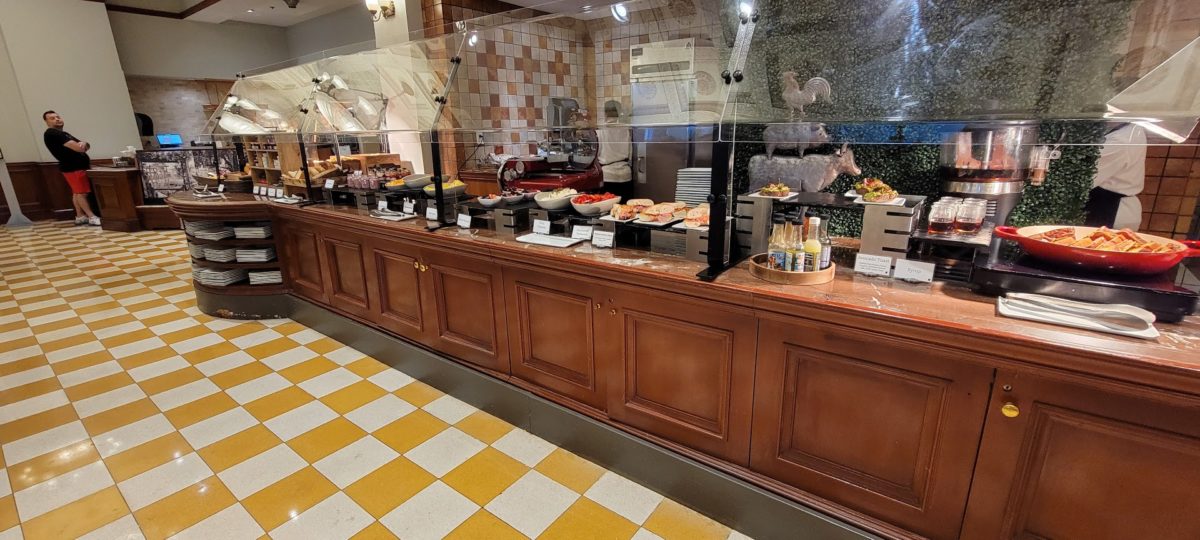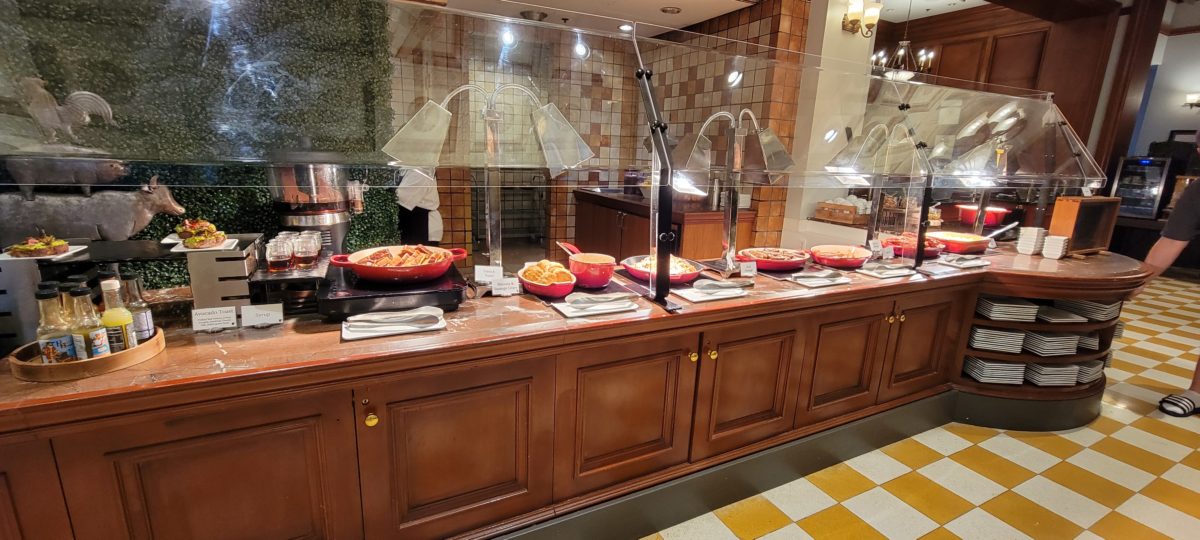 We found lunch a bit limiting, as the only option on the JW Marriott side was Quench, the poolside bar and grill. With that said, we found the food at Quench to be quite good, far better than most pool restaurants, and you can either have your food served via table service, or you can just have it delivered to you as you hang out by the pool.
Dinner provided more options on-property. There are two restaurants serving dinner at the JW Marriott — Primo and Whisper Creek Farm: The Kitchen — and two more at the Ritz-Carlton, Highball and Harvest, and Knife and Spoon (with the latter open Wednesday through Sunday).  We had the opportunity to try Highball and Harvest and The Kitchen, and had great experiences at both. While some hotel restaurants have a "we know you're going to eat here anyway, so we're not going to try" approach to their food, this is not the case here. They use high quality ingredients, pay attention to presentation, and we had some delicious dishes.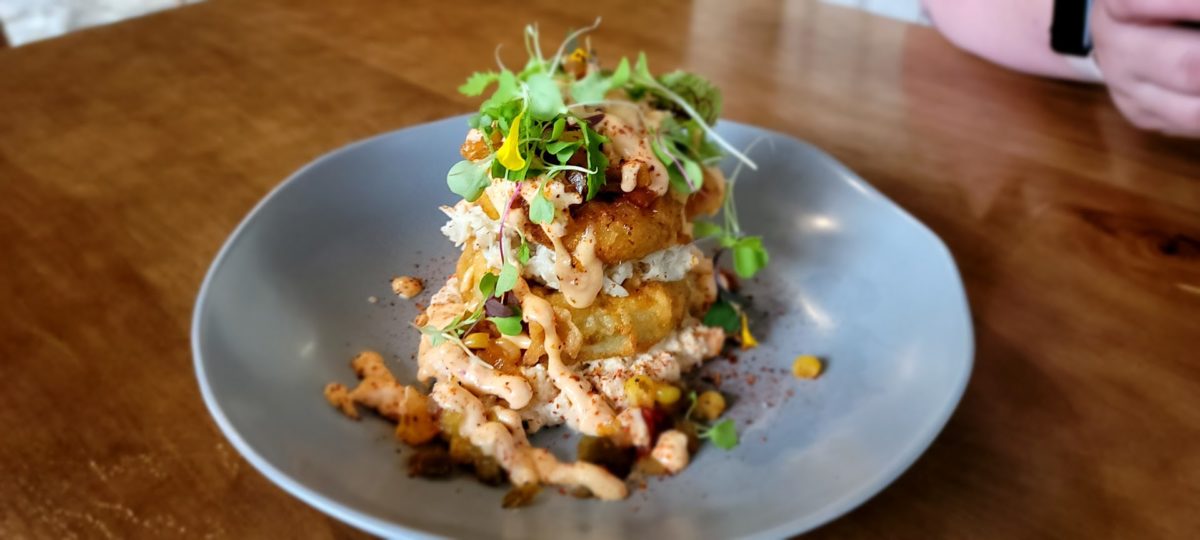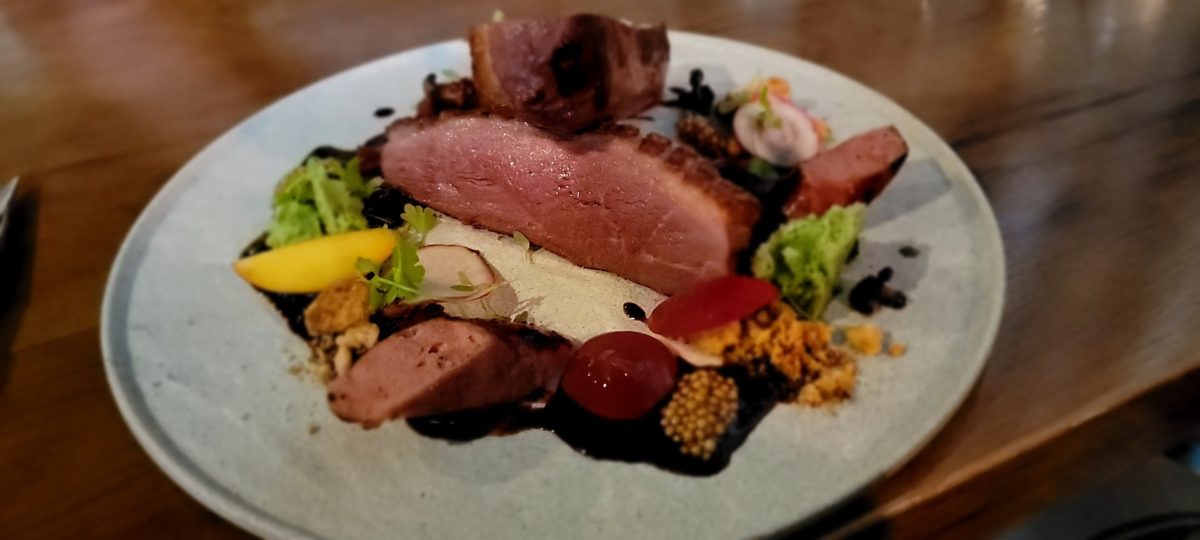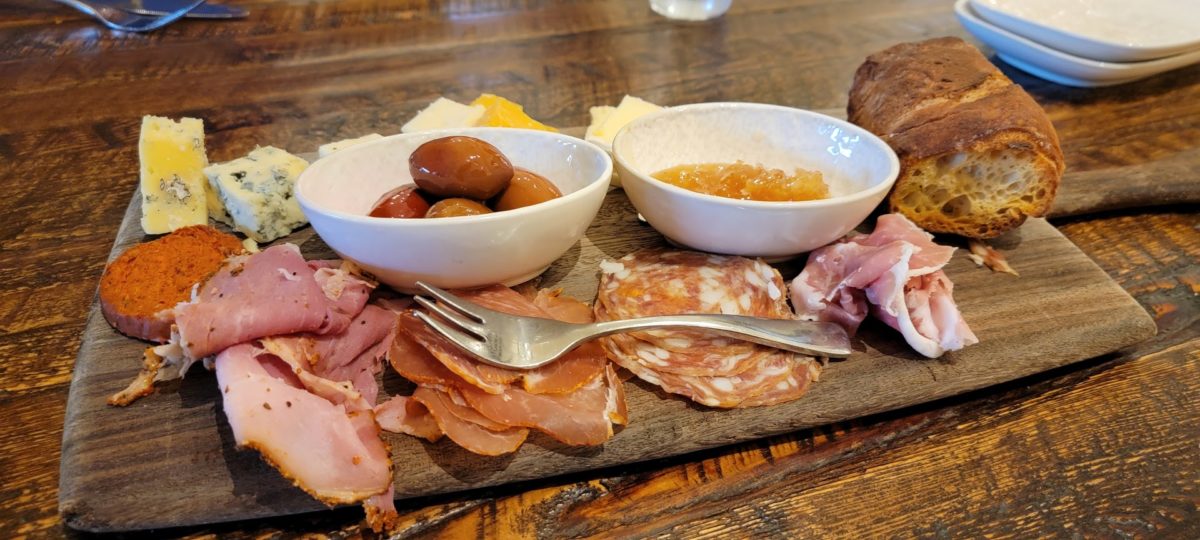 Cost
If there's one downside to the resort, it's that it's not cheap. It's the flagship, luxury brand for a major hotel chain, however, so that's to be expected to some extent. The good news, however, is that it's part of the Marriott Bonvoy chain, so if you're someone that travels a lot and has Bonvoy points, you can stay here without paying for your room. This is what we did, in fact, with rooms clocking in at 60,000 Bonvoy points per night. By way of comparison, the Swan and Dolphin can be redeemed for between 40,000 and 60,000 points depending upon the night.   
If you're paying cash, expect the rack rate to fall between $500-$600 per night. The cheapest rates I saw doing some spot checking was $264, and that was in August and September, so if you do need to book well out, I'd recommend getting your room booked using a rate that permits cancellations, and then checking back as your trip gets closer to see if any cheaper rates are available.  
Worth noting, the dining options were universally pretty expensive, essentially consistent with prices if you were staying at Disney, and in the case of Knife and Spoon, quite a bit more. The breakfast buffet, for example, was $32/$16 per adult/child, which is right in line with prices at Disney, if not more. 
The resort also carries a resort fee, which was $40/night while we were there. This includes:
"Enhanced" High Speed Internet

Mountain bike rental for 2, for 1 hour per day

Driving range privileges

Two pool floats

Shuttle Transportation to SeaWorld, Disney World, and Universal

Tennis Court access for 2, 1 hour per day

Fitness Center, 1 class for two guests per day.
While there is shuttle service available to the major parks, they do not run near as frequently as Disney buses, and you will likely find the schedule to be fairly restrictive — you have to register in advance, and if you miss one, it's going to be an hour or two before you get another opportunity. Accordingly, as is the case with most off-property resorts, we recommend arranging your own transportation. If you have a vehicle, valet parking is $40/day plus tax, and self-parking is $30/day. 
So, doing the math, between the resort fee and the parking, even staying on points, we still had $80/day of extra charges that we really couldn't avoid. I can still recommend the resort without reservation, but just be aware going in that even when staying on points, there are still out of pocket costs that you need to include in your budgeting. 
Other Observations
This was a different type of trip for us, and we specifically chose the JW Marriott Grande Lakes because we weren't planning on visiting the parks, and just wanted to relax in a beautiful environment, and it fit the bill perfectly. It is far enough away from the Orlando attractions to provide some separation and let you feel like you're somewhere else entirely, but close enough to still be able to experience those things when the mood should so strike you. In fact, we did still pop over to Disney property to get our fix, including a trip to Disney Springs and dinner and fireworks at the Polynesian, and that honestly did a great job of scratching that itch without actually going into the parks.
Have you ever stayed at the JW Marriott Grande Lakes or the Ritz-Carlton? What did you think? Let us know in the comments!