Nicest Hotel Near Disneyland? JW Marriott Anaheim Resort Review
JW Marriott Anaheim Resort is a hotel near Disneyland Resort in Anaheim, California. This hotel is still a newcomer in the area's hotel lineup, having opened last June during you-know-what. In this post we'll review a standard room and see why it could be the nicest non-Disney hotel in Anaheim.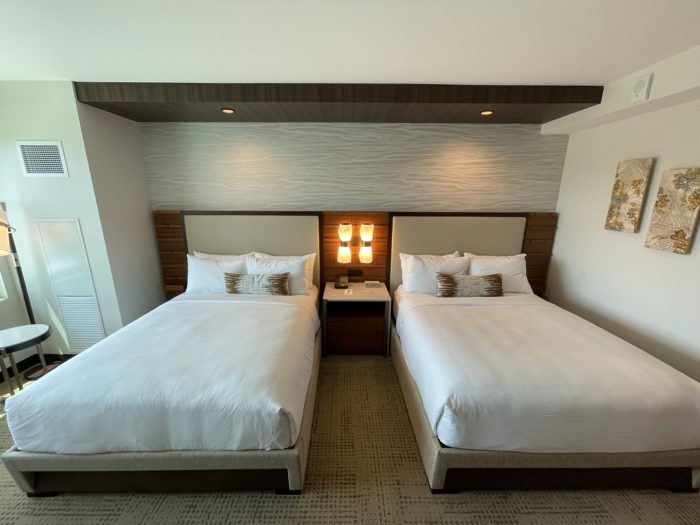 Standard rooms with two queen beds or a single king with pull-out bed are 390 square feet. If you need extra space, and have more money than you know what to do with, JW Marriott Anaheim has 19 suites that reach up to 1723 square feet in size. Room decor is inspired by natural materials (for example, the wood paneling in the headboards), and we think it looks nice and subtle. Everything is high quality and you definitely are getting what you paid for.
For this review we stayed in a standard room with two queen beds. The beds are comfortable and feature gloriously soft 400 thread count sheets. The pillows were too soft for me personally (my big head sunk to the bottom like a rock in water), but overall the beds are as comfortable as you can get in a hotel.
Before moving on, be sure to check out our video room tour we uploaded on our YouTube channel.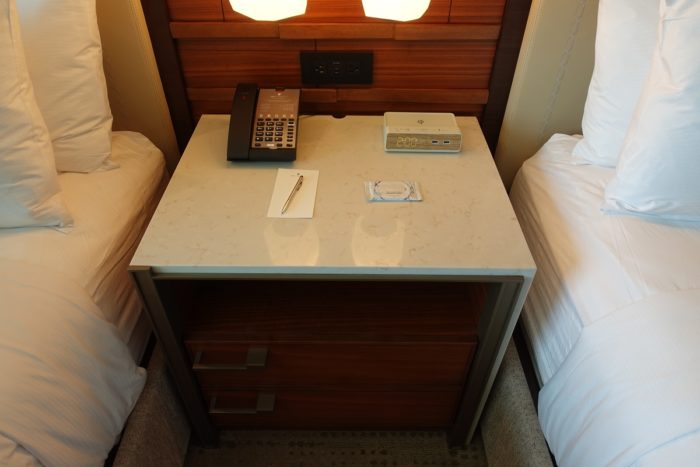 Between the beds you'll find a nightstand with a phone, alarm clock, and plenty of electrical outlets, and USB charging ports.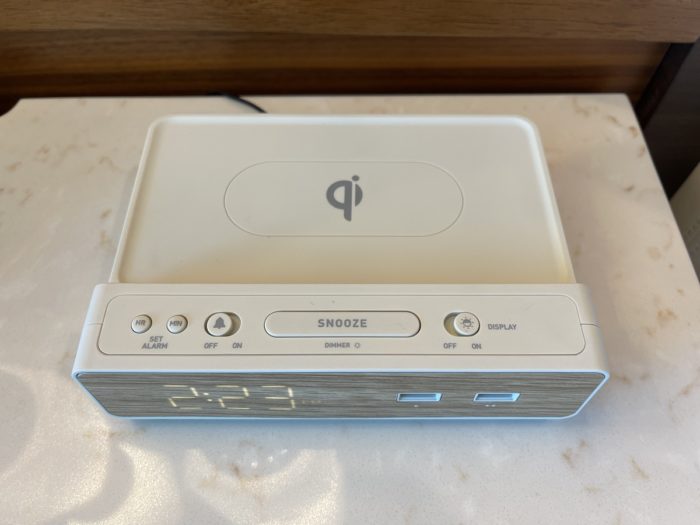 The alarm clock doubles as a wireless cellphone charger, which is a nice touch. It's even big enough to fit the gigantic iPhone 12 Pro Max.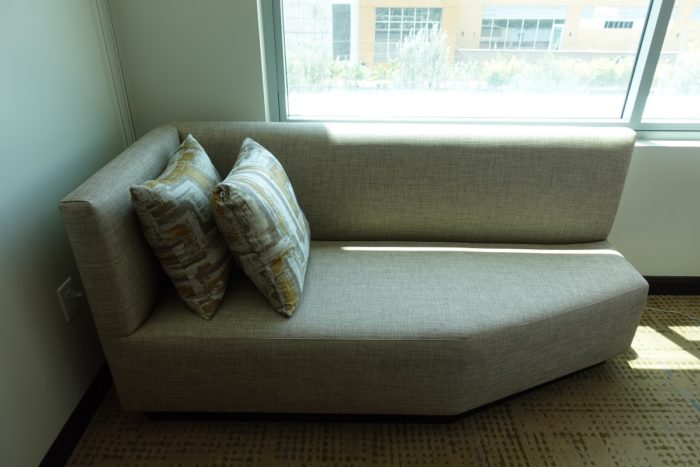 Near the beds is this couch with two pillows. Keep in mind this couch is only included in the two queen bed configuration. In the king bed room this would be a fold out sofa couch. Anyway, this couch won't be quite big enough to fit a full sized adult, but younger kids should have no problem catchings some shut eye here.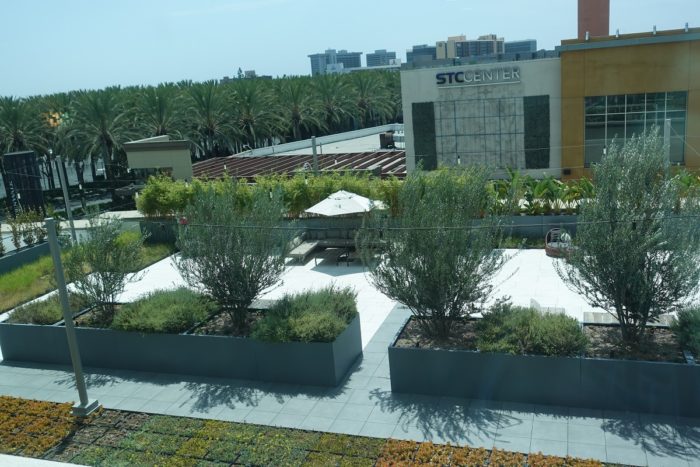 Rooms facing west look out on to the Anaheim Garden Walk outdoor shopping mall, as well as the hotel's garden area.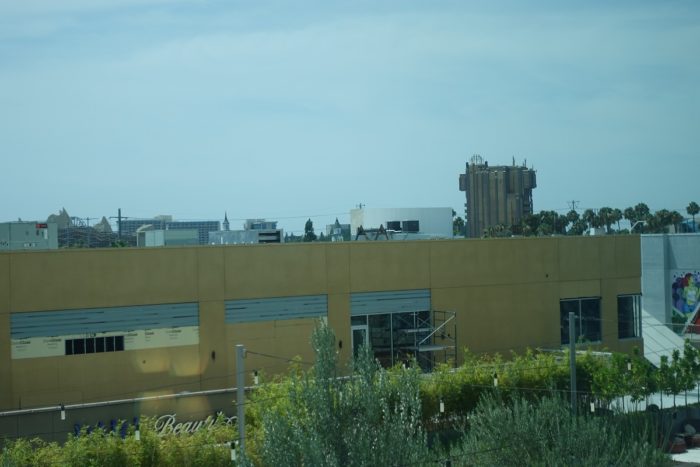 Off in the distance you can catch a glimpse of Disney California Adventure and Disneyland. Obviously, the higher floor you're on, the better view of the parks you'll get. This picture shows my view Guardians of the Galaxy: Mission BREAKOUT! from the third floor.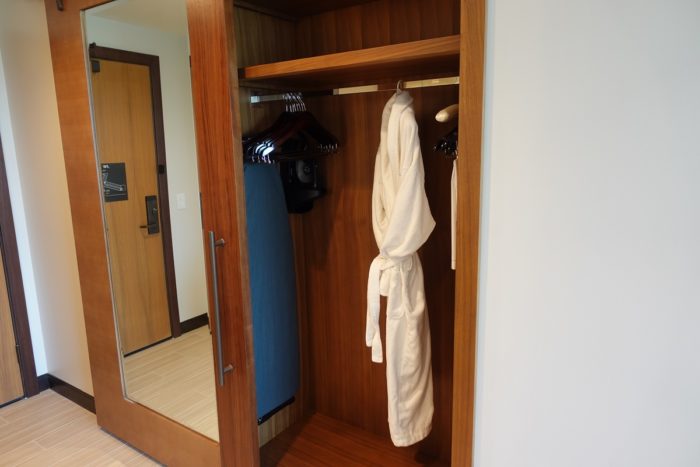 The closet contains hangers, an ironing board with iron, a robe, and enough space to store a few suitcases.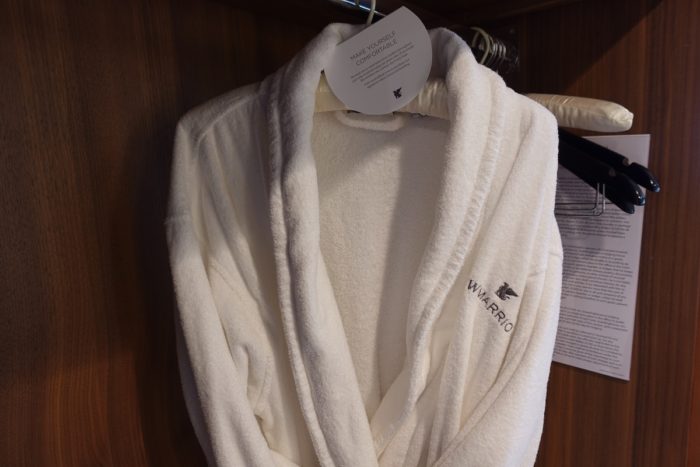 The robe is nice and soft.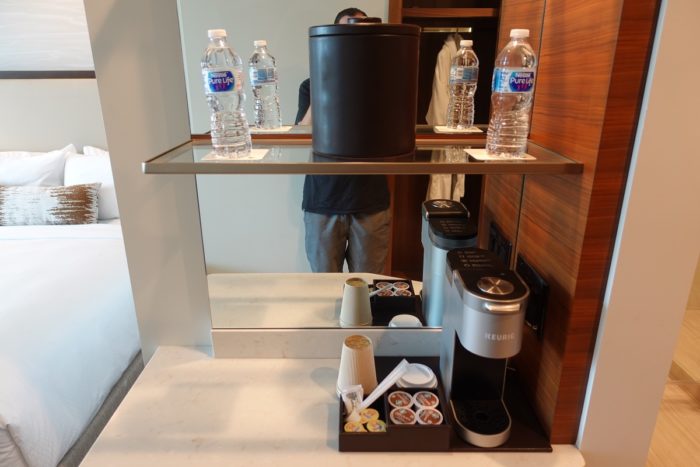 A Keurig coffee maker, K-Cup pods, and two bottles of water are included.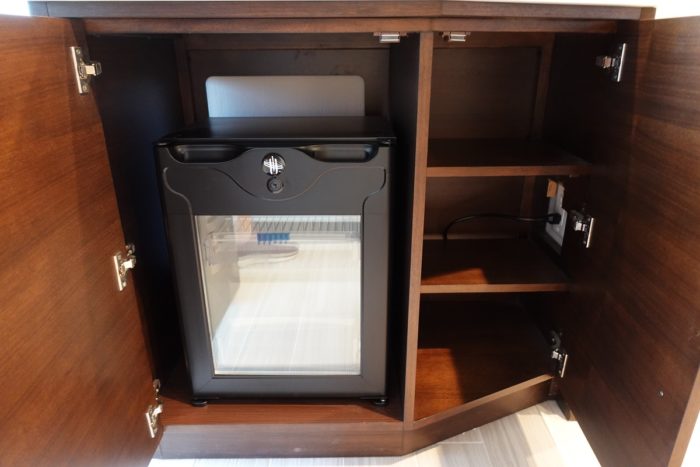 A mini fridge with some storage space is located underneath.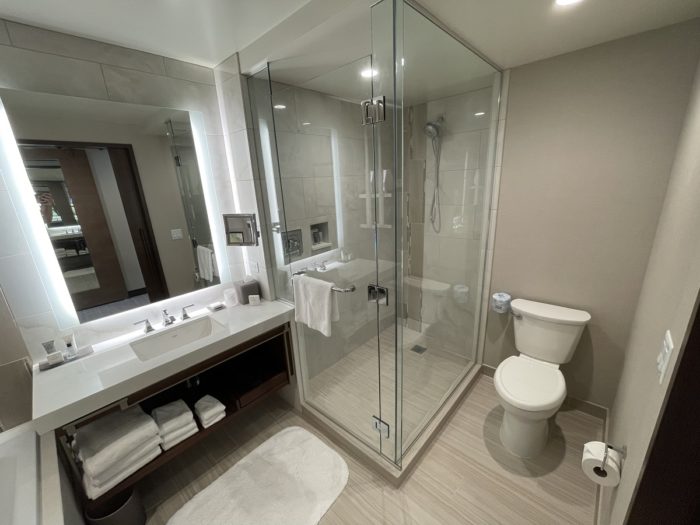 The bathroom is very functional thanks to a good amount of counter space and great lighting. The walk in shower has enough room for any sized adult. While I wish the water pressure was better, the temperature was perfect. My shower quickly warmed up to a temperature I was comfortable with.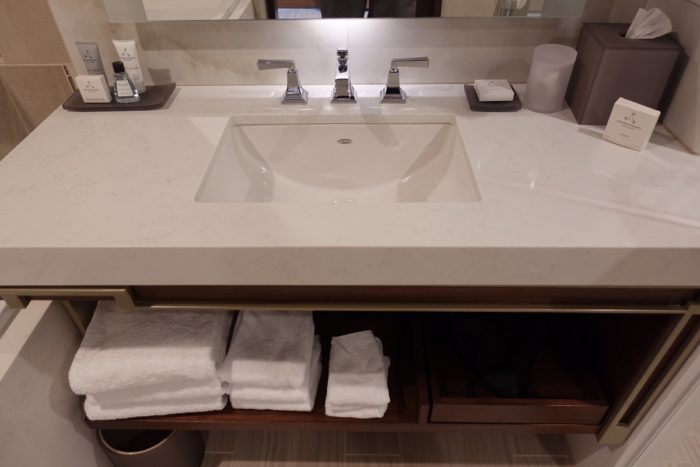 Here's a closer look at the sink.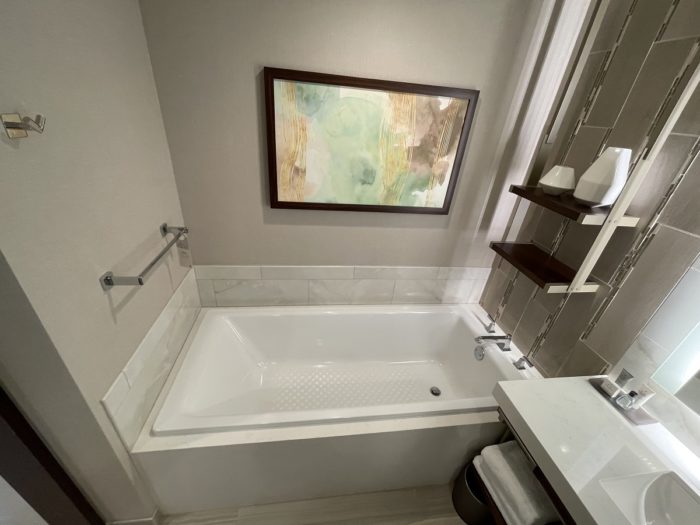 Besides the shower rooms also include a bathtub if you're in the mood for a soak.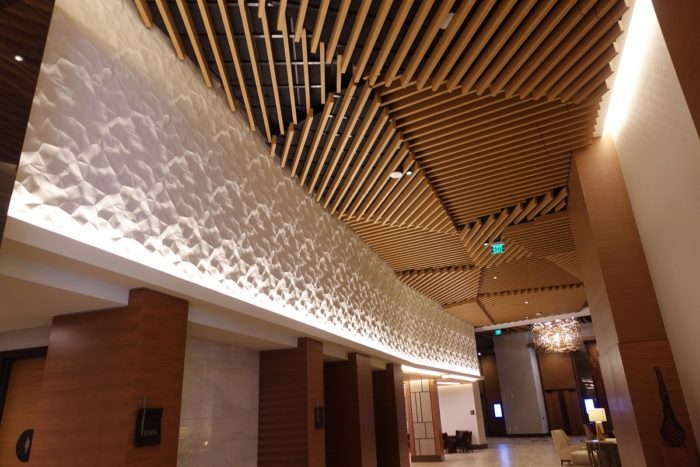 Moving on from the room, I wanted to point out that the lobby is on the second floor of the hotel. The first floor is mostly home to meeting ares and conference rooms. It's worth walking around this area because as you can see there's some pretty nice decor.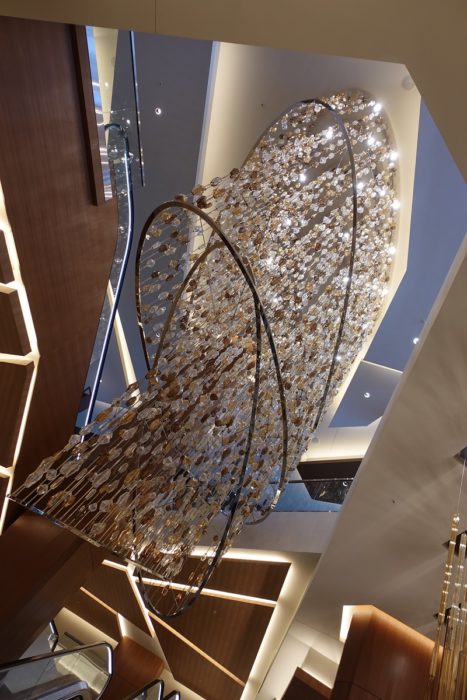 A gorgeous two-story chandelier hangs between the escalators between the first and second levels.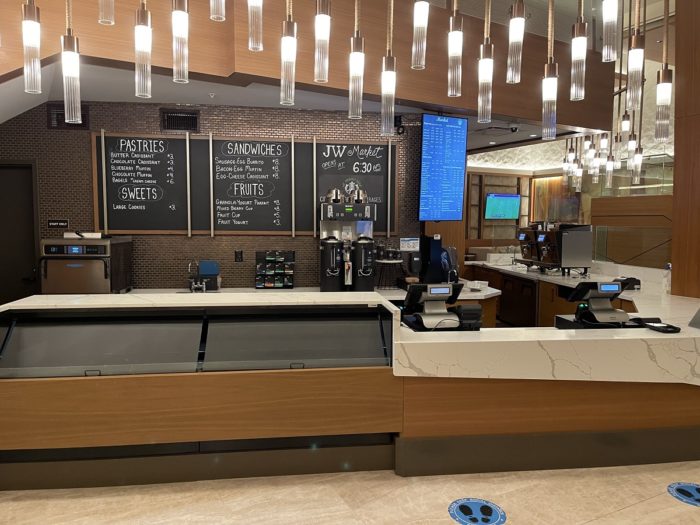 A small counter selling a small selection of pastries, sandwiches, and Starbucks drinks is located on the first floor.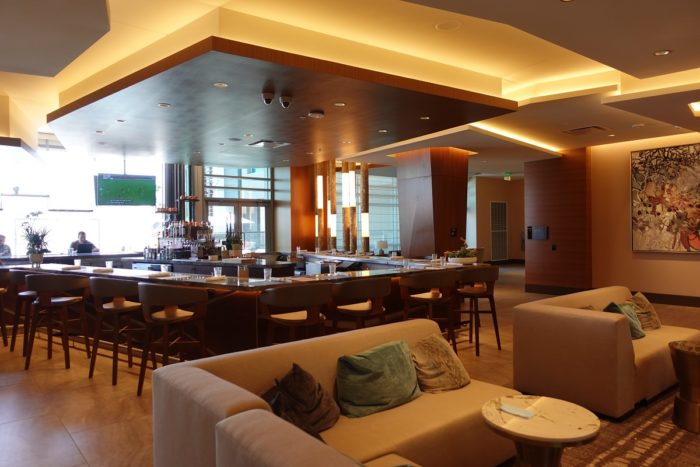 There's several onsite dining options, including this bar located in the lobby.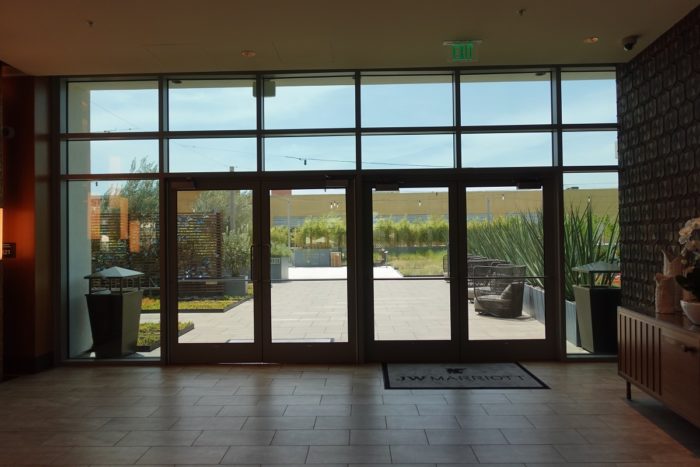 Also in the lobby is this entrance to Garden Walk, which is exclusive for JW Marriott Anaheim Resort guests. If you're walking to Disneyland and DCA you'll want to make use of this path to cut through Garden Walk and use it as a shortcut. Disneyland Resort is just .9 miles away, or about a 15 minute walk.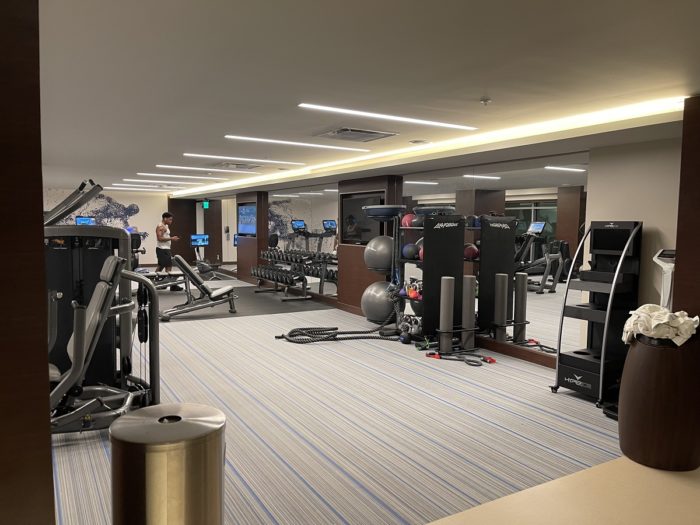 JW Marriott Anaheim Resort gym, or Wellness Center as they call it, is fantastic. Weights, exercise bikes, ellipticals, Peloton exercise bikes, and treadmills are all available for use.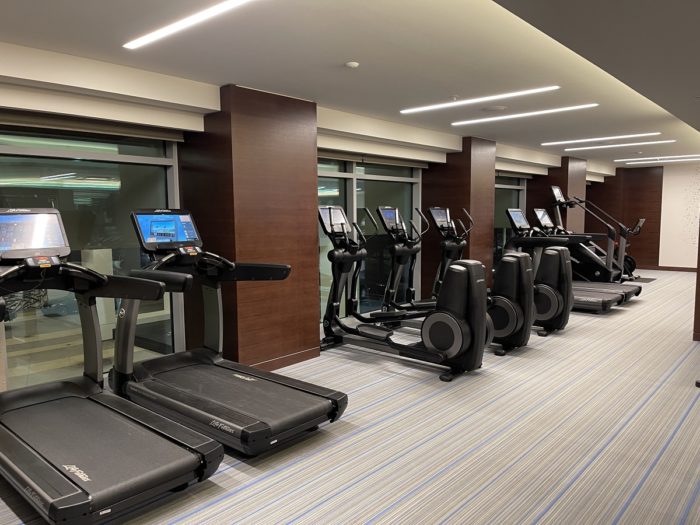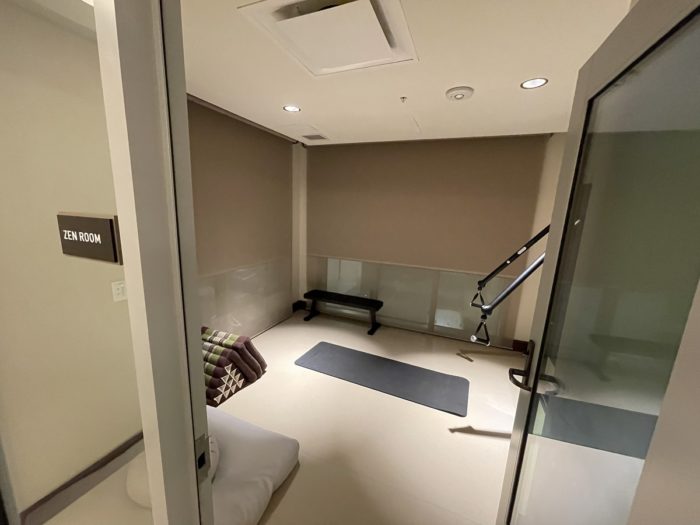 The Wellness Center also contains a yoga studio and even a zen room. You don't find those in hotels very often.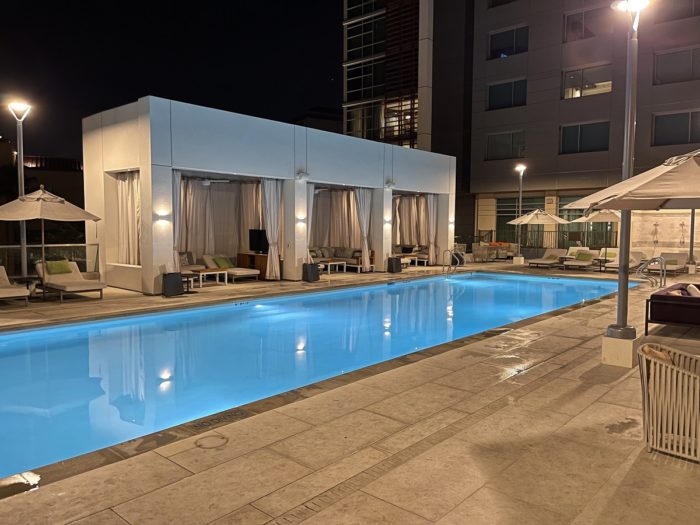 The hotel's heated outdoor pool is lovely day or night. It's not very big, so it was a bit busy during my stay on a hot July day. Towels and showers are located near the pool. Poolside cabanas can be rented for $250 a day.
Overall JW Marriott Anaheim Resort is a great and luxurious hotel, but it all comes at a cost. I think it may be more ideal for convention visitors that have an expense account and per diem to burn. But thanks to its functional rooms, good amenities, and short walk to Disneyland and Disney California Adventure it's also a good option for families looking to splurge on a non-Disney hotel.
Planning a trip to Disneyland? Be sure to check out our Disneyland Crowd Calendar, which rates every day of the year on a scale of 1 to 10 so you can see how busy Disneyland and DCA will be during your visit. Also check out our Disneyland Touring Plans. These itineraries can show you how to beat the crowds and spend less time in line at your favorite rides. Our Touring Plans can also be personalized! All of our tools are used by hundreds of thousands of visitors each year and are constantly being updated by our in-park team of researchers and data scientists.
Have you stayed at JW Marriott Anaheim Resort? Do you plan on staying there? Leave a comment or let me know if you have any questions.
Note: JW Marriott Anaheim Resort did not sponsor this post and did not pay for, or receive copy approval.