Lessons from My 1st runDisney Event
Committing to run your first big race is a bit overwhelming, particularly when it's a runDisney event. There are a lot of things you don't know as a novice, things that a more experienced runner might not even think about. If you're thinking about registering for a runDisney event – particularly a future Princess Half Marathon – here are some things I learned from my first Glass Slipper Challenge.
Find Your Perfect Fit
While runDisney offers a lot of special opportunities, not every event is right for you. It's not always easy to find extensive information, and even consulting other runners may not give you a clear picture of what to expect.
Running challenges – like the Glass Slipper Challenge – look like great fun when you're signing up months in advance, but don't forget that you'll actually have to RUN those races eventually, and running for consecutive days can take a big toll on your body. You still want to enjoy your race AND your vacation, so be confident, but also realistic before you decide to be Dopey. There's always next year!

Pre- and post-race events like Pasta in the Park and the Race Retreat look – and by most accounts are – a great way to celebrate your race weekend, but know your own plans. Just because Pasta in the Park, for example, is held the night before your half marathon doesn't mean you shouldn't try to get to bed before Illuminations. Some runners don't need the full night's sleep, but your wake up call comes mighty early when you don't go to sleep until midnight.
For the Race Retreat brunch, have an idea of what your finish time will be, and don't forget to consider that your actual start time may come 45 minutes or more after the official post time of 5:30am. This is an important lesson I learned – by the time we finished the race, collected our medals and water, and met back up with our party, it was already after 9:30am. With the end of the Race Retreat scheduled for 10:00am, it would've been a very expensive loss for us if we had registered for it and were unable to enjoy it. This is especially important for slower runners who will likely start the race in one of the later corrals.
The Bare Necessities
I thought the Fit for a Princess Expo at Disney's Wide World of Sports would be a quick stop for us to pick up our bibs and t-shirts before we were on our way. I was wrong.
Expo turned into a half-day excursion for us, as we took advantage of photo ops, explored the many vendors on the expo floor, and listened to the speakers. For returning runners, there may be a "been there, done that" mentality, but for first-time racers, I definitely recommend blocking out a reasonable amount of time to enjoy the offerings. Going later in the day (or week) may provide you with a less congested shopping space, but you do risk missing out on the merchandise that comes in a more limited inventory (like the Dooney & Bourke bags that sold out within hours).
Expo is also a great place to pick up either last minute necessities or those things you never knew you always needed, and I can tell you from experience that some of those things are VERY good to have. Body Glide, Sweaty Bands, and even a small heat/ice pack (actually a giveaway at one of the booths!) are all available at Expo, so if you don't have them in your suitcase, you can pick them up there. (I was especially happy to have the heat pack to sooth my bruised foot after the 10k.)
We also loved picking up motivational posters and creating our own signs to post in our room, from our balcony and, of course, to display on the course!
You've Got a Friend In runDisney
Though we were staying at a Disney resort, I was still anxious about transportation to, from, and around the races for myself and my chEAR squad. I can tell you now that getting around during race weekend was a breeze. While we drove ourselves to the start line, we did take notice of the buses and drop off area and spoke to other runners who were also staying at one of Disney's resorts. Only one group of runners I spoke to had a problem – apparently their driver got a little confused with the route – but everyone made it in time. You'll still want to leave with plenty of time to spare just in case, but there is no shortage of transportation.
My chEAR Squad did not register for any of the packages, but they were still able to see me running in several places. While it's not optimal for those looking to make the best time, we were even able to stop for some pictures, to hand off jackets, and to get a quick snack on the course. For the Enchanted 10k, the Epcot resorts were busy with spectators, so if you're staying around Crescent Lake, don't be shy about making a sign and cheering on total strangers from the beach, boardwalk or
your balcony. As a runner, this was one of my favorite stretches of the course.
Don't expect to see much at the starting line of the Princess Half, but spectators can easily move between the Transportation and Ticket Center and Main Street, USA in the Magic Kingdom, as well as catch runners outside the entrances to Disney's Polynesian Village Resort and the Disney's Grand Floridian Resort.
The runDisney community – both race participants and spectators – is full of very friendly, helpful people. From the corrals before starting time, to those cheering us on along the course, to the guests we met after the race, everyone seems genuinely proud to be part of such a special experience. There's no need to be anxious about any of it – it might be your first time, but there are thousands of runDisney veterans eager to help you get where you need to be.
A New Fantastic Point Of View
While many runners are slaves to their stopwatches, some of us stop a little more often. Or a lot more often. It's true that I would've liked to have had a finish time closer to three hours than four, but I don't regret the time we took to stop for photographs. Especially if this may be your ONLY Disney race, allow yourself the poor finish time so that you can take pictures that you may never get to take again. For us, that meant taking nearly an hour to get through the Magic Kingdom, which was the most special part of the race for me (and a lot of other runners, I'm sure). I don't regret it – we have teary-eyed pictures in front of Magic Kingdom's gates, then with Snow White, and literally on top of a parade float, so I'm willing to trade a personal record for those memories.
The one warning I will give about stopping, however, is to have a plan in mind if you don't have the luxury of a big cushion between you and the balloon ladies, who are at a pace to sweep you off the course. If you're not already monitoring your progress, sign up for runner tracking so that you get a text with your pace at every 5k break. Sometimes you can't stop. Sometimes you shouldn't.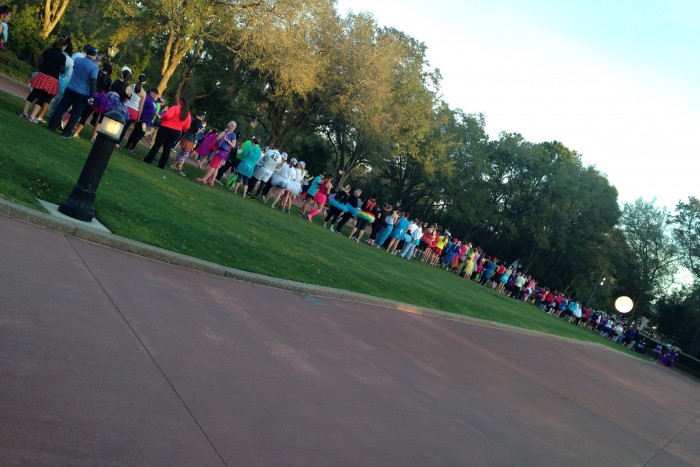 During the Princess Half, for example, The Heroes had a huge line early in the race, and we opted to skip it knowing that we'd need those minutes once inside Magic Kingdom. When we passed them on the way back, the line was considerably shorter.
During the Enchanted 10k, Princess Minnie greeted her royal subjects near International Gateway, and the line stretched literally all the way across the lawn. It didn't move as fast as I had hoped and ended up costing me close to 15 minutes before I gave up on waiting. Be prepared for lines like that (although few will be THAT bad), and know that you may be forced to make a tough decision about which photo ops are "must dos".
Seize the Day
Look around, see the mass of people running on the overpass above you or the highway behind you. Enjoy the incredible rush of moving down Main Street with an absolute avalanche of cheers coming from strangers. Stop for that quick photo at the Finish Line, even if it means you add another 10 seconds to your time. Wear your medals and celebrate with Cast Members, other guests, and especially the characters, as they'll more than likely want to play with your new bling! (Tip: You might also want to wear it at the airport if you don't pack the medal in your checked baggage – it'll make it easier when the TSA can't identify it in your carry on!)
People are going to ask about your race, not only while on your trip but especially when you get home – make sure you have a story to tell them.
Every Mile Will Be Worth Your While
I'm not going to lie – I hate running. I'll never be good at it, and I don't think I ever reached that true "runner's high" they talk about. The closest I've ever come while running was reaching Epcot during the Enchanted 10k, and even then I thought I might die.
BUT I kept going.
And then I crossed the Finish Line. And I had a beautiful medal in my hand that I earned, and memories in my heart of one of the proudest experiences of my life. And that runner's high? I get it every time I get to share those memories.
I can do it. I DID do it. And so can you.