runDisney Primer: Advice From a First-Timer
TouringPlans welcomes Guest Author Bridgett Hurley.
I've always wanted to do a runDisney race. For years I've seen people walking around the parks wearing their medals and thought about how great it would be to have that sense of accomplishment and camaraderie. The runDisney Facebook groups are full of supportive chatter from participants and festive race-day photos of runners dressed as Disney characters. I like can-do spirit and costumes, so this year I decided to take the plunge and run the Disney Wine & Dine 5K. I am so glad I did. Here's what it was like, plus some tips for those of you also considering taking the first-time plunge.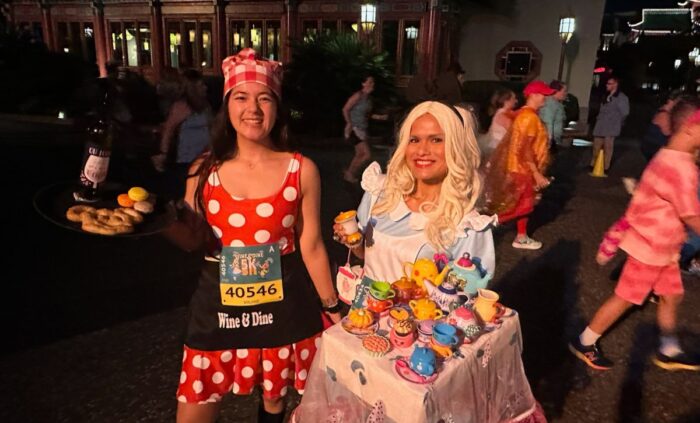 Signing up for the Race
The sign-up process is the hardest part of most runDisney events. This year's Wine & Dine 5K was on November 3, which meant the sign-up was March 21. Registration opened at 10 am. My husband and I were both online at the runDisney site at 9:55 a.m., ready to pounce. He was trying for the 5K and I was trying for the 10K. He got into the queue; I didn't. Fortunately, he was able to register us, because by 10:01 all queue slots were filled. This kind of rapid sell-out is normal.
The registration fees started at $107 per person for the 5K and went up to $485 per person for the multi-race challenge. The fee includes your entry fee and a race shirt. When you register, you're offered the opportunity to prepay for other race bling like pins and hoodies. I strongly recommend this. I'll discuss why below.
The Race Expo
The day before your event you have to pick up your race bib at the runDisney Health and Fitness Expo at the ESPN Wide World of Sports complex. Once there, you can shop for runDisney merchandise and running-related gear. The Expo runs from 10:00 a.m. to 7:00 p.m., but to get into the runDisney merchandise part of the Expo you have to join a Virtual Queue. To join, you must be located within 45 miles of the Expo, and the queue opens at 8:30 a.m. We joined the Virtual Queue right at 8:30 and got slot 34, which was pretty good. We were able to enter the Expo around 10:45. The joining process for this Virtual Queue is pretty similar to the one you use for attractions. And yes, you can be in the Virtual Queue for an attraction at the same time as the one for runDisney merchandise.
The race information strongly encourages runners to use the race shuttle to get from their resort to the Expo. We met some veteran runDisney racers the night before the Expo, and they told us otherwise. They were right, and we're glad we took their advice. We took our own car, leaving our resort around 9:15. Traffic was light at that hour, and we arrived at the Wide World of Sports complex by 9:30, got a decent parking space, and were in line for our bib at 9:40. They started letting people in at 9:45 and by 10:00, when the first buses arrived, we already had our bibs and could move on to the fun part.
We first went to the general running section of the Expo to get some running socks and accessories. By 10:45 our number had been called for the runDisney merchandise section. This is where prepaying for race merch at registration really pays off. The line to get into the merchandise section was extremely long, but racers who were picking up prepaid merch got a special, much shorter line. You don't have to buy a ton to take advantage. We picked up our prepaid items, shopped for some other cute race-themed running gear before it was all snapped up by others waiting to get in (did I mention how long the line was to get into the merchandise section?), and headed to EPCOT to start our day. We were in the park before lunchtime.
Race Day
Getting to the Race
The main reason I put off running a runDisney race for so long is the start time. The races generally start at 5:00 a.m. You have to be at the starting area early enough to join your race group, which is determined at registration when you say how fast you say you can run a mile. Our group closed at 5:20. Event organizers strongly encourage you to take the event buses if you are staying on property to avoid the heavy pre-race traffic. They suggest you get to the bus stop at your resort by 3:45 a.m. You heard that right: by 3:45 a.m.
On race morning, we arrived at the main Old Key West bus stop at 4:05. We sat on our stationary bus for 15 minutes and cheered when it finally left. The cheering was short-lived. The bus then went to Saratoga Springs, where we sat another 15 minutes. We finally left there at 4:40 and arrived at EPCOT at 4:55.
Lesson learned: If you can, drive. Maybe it was because by that hour most racers had already arrived, but we saw zero traffic on the roads into EPCOT. And those who drove themselves got to park relatively close to the starting area. The buses, on the other hand, don't bring you to any special race drop-off point. They just drop you off at the regular bus area, and the problem is that the starting area for the race is at the opposite end of the parking lot. It was a 10-minute walk from drop-off to the start gates. My husband missed his start time.
The Race Experience
When we arrived at EPCOT, we headed to the area marked for the start group printed on our bib and waited for our group to be called. The atmosphere was festive, with bouncy music blaring from the PA system. Exuberant emcees were encouraging runners and highlighting racers with feel-good stories. For example, one woman was running the 5K just two weeks after a double mastectomy, and one man had run every runDisney race to date. Most people were in costume.
The festive atmosphere extended throughout the run. Music played all along the route. At every pavilion in the World Showcase groups of cast members cheered on the runners. There were character meet-and-greets all along the race course (but the lines were long).
The race was over in a heartbeat. Running through the finish line and getting your medal is an exhilarating experience. There was music at the finish and a well-stocked beer truck. It was a big party, which felt right because it was still dark. At the same time, we'd been up for almost three hours and had just finished a race with thousands of people, which felt strange—because it was still dark.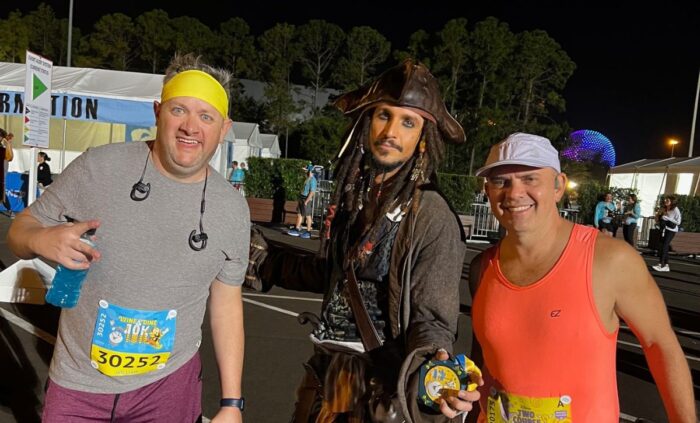 What I Learned
With a race successfully under my belt, I can give out some "pro" tips:
Be online at 9:45 the day registration opens and keep refreshing until you get in. Ideally have more than one person trying to register with you.
Preorder merchandise when you register. That way you can be sure to get what you want, get into the Expo faster, and shop for other merchandise before it's picked-over or gone.
Get to the Expo early, You'll beat the rush to pick up bibs and get first dibs on merch.
If you have a car, consider driving it to the Expo and to the race. By the time the first buses get to the Expo, the lines are already long. And our bus ride to the race was 45 minutes even though our resort was only a mile from the race start.
Ask for help. The runDisney community includes some of the nicest people you'll ever meet.
Do it. If you've been putting it off because you aren't a runner or you're worried you won't finish in time, just do it. The 5K is for absolutely everyone.
The 5K was very laid back. The 10K and half marathon are a bit more serious, so it's important to be in shape if you want to run either of those. At the tail end of the crowd of runners, there's a line of people holding balloons and keeping a 16-minute-mile pace. Racers refer to them as "the balloon ladies." If they catch up to you, you'll be "swept," or removed from the course, but in the nicest of ways.
Looking Back
Am I glad I did it? Absolutely! It was so much fun, and I met some great people. I can't imagine a more welcoming place. There were runners of all shapes and sizes, all encouraging each other and acting like old friends.
Will I do the next race? Probably not. Everyone online talks about how you forget that it's 5 a.m. Not once did I forget that it was 5 a.m. After the race I went back to the room and crashed for two hours. Now, if Disney decides to bring back the nighttime races I'll be there in a heartbeat.
Bridgett Hurley is an attorney, organizational development expert, mom and foster mom who loves to share Disney with her family and friends. She has been a Disney Vacation Club Member and annual passholder since 2016.