Magic Kingdom After Hours Strategy
Disney's After Hours promises to offer so many attractions! So much food! So few people! Does it live up to the hype? It turns out that After Hours is an excellent choice if any of those things are important to you as tour the Magic Kingdom. In this post, we're going to cover some basic information about the After Hours experience in Magic Kingdom, as well as an example strategy (or two or three) if you plan on attending After Hours in the next few months.
Magic Kingdom After Hours Dates and Hours
Currently, the After Hours event is scheduled to happen at Magic Kingdom on the following dates in 2023:
January 16 and 23
February 16, 20, and 27
March 2, 6, 13, 16, 20, and 27
On each of these nights, the After Hours event begins at 10 p.m. and runs until 1 a.m. But what makes this event even more "worth it" is that you can enter Magic Kingdom as early as 7 p.m. with your event ticket – meaning you can still watch Enchantment even without a day ticket! (Note: You can check if additional dates have been added at Disney's Magic Kingdom After Hours page.)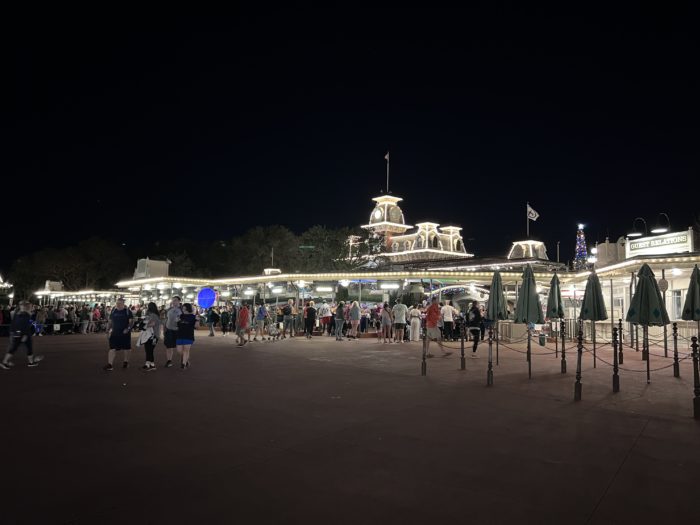 How to Get Your Wristband
In order to stay in the park after 10 p.m., you have to check in and get your wristband. If you arrive at the Magic Kingdom after event check-in has started (usually 7 p.m.), you can just check in at the Main Entrance.
If you've used regular ticket admission to enter the Magic Kingdom earlier in the day and you're still in the park when 7 p.m. rolls around, you'll need to pick your After Hours wristband. You can find in-park check-in at any of the following locations:
Liberty Square ticket office
Adventureland near Tortuga Tavern
Tomorrowland across from Monsters Inc. Laugh Floor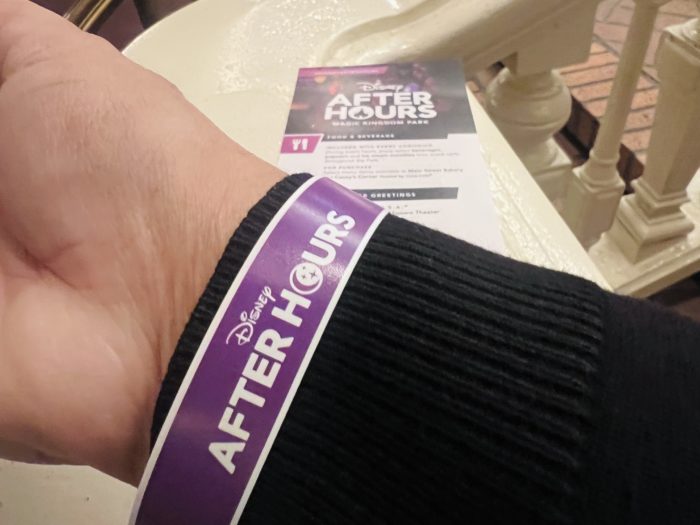 All About the Snacks
After Hours events include all-you-can-enjoy snacks! At the Magic Kingdom, there are seven different snack carts so that you can fuel up no matter what part of the park you're in. Your snack choices include:
Ice cream novelties
Popcorn
Bottled beverages (water, soda, etc.)
If snacks aren't quite enough sustenance for you, Casey's Corner is open – with Mobile Order available – during the entire party.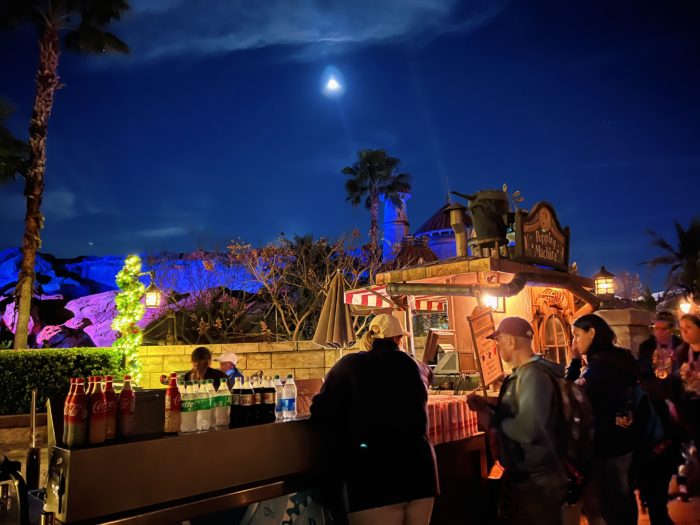 Suggested After Hours Strategy
Here comes the fun part! Tickets for the event are limited to 3,000 people. Spoiler alert: that means very minimal waits during After Hours – you don't really need to hit rides in any "particularly effective" order once After Hours starts. But the bonus is that by entering the park 3 hours before the event, you can get even more done.
Since you don't need a strategy to avoid lines once 10 o'clock rolls around, the strategy here is all about what to do after you arrive and before the party officially starts. Here's what we suggest!
Check in, and then enjoy some of Tomorrowland – ride the PeopleMover and play a round of Buzz Lightyear's Space Ranger Spin
Start making your way across the park by heading toward Main Street to watch Enchantment
As soon as Enchantment is over, work on completing rides on the "left side" of the park. Start by escaping the crowds and walking back to Big Thunder Mountain Railroad. Then ride Pirates of the Caribbean and then Jungle Cruise. You should be able to finish all three attractions before the After Hours event even begins!
If you need to fill a little time as guests filter out of the park, this is a great time to order a fuel-up from Casey's Corner so that you can power through the rest of the night!
Once the event starts, ride Haunted Mansion, it's a small world, and Peter Pan's Flight
Continue working across Fantasyland by riding Winnie the Pooh, Seven Dwarfs Mine Train, Under the Sea, and Mad Tea Party
Make sure to pause every now and then for some snacks and to take in the peaceful atmosphere of a mostly empty Magic Kingdom
Finish up the night back in Tomorrowland, riding Space Mountain and whatever you'd like to repeat.
This attraction list may not exactly match what your party wants to experience during After Hours, but it provides an example of everything you can accomplish with your ticket. Often, more than you could do in a full day on a high-crowd day, and it shouldn't even feel rushed! Wait times are very, very low throughout the event. Non-headliners are generally walk-on, and even headliners max out at a 25-minute posted wait. And that posted wait is very inflated.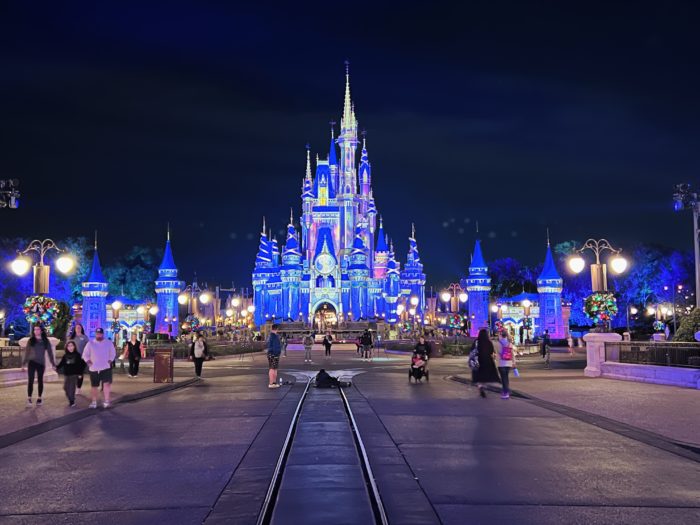 Optional Add-Ons
You could easily add in Magic Carpets, Prince Charming's Regal Carrousel, Barnstormer, Dumbo, and Tomorrowland Speedway into the plan above. You would probably have to skip some snacks. But they don't have great satisfaction scores, so I didn't want to include them in the plan. If you like the idea of a magical carrousel ride at midnight, or a late-night spin on the Speedway, go for it!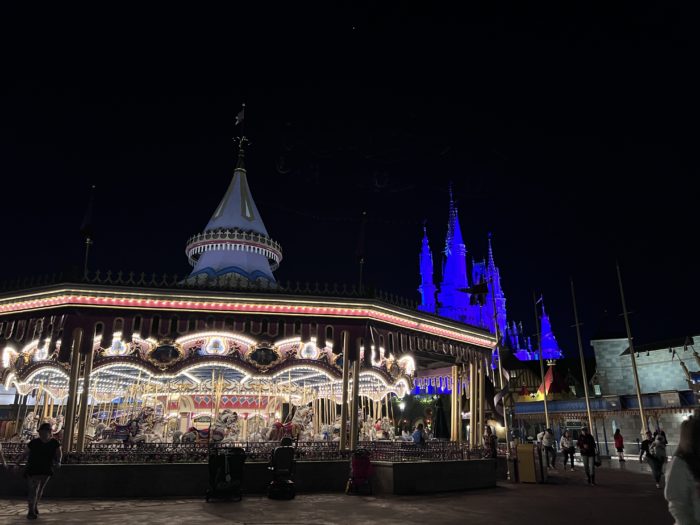 Alternate Ideas!
Maybe you just want to do those "big" attractions during After Hours. If so – based on wait times during the first event, you could likely accomplish the following just between 10 pm and 1 am (excluding pre-event time):
3x Big Thunder Mountain Railroad
3x Seven Dwarfs Mine Train
2-3x Space Mountain
Or you could enjoy a mix of classics and headliners:
Big Thunder Mountain Railroad
Pirates of the Caribbean
Haunted Mansion
2x Seven Dwarfs Mine Train
2x Space Mountain
TTA PeopleMover
Do have tickets for an upcoming After Hours event at Magic Kingdom? Or were you there on the first night? How would you spend your three hours with almost no lines?