Menu Monday: Inside the Disneyland Corn Dog
Food. It is the most important experience you will have on a vacation. Whether you are traveling to Walt Disney World or Paris, the food you eat will shape your entire traveling experience. So, why is it that foodies always insist on people trying the Disneyland corn dog? It is just a corn dog after all, right? Well, this is not no ordinary corn dog, my friends. This is a piece of crunchy, delicious heaven. Even TouringPlans' Researcher and blogger Guy expresses that…
Disneyland corn dogs are legendary among Disneyland locals for a good reason. They are giant, cheap, and most importantly delicious! They are hand dipped right before serving so you will hardly ever get a stale corn dog. Believe the hype.
Guy is not the only one that raves about the corn dog at Disneyland, L.A. Weekly's Pulitzer Prize-winning restaurant critic Jonathan Gold has stated that the corn dog at Disneyland is the best he has ever eaten.
So, what makes these corn dog so dang special? Well, it is actually pretty simple, and Gary Maggetti, Director of Food and Beverage for Disneyland Resort and Disney World, explains the originals of the Disneyland corn dog and why it is so magical in the video below.
As you can see, the key is the thick and warm hand-dipped batter. The corn dog at Disneyland is the perfect blend of sweet, salty, soft, and crunchy. It is a must have when visiting Disneyland.
Now that I made you all hungry, I bet you are wondering where you can experience this spectacular corn dog, right? Well, there are only two places to go to grab a corn dog at Disneyland: Little Red Wagon Corn Dogs and Stage Door Cafe. The Little Red Wagon Corn Dogs is located at the end of Main Street U.S.A. next to the Plaza Inn (which has amazing fried chicken) and Stage Door Cafe is in Frontierland, right next door to The Golden Horseshoe. Do not worry Disney California Adventure visitors, you can also get your hand-dipped corn dog perfection here as well. All you need to do is head on over to Corn Dog Castle in Paradise Pier.
Purists may insist on only hitting up the Little Red Wagon; however, there is an advantage going to California Adventure's Corn Dog Castle. Corn Dog Castle has 3 different corns dogs to choose from: original (same sold at Disneyland), hot-link corn dog, and cheddar cheese stick. TouringPlans' Researcher Guy highly recommends either the original or the hot-link corn dog but he does advice you to stay away from the cheddar cheese stick because if you do not eat the cheese stick quickly, it will "become a lukewarm brick of solid cheese." Oh yeah, either place you go to purchase your corn dog, you get to choose between a side of sliced apples or a small bag of chips (I recommend getting the sliced apples).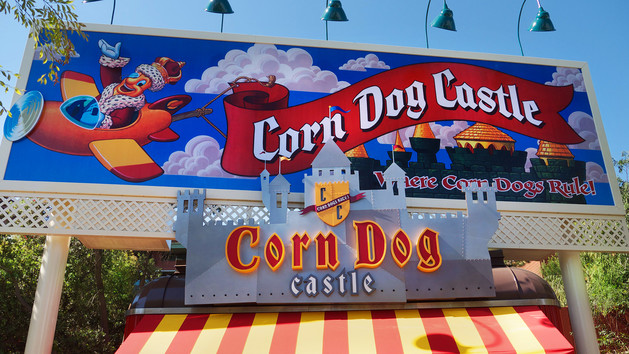 So, when you are walking around Disneyland or California Adventure, and your stomach starts to rumble, try your best to remember the corn dog. If you forget where to get this magical dog, just ask a Cast Member. They will always point you in the right direction.
 What are some of your favorite quick service foods to eat at Disneyland or Disney California Adventure? Should Disney bring over the hot-link and cheddar cheese stick to Disneyland? Do you think Disneyland's corn dog are better than the Magic Kingdom's or do they taste the same?