REVIEW – Disneyland Resort's Pickle Corn Dog With Peanut Butter
Have you heard of the new Panko Crusted Pickle Corn Dog from Blue Ribbon Corn Dogs in Downtown Disney at Disneyland Resort? Is it a tasty and unique culinary delight? Or is it an embarrassing piece of slop on a stick that's only made to garner a reaction in the social media age? Keep reading to find out!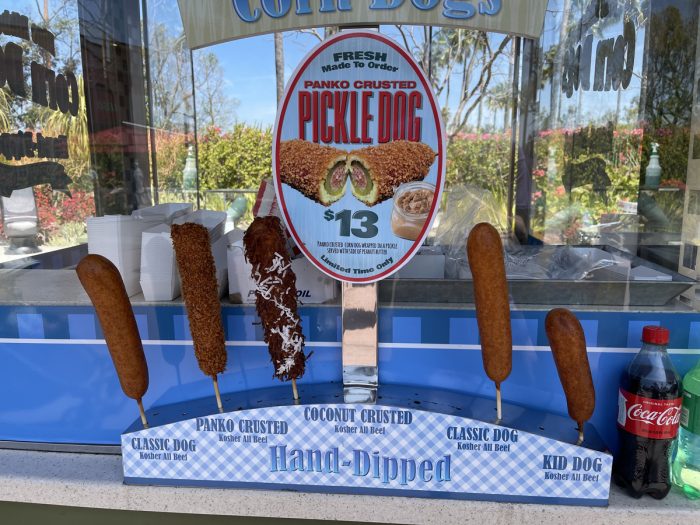 Hovering above the Blue Ribbon Corn Dog menu, almost like a deity descending from the heavens above, is sign featuring the Panko Crusted Pickle Corn Dog. For $13 (or $11 with annual pass discount) you get the dog, and a bag of chips.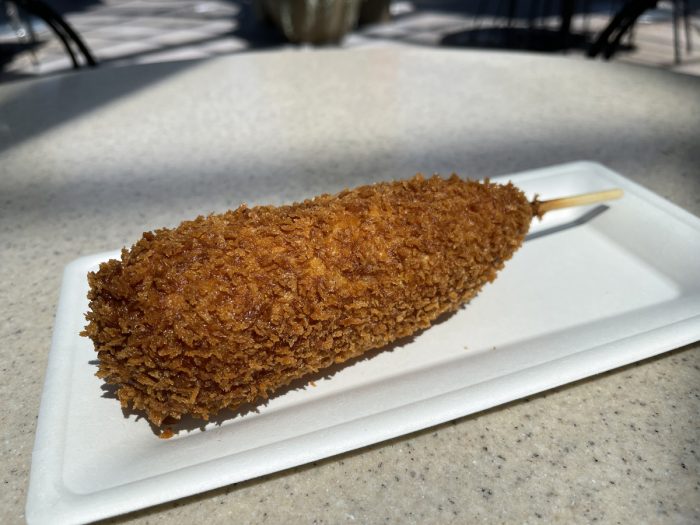 Here he is. You're definitely getting some girth for your money.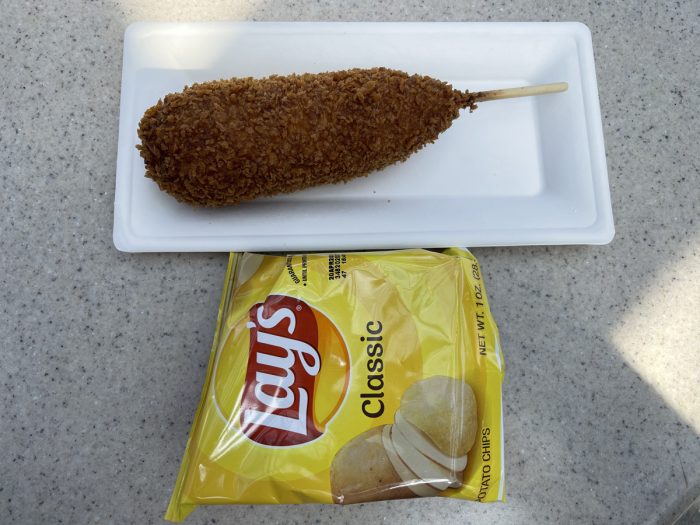 As a size comparison, here's the Panko Crusted Pickle Corn Dog next to the included bag of Lay's chips.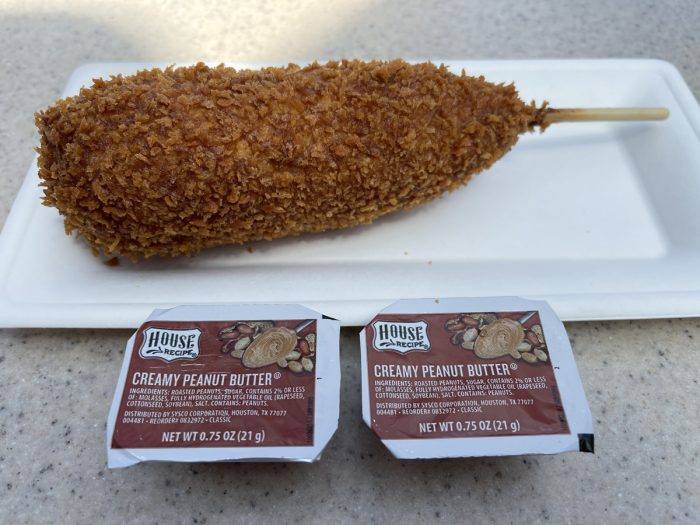 Also included are two packets of creamy peanut butter. Why? Who knows!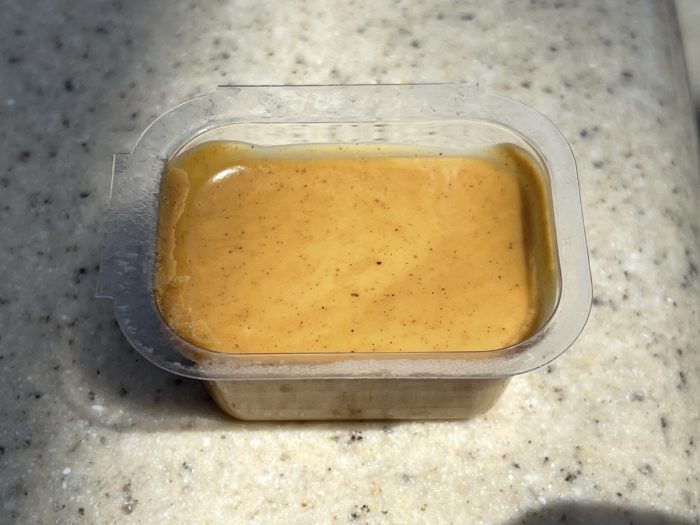 Here's one of the tubs of peanut butter before having a gigantic greasy corn dog shoved inside.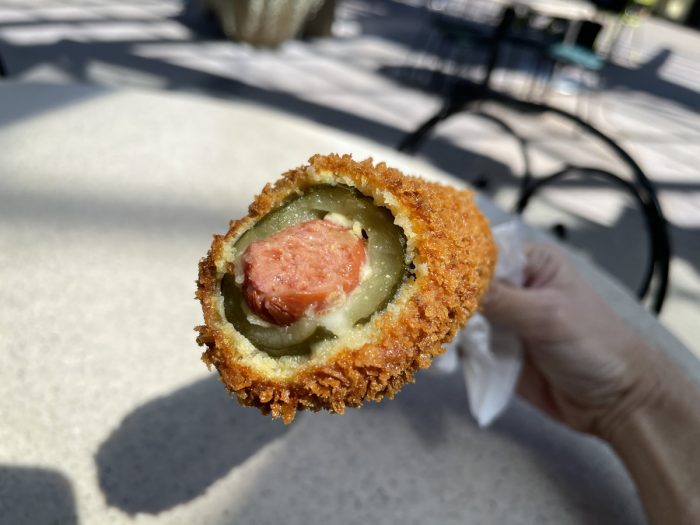 Okay, first bite I decided to go without the peanut butter to get a baseline taste. The panko crust is thick and has a delightful crunch to it. I found that the pickle taste was mostly absent, perhaps due to the breading and hot dog. Maybe something is wrong with my tongue but I didn't notice the typical salt and vinegar taste I usually associate with a pickle.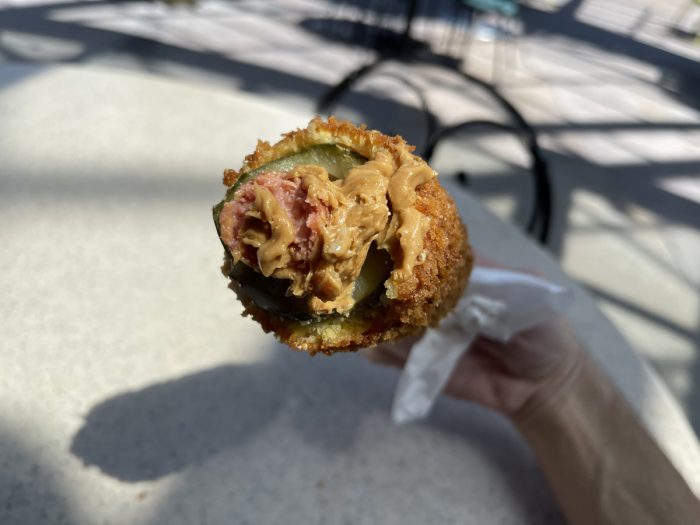 THERE'S NO WAY TO MAKE THIS LOOK APPETIZING! Bite number two and three, this time with the included peanut butter. The peanut butter was actually pretty good with the panko crust. As for the hot dog and pickle, I thought the peanut butter dominated those two flavors and I hardly noticed them.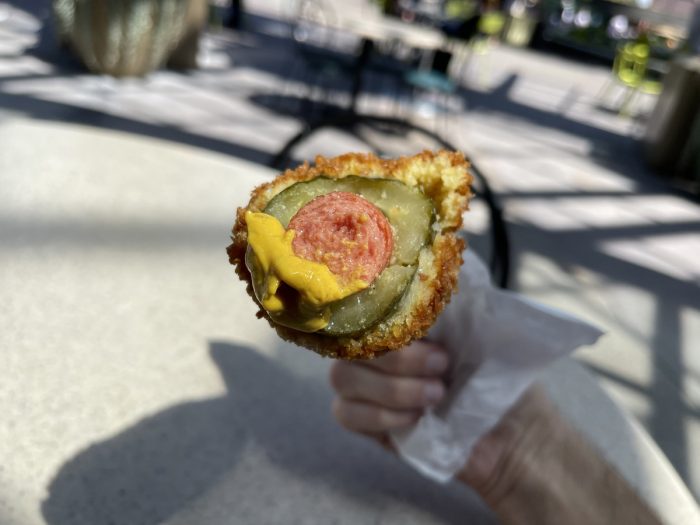 For bite number four I changed things up and went with mustard and found this to be the most enjoyable combination. But it's also the most "normal" one.
Overall the Panko Crusted Pickle Corn Dog is not bad at all, but it's also not anything spectacular to run out and try immediately. I do believe this was created for the shock and awe factor, and in that respect they have succeeded. After this dog was announced many Disney fan blogs covered it and it quickly became a hot topic on social media. So their plan worked!
Is the Panko Crusted Pickle Corn Dog on your must-try list? If you've had one what do you think? Let us know in the comments below.