Touring Strategy for Mickey's Not So Scary Halloween Party 2023
Mickey's Not So Scary Halloween Party is incredibly popular this year! If you're visiting Walt Disney World between now and the end of the October, chances are that you've at least been tempted to go see this year's version of this party. And you should be! Tickets may be expensive, but the party features a fully-staffed parade, fireworks, stage shows, plentiful candy, and more. And wait times at rides during the party are incredibly low. Plus … that Jack Skellington puppet.
Let's start with a few of the basics. If you're considering whether or not you should keep your kids up late to the party, check out this article. And if you want to attend a party but haven't purchased tickets yet, get on that quickly! Many dates have already sold out. One of the TouringPlans travel agents can help you with your trip, including party tickets.
But after you've got your tickets, how should you spend your time during the party? 5 hours seems like a lot, but it passes quickly. Especially if you wait for over 2 hours just to see one character! So if you're looking for a good balance of attractions with low waits, trick-or-treating, characters and entertainment, look no further! But if you know you want to prioritize one of those things, take this strategy as a starting point, and have fun your own way.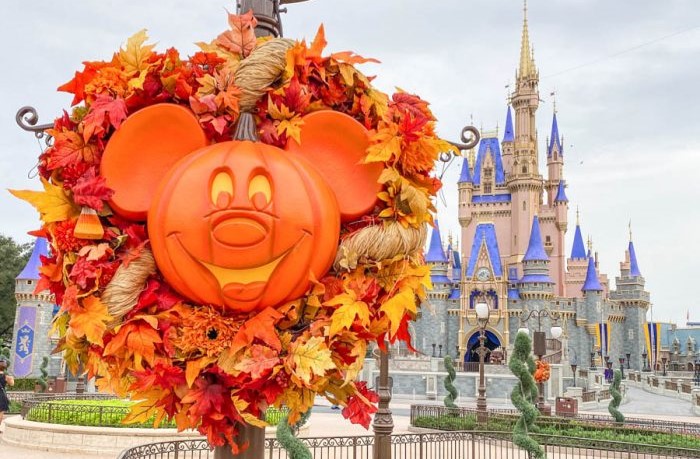 Party Basics
Mickey's Not So Scary Halloween Party runs from 7 pm to midnight on the following dates – dates with an asterisk are (or were) sold out:
AUGUST 2023: 11*, 15*, 18*, 22*, 25*, and 29*
SEPTEMBER 2023: 1*, 4*, 8*, 10*, 12*, 15*, 17&, 19, 22, 24, 26, 28, and 20
OCTOBER 2023: 1, 3, 5, 6, 9, 10, 12, 13, 15, 17, 19, 20, 22, 24, 26, 27, 29, 31*
NOVEMBER 2023: 1
Note #1 here is to try to not visit Magic Kingdom on non-party days, especially in October. Yes, you miss fireworks that way. But everyone tries to avoid party dates if they don't have party tickets, which makes those days so nice at Magic Kingdom, and forces everyone into the non-party dates. In October, only 13 days don't have parties. Those thirteen days will be disproportionally crowded.
Note #2 is that your party ticket gains you entrance into the Magic Kingdom as early as 4 pm. Go ahead and get there early to get some attractions in before the party starts!
Note #3 is that DAS works during the party! For attractions and characters. This can be a HUGE win if you're eligible for DAS. I'd definitely recommend getting DAS return times for the major characters and doing attractions by standby. Character waits >> attraction waits, almost always.
The strategy presented in this article gives some specific times for various entertainment options. In case you want to make your own plan, the various shows and offerings are presented at the following times:
Disney's Not So Spooky Spectacular (fireworks and more!): 10:15 pm
Mickey's Boo to You Parade: 9:15 pm and 11:15 pm
Hocus Pocus Villain Spectacular: 7:40 pm (October only), 8:35 pm, 10:45 pm, midnight
Cadaver Dans: 7 pm, 7:45 pm, 8:30 pm, 9:50 pm, 10:30 pm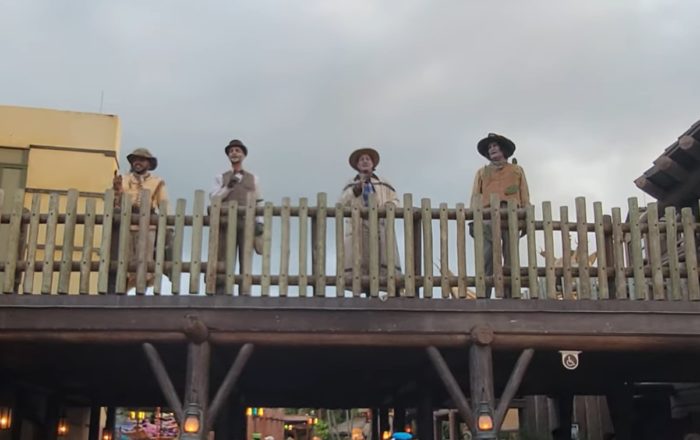 A Note about Characters
Character meet and greets at Mickey's Not-So-Scary Halloween Party are something of feast or famine. Or, really, eat-up-your-whole-night or delightful.
The hot-ticket characters require hours of waiting, and they take frequent breaks. If you're absolutely set on meeting one, you'll need to line up well before the party actually starts, and you'll need to be okay with dedicating most of your party to waiting for them. Who are the most popular characters? Jack and Sally, and the Seven Dwarfs. As an example of what your night look like if you absolutely must meet Jack and Sally, for example, I present this real-life scenario that required over 4 hours of waiting:
Entered the park at 4 pm, when party guests are eligible to enter.
Got in line for Jack & Sally immediately
Jack & Sally started meeting at 4:30 pm
Eventually got to see Jack & Sally after 8 pm
On the other end of the character spectrum is the location at Mad Tea Party. At this one spot, there are FIVE different characters that rotate in and out. For example, the Queen of Hearts will be closer to the Tomorrowland shrubs and Alice and the Mad Hatter will be nearer Pooh – all at the same time.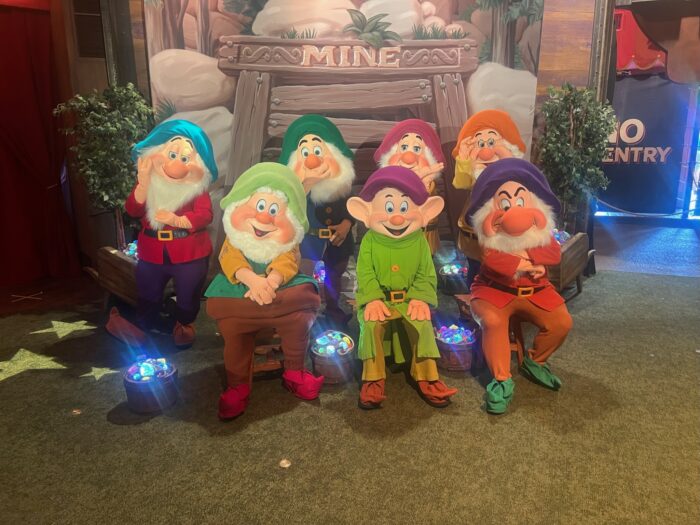 Pre-Party Strategy
With party tickets, you can enter Magic Kingdom as early as 4 pm. And you should enter as early as possible if you want to ride some attractions before the Halloween festivities get started. To that end, the following would be a reasonable way to spend the afternoon:
Immediately go to Jungle Cruise, which will likely have a 30-40 minute posted wait, but should only be an 18-20 minute actual wait. Hooray!
This means that around 4:45 pm, you can be at Pirates of the Caribbean with something like a 10 minute posted wait, but it should actually be something near a walk-on.
You can still hit Big Thunder Mountain before 6 pm. It will be posted at somewhere close to 20 minutes. But your actual waits should be closer to 10 minutes.
At this point, it will be nearing something like 5:30 pm. If you need to eat, you could do so now before the party begins. But hopefully you ate before you arrived and you can make it until you sugar up later in the party.
If you want to see one of the popular or even semi-popular (like Elvis Stitch) characters, you need to get in line by 6 pm. Even then you may spend 2-3 hours waiting for them.
Otherwise, your goal is to do two more attractions before 7 pm. First, Peter Pan's Flight with approximately a 25 minute posted wait that should be more like 10 or 15 minutes. And then Seven Dwarfs Mine Train just before 7 pm. It will probably have a 60 minute posted wait, but should be a 20 minute actual wait.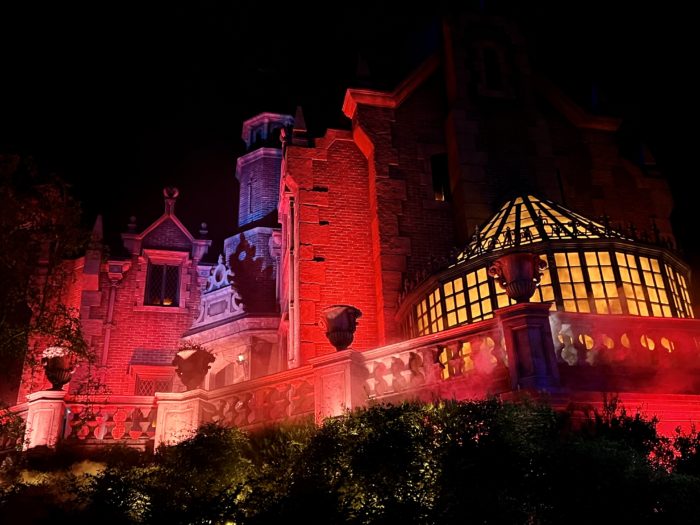 So, the party has just officially started. And, ideally, you'll have already done five or six of the attractions with some of the highest waits on a normal day in Magic Kingdom. Not a bad start.
Party Time!
When the party starts, you'll be tempted to immediately go trick-or-treating, or some other sort of fun. Consider the following! Everyone else at the party will be giving in to that temptation. If you trick-or-treat early, you'll spoil your dinner have to carry around heavy candy all night. And, spoiler alert, Disney doesn't run out of candy. You can save that for much later. Your goal is to experience a few more attractions before getting into the party spirit.
That being said – candy dispersal is remarkably efficient this year, so if you opt for hauling your candy around all night, you won't have to wait in long lines to do it. In fact, if you want to avoid more walking at the end of the night, you can just hop into candy spots as you follow your plan for the evening.
First, head over to Tomorrowland and ride Buzz Lightyear. It'll have some minimal posted wait, but should be close to a walk-on.
Then, take in the ambiance of the party on the Tomorrowland PeopleMover. This one will once again have close to zero wait, and will buy you some time as the crowds calm down at Space Mountain.
Time your arrival to Space Mountain to be close to 8 pm. There will be a 30 or 40 minute posted wait, but it should only really be closer to 20 or 25 minutes.
If you're fortunate, you might be able to make it to Frontierland in time for the 8:30 pm performance of the Cadaver Dans. If not, you're still headed that way to grab spots for the 9:15 pm Boo to You parade.
As soon as the parade is over, make your way as close to the front of the castle as possible. The fireworks spectacular won't begin until 10:15 pm, but you want to wait it out for a prime viewing location. The Jack Skellington puppet featured on stage during the spectacular is the stand-out of the party and is worth the wait.
Now you can choose one of two options. You can hold your spot for the Hocus Pocus show, or you can bail and catch the show at the end of the night. Waiting means more walking, but it also "extends" your party by letting you watch the show technically after the party ends.
From fireworks until midnight is your time to party like it's Halloween. Meet characters with short waits or do your trick-or-treating. And make sure to ride Haunted Mansion!
Finally, at midnight, end your night by watching the Hocus Pocus Villain Spectacular. This is the last of 3 or 4 showings for the night, and should therefore be pretty empty and easy to enjoy.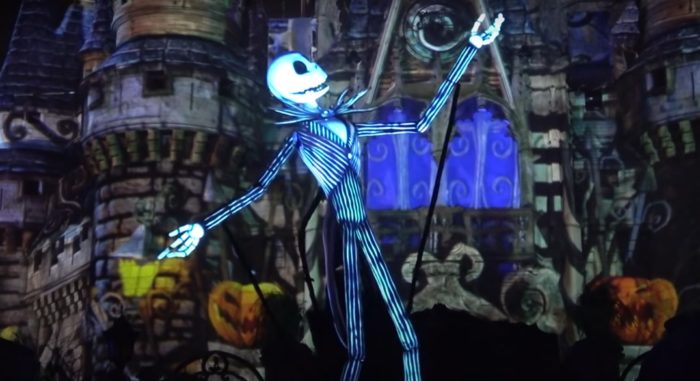 Trick-or-Treating Tutorial and Tips
Every treat location at the party has the same treat options (except for one "hidden" location this year – more on that later!). You don't need to visit many of them unless you plan on eating your weight in sugar over the next few weeks. But, it does pay to have a savvy strategy to get as much candy as possible with as little walking and waiting as possible.
Part one of the strategy is to wait until after 10 pm if you'd like. Everyone else will have already loaded up their treat bags at that point, so the lines at the trick-or-treat locations will be almost non-existent. Easy. But if you'd rather not wait – treat locations are using scoops and moving quickly this year, so even if you start gathering treats at the beginning of the party, you won't spend too much time in line.
The next step is maximizing treats per step. The absolute best location for this is the bypass between Storybook Circus and TRON. There are three stops along this bypass, and you can hit them all as part of the plan above when you make your way from Fantasyland to Tomorrowland! A close runner up is the Enchanted Tiki Room, which has two treat stops in one location. Easy candy.
But here's the thing – Disney is being really generous with candy this year. According to our very scientific calculations, at each treat stop you can expect to get a little under 2 CUPS of candy – including packaging. It's enough that if you stop at 7 locations (like the TRON bypass once and Tiki room twice), your reusable bag that you're given at the beginning of the night will already be full of candy. That's like a gallon jug filled with candy at just 7 stops. I think our next test is whether one of our in-park testers can successfully gather their own weight in candy at the party …
If you need allergy-friendly treats, you'll be given an allergy token. You can use that to get treats that meet your needs at every single treat location, except the "hidden" location.
Speaking of that "hidden" location, back in Storybook Circus, you'll find a bonus treat location that doesn't show up on the map. That's because you won't get the "normal" (or allergy-friendly) treats. Instead, you can find Kind-brand goodies to add to your bag.
What about TRON?
You can join a special virtual queue for TRON if you're a party guest. From data we've been able to gather so far, wait times after your boarding group gets called back are much shorter than daytime waits. And the virtual queue is much easier to join than the normal 7 am or the 1 pm options.
Not-So-Scary Strategy Summary
4 – 8:30 pm: Do the rides! Suggested order: Jungle Cruise, Pirates of the Caribbean, Big Thunder Mountain Railroad, Peter Pan's Flight, Seven Dwarfs Mine Train, Buzz Lightyear, PeopleMover, Space Mountain. Phew!
8:30 – 10:30 pm: Boo to You Parade and Not-So-Spooky Spectacular
10:30 – midnight: Treats and characters, plus Haunted Mansion
Midnight: Hocus Pocus Villain Spectacular
Are you headed to Mickey's Not So Scary Halloween Party this year? Do you plan on emphasizing rides, characters, treats, or attractions? Let us know in the comments!