The Magic, The Memories, and Merch! JANUARY 2020 Disney Outlet Store Photo Report
Welcome to the latest edition of The Magic, The Memories, and Merch!, the longest running monthly look at the Disney Outlet Stores in Orlando.  We have "Bargain" Ben Wszalek covering Vineland and myself – Discount Derek – at I-Drive and we are here to give you the Outlet Report you really want totally deserve. Of course Christela "Clearance" McC is also here with a look at some Outlet items from out in California. The addresses of each place and everything else you need to know is located at the end of the article as always.
Enough jibber jabber! Ready to see what we we found? Alright, let's go!
There are several items at Disney that are "bucket list" items for me. Pieces of merchandise that are on my wishlist. Many of these items I don't pick up at the regular gift shops because of the (in my opinion) too high price point and hope they make their way to the Outlets. In almost all cases I got my wish (including the banshee puppets from Pandora: The World of Avatar, the Tree of Life play set, and the Disney monorail toy.) Others I just get a gut feeling they are going to the Outlets, and I just have to wait them out. Such is the case of this Aladdin notebook done in the style of a VHS cassette tape.
From the minute these VHS-style notebooks arrived at the parks, I wanted em. They are so great. Not only do the notebooks themselves look like clamshell VHS boxes on the outside, they actually have photos of VHS tapes on the inside. This is WAY above and beyond and serves no useful purpose other than being "cool," so I appreciate that. Originally $16.99, now $4.99 and I will buy any of these that make it to the Outlets as Disney also put out this style of notebook for The Little Mermaid, Beauty & the Beast, Lilo & Stitch, Toy Story, and more.
Here's a look at the inside (along with a cameo by Bacini, the official dog of DisTwitter.)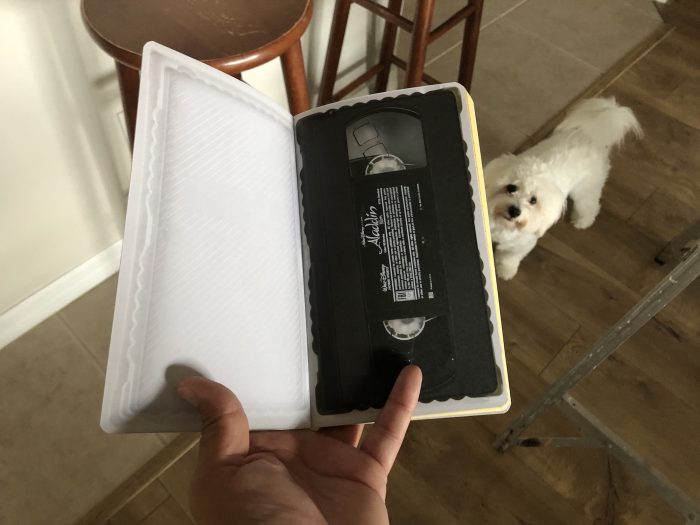 And here's a look at the back page. All the inside pages are standard lined notebook paper. They have a picture of Abu in the bottom right corner that looks like it would "animate" as a flip-book, but it's the exact same drawing on each page.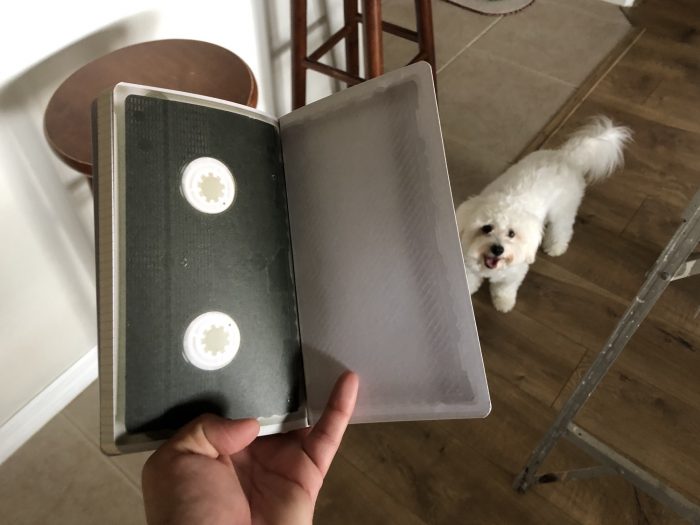 We'll continue with the street rat with this Aladdin themed iPhone case. It's actually more like a wallet, as these are both sides of the case and there is a zipper to keep the case shut. Originally $24.99, now $7.99.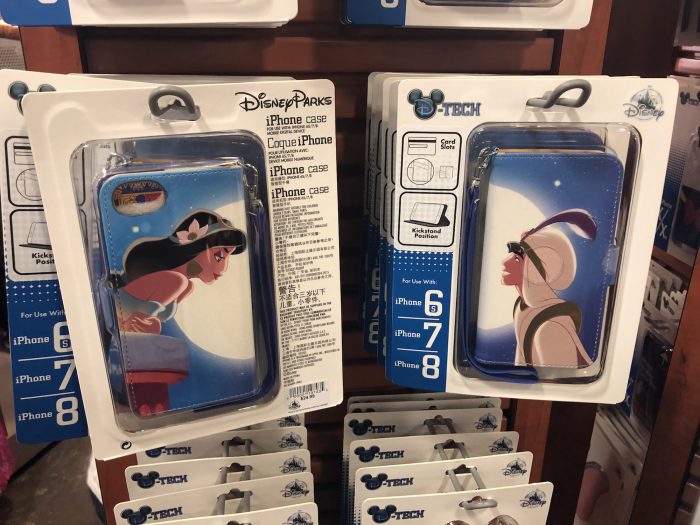 Cute Chip & Dale case. All the cases had the same price as the Aladdin one ($24.99 reduced to $7.99).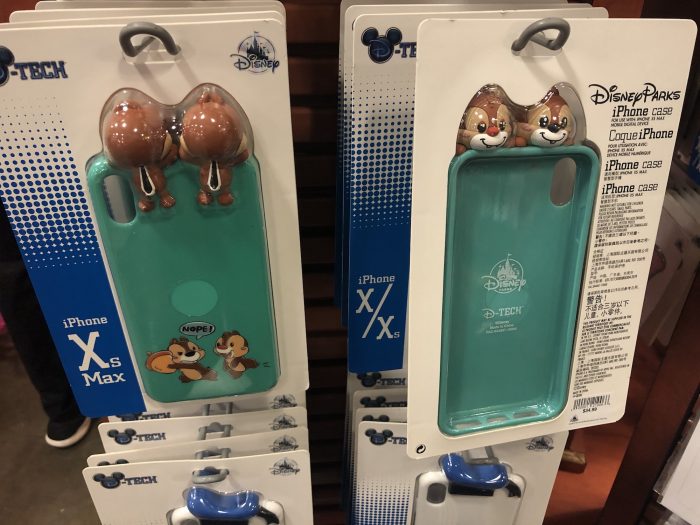 Donald Duck case.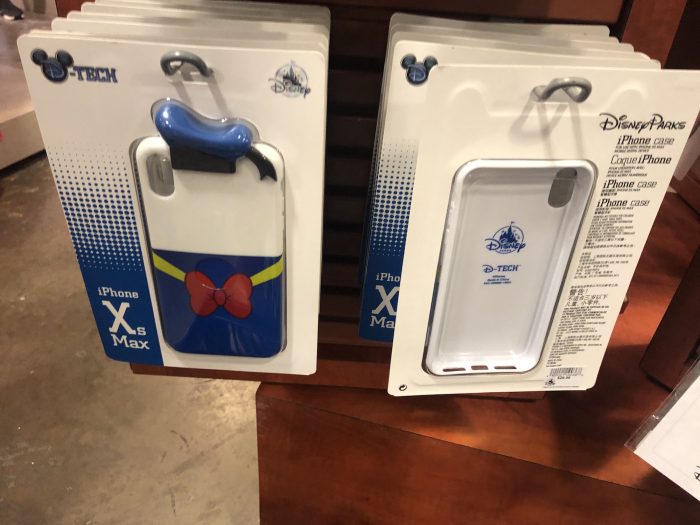 Okay, next up was a gigantic dump of "food" related items. This was interesting to see because me and a very high profile member of the theme park blogging community had a disagreement when this line was released. Often you'll find me on Twitter remarking something along the lines of "See you at the Outlets!" for items that I think are destined to be clearance. This blogger replied "half of it is already sold out, including the plates."
Well, lo and behold ALL OF IT CAME TO THE OUTLETS, including the sold out plates.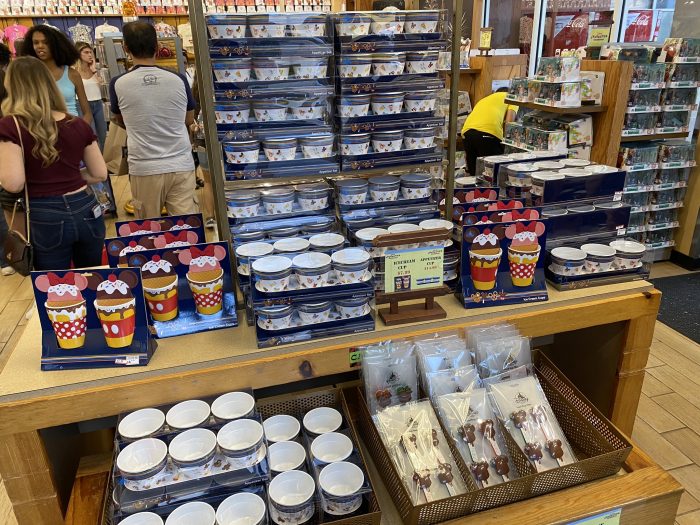 Chip clips and straws.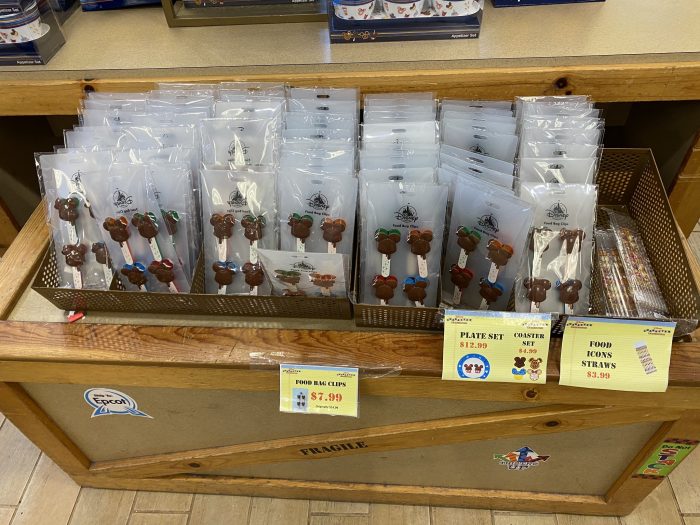 These ice cream cups were originally $17.99, now $7.99.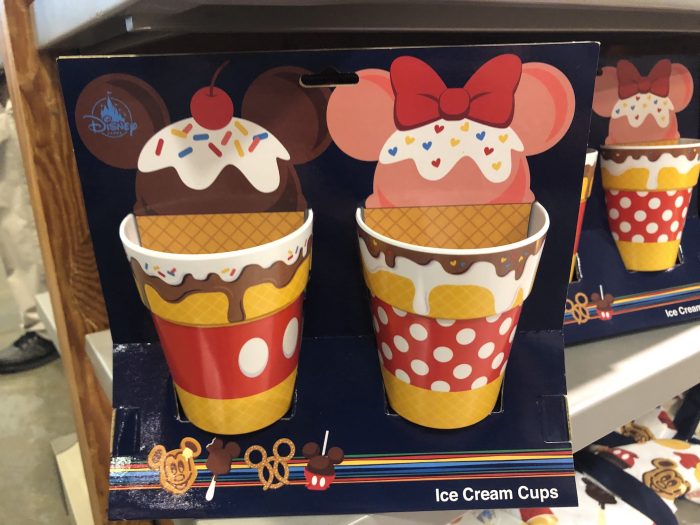 Coaster set was originally $14.99, now $4.99.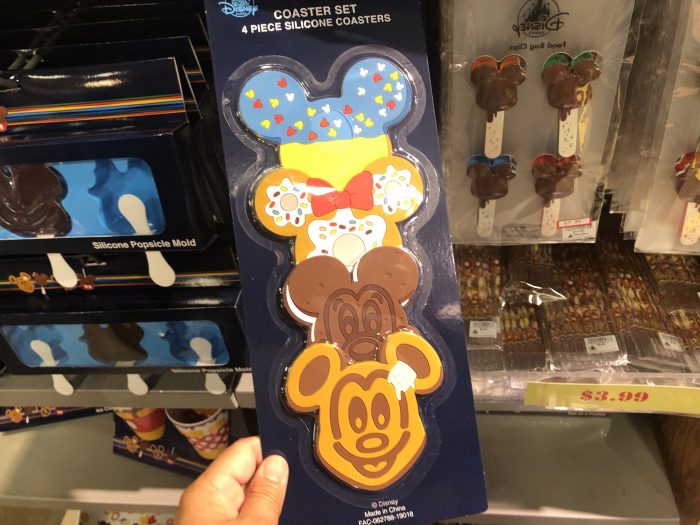 The "sold out" plates. Originally $22.99, now $12.99.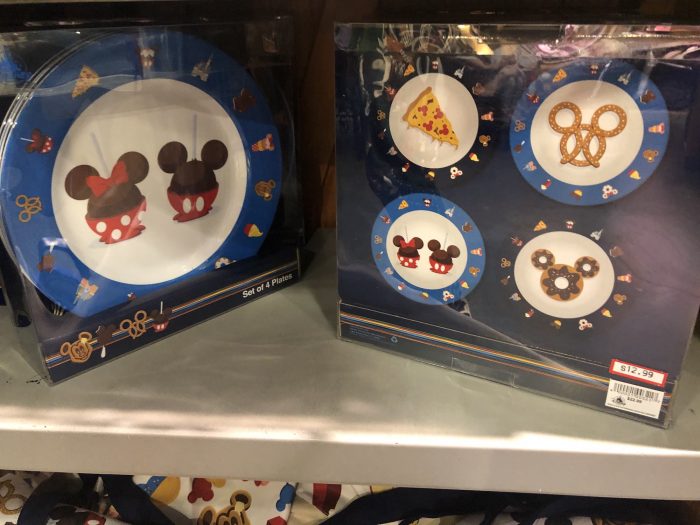 This was called an "aloha twist 3D magnet." Reduced to $4.99.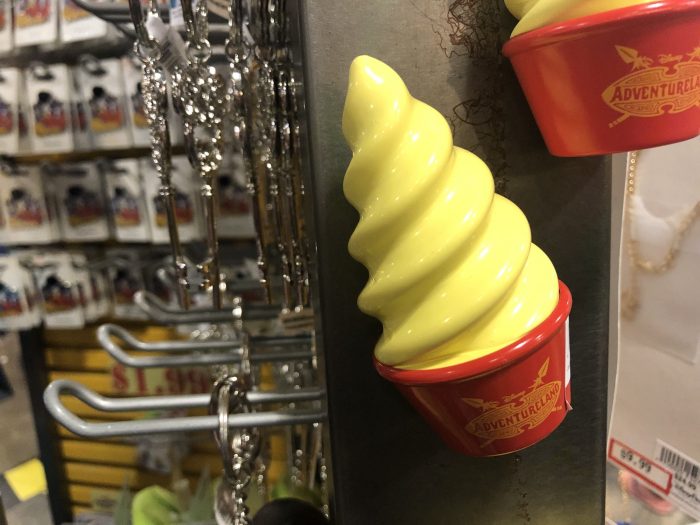 They even made food-themed patches. That's like Outlet Inception. Originally $19.99, now $8.99.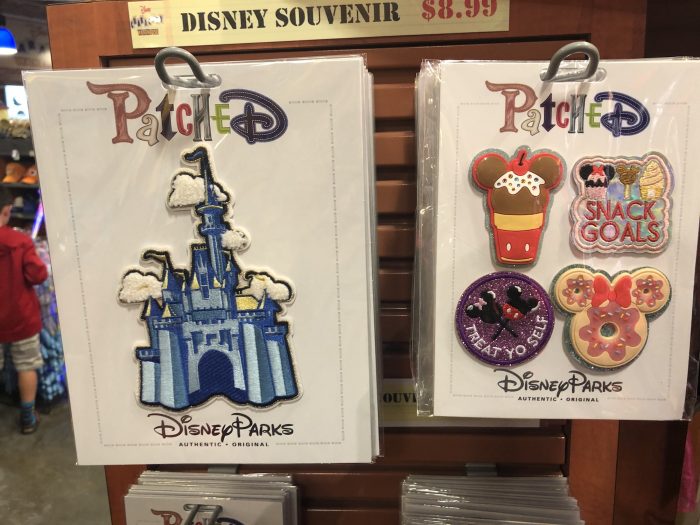 Fantasyland themed patches, same price.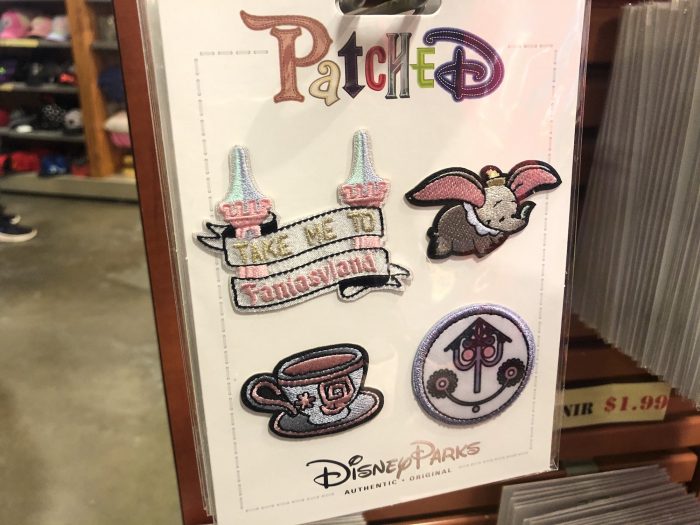 Now that it has become more than clear that my beloved Tsum Tsums are no longer being made for America, I have to decide what I'm going to collect next. The Ufufy's died a quick death. Now Disney is trying to push these Wishables. These are basically regular Disney plush slightly larger than Tsum Tsums. I'm not sure how well they are doing considering how many have already come to the Outlets though. Regardless, the Wishables I wanted the MOST both got reduced, so I'm happy. Last month we got the Dog with a key from Pirates of the Caribbean, and this month we got B'rer Rabbit from Splash Mountain. At the regular Disney stores there's two ways you can buy Wishables, in a blind bag, or separately like B'rer Rabbit below. I think both are originally $9.99.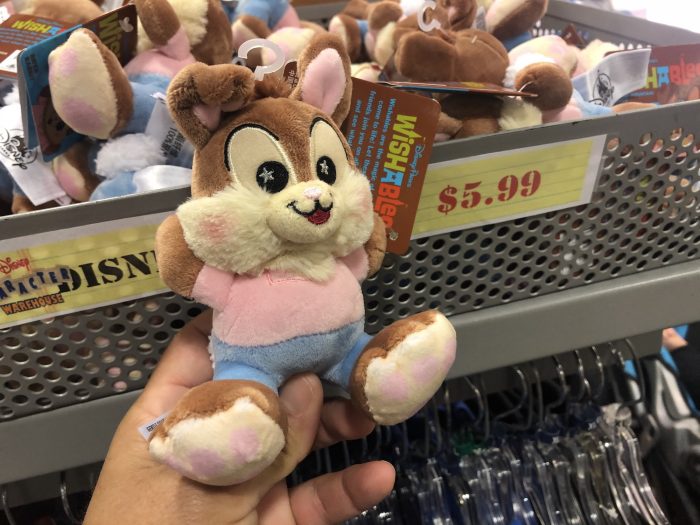 Neat set featuring plush versions of Mr. Toad and the Headless Horseman. Originally $59.99, now $24.99.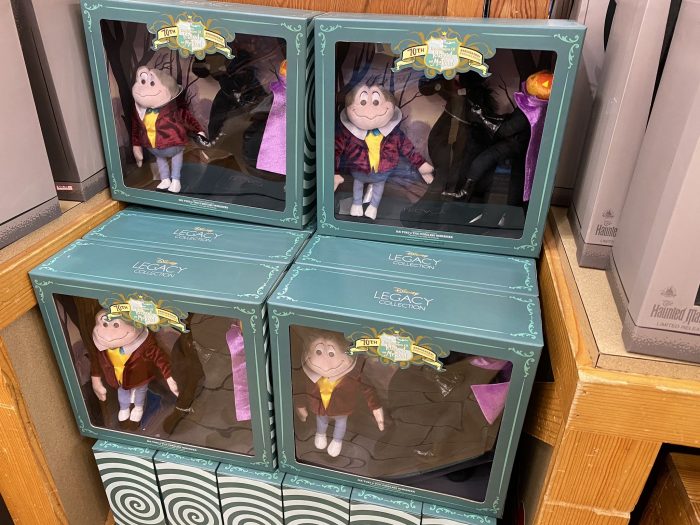 I have absolutely no idea what this thing is. Shocked it didn't sell though. Shocked.  (UPDATE: I've been informed this is the "clown with a tearaway face from A Nightmare Before Christmas. Have to take a Mulligan on that one. During Halloween season, the soundtrack to that movie goes into heavy rotation at my house with "This is Halloween" and "What's This?" being two songs I can sing every word to. However I haven't seen the movie in a decade, maybe more. I reached Tim-Burton-Burnout stage many, MANY years ago.) Originally $21.99, now $12.99.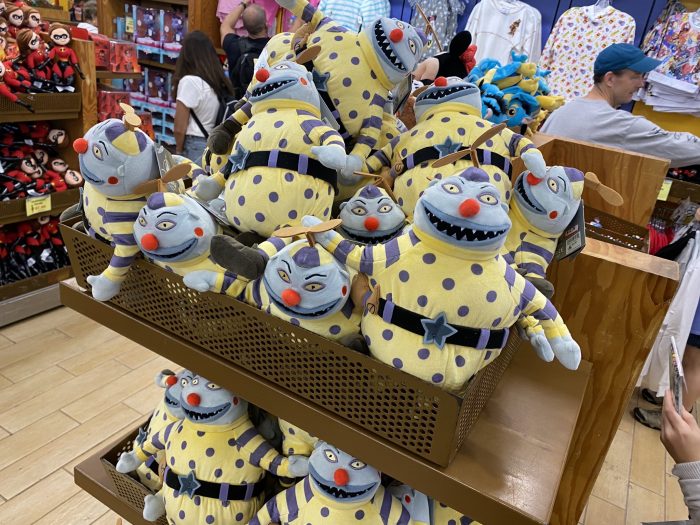 I did not expect to see a plush Fozzie from Muppet Babies. Originally $19.99, now $9.99.
Speaking of baby plush, there was a surprisingly large selection this month, including Thumper here from Bambi. Reduced to $12.99.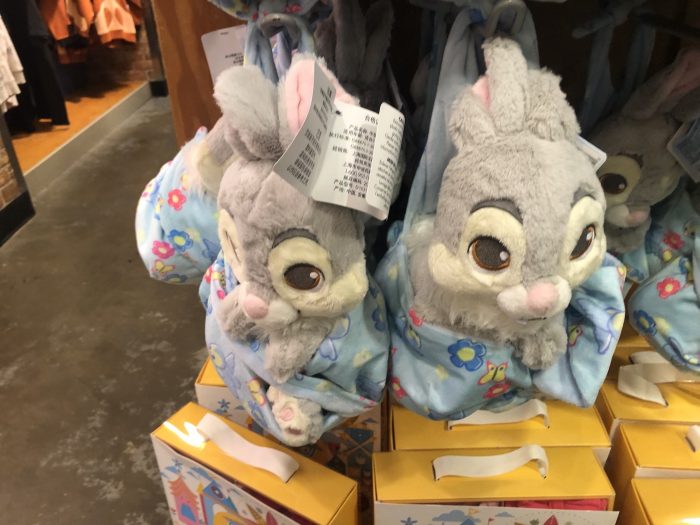 Baby Mickey and Minnie here were reduced to $9.99.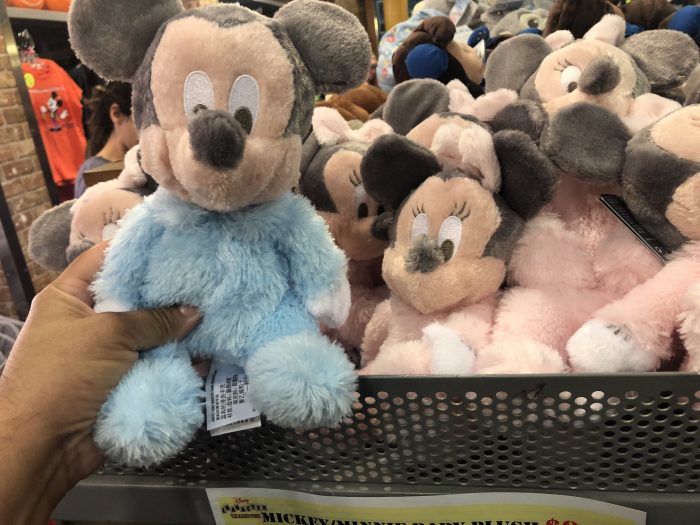 This Minnie plush is wearing a Pixar-themed dress. Maybe it was originally for Pixar Pier out in California? Originally $29.99, now $12.99.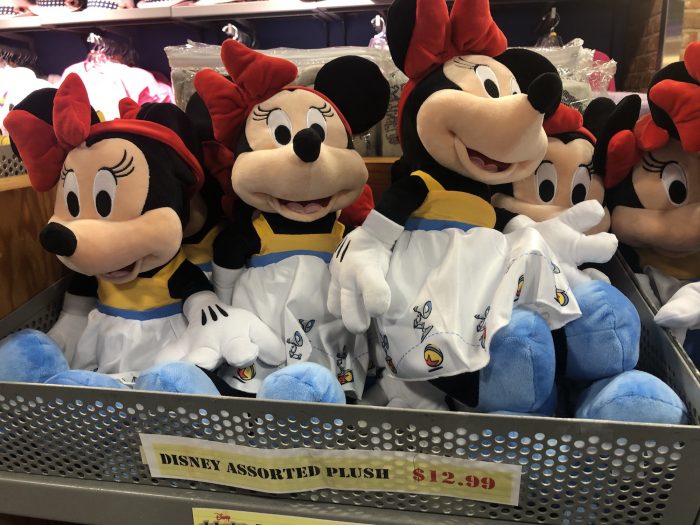 These Baloo plush have been around for a while now, but the Thumper is new. Originally $19.99, now $9.99.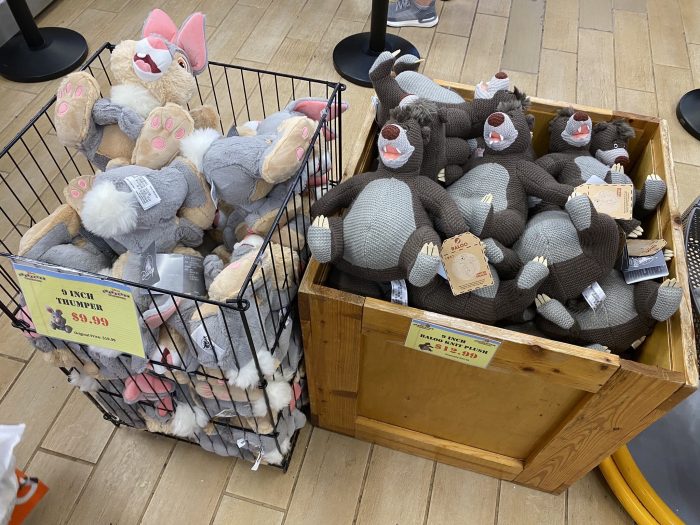 Not sure why "The Beast" is  written in quotation marks. Originally $34.99, now $17.99.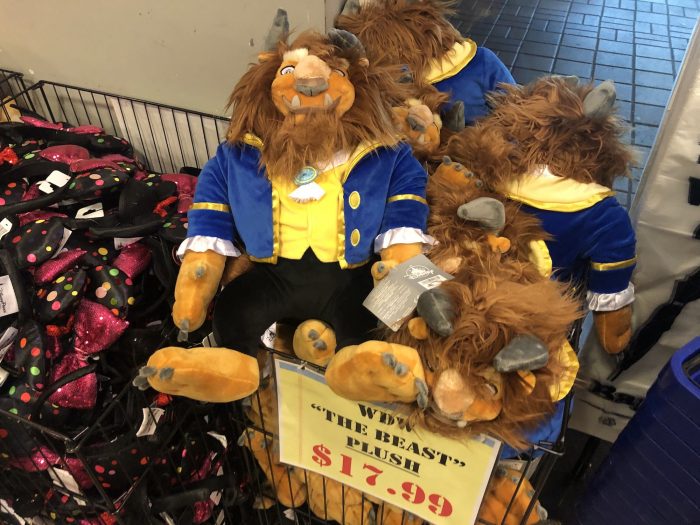 Monkey plush. reduced to $4.99.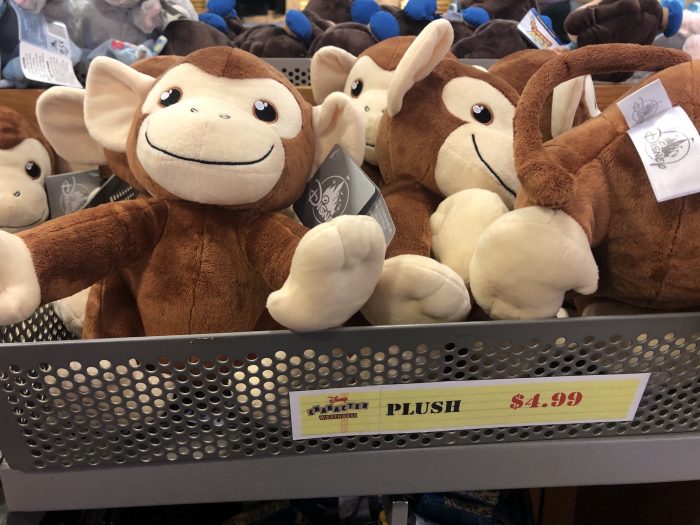 Completely forgettable character from Toy Story 4 plush. JUST MARKDOWN! to $4.99. I could literally do a whole article a day on "outlet signage."
Bo Peep's sheep from Toy Story 4. Reduced to $12.99.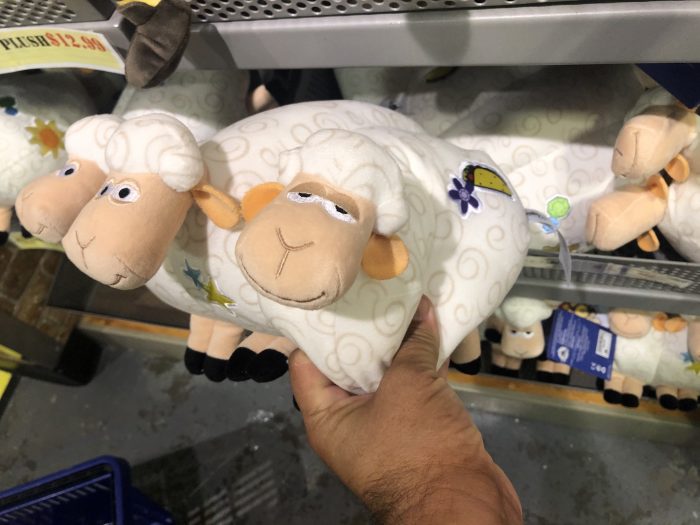 The Animator's Collection is pretty much my favorite style of Disney plush, and this is apparently a new off-shoot of the brand called "origins." Aurora here was originally $24.99, now $12.99.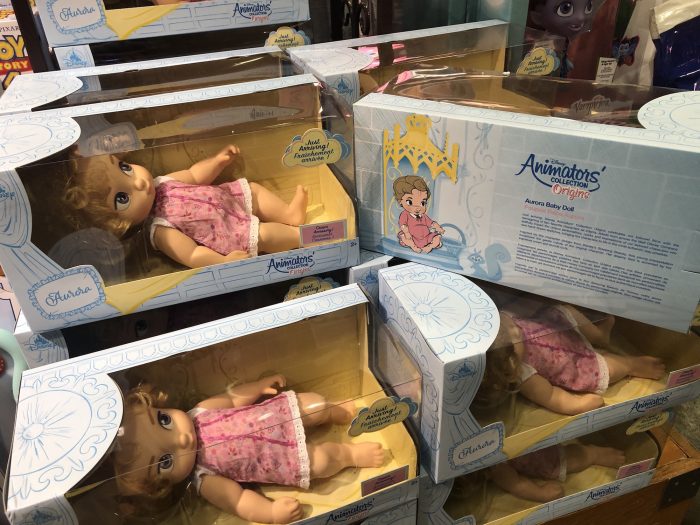 THIS is a first. I've seen strollers just left hanging about all over the Outlets, but this is the first one for sale.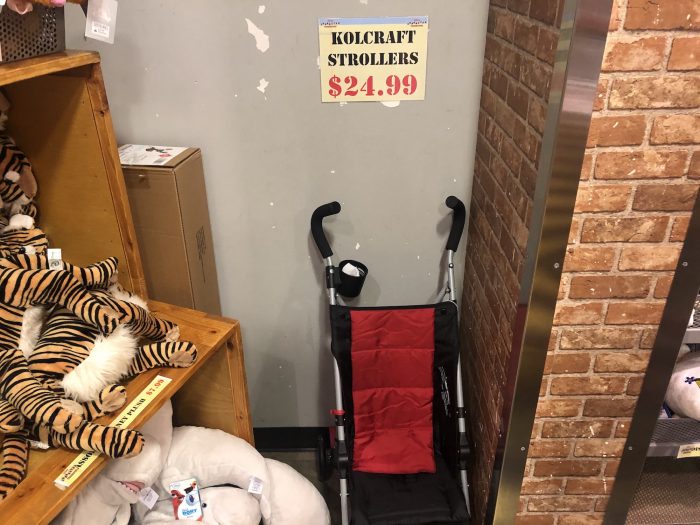 Another month where more 2019 branded merch shows up. Surely we'll be seeing even more in February and March. This truck was originally $24.99, now $9.99.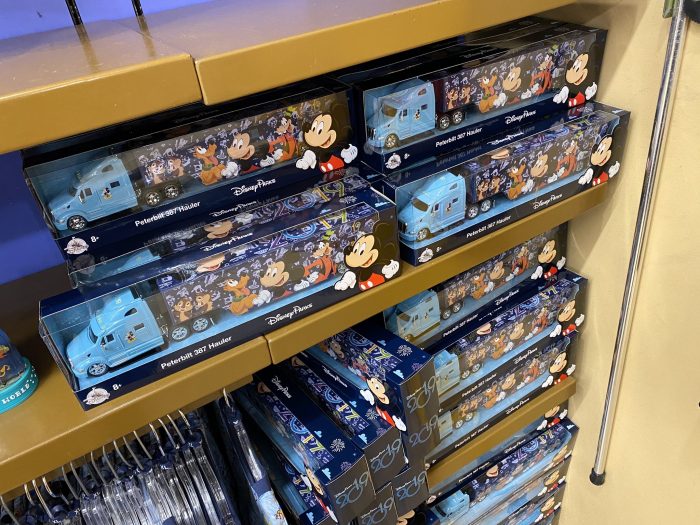 This Mickey Mouse figure wearing a 2019 shirt had a moveable head and arms. Reduced to $5.99.
I recently did a SATURDAY SIX on Disney's Pop Century Resort, and one of the items in the gift shop I enjoyed was this Rubik's Cube. Hopefully it's just at the Outlets because one with newer designs is going to the resort/parks. Originally $19.99, now $7.99.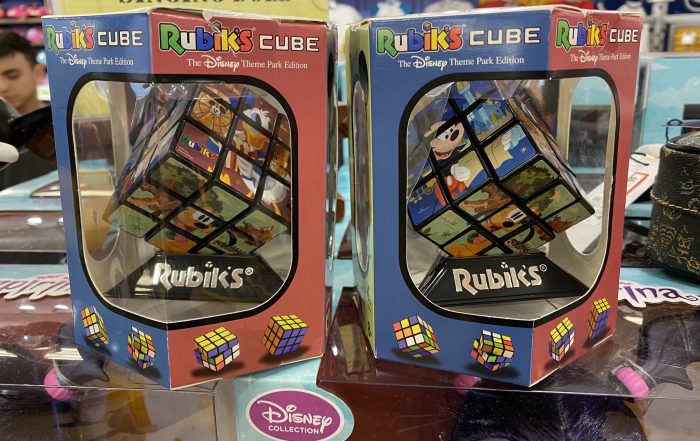 Last month there were a metric ton of this Vampirina Singing Dolls that were just labeled "DOLL." This month there is a little more description.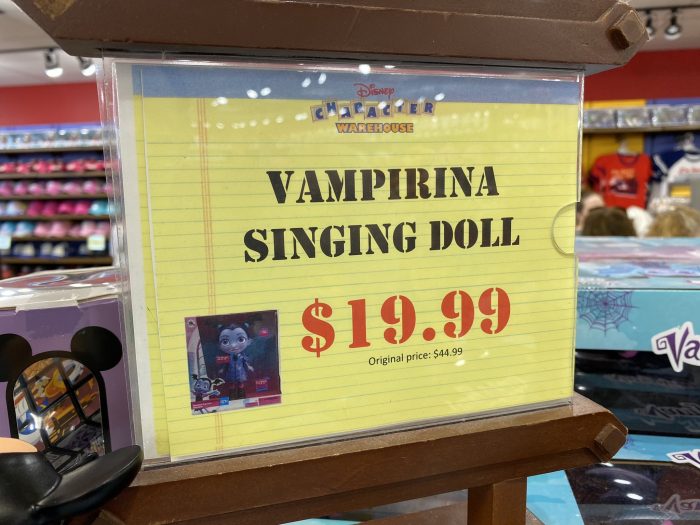 Unfortunately they still aren't going anywhere.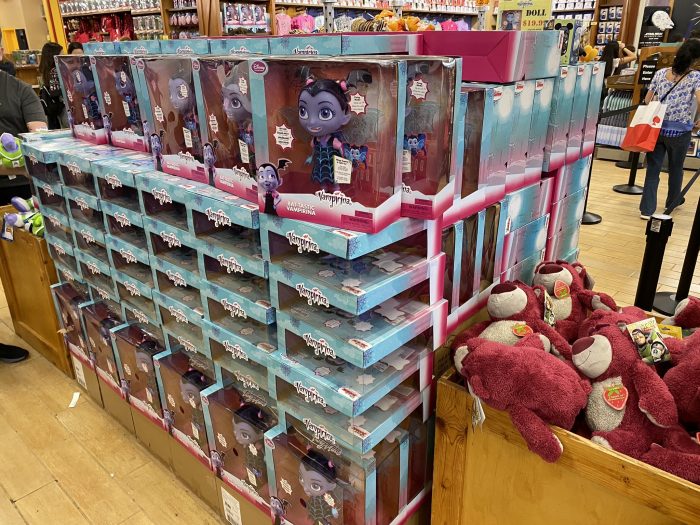 Is it just me or is this Minnie vinyl thing INSANE? If you're at someone's house and they have this displayed, run. Reduced to $14.99.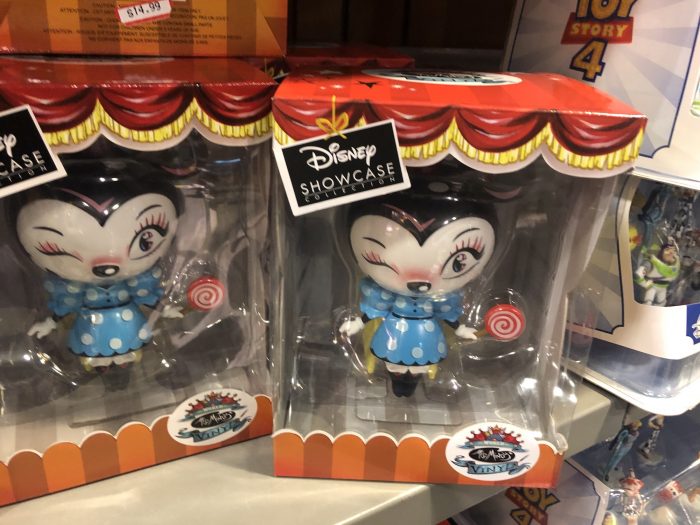 Another item "JUST MARKDOWN!" was this wipes case (wipes not included). Originally $9.99, now $4.99.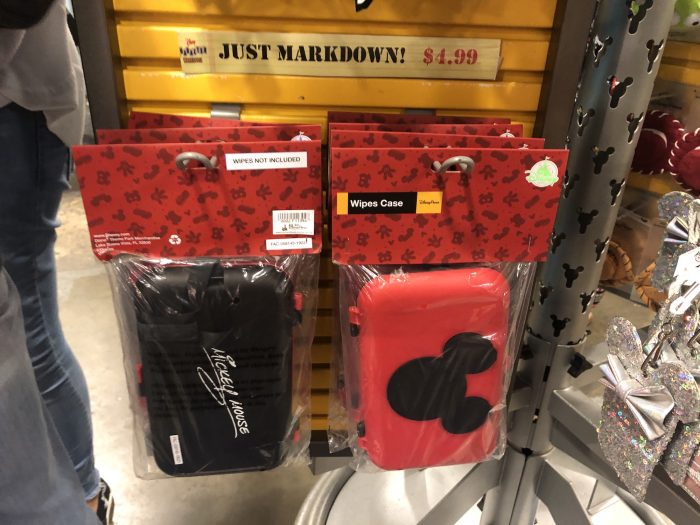 Rivers of Light coffee mug. Reduced to $5.99. Trust me, the last thing you want is coffee that may keep you up during that show.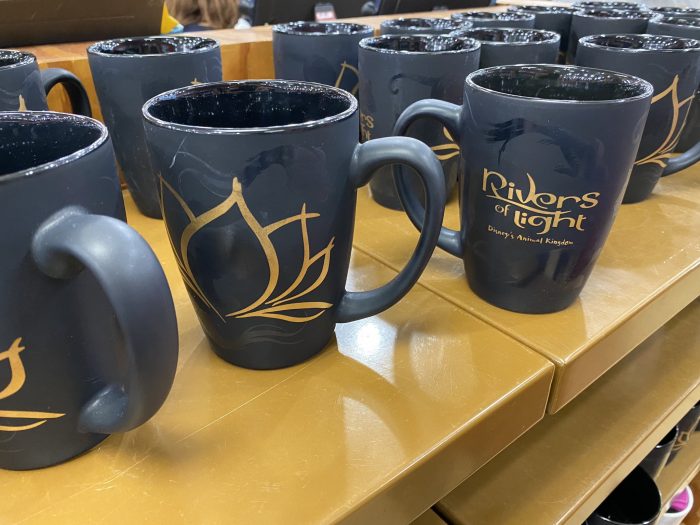 This 2019 coffee cup was GIGANTIC. Originally $20.99, now just $2.99, so you can imagine how many of them sold at full price.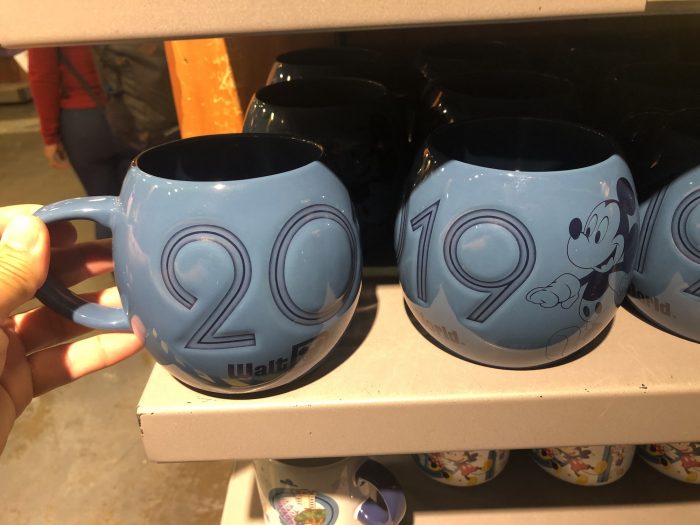 2019 branded tumbler. Originally $12.99, now $4.99.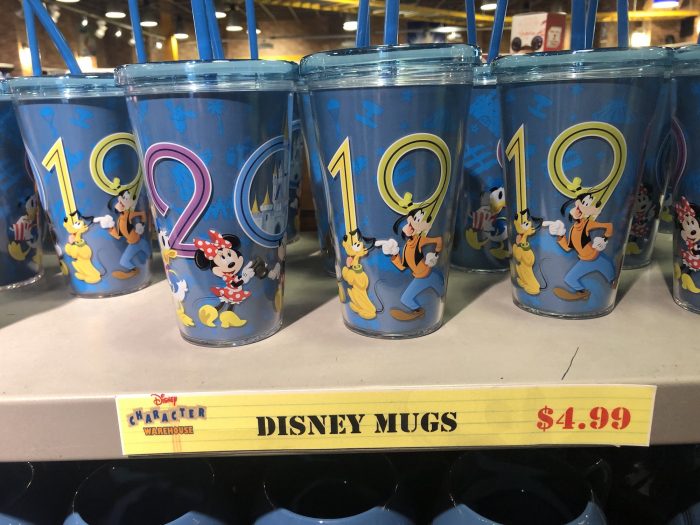 Lion King themed tumbler. Originally $19.99, now $9.99.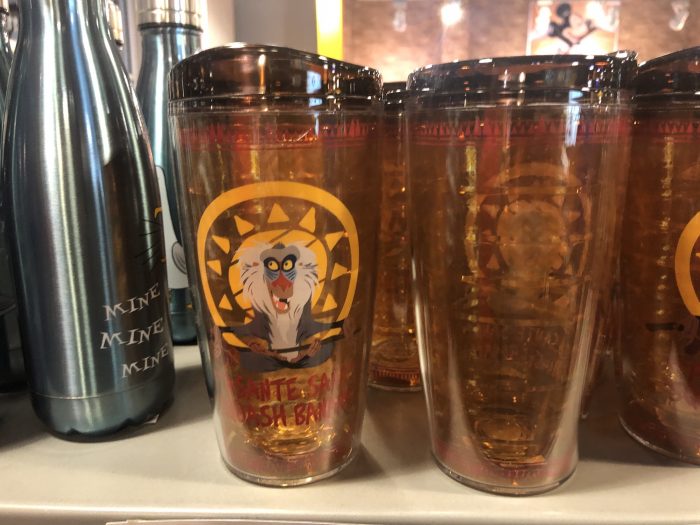 Cute cup featuring Marie from The Aristocats. Originally $9.99, now $5.99. For fellow Disney cat fans,  the website WDWNT is reporting that Si and Am from Lady & the Tramp have started to be removed from merchandise due to being – well, problematic – in today's day and age.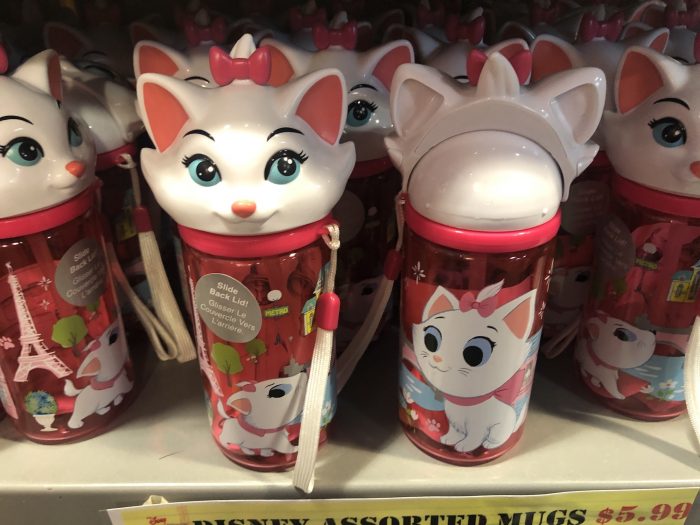 Set of 4 Espresso Cups featuring the four WDW parks. You'll definitely need some espresso if you're rope dropping Rise of the Resistance at DHS. Originally $39.99, now $14.99.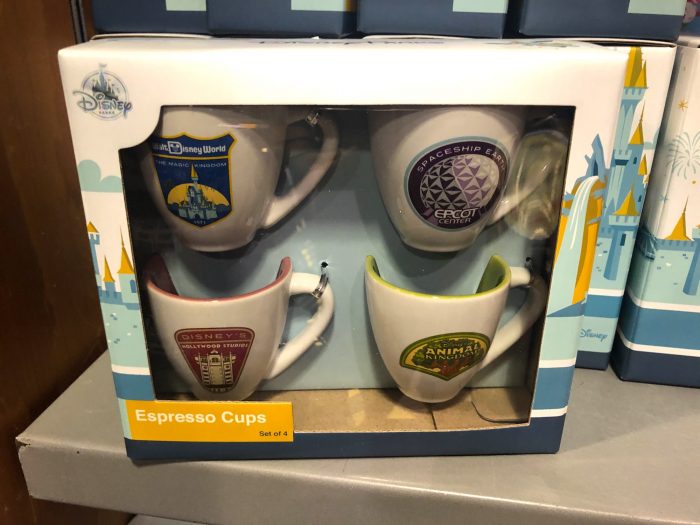 Let's take a look at some bags. First up is this backpack and fanny pack featuring the Mickey Mouse Club. the backpack was originally $84, now $41.99, and the fanny pack was originally $74, now $36.99. Have to say a $74 fanny pack makes an $84 backpack sound downright reasonable (whaaaaaaaaaaaaaaaat?!!).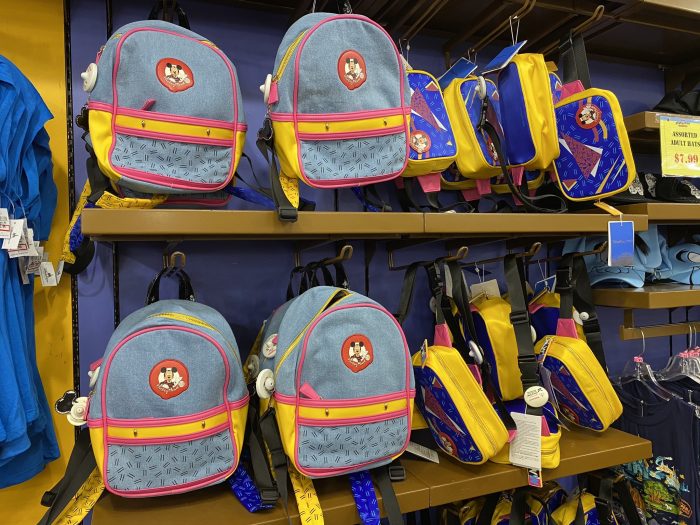 Dooney & Bourke bags in support of the Haunted Mansion's 50th anniversary out in Disneyland. Originally $228, now $114.99.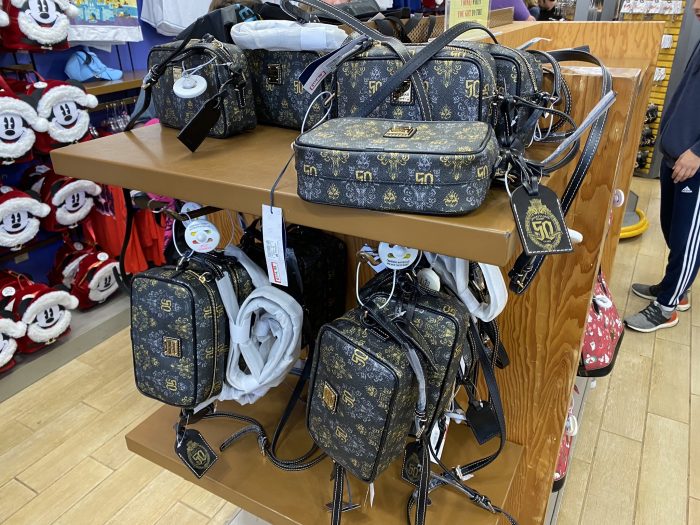 Haunted Mansion's 50th anniversary Mickey Ears. Originally $24.99, now $7.99.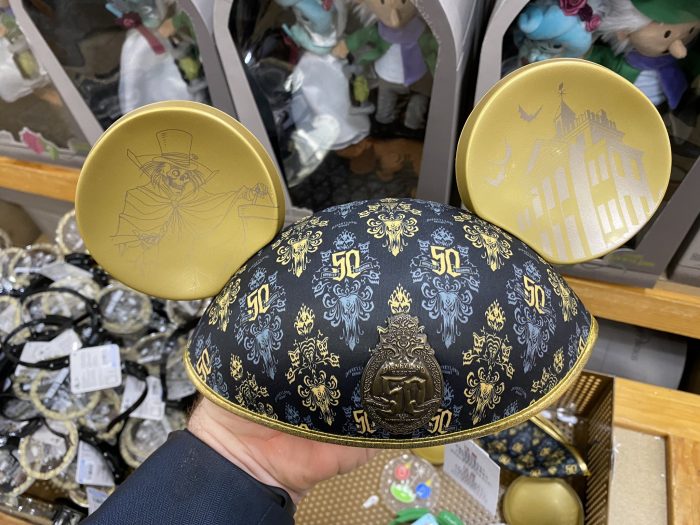 Wall-E and EVE Mickey Ears. Originally $19.99, now $7.99.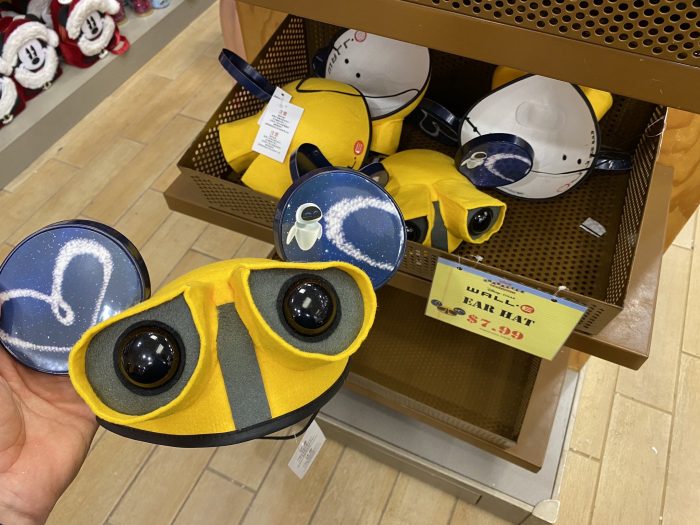 Orange Bird and Nemo hats. Both reduced to $7.99 along with about 1,000 other baseball-like caps.
Bride and Groom Mickey Ears. Originally $27.99 each, now $7.99.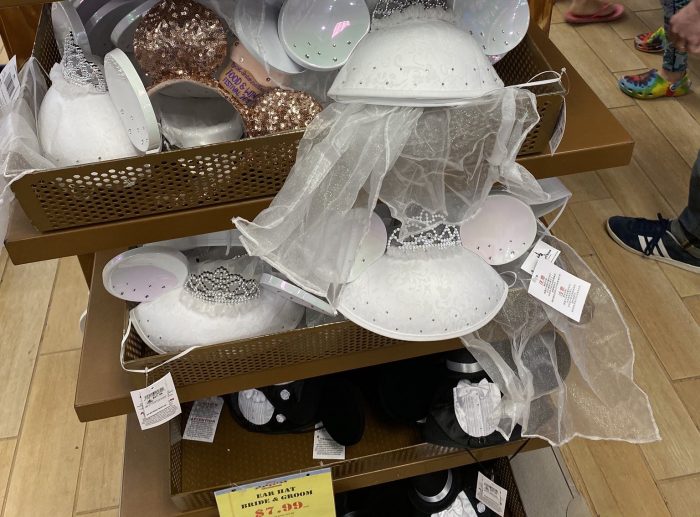 Minnie Ear headbands for Spaceship Earth and green sparkly stuff (grass?) Reduced to $7.99.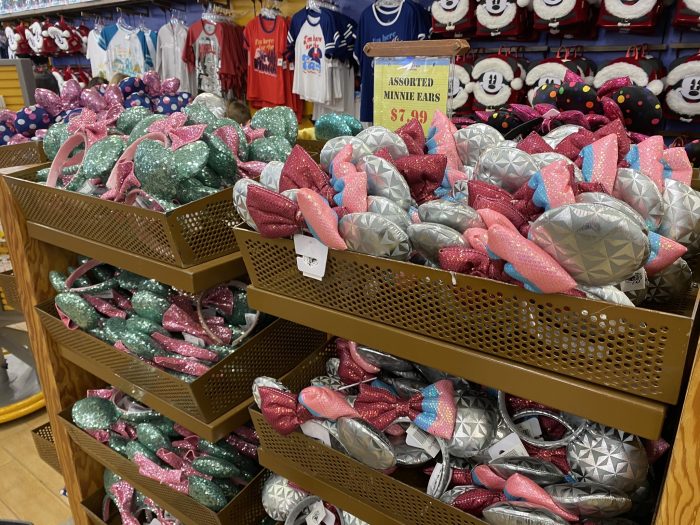 More Minnie Ear headbands for World Showcase Pavilions. Also reduced to $7.99.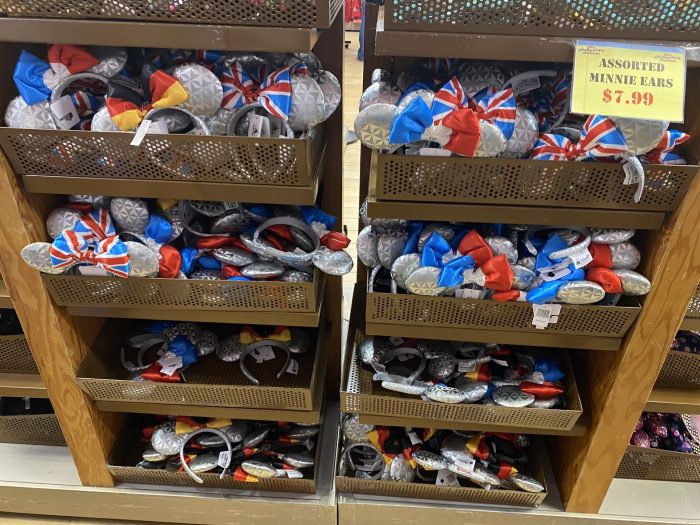 Princess Aurora earring set.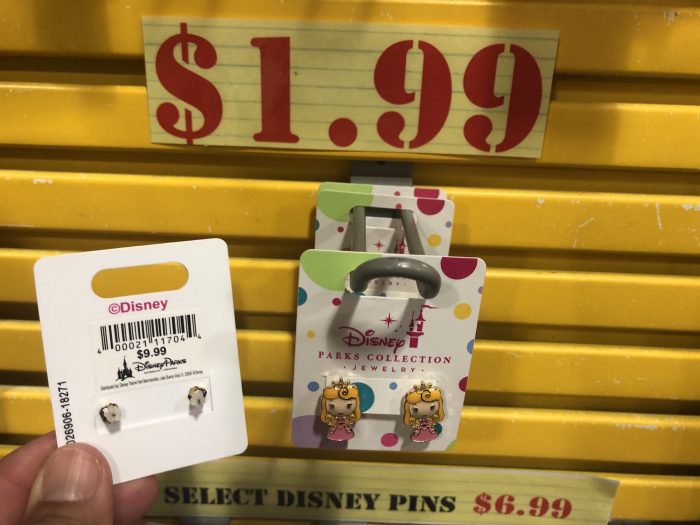 Food and Wine "limited release" pin. Originally $15.99, now $6.99.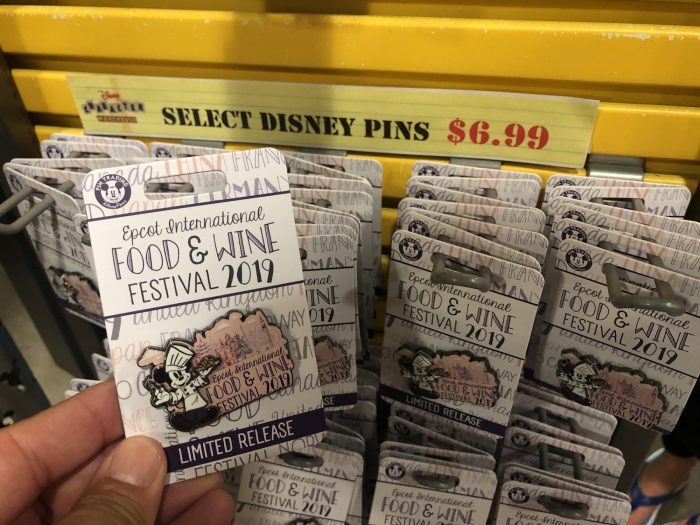 Donald Duck magnet where either the ink/paint has been rubbed off or who knows what. Reduced to $3.99.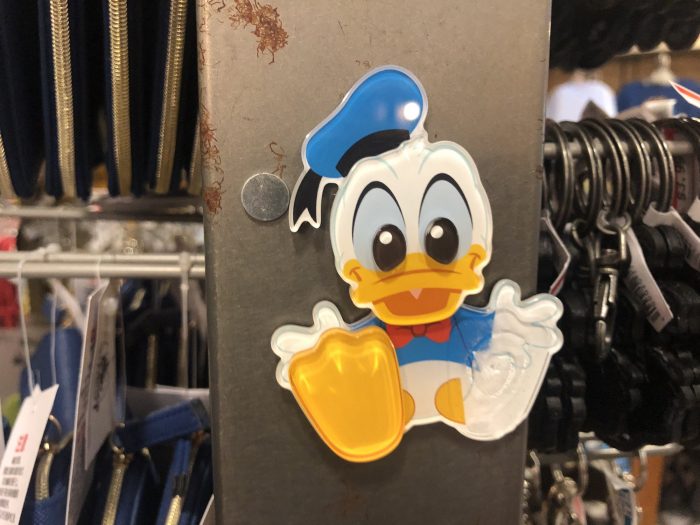 Anyone who has one of these TestTrack window clings probably has one of those stickers with Calvin from Calvin & Hobbes peeing on something. Originally $9.99, now $1.99.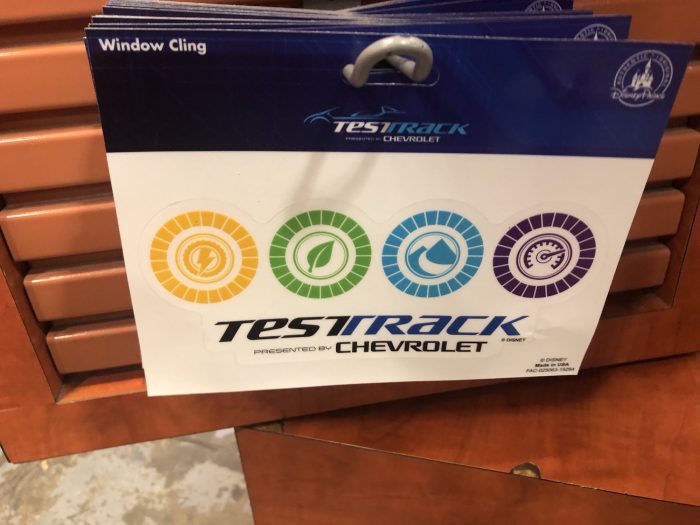 Rock 'N' Roller Coaster key chain. Reduced to $3.99.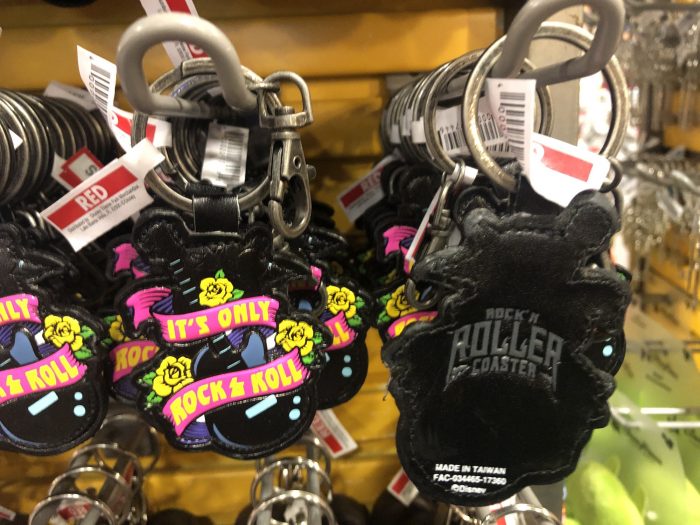 Mickey shaped Rice Krispie treat keychain, reduced to $3.99.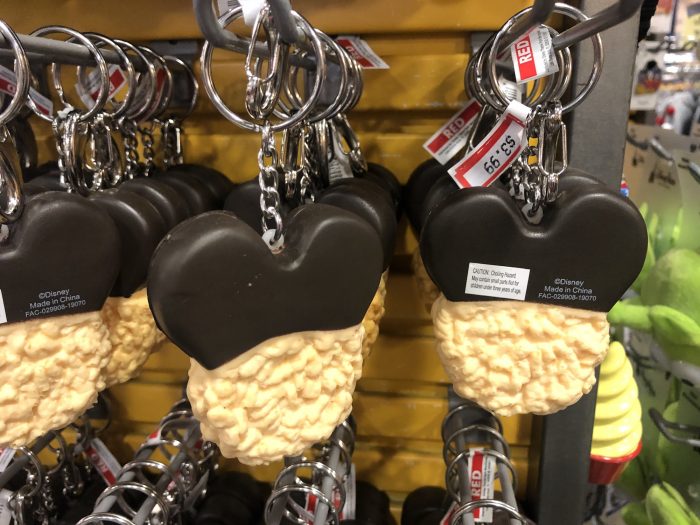 Pixar-themed pen. Reduced to $1.99.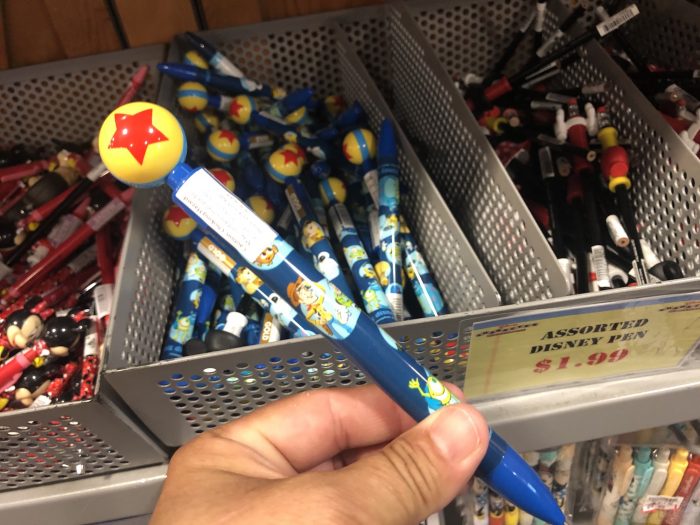 We saw a Mickey Mouse version of this pen a while back, and here's a Minnie Mouse version. There's a lever on the pen that makes the arms move up and down. Why you would want something that moves a fraction of an inch is beyond me. Reduced to $1.99.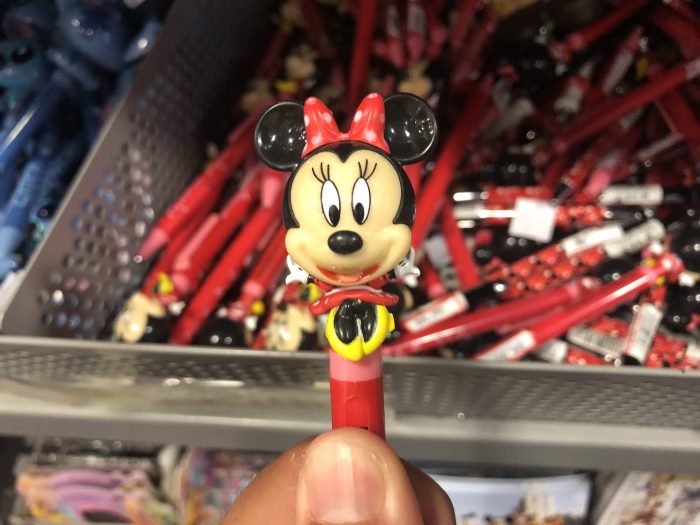 Okay, these next two pencils have this elaborate gimmick at the top where the gloves "spin" up and down the pencil. This is next level bonkers. Both reduced to $1.99, first up is the Mickey hands…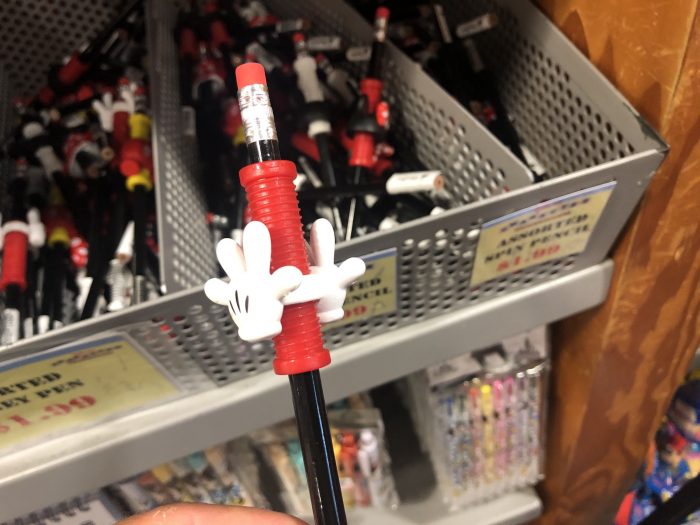 And here are Mickey's pants. WHO BUYS THIS?!!!!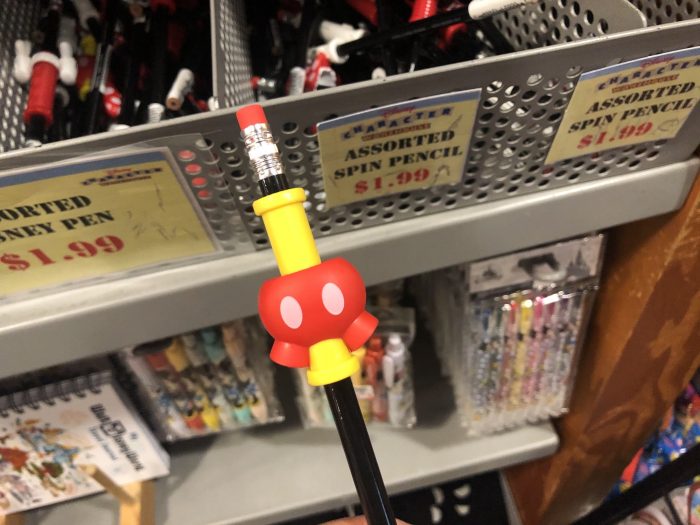 I'm gonna need to up my dosage of Xanax if I'm gonna see stuff like this. First of all, how obnoxious is this box? It's for a HIGH END pen themed to Lucasfilm. This past weekend Adam Driver was the host of Saturday Night Live. For those who don't know, Driver plays Kylo Ren in the new Star Wars films. During his monologue, Adam went into the crowd and said to an audience member, "You look like a Star Wars fan. No offense." That tells you everything you need to know about the state of Star Wars fandom. If you have a Star Wars fan in your life who complains about the women in Star Wars, buy them this pen. They deserve it.  Originally $32.99, now $12.99.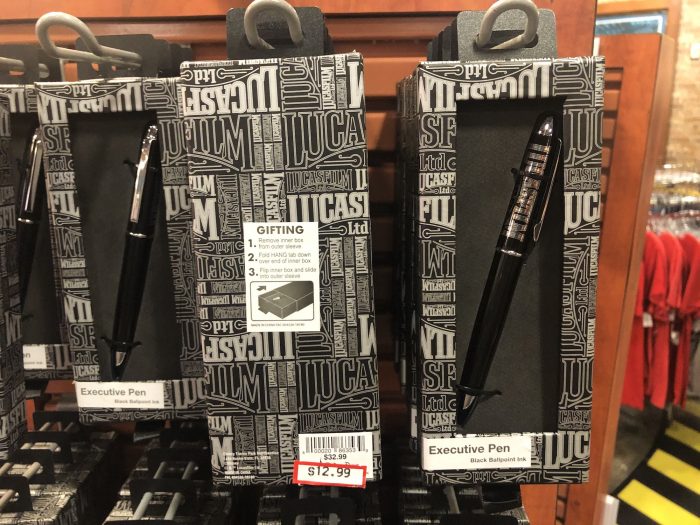 Okay, since I'm about to lose my mind in Florida, let's make a quick trip out to California and see what Christela McC found in the Outlets closer to Disneyland.
First we have a bunch of Haunted Mansion 50th anniversary items, including this fleece throw. Originally $59.99, now $14.99. Generally speaking, Disney throws are great, so if you can get one for a good price you should definitely get one. I have so many now though that it has to be an exceptional design for me to justify buying another one for the house.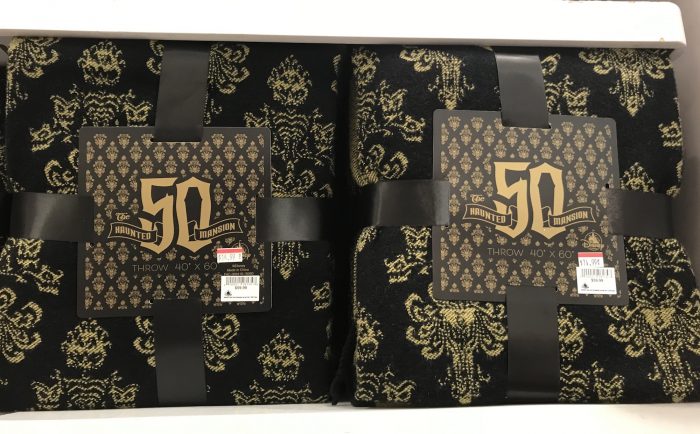 Haunted Mansion mug. Originally $24.99, now $10.99.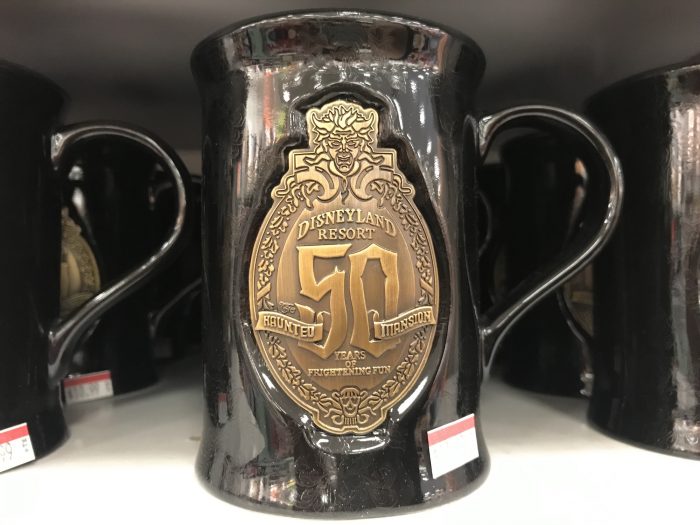 Haunted Mansion photo frame. Originally $22.99, now $8.99.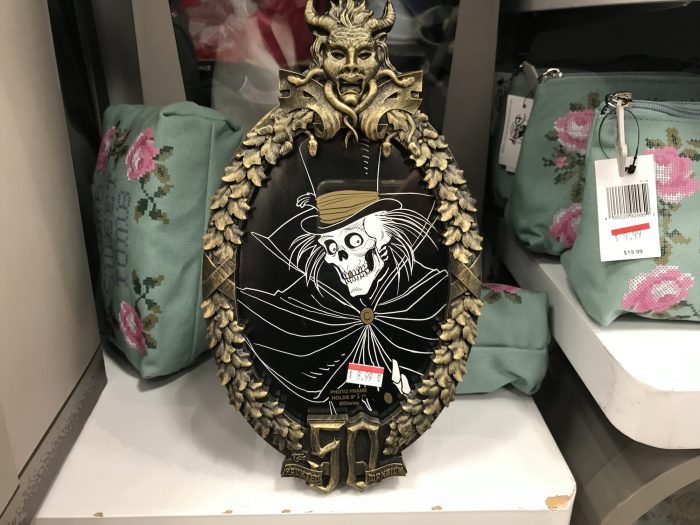 Haunted Mansion themed purse. Originally $19.99, now $9.99.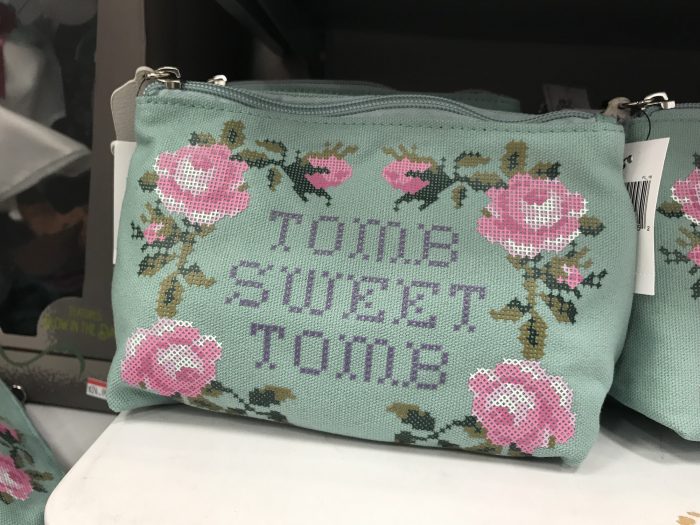 This next cinch bag was double sided with Pop Art versions of Mickey and Minnie. I like that it has "Disneyland Resort" on the bag and not something generic like "Disney Parks." Originally $19.99, now $5.99.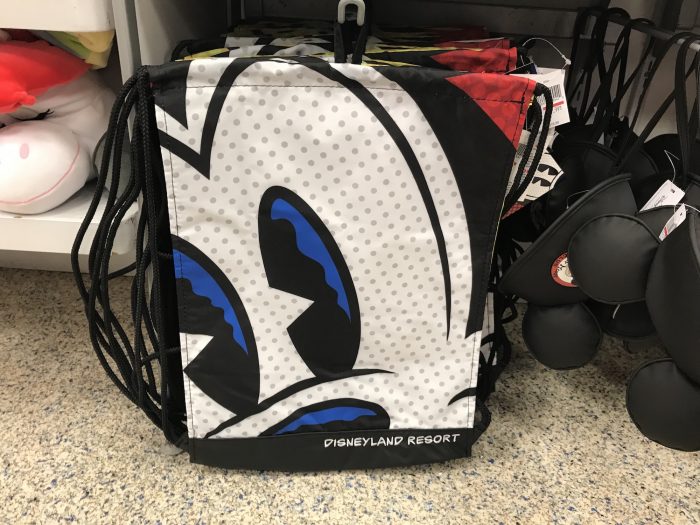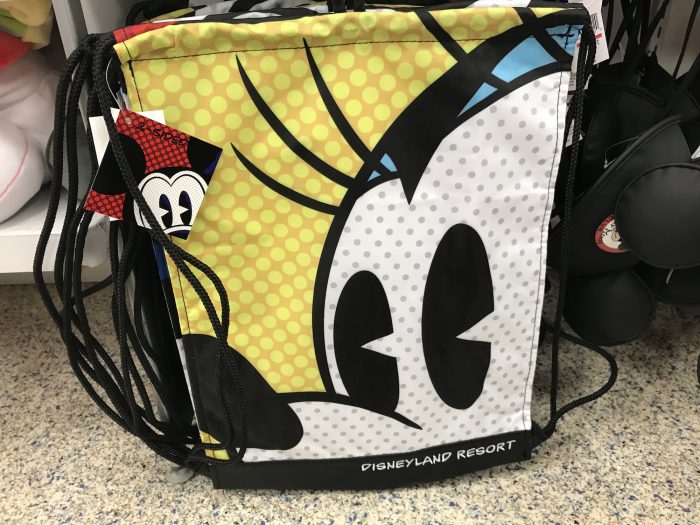 California had the Splash Mountain blind bagged Wishables. Originally $9.99, now $2.99. I mentioned earlier about the SAT 6 on Pop Century. Well I stayed at Pop in December, and when taking photos in the gift shop I got the opportunity to see a mother and daughter basically molesting these Wishable blind bags to find whatever characters they were looking for. Like an idiot, I bought four of the blind bags afterward to give out as Christmas gifts and the kiddos all got the same character. That one's on me.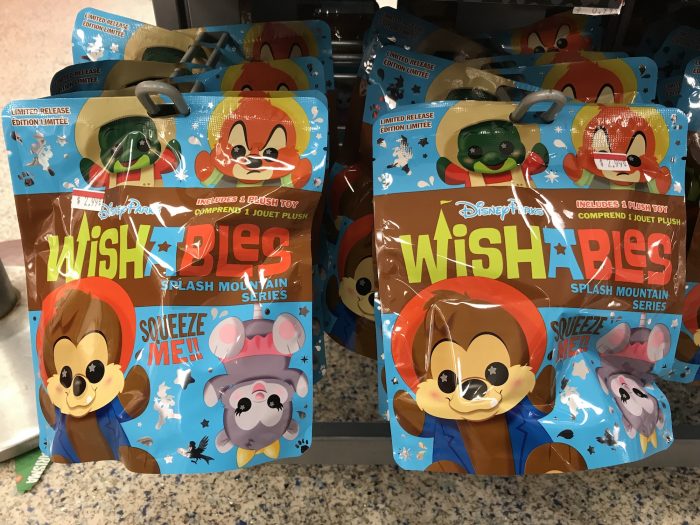 Even the Disneyland monorail toy is better than the one for Walt Disney World. BE FAIR TO FLORIDA!!! Originally $99.99, reduced to the weird price of $58.98.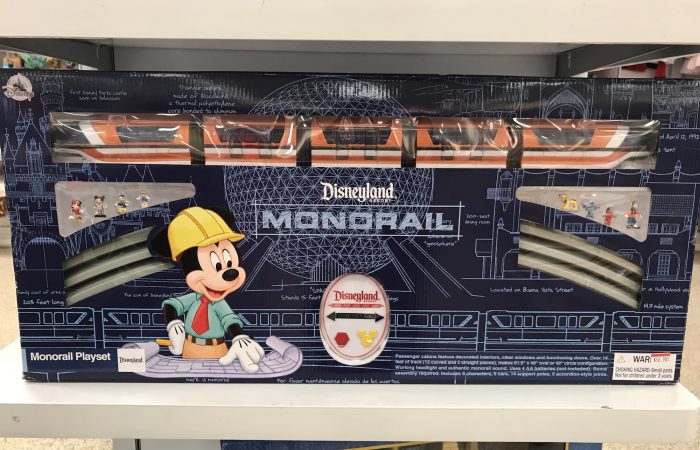 LOVE LOVE LOVE the art style used for this jigsaw puzzle featuring a bunch of iconic Disneyland resort park stuff. Would definitely buy it as a print/poster. Originally $22.99, now $3.99.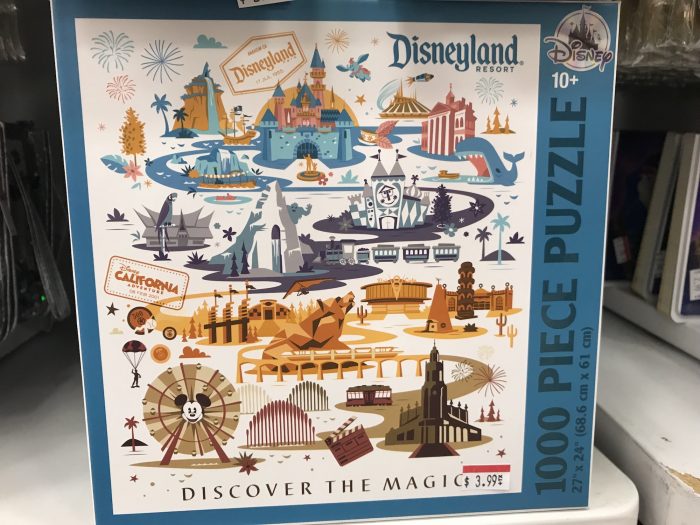 Every time I look at this "retro" shirt I think "hot dogs" and I have no idea why. Originally $34.99, now $7.99.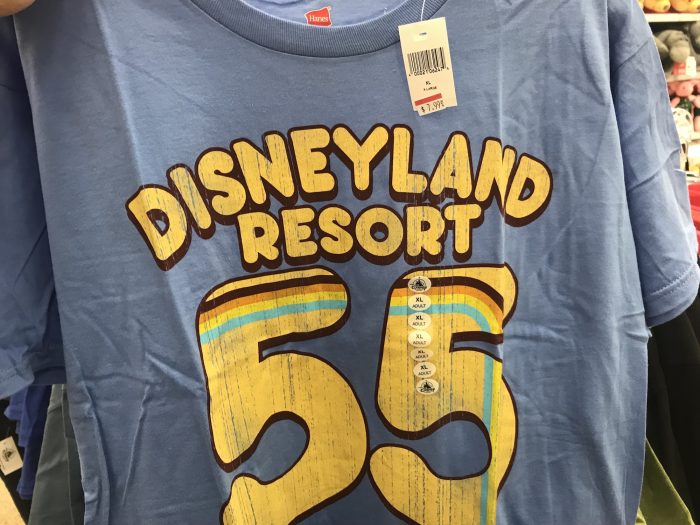 This Droid Depot shirt is not the first item from Star Wars: Galaxy's Edge and most certainly won't be the last. Originally $34.99, now $7.99.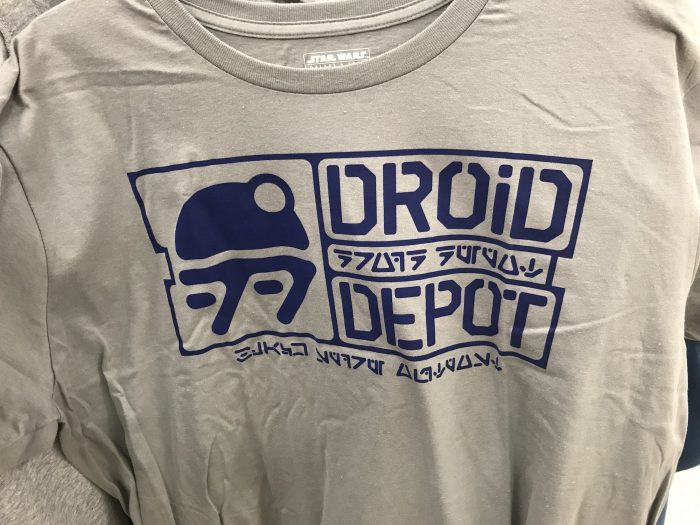 Mickey pretzel hat. Originally $27.99, now $4.99. I'm guessing the "salty" is a play on words, insinuating that the person wearing the hat has a "salty" disposition? The only issue I'd see with that is a person like that WOULDN'T BE CAUGHT DEAD WEARING A HAT WITH A MICKEY PRETZEL ON IT.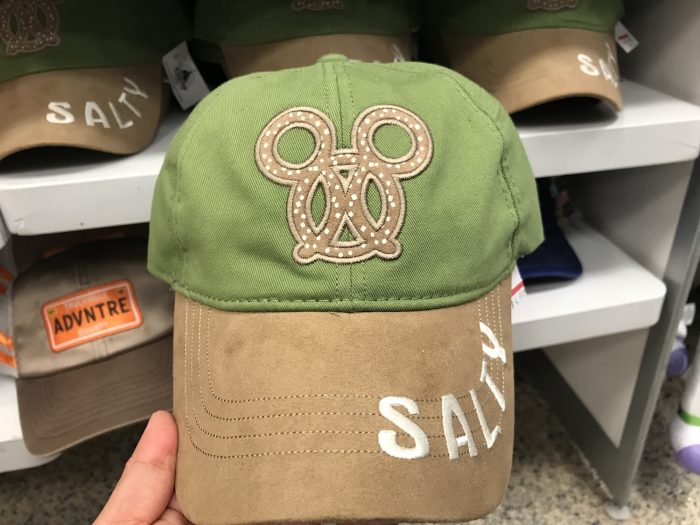 Appreciate the Disneyland branding on the back.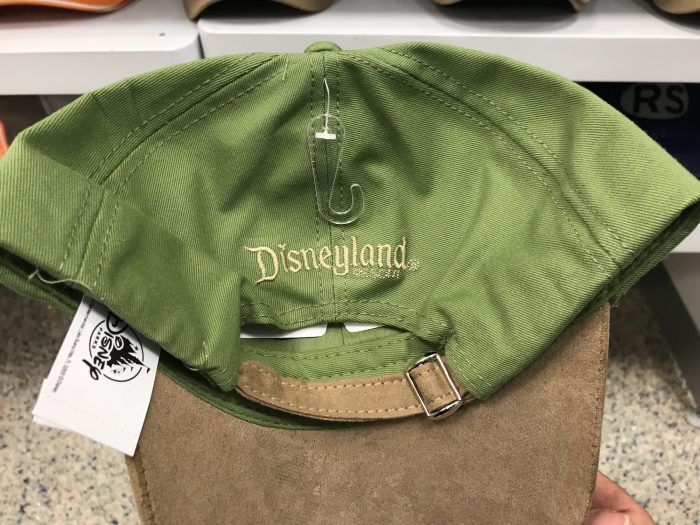 Front of this Radiator Springs hat is perfectly fine. Matches the bumper stickers you see on the back of many vehicles showing the places they have visited…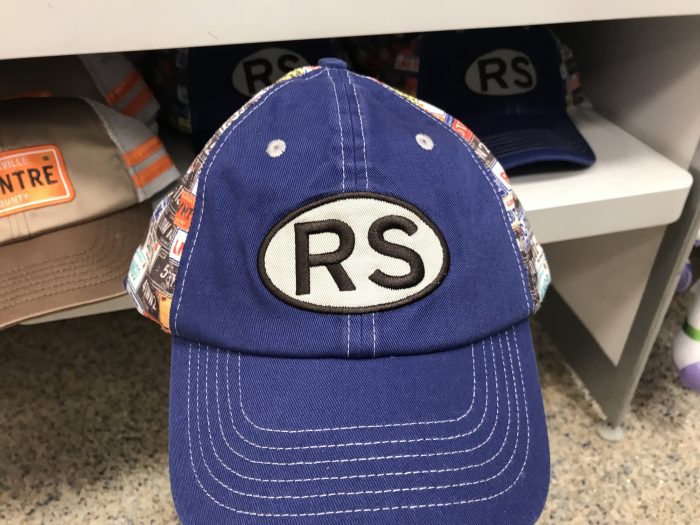 The back however is a complete hot mess combining the license plates of various Cars characters like Doc Hudson, Mater, and more. A good idea in theory, but looks horrible in my opinion as part of this particular hat. There's always "a SATURDAY SIX for that" and I did do a SAT 6 on the great details in the Cars wing at Art of Animation that covers the license plates. Anyway, the hat was originally $27.99, now $6.99.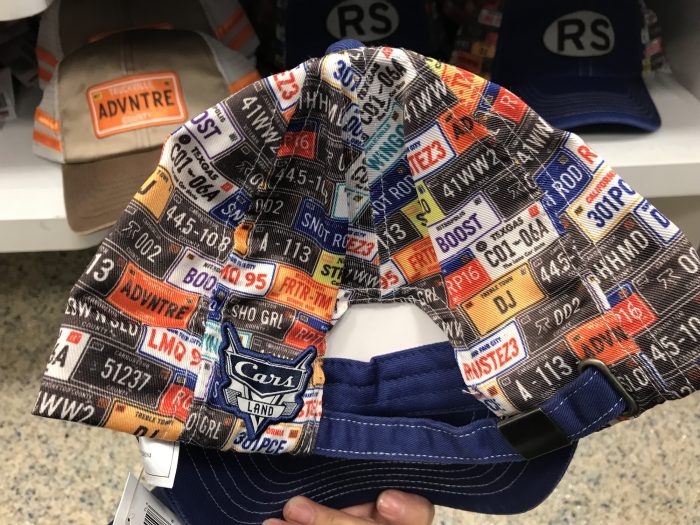 Four versions of an Indiana Jones hat. I'm not sure if the person who would wear this would also need the "Indiana Jones" signature on the brim like he's a real person. Originally $27.99, now $9.99.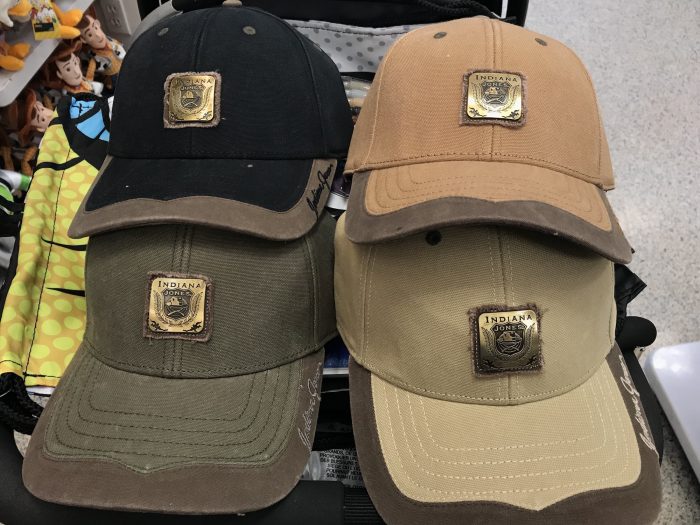 Tomorrowland hat featuring Space Mountain. Originally $27.99, now $3.99.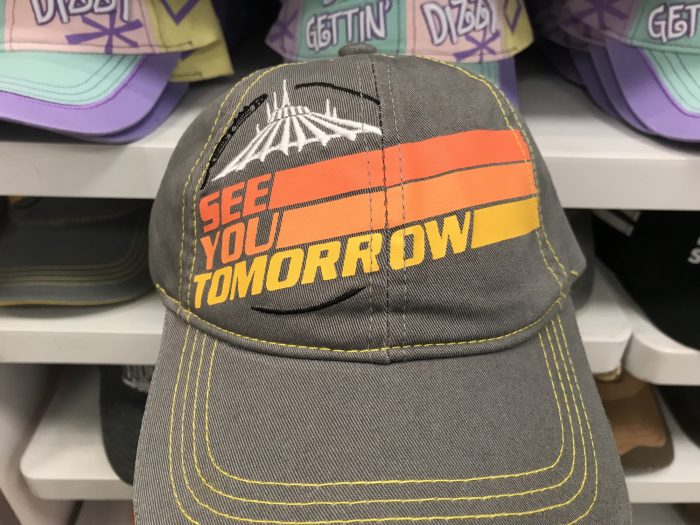 Mickey Mouse baseball cap with ears for the 90th anniversary. Originally $27.99, now $7.99.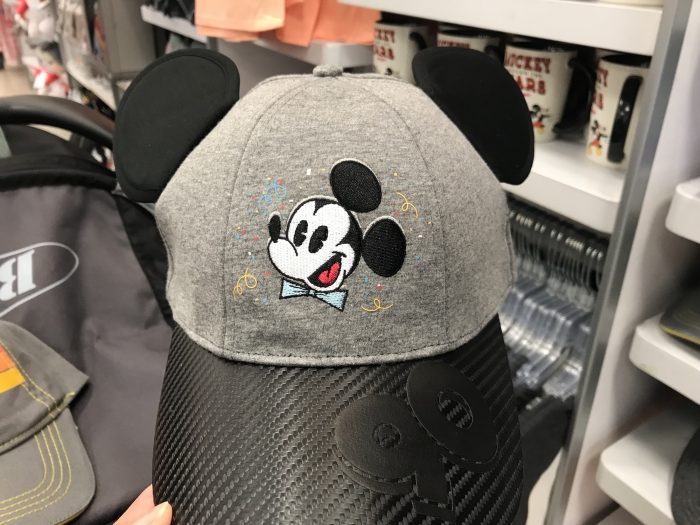 The next two items were full price. This is something we see at the Florida Outlets too. I'd say 99.5% of the items at the Disney Outlets are discounted, but there are a couple that – for whatever reason – are full price. Out in California they had these "Rock the Dots" Minnie headbands for $27.99.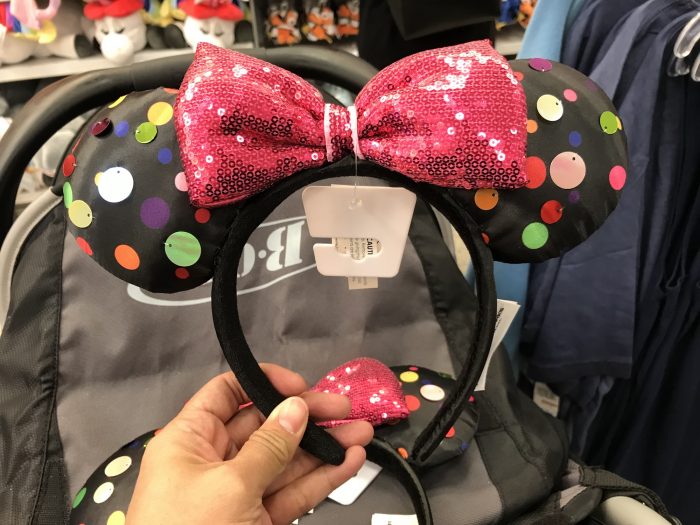 And they also had these gigantic Funko Pops featurng the Disney Skyliner for $39.99. The small Disney Skyliner toys are awesome. Love them all. This HUGE one is just too much for me. I'd probably pass at $19.99 and MAYBE bite at $9.99 to give as a gift.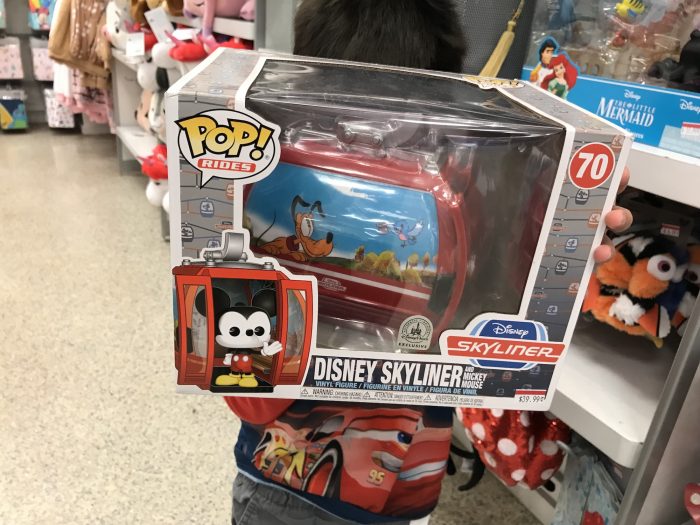 Thanks Christela! Now that my stress level is back to normal let's head back to Florida where the outside of the Outlet Store still has a Christmas display.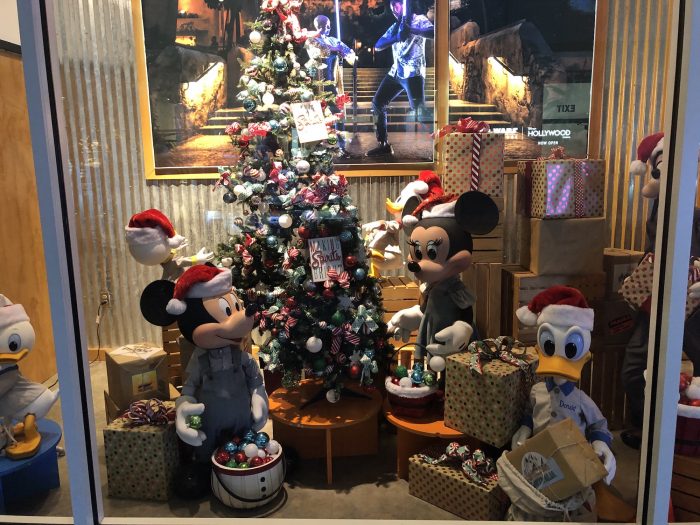 So that leads us to all the various Chrsitmas-related items including these light up glow necklaces. Reduced to $3.99.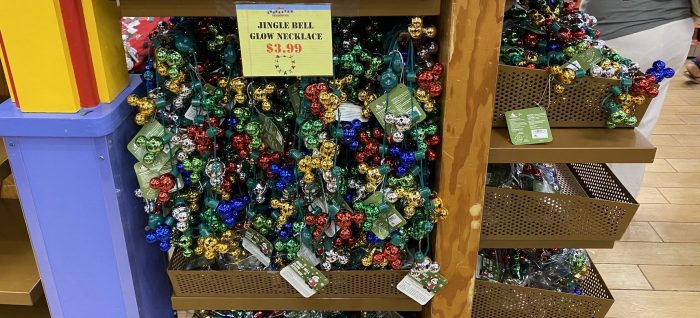 The Instagram-friendly buttons. Originally $9.99, now $1.99.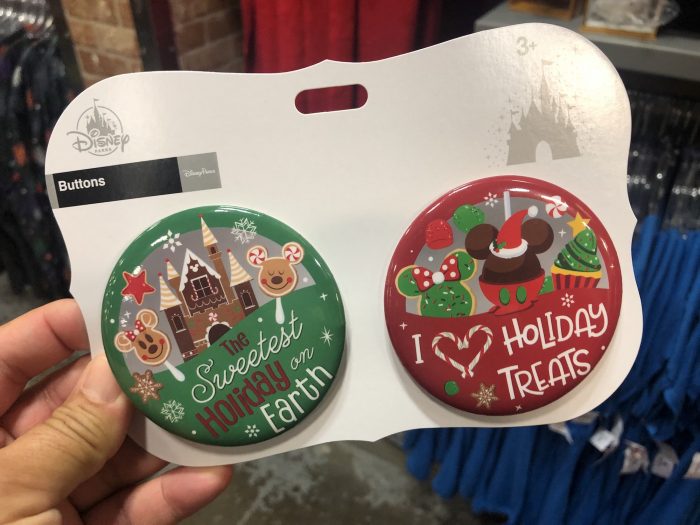 This Stitch thing has to be an Elf On The Shelf knock off, right? Originally $34.99, now $12.99.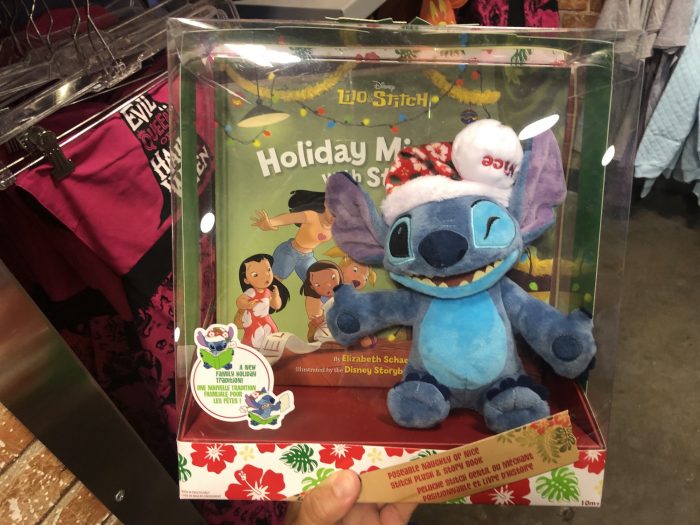 Christmas themed "toothpick holders." Big fan of the retro-style art on these. Originally $19.99, now $5.99.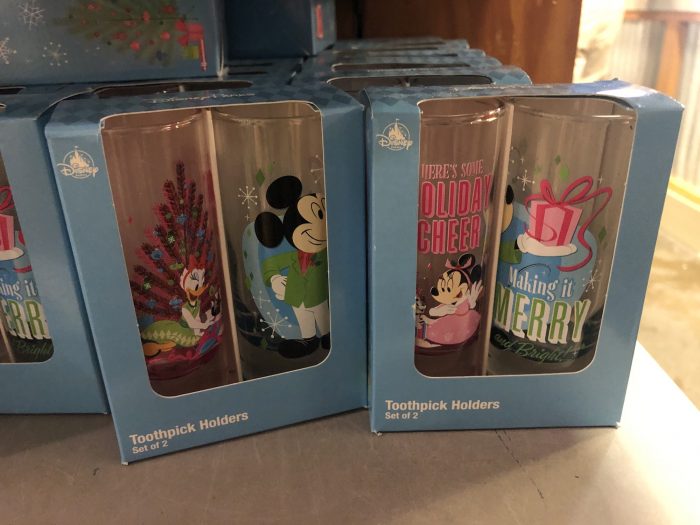 Toy Story-themed headband that lights up. Reduced to $5.99.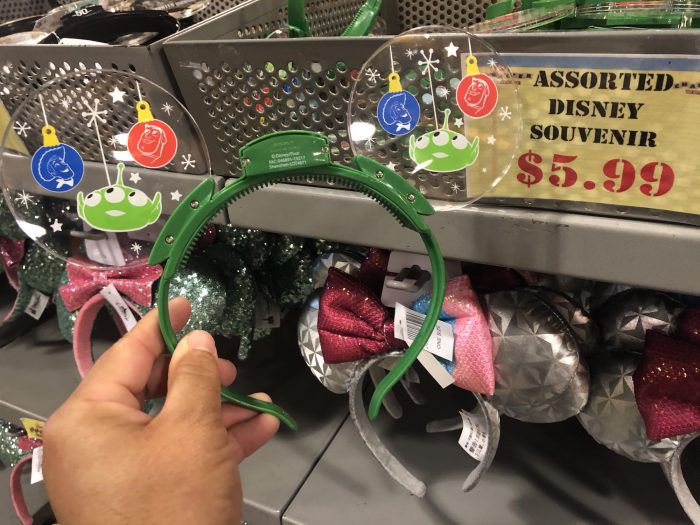 A whole bunch of Santa Mickey bags. Originally $90, now $45.99.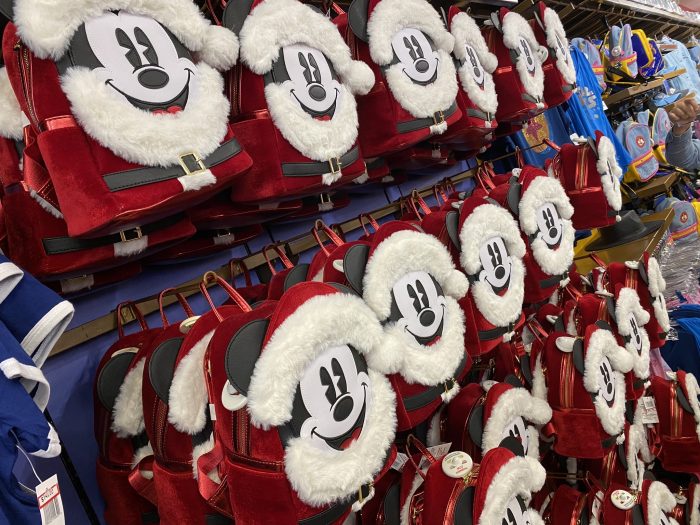 Another baby plush, this one with a Christmas-themed Mickey Mouse. Not for nothing, but I always have sympathy for those people born on December 24th, 25th, or 26th. Just bad luck of the draw compared to those lucky enough to be born on something like the 4th of July. Anyhoo, this plush was originally $29.99, now $9.99.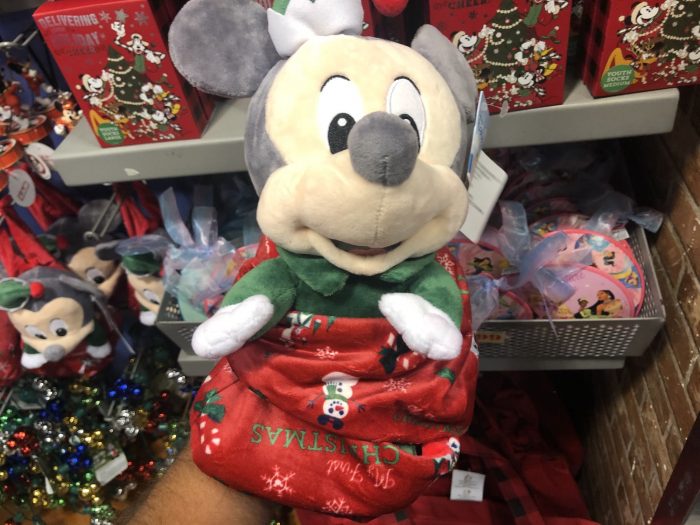 Christmas-themed Wishable with a Toy Soldier. Reduced to $4.99.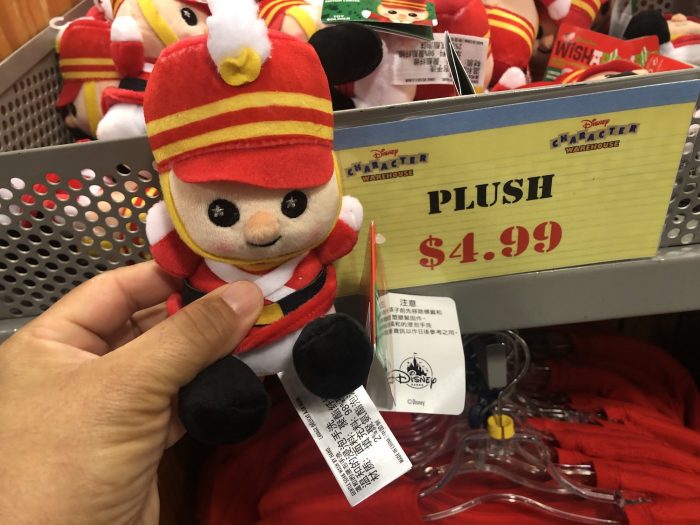 Christmas-themed Pluto plush. Didn't get the price because the store started to get really busy around this point but I'd ballpark it at $9.99.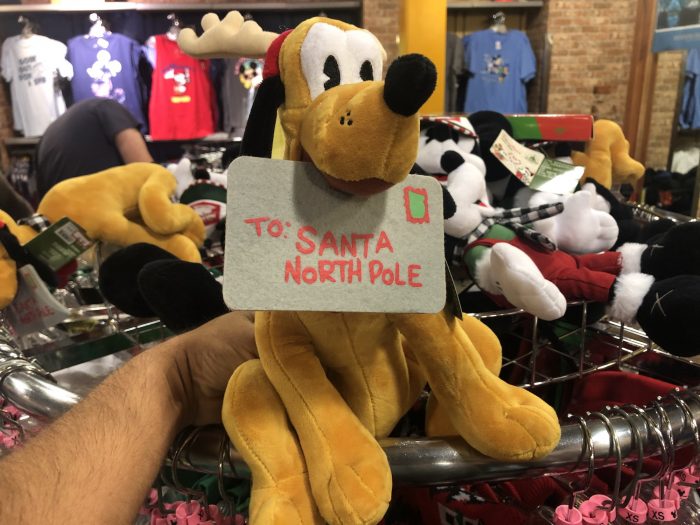 Christmas-themed kitchen towel. Originally $14.99, now $5.99.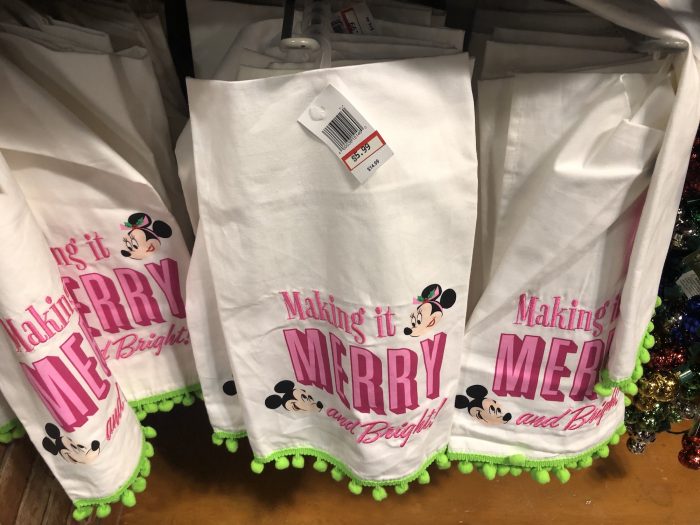 I like the "kitschy" factor of this tree-in-a-tube. Reminds me of that Old Timey feeling of A Charlie Brown Christmas or even something from The Jetsons. Originally $29.99, now $12.99.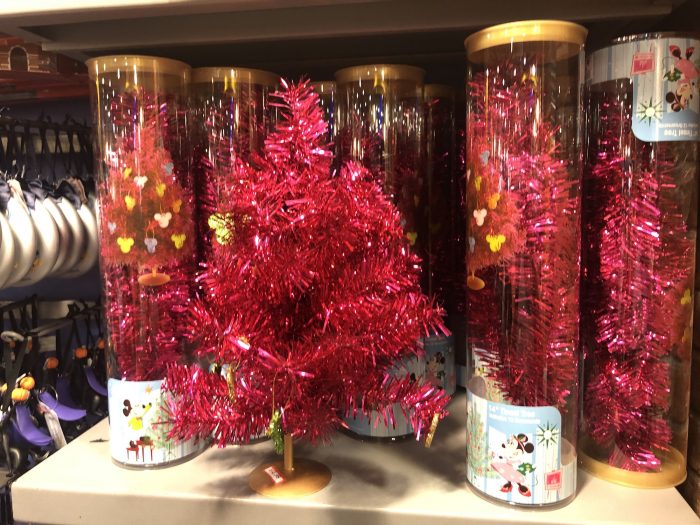 Mickey Mouse Club ornament. Reduced to $5.99.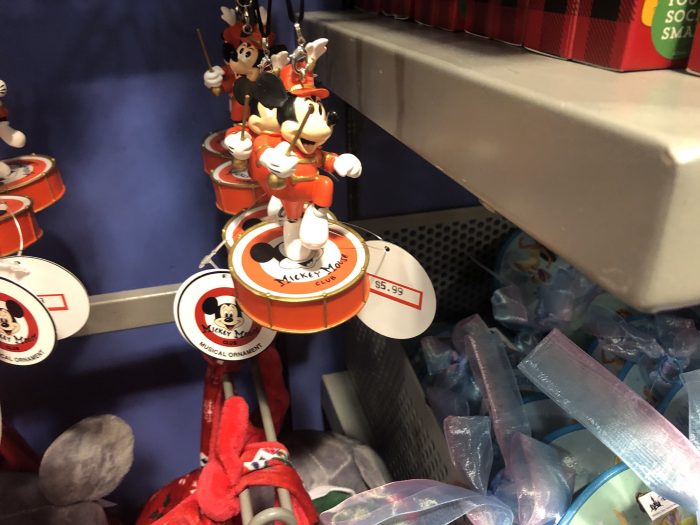 A limited edition ornament by artist Randy Noble. I wonder what the significance of "2,304" is. Features the band leader Mickey from a classic Disney cartoon. Originally $34.99, now $12.99.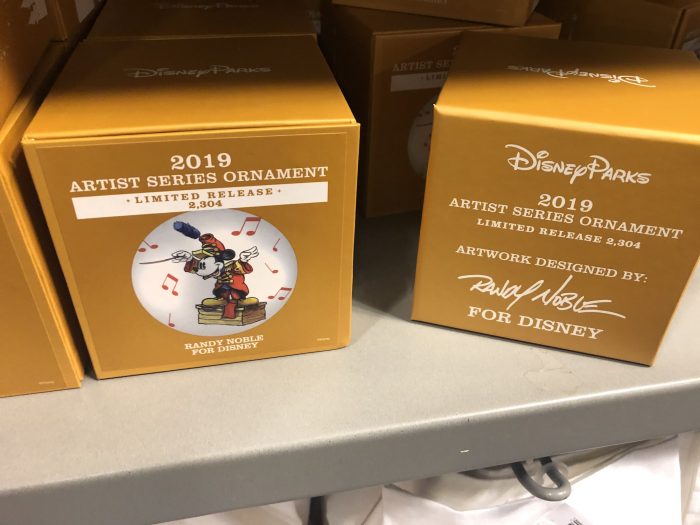 Christmas socks with fun packaging. Reduced to $7.99.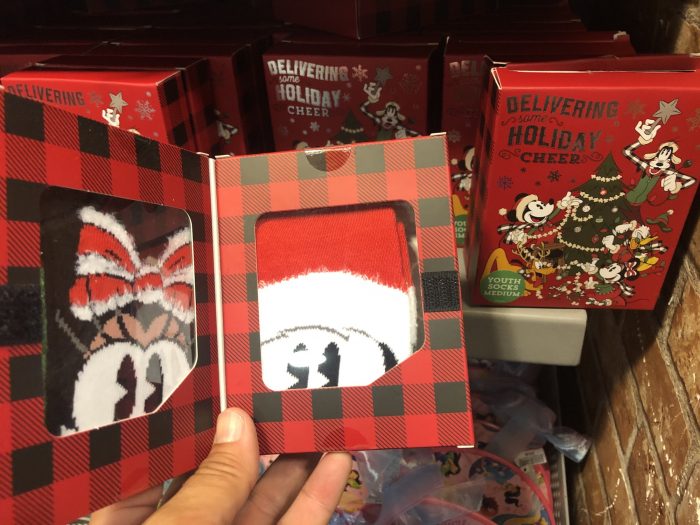 This was the "12 Days of Socks" where you take out pairs of socks every day in a mini-advent calendar. Reduced to $9.99.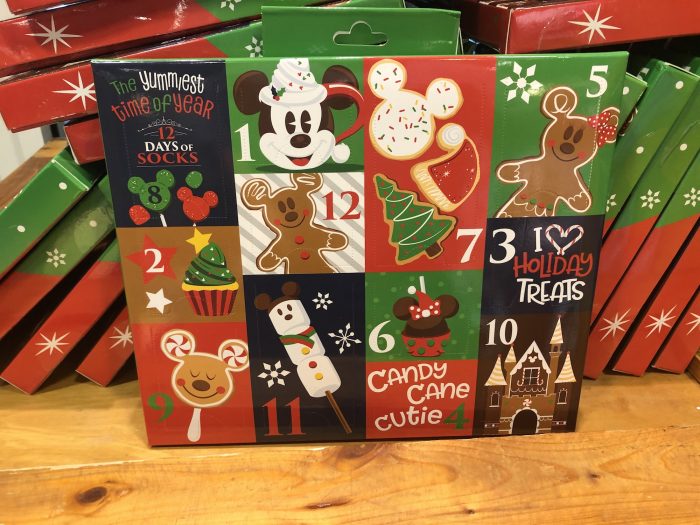 Christmas-themed ugly sweaters. Originally $64.99, now $14.99.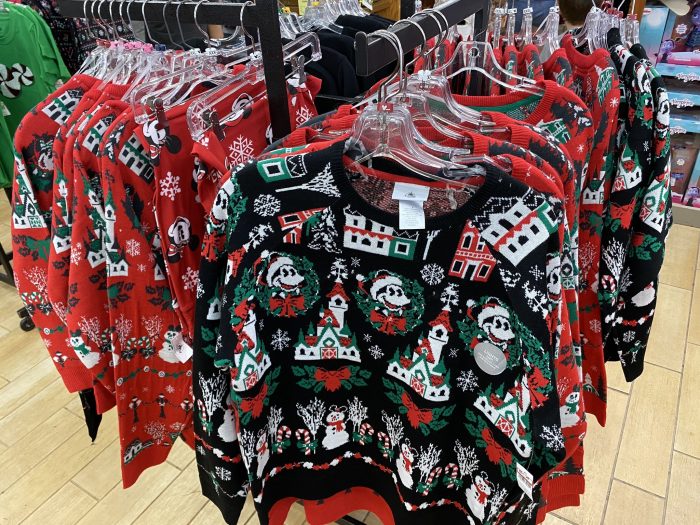 We saw in California there was a white Droid Depot shirt at the Outlets, and here in Florida we had a red one. Have no idea where that picture disappeared to. However I do have a pic of the Galaxy's Edge – Landing 2019 shirt. Originally $34.99, now $12.99.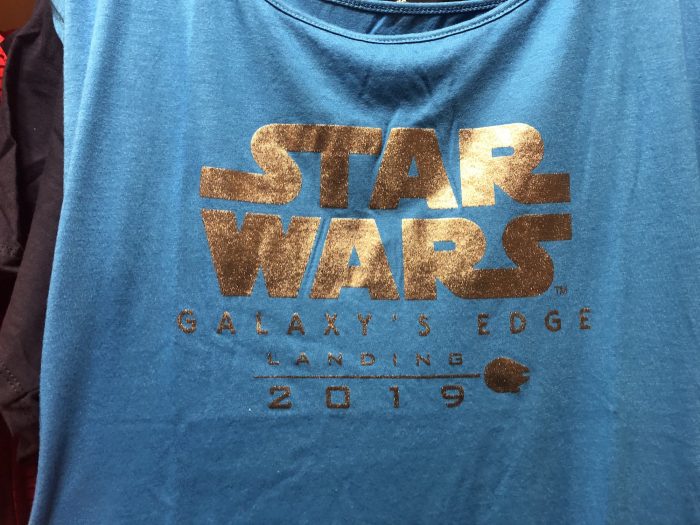 Pixar themed shirts. One on left was originally $34.99, now $12.99 while the sparkly one on the right was originally $39.99, now $12.99.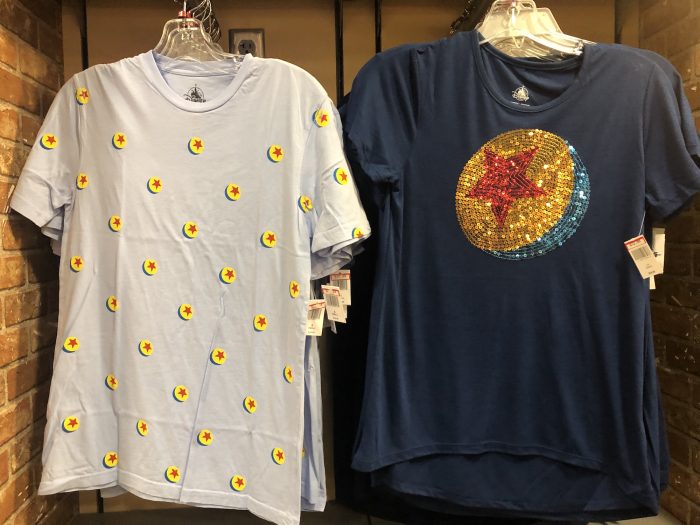 2019 kid's shirt with the opening years of EPCOT and the Magic Kingdom in the circles at the top of the shirt. Originally $19.99, now $8.99.
This is hideous on a variety of levels. Originally $24.99, now $9.99.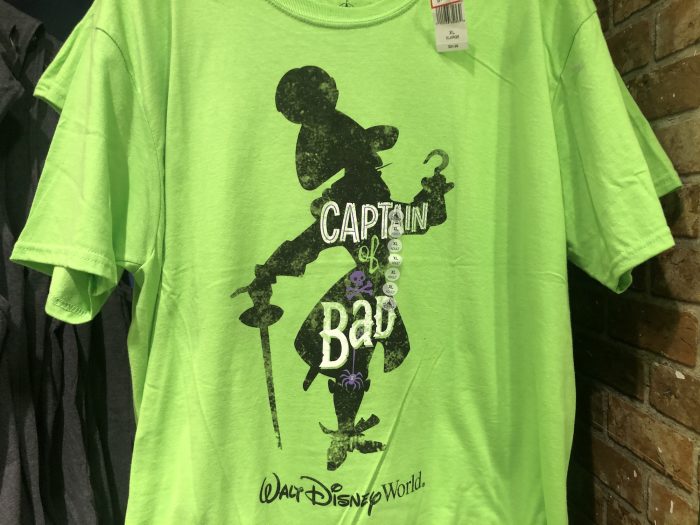 This Tangled: The Musical shirt came from the Disney Cruise Line. There are many reasons to sail on DCL, but the onboard shows are one of my absolute favorite reasons. Haven't seen a bad one yet. Originally $19.99, now $9.99.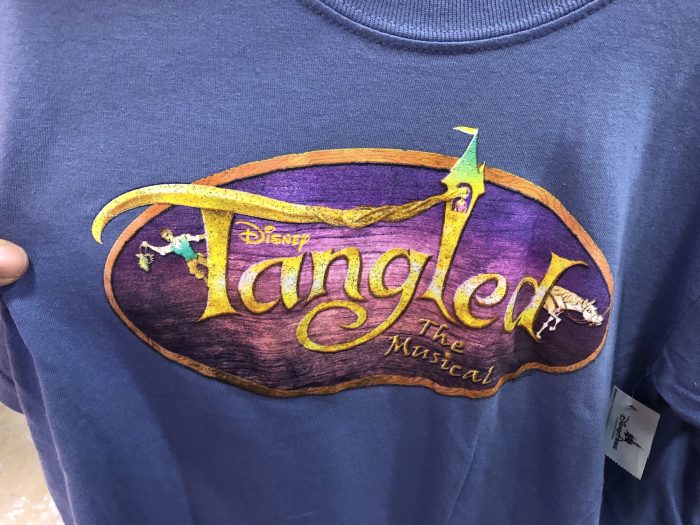 VERY FEW Disney shirts have special branding on them at the collar. Pandora: The World of Avatar, Star Wars: Galaxy's Edge, and Disney Cruise Line have them though.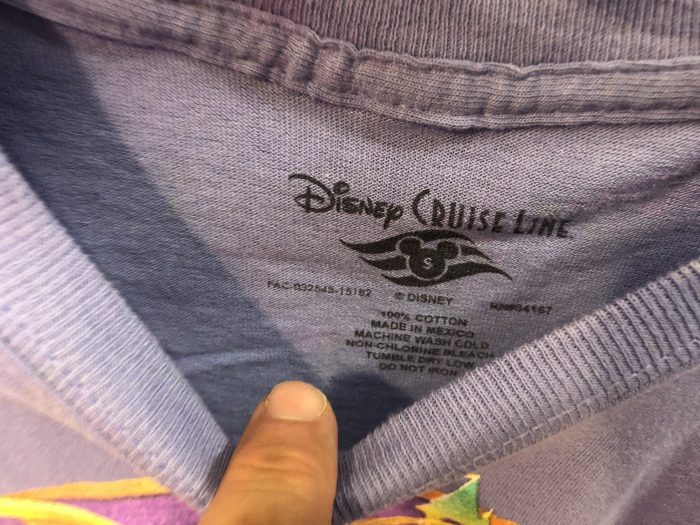 There was also a DCL logo on the shirt's sleeve.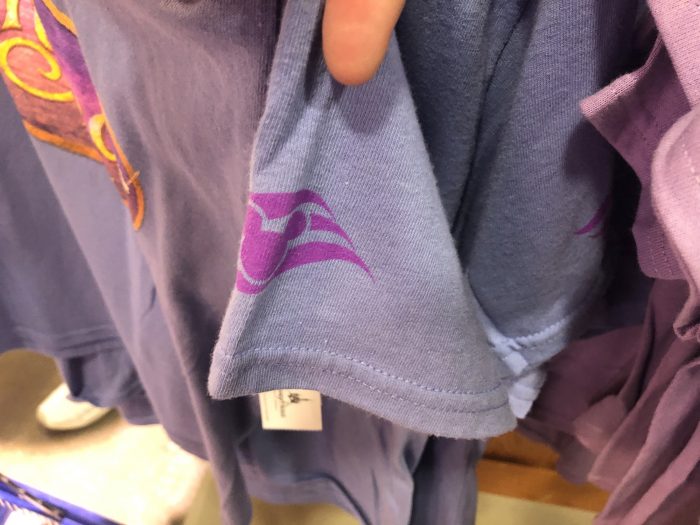 This Marvel Super Hero Academy shirt also came from the Disney Cruise Line. Presumbably for the Marvel Day at Sea deal they have. Reduced to $9.99.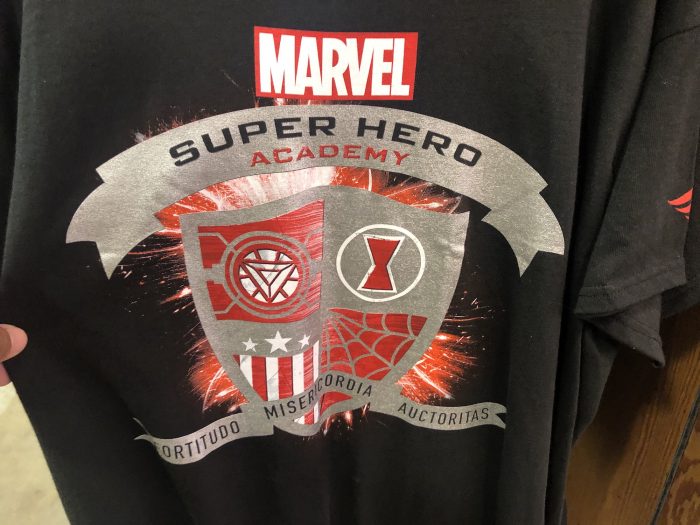 In year's past we've discussed the complete weirdoes perfectly sane people who have "Halloween Trees" in their house. This is a Cars-themed ornament for those. This has to be referencing something in Carsland out in California because there's nothing like this down here in Florida. Reduced to $5.99.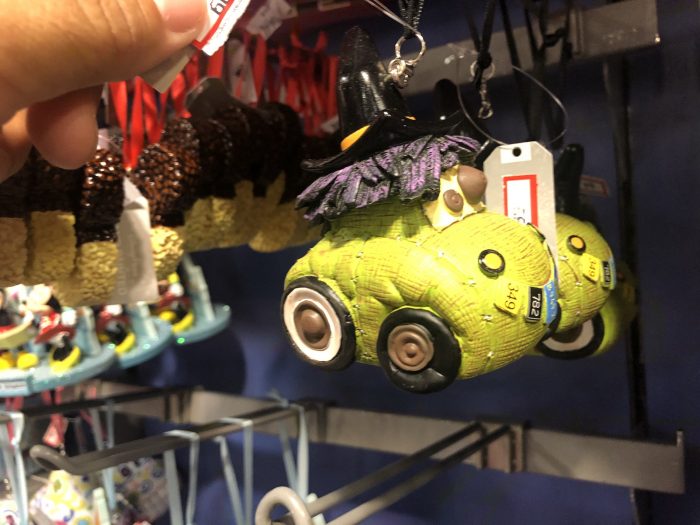 Day of the Dead themed Cars ornament.. Reduced to $4.99.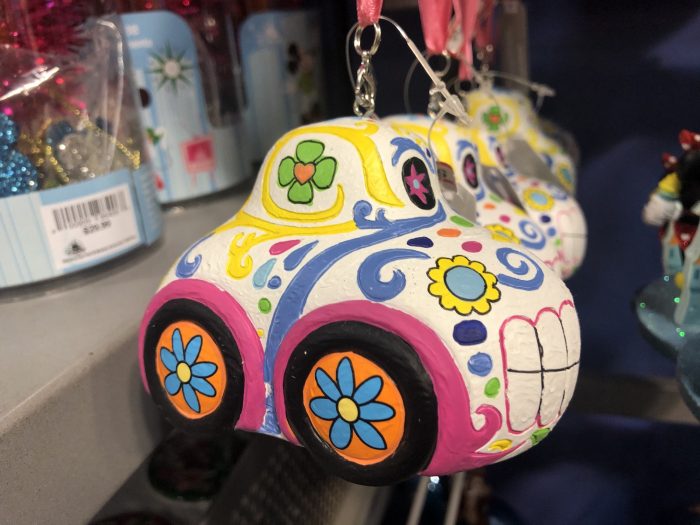 This is a female Headless Horseman with a sword. Did I miss another remake? Is this from Fantasia 2000? Reduced to $4.99.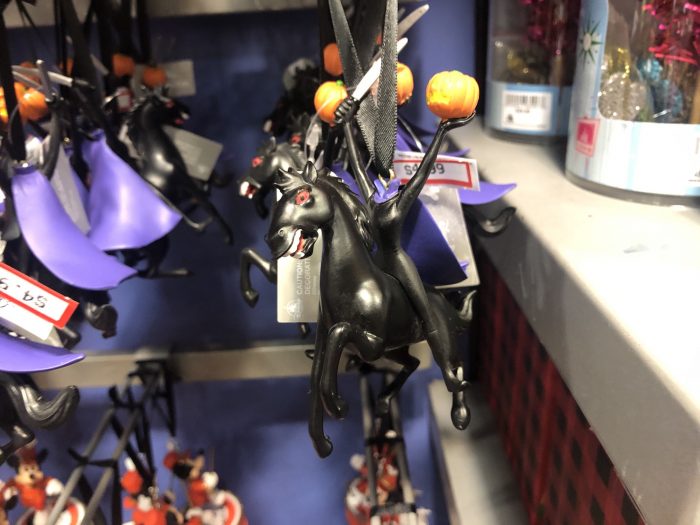 Princess-themed photo frame. Originally $29.99, now $12.99
Autograph book featuring Toy Story characters. Seems like something that would sell pretty big once that new BBQ restaurant opens in Toy Story Land. Originally $7.99, now $2.99.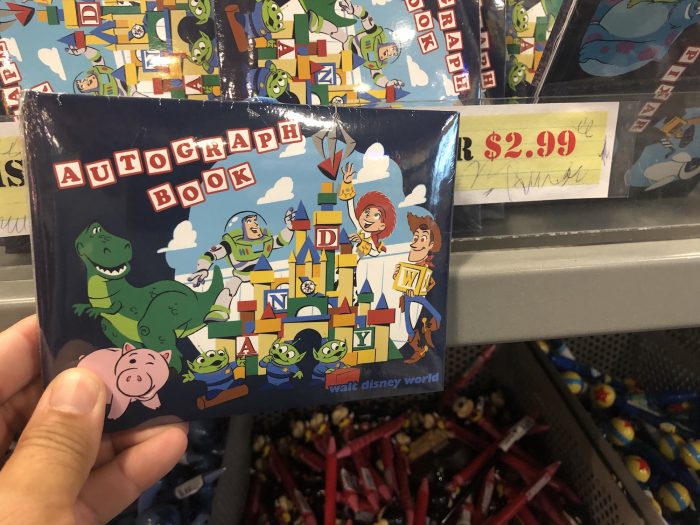 Kilimanjaro Safaris jigsaw puzzle. Originally $21.99, now $9.99.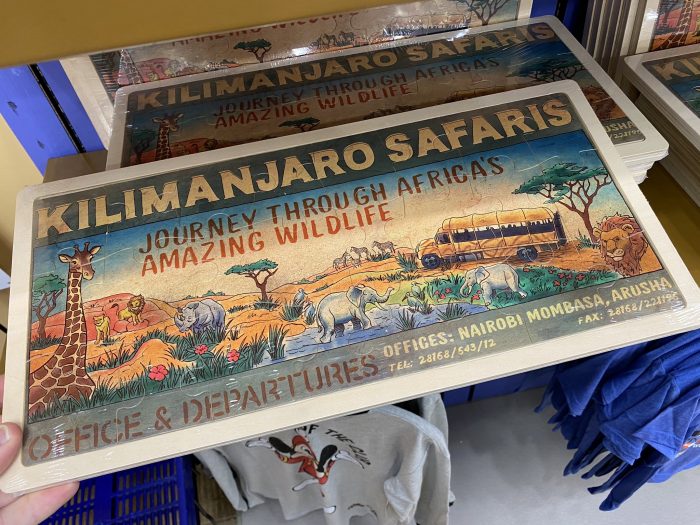 Plenty were available…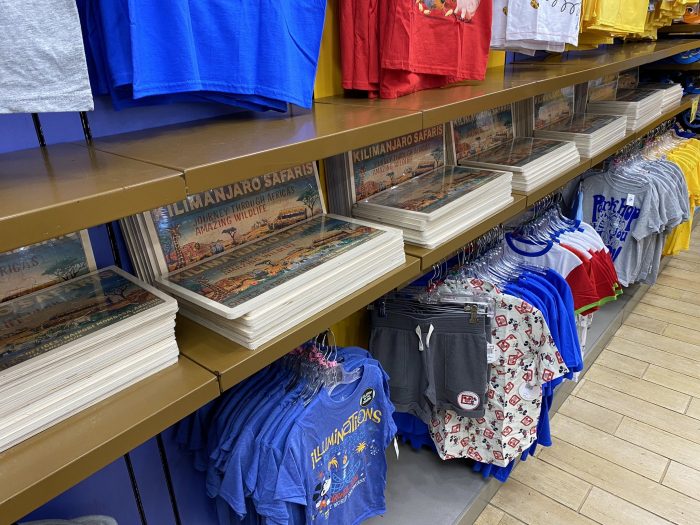 Interesting Kilimanjaro Safari's notebook. Reduced to $4.99.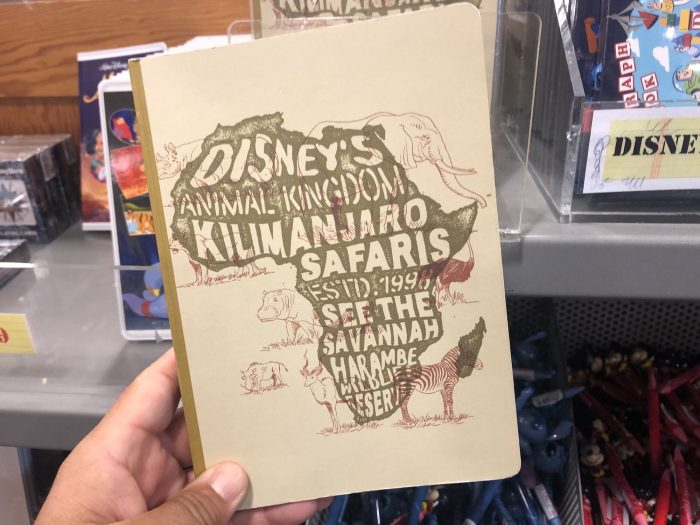 Interesting stuff throughout the notebook.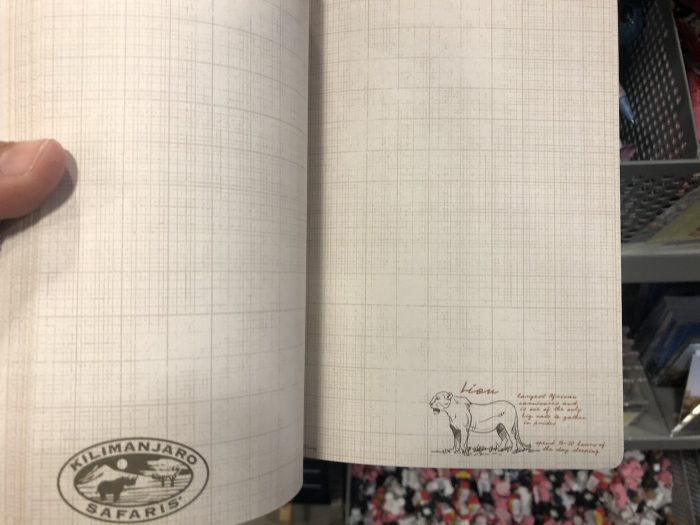 Orange Bird note pad set. Originally $9.99, now $4.99.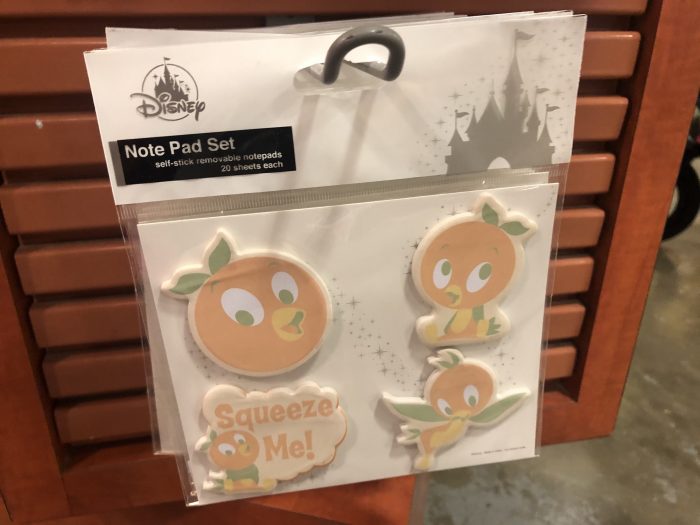 SEE YOU NEXT MONTH!
There are actually two Disney outlet stores in Orlando. Both are in Orlando Premium Outlet shopping complexes, and they are called Disney's Character Warehouse, presumably because The Land Of Misfit Toys was already trademarked. There is one Character Warehouse located on International Drive close to Universal Studios (4951 International Dr, Orlando, FL 32819), and the other is on Vineland Avenue, right across I-4 near the exits to Disney World (8200 Vineland Ave, Orlando, FL 32821). They do not ship. There are items at the Outlets that you can buy both in Disney stores along with the Shop Disney Parks app, but you will be paying full retail for the items. For our CALIFORNIA OUTLET trips, @ChristelaMcC goes to the Las Americas outlet in San Diego. It is located right off the last U.S. exit.
I often get asked "which store is better?" That depends. Vineland is close to Walt Disney World, while the I-Drive location is a hop, skip, and jump away from the Universal Orlando Resort. The Vineland Disney Outlet Store is much, MUCH bigger than the I-Drive location. However, the Vineland outlets in general are much, MUCH busier than I-Drive. Each have their pros and cons, and ultimately they carry much of the same items. For a Disney Outlet Store FAQ, check out this SATURDAY SIX Presents: Everything You Wanted To Know About The Disney Outlet Stores (But Were Afraid To Ask)
Previous editions of Magic, Memories, and Merch: July 2013, August 2013, September 2013, October 2013, November 2013, December 2013, January 2014, February 2014, March 2014, April 2014, May 2014, June 2014, July 2014, August 2014, September 2014, October 2014, November 2014, December 2015, January 2015, February 2015, March 2015, April 2015, May 2015. June 2015, July 2015, August 2015, September 2015, October 2015, November 2015. December 2015, January 2016, February 2016, March 2016, April 2016, May 2016, June 2016, July 2016, August 2016, September 2016, October 2016, November 2016, December 2016, January 2017, February 2017, March 2017, April 2017, May 2017, June 2017, July 2017: The FOUR YEAR ANNIVERSARY special, August 2017, September 2017, October 2017 (tribute to the O.O.G.), November 2017, December 2017, January 2018, February 2018, March 2018, April 2018, May 2018, June 2018, July 2018 (FIVE YEAR ANNIVERSARY special with the introduction of the OUTLET HALL OF FAME), August 2018, September 2018, October 2018, November 2018, and December 2018, January 2019, February 2019, March 2019, April 2019, May 2019, June 2019, and July 2019 (SIX YEAR ANNIVERSARY), August 2019 (major changes come to Outlets), September 2019 (camera hat,) October 2019, November 2019 and December 2019.
We also did an edition of Magic, Memories, and Junk for a non-Disney owned Outlet Store, and for you merch addicts like myself, you may also enjoy a look at the official Disney merchandise available on the Disney Cruise Line, Castaway Cay, and at the Orlando International Airport. Want to see our favorite WDW resort-specific merchandise? Well, CLICK HERE!
If you liked what you read here, you may enjoy THE SATURDAY SIX articles every week on the TouringPlans.com blog and you can follow your humble author on Twitter (@derekbugan).