Mobile Order vs. Standby – Pecos Bill's and Casey's Corner
Mobile Order lets you set it and forget it, but does it save you time? Our goal at TouringPlans is to save you time on your Disney World vacation, and that includes any line you might wait in – even the ones for food. We're researching an article on whether (and when) Mobile Order is faster than just going to the register at Disney World. As part of our data collection, Chrissy visited Casey's Corner & Pecos Bill's in the Magic Kingdom. Here's what she found.
The Setup
On Tuesday, December 6, the Magic Kingdom was predicted to have a crowd level of 4. The actual crowd level was a 4. Crowd levels are not going to be the whole story of how many people are ordering food, but they do tell us a little something.
Here's what Chrissy measured:

Some times are collected with a timer (minutes and seconds), some are collected based on the clock time (for Mobile Order).For mobile order, she measured how much time passed between pressing the "I'm here" button and getting a notice that the food was ready. Then she measured how long she waited at the counter for pickup.
For ordering at the register, she timed how long it took between getting in line and when she finished paying, and then how long it took to be called to the counter and pick up her order.
Casey's Corner, Lunch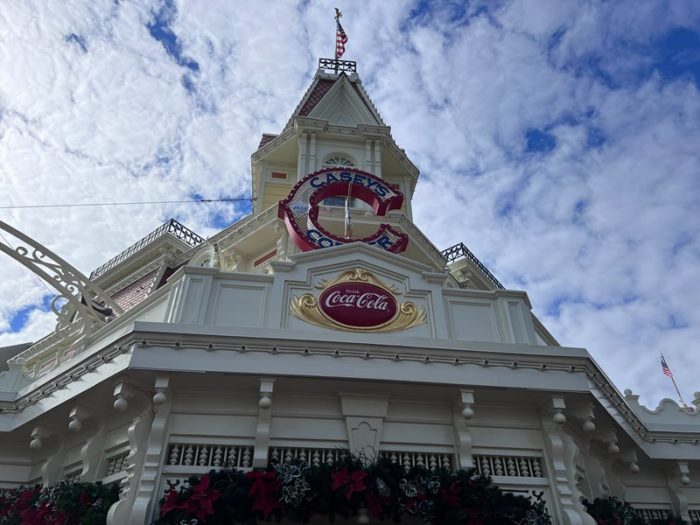 Casey's Corner is a Main Street classic, and Chrissy ordered a Holiday Dog – All-Beef Hot Dog with Cranberry Mustard, Savory Stuffing Funnel Cake, and Cheese Curds. Here's how the contest played out.

Pickup at the counter was pretty similar, but the line at the registers was fast – only 2 minutes compared to the 6-minute wait for the Mobile Order to be ready. The winner here is standby line at the register, but neither of these waits were serious time sinks. Still, the 5 minutes difference here is about how long it takes to wait for the show at Walt Disney's Enchanted Tiki Room … and I'd really prefer to stand in that line than this one.
Pecos Bill's, Lunch
Testing at Pecos Bill's was about the same time as the Festival of Fantasy parade, and it was very crowded. It was clear that a large amount of capacity was devoted to Mobile Order, with several mobile order windows in use and a large space devoted to those waiting for mobile order.
The line at the registers appeared much longer. So how did this come out on the stopwatch?

Wow, this did not look good for Mobile Order. Not only did it take twice as long – 18 minutes extra – but Chrissy noted that there were so many mobile orders that trays didn't fit under the lamps in the Mobile Order area and food was cooling on the counter as it waited for pickup.  What could you do with that 18 extra minutes? Well, Carousel of Progress has a 21-minute run time. Just sayin'.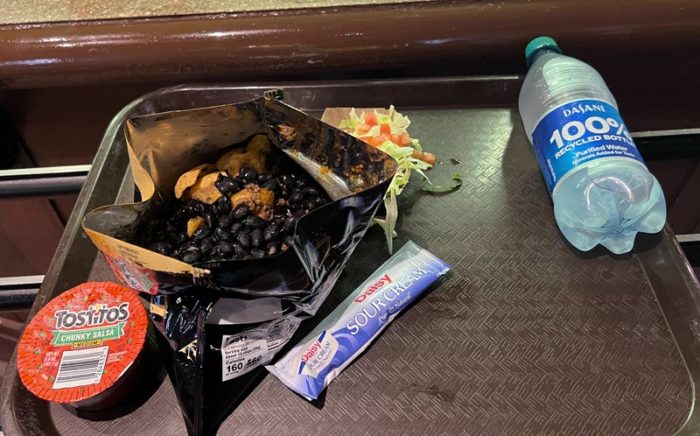 Wrapping Up
We compared how long it takes to use Mobile Order vs. the standby line at two locations on a low-medium crowd level day at Magic Kingdom. In both cases, Mobile Order was slower – in one instance, much slower. Here are some things to keep in mind when using Mobile Order:
Mobile Order might not seem like it's saving that much time, but being able to set it and forget it on the bus ride over to the parks might be priceless. And you should order early if you're planning on using Mobile Order at a peak time; if you wait until noon to order you might find that the earliest window opens at 2:30 p.m.
You can't rely on the length of the line at the registers to estimate your wait. Just like an attraction that might add trains (capacity) when the crowds pick up, differences in staffing can make the same line move faster at different times of the day.
Mobile Order is often faster, but it can be slower if many guests arrive at the same time. Obviously Disney "adjusts" capacity by limiting the number of guests that can arrive in a specific time frame, but it's not clear that the cutoffs they're using guarantee a smooth experience.
Have you used Mobile Order at these locations? What was your experience? Let us know in the comments!