Morimoto Asia Is Not Your Local Asian Takeout
Know Before You Go
Morimoto Asia is a restaurant in the Landing area of Disney Springs. Headlined by Iron Chef Masaharu Morimoto, the venue features pan-Asian cuisine including an extensive sushi menu.
Appetizers range from $10-$18, Entrees from $20-$65, and Desserts from $10-$12. The Sushi menu is only available at dinner, and includes individual orders from $9-$18, maki from $16-19, and platters and combos for single diners or groups ranging from $60-$240. Due to the wide variety of dishes, it's difficult to predict how much your group will spend. If you shy away from expensive items, you can eat for about $50-$60 per person, but if anyone in your group orders the Wagyu or a lot of sushi, all bets are off.
The dinner menu is more extensive than the lunch menu, but prices are the same if an item is present on both. Morimoto Asia also offers an Omakase Experience nightly for $250 per person (reserve in advance), with dishes chosen and prepared for you by the restaurant's chefs – including Morimoto himself when he is in town.
The restaurant is large and reservations are often available on short notice, but if making a reservation for dinner within the same week you should expect the available times to be after 8 p.m. or so. You may also be able to find times on Open Table that aren't available through Disney. The atmosphere is relaxed and the dress code is casual – feel free to show up in whatever you wore to the parks.
Appetizers
Shumai, 4pc – $16
purse shaped dumpling filled with pork, shrimp, mushroom and tobiko caviar
Pork Dumplings, 4pc – $16
pork, mushroom, napa cabbage, scallion
Egg Drop Soup, cup – $9, bowl – $12
light duck broth with silky egg, crab, scallion, and sesame
Crispy Popcorn Shrimp Tempura – $18
signature tempura shrimp and spicy gochujang aioli
I'm going to start with the Pork Dumplings because they were very good, but disappointing. I know, crazy talk right? The problem is that you can get very good pork dumplings in many Asian restaurants – compared to the wow factor of everything else we ate, we wished we had spent our stomach space on some of the other standouts. I'm not going to tell you not to order these, because they were very good. But … they're nothing special.
The Shumai were another story. The mix of pork and mushroom was loaded with umami and balanced by the shrimp. The tobiko on top was a nice textural touch.
The Egg Drop Soup was not like any other version of this dish I've ever had. I'm throwing out all my recipes that call for the traditional broth thickened with cornstarch – I'm sold on this one. The duck broth had a deep, rich flavor with just enough sesame oil to help it cling to your tongue and really bring home the mouthful. I literally begged my child to be allowed to finish the last three mouthfuls. I pouted. True story.
At first glance, the Popcorn Shrimp look like they are the same dish of "Bang-Bang" shrimp that you see on the chain of family-style restaurants everywhere. But boy, they are not. Let's begin with the shrimp: the tempura batter is very light, and retained its crunch because it absorbed less of the sauce. I really liked the balance of sauce here, it did not feel like "have a little shrimp with your sauce" in the way that these dishes sometimes do. The sauce itself was also a cut above – just a bit spicy, a bit sweet, and not dominated by a single flavor.
Morimoto Spare Ribs, 3-rib appetizer – $18, 6-rib half rack – $35
pork ribs, cilantro, and hoisin sweet chili glaze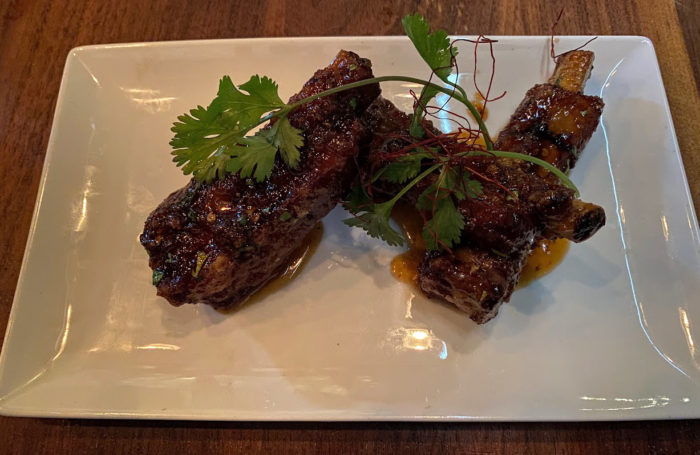 The Spare Ribs can be ordered in either an appetizer or an entree size. This is one of the dishes that the restaurant is known for, and the recipe has been published. These ribs are braised, then fried, then tossed with a hoisin-chili sauce before serving. And I am here to tell you that they are de-lish. The meat was just this side of fall-off-the-bone tender, where it doesn't actually fall off the bone until you bite into it. The fry left it with a light, crispy coating and the sauce was amazing. If you don't eat pork, don't get these. But if you do, don't skip them.
Entrees
Morimoto "Buri-Bop"* – $36
korean style yellowtail rice bowl, served in a hot clay pot, and finished with egg yolk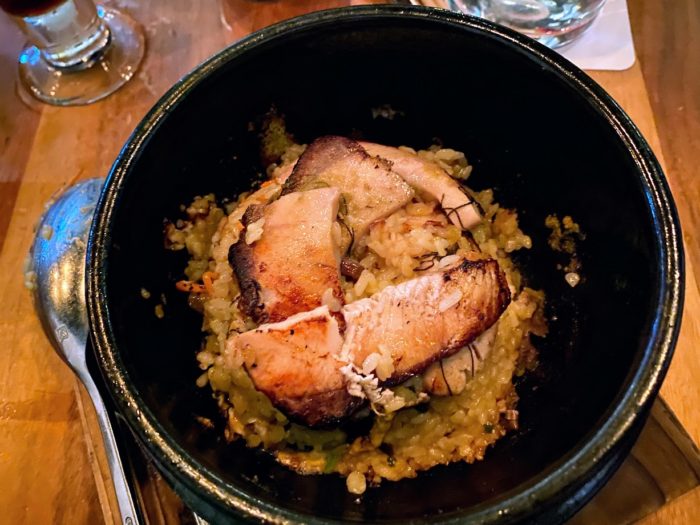 This dish owes its origins to Morimoto's contest in Iron Chef Battle Yellowtail. The food is prepared tableside, and arrives in a screaming hot clay pot as a mound of rice with raw fish layered on top in the center. The chef pulls each piece of fish from the top and lays it vertically along the side of the pot to cook, exposing a raw egg yolk that has been nestled into the rice underneath along with other components and seasonings. As the fish cooks against the surface of the pot, the rice, egg, and seasonings in the center are mixed and turned with spoons to create a moist fried rice dish that is left to crisp a little bit on the bottom as it finishes. The cooked yellowtail is then pulled back from the side of the pot and layered on top, "recreating" the original presentation.
The yellowtail was perfectly cooked and tender without being dry. The rice was fried rice, but it was terrific and the flavor paired perfectly with the yellowtail. I would be happy to order this again, anytime.
Orange Chicken – $32
tempura chicken, chinese broccoli, and wok-tossed with a sweet florida orange sauce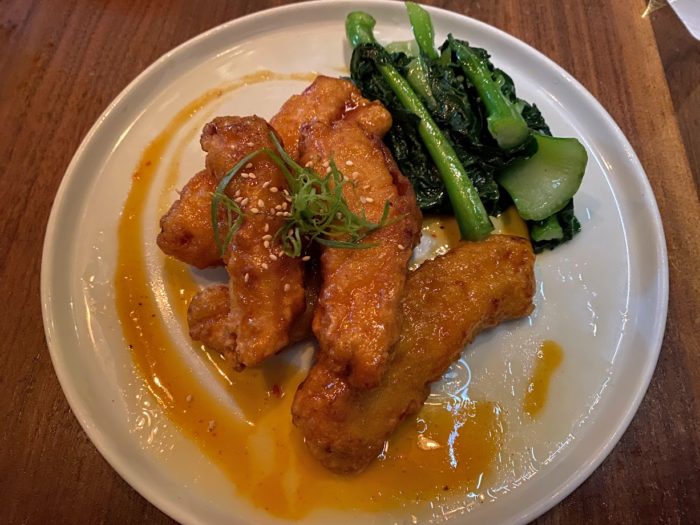 OK so … I've had opportunities earlier in this article to highlight the title: "Not Your Local Asian Takeout". This might be the dish that most exemplified that, as one diner noted that it wasn't at all what they expected because it "actually tasted like orange". It looks like orange chicken that you might have seen elsewhere, but it doesn't taste the same at all, which I thought was great but might not be so good if you have a picky eater that is looking for something familiar on the menu. I also want to mention the chinese broccoli, which was perfectly sauteed and wilted with the leaves soft and tender and just a little bit of crunch left in the ribs.
Jyo Sushi Combo – $60
chef's daily selection of 9 pcs nigiri, 1 roll
This was a lovely selection of sushi and rolls. One thing that was really noticeable was the freshness of the fish, and the ratio of fish to rice was just perfect.
Japanese A-5 Wagyu Beef – $34 per oz.
prepared tableside over ishiyaki grilling stone with sansho peppercorn sauce. a-5 is the highest quality given only to the finest certified beef from japan. (minimum 3oz order, only available for dinner)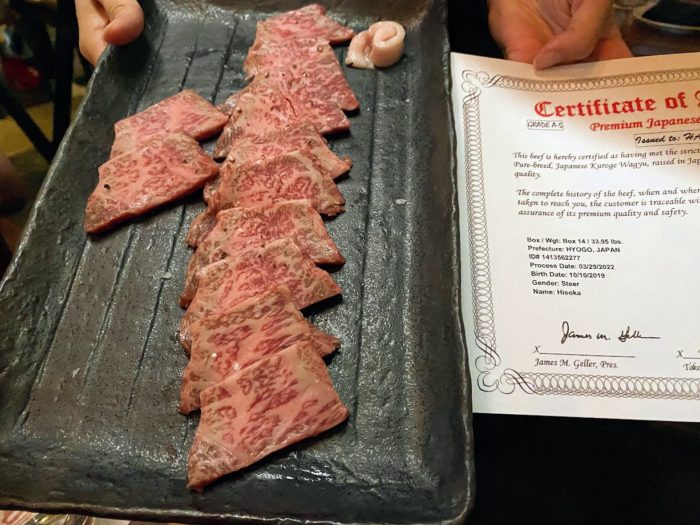 One thing that you might not know about me is that when I was growing up, I used to collect all my birthday money and buy a prime rib with it for my dad to roast as a birthday dinner. I am a lifelong connoisseur of beef. (And other red meats, but today we are talking about beef). Since we were celebrating, my family was extremely insistent that I should order the Wagyu. For research. And other reasons. As you might guess, they were successful in overcoming my cheapskate tendencies and what you see above is the presentation of 6 oz. of raw A-5 Wagyu, with its certificate that tells you everything you want to know about the history of the meat including the name of the steer.
The meat is cooked tableside on a hot stone, and the small coil you see on the back of the plate is trimmed Wagyu fat that is used in the cooking. A single piece was cooked first and presented for tasting, in the same way that a waiter will uncork a bottle of wine and pour a tasting sample. After approval, the remainder of the slices were cooked and laid onto a plate to complete the presentation.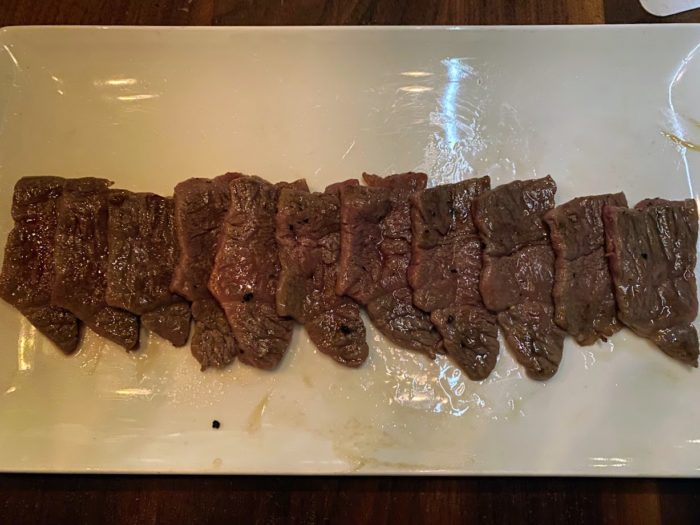 I should tell you how delicious this was, but I'm too busy drooling as I remember it. I did share a bit with members of my family who dined with me, but the person who tried to come back for seconds got their hand smacked. I'm nice, but not that nice.
One thing that you should definitely know when deciding whether or not to order this is that like filet mignon, this dish will not have a particularly steak-y, beefy flavor. It's definitely still beef, but much less umami than, say, a T-bone. So if you tend to lean towards ordering prime rib, T-bone, or New York strip because you find filet to be a bit insipid, convince someone else at your table to order this and try some of theirs because you might not find it to be worth the money as a function of your personal taste.
Dessert
Green Tea Tiramisu – $11
matcha mousse, ladyfingers, white chocolate, raspberry
At the end of our meal, we weren't sure we wanted dessert. The savory flavors in the dinner dishes had been satisfying and we didn't want to wash them away too rapidly with something sweet.
This matcha tiramisu was a nice compromise. The preparation was similar in texture to an ordinary tiramisu, but with matcha standing in for the coffee the flavor was very different. Light and not too sweet, it was a lovely ending.
Wrapping Up
We had a terrific meal at Morimoto Asia, and I'm pretty sad that I live so far away that I can't eat there on a regular basis. If you live somewhere that doesn't have a local Chinatown, you should definitely consider a visit to this restaurant if you're at Disney World. It could give you a whole new perspective on Asian food.
Have you dined at Morimoto Asia? What did you think? Let us know in the comments!