REVIEW – Holiday Eats at P&J's Southern Takeout at Fort Wilderness
One of the things we love about Disney's mobile ordering is that it has brought attention to many forgotten restaurants. At every Disney resort hotel the quick service dining location offers mobile ordering. At Disney's Fort Wilderness Campground you can mobile order from P&J's Southern Takeout, and we decided to check out the holiday eats on the menu.
Right now you can celebrate the holidays with your taste buds with a Gingerbread Cupcake, Gobbler Sandwich, or a Holiday Turkey Dinner (available Christmas week). Since it is not yet Christmas (at the time of our visit) Ivonne on our team opted for the cupcake and sandwich.
P&J's Southern Takeout is right next to Trail's End Restaurant, and it essentially serves the restaurant's food as takeout. Our readers give it a 78% thumbs up rating and it is only ranked number 101 out of 107 quick service restaurants at Walt Disney World.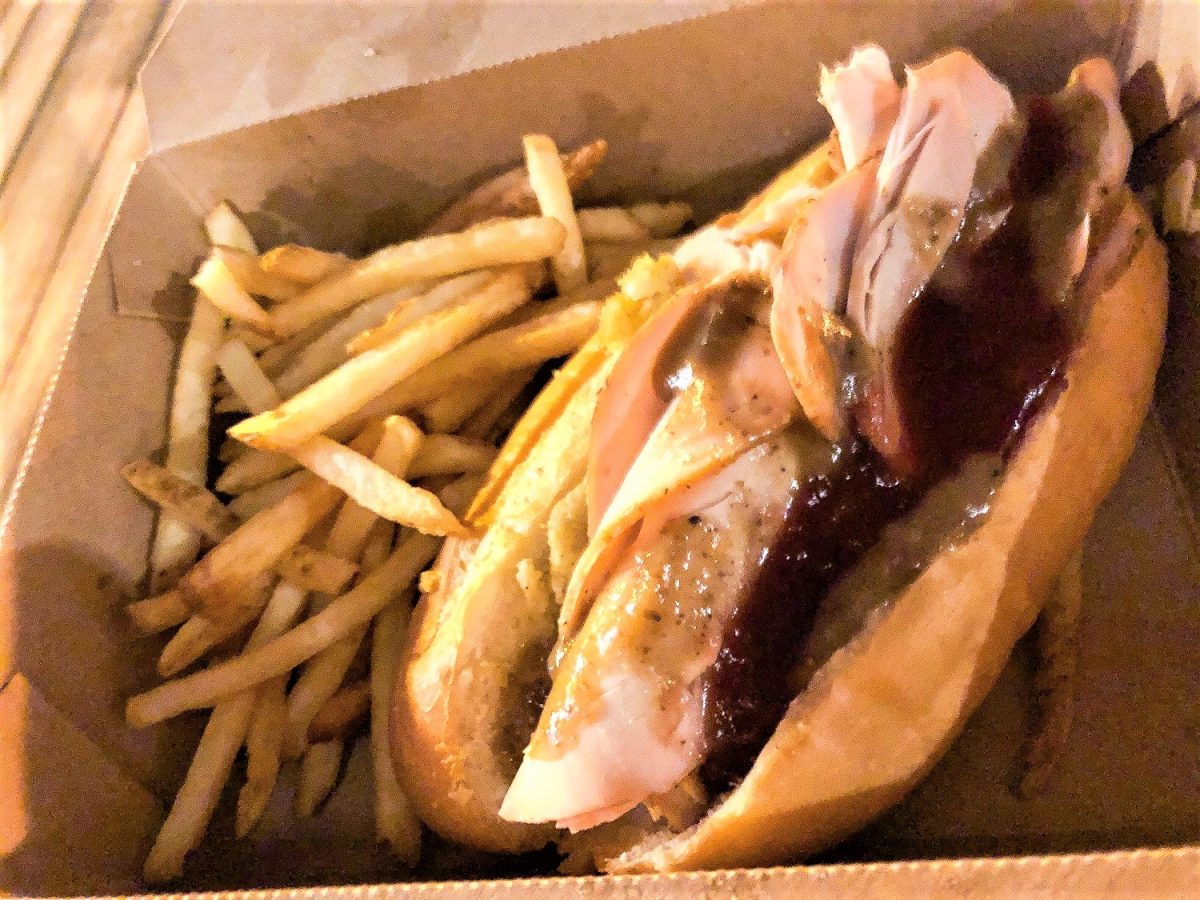 The Gobbler Sandwich is an example of why P&J's does not have a higher rating. The Turkey Gobbler Sandwich is made with House-smoked Turkey Breast with Cornbread Stuffing, Gravy, and Orange-Cranberry Sauce. For $11.99 it is priced in line with other quick service sandwiches. With the amount of toppings you'd think this sandwich would be very flavorful; sadly that was not the case. To make matters worse, the roll did not stand up this sloppy sandwich, making it messy and difficult to eat. We'd recommend getting the traditional fried chicken or ribs instead.
Thankfully the Gingerbread Cupcake delivered the holiday yumminess we were looking for. The combination of gingerbread cake with cinnamon apple filling was a little worrisome, as it could be a case of conflicting spices. But the gingerbread cake was so mild, which would have been a problem if the filling hadn't been as delicious as it was. Plus, there's a cute white chocolate decoration on it featuring Chip and Dale – the campground's official mascots. Of the various cupcakes we've had over the course of the holiday season, this one ranks fairly high.
You do not have to be a guest of the campground to make use of mobile ordering from P&J's Southern Takeout, or any other resort restaurant.
Have you made use of mobile ordering at a Disney resort restaurant? What's been your favorite experience?