Must-Try Food Items at Disney California Adventure's Festival of Holidays 2023
One of the best things about the Festival of Holidays seasonal celebration at Disney California Adventure is the many unique food items that are only available during this time of year. With so much to choose from you may not even know where to start. We're here to help, here's our list of must-try food items at Disney California Adventure's Festival of Holidays 2023.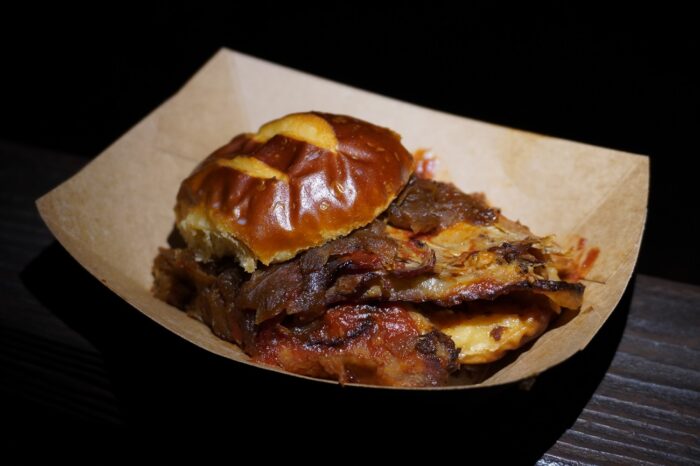 Beef Brisket Slider – Winter Sliderland – $9.00
Sometimes you just need a big pile of meat. If you're in DCA and that feeling comes upon you, this will not disappoint. The brisket was tender and the included smoked onions and horseradish ketchup were delicious as well. It also comes served on a pretzel roll, which is scientifically proven to be the best break in the world.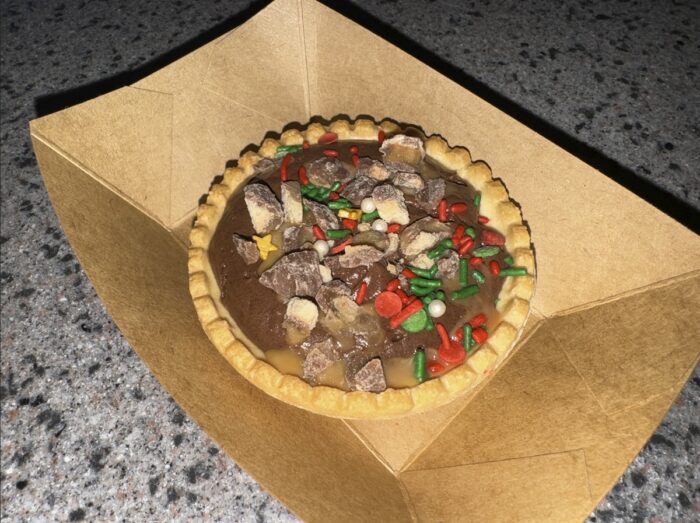 Chocolate Tart made with Twix cookie bar pieces – Holiday Duets – $7.50
"Sugar Tart filled with Caramel and Chocolate Mousse, topped with TWIX® cookie bar pieces and Holiday Sprinkles." Another item that's not ground breaking, but those of you with a sweet tooth will enjoy it. The tart is big enough and sweet enough that you could easily share it with another person.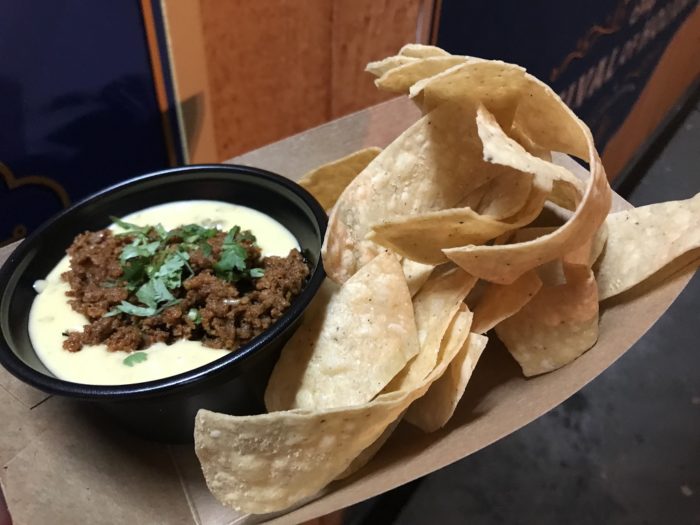 Impossible Chorizo Queso Fundido – Brews & Bites – $7.50
The Impossible Chorizo is sinfully good. If Disney didn't tell us the chorizo was plant based we would have never known the difference, it's that good. The saltiness of the chorizo and chips make this a perfect item to balance out the sweetness of any mixed drinks or desserts you'll be getting. This dish is also easily shareable with a group of people.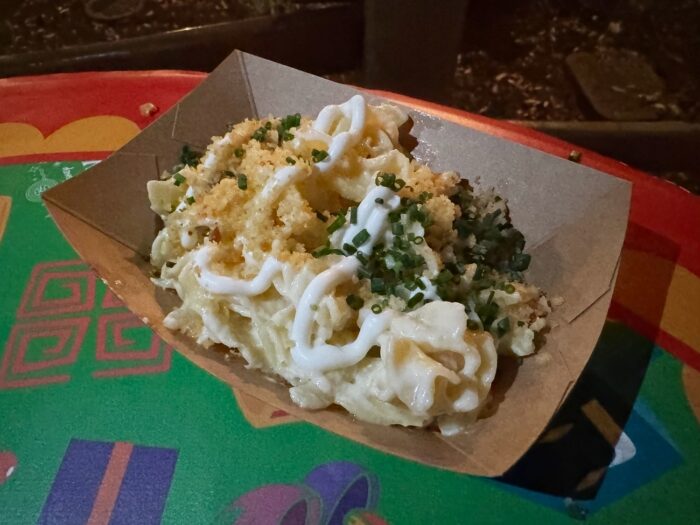 Savory Kugel Mac & Cheese – A Twist on Tradition – $8.50
I'm a sucker for kugel and this savory mac & cheese version did not disappoint. It combines the creamy, comforting elements of macaroni and cheese with the sweet, custard-like texture of kugel. It's served topped with herb breadcrumbs, sour cream and chives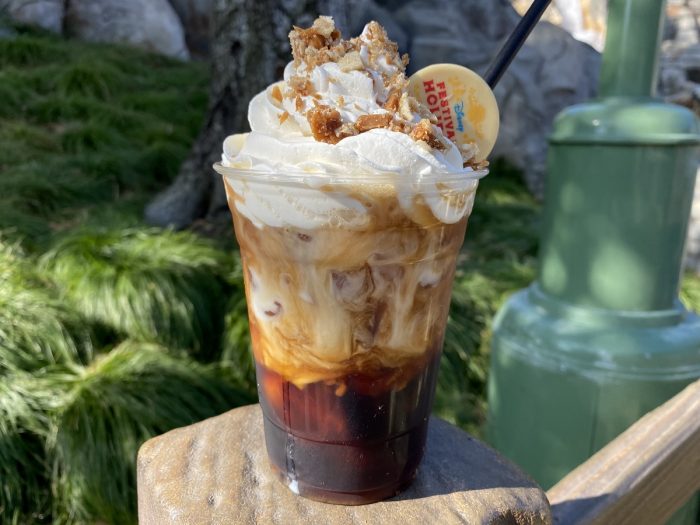 Churro Toffee Cold Brew Latte (Non-Alcoholic) – Favorite Things – $7.25
You really can't go wrong mixing toffee and churro flavoring in anything. I feel like some people will find this drink too sweet, but if you can handle the other desserts on this list you won't have a problem. Also the Churro Toffee Cold Brew is over $1 more than the cold brew drinks found at the Starbucks on Buena Vista Street, but at least you get some interesting ingredients here that aren't available otherwise.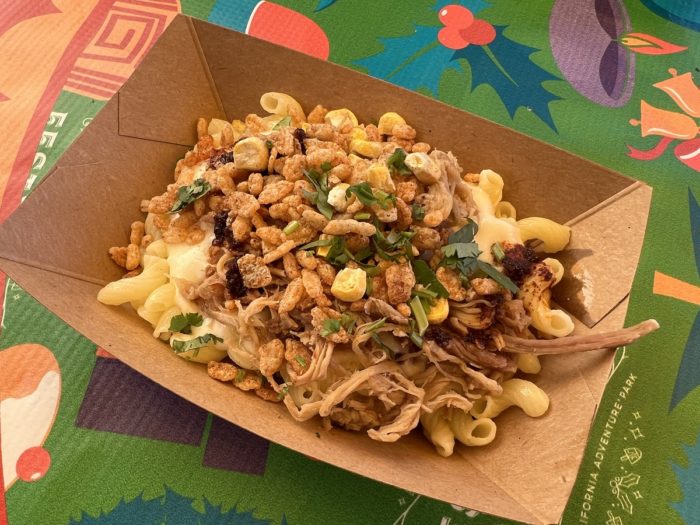 Esquites Carnitas Mac & Cheese – Holiday Duets – $9.00
Shout out to Disney for putting effort into yet another mac & cheese dish. The included carnitas is flavorful and the spiced puffed rice added a satisfying crunch. Mac & cheese lovers should not pass this one up.
Guava-Melon Lassi – A Twist on Tradition – $7.50 
"Guava nectar, rock melon syrup, yogurt and honey, garnished with cinnamon whipped cream and honey-flavored cereal." I really enjoyed this drink thanks to the guava's tropical sweetness combined with refreshing melon flavor. This is the perfect drink to compliment all the salty food food items.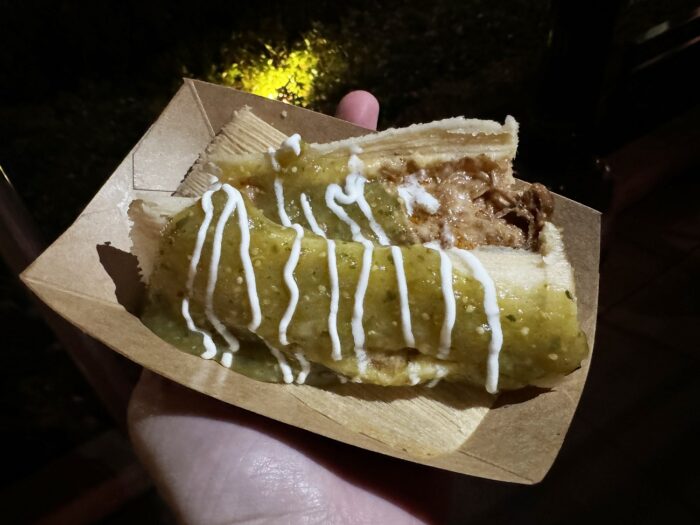 Barbacoa Tamal de Res – Grandma's Recipes – $9.00
Before someone corrects Disney, or me for that matter, in Spanish a singular tamale is called a "tamal." With that out of the way, this is shockingly good. It's topped with with oaxaca cheese, tomatillo salsa and crema, and it's fantastic. In Southern California outside of Disneyland there are thousands of good and cheap places that sell great tamales, but if you're in the park and have a tab off your Sip & Savor pass to use you can't go wrong with this one.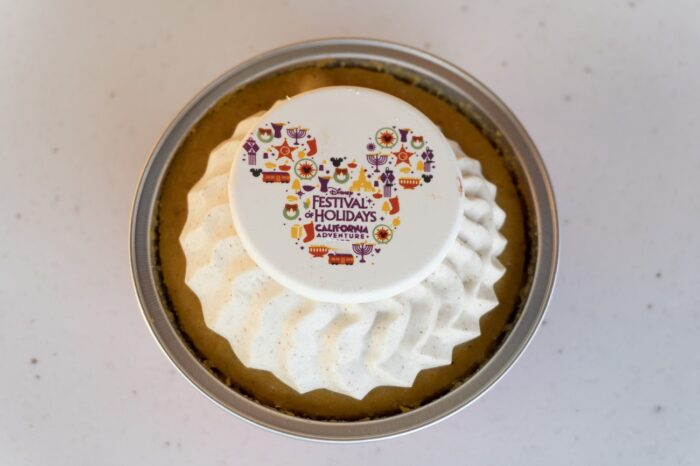 Pumpkin Layered Cheesecake – Making Spirits Bright – $6.50
This is perfect for those of you are aren't ready to move past pumpkin pie season. While this is good, it's worth pointing out that you should save your Sip & Savor tabs for something more expensive and pay for this one with cash.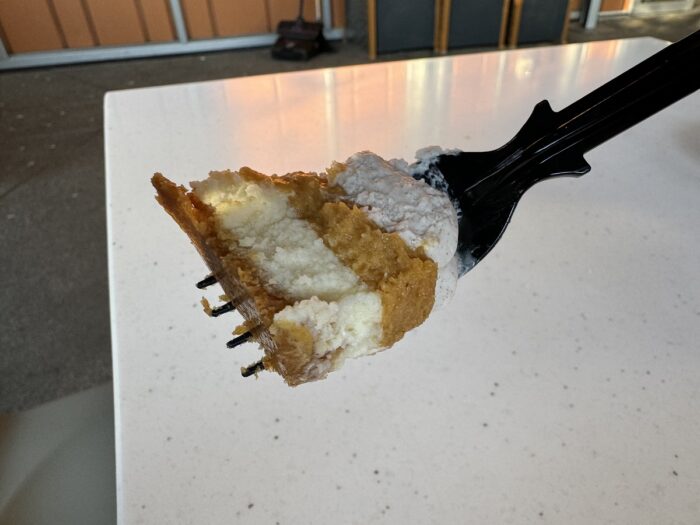 And here's a look at the layers. It's split pretty evenly between the cheesecake, pumpkin, and spiced chantilly.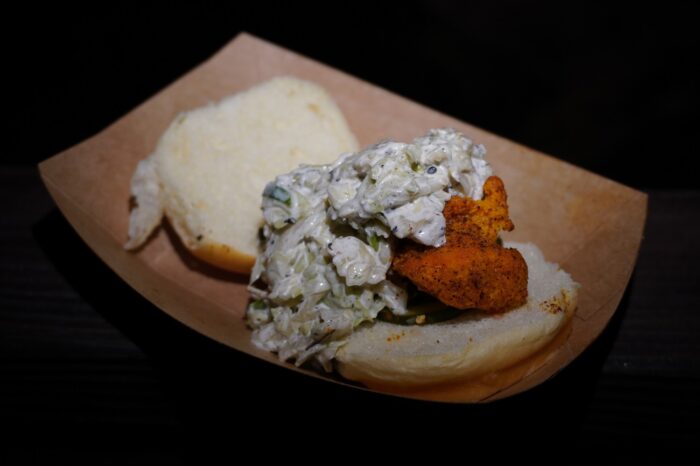 Togarashi Karaage Chicken Slider – Winter Sliderland – $9.00
This slider gives you a delicious combination of lightly fried karaage chicken along with the furikake mayo slaw. It's also served on a Hawaiian roll, which is always a plus.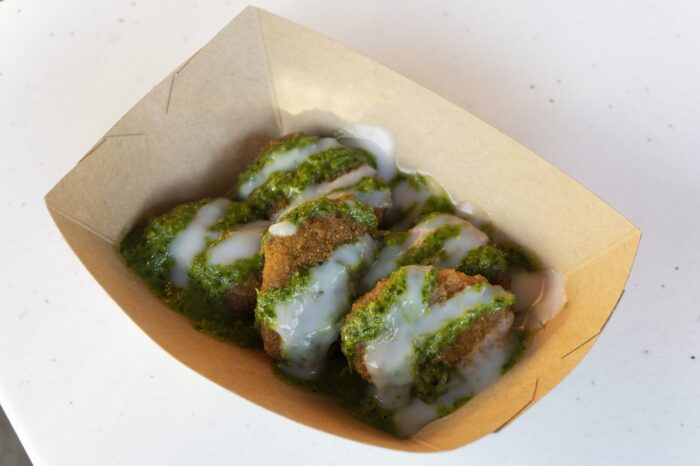 One to avoid: Impossible Chicken Curry Bites with Lemon Raita and Coriander Chutney -Making Spirits Bright – $7.50
It's not that the Chicken Curry Bites are outright bad, it's that they're very bland. If I had to compare them I'd say they are a step below Wendy's chicken nuggets. There are much better items available so I recommend you avoid this one.
If you want to try multiple items you should definitely consider getting the Sip and Savor Pass, which is available at multiple kiosks and shops throughout the park. It allows you to pay one price, and then try eight items of your choosing. The DCA Festival of Holidays Sip and Savor Pass is $59 (or $54 if you're a Magic Key holder). Remember to use the pass on high-value items, not the cheaper desserts. If you use your pass to get eight items that cost $9 each, the total if you paid cash would be $72. But if you use your Sip and Savor pass to get eight desserts that cost $6.50 each, your total in cash would be $52. Be sure to do the math on what you want to buy to make sure the Sip and Savor Pass is a good value for you.
Plan your holiday 2023 Disneyland Resort holiday trip with us! Check out our Disneyland Crowd Calendar, which rates every day of the year on a scale of 1 to 10 so you can see how busy Disneyland and DCA will be during your visit. Also check out our Disneyland Touring Plans which show you how to beat the crowds and spend less time in line at your favorite rides. We can even book your vacation for you. Our agents are the best in the world and they're ready and waiting to help you plan your perfect Disneyland trip. Click here to get a quote!
Leave a comment below and let us know what you think about our list of the best Festival of Holidays Food Items at Disney California Adventure.