My 10 Favorite Things About the Galactic Starcruiser
I was on the fourth paid "sailing" of the Galactic Starcruiser a couple of weeks ago, and spoiler alert, I cannot say enough good things about it (and yes, in case you are interested, I paid the normal rack rate for my trip)!  When I disembarked, Len Testa texted me to see what my favorite parts were.  When I thought about it, that was a hard question!  I loved so many things!  I decided to really think it through, and share my favorites with you.  If you aren't familiar with my normal blog posts, I'm a long-time cruise lover.  I love cruises of all shapes and sizes.  Ocean, river, short, long, etc.  So how about…space?  I'm a family with deep space ties, so a space cruise does have obvious appeal as well.  Read on to see what aspects were huge hits for me!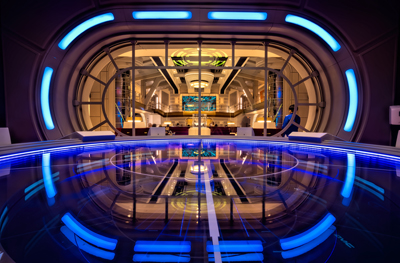 1. The Cast Members – This experience makes the word "cast" incredibly appropriate. These cast members were so much more than a talented employee who brought you dinner with a smile, who helped you when you had a question, who showed you to your room, or who picked up your luggage. They did all those things, to be sure, but that's not all!  They were also full-on improv actors.  They committed to their roles, and could adjust to seemingly every situation as it unfolded around them.  They made personal connections with the guests, and seemed to have a bottomless memory of names, backstories, and preferences.  These cast members make this experience what it is, and they are top tier!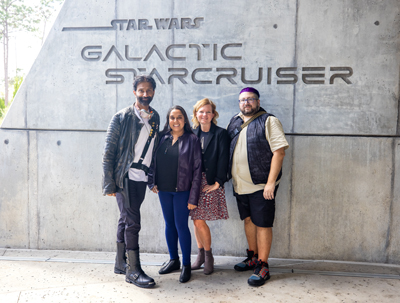 2. The Guests – The Halcyon has 100 cabins, and I daresay that is the correct number. It never really felt overly crowded, and it was small enough to feel intimate. Being on the ship for two nights with the same people enabled us to make new friends and encounter them several times during the trip.  All of the guests seemed excited, and helpful to each other.  We were together, having an incredible shared experience like most of us had never had before, and there were many times I felt that bond.  For example, I was standing at a pile of crates in a corridor, actually just deciding if it was too dark for a picture, when a child of about 10 came over and asked if he could help me find something on them.  He showed me how to use something on my datapad, and then went on his way!  That wasn't the first, or the last, time something like that happened.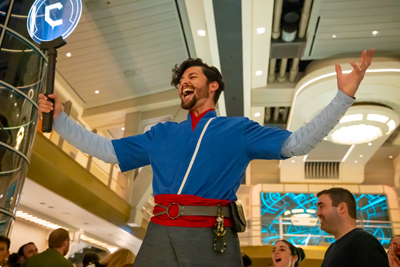 3. Dressing Up – LARPing (Live Action Role Playing)! It's a thing! A thing I had never heard of before in my life.  Let me preface this by saying, I am not a cosplayer, nor a costume wearer in any part of my life.  Since childhood, I have maybe dressed up for Halloween 3 or 4 times, but that's it!  I assumed from the get go that our group would be wearing clothes from our "home planet."  When my roommate for the Starcruiser trip sent me pictures of her beautiful outfits, and told me the other two members of our party were also working on theirs, I was not prepared!  But I am also not a party pooper.  So, I got to work, and found some stuff!  And I did not regret it one bit.  It really helped to get into the spirit of the entire thing.  Now everyone was certainly not dressed up.  And if dressing up would make you uncomfortable and detract from your experience, then don't!  But if you are on the fence, go for it.  Many, many guests are dressed up, and almost everyone dressed up at least once.  You will not feel out of place!  It doesn't have to be an elaborate costume either.  My outfits were not elaborate at all!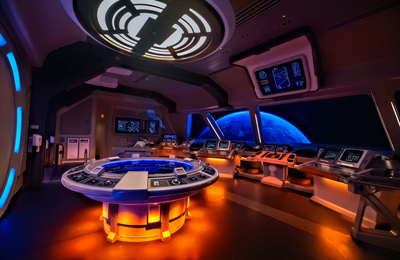 4. How Truly Immersive it Was – This was the immersive experience I didn't know I was looking for! I have never experienced anything so completely immersive. When we boarded that transport and walked inside the Halcyon, I very quickly felt like we were inside a starship.  At some point, I completely and totally forgot we were actually in what appeared to be a very non-descript building hidden near Disney Hollywood Studios.  Everything around us felt like a starship in space, from the people to the actual structure.  The first night we spent an embarrassing amount of time trying to figure out how to turn off the data pad on the wall in our room before we realized it was – just a television.  Who expected a television on a Starcruiser?  Not us apparently!  At one point, something was happening on the ship, and someone yelled at the crowd (#intentionallyvague) something like – "You're in trouble!"  like 10 guests yelled back, "No YOU'RE in trouble!!"  This was how into it everyone was.  This full immersion may be my most lasting impression of this experience.  I was at a theme park shortly getting off the Starcruiser and the preshow warned us how immersive the show we were about to watch was, and I actually scoffed in my head.  Immersion has a whole new meaning for me now.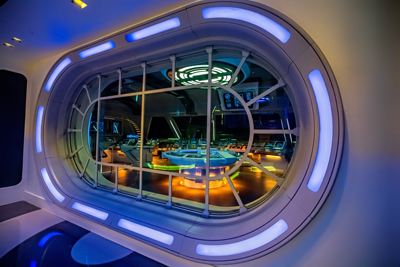 5. The Ship Itself – This was no utilitarian Corellian freighter we were on. This was a luxurious spaceship, meant to carry passengers. Our room was great, not huge, very reminiscent of the size of a nice ocean cruise room.  I know, I know, the pictures look small.  It's really not!  The bathroom was large, the shower exceptionally so.  The bed was comfortable, and the bunk beds were adorable.  There were ample plugs, a fridge, a vanity, even a digital logistics droid to help us with any difficulties!  There was a large window in the room, which looked out into space.  The main areas of the Starcruiser ranged from good to spectacular.  The atrium was large and beautiful.  The bridge was firmly in that spectacular category!  It was one of my favorite places, and I was thrilled to find it frequently empty so I could take pictures.  The bridge windows also coordinated with the window in our room.  At one point the bridge announced we were surrounded by tie-fighters.  I looked out the window in our room and said, "I don't see any tie fighters!" and two seconds later – tie fighters.  The dining room was great, the subspace lounge felt small, but was probably the perfect size.  It felt intimate, and we found seats whenever we wanted them.  Even the gift shop fit right in!  This ship was very well thought out.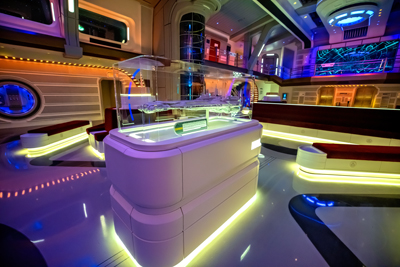 6. Its Appeal to All Levels of Fandom – Several months ago, I heard one of the Imagineers in charge of the Starcruiser say they knew they had to appeal to both lifelong Star Wars fans and people who were simply WITH lifelong Star Wars fans. I thought they did just that. There were several cruise-like activities for those not running around on missions, or even those who wanted a break from missions.  There was a dance class, as well as variations on other traditional cruise classics like bingo, Match your Mate, and even a fashion show.  There was shopping to do, exploring to do, pictures to take, cast members to interact with, etc.  I am confident that even if I wasn't a Star Wars fan (which I am!), I would never have been bored!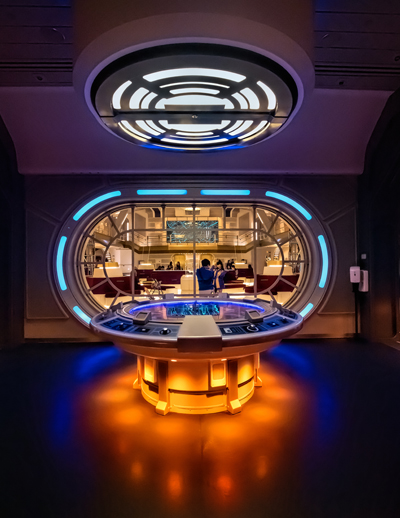 7. Batuu Excursion – I've been to Batuu before. Like – a lot. While it's always good to get a ride on Rise of the Resistance, I didn't think going to Batuu would be that big of a deal.  I was wrong!  We had a great time in Batuu!  We did Batuu in a whole different way than I have ever done Batuu before.  We got to ride both big rides, and we had special things to do and look for on each one (these were some of the missions I mentioned previously).  We went to Oga's and we ate at Docking Bay 7, and in both places we were treated differently by the cast members when they noticed our Halcyon pins.  Differently in a good way.  A manager at Docking Bay 7 wouldn't let us keep looking for seats on our own, he insisted on helping us.  When a cast member saw us searching for some items near the Droid Depot, he asked what we were looking for.  We showed him and he smiled and wished us well, but assured us he could not give away any secrets.  When we passed by the entrance to our transport back to the ship at some point during the morning, they offered us ice cold water bottles to fuel our missions on such a hot day.  It was also fun to run into other guests with the Halcyon pins, and stop to chat about how their missions were going, or share tips when appropriate.
8. The Food – The food onboard was excellent. And plentiful! The dining room was open for all meals, with breakfast and lunch set up as buffets, and dinner a sit down, extravagant, family-style meal.  There were snacks available in the lounge, and for many hours in the atrium.  In the mornings there were also grab and go boxes available in the lounge.  We never paid for food onboard, the only upcharge in that department was alcohol.  Breakfast had some familiar offerings with a space twist.  Of course, we wouldn't be eating Mickey waffles in space, so we had delicious Chandrila logo waffles!  When we requested POG juice, we were told they have heard how earthlings are partial to POG, and brought us several glasses of it.  Blue and green milk were on tap all day, you could help yourself when you wanted it.  Coke Zero was also on tap, which made this Coke Zero lover very happy.  And if you're a picky eater, or worried about all those pictures of blue shrimp (actual, florescent, blue shrimp) at dinner, don't worry!  There were always kid menus with Earth favorites like chicken strips and hamburgers.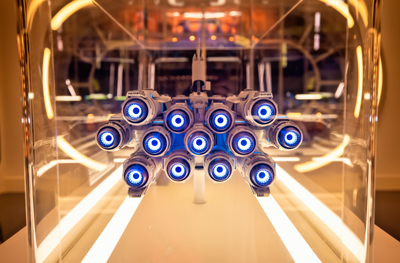 9. It Felt Like an Actual Cruise – Of course I loved how much this felt like a cruise. It really did. There was a muster drill on our first day, just like we would experience on an ocean cruise.  Well, mostly just like it, but I won't spoil anything.  As I mentioned above, there was food round the clock, just like an ocean cruise.  We did a land excursion at a designated time, just like we would on an ocean cruise.  On the last night, we were given instructions for placing our luggage outside our doors, just like on an ocean cruise.  With one very nice difference in that we didn't put them out until the morning, and when we disembarked the Halcyon back on Earth, our luggage was preloaded in our cars.  Brilliant!  This was another case where I was so immersed, I forgot where I actually was.  While drying my hair on the last morning, I actually thought to myself that I should take my phone off airplane mode now that we were back, just like I would on the last morning of an ocean cruise.  Then I remembered that I'm a dingbat and was never actually in airplane mode, because we didn't actually go to space…
10. The Surprises – I had seen some pictures from the media previews, and I'd read some reviews and posts, so I thought I had a pretty good idea of what was happening when I went in. I can assure you, I did not. I was not prepared for how often something surprised me.  And I absolutely loved it!
I fully recognize that at this price point, this experience is not for everyone.  I would, however, like to add my voice to those who are walking away saying if you can swing it, do it.  It's unlike anything I've ever done at Disney before, and very much like something I hope to do again one day.
Tammy Whiting is the owner of Storybook Destinations.