You Need A Disneyland Corn Dog Right Now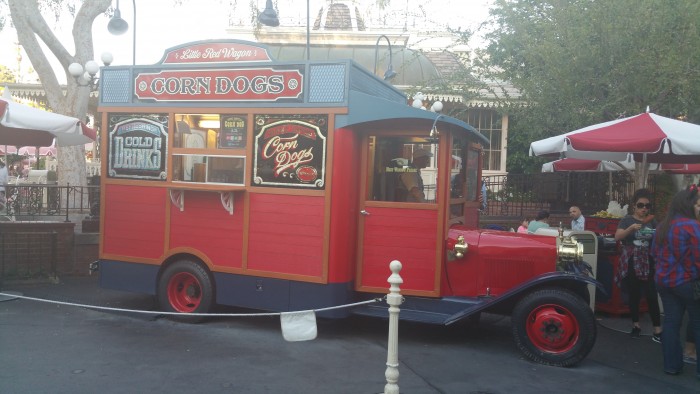 OK, so let me tell you all a little story. I happened to be in Los Angeles recently for work. I live in St. Louis, and one thing I've come to learn is that unless you wrap up your business on the west coast really early in the day, you're basically spending the evening out west because the flights home get in unacceptably late. On the up side, one thing you can do when you're in the Los Angeles area with nothing to do is go visit Disneyland, and that, my friends, is exactly what I decided to do on this last trip.

Unfortunately, the park was set to close at 9:00 p.m., so I was going to have to pack the entirety of my visit into 5 hours. So, with this limited time schedule, what do you think I did the very first thing upon entering the park? Splash Mountain? Big Thunder? Haunted Mansion? Nope, I made a beeline to the Little Red Wagon to get a corn dog. Do you know what I did right before leaving Disneyland for the day? I went by the Little Red Wagon and had another corn dog. Do you know why? It is because the Little Red Wagon corn dog at Disneyland is the single best food item on planet Earth, period, full stop. Allow me to elaborate after the jump.

Right now, you're probably saying "Hey, I've had a corn dog before, and I was just OK with it."  Let me tell you this, you might THINK you've had a corn dog before, and perhaps in your own little way you have, but until you have had one from the Little Red Wagon, you haven't really had a proper corn dog. Every item masquerading as a corn dog that you've ingested up until now has just been preparation for this moment.  It's time to join the adults at the big table.
Still, though, I can almost hear you thinking, "This is just a hot dog on a stick, that is battered in cornmeal and fried, right? How could that be special?" Well, first of all, this is not a hot dog battered in cornmeal, it is a hot dog enveloped in an assertive yet gentle sweet cornmeal-flavored hug. The batter, while thicker by several degrees of magnitude than a traditional corn dog, is nevertheless shockingly light and fluffy. There's a nice crispiness to the exterior, but the inside is as soft and kind to your palette as you could ever hope for. It is a delicious, elevated version of a pedestrian classic. It's so good, the last bite is a totally bittersweet moment because, you know, no more corn dog.  
Why is it so much better than a regular corn dog? I would be lying if I told you I knew, but man oh man are they ever better. Ray actually posted on this very topic last year and I'd encourage you to take a look at his article when you get the chance. Disney insists that they don't do anything special to them, but I am pretty sure there is a liberal dose of pixie dust and Disney magic in the batter.
Here are the nuts and bolts: you can get a corn dog and a bag of chips or some apple slices for $8.75, and while they don't advertise it, you can get the corn dog a la carte for $6.50.  There are no other entrees on the menu, which makes sense, because why offer people options when the very best thing you could possibly eat is being offered?  In the interest of full disclosure, I have not tried what I understand to be basically the same corn dogs (among other menu items) at Stage Door Cafe in Frontierland or Corn Dog Castle at Disney's California Adventure because I would prefer to go with the tried and true original. My duty as a researcher would probably dictate that I give them a whirl at some point but right now, I don't make it out west often enough to chance it.  
As I was waiting for my first corn dog of the day, the guy in front of me picked his up and noted, "Oh, it's not very hot."  I became a bit worried. "Uh oh, what if mine isn't very hot, either?" Well, I'll tell you this: it was NOT as hot as I would like, and it was STILL probably eleventy billion times better than every non-Disneyland corn dog I've ever had. You know what else? The guy who made that comment, that as far as I know didn't even know I heard him, nudged me as we were throwing our trash away at the same time and offered the totally unsolicited review that, "That was easily the best corn dog I've ever had."  He probably figured I would be a safe person to confide in because he saw me sobbing with joy while I was eating mine.  In hindsight, I probably should have taken that somewhere more private, but hey, small price to pay for eating a Little Red Wagon corn dog at its maximum freshness.  Apologies to anyone troubled by what in fairness was probably a pretty pathetic display.
In closing, stop what you're doing right now, book the next flight to Southern California, get yourself to Disneyland, and get a corn dog.  Even if you just eat the corn dog and go home, it will have been a successful trip. Here's a link to get you going. You're welcome.