NEW – Baby Tuk Tuk Mousse Is One of the Best Specialty Desserts We've Ever Had
We try out a lot of specialty desserts throughout the year. We've had some good ones and not-so-good ones. Available now is a great one — the Baby Tuk Tuk Mousse available at Animal Kingdom is one of the best seasonal treats I've ever had.
In honor of Raya and The Last Dragon, the forthcoming Disney animated movie, there are a few enhancements at Disney's Animal Kingdom. In addition to this mousse, there are two ice cream treats themed after Baby Tuk Tuk, one in Asia, and another in Dinoland. This Baby Tuk Tuk Mousse is served at Isle of Java, a coffee and beverage stand at the edge of Discovery Island, just before Dinoland U.S.A. No mobile ordering is offered at this location.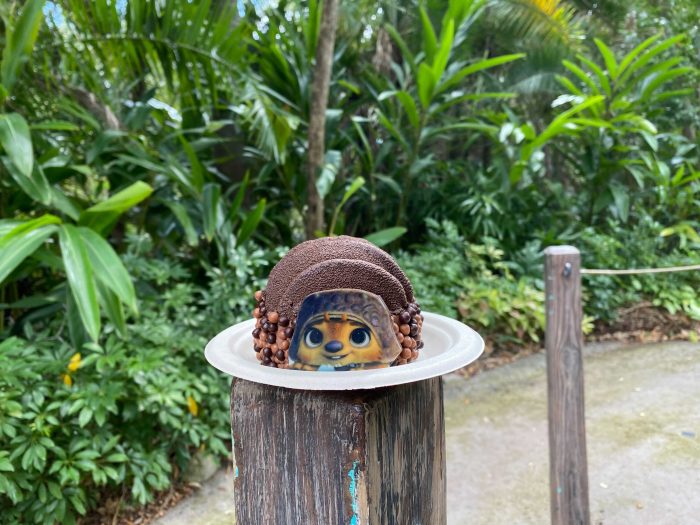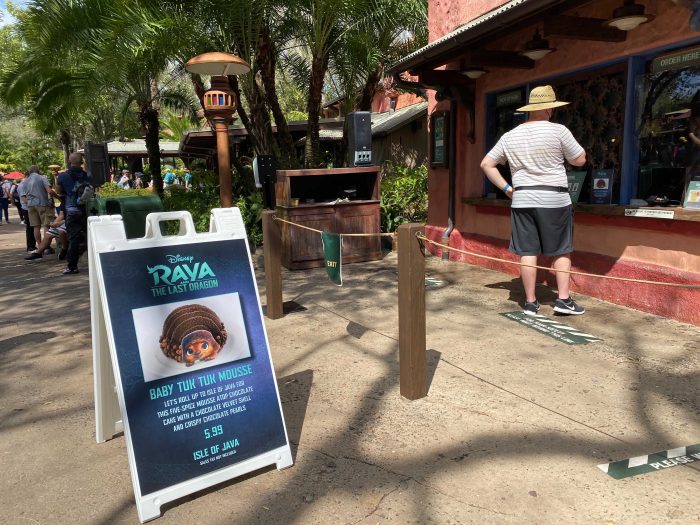 This mousse is massive compared to other mousse dessert domes served at Walt Disney World. It is described as Fire Spice Mousse Atop Chocolate Cake with a Chocolate Velvet Shell and Crispy Chocolate Pearls. It is $5.99 which is the price of many specialty desserts and cupcakes at Disney World.
When I picked this mousse up from the window the expression on my face must have been priceless. This cute, cuddly looking dessert was heavy! I admired the attention to detail on this dessert before digging in.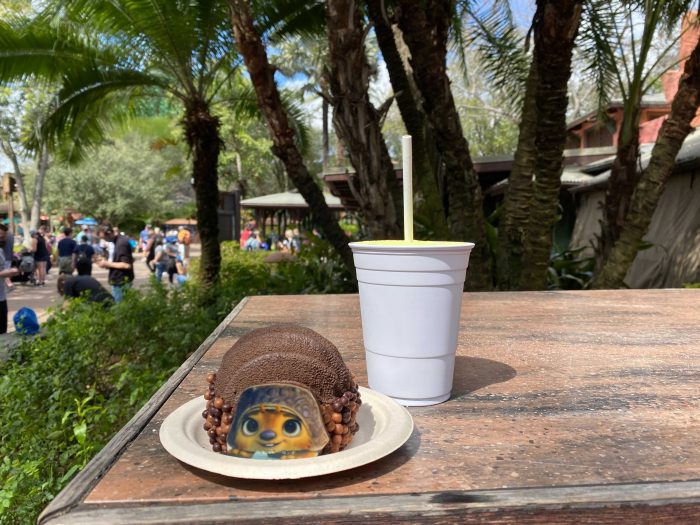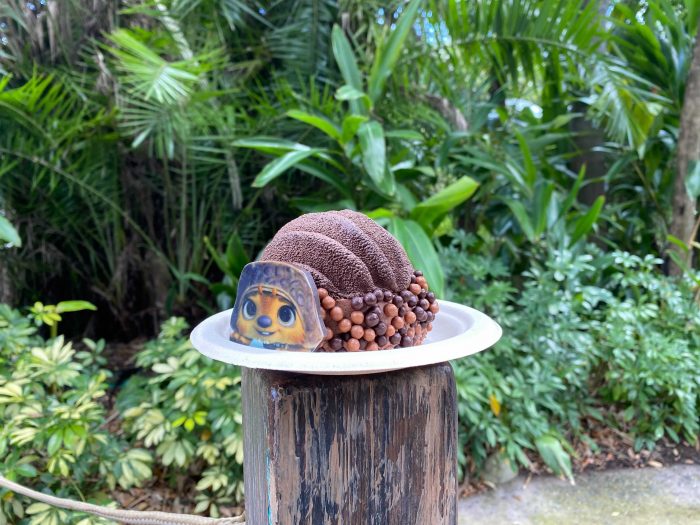 Nothing beats that first bite. Rich, decadent, and yet a bit airy thanks to the mousse's texture, the first bite was quickly followed by another. Then another, and another. I am not a big chocolate fan, but this was delightful. Not only was the mousse itself a wonderful flavor and texture, but the cake beneath it was rich, and not dry. The chocolate velvet shell was delicate, adding a crowning touch. And the base with the chocolate crispy pearls was reminiscent of thick chocolate frosting.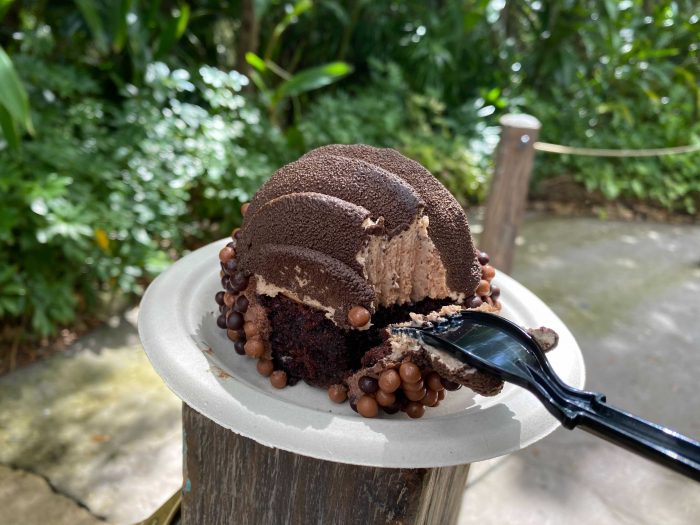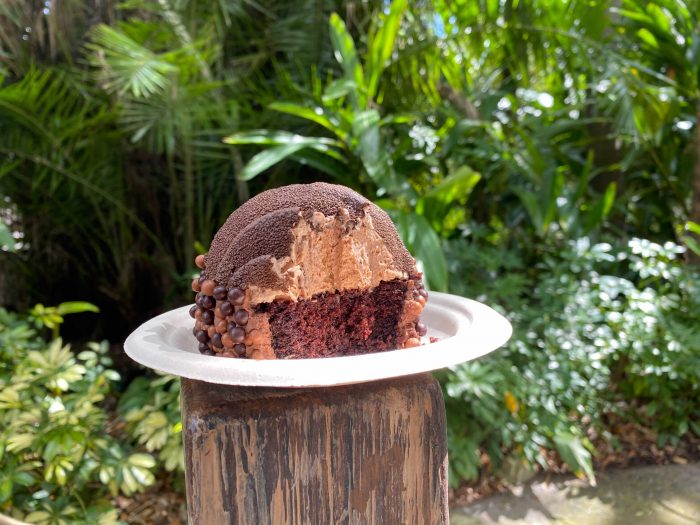 As a note, the description says it is Five Spice Mousse, but I did not get much spice at all.
The serving is pretty generous and a good value. This could easily be shared among two people, or even three. I try not to be easily impressed, but the Baby Tuk Tuk Mousse exceeded my expectations. And who doesn't love a dessert that sounds like you're saying duck, duck goose when you order it?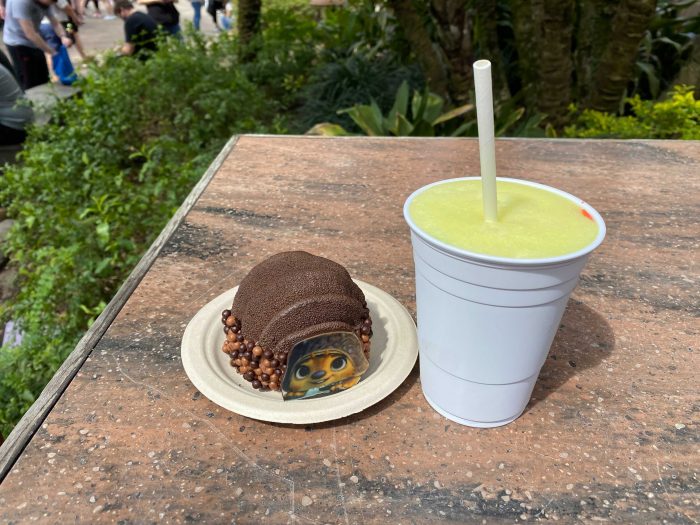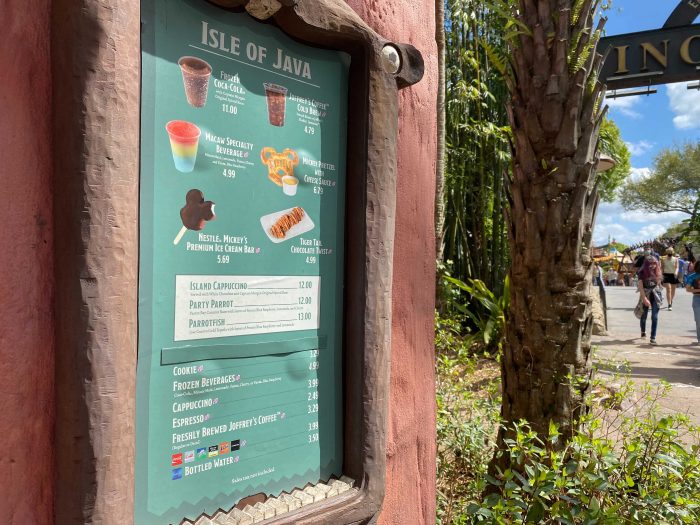 As an aside, I ordered the Macaw Specialty Drink which is layers of frozen lemonade, blue raspberry, and cherry. It's colorful and flavorful and I figured it would satisfy my son who loves lemonade. It was pretty disappointing that this pretty layered drink was covered up in a white cup. This frozen slush is $4.99 and is available as the "Party Parrot" with Parrot Bay Rum for $12.00.
If you're going for the Baby Tuk Tuk Mousse, which you should, consider pairing it with a coffee. The pair would make for a powerful pick-me-up.
Have you stopped at Isle of Java for a snack or drink before? How was it? Let us know in the comments!