Disney World Basics: Ten Tips for Traveling with a Baby
Given that Walt Disney World is a premier vacation destination for young families, it's not surprising that many visitors are traveling with a baby in their party. Here are ten things that can help you plan your visit with a little one.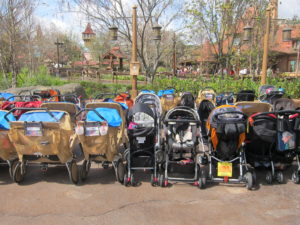 1. Babies don't need tickets. Children under the age of three are admitted into the Walt Disney World theme parks free of charge. You don't need to buy them any sort of ticket or pass for entry.
2. You don't need park reservations for babies. While most guests need reservations to enter the Disney World theme parks, babies don't. (Note: This point is related to #1, above. In order to make a park reservations, you need a ticket. If you don't have a ticket, you can't make a park reservation.)
3. You can go over a WDW hotel's stated room capacity if one of the guests is a baby. All Walt Disney World resort hotel rooms have a stated maximum guest capacity. In most standard WDW rooms, the capacity is either four or five guests (in suites or multi-room Disney Vacation Club villas, the capacity may be higher). However, the actual room capacity is the stated capacity PLUS a child under the age of three sleeping in a Pack n' Play crib. These cribs are available for use free of charge at all Walt Disney World hotels.
4. You can breastfeed your baby anywhere at Walt Disney World. Feel free to breastfeed your baby anywhere you feel comfortable at Walt Disney World. Florida Public Health Law 383.015 states: A mother may breastfeed her baby in any location, public or private, where the mother is otherwise authorized to be, irrespective of whether the nipple of the mother's breast is uncovered during or incidental to the breastfeeding. See our full post on this topic for more details.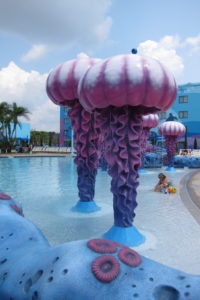 5. You should include your baby in your head count when making dining reservations. When making dining reservations at Walt Disney World table service restaurants, you should include your baby in the head count, even if they won't be eating the food at the restaurant. This helps the restaurant keep within its fire code capacity limits and ensures that you will be seated at a table that can accommodate your entire party. See our full post for more tips on Disney dining with babies.
6. You'll need a stroller. Even if you don't typically use a stroller at home, you'll almost certainly want to use one at Walt Disney World. Here are some thoughts on stroller rental agencies, stroller parking, and a general stroller FAQ.
7. Your baby can go on most rides with you. Many Walt Disney World attractions have no height requirement. Babies and toddlers are welcome to accompany you on any of these rides. Check here for a list of attractions that do have height requirements.
8. Disney contracts with babysitting services that can watch your child or help you in the parks. Babysitting is available at Walt Disney World via a service called Kids Nite Out. They can watch your child while the adults in your party go out for a nice dinner. Kids Nite Out can also provide you with a sitter to accompany you in the parks if you need an extra set of hands.
9. Each WDW theme park has a Baby Care Center to assist you. The Baby Care Centers are an air conditioned oasis in each of the Disney theme parks especially designed for families with young children or special needs children. They have changing tables, feeding rooms, bottle prep equipment, and toddler-sized toilets. And they're free for any theme park guest to use.
10. Babies are allowed in the Disney World pools. Every Walt Disney World hotel has some sort of water accommodation for babies and toddlers. Depending on the hotel, this might be a dedicated kiddie pool, a zero-entry shallow end, or an interactive water play area. Little ones are welcome to enjoy these areas, or to join you in the primary pools, but they will need to wear a swim diaper in the water until they are fully potty trained.
Have you traveled with a baby or toddler to Walt Disney World before? What are your tips?