Three New Dessert Stops Announced for Disney Springs
I am a huge dessert fanatic and it looks like I am going to have to make a trip to Disney Springs on my next visit as there are going to be three new sweet stop offerings added to the shopping and dining district.
The first addition might be the one I'm most excited about. Opening later this month will be a food truck called Cookie Dough and Everything Sweet. That's right! You're going to be able to get a variety of edible cookie dough options in really unique ways! This truck will be located on the West Side of Disney Sprigngs across from Candy Cauldron. Cookie dough options will include:
Springs Candy Taco – Candy Monster Cookie Dough, chocolate sauce, whipped cream, sprinkles, and a cherry served in a waffle taco
Minnie Mouse Taco – Peanut Butter Fluff Cookie Dough, caramel sauce, whipped cream, a cherry, and a chocolate Minnie bow served in a waffle taco
Celebration Parfait – Celebration Cookie Dough with Celebration Mickey cake, vanilla custard, strawberries, whipped cream, and a cherry
Mickey or Minnie Funnel Cake – funnel cake topped with powdered sugar and Mickey or Minnie-shaped cookie dough
Cookie Dough Cup or Cone – Flavors include Chocolate Chip, Peanut Butter Fluff, Celebration, Cookies and Cream, Candy Monster, and Cold Brew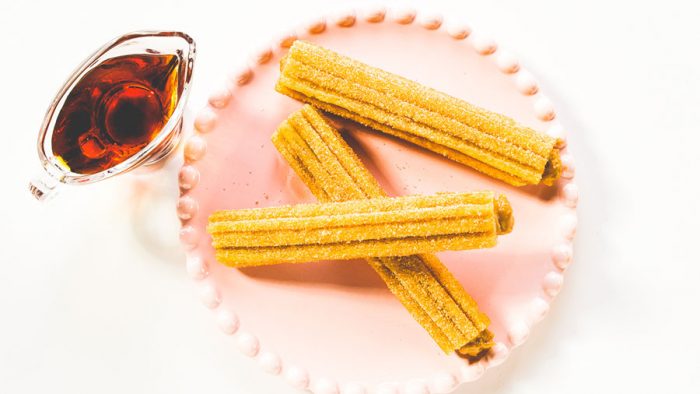 If you like churros, you'll want to hit up the Sunshine Churro carts which will be found on both the Marketplace side and on the West Side of Disney Springs. These carts will serve up a variety of classic and gourmet churros including watermelon, salted caramel, strawberry cheesecake, fruity cereal, and cookies and cream. There will also be milk chocolate or chocolate-hazelnut spread for dipping. Sunshine Churro will also be opening later this month.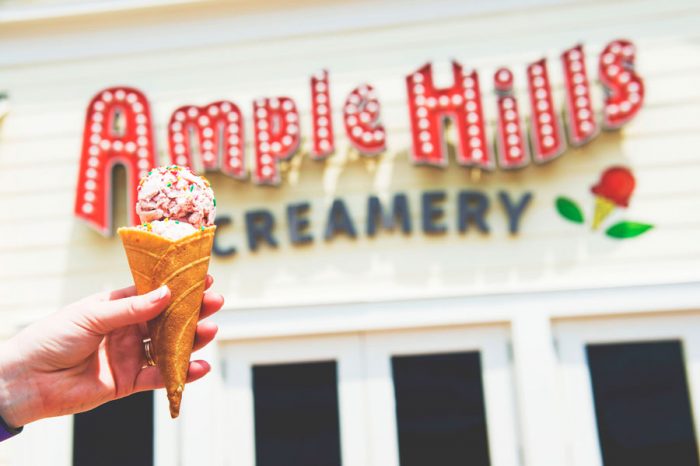 Now, if it wasn't for the edible cookie dough….this would be the thing I was most excited about. Ample Hills Creamery, which is currently found at Disney's BoardWalk, is expanding to Disney Springs! Located on the West Side, the ice cream shop will offer their popular handcrafted ice cream and mix-ins (like brownie bites, oatmeal lace cookies and butter pecan brittle….but for me, it's all about the gooey butter cake.) There was no date announced for when Ample Hills will be opening.
Which of these new snack options are you going to try first on your next visit to Disney Springs?