New Stroller Stands at Orlando International Airport
If you've got little ones that require a stroller, you were probably aware of the recent changes to the third-party stroller rental policy on Walt Disney World property. This Wednesday, January 8, 2020, brings another change to the process. Now that popular stroller rental companies Kingdom Strollers and Orlando Stroller Rentals can no longer leave rental strollers with Walt Disney World Resort bell stands, they will be offering pick-up locations at the Orlando International Airport (MCO). We decided to check out both locations in person to see exactly what our subscribers would be dealing with to secure a stroller.
Locations
First of all, neither company has an independent kiosk or signage as of the date of this article.
Orlando Stroller Rentals leaves their strollers with the Hold My Luggage desk in Terminal B and is currently operational. They are located on the opposite end of the concourse walkway from the Disney's Magical Express check-in desk and loading area. It's a 4 minute walk from their counter to the DME desk, assuming you don't first stop at the Starbucks on your way. (For our long-time Liners, the Starbucks is about a minute and a half walk from the rental desk and doesn't take you off path.)
I observed a few rental transactions and they each seemed rapid and without fuss. The strollers are tagged and stacked behind the counter. During my observation, it appeared that the process to hold your luggage was far lengthier than picking up a reserved stroller.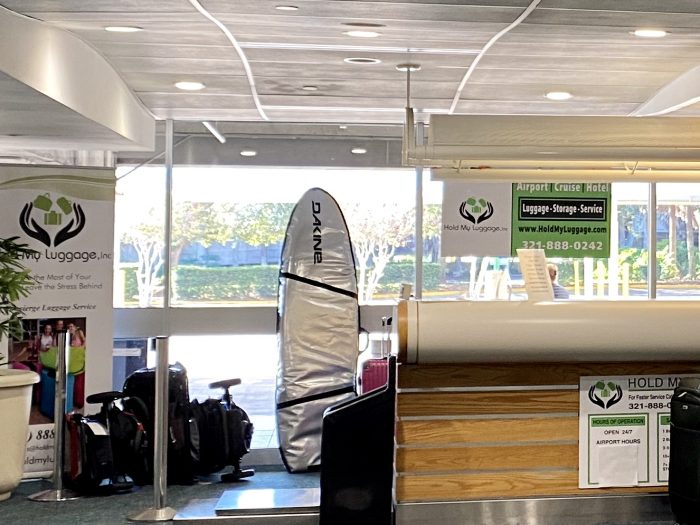 Kingdom Stroller Rentals will be leaving their strollers with the Wrap N' Fly desk in Terminal A, just steps from the USO welcome lounge at the very end of the concourse walkway. I timed the walk a few times and averaged 8 minutes from the Wrap N' Fly desk where the stroller rentals will be managed to the Disney's Magical Express desk. That said, I was alone and did not require all of usual snack and restroom stops necessary after a flight.
Although they do not officially open until later this week, there is no signage for Kingdom Strollers at the Wrap N' Fly desk. I spoke with the attendant staffing the desk and was informed the process would be handled in the same manner as Orlando Stroller Rentals in Terminal B. Kingdom Stroller Rentals will drop reserved, tagged strollers and Wrap N' Fly will store them behind the desk until pick-up.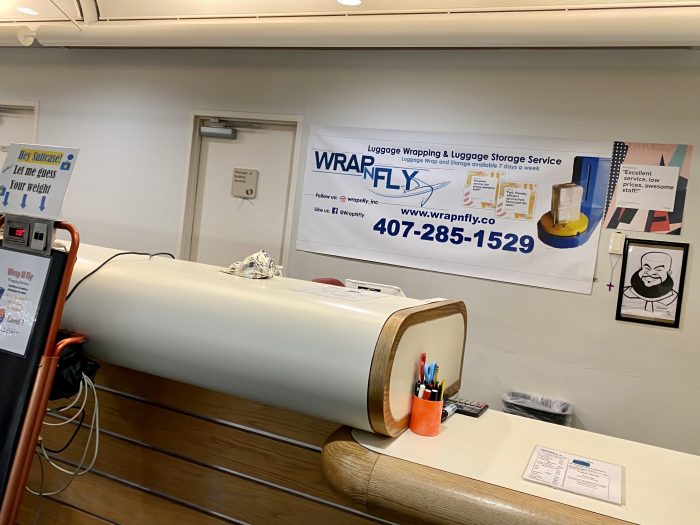 Things to Consider Before You Rent
When Things Go Wrong. As of the date of this article we are not aware of either of these companies planning a branded, solo location. This means that you will be picking up your rental from a third party who will be limited if you have issues with the product waiting for you. You will still need to contact the main vendor to resolve issues.
Lack of Planning Can Mean a Hike. If you are taking Disney's Magical Express to your resort and are planning to get your luggage yourself (as opposed to having it pre-tagged for DME to collect and deliver to your room) AND you are arriving into Terminal B (for instance, on Air Canada, American, Delta, Spirit, United, or British Airways, among others) you'll need to get to your baggage claim in Terminal B and then your stroller rental desk. If you decide to rent from Kingdom Stroller Rentals, you'll still need to get over to Terminal A to the Wrap N' Fly desk and then back over to B to the DME desk.
Consider Resort Drop. If you have the time to spare ( and you will if you have your Touring Plan!) you may opt to have your rental company meet you at your resort. As with other deliveries, it's customary (although not required) to tip the delivery person.
As always, the information in this article is accurate as of the date of the posting but can change at any time.
Have you rented a stroller from either of the companies covered in this post? What was your experience? Please comment any tips you have for others renting strollers from a third party. Thanks for sharing!