10 Things To Do With Your Custom Disney Droid
Have you joined the droid revolution yet?  I have to tell you, when I heard about the experience, I was all in.  Until I heard they were $100, and I remembered I am a grown woman.  There was no way I was going to pay that much for a droid, right?!?!  But then I saw them.  And I was immediately sucked back in!  I purchased, built, and THEN told my husband on the phone who said I was crazy.  Until he saw my new favorite thing–my droid!  And he was sucked in.  They are irresistible I tell you.  Resist them you cannot!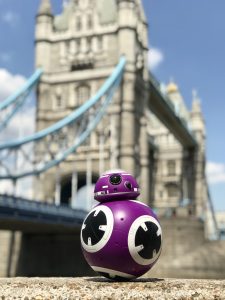 You can build your own droid at the Droid Depot in Galaxy's Edge at either Disney Hollywood Studios in Florida, or Disneyland in California.  There are two models of droids to pick from, R2 (or R4) units or BB units (both $100).  Once you've decided which model you want, there are several colors and slight variations in styles to choose from.  You stand by the conveyor belt of pieces going by in the Droid Depot, and then pick your ideal combination.  Finally, you assemble and activate your droid!
So now that we had this adorable droid, and no children to play with him seeing as we are empty nesters, what to do with him?  SO MANY THINGS.  Here are 10 of them!
1. Name Him (or Her) – First and foremost, give that droid a name. I recommend picking something with personal meaning to you, but plays on names and words are fun too. I've seen some amazingly creative droid names out there.  My droid's name is SD-14 (for non-Star Wars people, that's pronounced S-D-1-4) which has meaning to me.  I came up with it while standing in line on opening day at Disneyland, and I realized I should probably have a name!  I am always surprised at how many people, cast members especially, ask me what his name is!  When you have something this cute, it needs a name!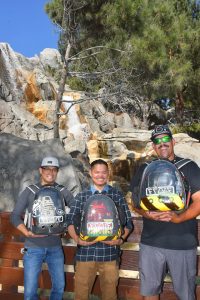 2. Connect with Other Droid Builders – There are some great droid groups on Facebook where you can connect with other droid builders. Galaxy's Edge – Mubo's Droid Builders Group has over 1000 members, all sharing pictures, tips and discussing anything droid related. It's a super welcoming and friendly community.
3. Paint Your Droid – I bought SD-14 because he's adorable, and because as soon as I saw the purple, I wanted a purple droid. So I have no intention of painting him! But take one look at Mubo's group, and you will see how creative people are. People are spending a lot of time painting their droids, and the results are amazing.  Some droids are just weathered, some are patterned after something else (like Buzz Lightyear, Boba Fett, Rey, Rescue Rangers, etc.), and some are entirely original creations. Creativity is strong with this DIY group.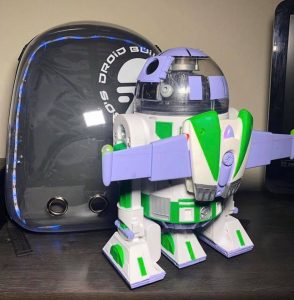 4. Accessorize Your Droid – Disney sells some great customization items for droids, but I will warn you, they are mostly for the R2 units. There are personality chips available for both models, but that's about your only add-on option for the BB units. The R2 units, on the other hand, have colored panels and stickers you can add, plus some pretty fun attachments. You can also find other items that people have made and sell in Mubo's group, and on Etsy.
5. Make a Social Media Account – You may be shocked at how many Instagram accounts are out there for droids. I've got one, of course (droid_sd14), and I follow a ton of them. It's just fun to see what people are doing with their droids!
6. Dress Them Up – If you are like me and may not want to permanently alter your droid, dress them up! Yes, I made a Halloween costume for my droid, but you don't have to go to that much work! I've found that some Christmas ornaments are the perfect hat size for a BB unit.  Disney sells a few different versions of soft Mickey ears ornaments!  I poke a hole for his antenna, and voila!  Custom Mickey ears for the parks!  A Santa hat Christmas ornament from Amazon was the perfect December accessory.  And Chapel Hats in Disney Springs has some steampunk fascinators that work perfectly as a hat. (I may or may not have squealed with delight when I found them…)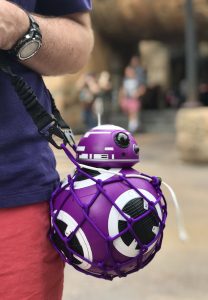 7. Find the Perfect Carrying Case – You probably aren't going to want your droid to just sit on a shelf at home, so he/she's going to need a sweet ride to travel in. Disney sells some very cute backpacks, to the tune of $50, with an opening so your droid can be secure, but still partially visible while being carried. Some creative droid owners have also come up with some other options!  Some of the Mubo's group members have modified backpack cat carriers with lights and stickers, and they look like little escape pods!  You can bet those get a lot of attention in the parks!  I was also asked to try a custom droid harness that is sold on Etsy.  My husband carried it so I could easily take pictures, and I loved it!  SD-14 gets so much attention and so many compliments when he rides in the harness!
8. Attend Droid Meet Ups – As evidenced by the size of Mubo's group, droid builders like to connect with each other. Periodically they hold meet up events on both coasts so you can do just that! The next one is January 25 on both coasts!  You can find more details in the group.  If you have ever wanted a picture of your droid surrounded by other cute droids, this is your chance!
9. Take them to Disney – I highly recommend taking your droids back to Disney. I have so much fun taking pictures of mine all over the parks. Cast members absolutely love them!  I've also had some super fun character interactions with them.  I've taken SD-14 on several cruises, but there's a caveat there.  Remote control toys (rude) are not permitted onboard.  So I take out his "guts" (i.e. the inner mechanism which makes SD-14 move) and leave that at home.  I put two beanbags inside to weight him down, and a magnet to hold his head on.  Voila!  Photo ops everywhere!  I don't have an R2 unit, but from what I understand, it's not possible to take out the electronics, so you probably can't take them onboard a cruise.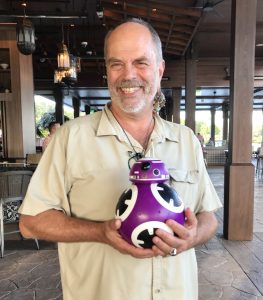 10. Travel With Them – My droid's travels don't stop at Disney. In SD-14's short 7 months of life, he has been to London, Paris, Germany, etc.  For international travel, I definitely don't take the guts, mostly because they look a bit, shall we say, suspicious.  The good news is, without the guts, he barely takes up any room since I can take him apart!  So he tags along, pops out for photos on some days, and otherwise takes long breaks in our hotel room.  The pictures are totally worth it!
*Bonus Pictures – There are too many awesome droid pictures to post here, but there's a few more pictures for you below!
Have you joined the droid revolution yet?  Are you glad you did?  Tell us in the comments!
Tammy Whiting is the owner of Storybook Destinations. Did you know Storybook Destinations offers a complimentary subscription to TouringPlans with qualified Disney and Universal bookings? Click here for a no-obligation quote on your next vacation!