Our Two Favorite Places for a Quick Breakfast at Disney's Animal Kingdom
Disney's Animal Kingdom is the best park for morning people. It opens the earliest out of all four Walt Disney World theme parks. The animal attractions at this wild park are best experienced first thing in the morning. You may want to get out the door and get to the park as quickly as possible, which might mean skipping breakfast. Thankfully, there's quite a few breakfast options at Animal Kingdom, and we have our favorites.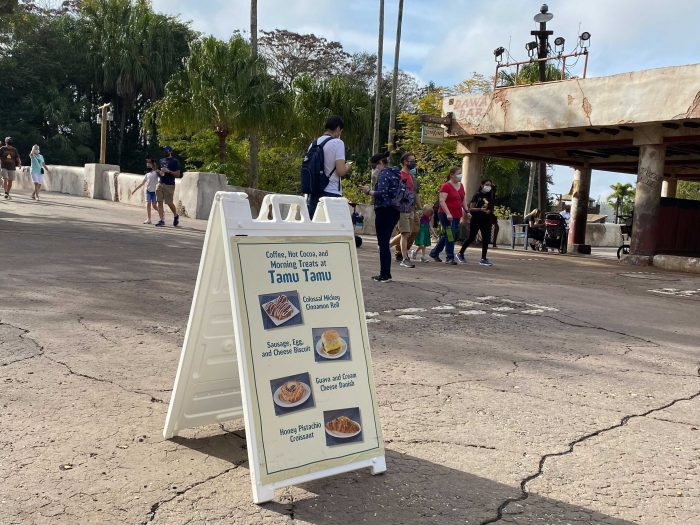 Tamu Tamu Refreshments Breakfast
Located inside Harambe Village, home of Kilimanjaro Safaris, you'll find a walk-up dining counter on the corner. Tamu Tamu Refreshments is open all day, and serves some great breakfast items. There's lots of pastries including a Guava and Cheese Pastry, a huge Mickey Cinnamon Roll, and a Honey Pistachio Croissant. Plus there is a Sausage and Egg Biscuit that is hearty and scrumptious. You can also enjoy a variety beverages including an African Coffee with Amarula Cream Liqueur.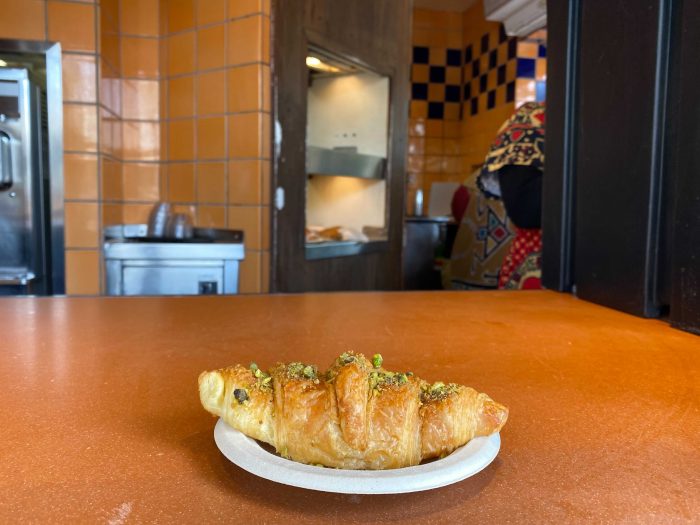 On a recent visit I treated myself to the African Coffee and the Honey Pistachio Croissant. Mobile ordering is not available at this location, but there was no line during my visit around 10:15 a.m. Dawa Bar had not opened for the day yet, making it irresistible to grab one of the tables and enjoy my little breakfast. The Honey Pistachio Croissant was not as flavorful as I had hoped. But, it was served warm and the honey and pistachio added some complexity to the croissant. It was not overly impressive, but I was satisfied with pairing it with the African Coffee, and the price wasn't awful at $3.99.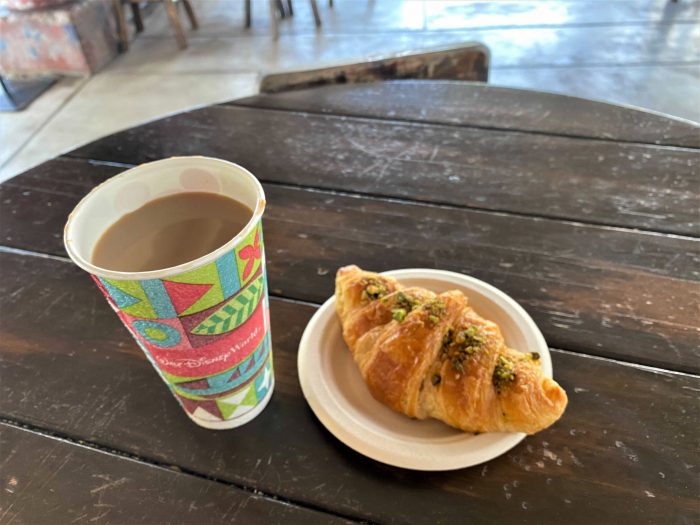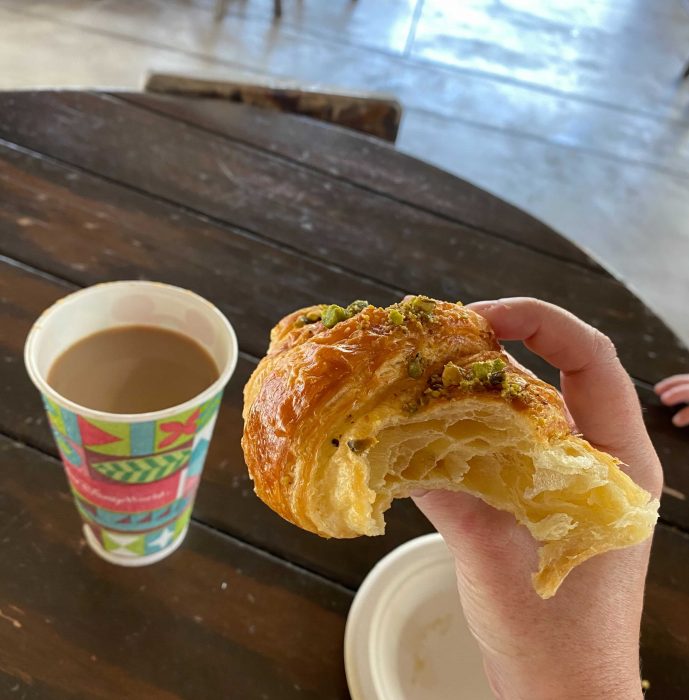 The African Coffee with Amarula Cream Liqueur made for a nice indulgence. The pour of the liqueur was just enough to lighten the coffee and add the desired flavor, without being too potent. Amarula Cream Liqueur has a nice creamy caramel and fruit flavor that is distinct, but does not overpower anything it is mixed with. For $11.00 it was a fair price and nice way to treat myself.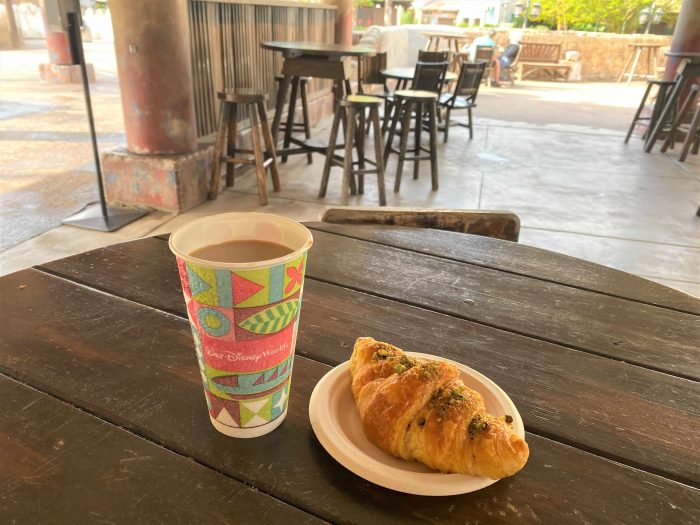 Pongo Pongo Breakfast
On the far off planet of Pandora – World of Avatar, there are a few tasty ways to start your day. Our readers have rated Pongu Pongu as the third best snack spot in all of Walt Disney World. They've also given it a 95% thumbs up rating. The star of the show is the Pineapple Cream Cheese Lumpia, but we feel their breakfast offerings are worthy of praise too.
Sausage, Egg and Cheese Biscuit – $6.99
French Toast Sticks – $6.29
Pongu Lumpia (Pineapple Cream Cheese Spring Roll) – $3.29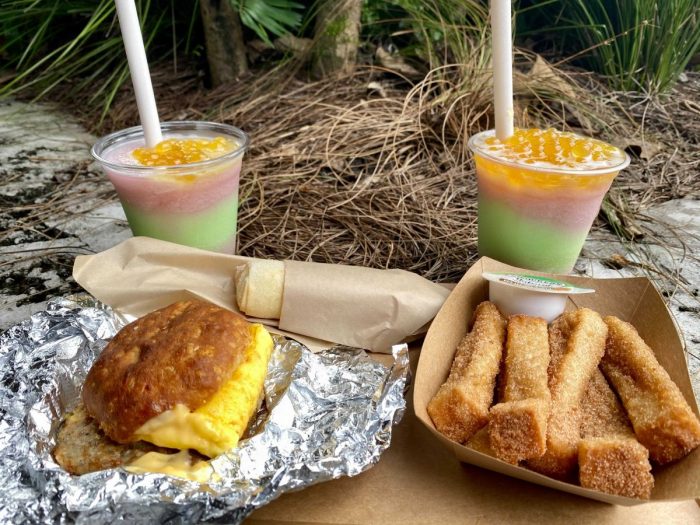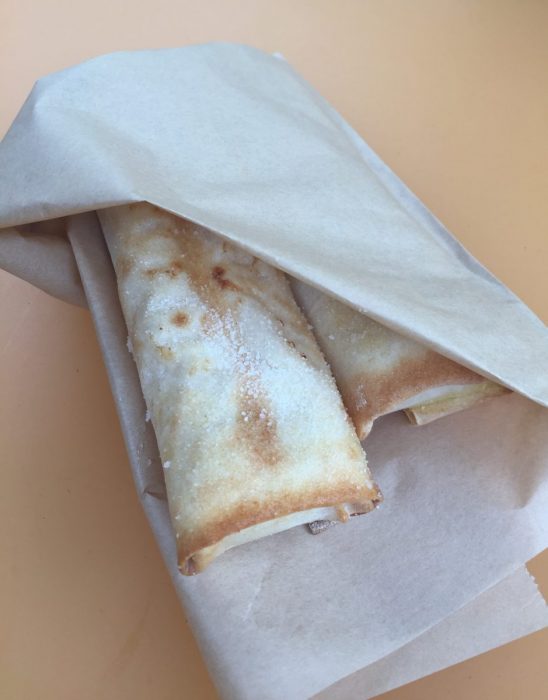 Not too long ago we published a full review on Breakfast at Pongo Pongo. It is one of our team's favorite ways to start the day. And you can pair your Pandora breakfast with the signature beverage, The Night Blossom, which is layers of Apple and Desert Pear Limeade topped with Passion Fruit Boba Balls ($5.99), or a small selection of alcoholic beverages too.
Are you a morning person? Where's your favorite spot for breakfast at Animal Kingdom?