Why Port Orleans Riverside is the Only Moderate Resort For Me
When planning a Disney World Vacation there are a number of decisions to make ranging from which FastPass+ reservations to make, what ticket option to choose, how to get there, and more. But one of the most important, if you're staying on property, is which Disney World Resort to choose.
Now as you may have guessed, the size of your budget will narrow down your options. Disney has conveniently grouped the Disney Resorts into three different categories based on price with Deluxe Resorts being the most expensive and Value Resorts being the least. Moderate Resorts fall somewhere in the middle in regards to price and consist of several popular destinations: Disney's Caribbean Beach, Coronado Springs, the Fort Wilderness Resort Cabins, Port Orleans French Quarter, and Port Orleans Riverside.
When I have a Moderate Resort level budget, my resort of choice is one that offers variety, a comfortable atmosphere, delicious dining, a great pool selection, and a convenient location; for me, Port Orleans Riverside offers all of the above and more. Read along as I explain why Port Orleans Riverside is the Only Moderate Resort for Me!
Variety
As an Annual Passholder to Walt Disney World, I like something new and different when I visit my favorite place in the world to keep visits fresh, but I wouldn't be a Passholder if I didn't like the familiar either. Port Orleans Riverside gives me both! You see, Riverside has two differently themed sections: Alligator Bayou and Magnolia Manor. The guest rooms in Alligator Bayou can be found in the more wooded areas of the resort grounds and invoke the rustic charm of the Louisiana bayous. The guest room décor consists of log furniture and earthy tones. Magnolia Manor guest rooms are housed in buildings which resemble white columned Southern mansions and can be found along the Sassagoula River. The guest room décor in this section of the resort is more refined and elegant with picturesque scenes painted on the headboards and touches of blue. Lastly, Port Orleans Riverside is also known for its special Royal Guest Rooms which are themed after Disney Royalty. They are filled with references to the Disney Princesses and their princes, as well as a few of their personal items. For example, you may find Aladdin's magic carpet under your feet or a letter from Princess Tiana on the table! While the rooms are sure to be a hit with kids, particularly the firefly and firework effects on the gorgeous headboards, they are tastefully done in royal blue and gold and with just the right amount of pixie dust. I personally love that there are three different room styles to be experienced at this single resort; and having stayed in all three, I can say that they do make each visit fresh and unique.
Atmosphere
If asked to describe Riverside and its atmosphere, I would have to say that it's casually elegant. While I love the elegance and grandeur of the Grand Floridian Resort, I can't say that I feel at home there or even that comfortable. But at Riverside, I feel both. There's the white and gold lobby with its giant paddle fans and rich Magnolia carpets, but also the cozy fireplaces at the River Roost and Boatwright's Dining Hall and the whimsical, mismatched chairs at the Riverside Mill Food Court. I also appreciate that I never feel detached from the resort and its atmosphere when staying at Riverside. Moderate Resorts — as well as Value Resorts — are known for being spread out and having guest room buildings scattered throughout the resort.
This is a source of complaint for many guests who prefer not to hike to their rooms for the night or who see more of the parking lot than the lobby or the pool. While I have had these complaints myself when staying at other Moderate Resorts, I haven't at Riverside. Even if my room is a little farther than I like, I still feel connected to the Riverside experience. After all, the grounds only contribute to the resort's laid back, picturesque feel with its gorgeous gazebos and fountains, well-lit pathways, and the old fashioned bridges over the Sassagoula River.
Dining
Of course, dining plays a huge role in why Port Orleans Riverside is the only Moderate Resort for me and I have to start with the Riverside Mill Food Court. It's my favorite food court in all of Walt Disney World for its six stations each offering delicious, crowd pleasing menus. My personal favorite? The build-your-own pasta station! I rarely get tired of eating here because there's so much to choose from and everyone in the family finds something they like here.
I'm also a fan of the Riverside Mill Food Court's size. I don't recall a single time where I haven't found an open table. The overall structure only adds to the experience because, true to its name, the cavernous food court looks like the inside of an old mill with exposed beams and machinery and the functioning water wheel just outside. Riverside's restaurant, Boatwright's Dining Hall, has a theme all its own; it's designed after a shipbuilders shop and even has the skeleton of a boat hanging overhead and tools hung on the wall. The Southern/Cajun menu may be the restaurant's biggest draw with items such as jambalaya, gumbo, catfish, crawfish, and cornbread. But I must admit, my meals here have been hit and miss throughout the last few years. That is not true, however, of the dessert menu. It never disappoints with Southern staples like pecan pie, bread pudding, and bananas Foster over angel food cake! So where else can you refuel at Riverside? Well, in addition to Muddy Rivers, the resort's poolside bar, Riverside also has a lounge next to Boatwright's Dining Hall. The River Roost is famous for Yehaa Bob, a family-friendly, cabaret performer that has become somewhat of a Riverside staple. Be sure to arrive early on nights he performs!
Pools
Every Disney World Resort offers a pool — and almost always more than one — but Port Orleans Riverside offers six pools! Yes, six. The resort's centerpiece pool, Ol' Man Island, is 3.5 acres and, in keeping with the resort's theme, features the remains of an old sawmill. It also offers a pretty awesome slide. The other pools are typically referred to as "quiet pools" as they don't the draw the kids as much as Ol' Man Island. They are were you want to retreat for rest and relaxation. With all these options, you have an excellent chance of enjoying some crowd-free swim time during your stay!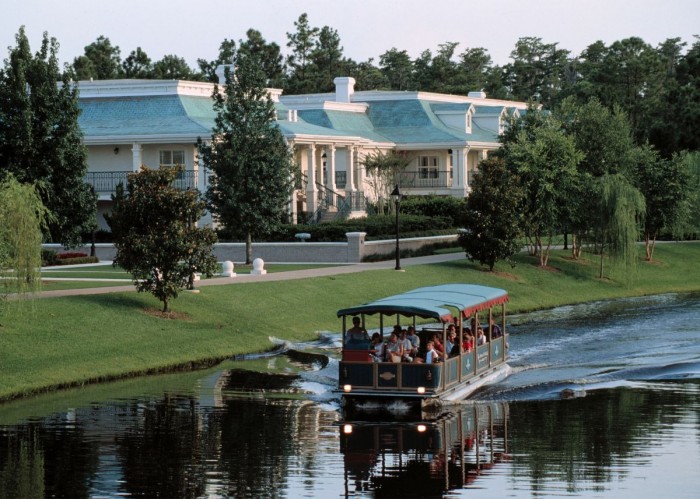 Location
While Port Orleans Riverside may not be next door to the Magic Kingdom like the Contemporary Resort, or be within walking distance to Epcot like the Beach Club or Boardwalk Inn, it still offers a convenient location for a Moderate Resort. For starters, Riverside sits right next door to Port Orleans French Quarter so you can take advantage of that resort's sights and atmosphere and famous beignets! Riverside is also not far from Disney Springs and even offers free water taxi transportation with a picturesque view to boot. Finally, Riverside is located just a short drive or bus ride from Epcot, which I personally enjoy as Epcot just happens to be the park I usually spend the most time at when visiting Walt Disney World.
While every Disney World Resort offers its own unique theme and perks, Port Orleans Riverside meets all of the requirements on my Disney Resort check-list better than the other resorts in my price range. This is why Port Orleans Riverside is the only Moderate Resort for me. But now I want to know if there are any other Port Orleans Riverside fans like me out there? If so, what is your favorite thing about this resort? Let me know!