Universal Dining: NBC Sports Grill & Brew Soft Opens at CityWalk
Earlier this week the new NBC Sports Grill & Brew soft opened in Universal CityWalk. Replacing the former NASCAR Sports Grille, the venue is not 100% done (they are still putting the final touches on the gigantic screen that sits outside the venue), but the doors opened at 4PM on Tuesday and we were there to try it out.
One thing that both Universal and Walt Disney World lack is a good place to be able get a meal and also watch a game. Disney has the ESPN Zone at the BoardWalk Resort, but really not much else. With NBA City recently closing, Universal also found itself pretty short on places with multiple TVs. NBC Sports fills that hole and then some with almost 100 HDTVs throughout the venue. With a seating capacity of over 900 guests, the restaurant has plenty of tables both inside and out, as well as several bars. Parties of four or less will be sat at regular tables, but larger parties are sat at "game tables," which have a clear table sitting atop a working foosball or shuffleboard game.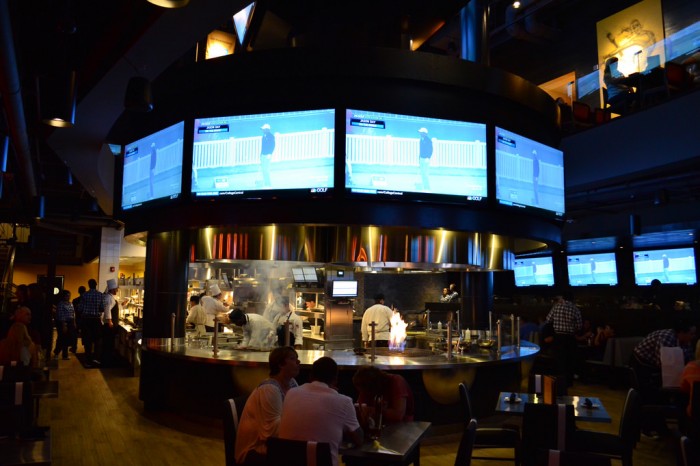 While the theming of NBC Sports is a brewery, there is no actual beer brewed on site. Every piece of brewing equipment is a prop.
The restaurant features almost 100 bottled and draft beer selections.
Two of the draft beers are "house brews" and are exclusive to the restaurant. These are 862 Seasonal and 862 IPA.
Besides drafts, NBC Sports offers a variety of Fusions (such as the Raspberry Cream – Breckenridge Vanilla Porter layered over Lindeman's Raspberry Fromboise) as well as several beer flights.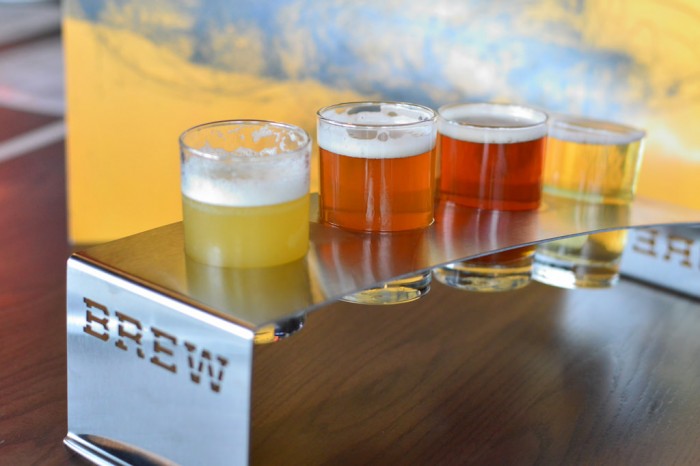 We tried several appetizers including the appropriately named Large Warm Soft Pretzel. It's HUGE and in a nice touch comes with not only jalepeno queso sauce, but also Bertman's Ball Park mustard. This is the mustard used by the Cleveland Indians baseball team and can also be found over at Hotdog Hall of Fame.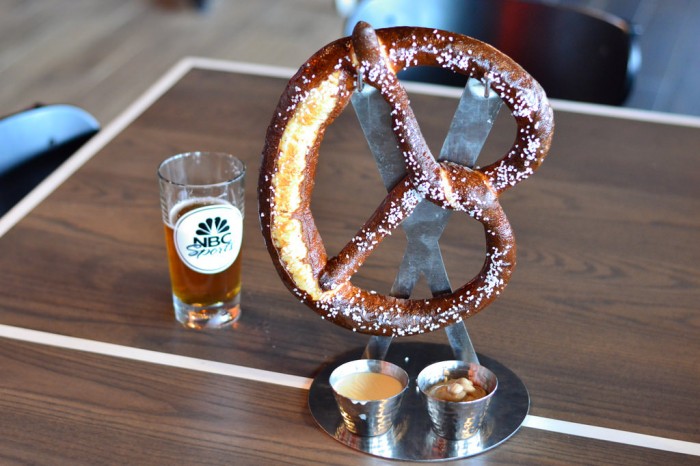 Wisconsin Cheese Curds. Served with spicy tomato jam.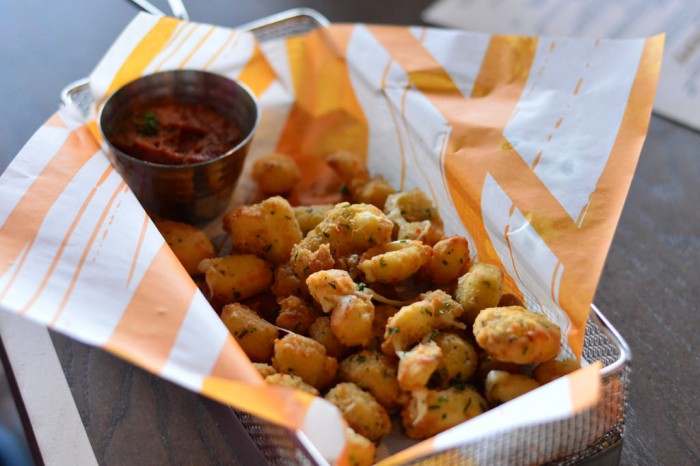 Barbecue Sliders. Korean barbecue beef and fresh cole slaw, served with kettle chips.
There are plenty of entrees at NBC Sports including a good selection of burgers including this Smokehouse Stack Burger. Beef burger, smoked brisket, smoked pork, smoked Gouda, barbecue sauce, caramelized onions, lettuce, and tomato.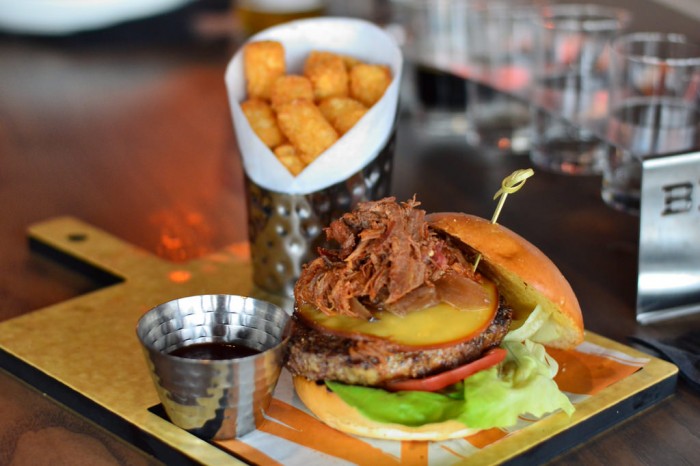 There is a healthy selection of salads and sandwiches too, including this Smoked Beef Brisket Sandwich.
The Mac & Cheese plate is pretty large. Fusili pasta, grilled chicken, bacon, forest mushrooms, three cheeses, truffle oil, and toasted herb bread crumbs.
Bang-Bang Chicken. A spicy Thai dish with the flavors of curry, peanut, coconut, sautéed vegetables, and steamed white rice.
The Combo includes a Half Rack of Midwest Ribs, Smokehouse Angus Beef brisket, barbecue pulled pork, seasoned fries, grilled corn, and corn bread.
The Big Banana Cake is a dessert that will turn heads at the restaurant, similar to the Baked Alaska at Disney Springs' BOATHOUSE. It is gigantic and serves 6-8. A 7 layer dessert with alternating layers of rich banana cake, fresh whole bananas, banana flavored cream and caramel, topped with whipped cream and shaved chocolate.
Other Universal Dining Articles:
Emeril's Tchoup Chop at the Royal Pacific Resort
Jake's American Bar at the Royal Pacific Resort
Character Breakfast at Jake's American Bar
Backwater Bar at Islands of Adventure
Antojitos Authentic Mexican Food at CityWalk
Special thanks to Brandon Glover for the photos along with the assistance of Megan Stump and Michael Sheehy.