Raglan Road Irish Pub and Restaurant Review: Brunch and Burgers
Right up there with EPCOT's World Showcase and the Polynesian Village Resort, Disney Springs is the destination for a quality meal at Walt Disney World.
As Downtown Disney was reimagined into the Disney Springs guests know today, one restaurant, in particular, has been a long-standing favorite through all of those changes and that's Raglan Road Irish Pub and Restaurant.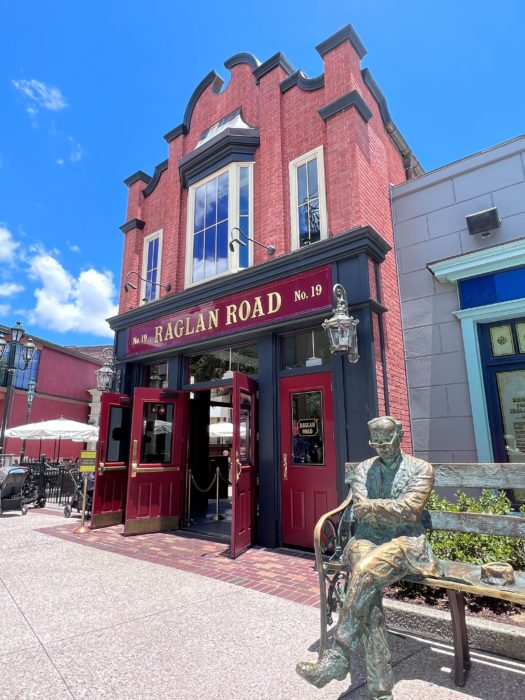 Raglan Road is a large Irish pub that's about as authentic as you can get in Central Florida. Many elements of the restaurant were handcrafted in Ireland and shipped to the U.S. to be reassembled. Plus, Raglan Road is home to chefs from Dublin and features an extensive menu of traditional and remixed dishes.
Guests have their choice of indoor and outdoor seating, and live entertainment takes place every day at select times.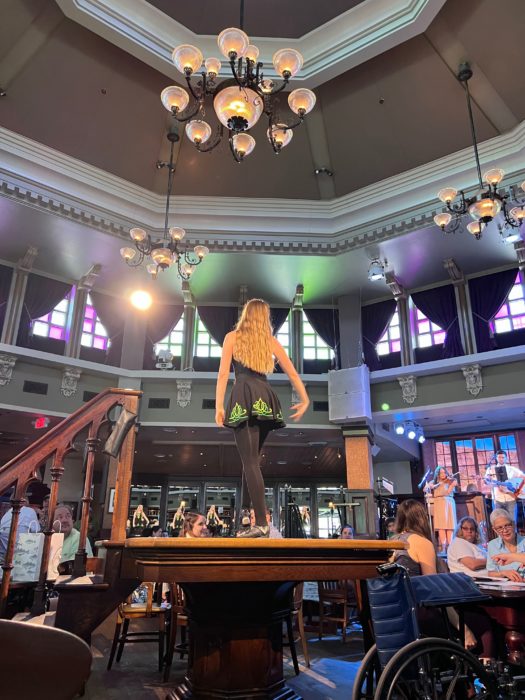 Raglan Road is located in The Landing area of Disney Springs and is open from 10:00 a.m. to 11:30 p.m.
While there is a variety of seating, Advance Dining Reservations are encouraged and can be made on the My Disney Experience app. But if you're already within that 60-day window, be sure to check out our free TouringPlans Reservation Finder!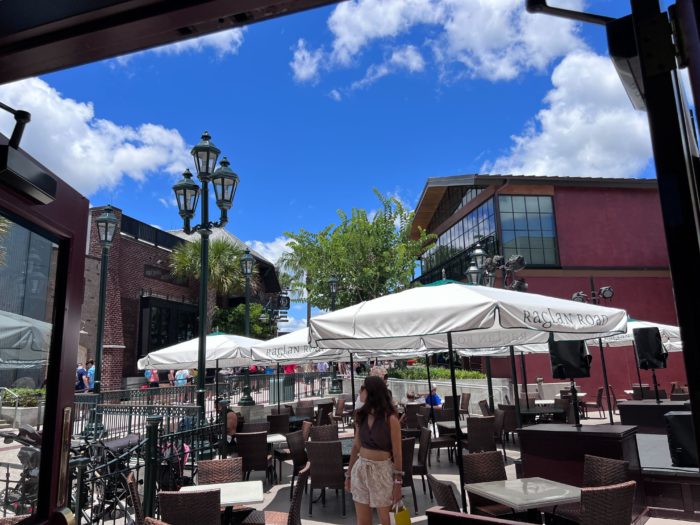 Our team recently visited Raglan Road for its weekend brunch and to sample a few new additions to the menu. Take a look!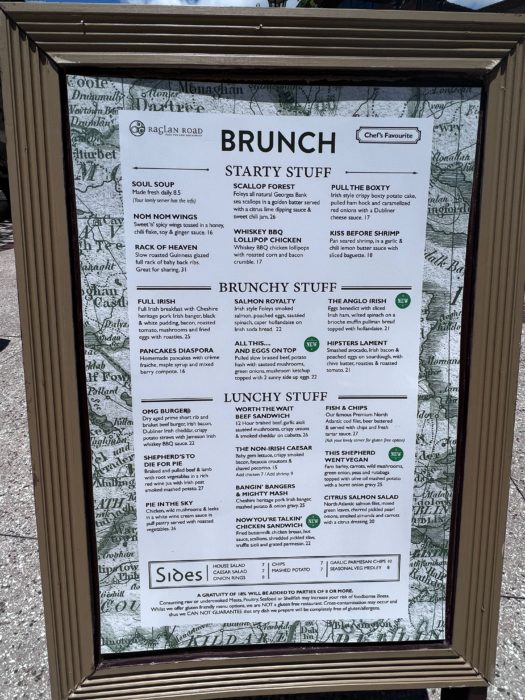 Soda Bread
First things first, we have to pay due respect to Raglan Road's Soda Bread and its famous dipping sauce!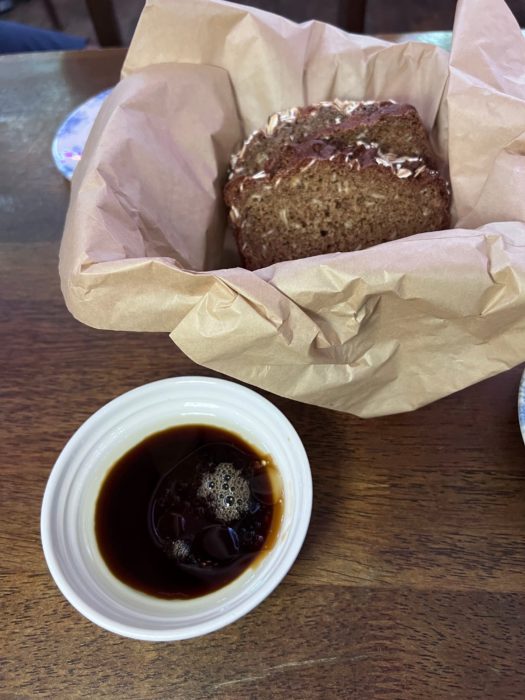 But remember, a Disney fan cannot brunch on bread alone. Be sure to save room for Raglan's starters and entrees, like the lollipop chicken.
Weekend Brunch Starters
Whiskey BBQ Lollipop Chicken – $17.00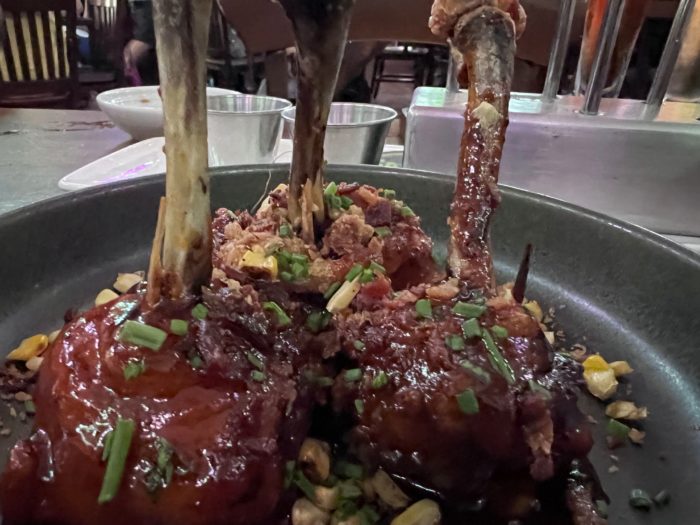 Described as whiskey BBQ chicken lollipops with roasted corn and bacon crumble, our team thought this appetizer was fantastic! The sauce is sweet and tangy, and the chicken was just perfect.
Scallop Forest – $26.00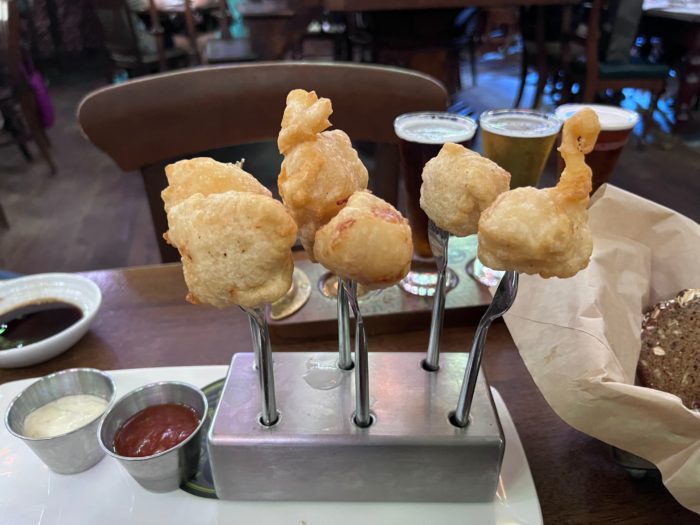 Described as Foleys all-natural Georges Bank sea scallops in a golden batter and served with citrus lime dipping sauce and sweet chili jam, unfortunately, these were just meh.
Granted, the scallops were fresh and sweet, but there was just too much batter. Also, our team didn't love the sauce. We would skip this one.
Weekend Brunch Entrees
Worth the Wait Beef Sandwich – $26.00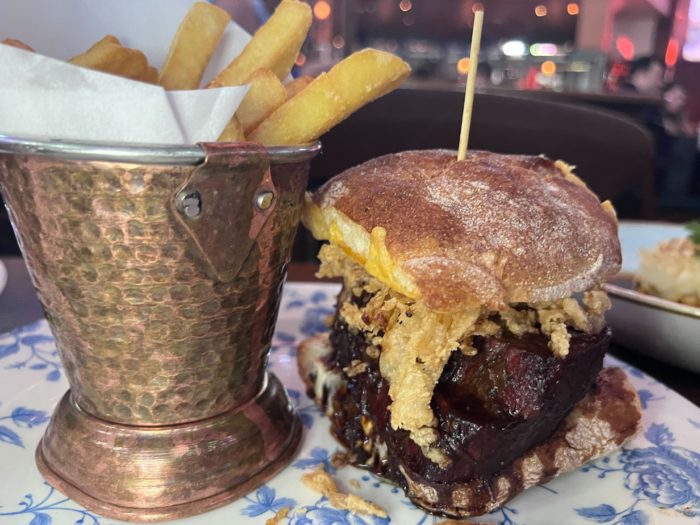 This is not a new item, but it's still amazing. We're talking 12-hour braised beef, sauteed mushrooms, crispy onions, garlic aioli, and smoked cheddar cheese.
But be warned! It's a lot. You're going to want to share this one.
OMG Burger – $22.00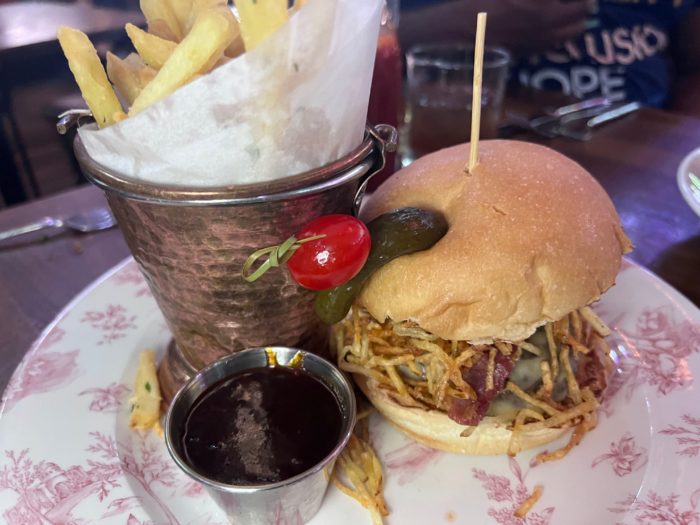 Let's start by explaining just what you're getting here. This is dry-aged prime short rib and brisket, Irish bacon, Dubliner Irish cheddar, and crispy potato straws – all of which are perfect – but the IRISH WHISKEY BBQ SAUCE?!?! It's so good. Or should we say, OMG?
Shepherd's to Die for Pie – $27.00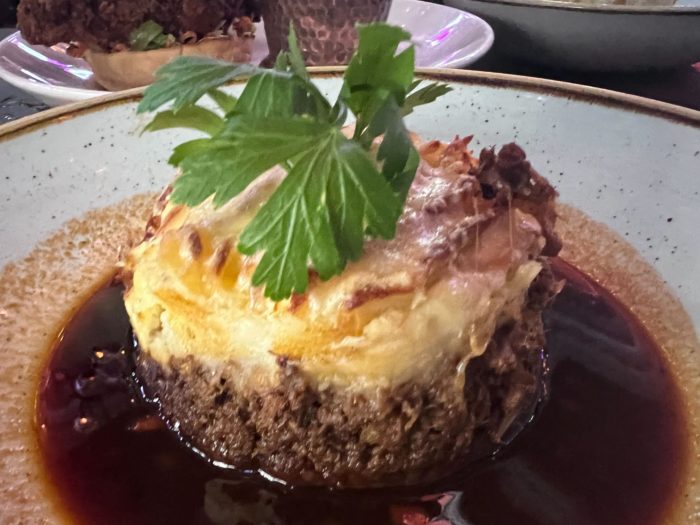 The menu lists this entree as braised and pulled beef and lamb with root vegetables in a rich red wine jus with Irish peat-smoked mashed potato. It's also our team's go-to item.
The red wine jus is just the thickest, most deeply flavored gravy ever. It never disappoints.
This Shepard Went Vegan – $25.00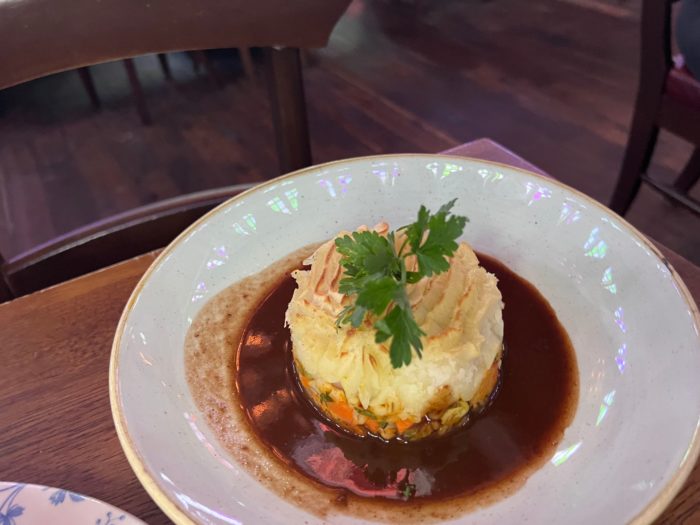 So this dish is leagues better than lots of vegan items around Walt Disney World; but unfortunately, it wasn't our favorite.
The entree consists of wild mushrooms, Faro barley, peas, rutabaga, green onion, and carrots, and is topped with olive oil mashed potato and burnt onion gravy.
The thing is, the mushrooms had the texture of canned mushrooms and it just put our team off. The good news is that this dish is new so Raglan Road may still be tweaking this one.
Now You're Talkin Chicken Sandwich – $22.00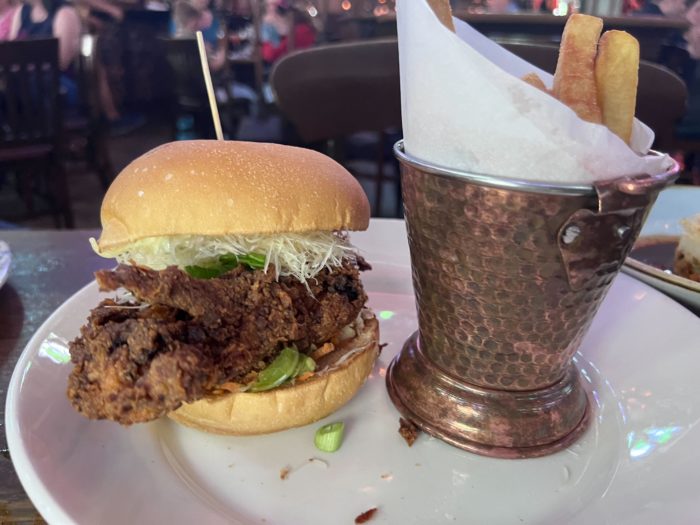 It's fried buttermilk chicken. It's hot sauce. It's truffle aioli AND grated parmesan. Here's a pro tip: ask for a side of that glorious Irish Whiskey BBQ Sauce to really set this one off!
Have you ever been to Raglan Road? What's your go-to item at this Disney Springs restaurant? Let us know in the comments!