Rainforest Cafe at Disney's Animal Kingdom: It's What You Think
Part of our day-to-day in-park research includes revisiting restaurants to ensure our dining reviews are up to date.  Recently Ivonne from our in-parks team visited Rainforest Cafe at Disney's Animal Kingdom.
Rainforest Cafe Setting and Atmosphere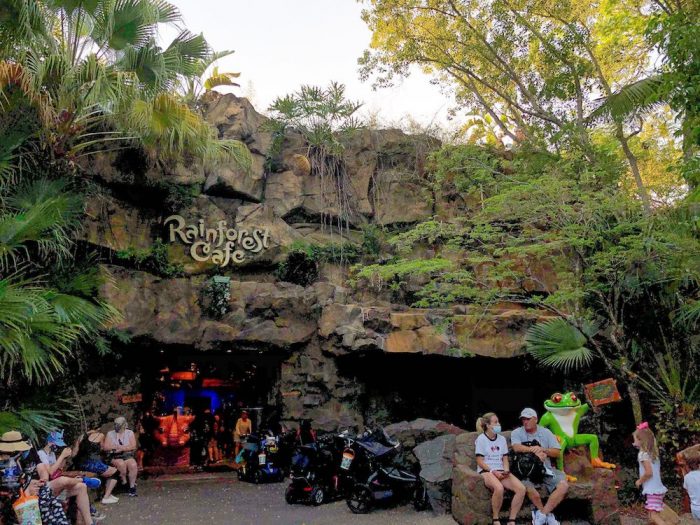 Located outside the entrance of Disney's Animal Kingdom, Rainforest Cafe is somewhat hidden as you approach the main entrance. The restaurant has an attached gift shop with a variety of Rainforest Cafe and general animal-themed items. Inside the restaurant, it's a jungle — literally. Different rooms are filled with giant animatronic animals. And although the quality isn't what you'd find on a Disney ride, they do have a lot of appeal for young kids especially. During your time in the rainforest, there may be moments of a simulated thunderstorm with lightning and thunder. This may frighten some young children.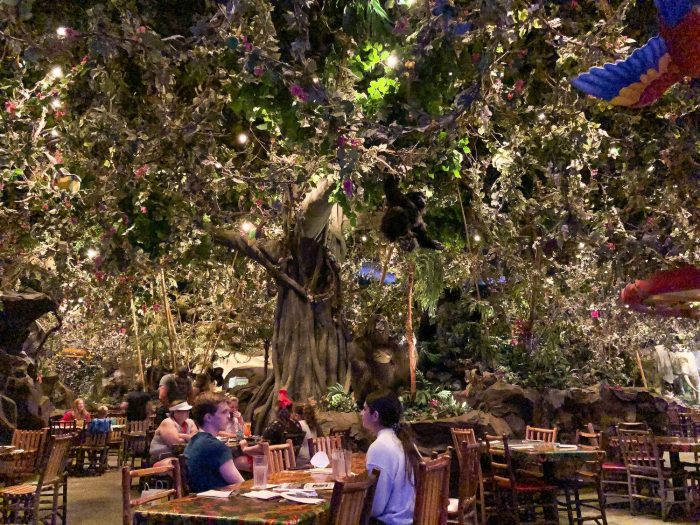 Rainforest Cafe Menu
The menu at Rainforest Cafe is an assortment of everyday American favorites. Appetizers include traditional staples like mozzarella sticks ($11.99), beef nachos ($19.99), and spinach and artichoke dip ($12.99). Main courses include seafood dishes, like fried shrimp ($24.99) or fish tacos ($19.99), pasta dishes ($20.99-$24.79), side salads ($9.99) and entree salads ($15.99-$19.99), steak and combo platters ($24.99-$35.99), and burgers and sandwiches ($17.99-$22.99). Most of the dishes are very approachable and picky eaters should have no problem finding food to fill up on.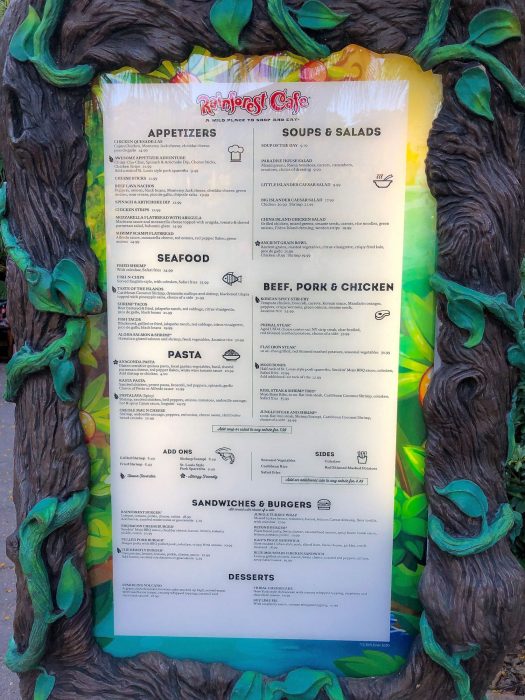 Our Dining Experience at Rainforest Cafe
Ivonne from our team ordered the Ribs, Steak, and Shrimp Trio: Mojo Bone Ribs, 10 oz. flat iron steak, Caribbean Coconut Shrimp, Coleslaw, and Safari fries for $35.99.
Overall, this meal was a satisfying amount of food, however there were some hits and misses. Ivonne had ordered the steak medium, but it was at the more done range of what could be defined as "medium".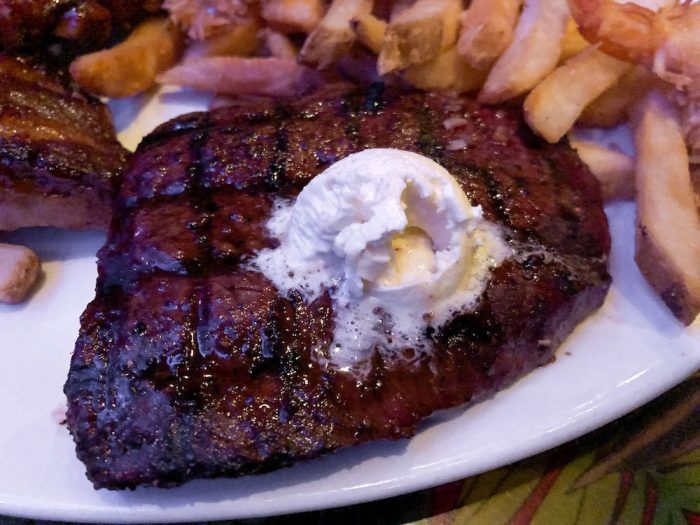 On the flip side, the coconut shrimp, although fully cooked, didn't have the kind of crunch that would have been great with the coconut batter.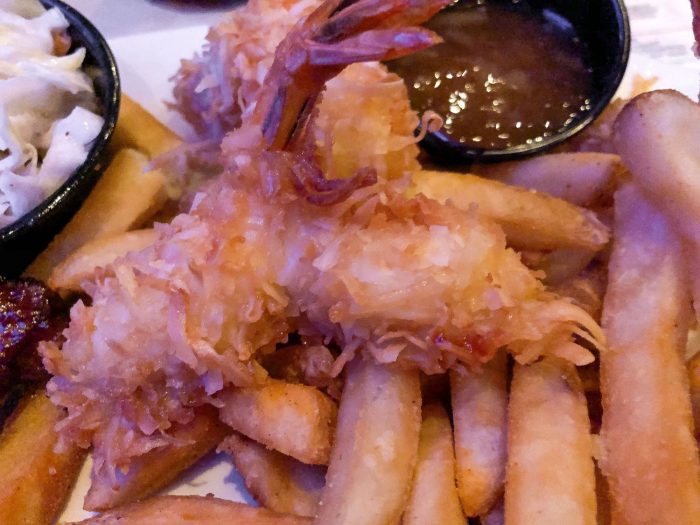 The fries were quite good, as were the ribs, and the portion size was good on both. Not so for the portion size of coleslaw, where the serving was best described as "garnish size".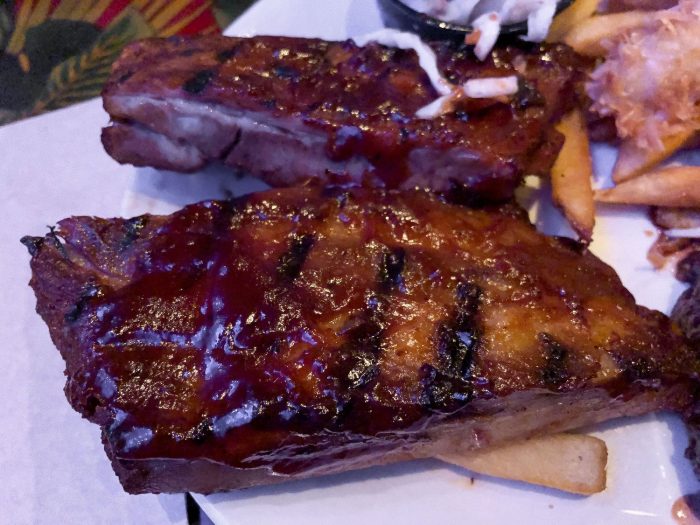 Ivonne also ordered dessert. There's three desserts: cheesecake ($10.99), key lime pie ($10.99), and the signature Sparkling Volcano (brownie with ice cream, $18.99), and Ivonne went with the cheesecake.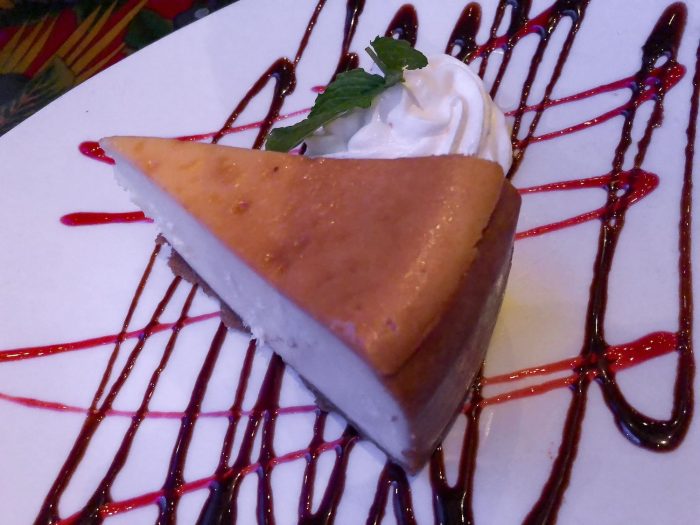 Although there was nothing wrong with the cheesecake, and it had a good flavor, it also is a tough sell to go with the $11 slice of cheesecake when there's an entire theme park full of delicious treats just a few steps away.
Rainforest Cafe Ratings
Rainforest Cafe has earned a 75% thumbs-up rating from our readers, placing it at 83 of 105 table service restaurants at Walt Disney World. Quality and value end up bringing this meal down — there's nothing that stands out as different from many other chain restaurants, and yet the prices are a premium.
Rainforest Cafe offers discounts to Annual Passholders (10%) and DVC (10% on entrees only for member and up to 3 guests).
Overall, this is a location that you'd visit for the experience of eating at a Rainforest Cafe if you have children who will enjoy the atmosphere, but it isn't a location to go out of your way for a meal.
Have you dined at Rainforest Cafe before? Let us know what you think in the comments.