Resort Rundown: Disney's Polynesian Village Resort Overview
No other resort is as enchanting as Disney's Polynesian Village Resort. One of the original Walt Disney World resorts, the Poly has a rich history and is beloved by many. Even though it sits on the Seven Seas Lagoon, just across from the Magic Kingdom, it feels like an exotic hideaway on the other side of the world.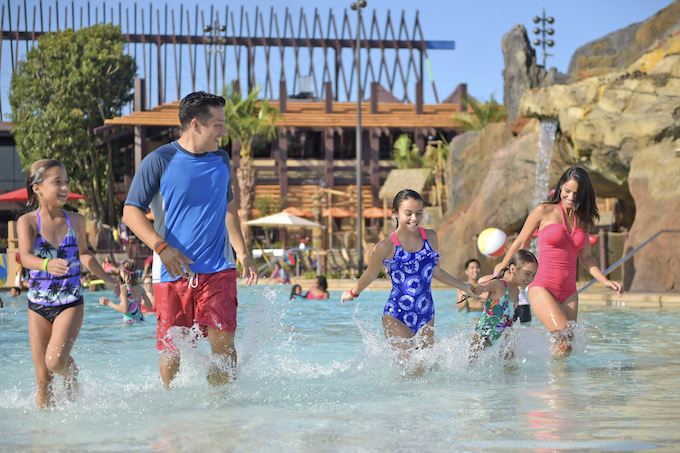 Location 
Disney's Polynesian Village Resort is a Magic Kingdom area resort. Just as you pass through the rear doors of the lobby you can see Cinderella Castle waiting for you across the lagoon. On the shores of this resort's beach you can witness nightly fireworks and the Electrical Water Pageant. The Poly's amenities and restaurants are contained within the Great Ceremonial House, with guest rooms residing in buildings that are named after Polynesian islands and create the village feel. There's so much to enjoy at this lush, tropical resort. You may have no reason to leave, but if you're looking for something within walking distance you can stroll next door to Disney's Grand Floridian Resort.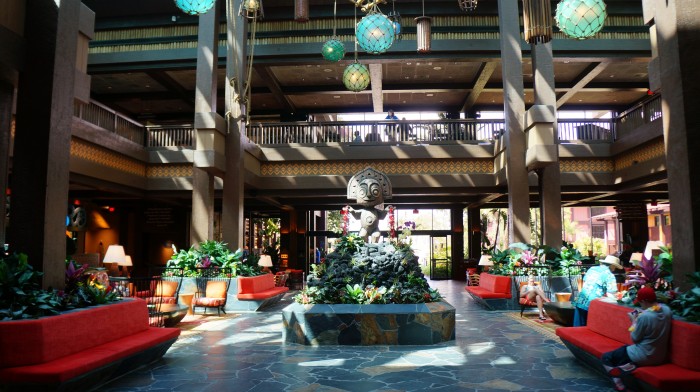 Rooms
The Polynesian's rooms are a great blend of tropical decor and whimsically retro homages to the resort's original look and feel of the 1970s. Thanks to this being one of the original Walt Disney World resorts, the guest rooms are some of the largest on property. With the 2016 re-imagining of this resort it took on a self-aware vibe with decor and merchandise that pointed to its history. Each room features dark woods with tropical reed accents and decor. All rooms have two queen beds, plus a cushy chair and a day bed. Some Standard View rooms have king beds available upon request. 
First floor rooms have a lanai with a table and two chairs whereas upper floor rooms have a balconette with barely enough room for standing. This is perhaps the biggest disappointment for many guests looking for the full Deluxe category experience.
You can choose between four room view types: standard, lagoon, pool / marina, and theme park. Though the standard views do often contain views of the parking lot or even the monorail, it is generally buffered with lush landscaping. Theme Park view, some Lagoon, and some Marina view rooms can see the fireworks.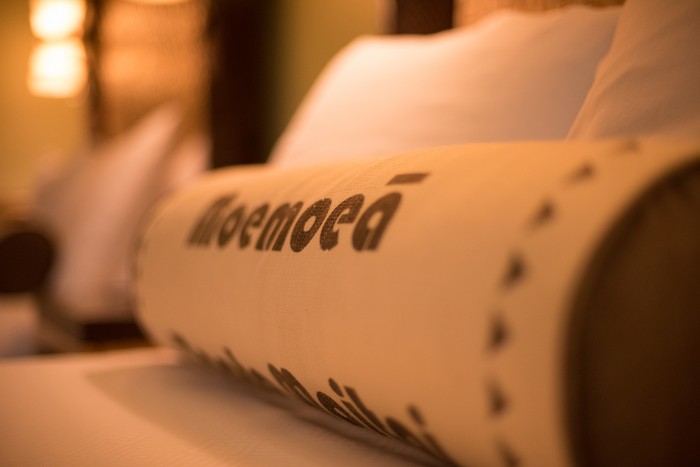 Speaking of views, you can use the awesome TouringPlans Room Finder to help you narrow down the exact room location you would like. You can plug in your preferences and find rooms that match your needs. Then, when you make your reservations and check in, you can request your desired rooms. This tool is free to use.
Club Level
With the Polynesian Resort Club Level you will feel like island royalty. In fact the club lounge is named after perhaps one of the most well-known Hawaiian royalty- the King Kamehameha Club.  Club Level rooms include evening turndown, secured key access to the Club Level lounge (serving refreshments 7:00 AM to 10:00 PM daily), complimentary newspapers in the King Kamehameha Club, and health club access (at Disney's Grand Floridian which is very close to the Poly resort grounds). 
The King Kamehameha Club lounge has a few unique features that place it above other club lounges for many guests. There's the floor to ceiling windows that allow for gorgeous views of the Seven Seas Lagoon and the fireworks. There is a second story (though it is more of a loft) with additional seating that overlooks the first floor of the club lounge. The same guestroom view types apply, except there are no standard view rooms. Guests who want to spread out can book a one bedroom suite on the Club Level. 
Disney Vacation Club
In 2015 the Poly became a part of Disney Vacation Club with the addition of Deluxe Studio rooms and the over-the-water bungalows, the first of their kind. These stand-alone bungalows give guests the chance to stay in their own private villa out on the water. There are two bedrooms plus pull down beds, allowing up to 8 adults to sleep in each unit. Guests can enjoy wonderfully appointed rooms decorated in tropical fashion and sit on the front porch, or take a little dip in their own plunge pool on the back deck, which is nicely gated off in case little ones want to enjoy the back deck too. The full kitchen is well equipped and the surfboard-shaped dining table allows for families to enjoy a nice meal together. 
The Deluxe Studio is relatively large compared to many of the other Disney Vacation Club studios. It features the standard studio amenities of a kitchenette, sleeper sofa, and a pull-down trundle bed. The sleeper sofa, as opposed to another regular bed, allows for more space in the room, and as a good option for kiddos who may not be too particular about having a regular bed.
You can tour one of the Deluxe Studios in our video here:
You can tour one of the beautiful bungalows in our video here: 
Dining
Note: Some dining options are still on hiatus due to the COVID-19 closures.
Enjoy the flavors of the Polynesian isles at two full-service restaurants, a counter-service location, a coffee bar that turns into a sushi bar in the afternoon, two poolside bars, two full-service lounges, or a Polynesian luau dinner show. There's lots of ways to make your taste buds do the hula at the Poly. Grab a signature tiki cocktail at Tambu Lounge, upstairs in the Great Ceremonial House, or venture to Trader Sam's Grog Grotto in the afternoon or evening for tiki drinks and small plates with an enchanted atmosphere. Cool off at the Barefoot Pool Bar with a view of the pool, the lagoon, and the marina. Or, for a quieter spot, try the Oasis Bar and Grill near the resort's quiet pool. A nice selection of food is offered here, too.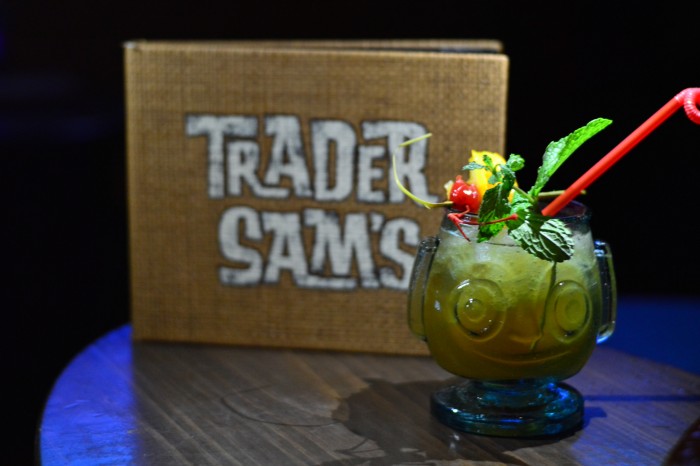 Grab a quick bite at Captain Cook's, offering both Polynesian-inspired dishes (I'm partial to the Thai Coconut Meatballs) and American favorites. You can satisfy your craving for a Dole whip outside at the Pineapple Lanai. If you've had enough fun in the sun, escape to your room in paradise and enjoy in-room dining. Or go for the full Polynesian experience at the Spirit of Aloha Dinner Show. 
The full-service locations are Kona Cafe and 'Ohana.  The Kona Cafe is a favorite for breakfast, but also open for lunch and dinner. Many Disney fans love 'Ohana for its character breakfast (currently on hiatus) and its all-you-care-to-eat dinner. 
Kona Island sits next door to Kona Cafe right next to the monorail station. This convenient counter has wrap-around seating and offers specialty coffees and pastries for a quick breakfast on the way to the parks and made-to-order sushi beginning at noon. 
Securing dining reservations at popular full service restaurants like 'Ohana can be frustrating and time consuming. You can use the TouringPlans Reservation Finder to help you secure dining reservations and save time. Simply select your desired restaurant, then plug in your desired date and time or meal period, then select to be notified either via email or text message and viola! This incredible tool is available with or without a TouringPlans paid subscription, but you do need to create, or have, a TouringPlans login. 
Pools
Guests can splash around in paradise in two pools at the Poly. The Lava Pool is the feature pool and it is one of the best on Disney property. The 142-foot waterslide starts inside a volcano. The zero entry pool against the lagoon backdrop offers you the chance to swim while gazing at Cinderella Castle. And the themed water playground is sure to keep your kids entranced for a long time. 
The Oasis Pool is a quiet retreat that is great for basking in the sun without the crowds of the Lava Pool. The lush landscape invites you to relax in the shade. The Oasis Bar and Grill makes it all too easy to stay and play a while. 
Recreation
Being on the Seven Seas Lagoon gives Polynesian guests many opportunities to have fun. Rent a variety of watercraft and venture out on the Seven Seas Lagoon and to Bay Lake. Enjoy movies under the island stars, campfires, volleyball, and a jogging trail. This resort used to have an arcade which is now home to Trader Sam's Grog Grotto, and I have to say I think the trade was more than fair. 
Transportation 
Board the monorail to the Magic Kingdom where there is only one stop between you and the park – the Grand Floridian. Or hop aboard the charming water taxi for a quick ride across the Seven Seas Lagoon where the Magic Kingdom is your next stop. If EPCOT is your destination, you can get there via the Transportation and Ticket Center.  The TTC is a short walk away, or a Monorail ride past Magic Kingdom and the other resorts. All other theme parks, water parks, and Disney Springs are accessed via complimentary bus transportation. There are occasions in which the Polynesian may share a bus with one of the other Magic Kingdom area resorts. 
More Information
Check out our overview of Disney's Polynesian Village Resort in this video:
Or if you prefer long walks on the beach, take a morning stroll and tour the entire resort with our own Brian McNichols:
We sure ran through a lot of information about Disney's Polynesian Village Resort, so here's a handy-dandy infographic that sums it all up: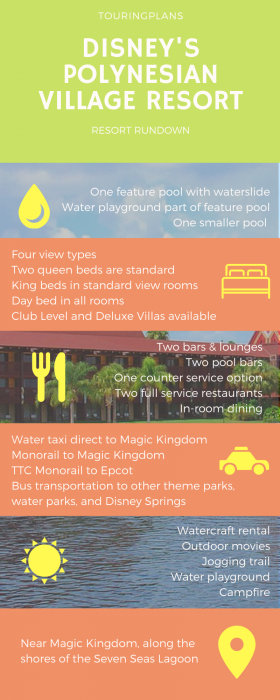 First published November 7, 2019. Updated July 15, 2021.