'Ohana Dinner Review – Mahalo for Noodles
'Ohana has long been one of the most popular restaurants at Walt Disney World due to its tropical-inspired character breakfast and feast of skewered meats and bread pudding for dinner.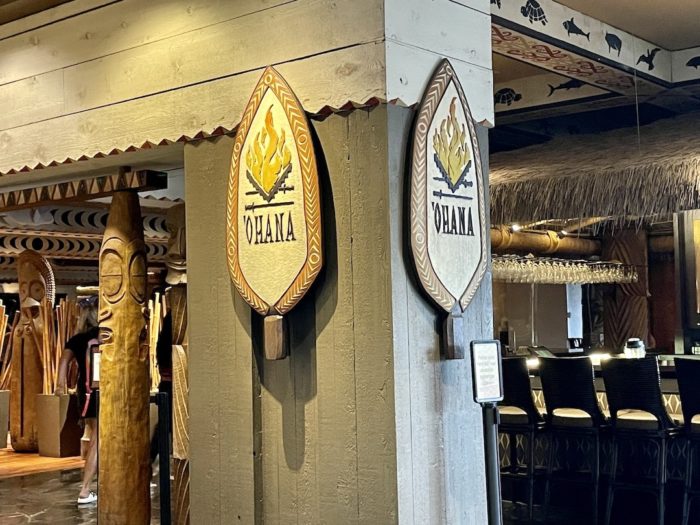 However, guests haven't been able to enjoy this Polynesian Village Resort staple since Walt Disney World reopened in July of 2020. That is, until now. But this isn't
exactly
the same 'Ohana that you remember.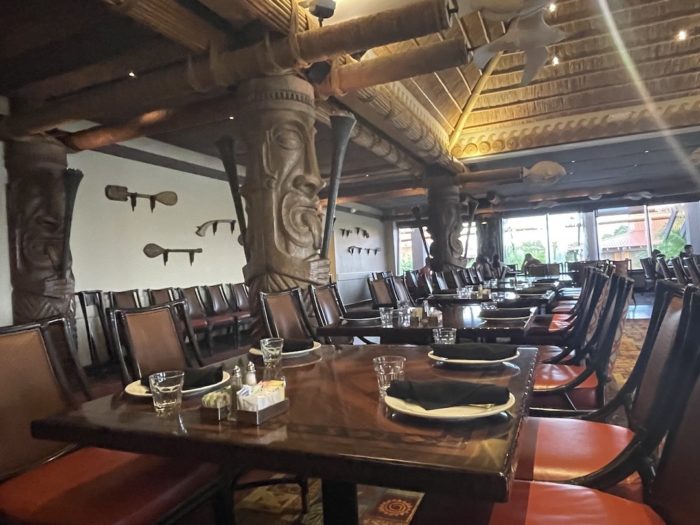 While the dining room still has the South Sea Pacific vibe, an abundance of tikis, and that view of Cinderella Castle's spire, much like other restaurants that have recently reopened at Disney World, 'Ohana has returned in a modified format.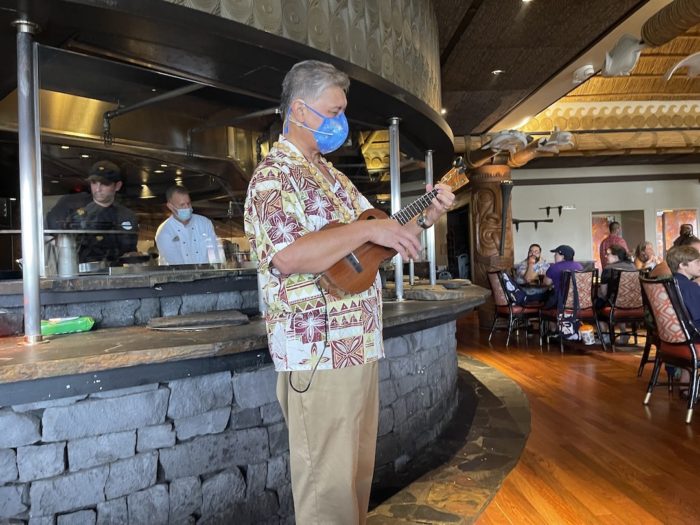 For instance, there's no character breakfast or games, and a number of the dishes and presentation have changed which is what our park reporter Chrissy is going to get into today!
What You Need to Know
Dinner at 'Ohana currently spans 3:30 p.m. to 10:00 p.m. and is priced at $55 per adult and $33 per child. Annual Passholder discounts are accepted. In addition, the food is served family-style meaning it's all-you-can-eat and is brought to your table!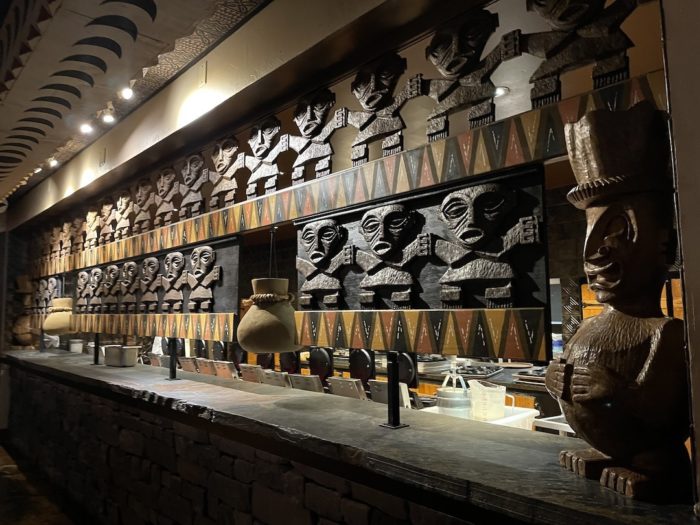 Now due to the restaurant's popularity, and the fact it hasn't been open since March 2020, you're going to want a dining reservation. But if you're already within your 60-day window, consider using the
TouringPlans Reservation Finder
.
The Menu
Mixed Greens Salad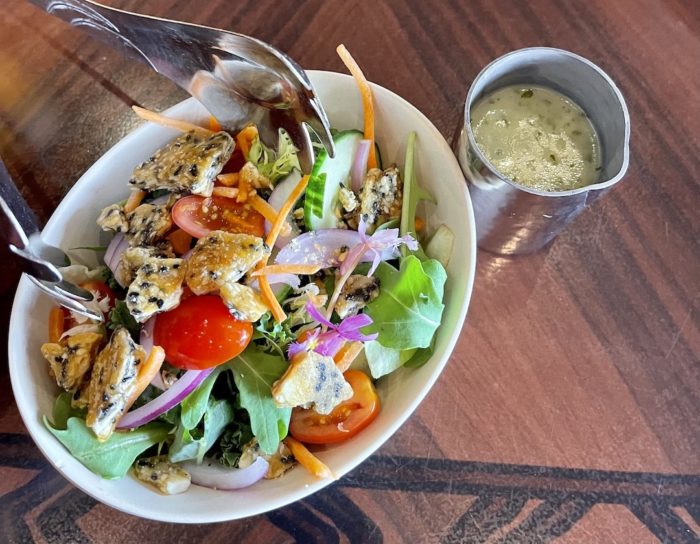 'Ohana's dinner salad was very, very simple but nice and the dressing was light and sweet.
'Ohana Coconut-Papaya Scones & Cheddar-Bacon Biscuits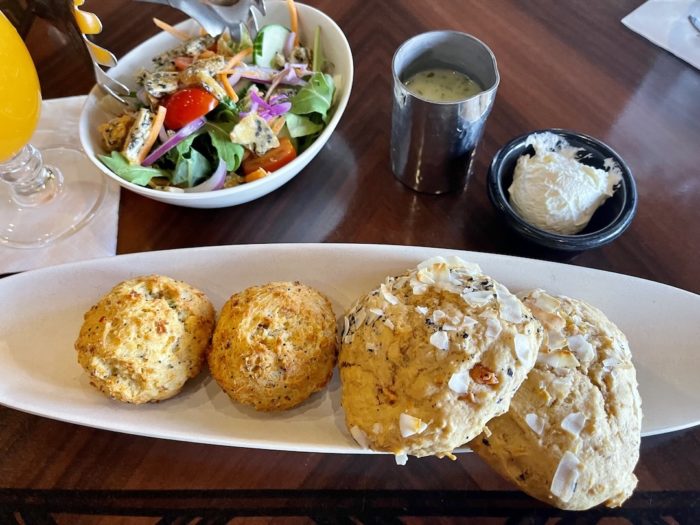 Who doesn't appreciate variety? 'Ohana's bread service comes with these two options plus honey butter which Chrissy says was so delightful and different!
Honey-Coriander Chicken Wings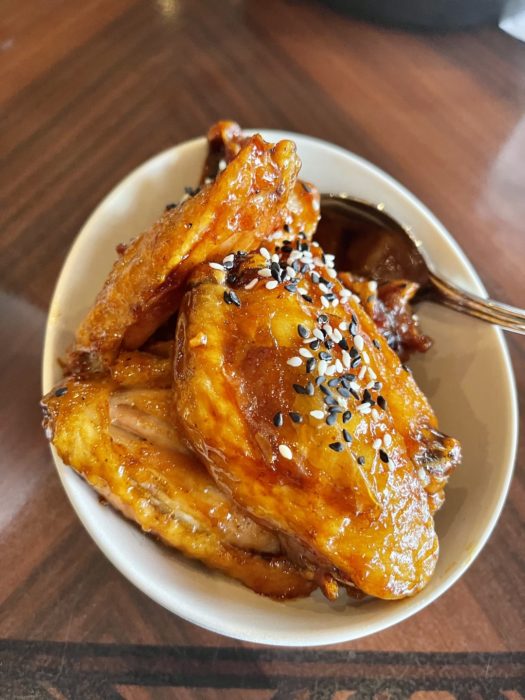 In Chrissy's estimation, the wings were in the top 3 best things of the whole meal. Now she didn't get the coriander flavor, but she did enjoy the sticky, sweet glaze so much.
The menu describes this item as having a garlic-chili sauce. But if there was any, it was very light as Chrissy wasn't able to taste it, and no sauce was visible on it. (Compare the dumplings on the left to the clearly sauced chicken on the right.)
'Ohana Dinner Skillet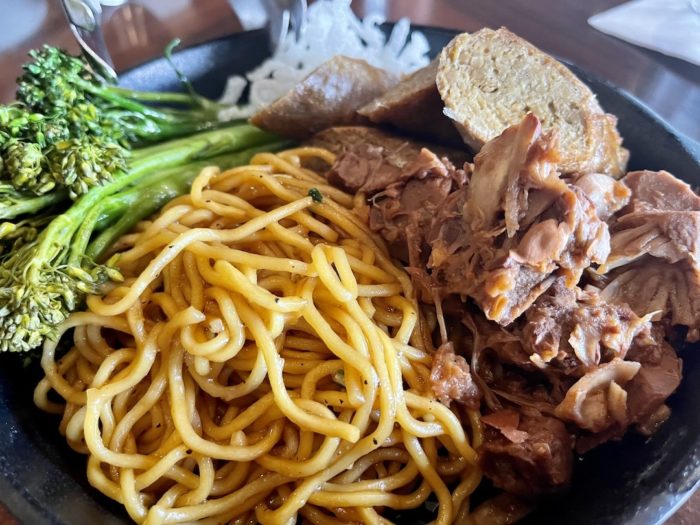 The 'Ohana skillet arrives at your table loaded with woodfire-grilled teriyaki beef, Island Shrimp casserole with herbed breadcrumbs, Kielbasa sausage, roasted broccolini, roasted eight-way chicken with Polynesian-inspired Chimichurri sauce, and the famous 'Ohana noodles.
According to Chrissy, the standout was the teriyaki beef and, of course, the noodles. She would ask to skip the sausage, broccoli, and chicken to have more of the beautiful noodles and beef. They are the exact flavors that everyone remembers.
Shrimp Casserole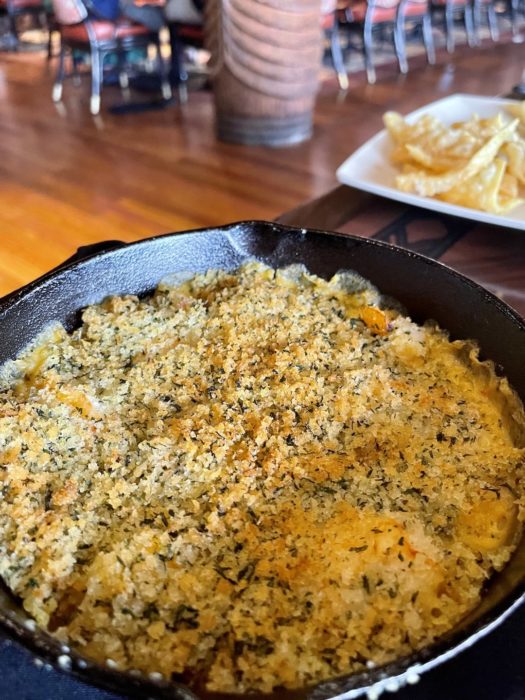 Let's talk about the shrimp casserole. Chrissy says this is just as bad – maybe worse – than even Twitter expected. The shrimp was overcooked, there are cubes of potato under the mound of panko, herbs, and cheese; but she wasn't able to determine why it's called an "Island" shrimp casserole. It reminded her more of a casserole she made in an 8th Grade Home Economics class, except it wasn't as tasty. Chrissy even said that if she goes back to 'Ohana on her own (and she probably will), she will ask that they don't even bring it to the table.
'Ohana Bread Pudding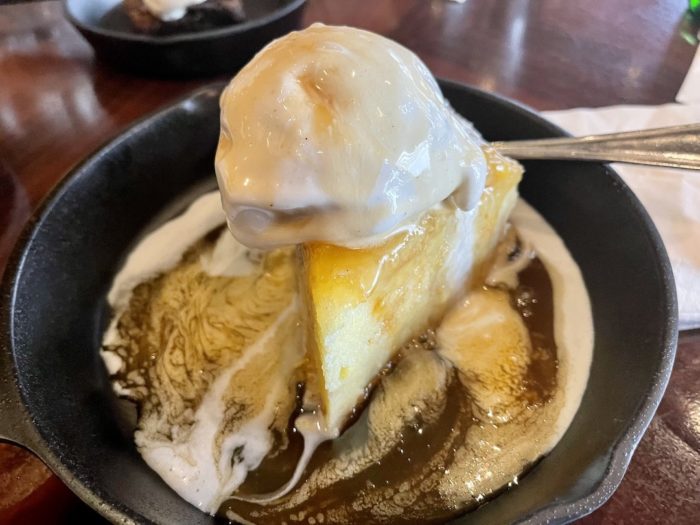 Served a la mode with homemade caramel sauce, the 'Ohana Bread Pudding was one of OG 'Ohana's many draws. So is it still great? Well, Chrissy wants to know how she can get this recipe already?! Talk about a small/taste memory. Anyone who has even one good memory of 'Ohana is going to cry happy tears when that warm caramel melts the enormous scoop of ice cream over the most amazing baked creation.
Plant-Based Menu
Like most Disney World restaurants now, 'Ohana does offer a plant-based menu, as well as options for dietary restrictions.
The plant-based menu consists of rolls, a mixed greens salad, hummus with wonton chips, and a dinner skillet of 'Ohana noodles, roasted broccolini, pineapple-barbecued jackfruit, Polynesian-inspired chimichurri "chicken" and "sausage." Then, for dessert, 'Ohana offers a doughnut with coconut milk frozen dessert.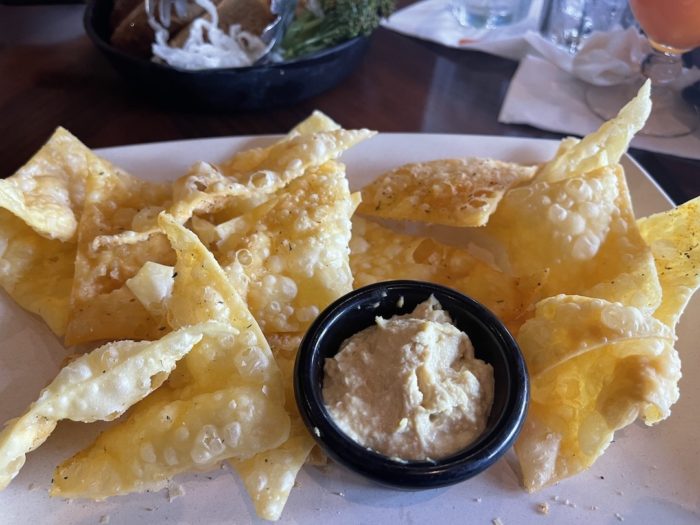 Chrissy gave these items a try as well saying that the chips were fresh and fried and the hummus was good, and the noodles were the same as the standard menu.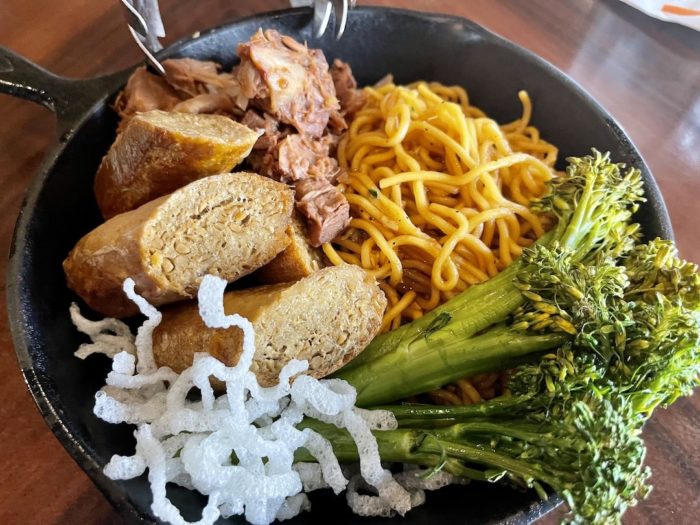 However, the skillet was the stuff of nightmares – especially the jackfruit. Chrissy's had a lot of barbecued jackfruit at Disney (why is it only prepared one way, by the way?!), but this was the worst. The texture and taste were foul. Also, the menu said there was "chicken", but she didn't see any; and when she asked the Cast Member about it and showed her the menu, she brought a piece of chicken from the regular skillet, not a plant-based option.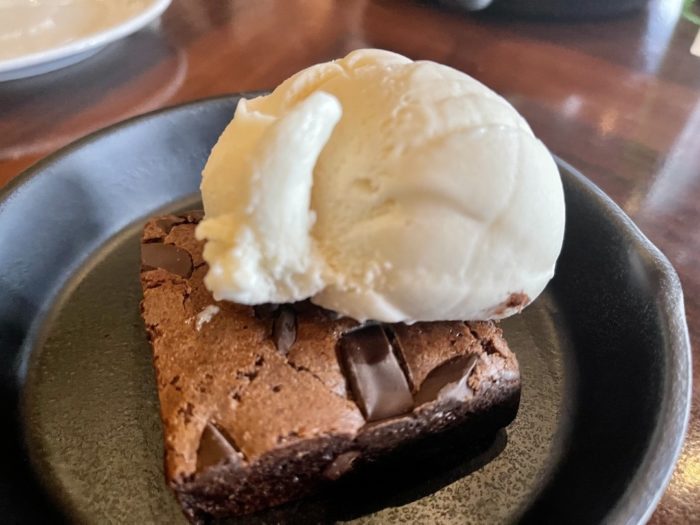 The donut dessert was supposed to be, well, a donut with the coconut milk frozen dessert. But instead, it was a brownie with vanilla Tofutti. Next to the Bread Pudding, it basically looked like a warm cup of fruit cocktail. The kind with no cherries. Dessert should not inspire sadness.
The Drinks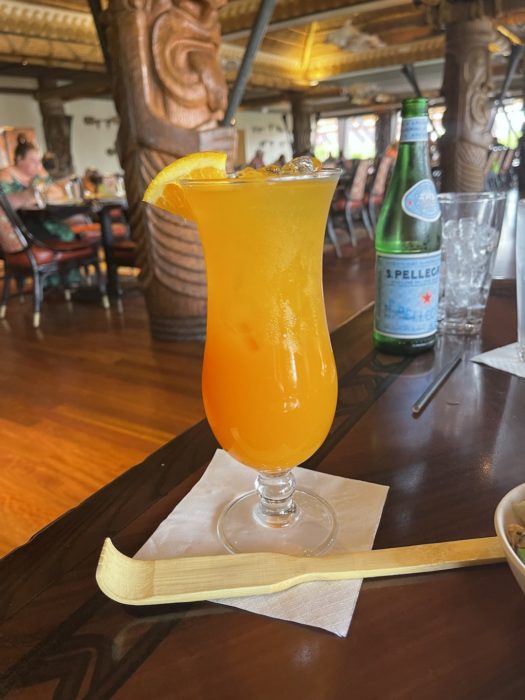 Along with a selection of non-alcoholic drinks that include Kona coffee, new, character-themed smoothies, and mocktails, Chrissy went for one of the Polynesian Village Resort's signature cocktails – The Backscratcher. It's a fun experience because the prop is unique and pour is so large so it's not the worst value at
$13.00
.
Final Thoughts
The service still needs some time to get back in the swing of things, but we have no doubt they will. If you're going to 'Ohana, focus on the good memories and ignore the truly frightening shrimp casserole that looks like it came from an Easy Bake Oven – Savory! cookbook. Focus on the things that you love and have back.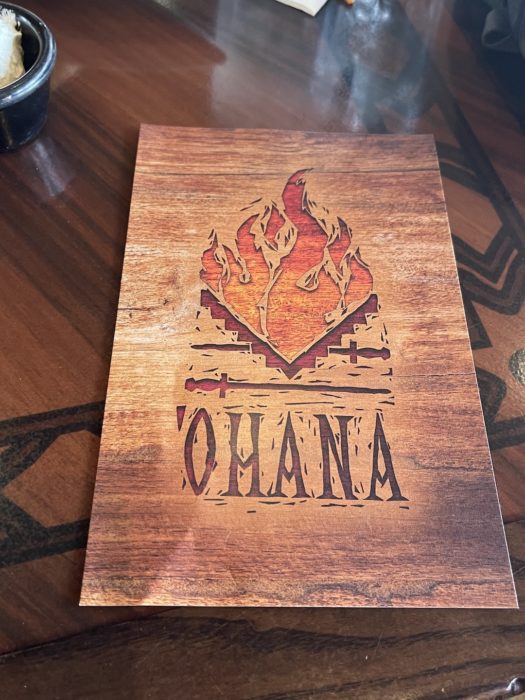 We'll likely go back in a month or so to test this out again. Both breakfast and dinner on opening day took way too long and the chaos the staff felt at dinner was obvious. There was a constant scramble around the kitchen area with folks gripping sweat-wrinkled seating charts and lists. It was frustrating that the cast members hadn't had a change to get to really know the menu and stations, and it might be good to see if they work all of that out quickly. We have faith in them — it just takes time.
And although Chrissy knows this review isn't glowing, she would go back for dinner. Dinner has more good things than not and they are bound to work out the chaos quickly; and besides, she missed the noodles and beef flavors and the wonderful bread pudding and is thrilled that they're back!
Are you planning to revisit 'Ohana during your next trip to Walt Disney World? Let us know in the comments!