REVIEW – A Fantastic Dinner From Yacht Club's Ale and Compass To Go
A few months ago Disney rolled out a feature that we've fallen in love with. You can mobile order takeout food from select table service restaurants at Disney resort hotels. Some favorite Disney restaurants like Kona Cafe, Sanaa, and The Wave offer food to-go via mobile ordering. It's a great way to enjoy a high quality meal from the comfort of your hotel room, or one of the many beautiful common areas at the resort. Ivonne on our team ordered dinner to-go from Ale and Compass at Disney's Yacht Club, and it is another hit! Whether you're staying at Yacht Club, one of the neighboring hotels, or anywhere near at EPCOT, you may want to consider ordering takeout and enjoying some Ale and Compass al fresco.
Ale and Compass To Go is available on the MyDisneyExperience app. It's an easy process to mobile order takeout from table service restaurants at Disney hotels. Just select the restaurant, your desired pick up time, place your order and pay, and then when your arrival window is open, check in so your meal can be prepared.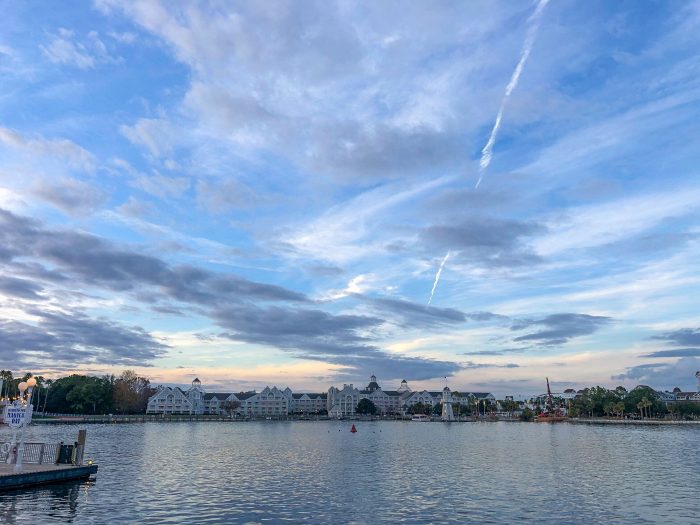 Our team has ordered takeout from practically every participating restaurant over the past few months. We've been pleased with the packaging, the service, and the quality. Ale and Compass is an often overlooked restaurant at Disney's Yacht Club. Our readers give it a 82% thumbs up rating, and it is ranked 72 out of 105 table service restaurants. The interior is a little dark, but it is still a cozy place to dine. Then again, the weather is so lovely right now it adds another reason to order takeout instead of dining in.
Here's what we order to-go from Ale and Compass:
Parker House Rolls and Spreads: Bacon Jam, Pub Cheese, Citrus Butter – $13.00
Cabernet Braised Short Ribs: With Roasted Vegetable Mash and Barbeque Demi – $27.00
Pappardelle Pasta with Shrimp: Spinach, Sautéed Mushrooms, Rebel Tomatoes, Roasted Garlic Cream, and Citrus Gremolata – $27.00
Twelve-Layer Chocolate Cake: Flourless Chocolate Cake and Ganache served with Milk-Coffee Chantilly $9.00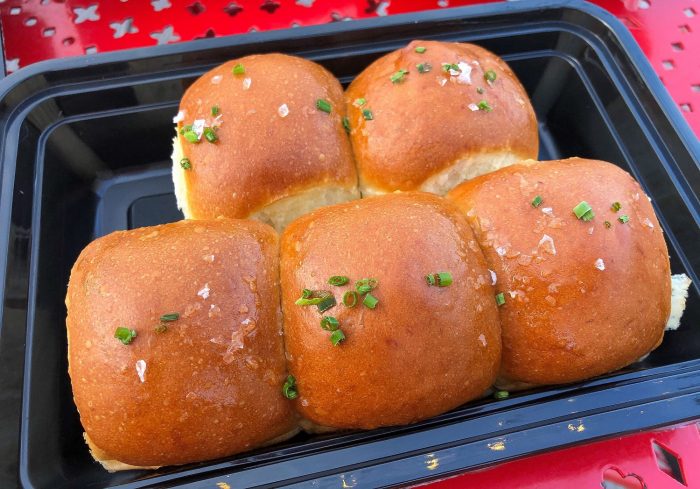 There was not a single disappointment in the bunch. The Parker House Rolls and Spreads could be compared to the bread service at other restaurants like Sanaa. Each of the three spreads had a distinct flavor, and it was hard for Ivonne to pick a favorite, though the Bacon Jam won out.
There's a few guaranteed hits at any Disney restaurant, one of which is short ribs. Personally I have never been disappointed in any short rib dish I have ordered anywhere at Walt Disney World. The Cabernet Braised Short Ribs from Ale and Compass are no exception. This might be the hit of the entire meal, and every single dish was delicious. The short ribs have a barbeque demi glaze that added a hint of sweetness. The mashed vegetables was a flavorful blend that included mashed potatoes and Brussels sprouts, which had a little crunch.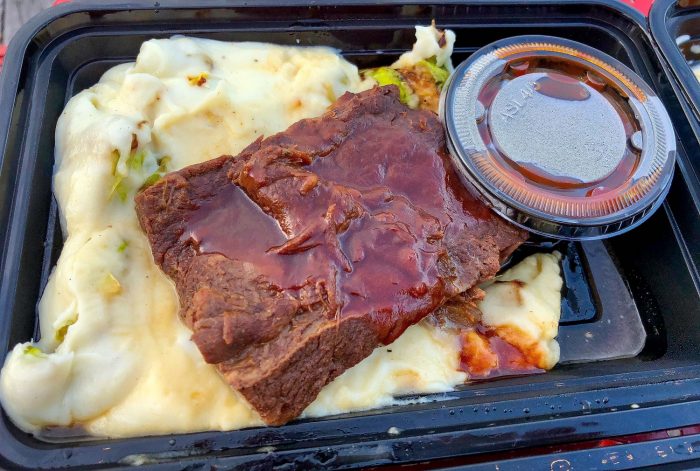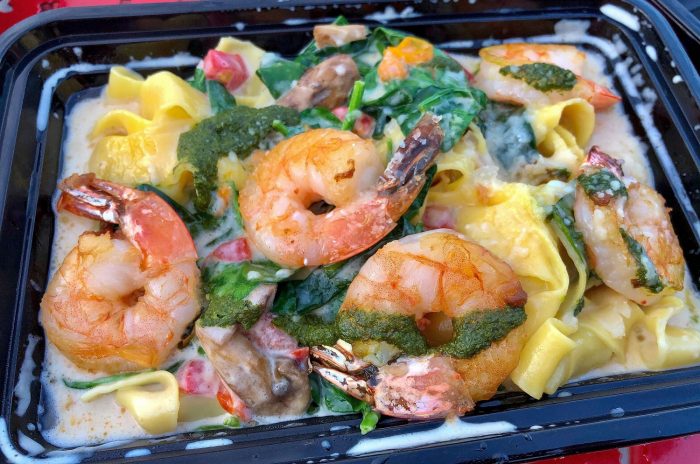 The Pappardelle Pasta with Shrimp was surprisingly light, even though it was prepared with a creamy sauce. The hint of citrus brightens the dish and helps cut the cream. The mushrooms and the spinach add some earthiness. You can also select chicken with this pasta, and it is substantial enough without any meat. On the app it wouldn't let Ivonne proceed without choosing a protein, but usually if you talk to a Cast Member before finalizing your order you'd be able to get some assistance.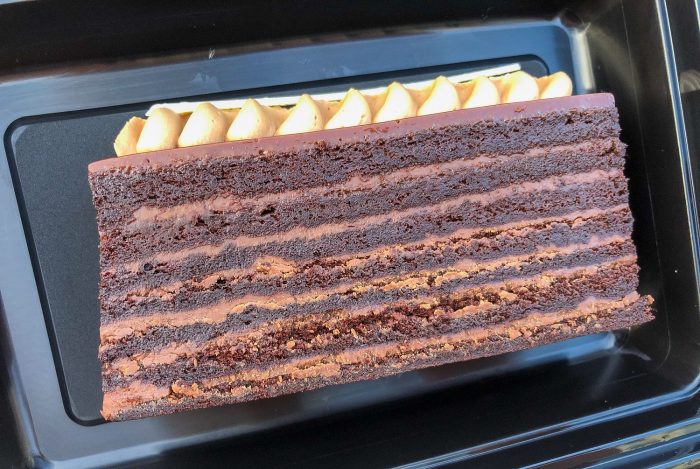 The desserts all sounded tempting, but in the end the signature Twelve-Layer Chocolate Cake became the selection. It was dense, as you'd expect, but not too heavy. The Milk-Coffee Chantilly adds some complexity so it is more than just a regular chocolate cake.
There's plenty of seating outside at Disney's Yacht Club, and around the entire boardwalk too. The ability to pick up food for takeout, walk a few steps, and have the incredible atmosphere of this resort as your backdrop for your meal makes Ale and Compass To Go one of our favorites for mobile ordering. And the quality of the food is tops too!
Have you used Disney's mobile order at any table service restaurant? Would Ale and Compass To Go make it onto your list?