REVIEW: Flame Tree Barbecue Revisited
An old flame of mine has been rekindled. One of my first loves at Disney's Animal Kingdom was Flame Tree Barbecue. Admittedly, on recent visits my attention has been on Nomad Lounge and Harambe Marketplace as my new favorite dining spots in my favorite theme park. Now with Harambe Marketplace being temporarily closed, Flame Tree Barbecue steps in as one of the few options in the park, and yet still one of the best.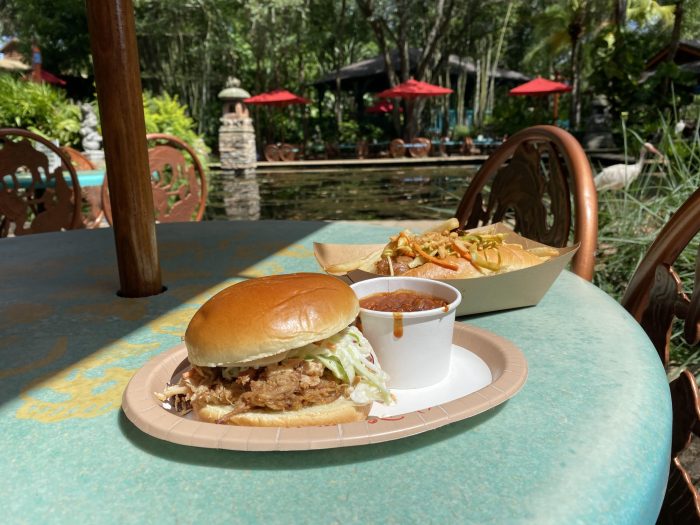 Mobile Ordering at Flame Tree Barbecue
Practically all Disney owned and operated counter service dining locations have moved to mobile ordering exclusively. This is fine by me–I consider myself a mobile ordering hipster who was using it before it was cool. On my recent visit to Disney's Animal Kingdom, just me and my toddler, I mobile ordered our lunch while we were in the Baby Care Center. On our walk over to Flame Tree Barbecue, I marked on the app "I'm here". Within five minutes the app updated and showed to pick up our order at "window 3". What an easy experience!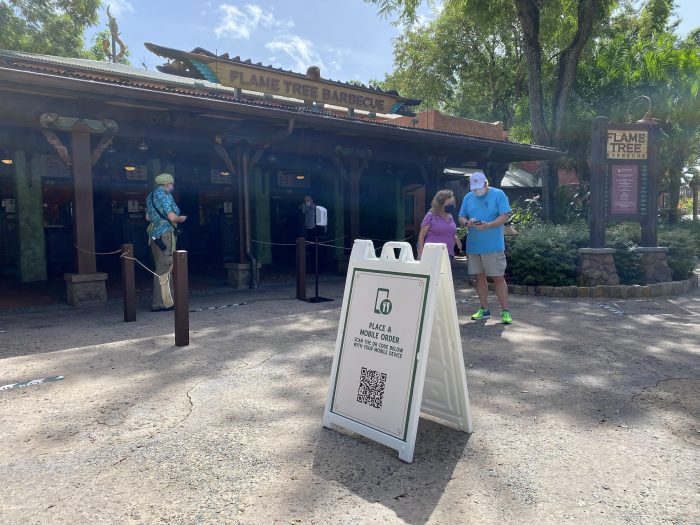 Outdoor Seating at Flame Tree Barbecue
In the heat of summer it is hard to see Flame Tree's exclusive outdoor seating as a benefit. However in this new age it is a welcome feature for many guests, including myself. The outdoor area is made of multiple pavilions with bountiful shade. Navigating the winding paths with a stroller and a tray of food was a little bit of a challenge, but it paid off with a table near the beautiful water feature.
The most popular pavilion in this outdoor seating area overlooks the lagoon that was used for Rivers of Light, with views of Expedition Everest. Now with the floating character cavalcade, it is even better. On my visit all the available tables in the waterside pavilion were occupied, with about half of the tables marked unavailable to allow for proper distancing. My toddler and I selected a table nearby in the shade, near the sparkling water feature, and lots of friendly ibis birds.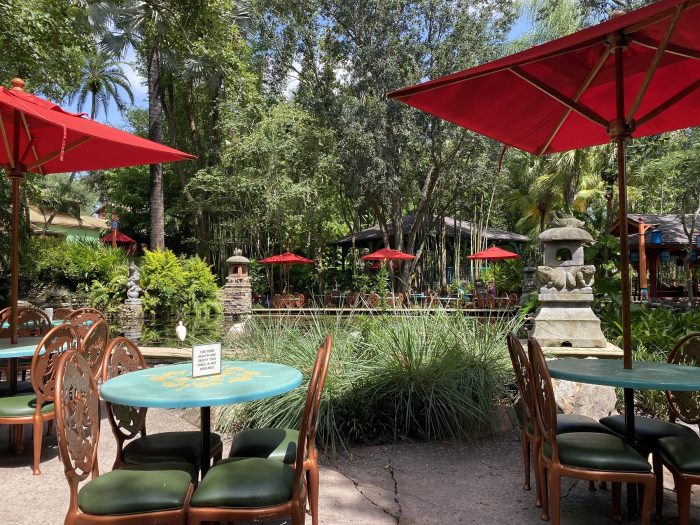 We could hear the sounds of the park, including the monkeys in Asia, squeals of delight on Everest, and lively music from the character appearances on the water. It felt so good to be here, just my son and I, on a weekday. No one else was in our immediate area other than Bob, a wonderful Cast Member who helped guests with clearing their table, and immediately sanitizing the area once each guest was finished.
The Food at Flame Tree Barbecue
I've enjoyed Flame Tree over the years thanks to its approachable fare. Barbecue can sometimes be overly heavy or drenched in sauce to cover up dryness. Somehow, even in mass produced quantities, Flame Tree produces quality barbecue that is flavorful without being overpowering. Back when I was a Cast Member, I would bring a change of clothes so I could enjoy my lunch break at Flame Tree. I loved their BBQ Chicken Salad, which is now the Smokehouse Chicken Salad and much different than its predecessor. I haven't tried it yet, but I intend to soon.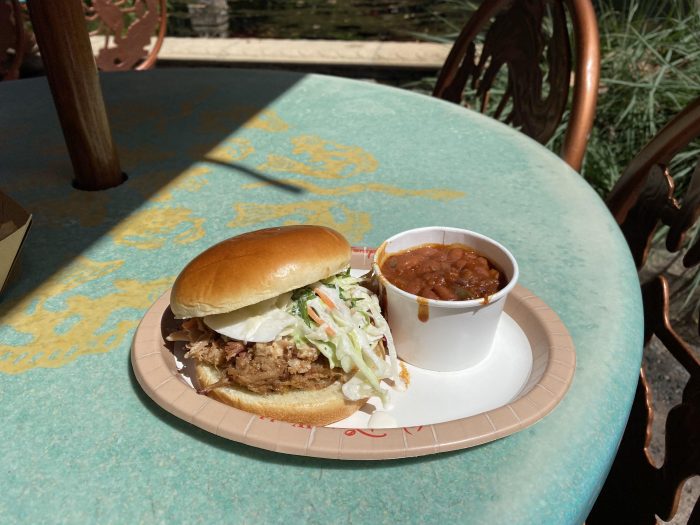 My son has a few food allergies, including beef, so anytime I can order pulled pork for him I do, and it's usually a win. If you're wondering the quality of the Pulled Pork Sandwich here, know that my tiny toddler ate every single last morsel of the pulled pork off the sandwich, and it wasn't a kid's meal serving. I didn't even have to beg him to eat his food which, as any parent will attest, is a miracle.
I opted for the Hotlink Smokehouse Sandwich, made with plant-based sausage. It blew me away! I am not vegan or vegetarian, but I enjoy exploring plant-based options, and Disney often produces fantastic plant-based sausage items, like the Plant-Based Bratwurst in Magic Kingdom.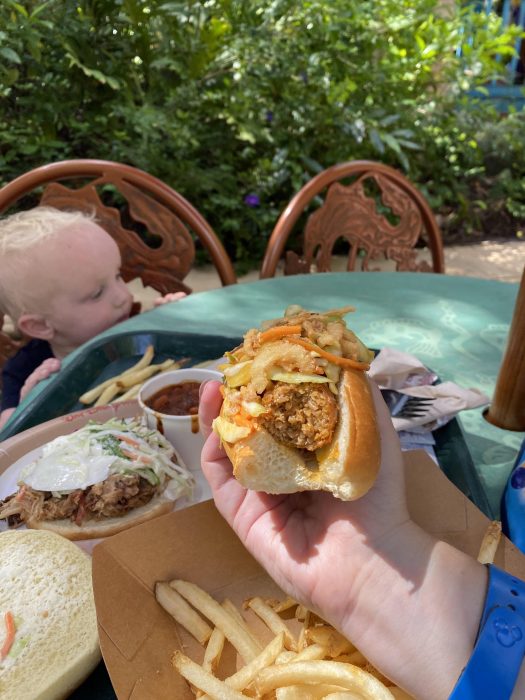 This plant-based sausage had a kick to it without too much heat. The slaw that tops it was tangy rather than creamy, which added a little tartness. There's also crispy onions which added some sweetness, and I wish there had been more of them. The New England-style roll elevated this sandwich. Hearty and tender, it stood up to the toppings and was the perfect texture.
Both my son and I ate every last bite. It's been years since I visited Flame Tree Barbecue, and maybe the fond memories of the past help fuel my affinity, but I was pleased with every aspect of our meal there. With reduced dining options at all four Walt Disney World theme parks, fear not when in Animal Kingdom. A great meal awaits at Flame Tree Barbecue.
Are you a fan of Flame Tree Barbecue? Let us know in the comments.