REVIEW – Is Disney California Adventure's A Touch of Disney Worth $75
A Touch of Disney is a ticketed event at Disney California Adventure at Disneyland Resort. In this post I'll share my experience, review some of the exclusive food items available, and talk about some event-exclusive photo ops.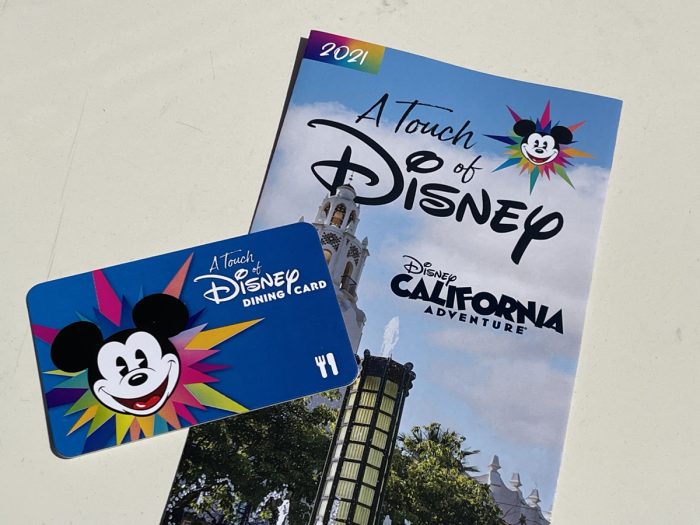 A Touch of Disney was announced on February 24, 2021. The event would mark the first time one of Disneyland Resort's theme parks would be open since closing in March, 2020. There's no doubt Disney wanted to emulate the success of multiple similar food events over at Knott's Berry Farm. But bizarrely Disney waited until their California parks had been closed for almost a year to announce a similar event. Fans were excited to return to DCA, rides or no rides, and when the tickets went on sale March 5 thousands of people waited in multi-hour-long queues on Disney's website for a chance to purchase admission. Tickets sold out and then Disney added a few extra dates due to the popularity. The next day, a bombshell announcement was made by the California government; theme parks can reopen with limited capacity starting on April 1, 2021. Disneyland Resort would then later announce a reopening date of April 30, 2021. That leaves A Touch of Disney in an awkward spot. If I would have known Disneyland and DCA were fully opening a month later, I wouldn't have purchased an expensive ticket to a food-only event when the "real thing" was near. I'm curious if others feel the same way. I'm also curious if Disney would have even planned and held the event if they would have known what they know now about a reopening date.
Arrival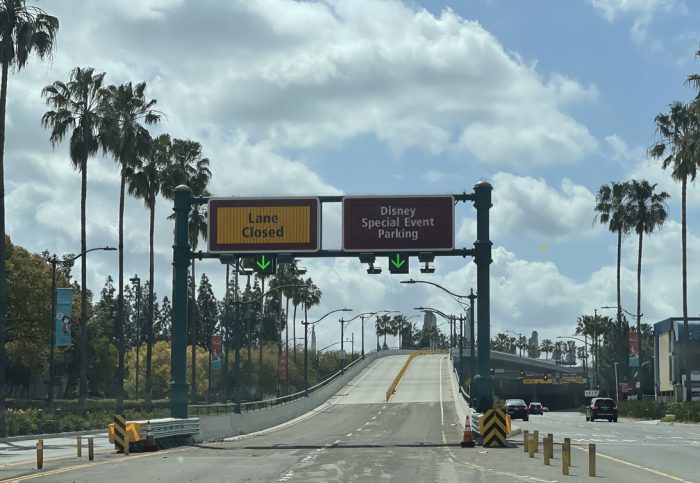 Parking is included in the cost of admission. Everyone attending must park in the Mickey & Friends Parking structure. The flyover ramp is appropriately marked for the event.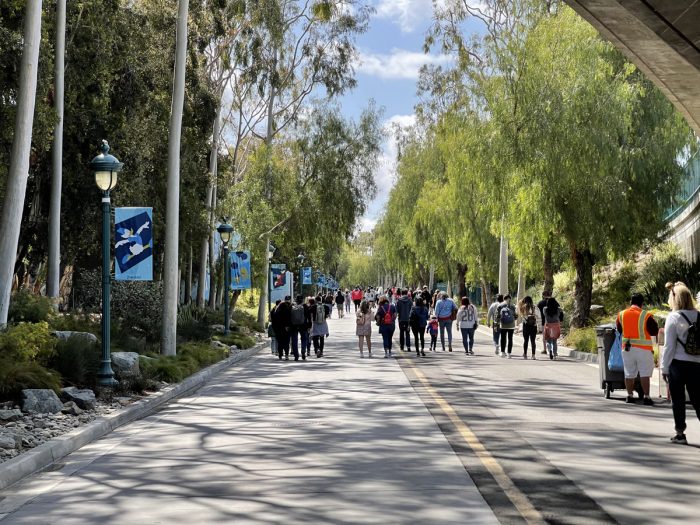 After going through a temperature check and security, everyone must walk along the space usually used as a tram route shuttling visitors to and from the parking area. The length is about a quarter of a mile. There are benches to stop along the way if you need a break.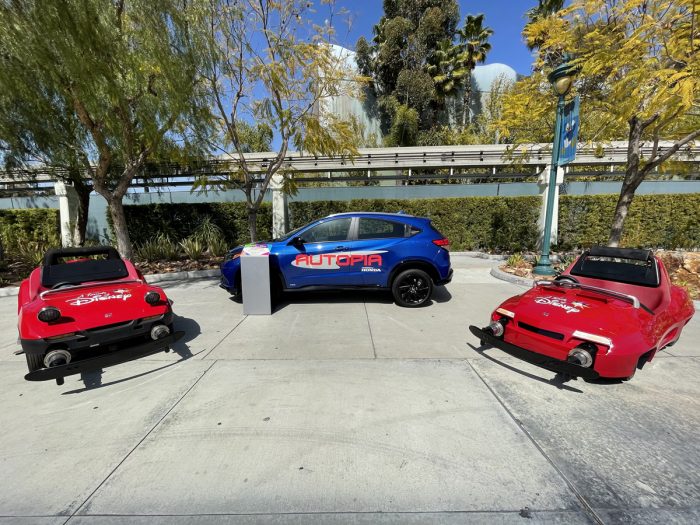 Along the tram route you'll find your first photo op. Two of the Autopia cars and a Honda SUV are on display.
Upon entering the park you'll be given a guide map and a Disney gift card with $25 on it.
The Food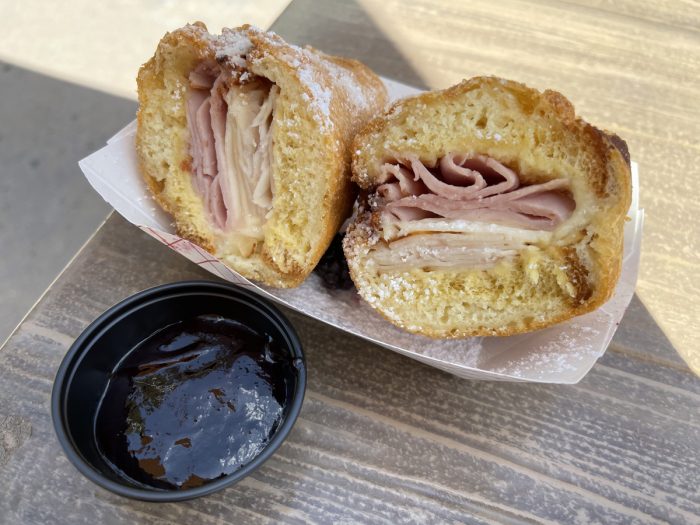 Food at A Touch of Disney consists of favorites from Disneyland (such as Bengal Barbecue skewers, Dole Whip, and others) and new small bites similar to what you'd see at one of DCA seasonal food events like Food & Wine. Prices range from $7 to $10 so your $25 will go quick (mine was depleated after just three items). The first item I tried was Monte Cristo Sandwich ($10) available at Smokejumpers Grill. This Disneyland classic is usually sold at Blue Bayou Restaurant and Cafe Orleans. The A Touch of Disney version is just as decadent, rich, and glorious as the classic one across the esplanade.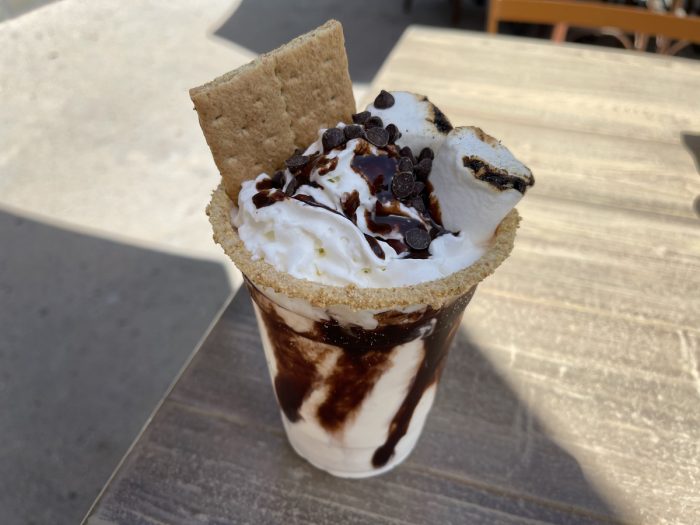 Another item from Smokejumpers is the S'mores Shake ($6.49). You can't go wrong with a chocolate and vanilla shake with a little bit of graham cracker and marshmallows. This and the Monte Cristo was a HEAVY meal and I do not recommend starting your day with these two items like I did.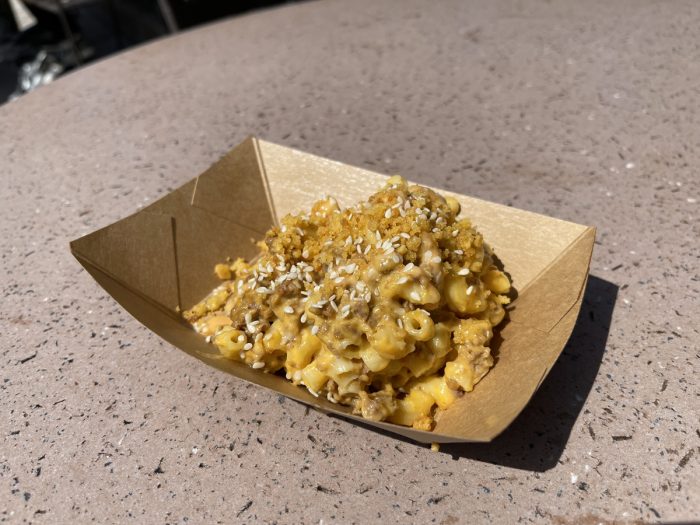 Next up I tried the Impossible Cheeseburger Mac 'n' Cheese ($8) from the LA Style booth. The best I can describe this item is imagine if you took a Big Mac (special sauce included) and then crumbled it over some mac and cheese. Not bad but also not great.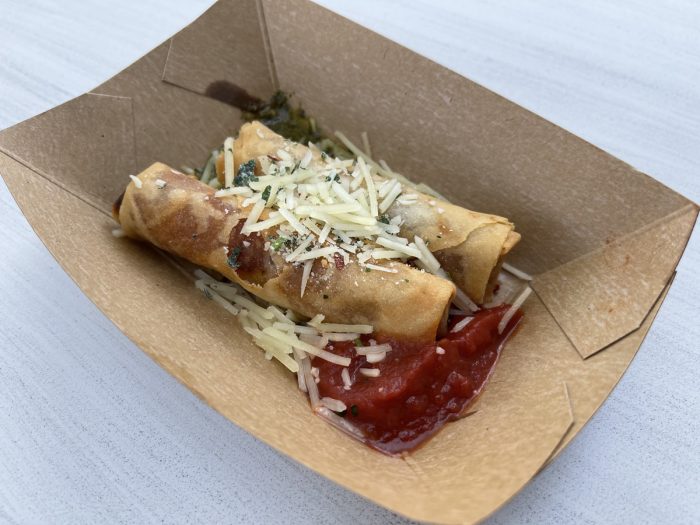 With my gift card depleted I paid for one more item out of pocket, the Pepperoni Pizza Egg Rolls ($7) from California Craft Brews booth. These were decent and I appreciated the helping of pesto sauce that was included. No other food items on the list caught my eye so I decided to move on to the photo ops. It's worth mentioning food from any of the booths can be ordered in person from several different kiosks around the park. You'll then get a receipt which you take to the booth to pick up your item. There's also mobile ordering via the official Disneyland app. I used mobile ordering for all of my items and found the process to be quick and easy.
Photo Ops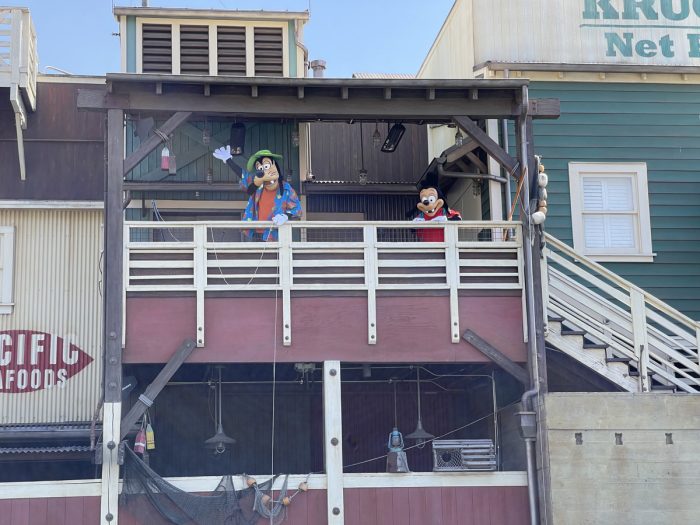 There's no up close and personal meet and greets with Disney characters available at A Touch of Disney but they do appear for selfies and other photo opportunities. Here you can see Goofy and Max fishing in Pacific Wharf.
Max catches a pair of boxers. Hilarious.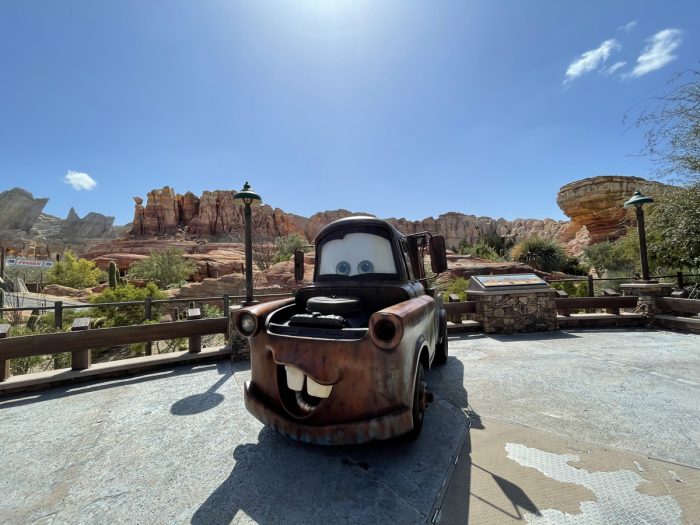 Mater is available to get a selfie with in Cars Land. Disney cast members are not allowed to touch your phones or cameras at most of the photo ops.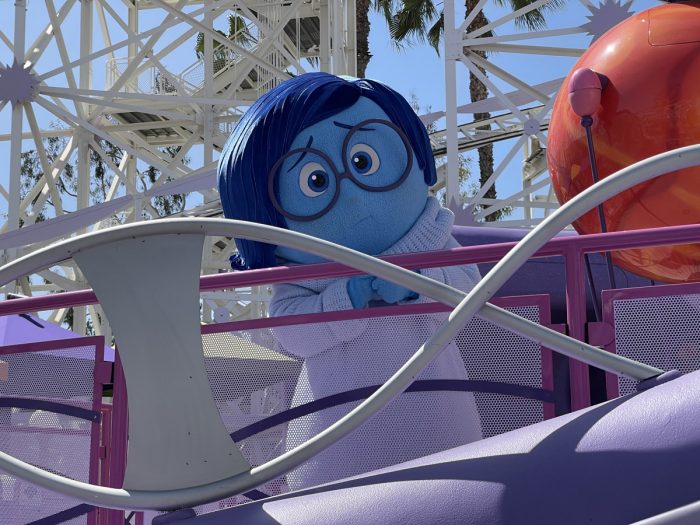 If you're curious about how close you can get to the characters, here's a zoomed in picture of Sadness from Inside Out.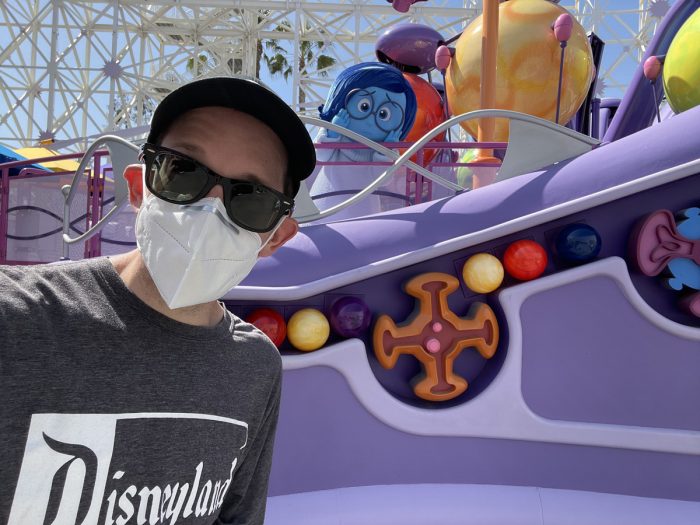 And here's what a selfie with her looks like, using a camera held at an arm's length from my body.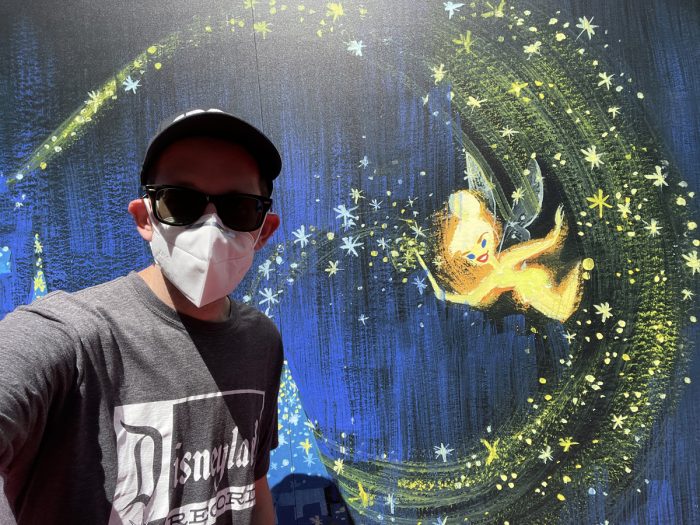 Another selfie spot in Hollywood Land near Mickey's PhilharMagic.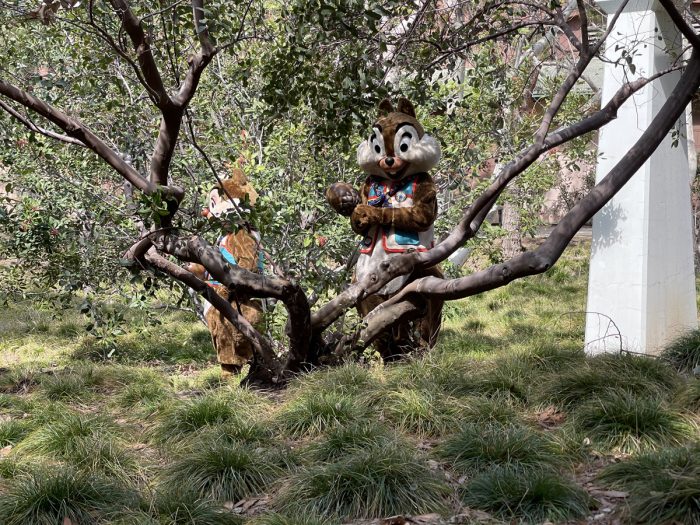 Chip & Dale search for acorns in Grizzly Peak.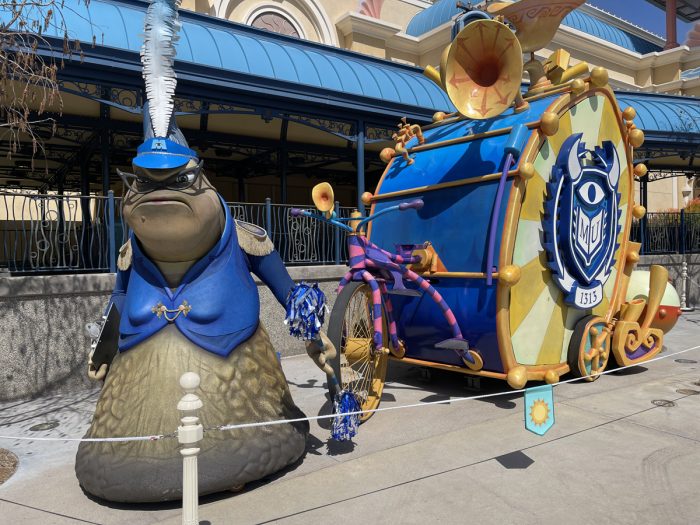 Roz from the old Pixar Play Parade is located in Paradise Garden Park.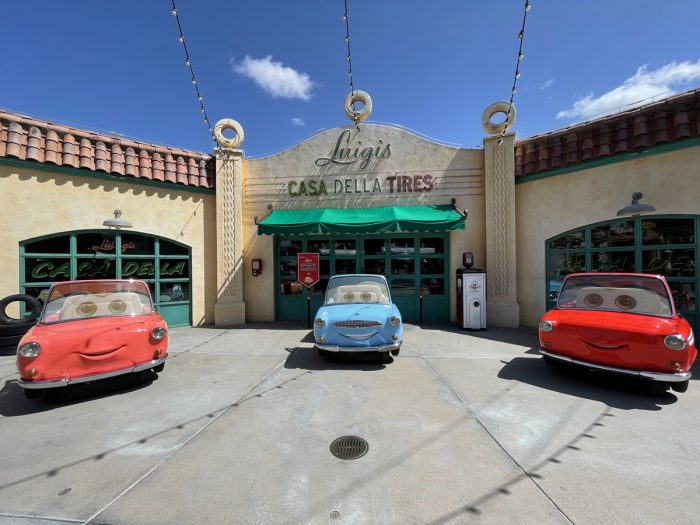 Some of the cars from Luigi's Rollickin' Roadsters in Cars Land.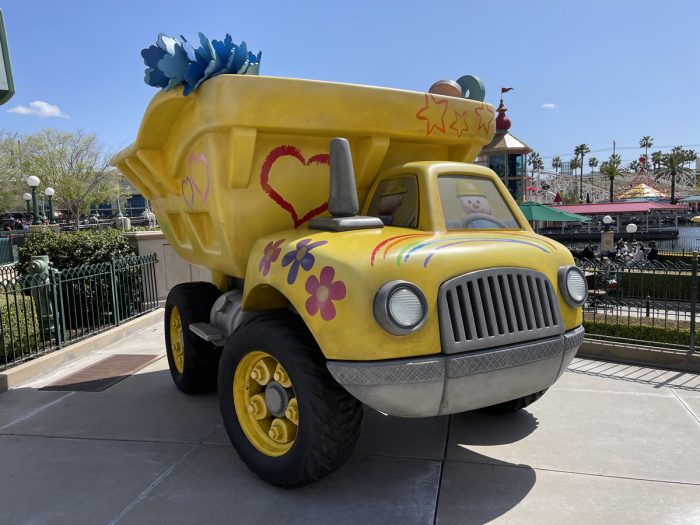 Another parade float from Pixar Play Parade.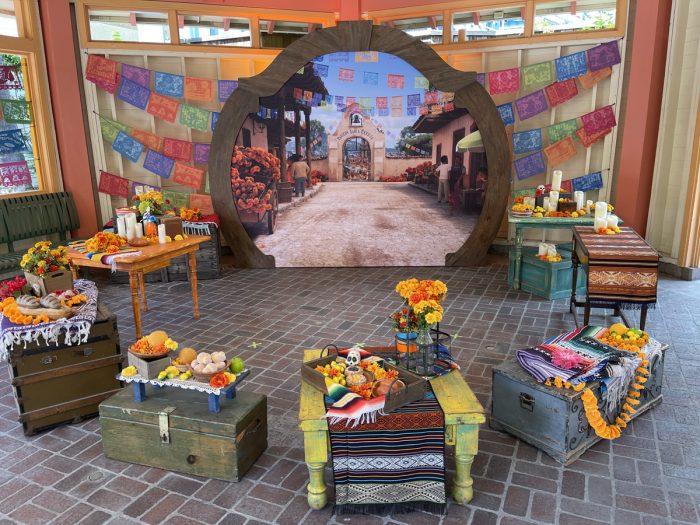 Paradise Gardens has a nice Coco photo op.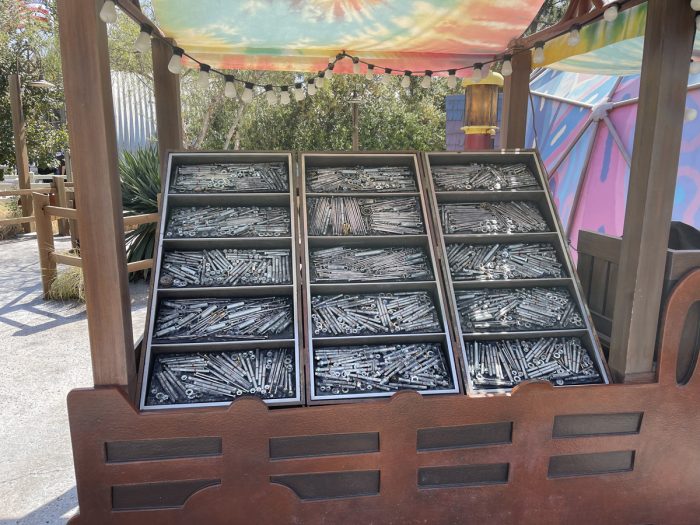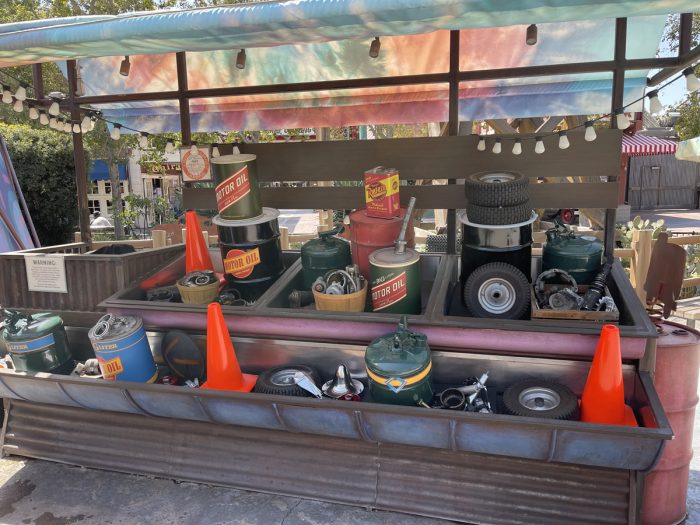 The fruit stand in Cars Land is closed but nuts, bolts, motor oil, and other car parts have been placed on the shelves where human food is usually located. Nice touch.
Is Disney California Adventure's A Touch of Disney Worth $75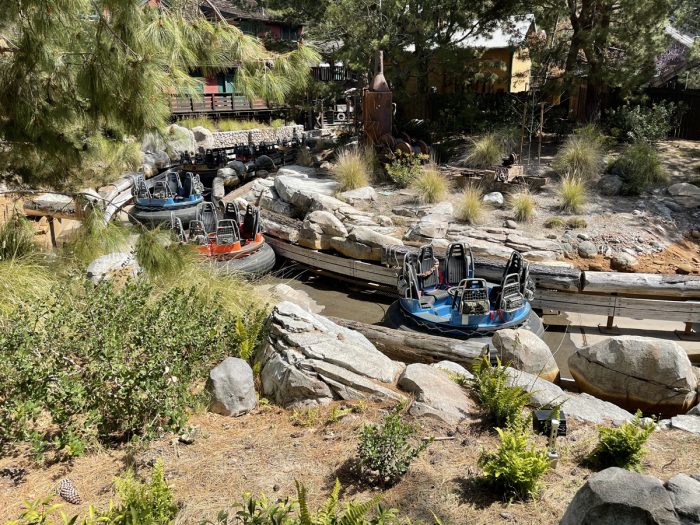 No, A Touch of Disney was not worth $75. Food prices were too high, the included gift card is too low in value, and besides the few photo ops mentioned above most of the park felt like a closed theme park (because that's what it is). Rides sit motionless, and most stores remain shuttered. I found the park to be missing life and energy. Not that I need rides to enjoy a theme park, but it felt like DCA was lacking any energy.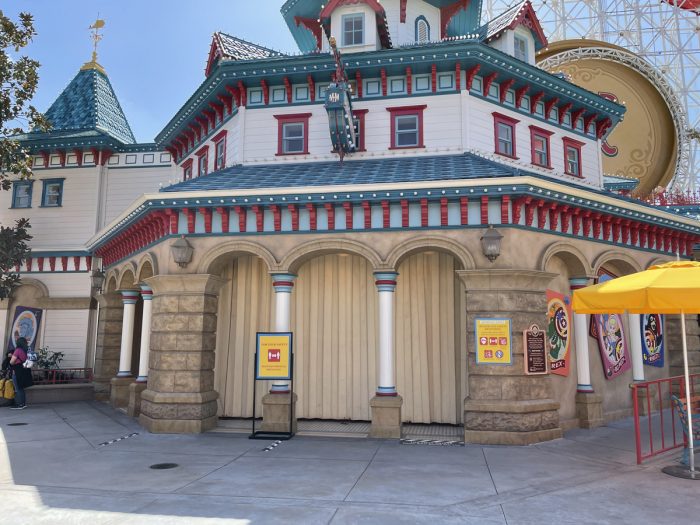 Considering you're paying $50 just for the privilege's of walking around DCA I hoped there would be even more characters, or some form of live entertainment. Was it impossible to hire a band to play on a stage with an appropriate distance from the crowd? Not even the World of Color fountains were running to provide a little motion in that area of the park.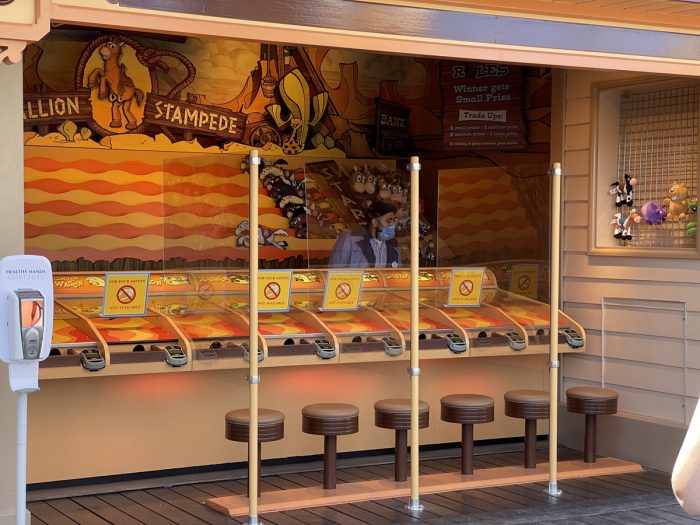 One freebie I found, the Games of the Boardwalk were set to freeplay. Unfortunately no prizes were being distributed, although they were giving out prizes on the first day of the event when members of the media were in attendance.
That wraps up this review. It was nice to be back in a Disney theme park and I'm incredibly happy Disneyland Resort cast members can have a job again. A Touch of Disney definitely got me excited to see the parks fully operating again.
Did you think A Touch of Disney worth $75? Let me know what you thought about the event in the comments below.