REVIEW: Mama Melrose's Ristorante Italiano Does Not Get the Attention it Deserves
Tucked away in the corner of Disney's Hollywood Studios where Grand Avenue collides with The Muppets is an Italian restaurant that deserves our attention. Mama Melrose's Ristorante Italiano sits and waits as guests exiting Muppet*Vision 3-D often walk right past it.  Its small lobby feels like a neighborhood restaurant rather than one found inside Walt Disney World, save for the celebrity headshots framed on the walls. It has long been a low-key favorite of mine, and I decided it was time to introduce my husband and son to its delights.
Mama Melrose's Quirky Atmosphere
This Italian restaurant inside Disney's Hollywood Studios has quite the backstory.  Disney's official story goes that a young girl from a small Sicilian village moved to Hollywood to become a star. In the end it was cooking that was her true calling as she prepared her family's recipes for her starving actor friends.
Her friends urged her to open a restaurant in a vacant backlot warehouse once used to store film equipment. Soon film industry insiders became avid fans and dubbed her Mama Melrose, after Melrose Avenue in Los Angeles. Her establishment became known as the place "where Italy meets California in the heart of the Backlot," and now her cooking is yours to enjoy.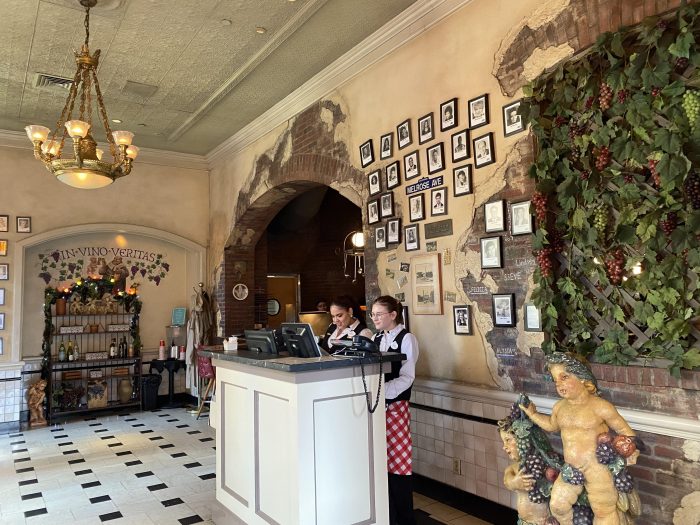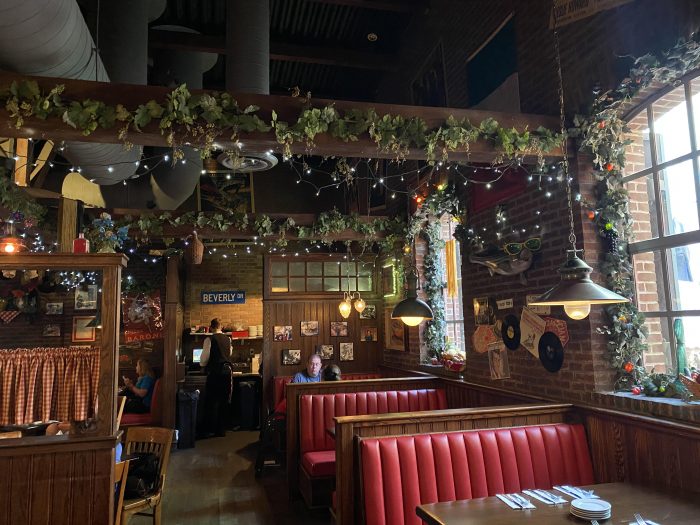 The liveliness of this space is anchored by a show kitchen. The hustle and bustle of a professional kitchen stands proudly as the dining room lays out before it. The walls are filled to the brim with Italian-American records, trinkets, and movie memorabilia. To add to the clutter, there are photos of celebrities at Disney's Hollywood Studios, or rather Disney-MGM Studios. So, that's a little confusing considering this restaurant is set in actual Hollywood.
Despite the clunky backstory and gaudy decor, I find Mama Melrose's to be a charming place. Perhaps it is the memories of dining here when I was a young adult. My family and I would eat here every year before strolling through the dazzling lights of the Osborne Spectacle of Lights.
Now, with a family of my own, the prospect of bringing my husband and toddler here for the first time excited me.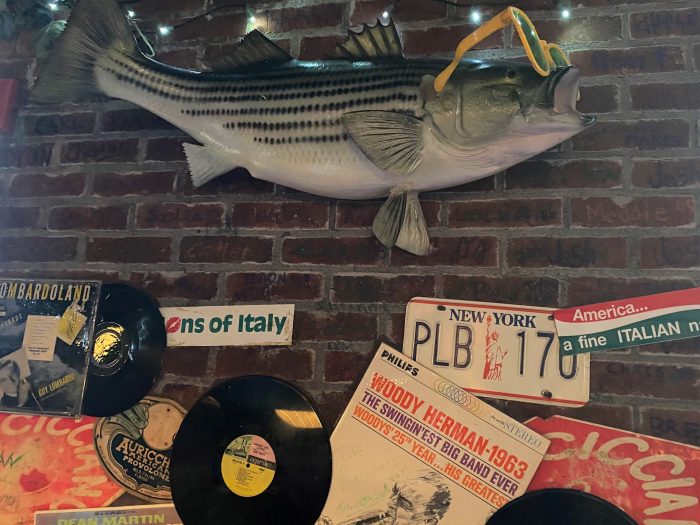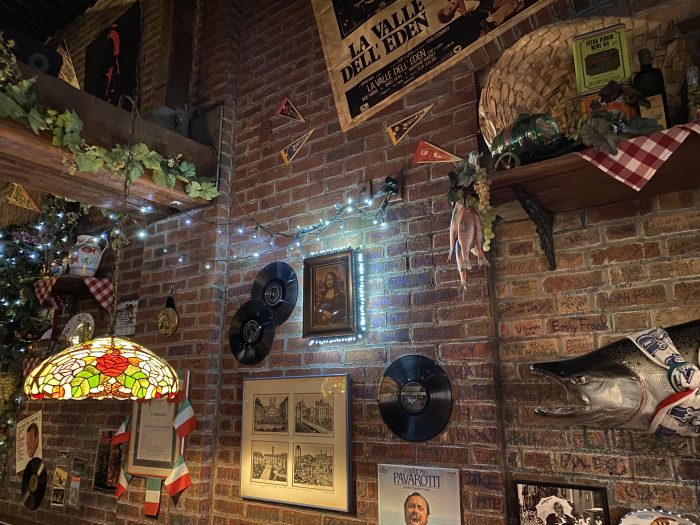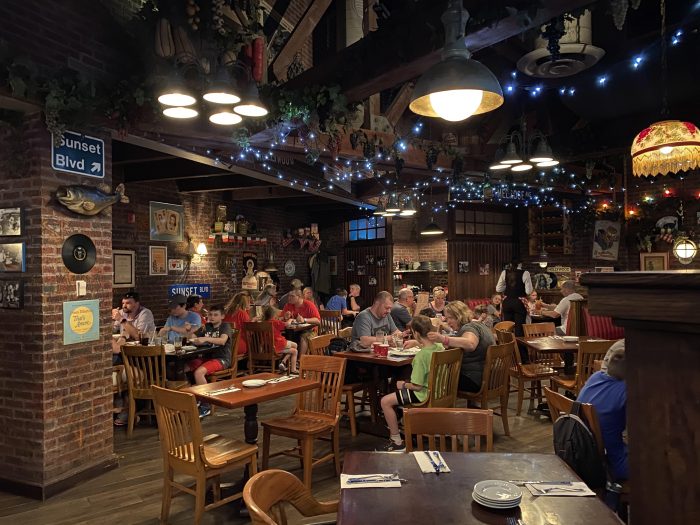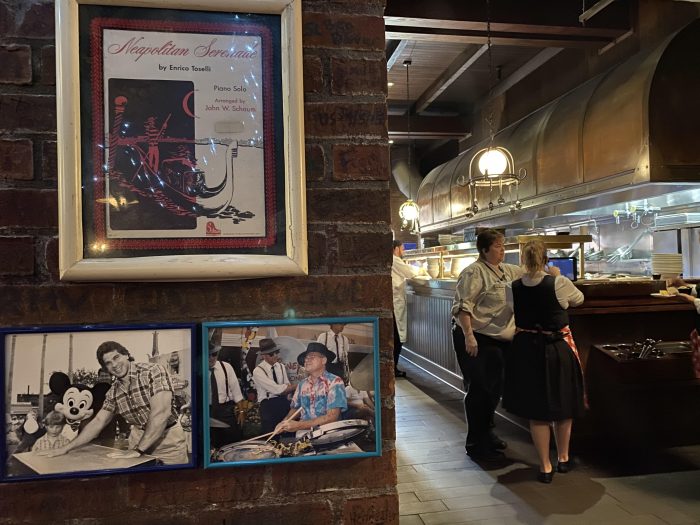 Appetizers at Mama Melrose's
In short, for appetizers I recommend the flatbreads or any traditional Italian dishes. The flatbreads are prepared in a wood burning pizza oven, with its flames dancing in the background of the show kitchen. Traditional Italian dishes with rich tomato sauce and creamy cheese are sure bets – both as appetizers and entrees.
At the start of our meal we welcomed the Mushroom Flatbread and the Crispy Calamari. The Mushroom Flatbread is dreamy. The Cremini and Button Mushrooms are full of robust earthy flavor.  Roasted Vidalia Onion Spread topped with Fontina and Asiago add to the decadence. The onion spread is sweet and the two cheeses are creamy and have a hint of nuttiness. Finished with Balsamic Reduction and Fresh Herbs, this flatbread is divine.
At $15.00 it is a decent value, cut into six pieces it can be shared among 2-3 people. If earthy mushrooms and tangy balsamic vinegar are not appealing to you, the Carne d'Italia Flatbread (Italian Meats) will definitely satisfy.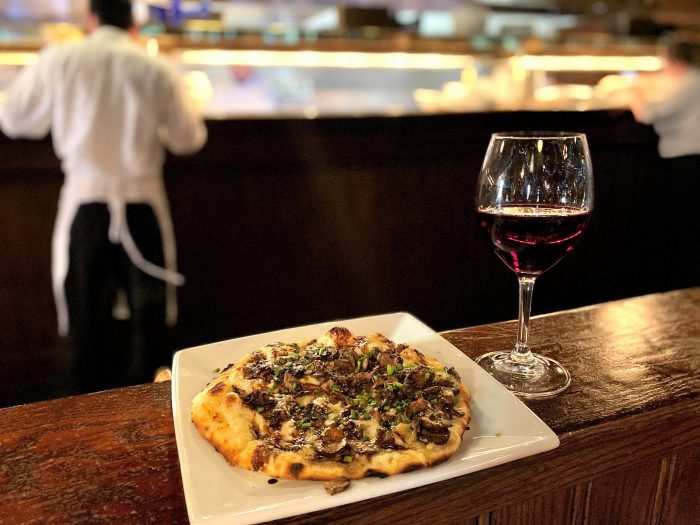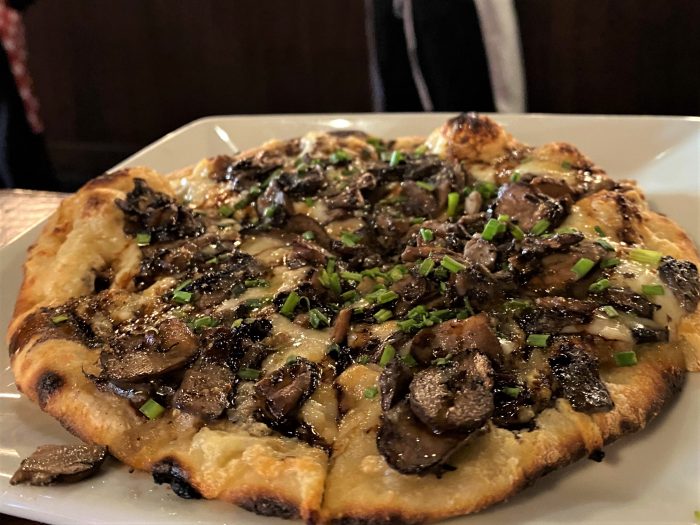 It is hard to resist Crispy Calamari, especially at Mama Melrose's. It has been on the menu as long as I can remember and is one of the first places at which I ever tried this popular Italian appetizer. If prepared properly, calamari can be tender and light. This has always been the case at Mama Melrose's, The tenderness and mildness of the calamari allows the seasoned, crispy breading to take center stage. An extra hint of pepper overpowered a few bites, but the Sottaceto Misto (pickled vegetables, including pickles themselves) and Spicy Aïoli calmed the pepper. Be sure to squeeze the Charred Lemon over the Calamari, it will brighten the flavors. $14.00 is a fair price, the serving will easily serve two people, if not more.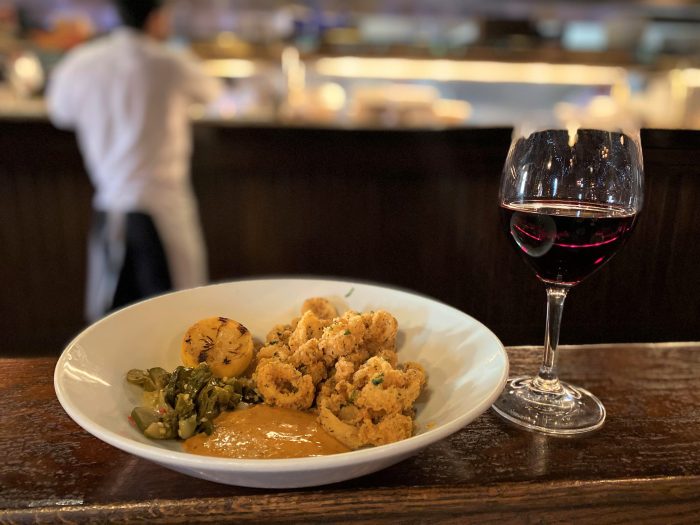 The Main Course at Mama Melrose's
In all of my years dining at Mama Melrose's, I have never been disappointed in my meal. Admittedly, it's been at least five years since my last visit prior to this one. While browsing the menu the Oven-baked Chicken alla Parmigiana and the Pork Saltimbocca each tempted me. In the end, the Sustainable Fish with Pappardelle Pasta tossed with Puttanesca Sauce and Grilled Asparagus won me over. The Chef's Seasonal Selection of Beef Short Ribs over Risotto won my husband's attention.
The Sustainable Fish during our visit was Grilled Salmon. I selected this dish because I love fish, as does my son, and the Puttanesca Sauce appealed to me. Puttanesca Sauce is very rustic and hails from Naples, Italy. Full of rich tomato, capers, and salty olives, this is a distinct sauce. The Pappardelle Pasta is wide long ribbons of pasta, and acted as a bed under the Salmon. Although tossed in the pungent Puttanesca Sauce, a fair amount of the noodles were clumped together. The asparagus is the surprising hero of this dish. Cooked beautifully, each shoot had a crisp texture with every bite, with just enough seasoning.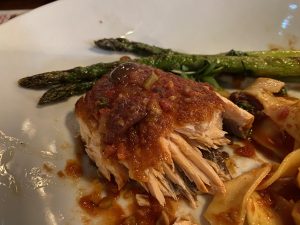 Cooking fish properly can be tricky, grilling it even more so. The cook on the Salmon was a tad overdone. Salmon should generally come apart in nice flakes. In this case, as you will see from this not-so-pleasant photo, the fish shredded each time I placed my fork within to claim my next bite. Overall, I ate most of my serving, but did not swoon with amore the way I did for the next dish. And at $33.00 it should be the best entree on the menu, but it is not.
My husband ordered, with much enthusiasm from my part, the Seasonally-inspired Chef's Selection. During our visit this selection was Beef Short Ribs over Risotto. Whenever you are at a Disney restaurant and they have Beef Short Ribs on the menu you must absolutely order them. No matter when, no matter where, Beef Short Ribs have never let me down.
As they should, these Beef Short Ribs immediately fell off the bone with just the tiniest of nudges from our utensils. Hearty, savory, and tender, the beef melted in my mouth. The velvety Risotto captured the rich gravy. Sometimes Risotto can be underdone with the rice being crunchy, or overdone becoming sticky and chewy, alas this was not the case at Mama Melrose's. At $28.00 it is one of the higher-priced entrees on the menu, but also one the best for taste and serving size.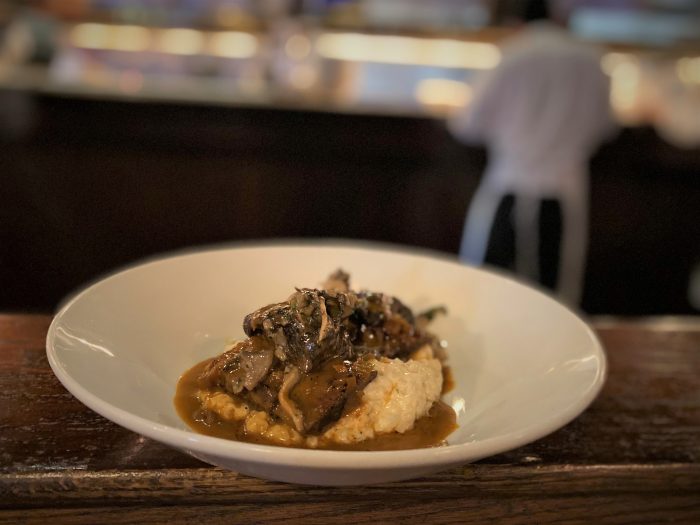 Final Thoughts About Mama Melrose's
In total we spent $127.50 before tip on two appetizers, two entrees, plus a child's meal.
If you prefer traditional, like-mom-used-to-make Italian fare, there are a number of choices that will hit home with you. Mama's Italian Pasta and Spaghetti and Meatballs are classics, of course,  and the Wood-grilled Chicken and Penne Pasta and Charred Strip Steak are also good choices. I enjoyed that the music has changed to traditional Italian songs. I even heard a few that are part of EPCOT's Italy Pavilion's background music. This is a welcome change from the corny Italian-American 1950s songs mixed with a few California themed pop songs.
Our meal together at Mama Melrose's, our first as a family, was pleasant, enjoyable, and delicious. It pleases me to know that after all these years Mama Melrose's Ristorante Italiano still serves up some delicious, hearty Italian fare.
Are you a fan of Mama Melrose? What do you like to order? Let us know in the comments.