REVIEW – Restaurantosaurus Doesn't Impress, But It Has a Great Kids Meal
One year ago I dined at Restaurantosaurus and I regretted it. But, it was all in the name of research. I knew Restaurantosaurus wouldn't be that great and dining there to write about it only confirmed that knowledge.
On a recent visit with my son we stopped at the Restaurantosaurus Lounge to check out the Annual Passholder Exclusive drinks, and I decided to brave the food at Restaurantosaurus once again. I knew the plant-based burger had changed slightly thanks to Disney's partnership with Impossible brands, and I figured my son needed something to eat. When I ordered the kids' meal I was surprised that the price of the meal was more than other Disney quick service locations, and then I saw that it is served in a sand pail. Little did I realize how much of a help this little sand pail would be.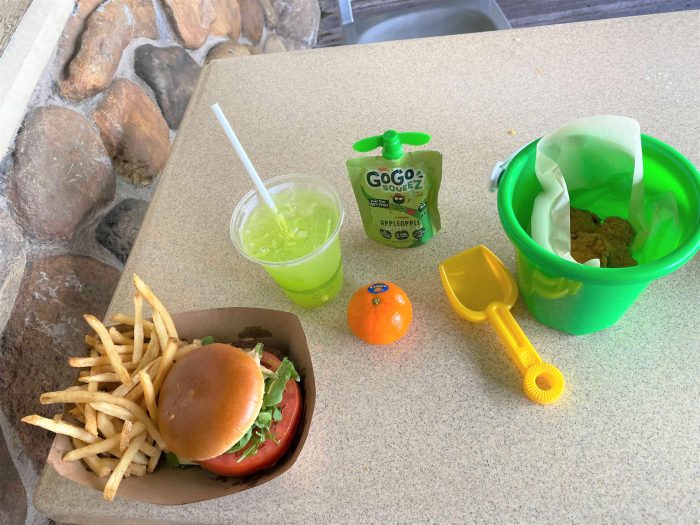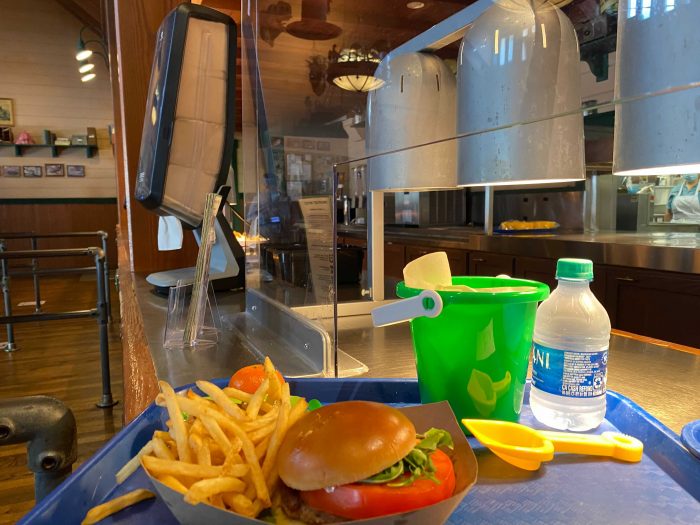 Here's what I ordered from the Restaurantosaurus menu:
Kids' Chicken Breast Nuggets Meal (4 Pieces) – Includes a Cutie Mandarin with a Danon Danimals Smoothie and a choice of kids' beverage  – $9.69
Plant-Based Spicy Southwestern Burger – Plant-Based Burger Patty, Pepper Jack, Chipotle Sauce, Lettuce and Tomato -$12.99
Dining with just my son and me is not easy. Other parents can probably sympathize. The biggest struggle is navigating to a place to sit with a stroller, a tray of food and drinks, and a feisty preschooler.  And then there's the whole issue of getting him to sit and eat and not run around to other tables.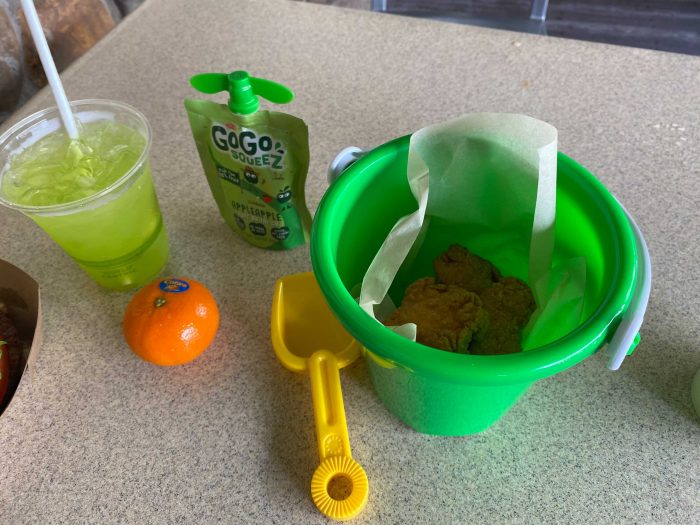 Thankfully the sand pail filled with four chicken nuggets made the meal fun. Although he couldn't sit still too long, he was able to carry his lunch with him and nibble as he explored. I snagged us a table on the front porch with only one other table nearby, and it was vacant thank goodness.
I attempted to enjoy the Plant-Based Spicy Southwestern Burger. It was much better than the last time. The plant-based chipotle sauce is a nice touch, to give the burger a unique flavor. Perhaps I do not enjoy chipotle flavor and don't realize it, but it was too strong for me. The arugula and tomato are also a nice upgrade from iceberg lettuce. Overall this plant-based burger still failed to impress me.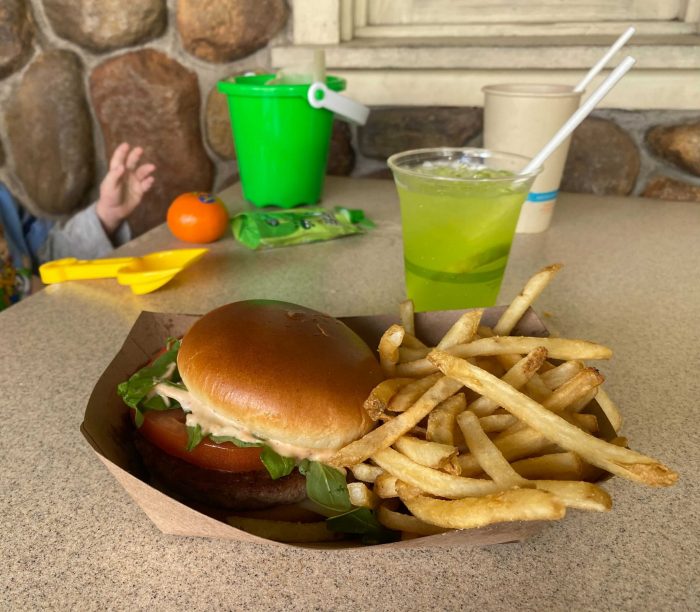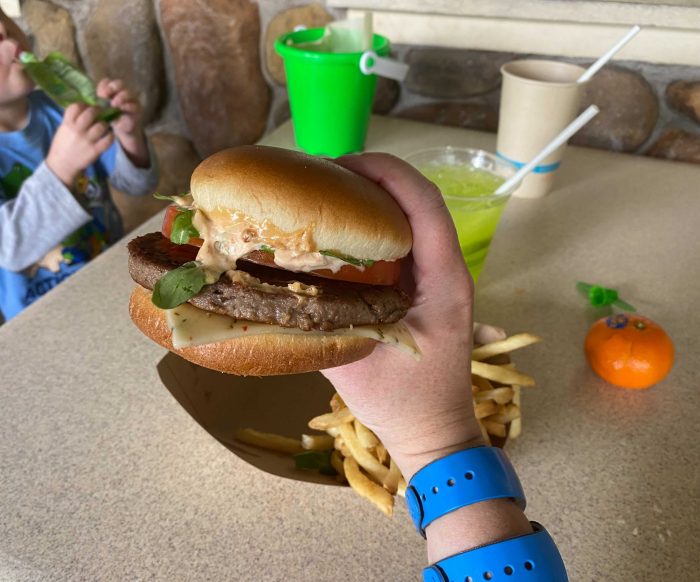 I am glad we revisited Restaurantosaurus so I could discover the joy of the sand pail kids' meal. But, I am in no hurry to return. I much prefer Flame Tree Barbecue or Satu'li Canteen for quick service in Animal Kingdom. And our subscribers agree. We have ratings and rankings for every Walt Disney World restaurant. Here's how Animal Kingdom's quick service options stack up:
Satu'li Canteen 95.2% – Exceptional
Flame Tree Barbecue 93.5% – Exceptional
Harambe Market 92.9% – Much Above Average
Yak & Yeti Local Food Cafes 90.2% – Above Average
Restaurantosaurus 89.3% – Above Average
Interesting note: we've started to see Compost Cans at select dining locations inside Animal Kingdom. This is perfect for this park and we'd love to see them rolled out to other locations.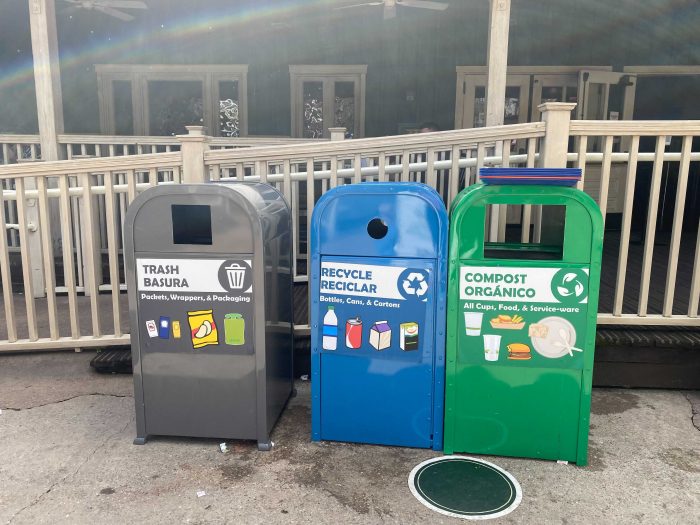 Have you dined at Restaurantosaurus? Would you go back?