REVIEW – Ronto Roasters Continues to Be a Galactic Hit
It's no longer enough for a theme park to have themed areas and attractions. New lands must be immersive to the last detail, including the food. Star Wars Galaxy's Edge continues the legacy of immersive world building that modern theme parks have been delivering since Universal's Wizarding World of Harry Potter. One of few hits for food and beverage at Star Wars Galaxy's Edge is Ronto Roasters.
We like to regularly check up on established Disney dining locations, not just the new ones. So Chrissy landed on Batuu and fueled up at Ronto Roasters during one of her recent park visits.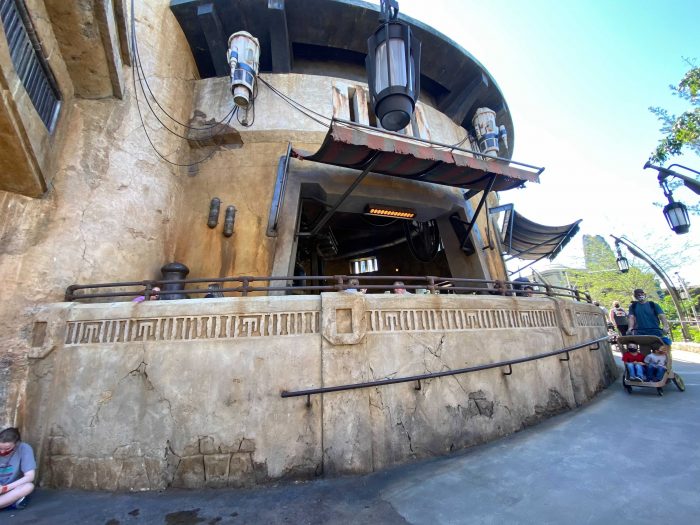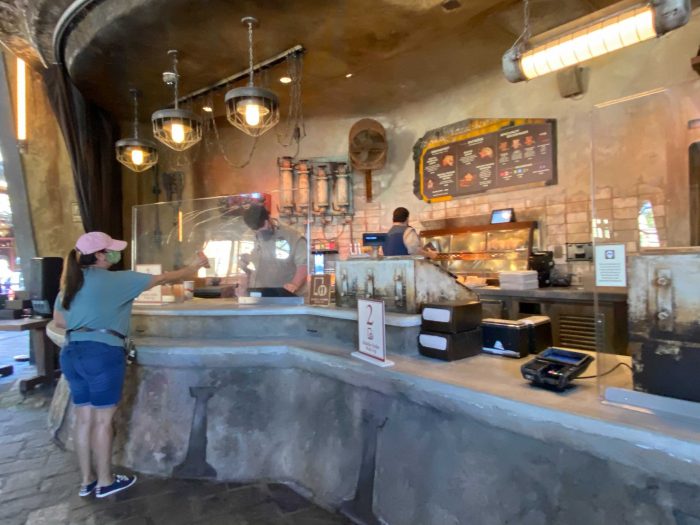 This casual location is well themed, with a droid animatronic and a starship engine pretending to be the means of roasting the food served here. It is open air, which is a plus for many folks right now. Mobile ordering is available and usually very quick and easy. Currently Ronto Roasters is on shortened hours, but if you miss out on it being open you can order to beloved Ronto Wrap right next door at Docking Bay 7 Cargo and Food. We have ratings and rankings for every Walt Disney World dining location and currently our subscribers give Ronto Roasters a 91% thumbs up rating and a ranking of #24 out of 107 quick dining locations.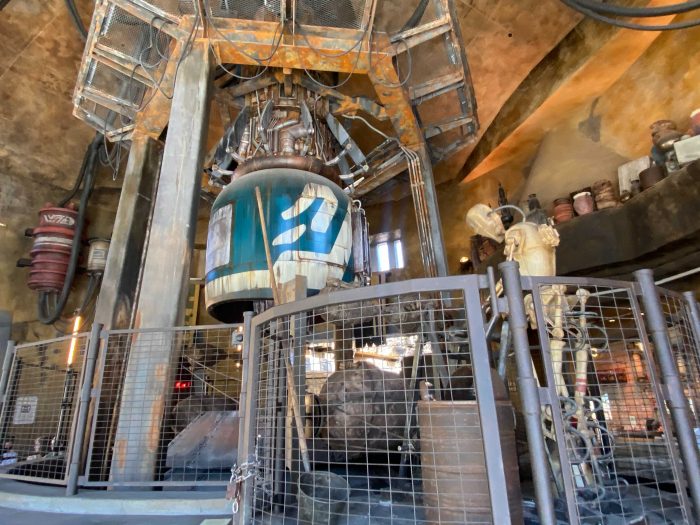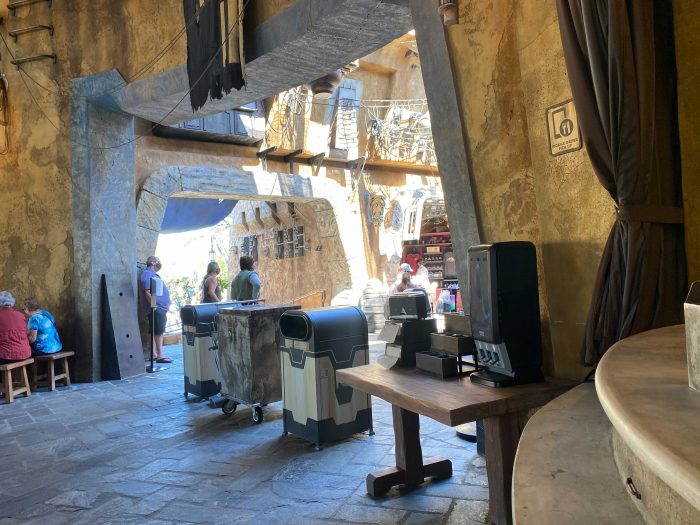 The Ronto Wrap is by and large the fan favorite food of this land. Roasted Pork, Grilled Pork Sausage, Peppercorn Sauce, and Tangy Slaw are wrapped in Pita. The combination of the smoky, salty sausage with the sauce and slaw is fabulous. Then the roast pork is not as present as the sausage but it still adds some heartiness. The pairing of roasted pork and grilled pork sausage would satisfy the appetite of a Wookie. The pita is tender and folds nicely around this savory combination. For $12.99 it is slightly pricey for what you get, but there is nothing else like it in Hollywood Studios and it is considered the signature dish of the land by many Star Wars fans.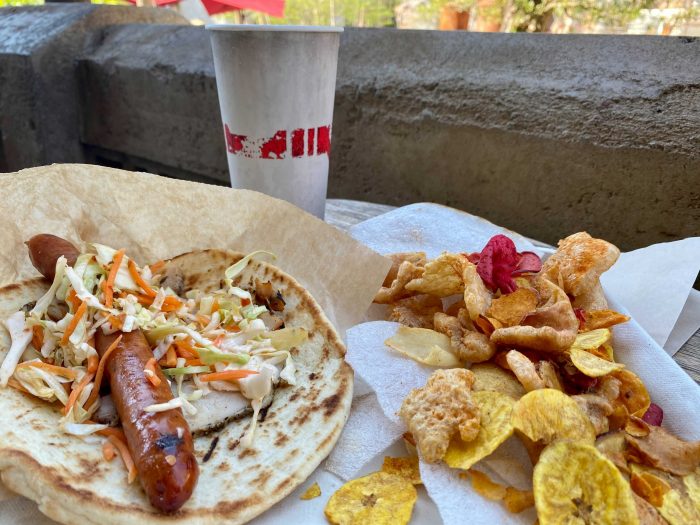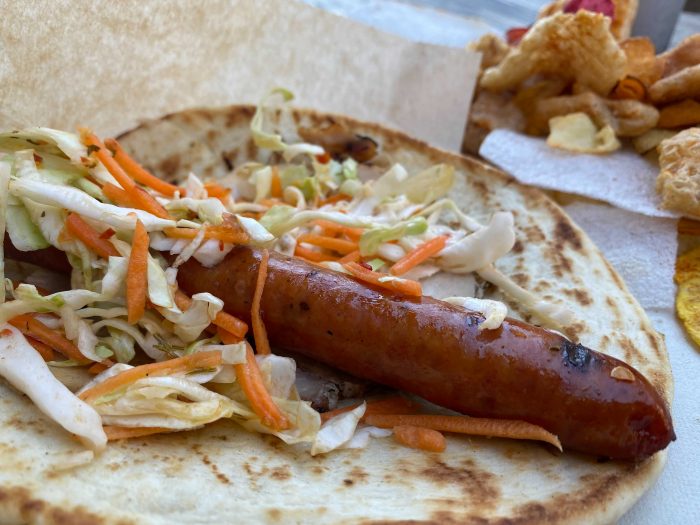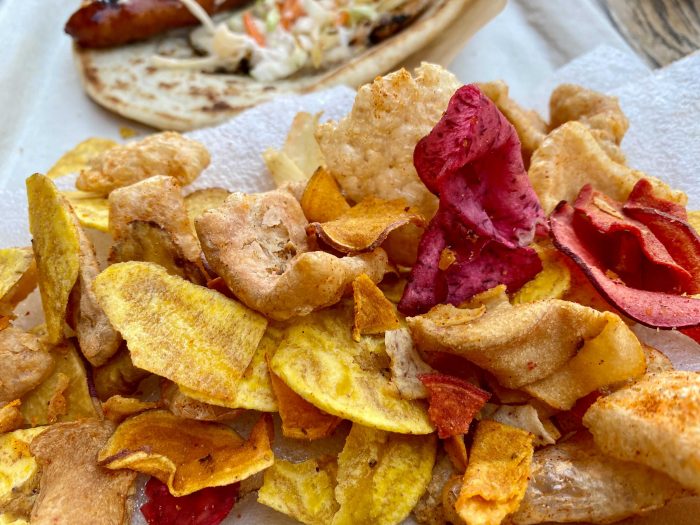 If you just want a crunchy snack, the Galma Snack Sampler will satisfy your craving. Galma Snack Sampler is a decent sized serving of  Plantains, Blue Potato Chips, Pork Rinds, and a Rice Cracker. Chrissy remarked how there aren't any other snacks like it in the rest of the park, so it's got a great unique factor. The chips are thick and hearty with a great balance between sweet and salty. For $7.99 it is a decent value when shared or paired with a specialty beer.
One of the things I love about Star Wars Galaxy's Edge is the book, Galaxy's Edge: Black Spire by Delilah S. Dawson. This canon novel gives us the story of Vi, one of the characters you might see here at Galaxy's Edge. When reading the book I felt like I was actually inside the themed land at Hollywood Studios. It was quite an experience. And Ronto Roasters is mentioned as a favorite spot to grab something quick to fuel our heroic resistance fighters. In our own book, Ronto Roasters is a must for fueling adventure inside Galaxy's Edge.
Have you eaten at Ronto Roasters? What did you think? Let us know in the comments.