REVIEW – Terralina Crafted Italian Restaurant is Great for Sweets but Misses the Mark on Savory
There's so many places to dine at Disney Springs it can be easy to overlook a few spots. Admittedly we had kind of forgotten about Terralina Crafted Italian Restaurant, so Chrissy on our team decided to give it a try. There were some highlights of the meal, but also some misses. Here's what we did, and didn't like, at Terralina.
This rustic Italian restaurant is a concept of Levy Restaurant group which runs multiple restaurants on Disney property, and around the country. Terralina Crafted Italian Restaurant used to be known as Portobello Country Italian Trattoria. In 2017, when Disney Springs began to blossom, Portobello became Terralina, with an updated look and new menu. The interior is very rustic and intimate, with a fireplace, making it a cozy spot for those rare chilly nights in Orlando. There is a nice selection of outdoor seating, and an intriguing outdoor bar. This outdoor bar is accented by a colorful light fixture and offers views of bustling Disney Springs as fellow guests stroll by.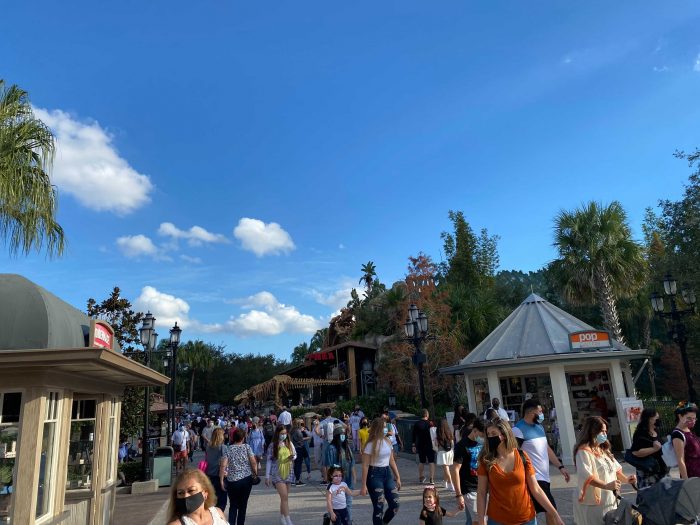 To kick off the dining experience Chrissy order the Mediterranean Martini and the Limoncello Mojito. Both cocktails are spot on for fitting the Italian menu. The Mediterranean Martini (picture below on the right) is made with Malfy Limone Gin, Elderflower, Lemon and Simple Syrup. It was perfectly refreshing and a little sweet. The Limoncello Mojito is a simple combination of Árvero Limoncello, muddled mint, and simple syrup. This cocktail is very light and a good choice if you want a drink that won't slow you down for the afternoon or evening. Both are $15.00 which is on par with most mixed drinks at Disney.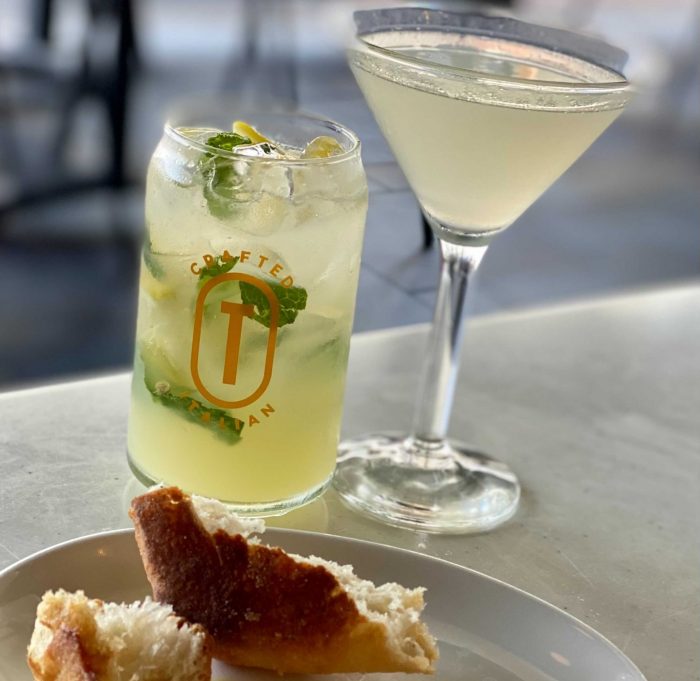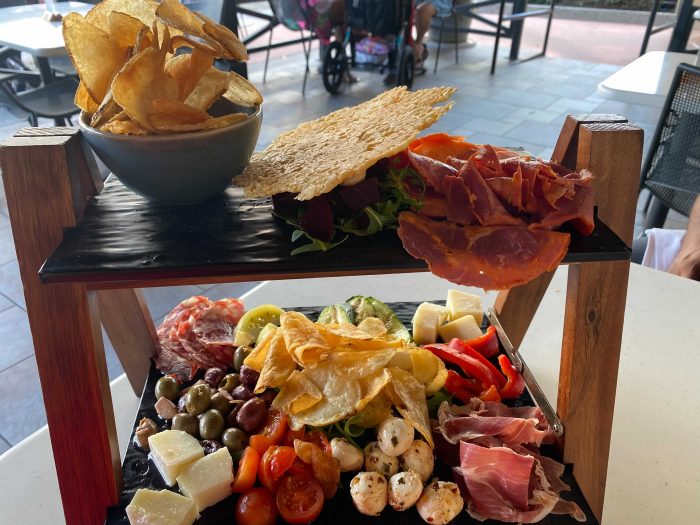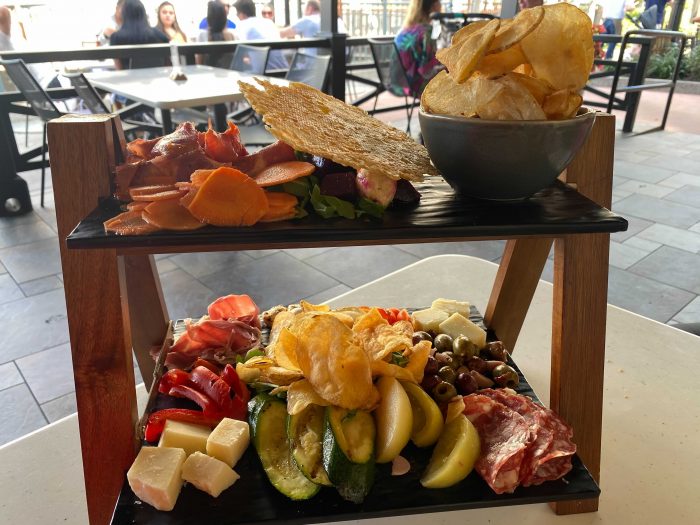 The menu at Terralina retained a few "favorites" from the days of Portobello. One of the standout items is the Antipasti Tower. This two-tiered tower has Prosciutto, Spicy Capicola, Grana Padano, Bocconcini, Tomatoes, Pickled Vegetables, Grilled Zucchini, Parmesan Crisp, Olives, House-made Pecorino-Truffle Potato Chips. At $37.00 it is a bit pricey, but it sure does make an impression. It is meant to serve two people and it really is ideal for nibbling on while sipping on some Italian wine or a craft cocktail or two. The serving is substantial.
Some items on the tower stood out for their quality. Other items fell short. The giant Parmesan crisp that crowned the tower was stupendous. The pickled carrots and tomatoes added a lovely brightness. The beets were earthy and the mozzarella was delicious. The rest of the cheese selection did not impress Chrissy all that much, but the quantity was there at least. The grilled zucchini wasn't really seasoned or well grilled. The House-made Pecorino-Truffle Potato Chips were not as flavorful as one would hope.
Where Terralina shined for Chrissy's dining experience was in the desserts. It was impossible to resist the Espresso Sundae, with Fresh Brewed Espresso, Vanilla Ice Cream, Pizzelle Cookies, Chocolate Sauce, and Toffee Crunch. Espresso and ice cream is a popular combination for dessert after a heavy meal with lots of Italian wine; it's a definite pick-me-up. At $9.00 it is an impressive, and scrumptious, dessert.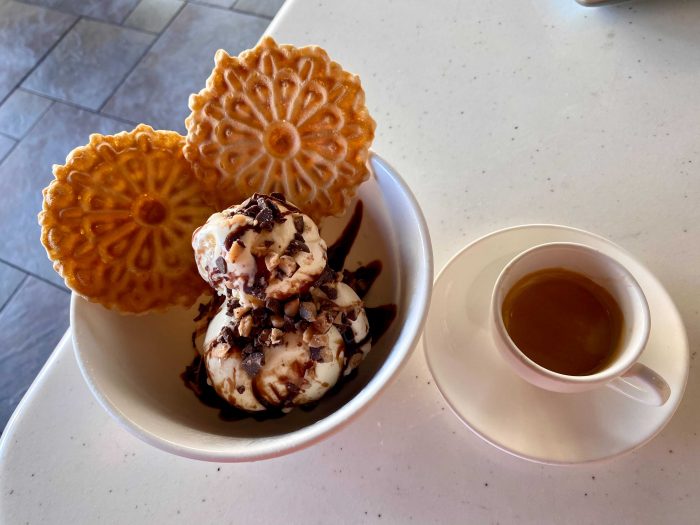 The Double Chocolate Cake is different than a standard chocolate cake. It is garnished with Caramel Sauce, Toffee Crunch, and Fresh Berries. At $10.00 it satisfied and was a good choice. Between the two desserts Chrissy ordered, the Espresso Sundae takes the lead.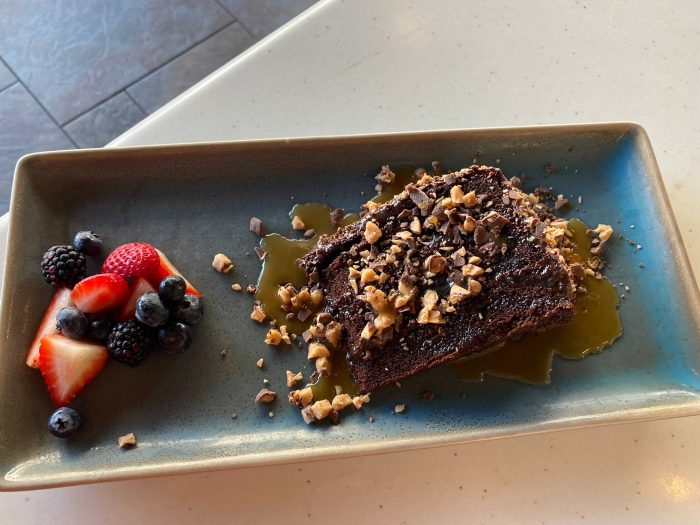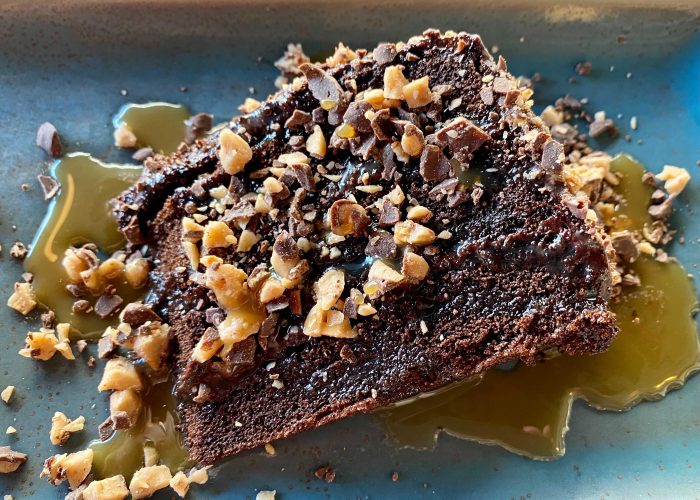 Money saving-tip: Disney Vacation Club Members receive 20% off during the month of January, and Levy Preferred members earn Triple Points during the month of January when dining for lunch.
Overall, Terralina Crafted Italian is a decent choice, but there are better options at Disney Springs. We have ratings and ranking for every Walt Disney World restaurant. Our readers give Terralina a 70% thumbs up rating, and it is ranked pretty low at number 102 of 106 table service restaurants at Disney. Better options for dinner at Disney Springs include Wine Bar George, The BOATHOUSE, and Homecomin'.
Have you dined at Terraline Crafted Italian before? What did you think of it?