REVIEW – Whispering Canyon Café is Still a Roaring Good Time
A few years back Disney made a change that created an uproar with fans. The Whispering Canyon Cafe, known for its rowdiness and over-the-top Cast Member interaction was tamed. Different reasons were cited: guest complaints, a new character dining experience being developed at the restaurant nextdoor, and more. With some recent changes to the menu, Ivonne on our team pulled up a table with a friend to find out if Whispering Canyon is still a roaring good time. Turns out, it sure is!
Whispering Canyon Cafe is located in the lobby of Disney's Wilderness Lodge. It is a casual table service location open to hotel guests as well as any Walt Disney World guest. If you don't have a car, you can access it via a lovely boat ride from the Magic Kingdom.
We like to revisit Walt Disney World restaurants to keep an eye on the experience, that way you know what is worth your time and money, and what isn't. Our website and Lines app has ratings and rankings for every Walt Disney World restaurant. From over 500,000 surveys in the last few years, Whispering Canyon Cafe has an 88% thumbs up rating and is ranked #41 out of 105 table service restaurants.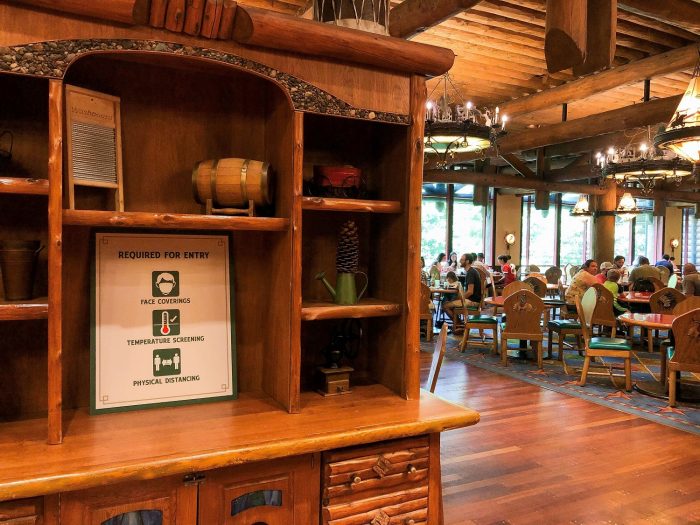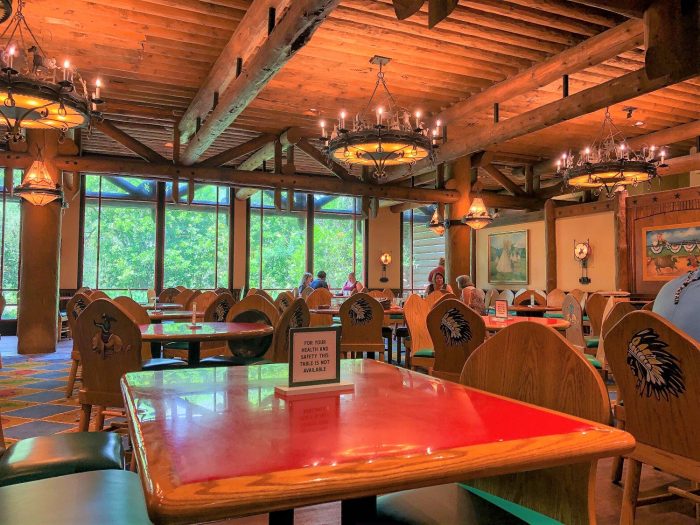 What holds Whispering Canyon Cafe back is the food. There is plenty of it, and on the whole it is delicious and satisfying. But, the menu is very casual and very family-friendly. Barbecue and other savory favorites are the focus and the food will leave you content, but not overly impressed.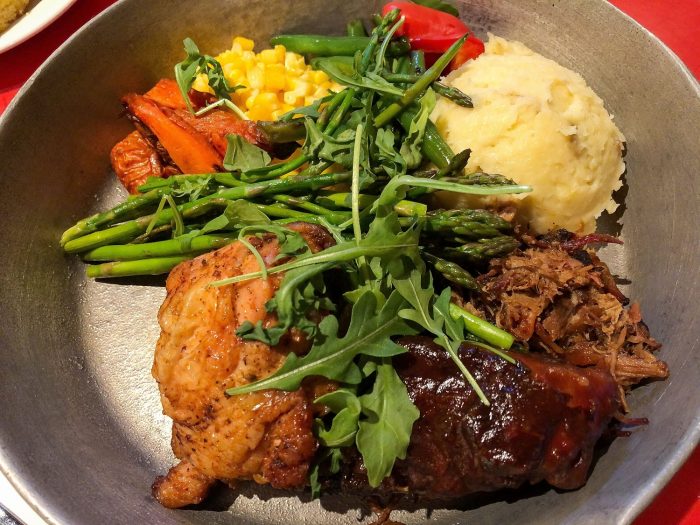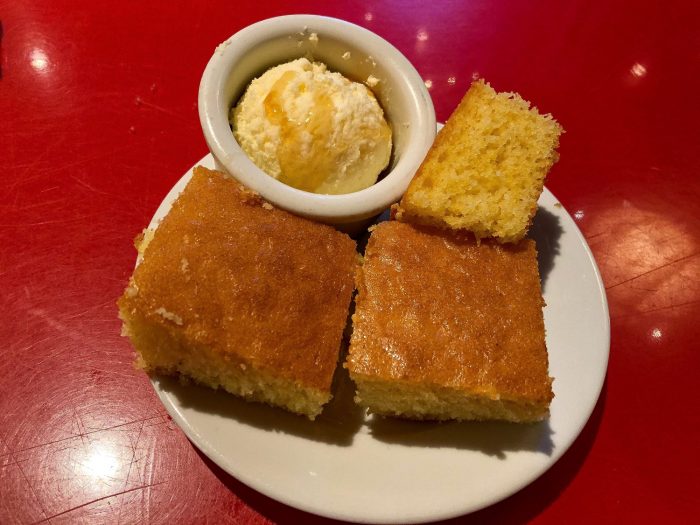 Whispering Canyon Cafe Food
During Ivonne's visit last week her party ordered the All-You-Care-To-Enjoy Signature Skillet. For $24.00 per person (during lunch) you can chow down on Maple-Chipotle Barbecued Slow-smoked Pork Ribs, Barbecued Pulled Pork, Citrus-Herb Chicken, Smashed Potatoes, Buttered Corn, Charred Carrots, Roasted Peppers, and Sautéed Green Beans.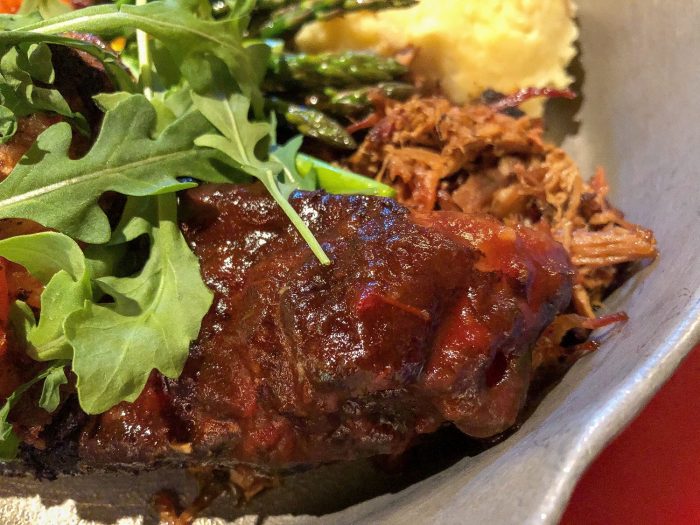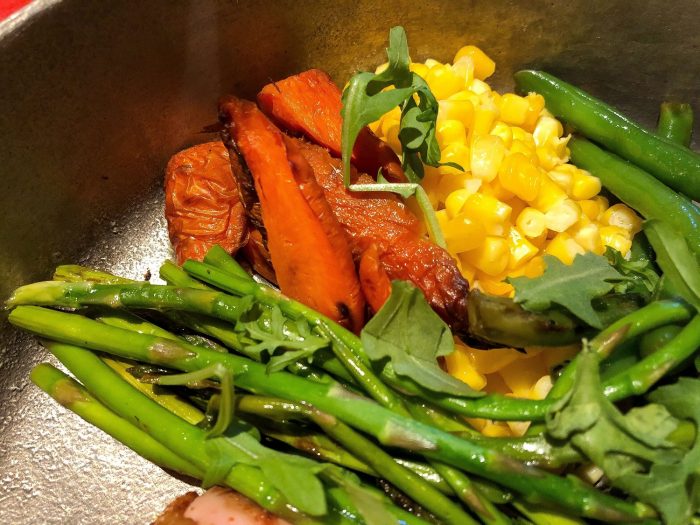 Ivonne reports that there really wasn't anything she didn't enjoy. The Barbecued Pulled Pork was the highlight and worthy of getting a second helping. Personally, I am a big fan of roasted vegetables and by the looks of Ivonne's pictures, and from her reports, the Smashed Potatoes, Buttered Corn, Charred Carrots, Roasted Peppers, and Sautéed Green Beans are executed well. Based on other family-style skillets, this Signature Skillet at Whispering Canyon has one of the most plentiful portions of veggies. Overall the skillet satisfied and at $24.00 for endless servings it is a good value.
During dinner time there are more skillets from which to choose, including a Land and Sea option and one that focuses on pork, called "The Pig." There skillets are $34.00. Also during both lunch and dinner you can opt for a sandwich or burger as individual entrees if you prefer not to go the skillet route. No matter which meal period you choose, save room for dessert!
The Granny Smith Apple Pie is a must! It is one of the best apple-pie-style desserts at Walt Disney World, bursting with tart apples balanced with sugar and spice. There's not as much gooey pie filling as some guests may be used to; the apples are the star of this pie. The dense vanilla ice cream that accompanies the slice of pie makes this a very comforting dessert.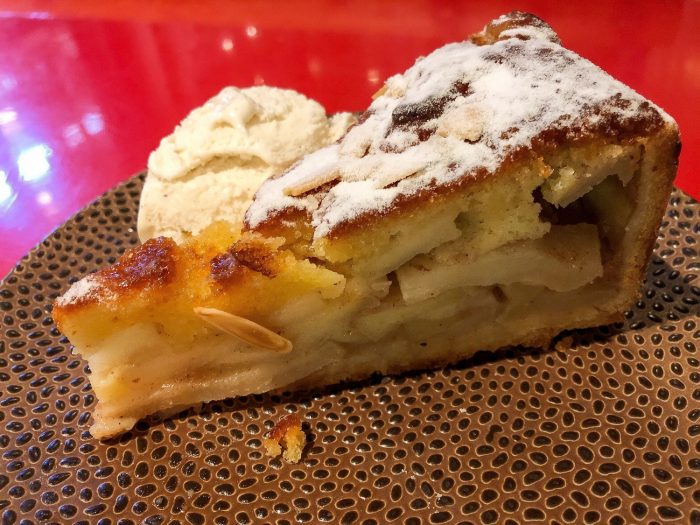 Whispering Canyon Cafe Atmosphere
So if the food is good, but not exemplary, why should you consider dining at Whispering Canyon Cafe? The atmosphere and service, that's why. Although the rowdy shenanigans have been toned down, Cast Members still provide a themed experience. Ivonne experienced a little light hearted joking and teasing with the Cast Member serving her table. You can think of it as dining with that sarcastic, but jovial neighbor that everyone in your neighborhood has a good time with and doesn't take too seriously. Or if you've ever dined at 50's Prime Time Cafe, the interaction is similar, but with a Western twist.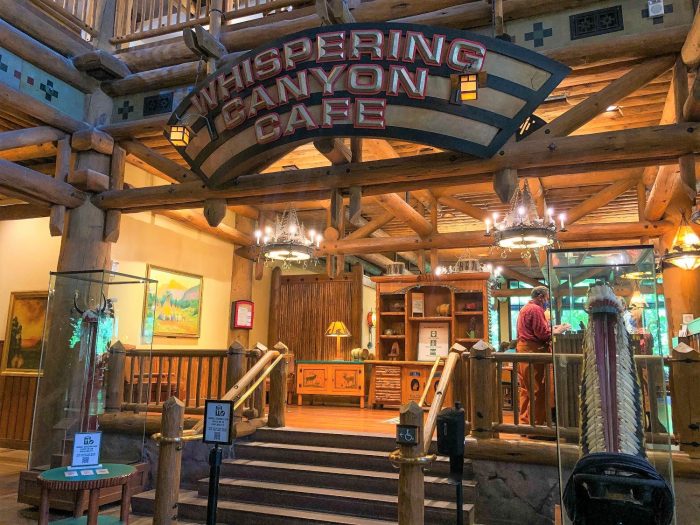 During the holiday season the atmosphere here cannot be beat. The dining room overlooks the lobby of Wilderness Lodge, which is an impressive sight any time of year. But during the holiday seasons a Christmas tree with unique ornaments, including tipis and drums, towers over the lobby. Christmas garlands drape over each floor of the lobby. It is the most festive Disney resort lobby of all during the holiday season and Whispering Canyon is enveloped by it.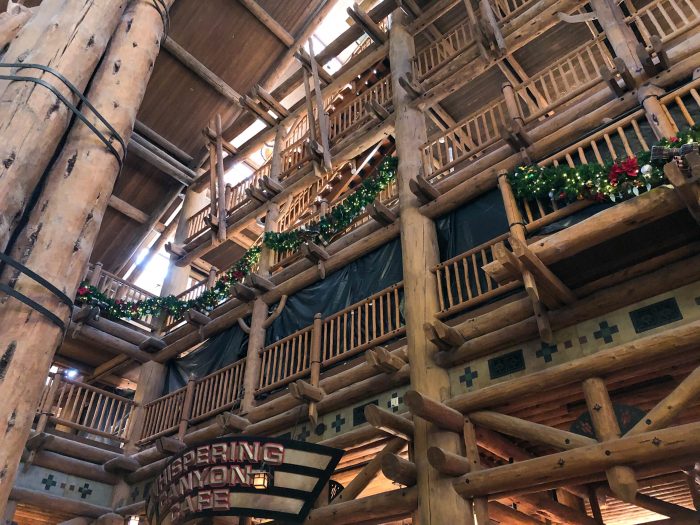 Final Thoughts on Whispering Canyon Cafe
This landmark restaurant is extremely popular for breakfast and reservations can be hard to come by. If you're not finding the reservation timeslot you want, then give our Reservation Finder tool a try. If you have kids in your party, especially preteens and teenagers, you'll get a kick out of the interaction your party will have with your server. This table service location definitely caters to families. Whatever meal period you choose, be prepared to be full and satisfied by the time you ride off into the sunset.
Have you ever dined at Whispering Canyon Cafe? Do you miss the over-the-top rowdiness or is this new iteration more your speed? Let us know in the comments!