REVIEW – 50's Prime Time Cafe is Comforting in Every Way
We could all use a little comfort these days, right? That's what you'll find at 50's Prime Time Café at Disney's Hollywood Studios. This table service restaurant is the epitome of a themed dining experience. Here's why we think it should be on your must-dine list.
Chrissy and her family, including her 78-year-old mom, visited this week and gathered around the 50's sitcom kitchen table. For some folks it may be a drawback that there is no outdoor seating here. One of the major selling points of this venue is the incredible props and detail throughout the space.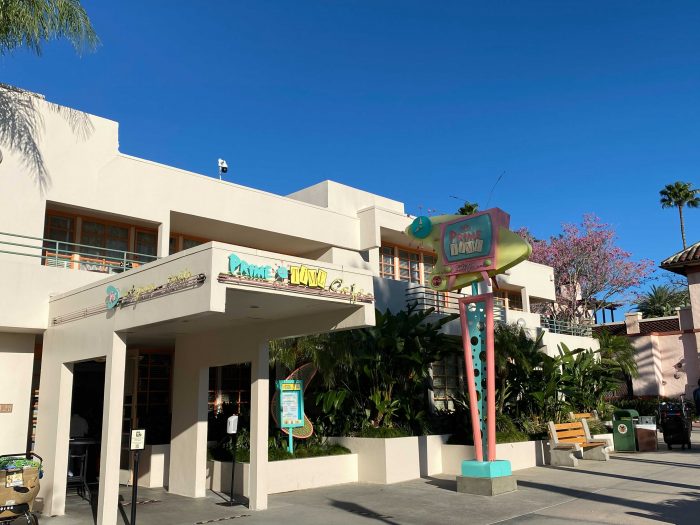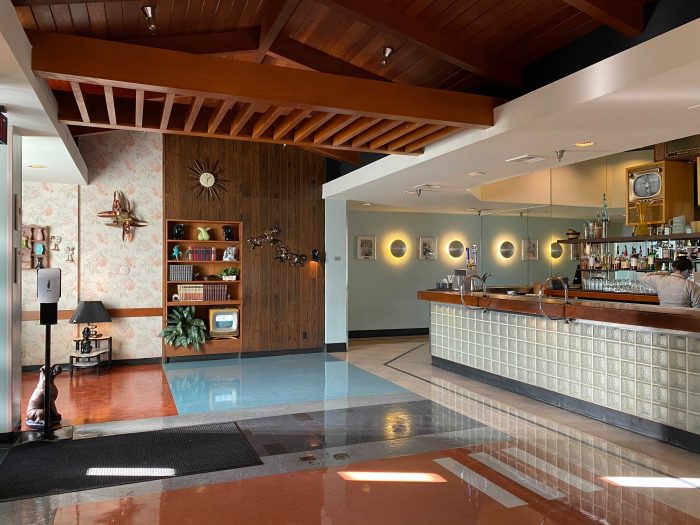 You might spot your grandmother's Desert Rose dishes or the ceramic dog you saw on Wheel of Fortune when you were a kid. Take time to look around, while keeping your distance, of course. Chrissy's mom asked to walk around to look at everything and the Cast Members were kind and accommodating. She hasn't stopped talking about it since! She would be sitting and eating and would randomly scream out "that's Father Knows Best!" and startle the rest of the table. To say this is her new favorite is an understatement.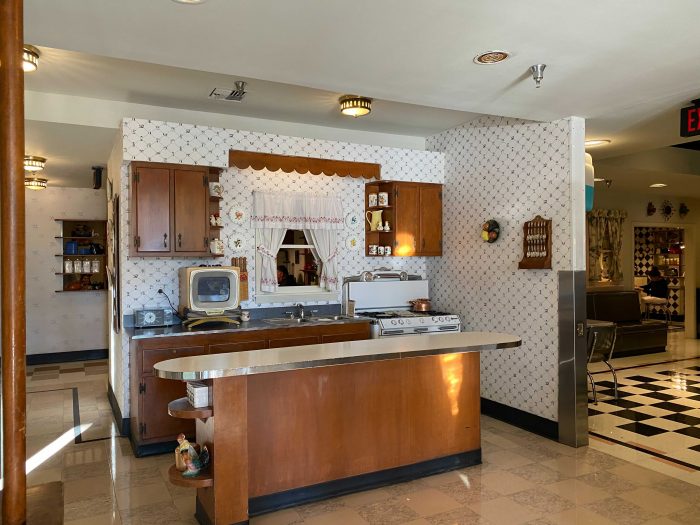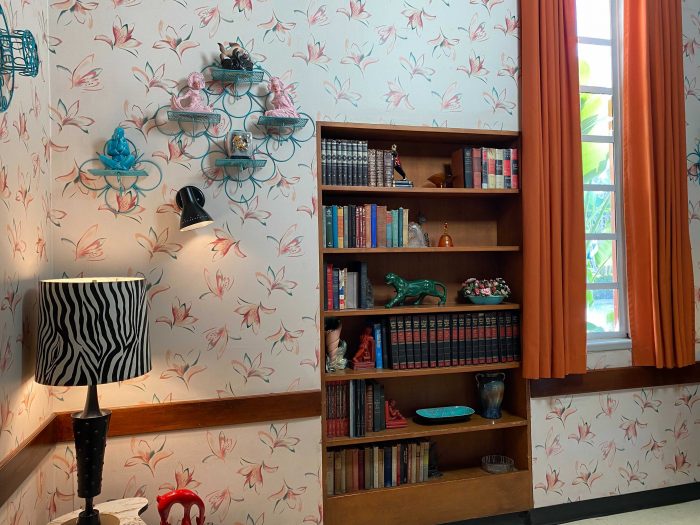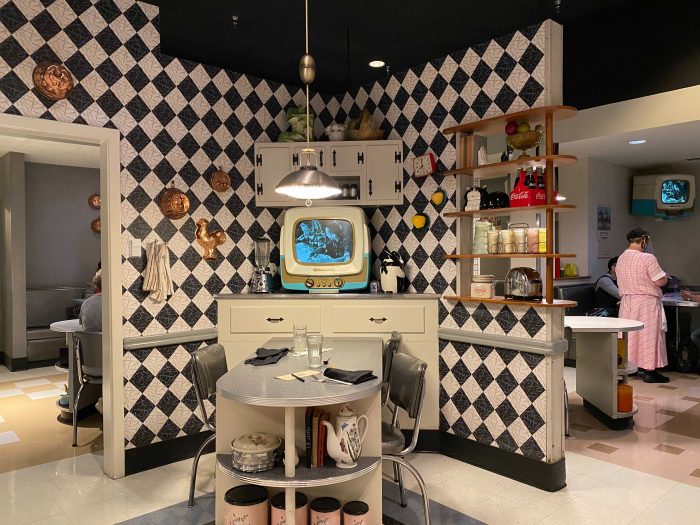 One of the many highlights of a meal here at 50's Prime Time Café is the Cast Member interaction. Some guests may totally be into being treated like a 1950's sitcom family, others may not. Most Cast Members here are able to read the room. Chrissy's serve was fully in character and a total goofball ,but the booth behind them didn't seem quite as interested. He was definitely more toned down with them.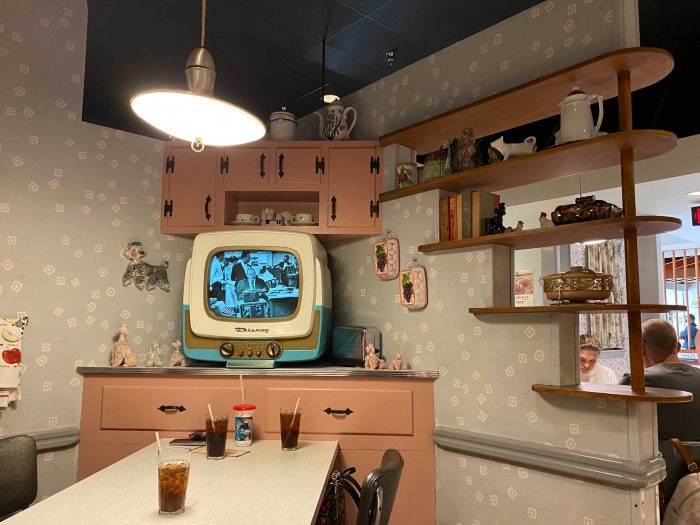 Here's what Chrissy and her family ordered:
Root Beer Float and Cherry Flavored Coke as specialty beverages
Cousin Amy's Iceberg Lettuce Wedge: Plant-based Ranch Dressing, Rice Paper Bacon, and Chives – $9.00
A Sampling of Mom's Favorite Recipes – Golden-fried Chicken, Fork Tender Pot Roast, and Traditional Meatloaf with all the Fixings – $26.00
Grandma's Macaroni and Cheese Kids' Meal – Choose 2 Side Items; Includes Choice of Small Lowfat Milk, Small Dasani Water, or Small Minute Maid Apple Juice – $10.00
Traditional Warm Apple Crisp A la Mode $9.50
Dad's Favorite Chocolate-Peanut Butter Layered Cake A la Mode $10.00
Mom's Brownie Chocolate Brownie served with heaping scoop of Vanilla Ice Cream with Chocolate or Caramel Sauce and Whipped Cream – $9.00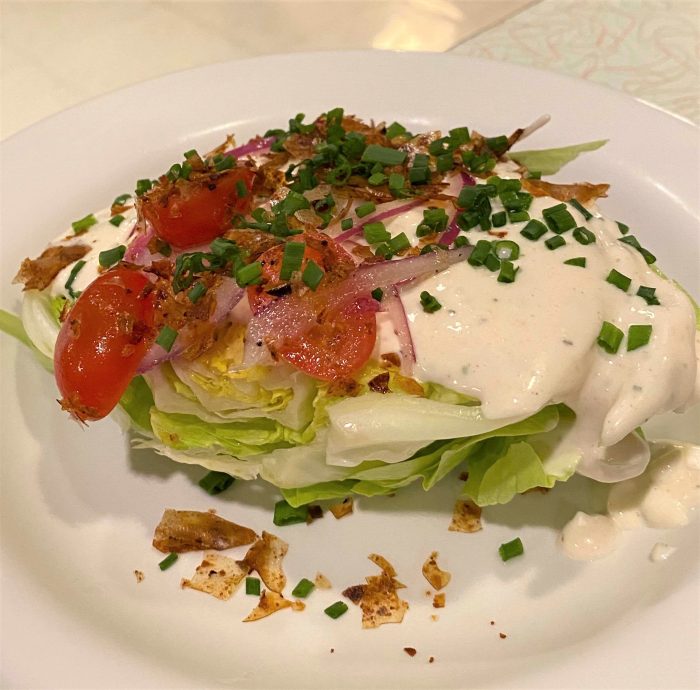 To start, Chrissy and her mom ordered a Cherry Flavored Coke (which comes with free refills), and a Root Beer Float. Chrissy's mom made obnoxious slurping sounds with her root beer float. It was such fun watching her, Chrissy reports. The server scolded her about filling up on sweets before dinner.
Cousin Amy's Iceberg Lettuce Wedge is a plant-based option and it was a huge hit! The rice paper bacon is just rice paper with a bit of liquid smoke brushed on and baked until set. Kitschy, but done well and without hunks of real bacon. The red onions must have been soaked in ice water because they didn't have an acrid bite that comes with raw red onions. They were thin and mild.
A Sampling of Mom's Favorite Recipes is such a great idea and practically everyone on our team wishes every restaurant did this. It was a good portion of chicken, meatloaf, and pot roast, with a big scoop of masked potatoes. The pot roast could easily compete with the Beef Bourguignon at Chefs de France, which is not as satisfying.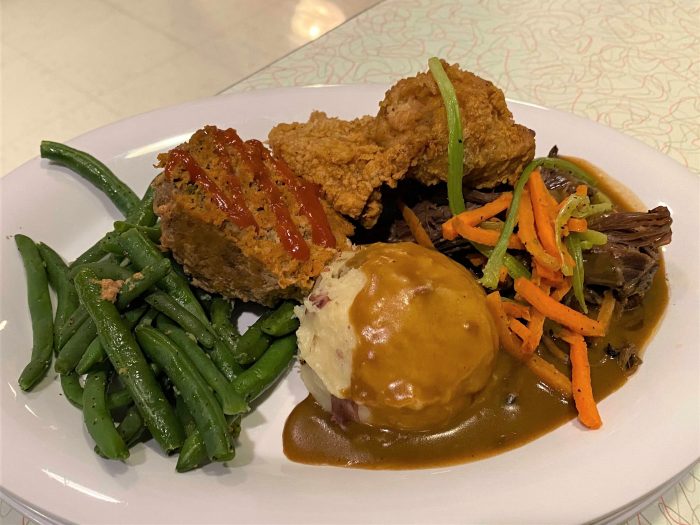 The meatloaf flavorful and satisfying. The green beans (or "nature's French fries" as the server called them) were excellent and not overcooked. The chicken isn't the best or worst on property – it's good and fits in well with the rest of the plate. This is a really solid value for $26.00.
The kids Mac and cheese with fruit and corn as the sides fit the bill for our junior researcher. This is the one of most simple kids meals in all of Walt Disney World. It satisfied.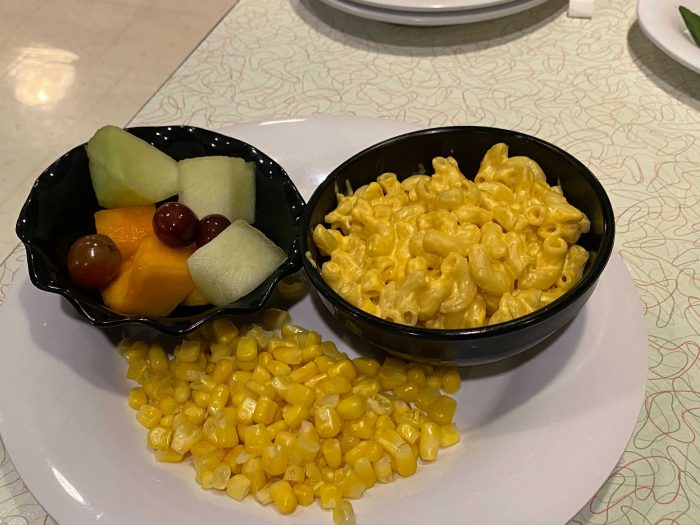 Although everything Chrissy and her family ate was enjoyed and met expectations, the desserts stole the show. Warm apple crisp a la mode was Chrissy's mom's choice and it nearly caused a family dispute. She ate every single other bite and was sad it was gone, and was angry when Chrissy snuck a bite in the name of research. It was sweet, tart, with warm apple, cold ice cream, and delicious caramel.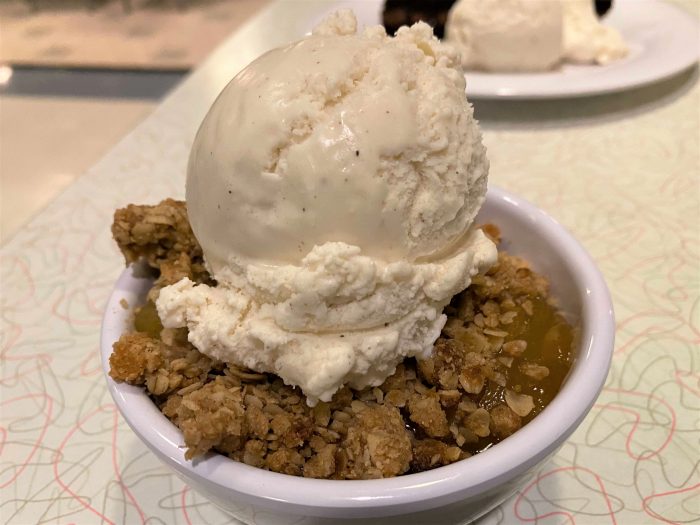 Then there was Dad's Favorite Chocolate-Peanut Butter Layered Cake. This was the fanciest of all of the desserts–Like what your Gram would defrost if you had company over. The serving was enormous enough for three people to share and be happy! No funky dark chocolate flavors or anything odd, just simple good chocolate and peanut butter taste!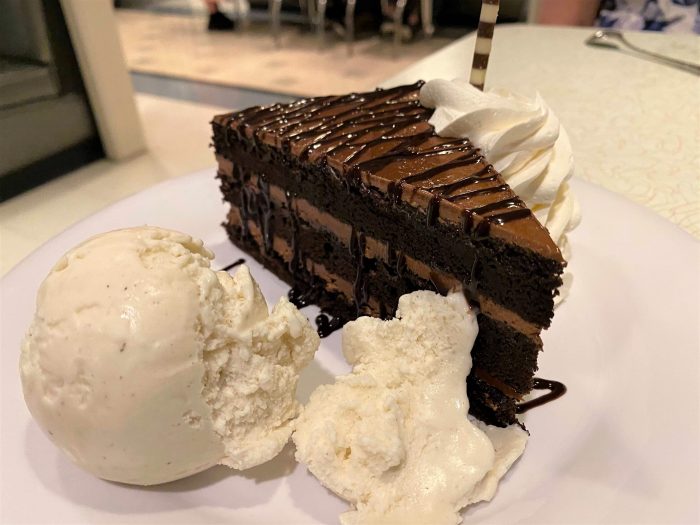 Finally, Mom's Brownie a la mode was exactly what was expected, except the Cast Member asked if the table wanted chocolate sauce or caramel and they said "both!" Good call. Get both. The whole table would have been fine with just one dessert if not for the well-earned greediness of Chrissy's mom.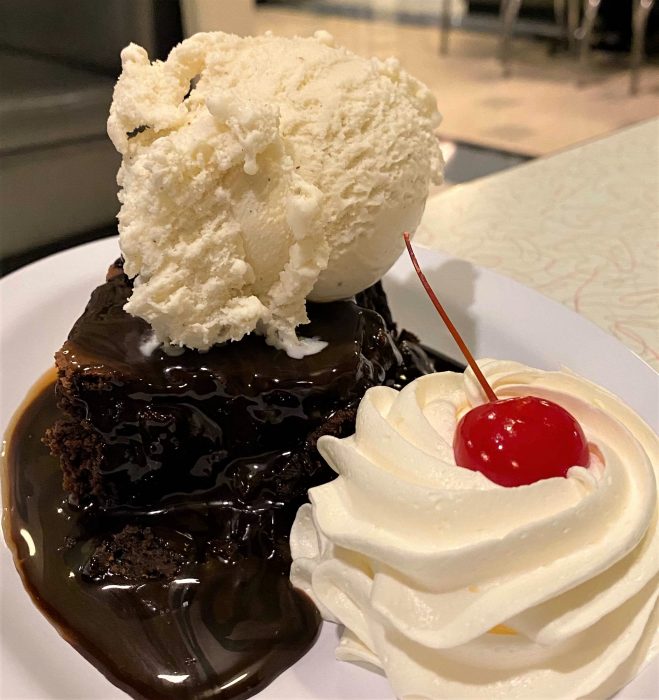 Overall, this was just a huge hit. Lots of giggles and some warm fuzzies for Chrissy's mom. Good, solid food that's familiar for many American families. Nothing unusual and all comfort. We have ratings and rankings for every Walt Disney World resort, based on surveys from our 500,000 subscribers. 50's Prime Time Café is currently has a 88% thumbs up, and is ranked #38 out of 105 table service restaurants at Walt Disney World.
A couple of notes: there is currently no annual passholder discount. Tune-In Lounge is open only to serve as the Cafe's bar. There is no seating at the bar. Finally, we've noticed some pretty good same day availability in the MyDisneyExperience app.
Have you ever dined at 50's Prime Time Café? What did you think? Let us know in the comments!