The SATURDAY SIX Spends a Night at Loews ROYAL PACIFIC RESORT
This week's SATURDAY SIX takes a look at Loews Royal Pacific Resort! Over the course of this weekend, a lot of eyes in this country are going to be watching Florida. Not only do we have the long-awaited reopening of the Disney theme parks, but the sunshine state's reported COVID-19 cases are going up faster than the amount of people streaming Hamilton on Disney+. It's easy to understand why many are concerned about going to Orlando, but as we've seen over the course of the last month at Universal's CityWalk, theme parks, and on-site hotels, in many ways they are the safest places you can be in the entire state. This past week I made a trip up to the Universal Orlando Resort to see what was going on at my favorite hotel, the Royal Pacific Resort.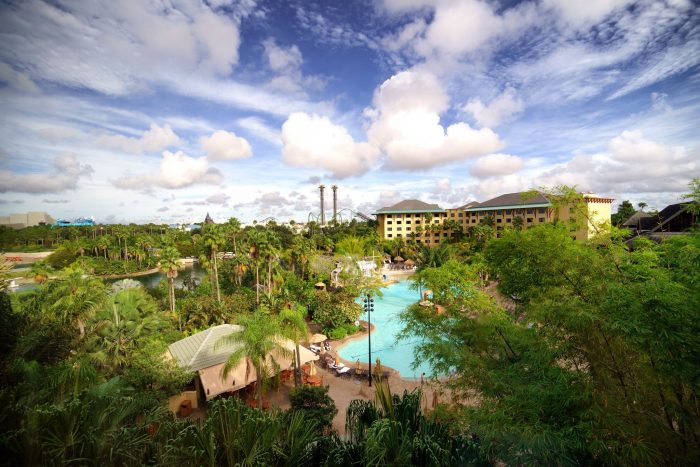 # 6 – Safety First
One of the biggest changes you'll see at the Royal Pacific (and the Universal Orlando Resort in general) is the amount of constant cleaning happening around. Team Members are constantly wiping surfaces down. This starts right at the front of the resort with valets and bellmen vigorously cleaning the luggage carts, and continues throughout the hotel with the wiping down of anything guests come in contact with. For the guests themselves, there are hand sanitizer stations everywhere, and I mean everywhere. If there is a place where you are reasonably expected to touch a surface (whether it be elevator buttons, a gate to the pool, or at the front desk checking in) there will be hand sanitizer available for you to use. All of the restrooms have large signage outside and inside reminding people to wash their hands as well.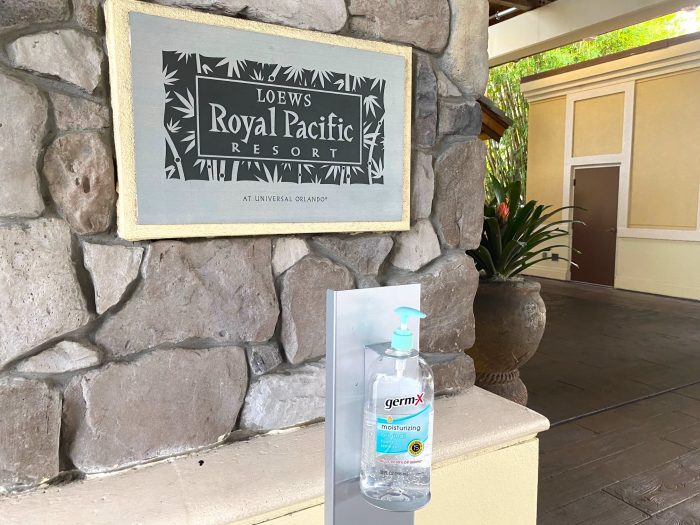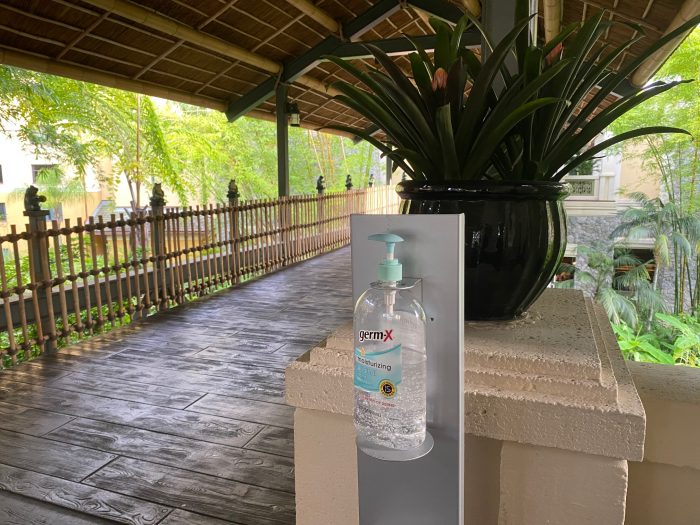 At every access point in the hotel there is a security member doing a temperature check. Once you get your temperature taken, you are given a wristband to wear. There are checkpoints at the hotel lobby, by the bus stop area, and at the water taxi dock.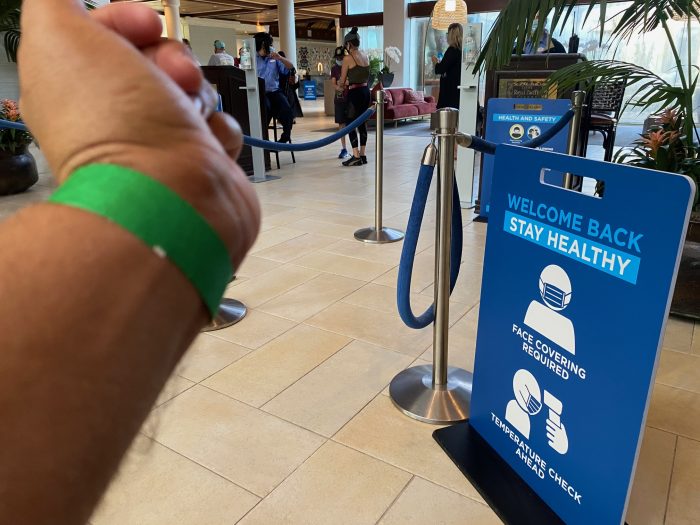 Each day there is a new wristband color, so you will need to be rechecked. Mask compliance during this stay was 100% from what I saw, which is just amazing to see when the number is nowhere close to that in the cities I live in and work at in Florida. I've also seen security and Team Members remind guests to wear their masks correctly (i.e., not below their nose). We'd be lucky if the rest of America had measures half as good as what Universal and Disney have put into place.
Social distance markings have been put on the ground at any place where a queue can be expected to form.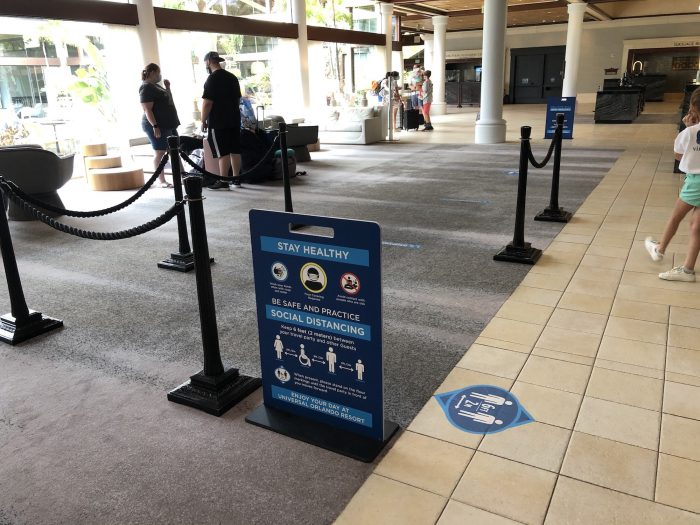 In the lobby there are plexiglas partitions separating guests from the Team Members.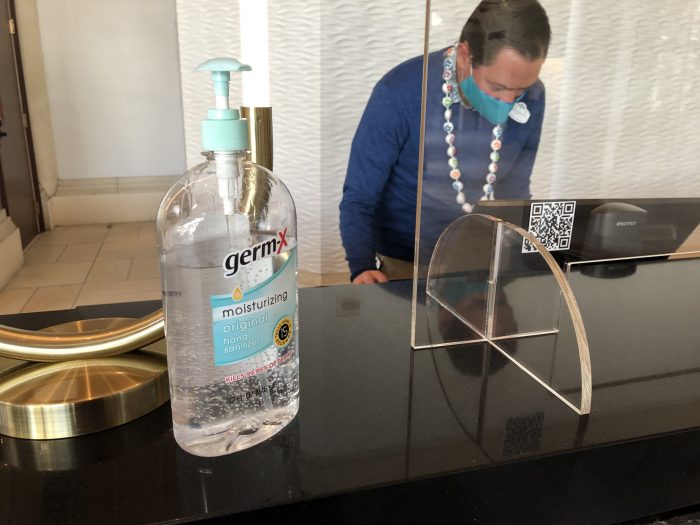 These new lighting fixtures at the check-in desk were installed within the last week or so. They look sharp.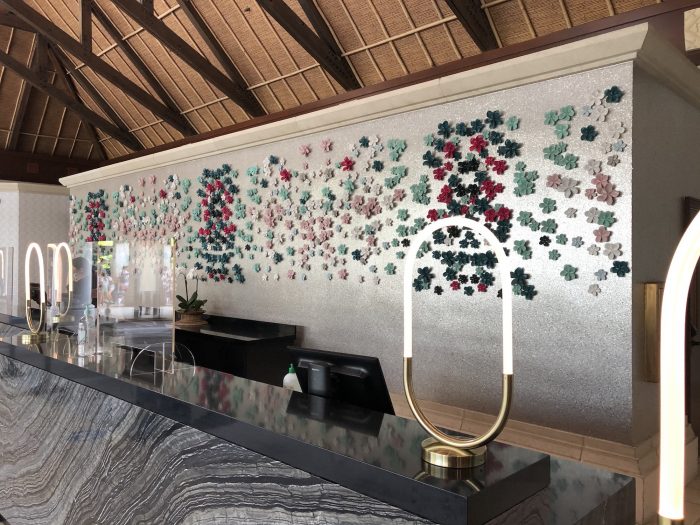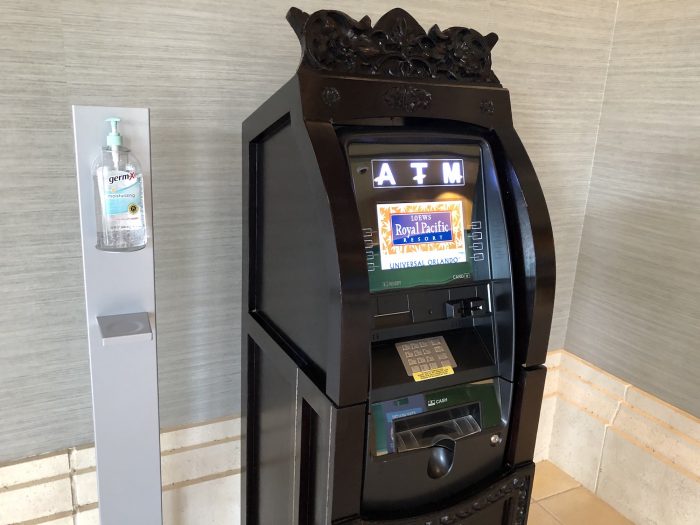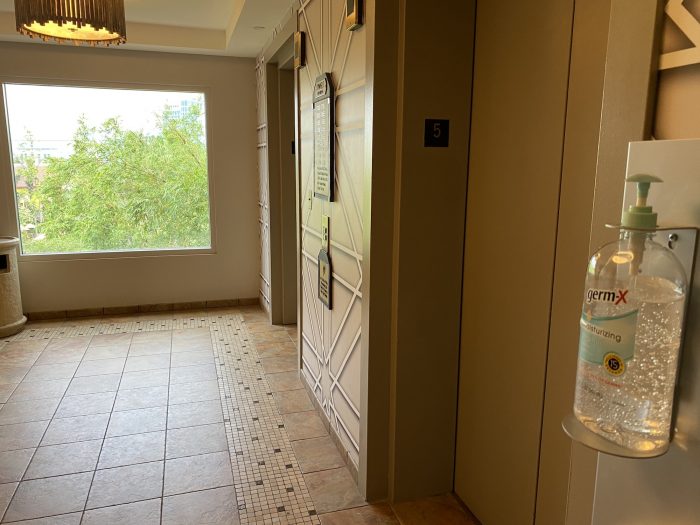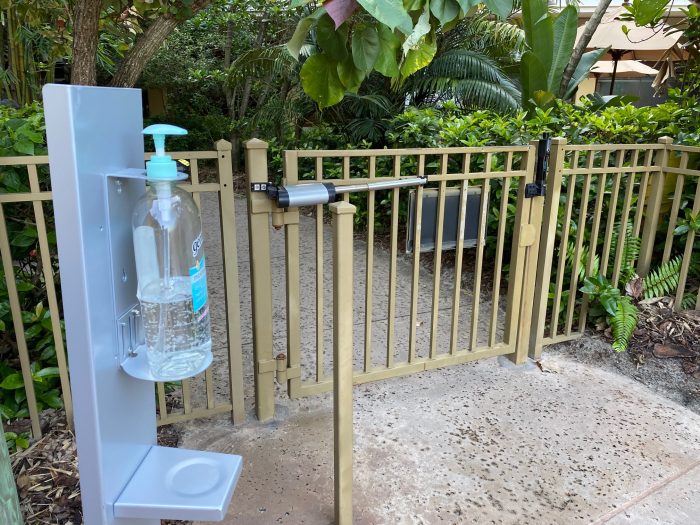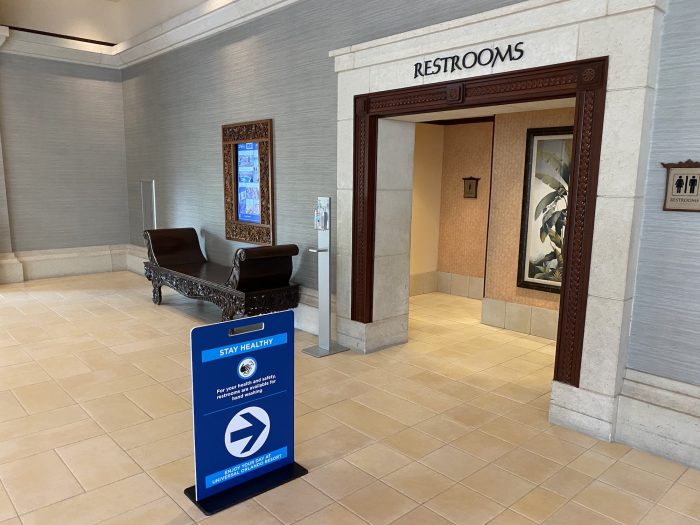 When walking the resort in the morning, I saw that every single floor mat was being replaced. You know it's morning at the Royal Pacific when you wake up and see all that frost on the windows. It's the "little things" that resonate with a lot of us that vacation a lot in Orlando, and for the Royal Pacific this is one of the things that just brings a smile to my face.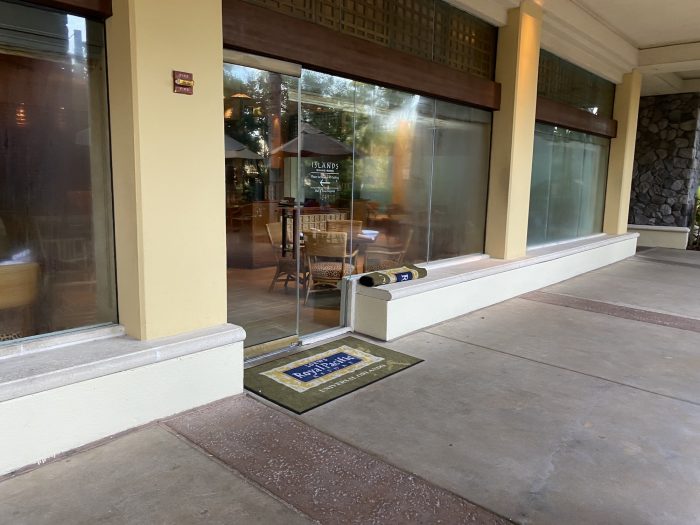 Over at Universal Studios Florida, Harry Potter and the Escape From Gringotts ends with Bill Weasley reminding guests that Gringotts Bank is "the safest place on Earth." If that's true, than the Club Level at Royal Pacific may be the second safest place. The room is fully equipped with social distance markings, hand sanitizer stations, and highly trained staff. I'm often asked if Club Level at the Universal resorts is "worth it," and for the most part that's a personal decision on what matters to you as a guest. For our family, we like that there are a lot of grab and go options for early in the morning when we are going to rope drop the parks. (They even have the coffee station set up outside the room in the morning to make it even faster.) We also like the fact that there is always a vegan option during the dinner hours, and it's nice to be able to stop by at any time to grab sodas or water bottles. (It doesn't hurt to have unlimited beer or wine at night either.) While Disney runs its on-site resorts, Universal partners with a luxury hospitality company in Loews Hotels. Because of this partnership, the level of service at all of Universal's hotels is extremely high, and this is especially true in the Club Level.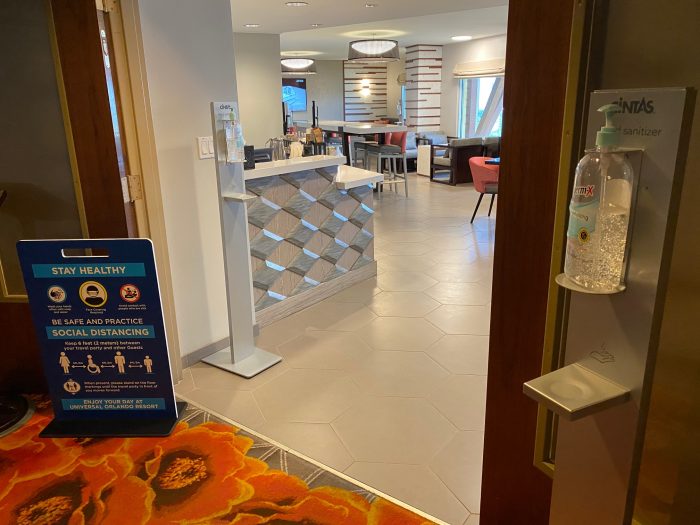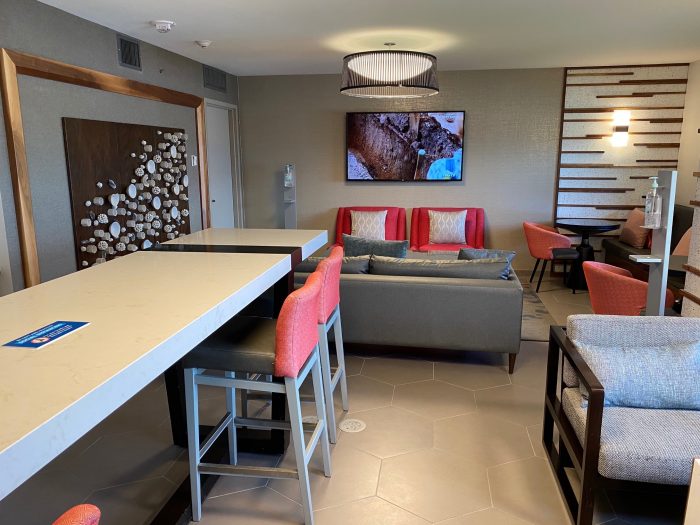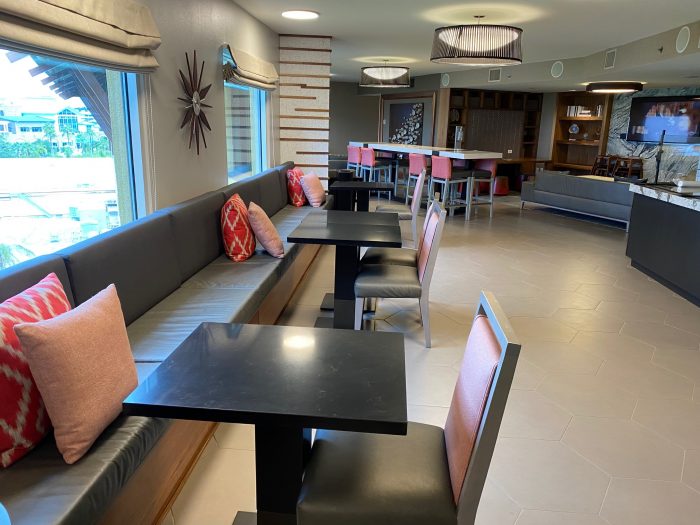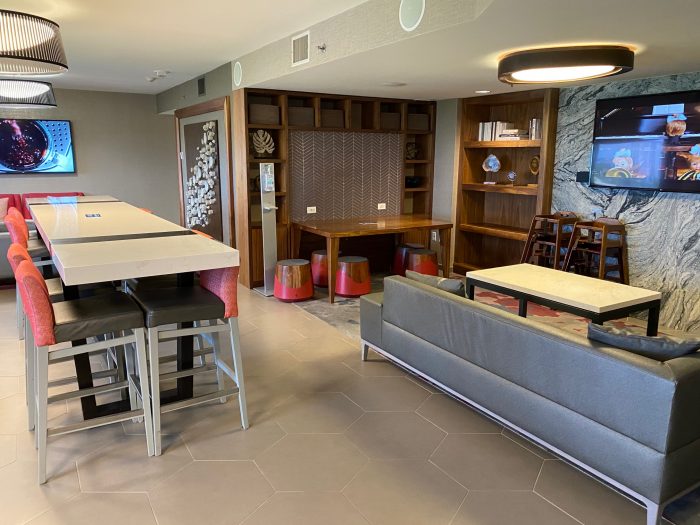 # 5 – The South Pacific Theming
Our family has vacationed in many areas of the world, but my absolute favorite place that we have visited was Hawaii. I love the tranquility and relaxing nature that you find there, and that feeling exists in Royal Pacific's exotic theme. The entire resort is filled with ambiance in the form of landscaping, torches, statues, and water elements. Fresh orchids are found throughout the resort, and the outdoor courtyard near the lobby is amazing with elephants playing in the water (along with a great sign asking guests not to disturb them). The whole resort has an exotic Pacific-region theme that just draws you in, and is the perfect area for either a break during the afternoon after battling the Florida sun, or a great way to unwind after a hard day of hitting the parks.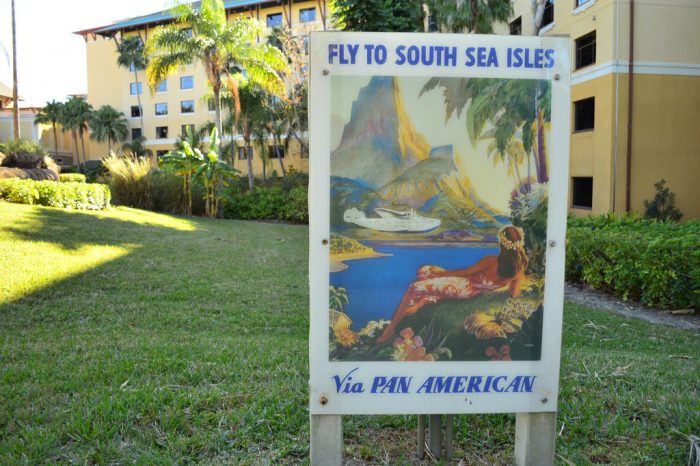 The entrance into the Royal Pacific may be my favorite in all of Florida. The large covered bridge is lined with cute frogs "playing" instruments.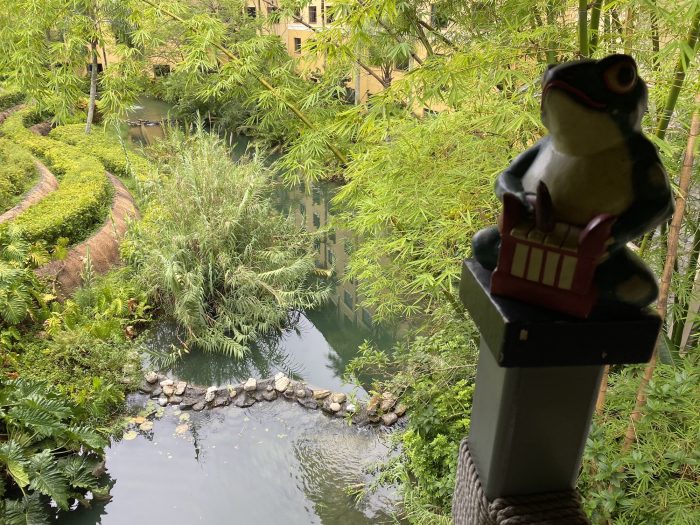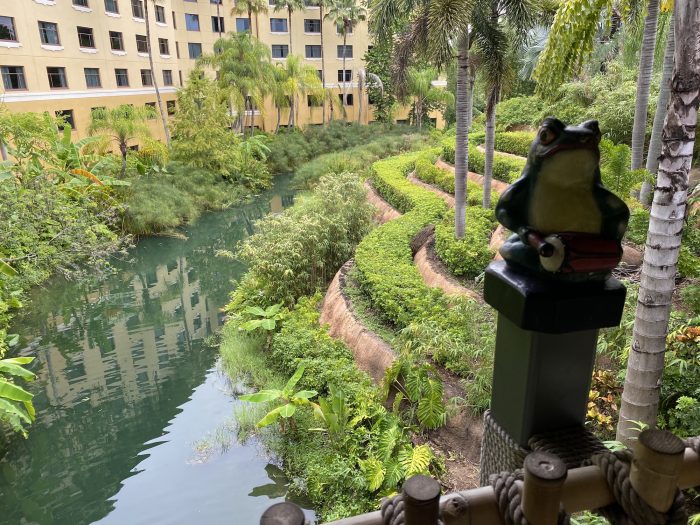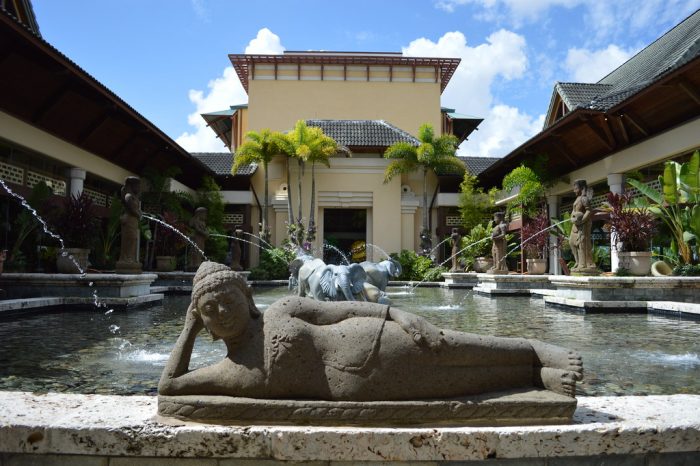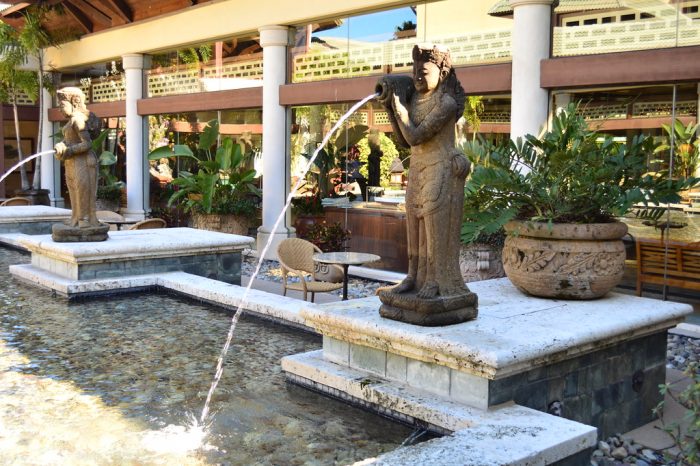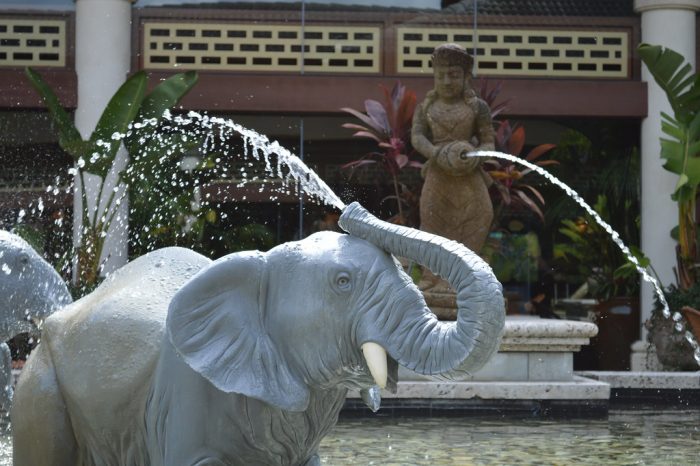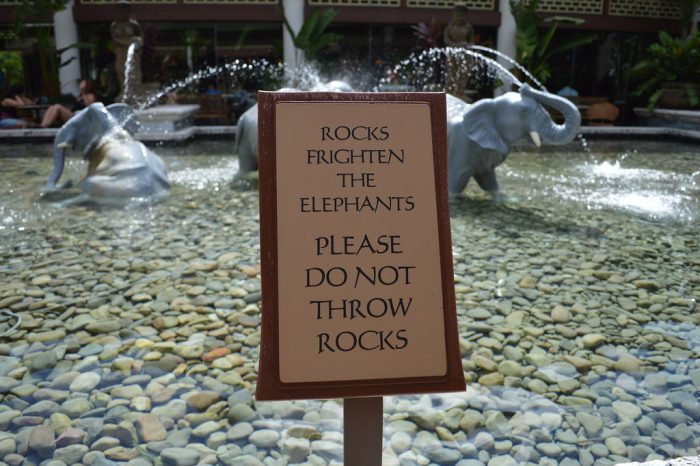 Among the various pieces of Royal Pacific Resort-branded merchandise is this glassware. One is shaped like a bamboo stalk and the other is a tiki.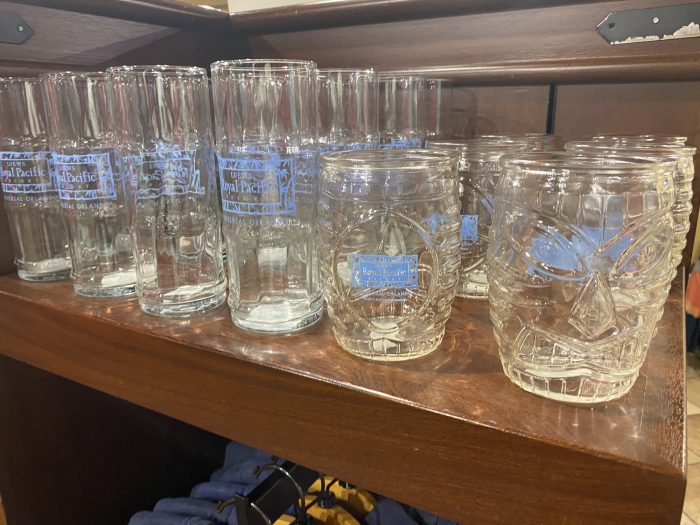 OF COURSE I BOUGHT THEM!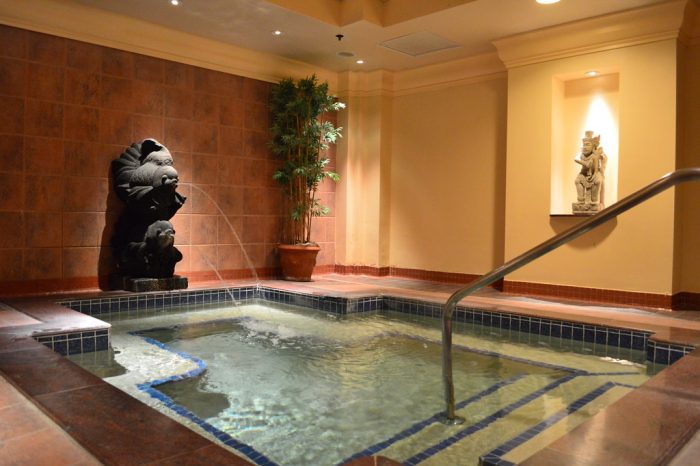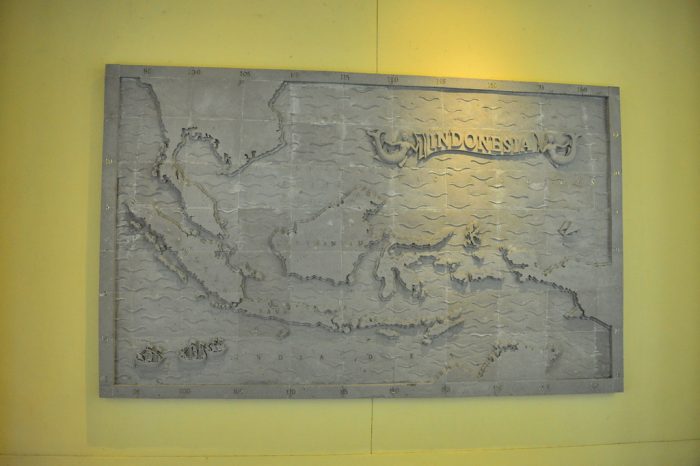 How amazing is this bench?!!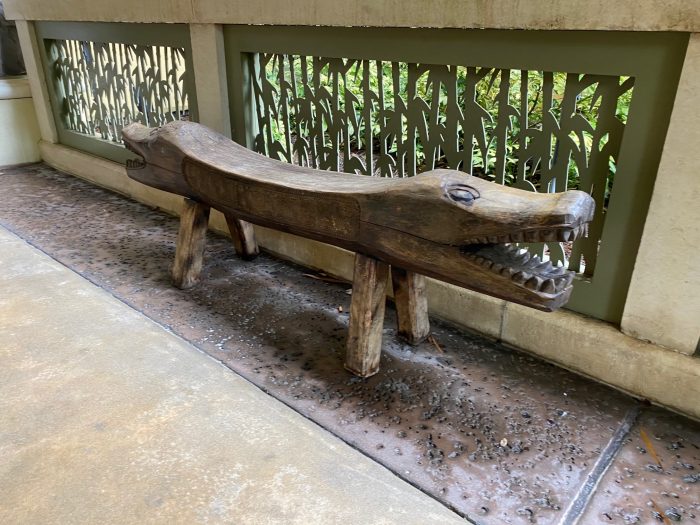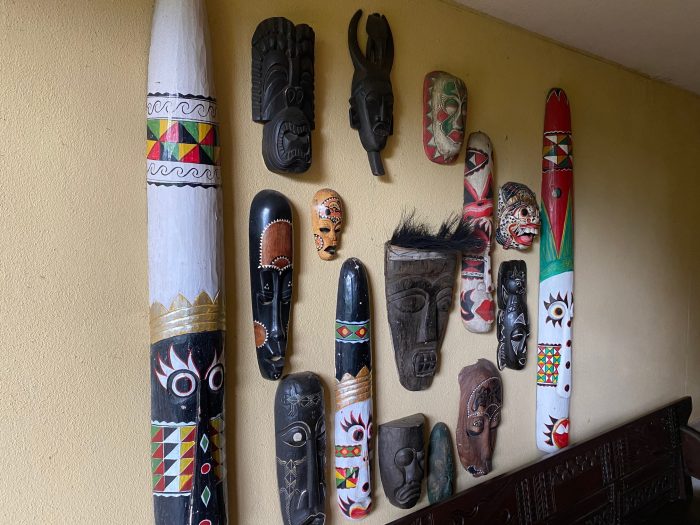 There are statues throughout the grounds of the resort.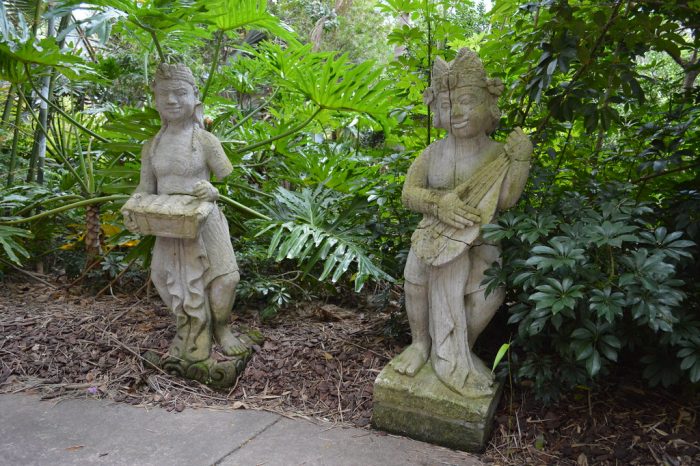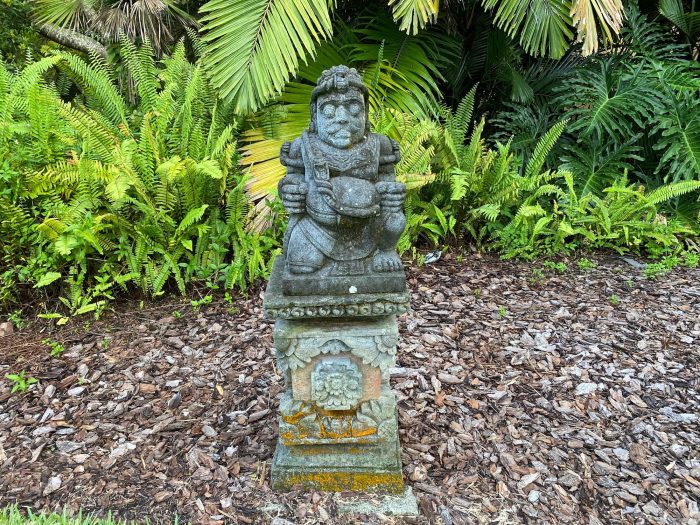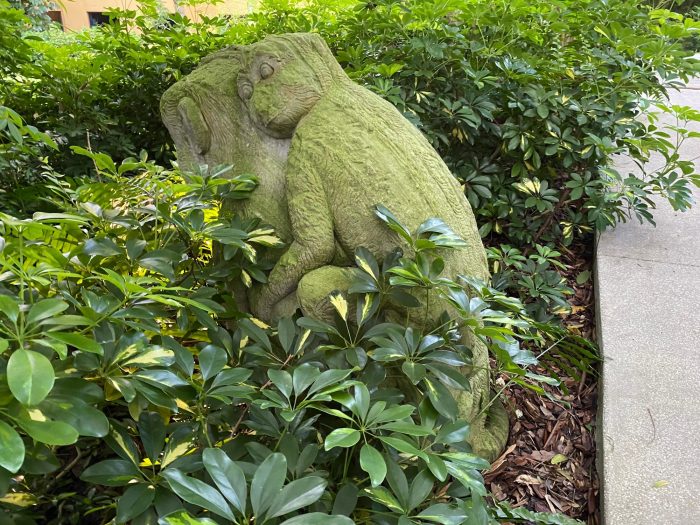 Over at the Loews Portofino Bay Hotel, there is a Bocce Ball court tying into the Italian theme. At Royal Pacific there is a Croquet Lawn.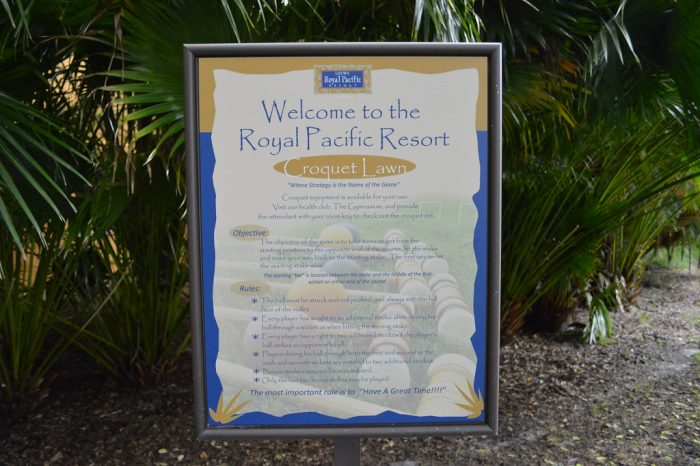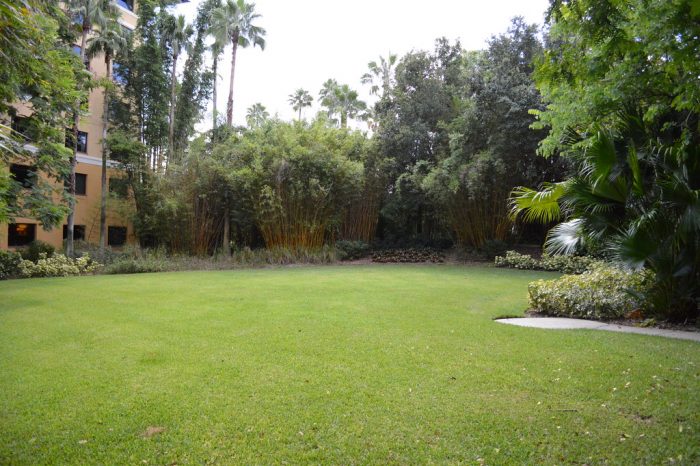 A running theme throughout the resort is "travel," whether by old steamer ships or the air. Along with artwork on the walls, there are scale models of ships and planes as well.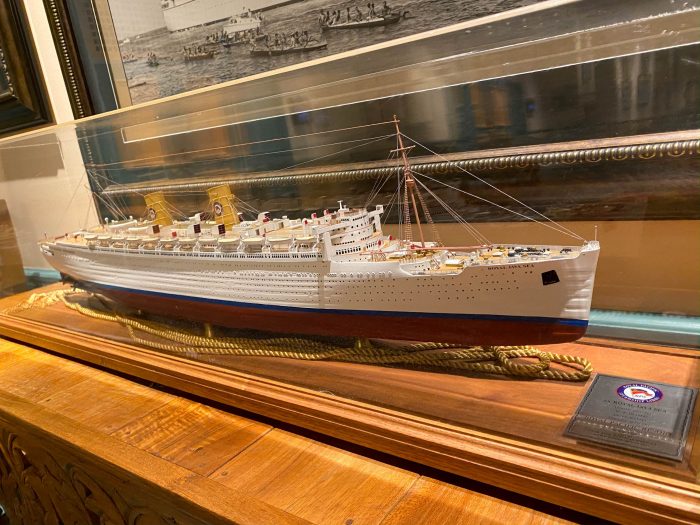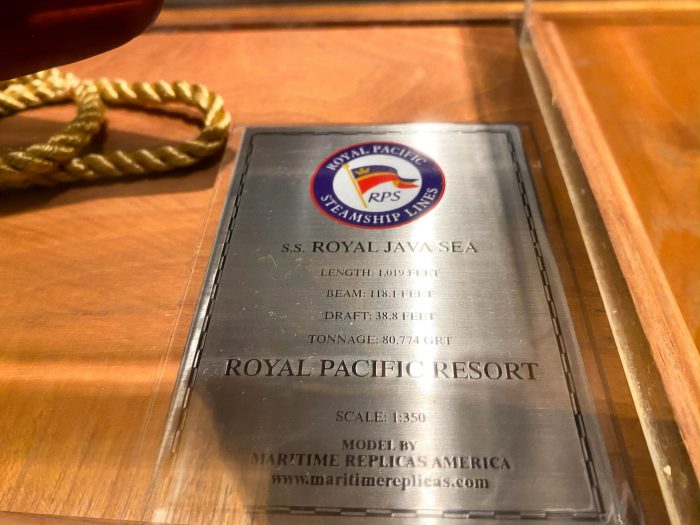 One of the most popular photo-ops in the entire resort is the full-size sea plane located in the lagoon directly outside the Royal Pacific. The storyline behind this plane is that its pilot, Jake McNally, loved island-hopping through Southeast Asia checking out all the local bars. This leads us to….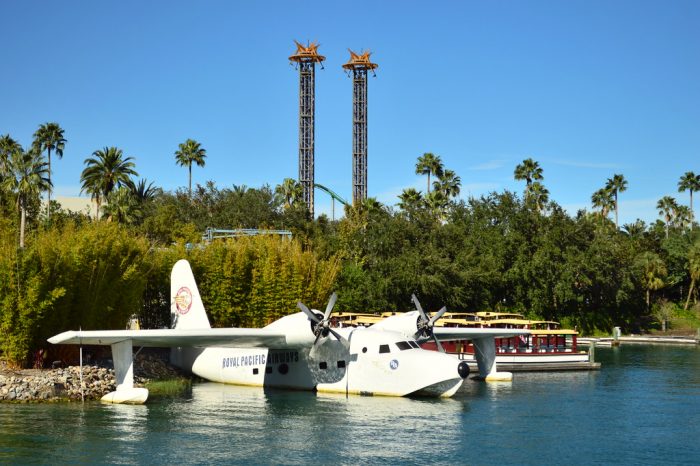 Jake's American Bar
Located on the ground floor of Royal Pacific is Jake's American Bar, a deceptively large table service that has a lot of seating inside, outside, and at the bar. The original theme park resort bar themed to a sea pilot (cough – we're looking in your direction Jock Lindsey), Jake's is inspired by the adventures of  Captain Jake McNally. Throughout the restaurant you will find references to the golden age of travel, with gorgeous posters featuring exotic locales along with many references to the mysterious disappearance of Captain Jake.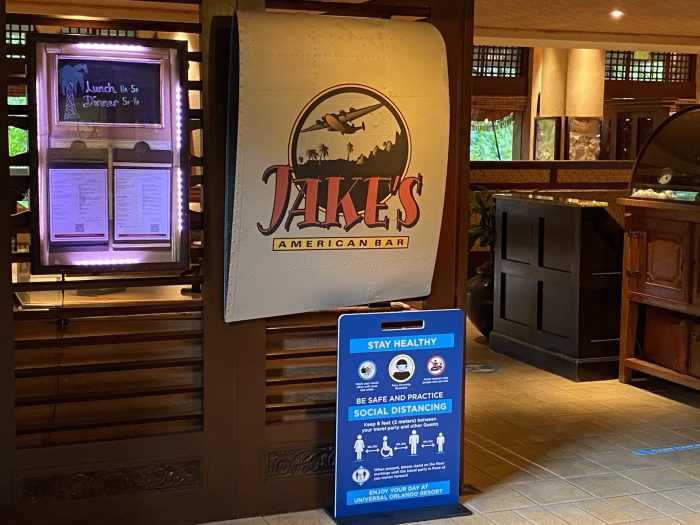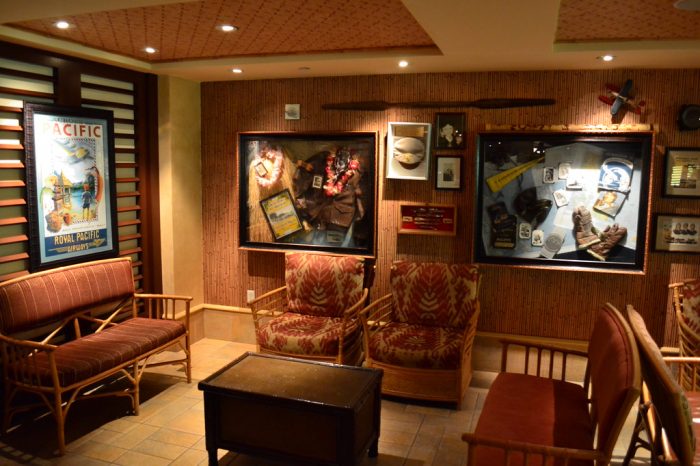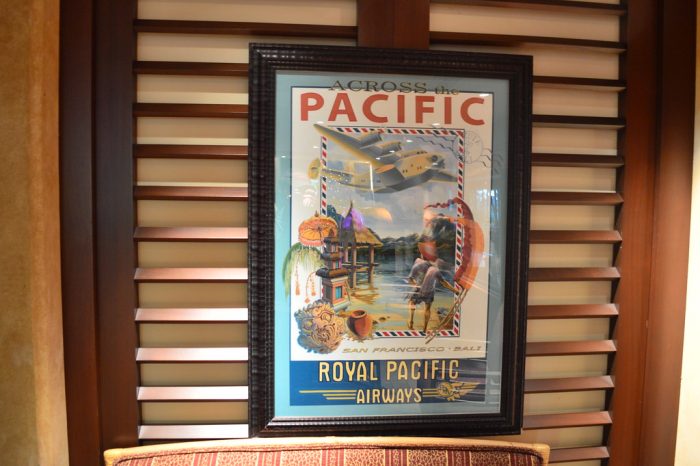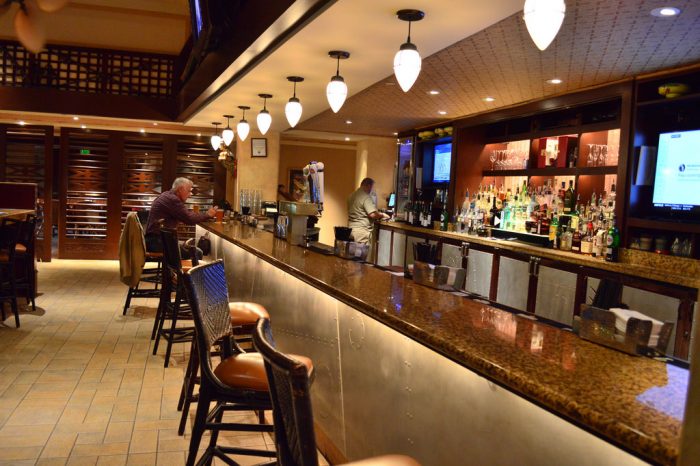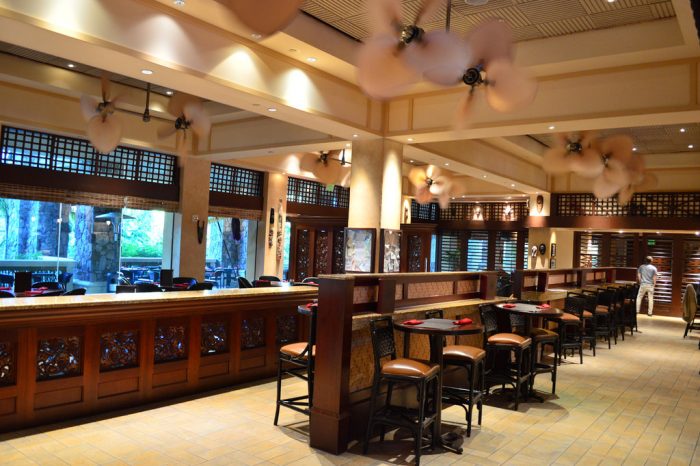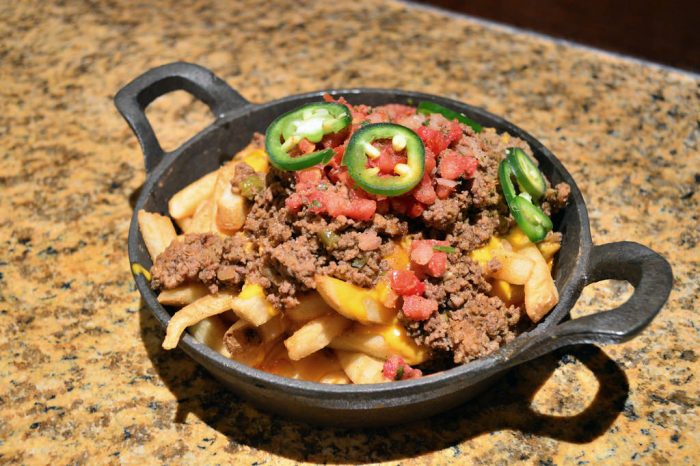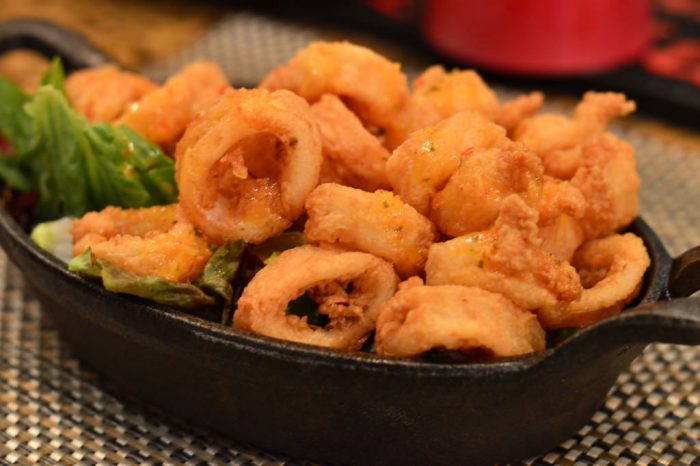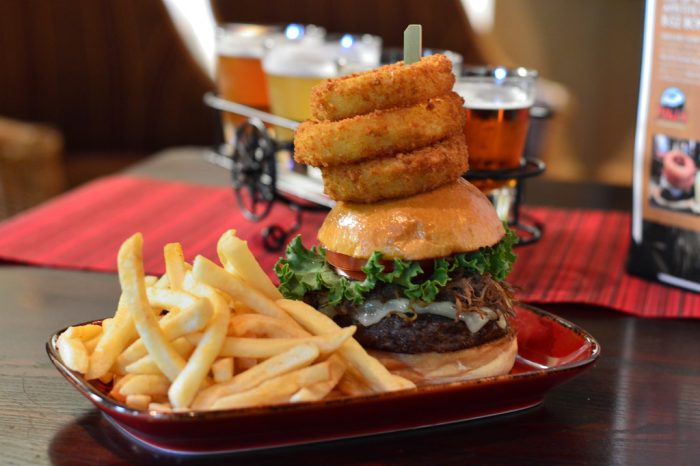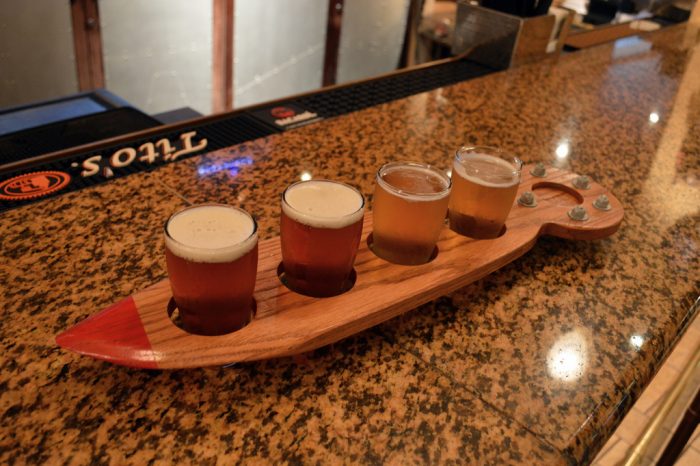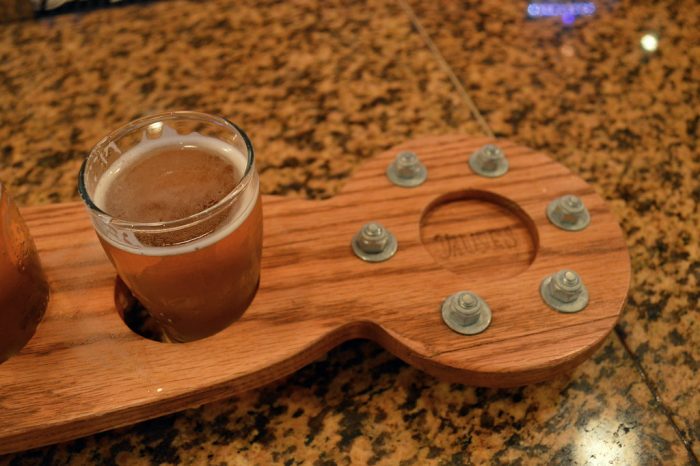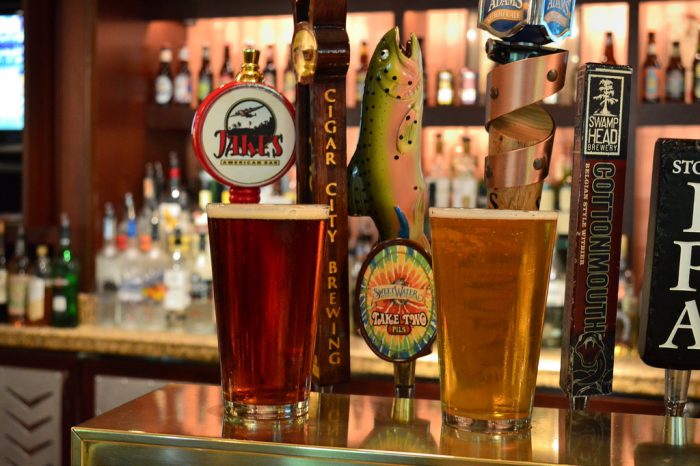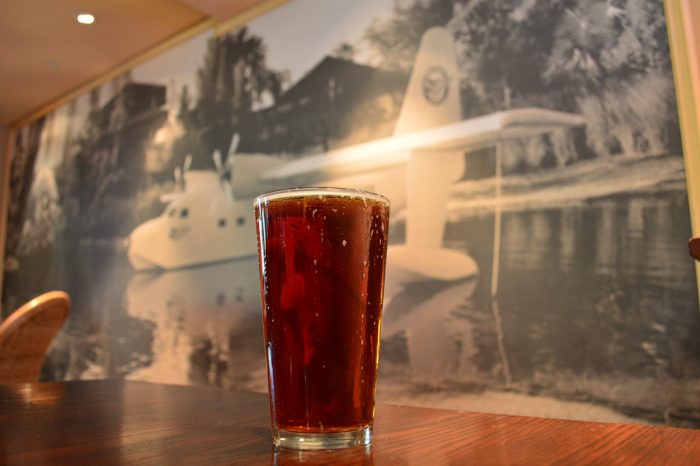 For the "unprecedented times" that we are currently in, Jake's American Bar has social distancing measures put in place for both the indoor and outdoor seating areas.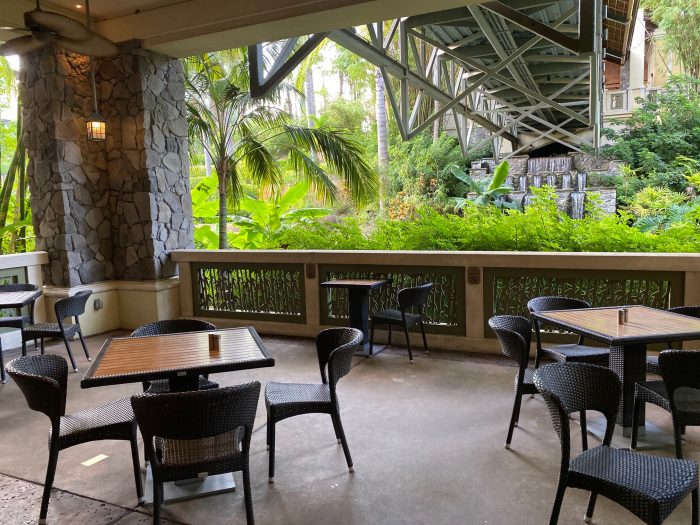 We enjoyed eating outside during the pleasant weather we've been having. The homemade pretzel rods appetizer is always a hit.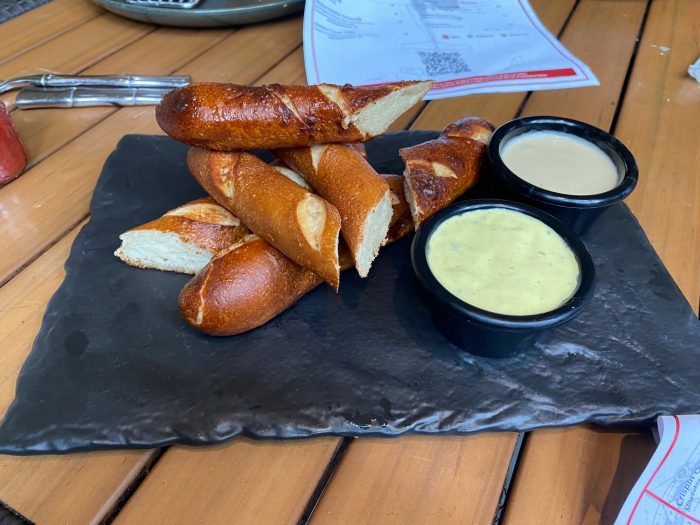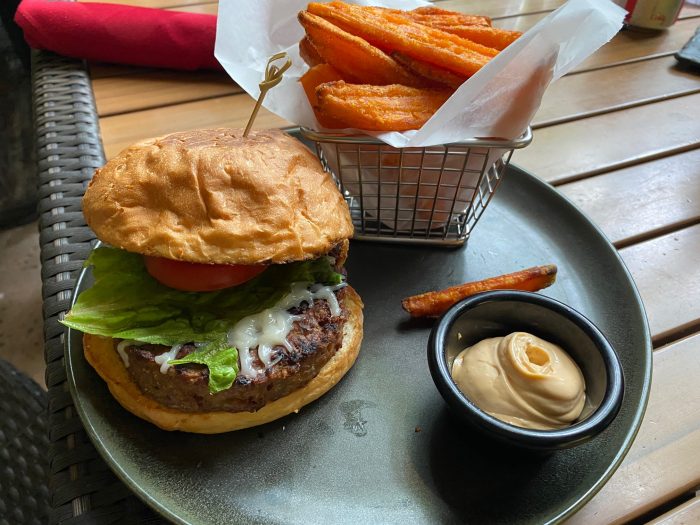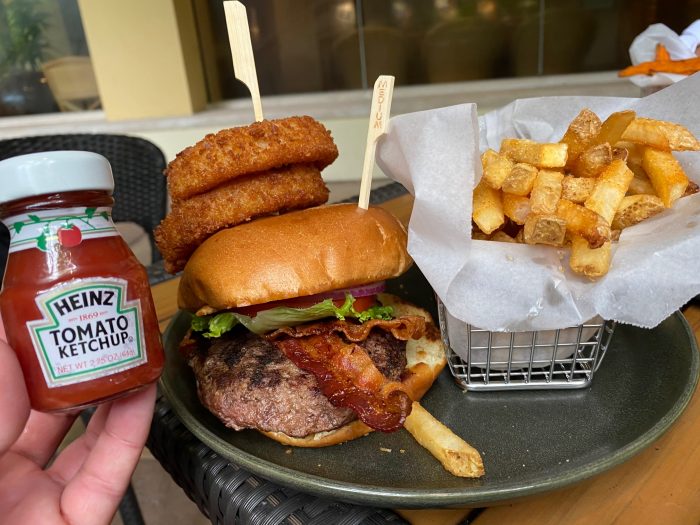 # 4 – The Rooms
Not too long ago, every single room at the Royal Pacific was completely refurbished. The new aesthetic combined the older Polynesian theme with a more modern take on the concept. Standard rooms are 335 square feet–about the size of a room at Disney's moderate resorts–and feature one king or two queen beds. King rooms sleep up to three people with an optional rollaway bed, and queen rooms sleep five with that rollaway bed. Rooms include a 32-inch flat-panel LCD television, refrigerator, coffee machine, and an alarm clock with a lightning connector iPhone docking port. The refrigerator is an actual "fridge" in that we put a gallon of room temperature water into the fridge when we entered the room, and later that evening it was nicely chilled. Other amenities include a small desk with two chairs, a comfortable reading chair, chest of drawers and large closet. There are several outlets equipped with USB ports located near the beds and desk. As with all the Loews hotels at Universal, the unique lighting features always blow me away.
Every room is thoroughly cleaned and sanitized after each guest checks out, and remains empty for a minimum of 24 hours.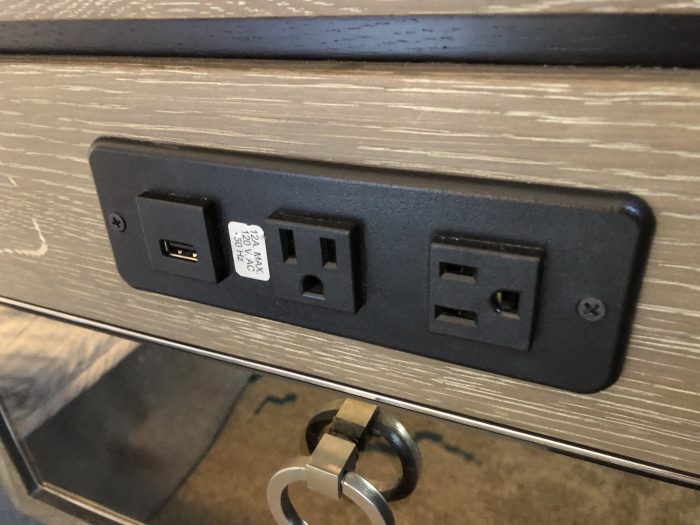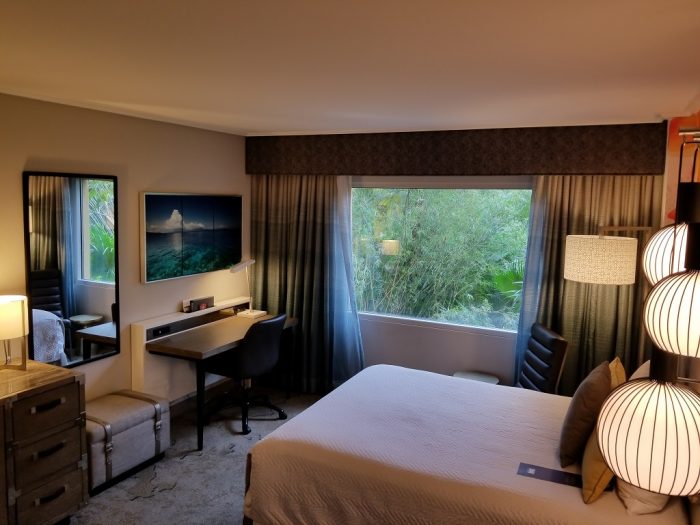 Rooms at the Royal Pacific have a dressing area with sink, and the dressing area is separated from the rest of the room by a wall. Adjacent to the dressing area is the bathroom, with a tub, shower and toilet.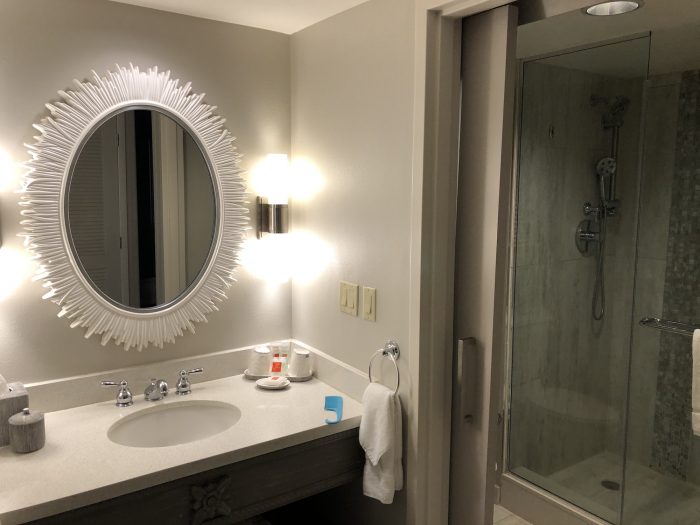 Jurassic World Kids' Suite
These two-bedroom suites contain one King Bed in one room and two Twin Beds in the dinosaur-loaded second. The kids bedroom beds are covered with rings like the geospheres from the popular Isla Nublar resort of Jurassic World. The bedding, flooring, and wall mural are all dino-themed and even the door and drawers are industrial like a Jurassic Park laboratory. The suites can sleep five with the addition of a roll-in bed. Like the nautical themed kids suites in Sapphire Falls, the door in the kids' room only leads to main room.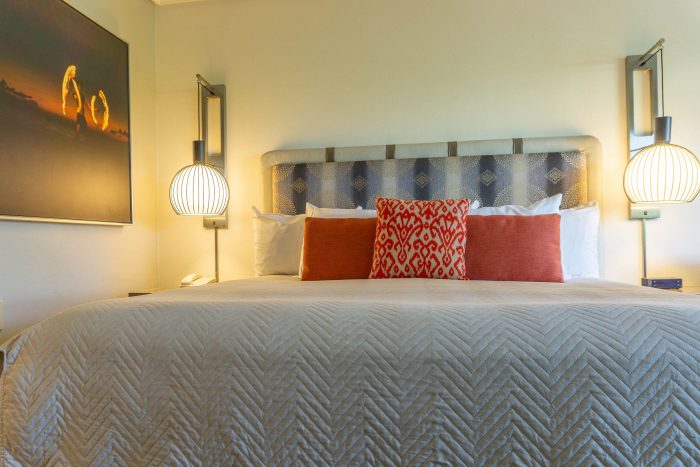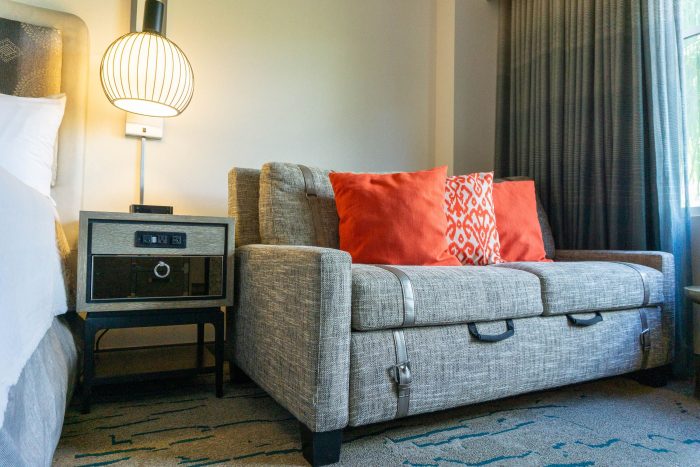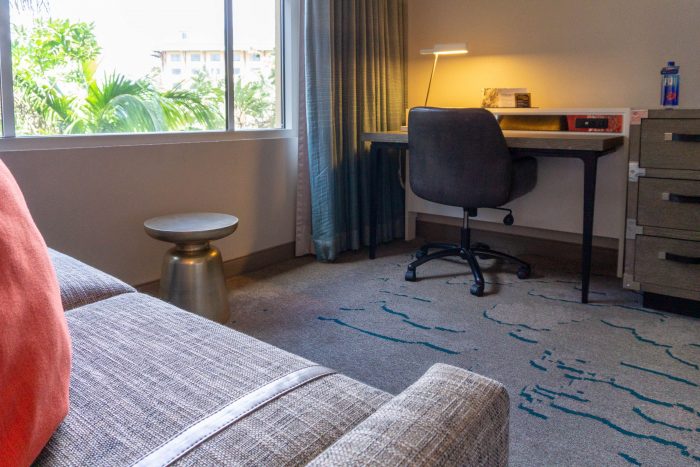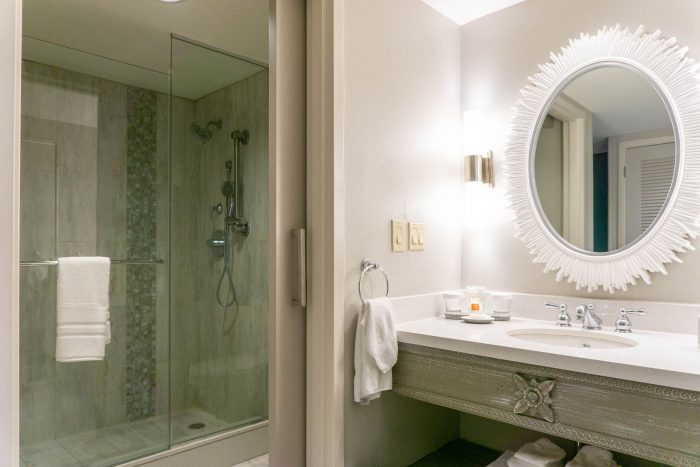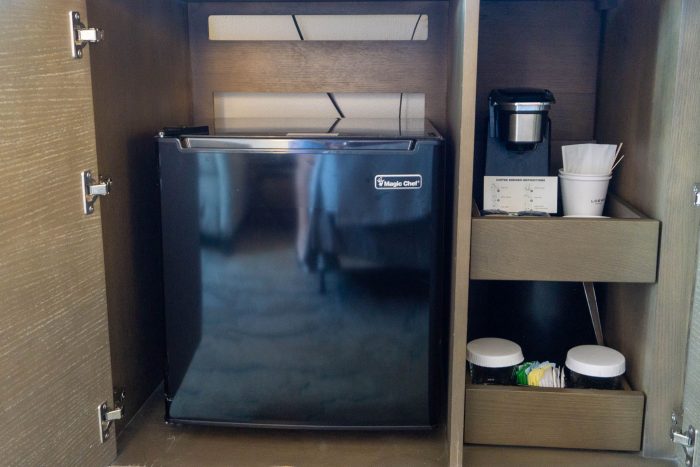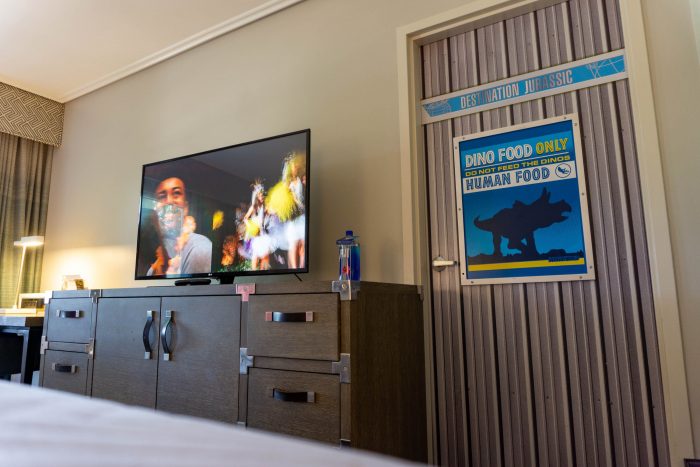 As a kid, I would have flipped out being able to stay in one of these rooms.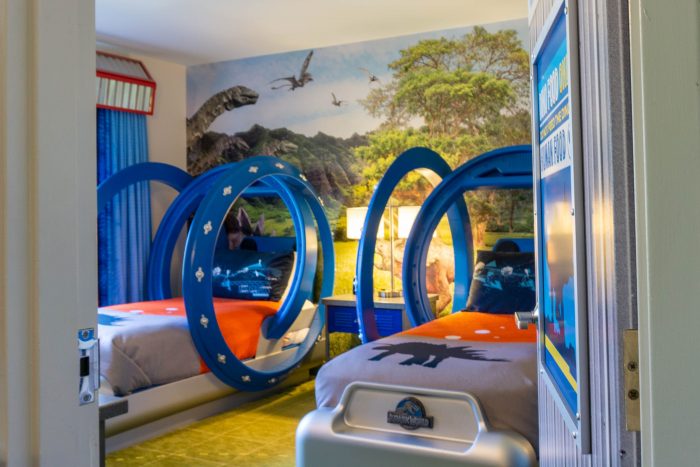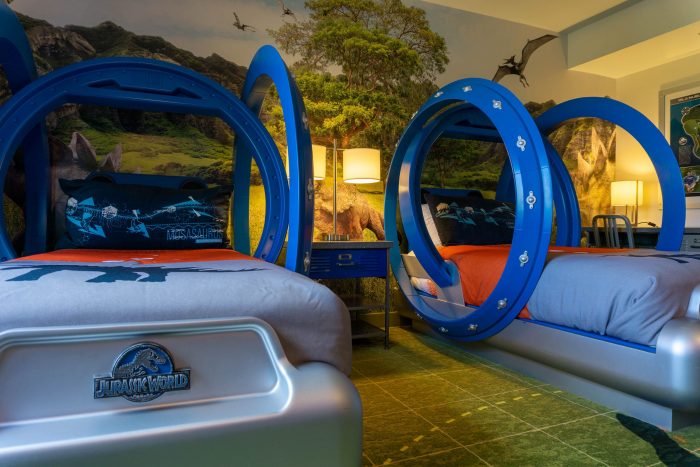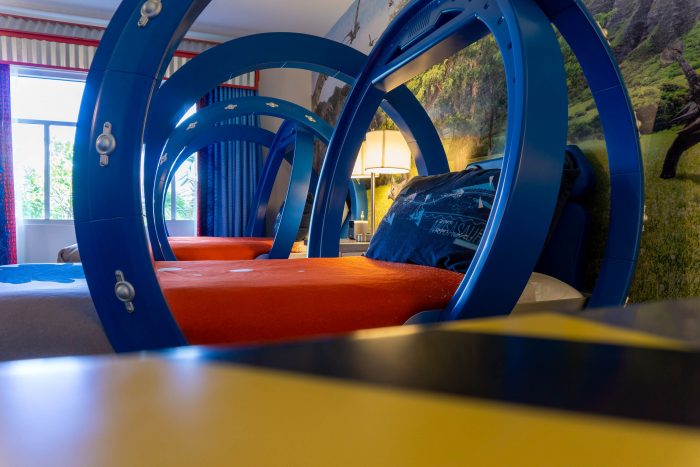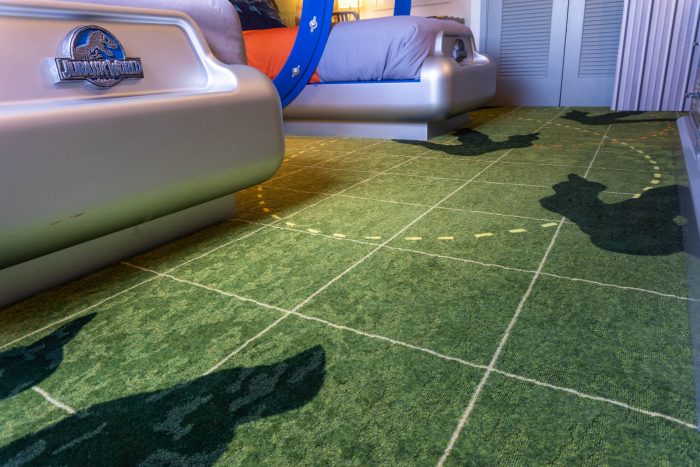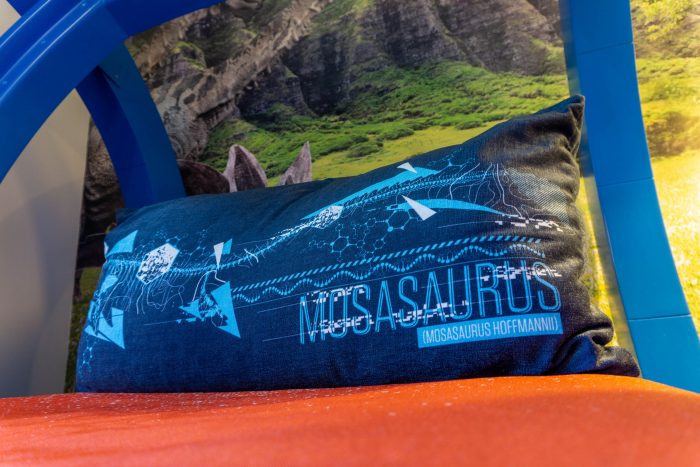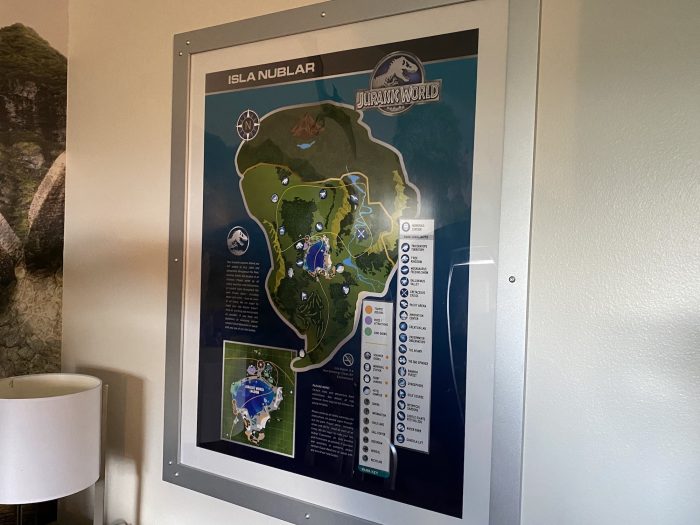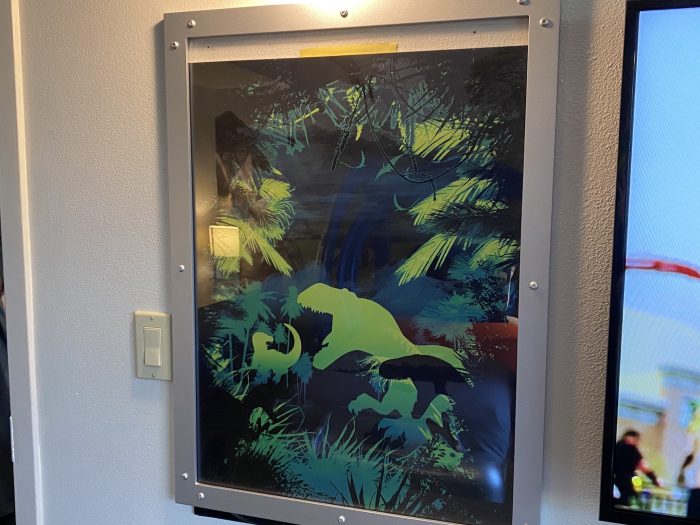 You can also get a King Suite, which is a 670 square foot room that features a living room (with pull-out sofa) and a separate bedroom.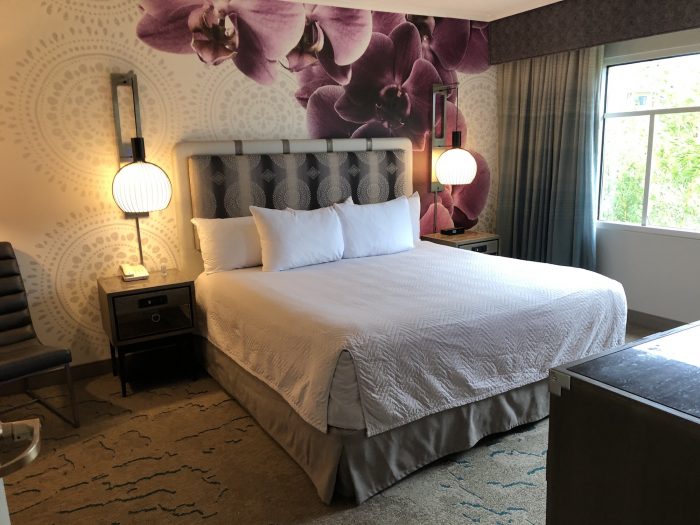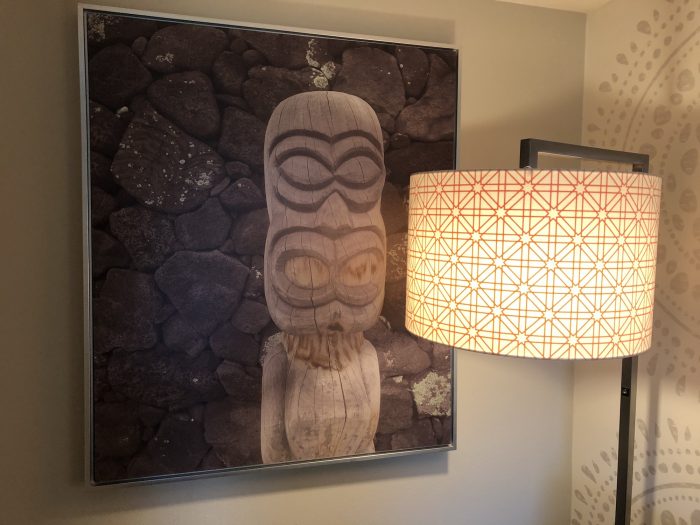 While the NBA players are discovering the luxurious rooms inside the Disney bubble, real "ballers" know that the Captain's Presidential Suite at Royal Pacific just may be the best room at the Universal Orlando Resort. Here how it is described: You'll be swept away by the lush and exotic grandeur of out aristocratic Presidential Suites. This expansive 1,340 square foot suite becomes your own exclusive island retreat comes complete with a large dining and conference area, separate study area, service pantry with refrigerator & separate sink, one and one-half bathroom, oversized shower, and luxurious furnishings. I've lived in many an apartment that were smaller than this hotel room.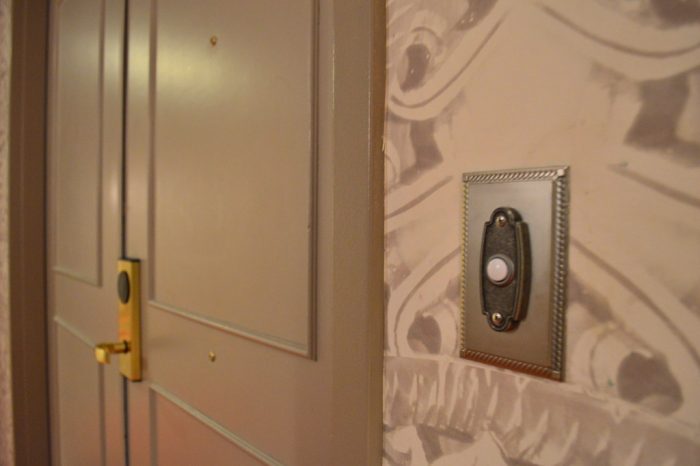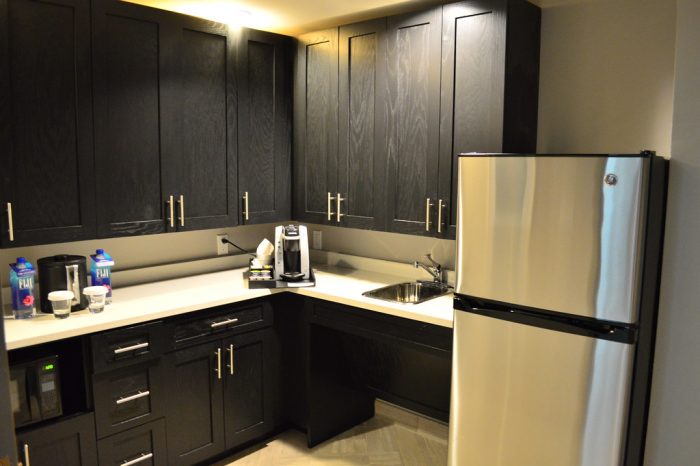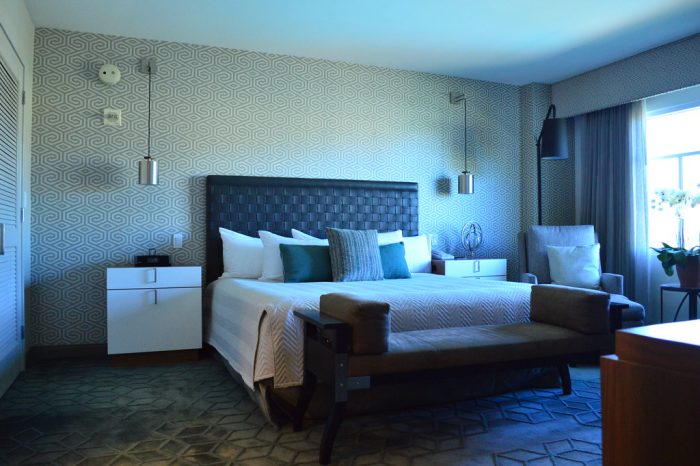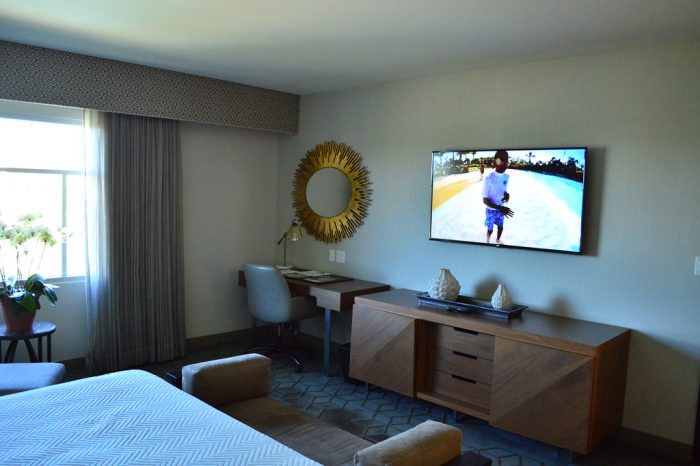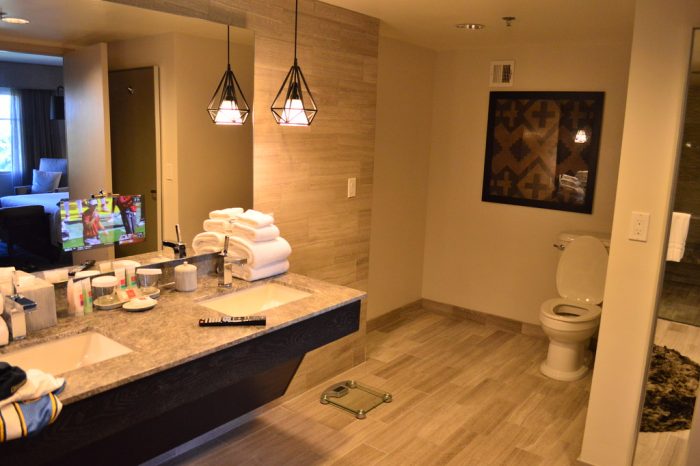 A TV is built into the bathroom mirror.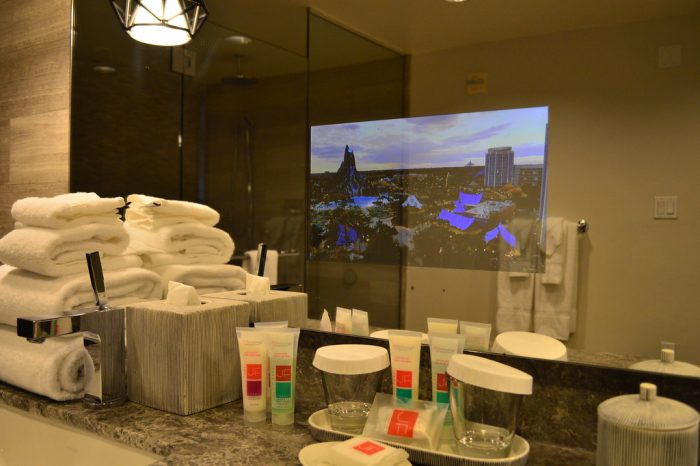 The shower in the Captain's Presidential Suite just may be the greatest in the history of man. Not only is there a rainfall shower head above you, and the now-standard shower head attachment that you can detach, but there are three jets on the wall that also have water spraying at you. It's an incredible experience.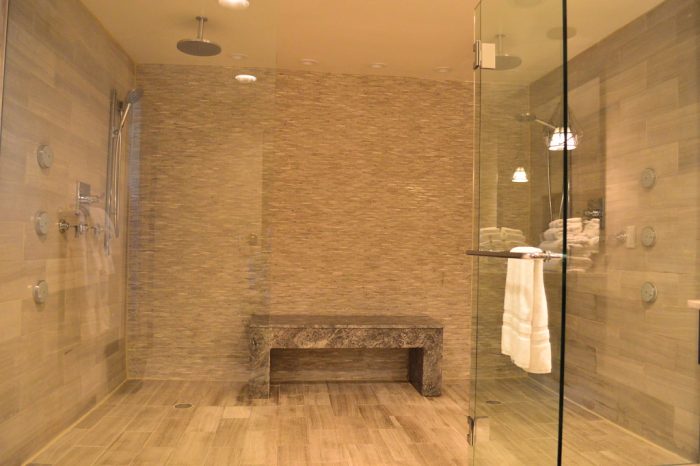 The room service menu at Royal Pacific features many items from the hotel's restaurants, including Jake's American Bar. You can have a complete contactless experience, in which the items are left at your door. When we ordered food (and later, towels) they were delivered by a cart. When I answered the door, the Team Member stepped back, allowing me to pick up the items.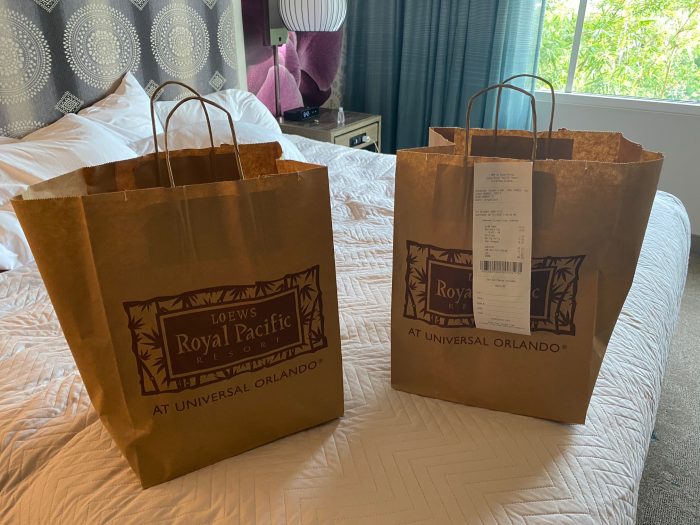 One item we ordered was the vegetable spring rolls, which are an appetizer at Island's Dining Room.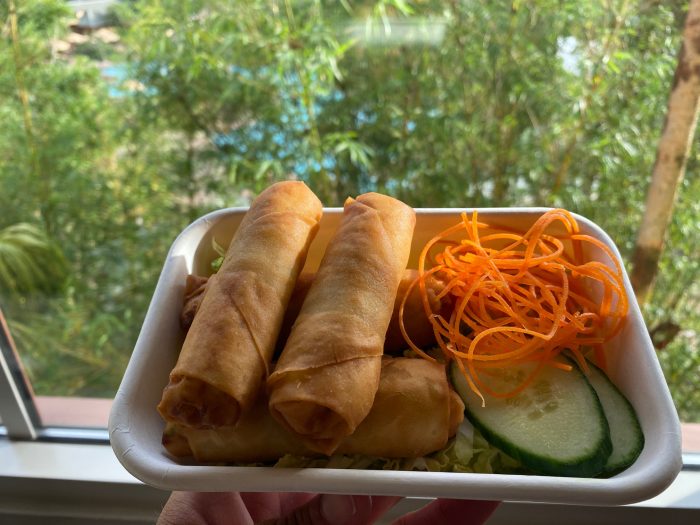 We also ordered the vegan "lasagna." This is an entree at Jake's American Bar. It is comprised of vegan cheese, zucchini, squash, eggplant, potatoes, roasted red peppers, hummus, vegan bolognaise, and tomato sauce.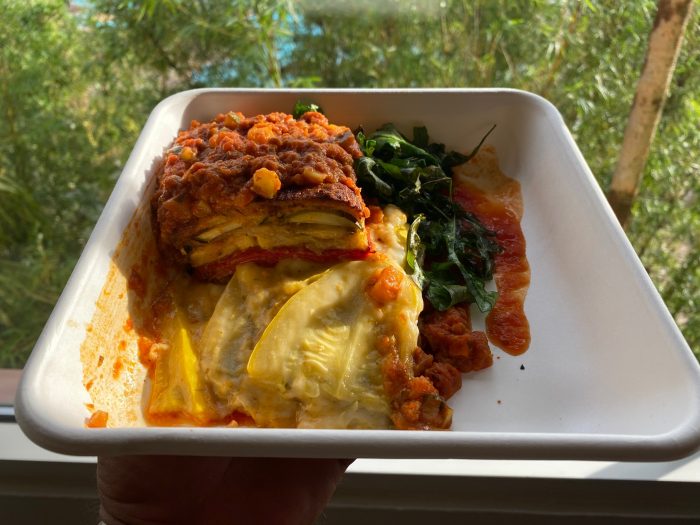 The "lasagna" was incredible, and the best item we had during our entire trip (which included eating at CityWalk and the parks).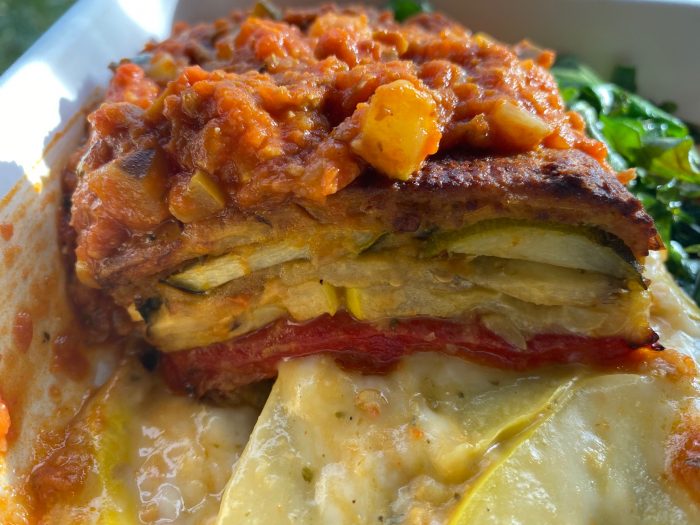 I thought the bottle of ketchup that we got at Jake's American Bar was small, but apparently that was the supersized version compared to the bottle of Tabasco we got from room service.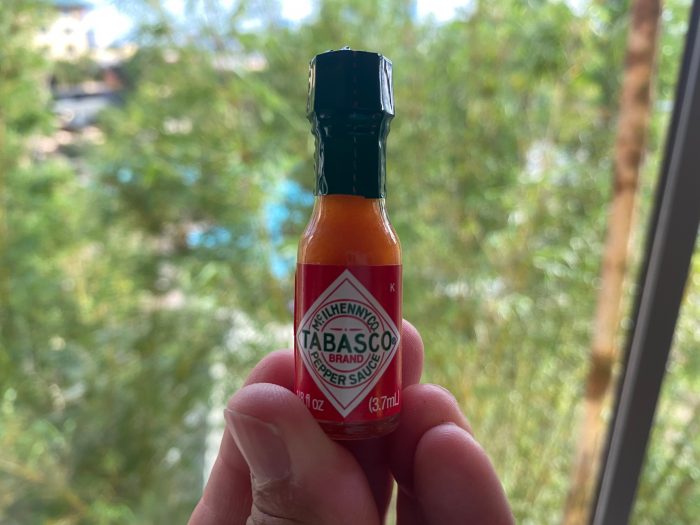 Room Service offers a kids' menu along with a Loews Loves Pets menu, where you can order items like "Bow Wow Beef."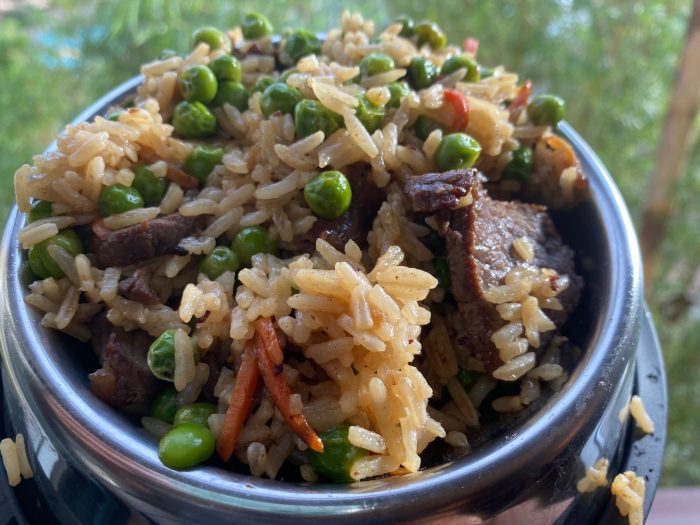 "Dinner is served."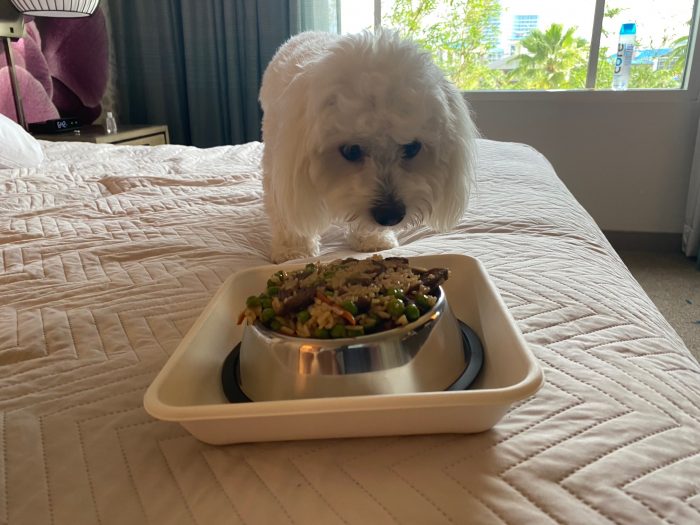 # 3 – Pet Friendly
As you can see the Royal Pacific is pet friendly, which means you can bring your favorite furry friend. You are allowed up to two pets per room, and the cost is $100 per length of stay. For this trip we traveled with Bacini, the official dog of DisTwitter. We've had great experiences bringing Bacini with us to Orlando and having him stay at various kennels, including Best Friends Pet Resort over at Walt Disney World, but because of the coronavirus many of these places have adjusted the hours for which you could visit your pet, as they have reduced staffing at night. It's completely understandable, but when you have a very demanding spoiled rotten loveable pup like Bacini, you want to be around them more. So for this trip, we brought him with us.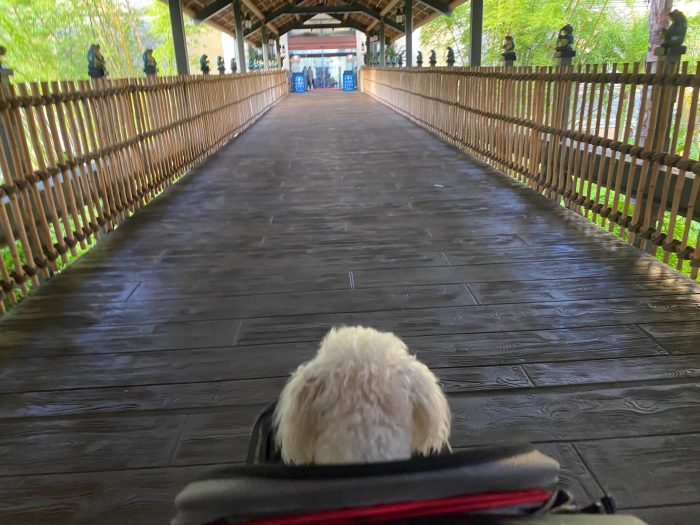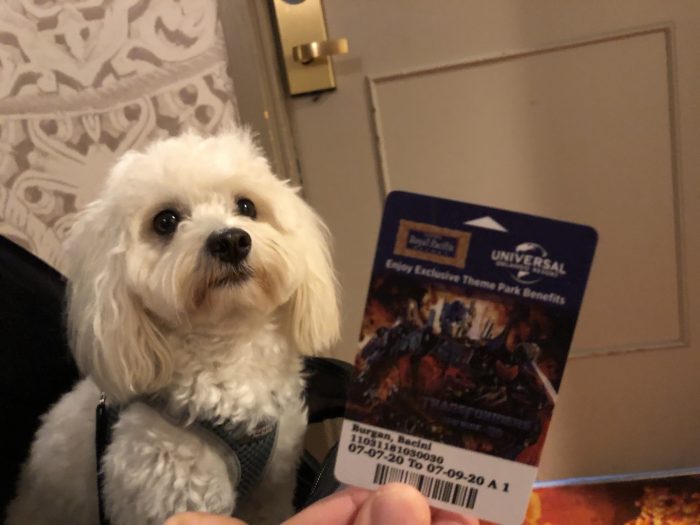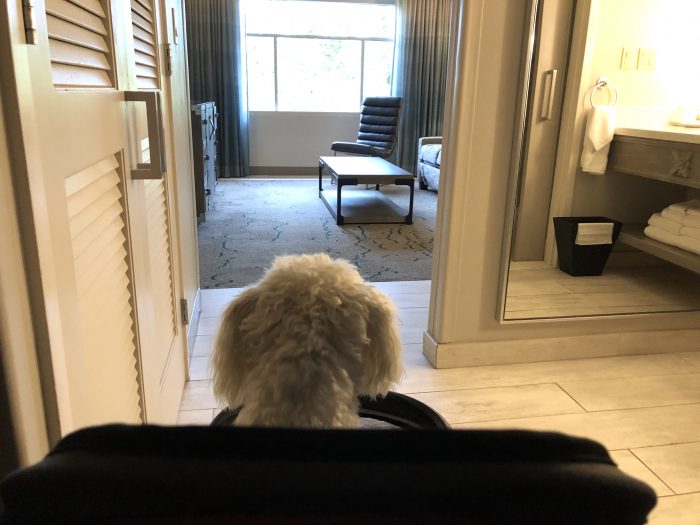 It's great that we can now take Bacini with us to Disney and stay at some of their dog-friendly hotels, but each of those venues (including the Yacht Club and Art of Animation) had dog relief areas shoehorned into them. Royal Pacific was built with pets in mind, so the dedicated area for them is just a much better experience.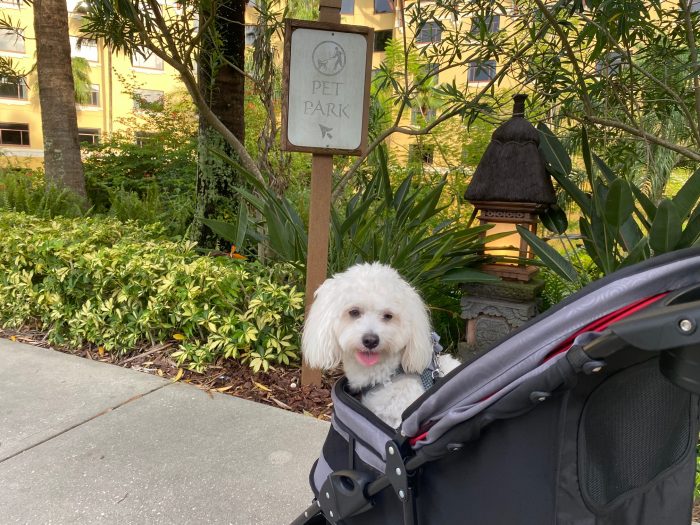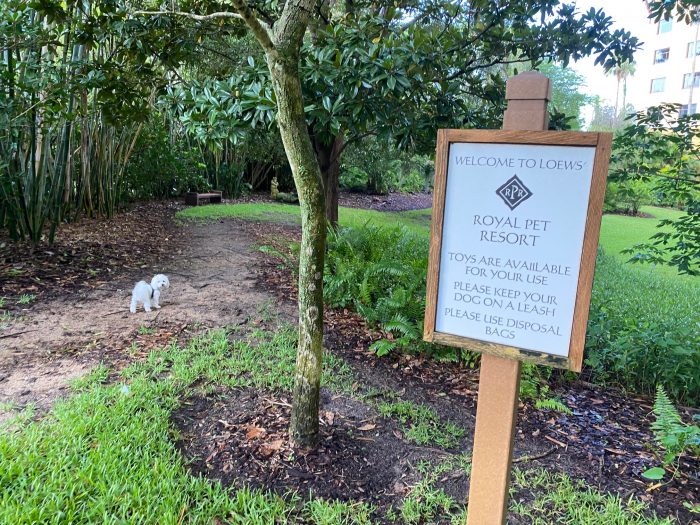 There's even statues in the pet park!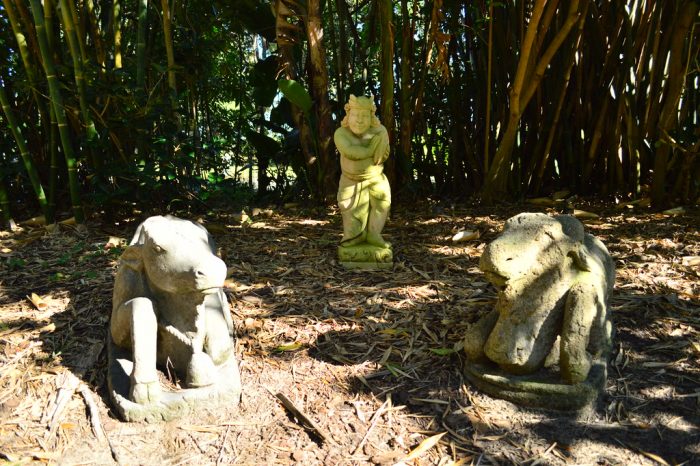 The pet park area is huge, and is shaped like a large "L."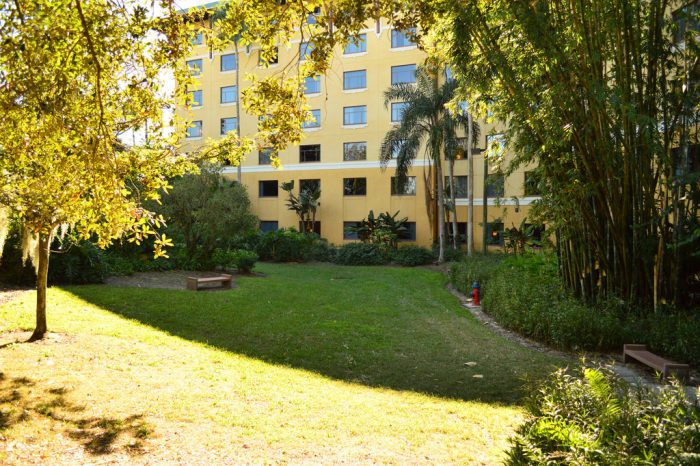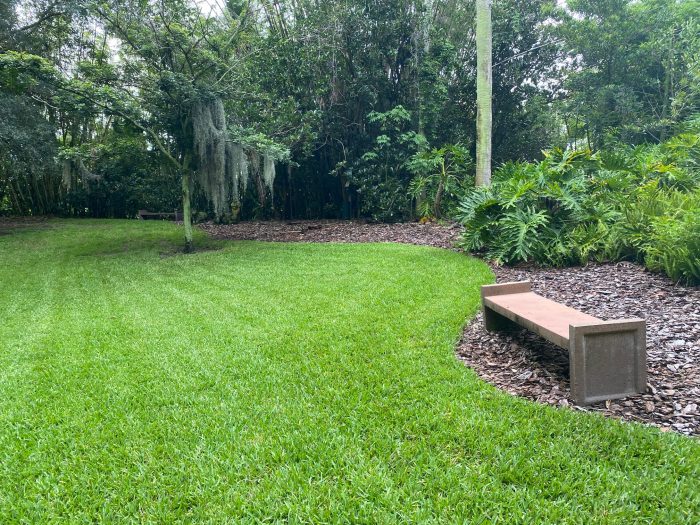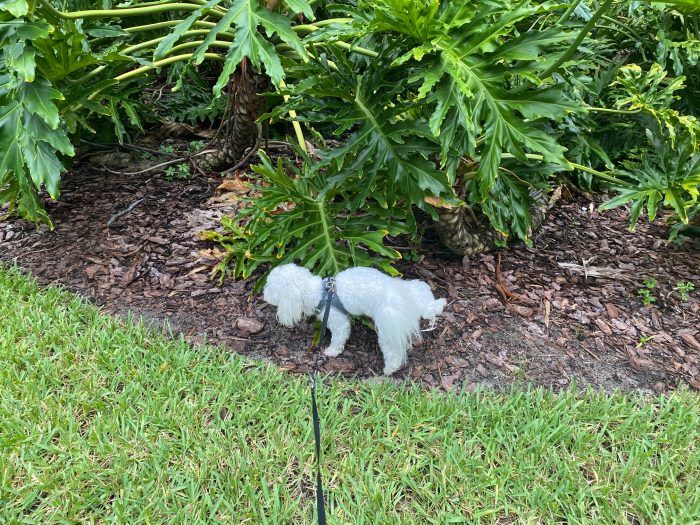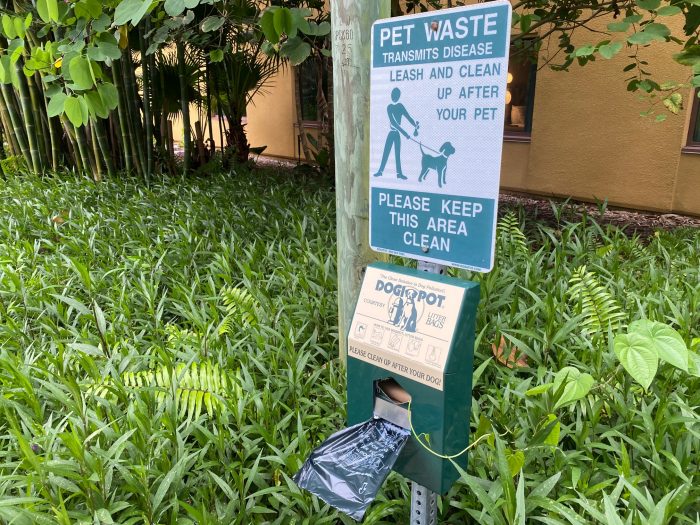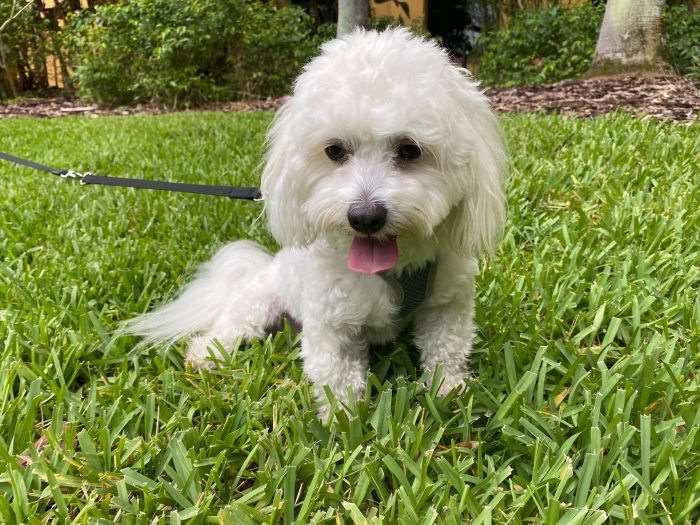 This was actually Bacini's second time at Royal Pacific's pet park, as we stopped by on trip last year while staying at a different resort.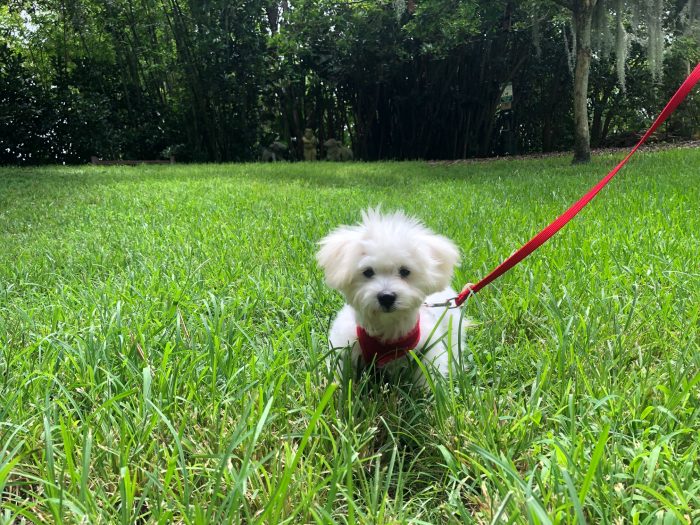 There is also a dedicated entrance from the hotel leading to the pet park.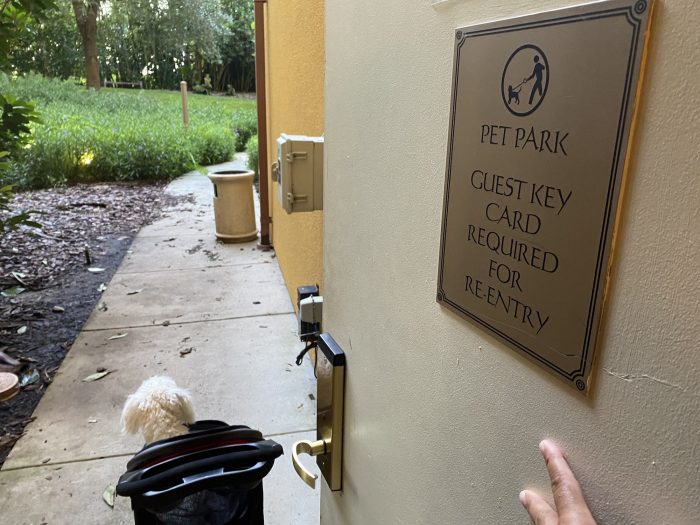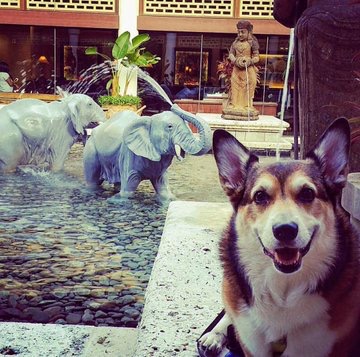 With outdoor seating at the restaurants, it allowed us to spend more time with Bacini at the resort.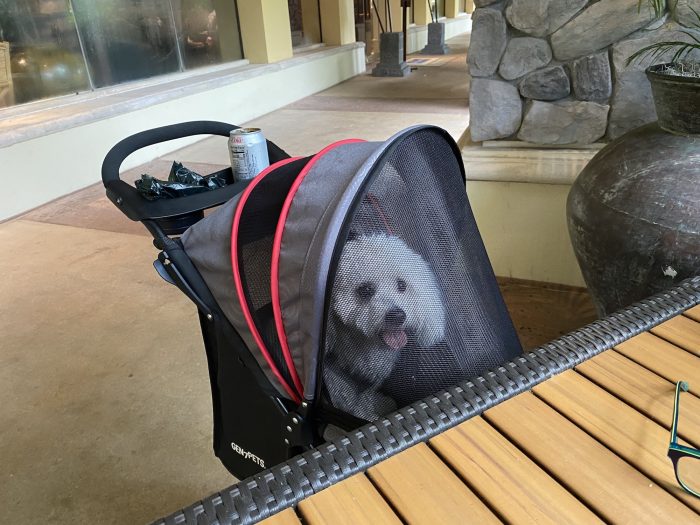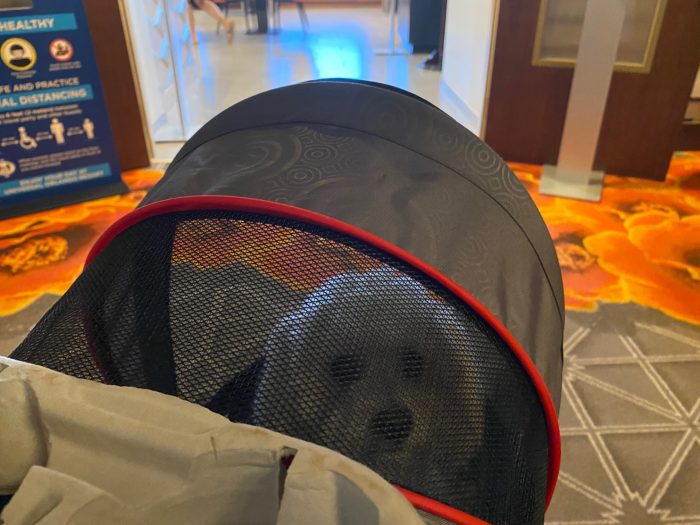 # 2 – The Lagoon Pool
The lagoon-style pool at the Royal Pacific Resort is massive. While it is the only Premier resort pool at Universal without a slide, it does feature the gigantic Royal Bali Sea interactive water play area connected to the pool. This play area is themed to a ship, features water cannons, and seemingly dumps about a million gallons of water on the people playing around it. When I was a kid all the pools were the same shape: a rectangle. If pools and play areas existed like this, I'm not even sure my parents would have been able to drag me away to go to the theme parks.
For adults, there is plenty of (social distanced) seating, a white sand beach, zero entry, cabanas, and the Bula Bar & Grille. The pool area offers towels, magazines, and newspapers to read while laying out in the sun, and games such as ping pong. While there is plenty of covered seating at the Bula Bar, servers will come out to the pool area to deliver drinks and food. Our recommendation: Shipwrecked Loaded Nachos (but you can't go wrong with the Char Siu pork lettuce wraps either).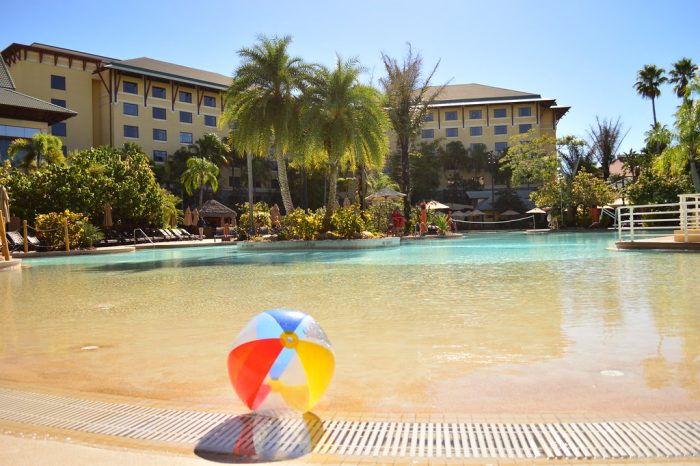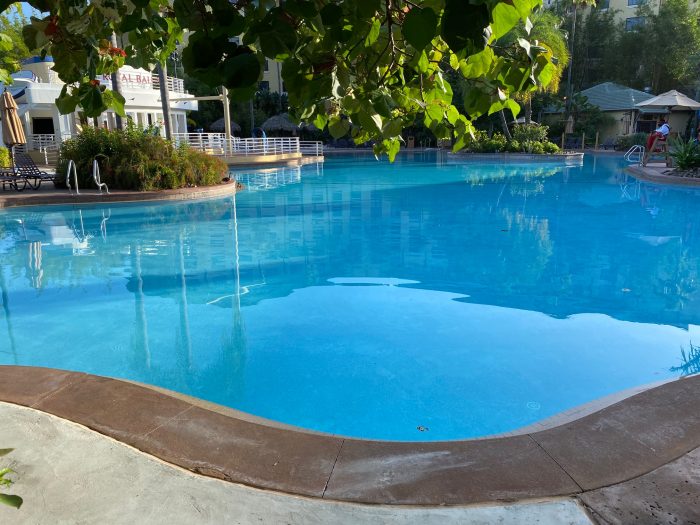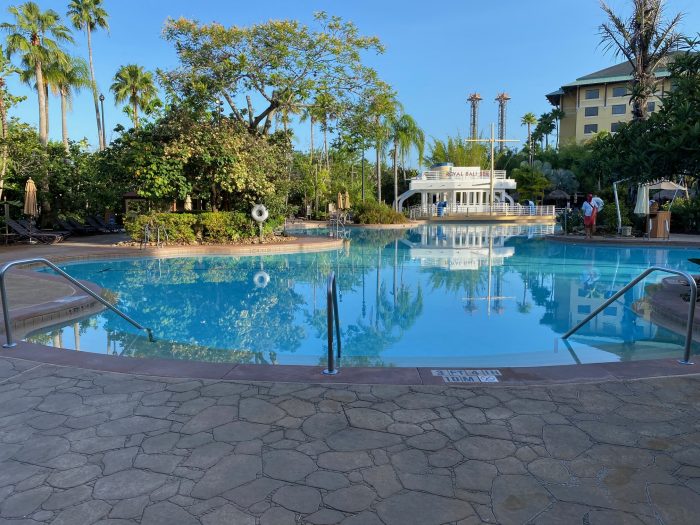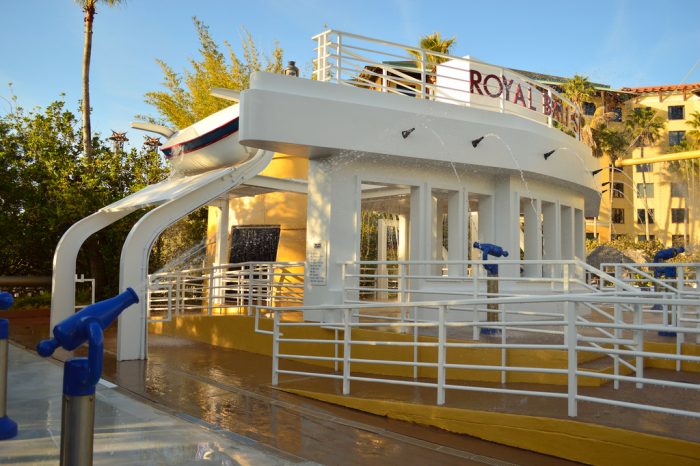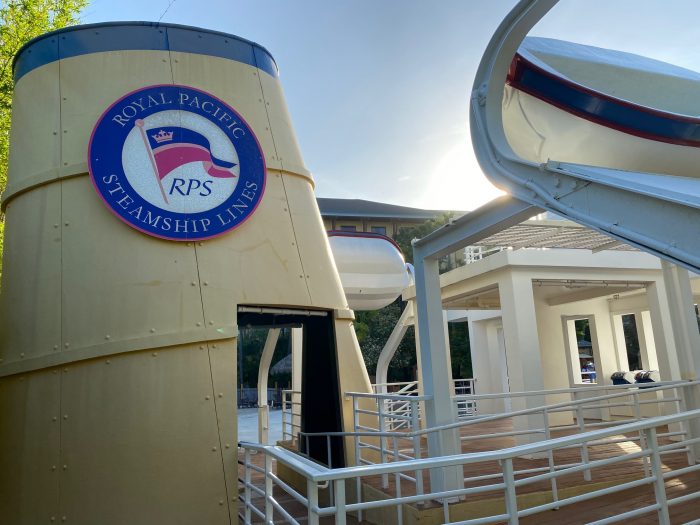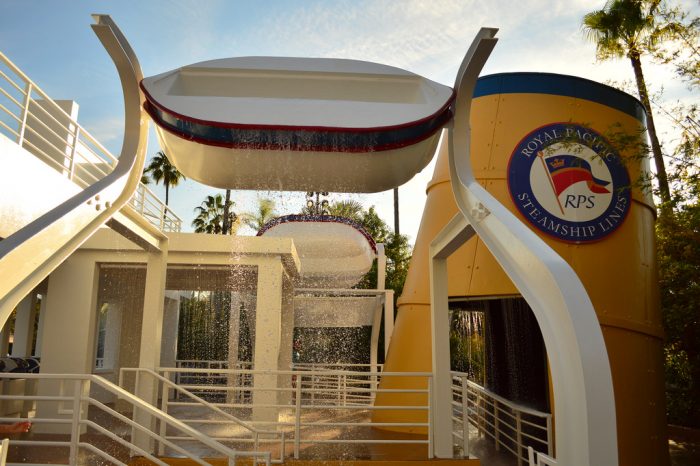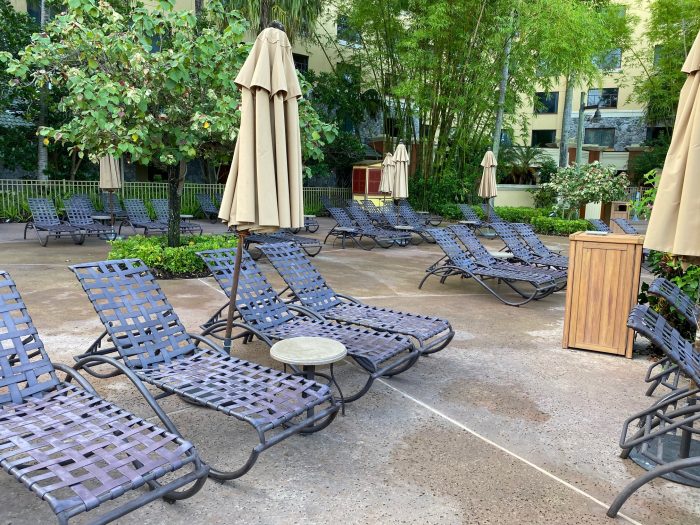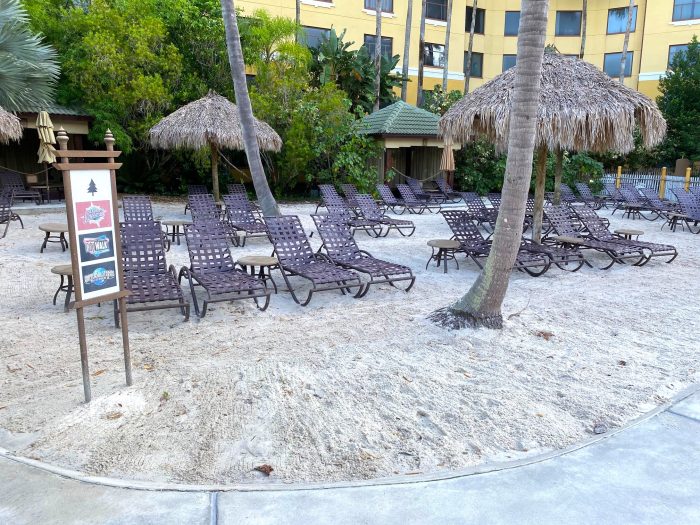 Ducks have been a controversial subject in the theme park world this week (don't worry, if you don't know what I'm talking about we'll cover it later in the annual Turkey of the Year Awards), but it is always nice seeing ducks enjoying the pool area at Royal Pacific. Is there anything cuter than baby ducklings following their mother around?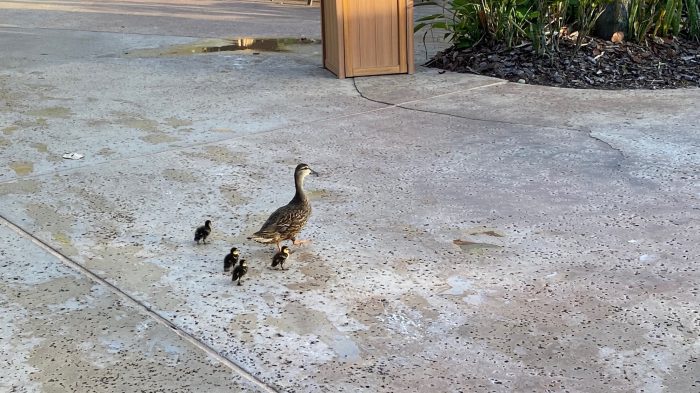 Outside the lagoon pool area is a relaxing beach area where you can relax the day away while the water taxis make their way back and forth. This was also the very same place where the next level bonkers ending to Sharknado 3 was filmed.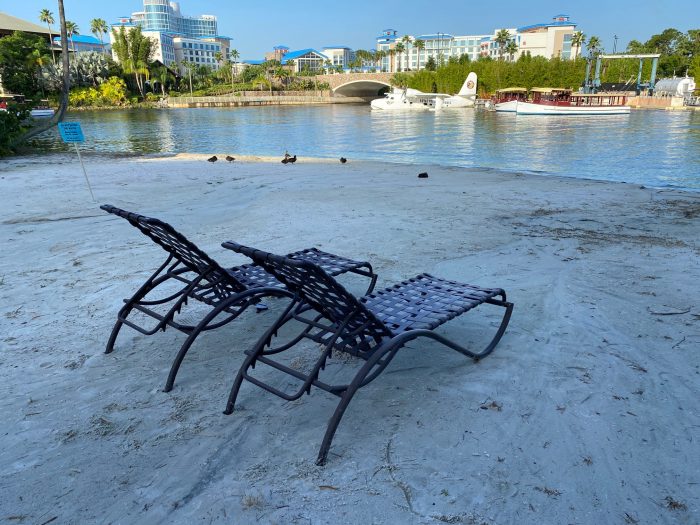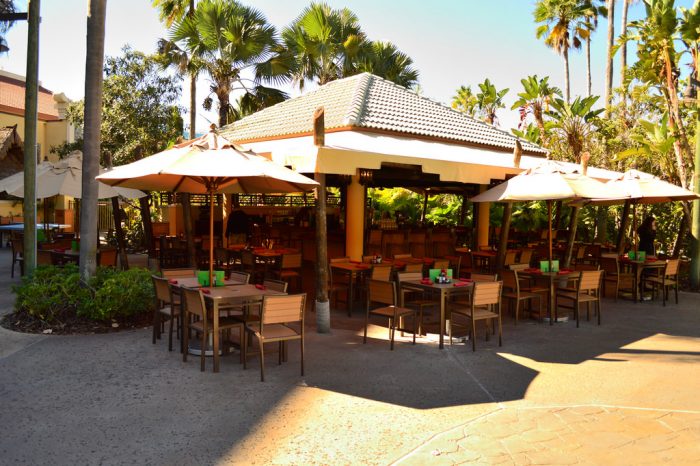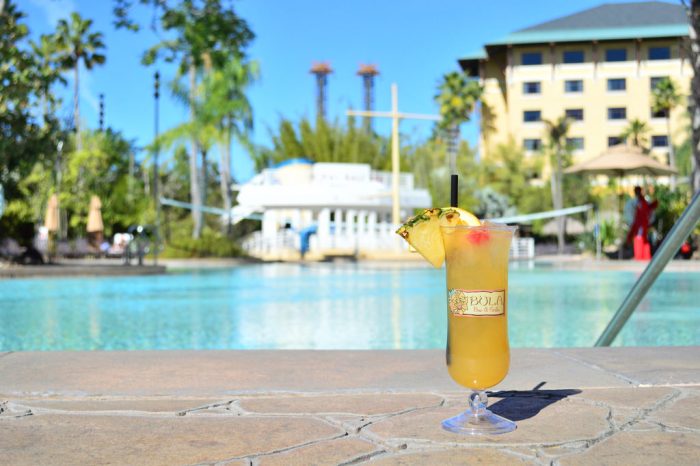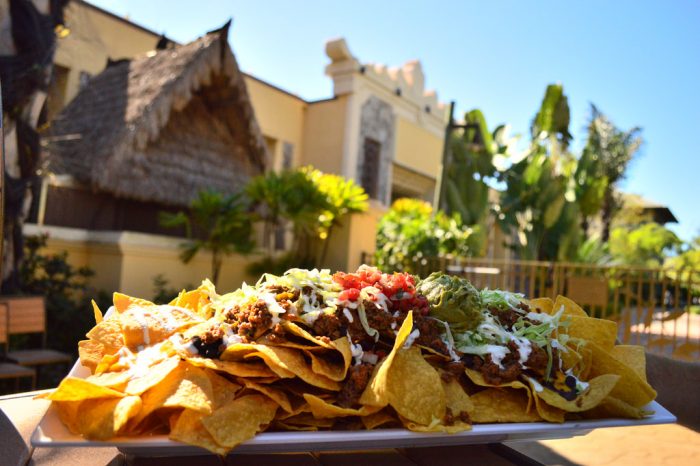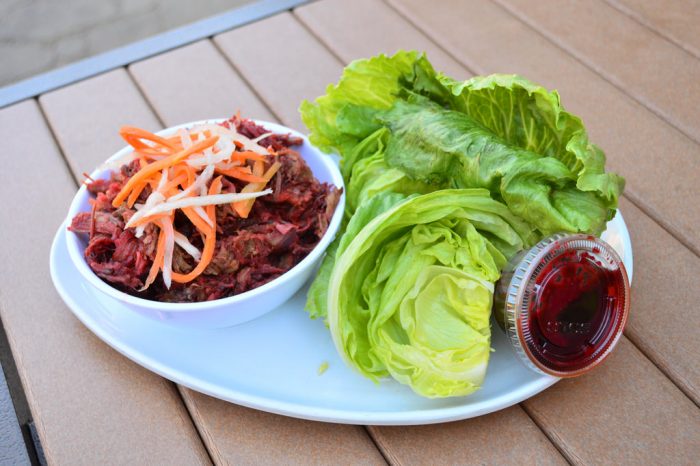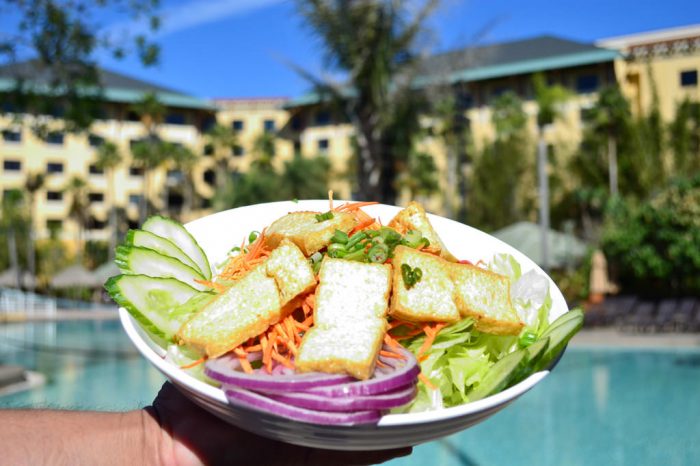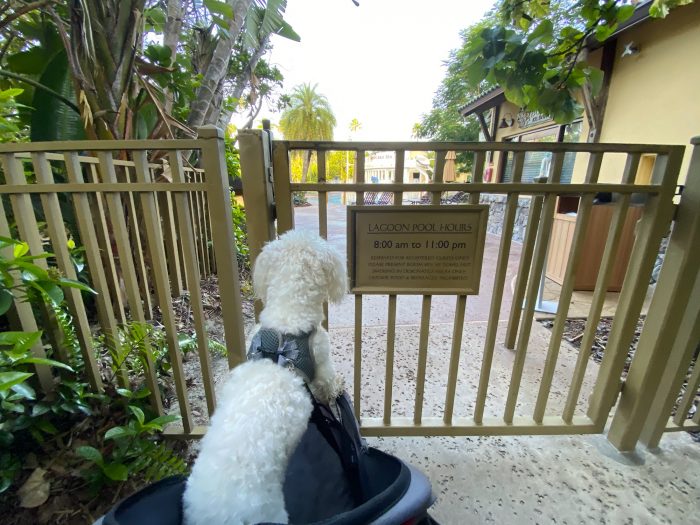 # 1 – The Location and BENEFITS
Disney has several resort areas where location is king. Who doesn't want to stay at one of the monorail resorts and enjoy a quick ride over to the Magic Kingdom? A stay at Disney's BoardWalk is a hop, skip, and a jump away from both EPCOT and Disney's Hollywood Studios. Because of the compactness of Universal, a room at the Royal Pacific is within walking distance to everything at the Universal Orlando Resort. You're less than 10 minutes door to door from your room to Toothsome or Voodoo Doughnut. Unlike the Contemporary, where your walk to the Magic Kingdom includes a stoplight and waiting for traffic, your walk from the Royal Pacific is along a gorgeous garden walkway filled with lush landscaping. One of my favorite things in Orlando is walking from Royal Pacific to the parks, because as you venture further towards CityWalk, the Ocean Trader Market background music from Islands of Adventure's Port of Entry begins to get louder and louder. It truly is magical.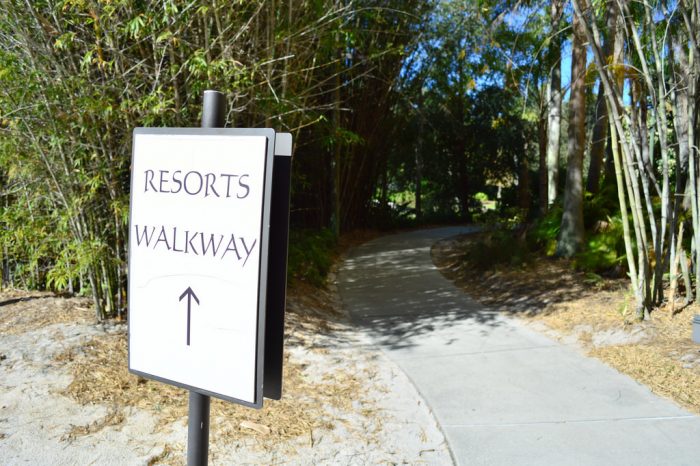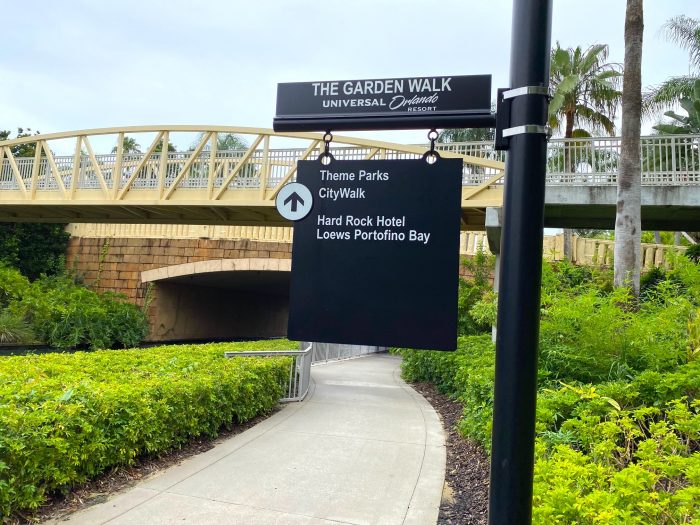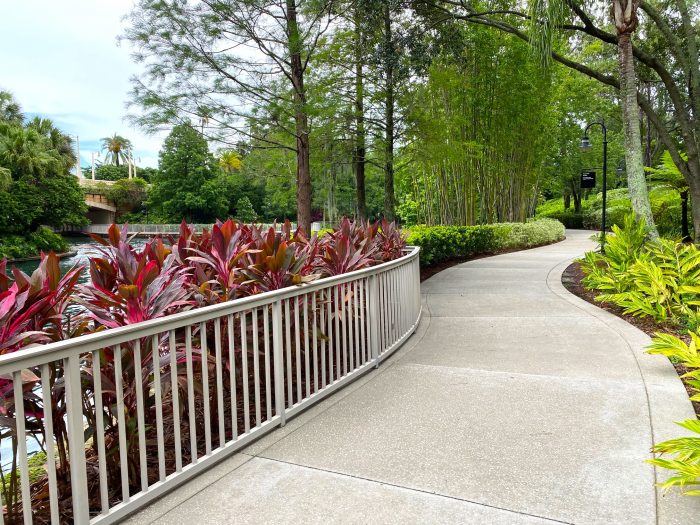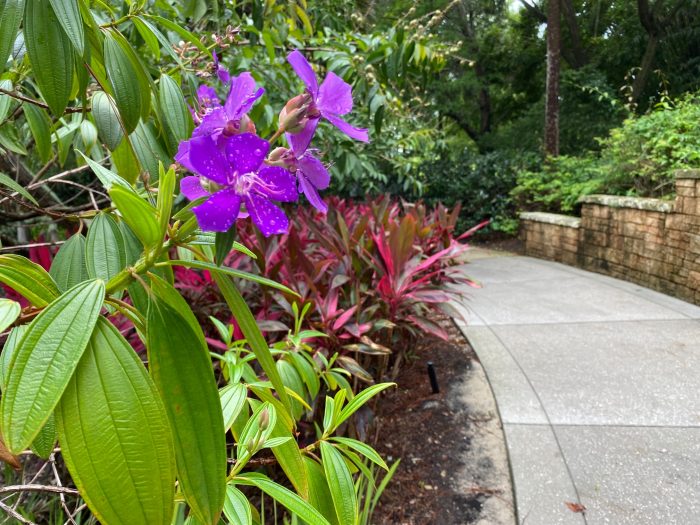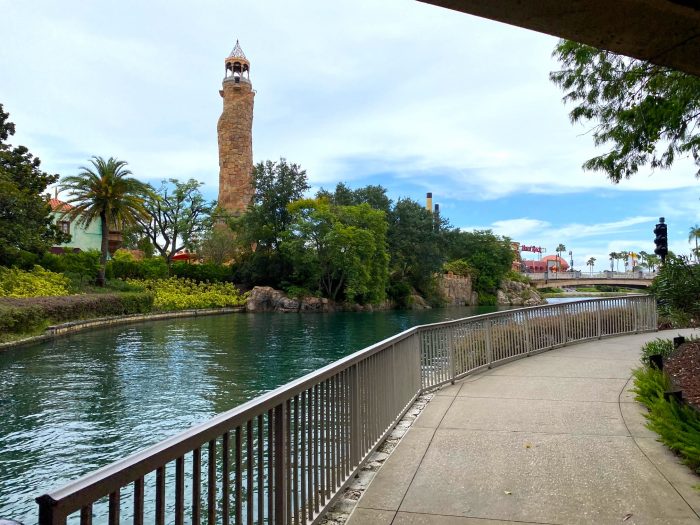 You don't have to walk if you don't want to, as Universal provides complimentary water taxis to CityWalk. It's also worth noting that the water taxis service only their home resort, so you don't have to wait long for one or have to sit as they make multiple stops like Disney's resort watercraft.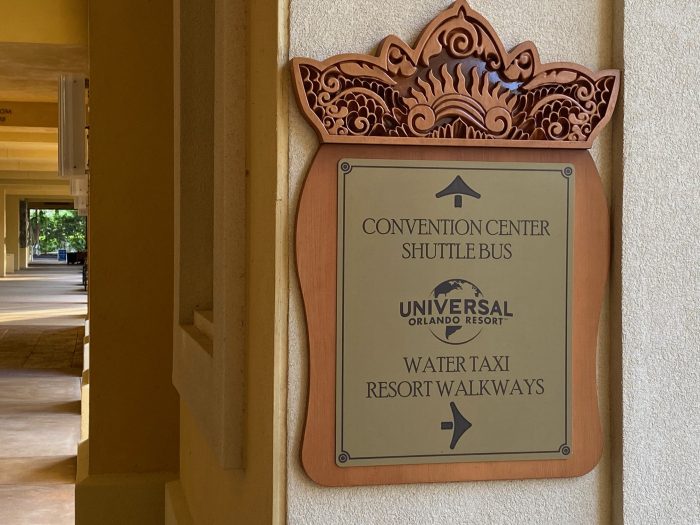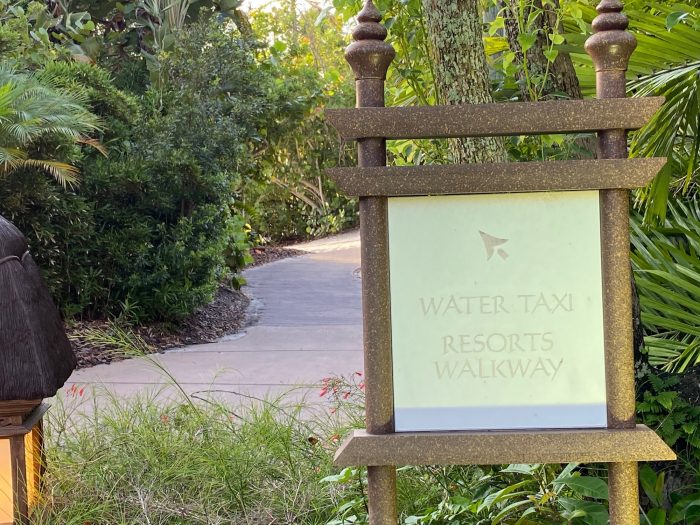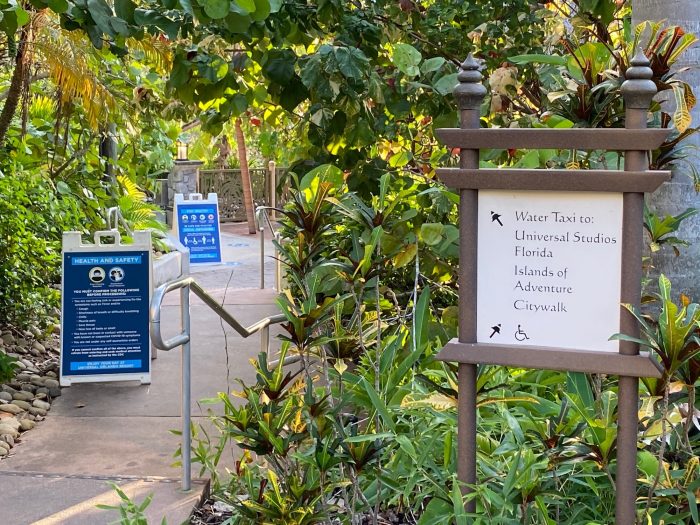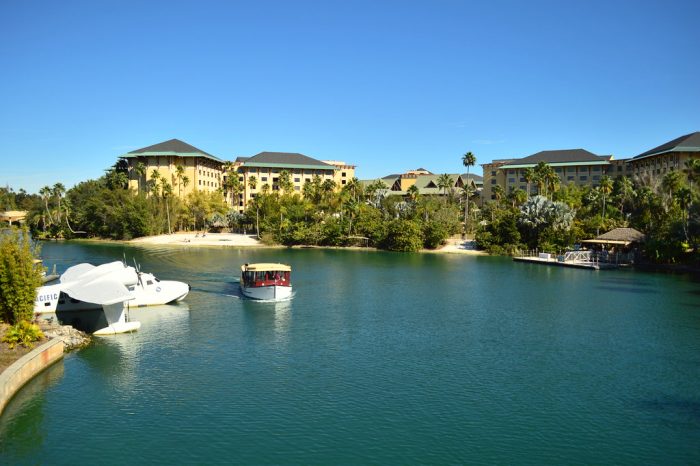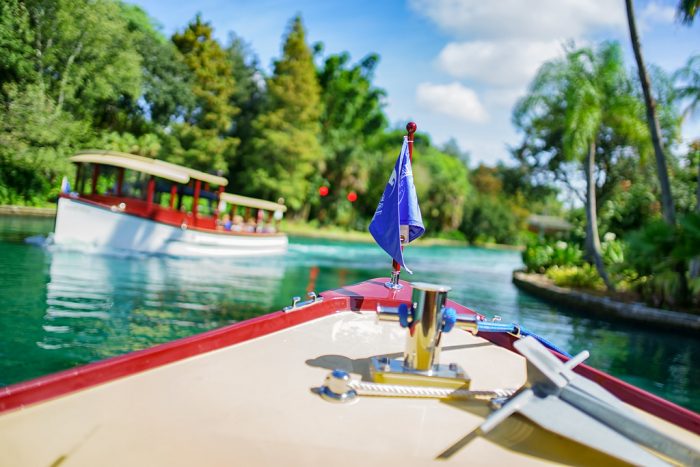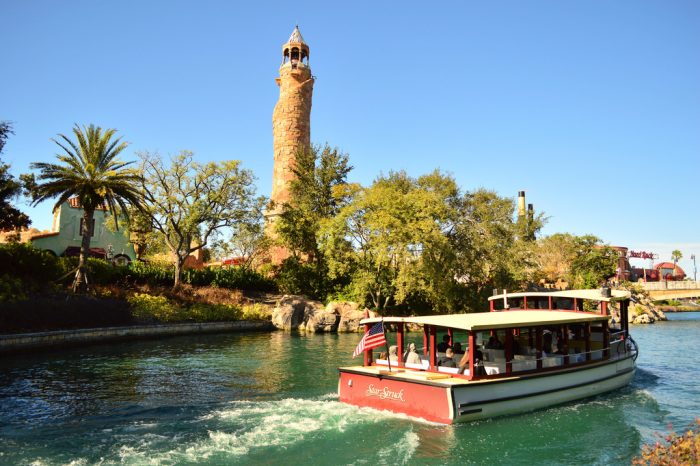 For this trip, we were spending a day at Volcano Bay, so we were going to take bus transportation over to the park as the water taxis only service CityWalk and Universal's two theme parks. As is almost always is the case with Universal buses, as we walked up to the bus area there was a bus pulling in.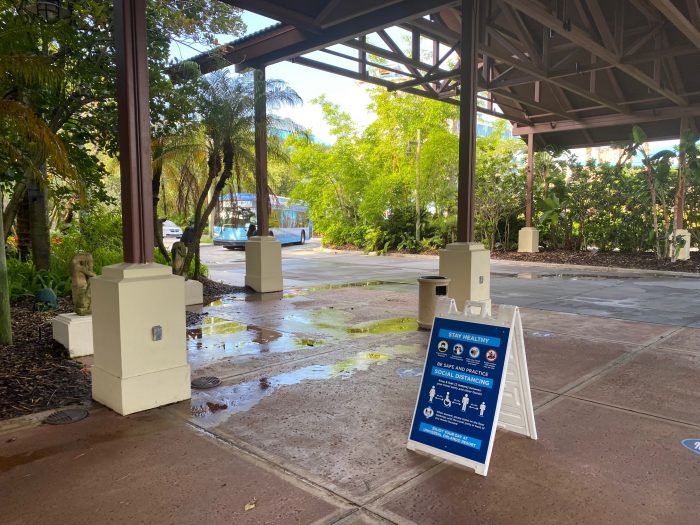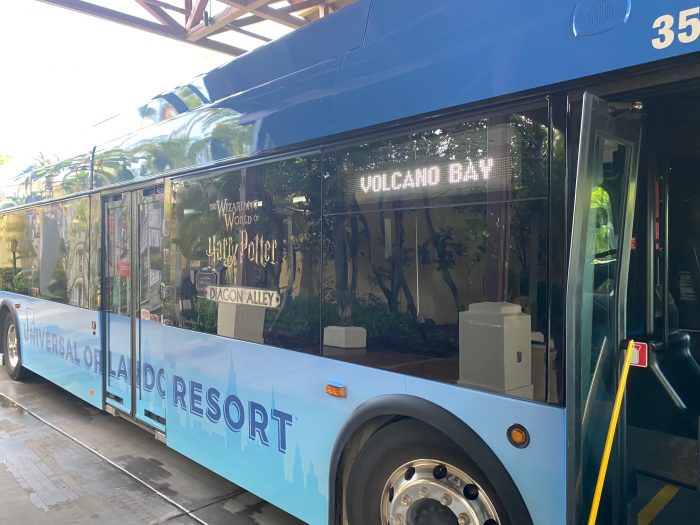 I wanted to time how long the bus ride to Volcano Bay would take, so I started my stopwatch as soon as the bus started moving away from Royal Pacific.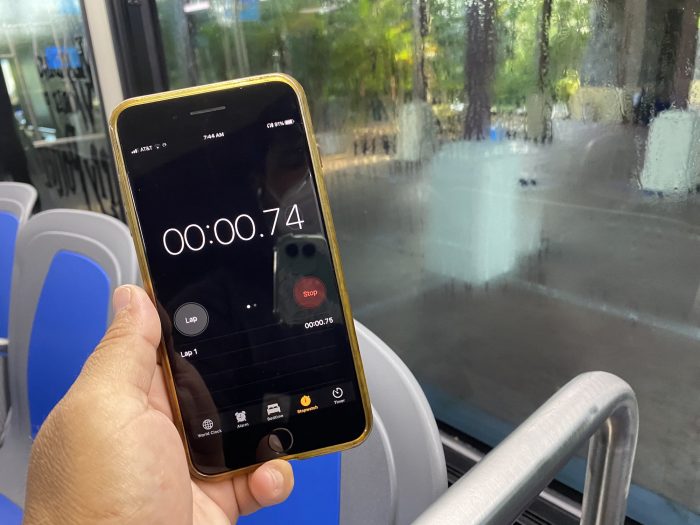 Less than three minutes later, we arrived at Volcano Bay. Now, I figured it would be pretty quick, but I didn't realize it would be even quicker than walking to Volcano Bay from Sapphire Falls.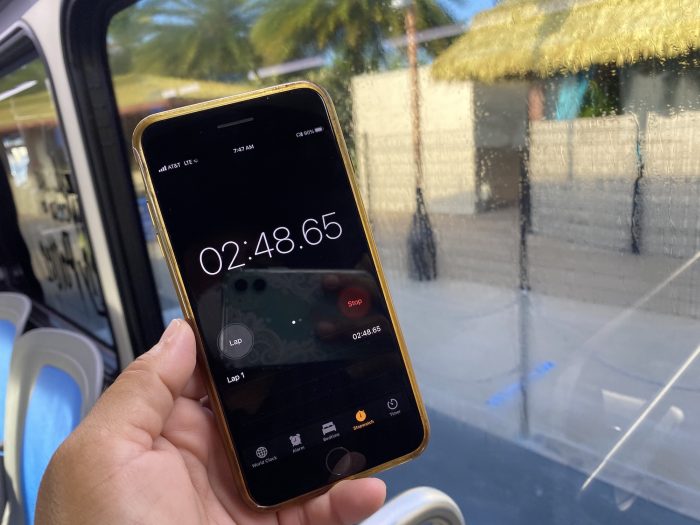 One of the great benefits of staying onsite at at Universal hotel, including Royal Pacific, is the early access to the theme parks and Volcano Bay. For the first time ever, we were first in line at the turnstiles for a park opening.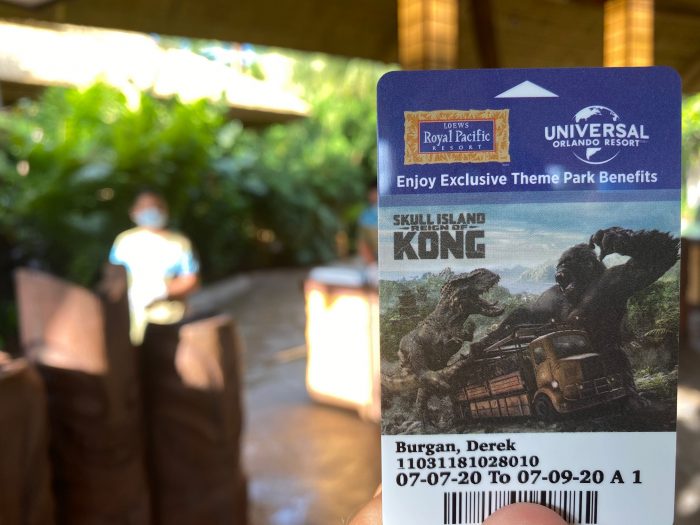 Having the early park admission at Volcano Bay is incredible as all the open attractions have zero wait. For this trip we were actually able to ride the Krakatau aquacoaster three times in a row without even having to get back in line!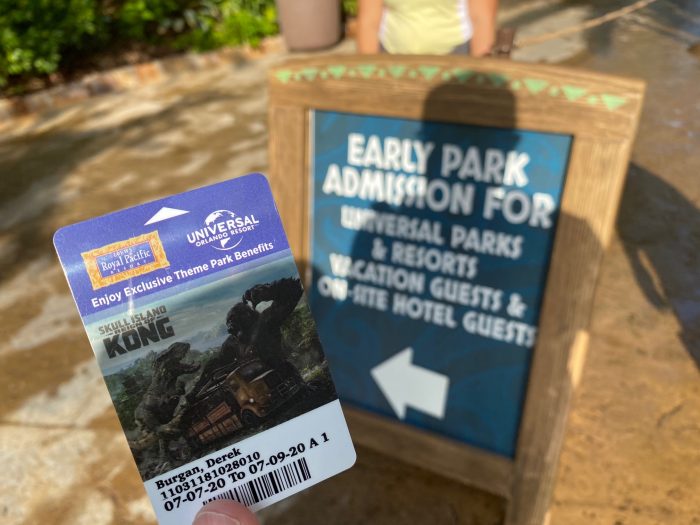 Even better, not only does staying at the Royal Pacific give you early park admission to the Wizarding World over at the theme parks, your room key is also an unlimited express pass. This means you can ride your favorite attractions like Spider-Man, the Incredible Hulk Coaster, Despicable Me: Minion Mayhem, or Harry Potter and the Escape From Gringotts over and over again with little to no wait.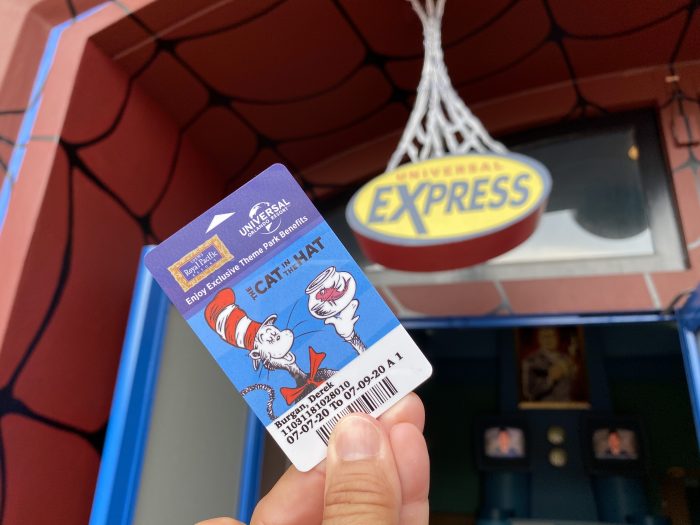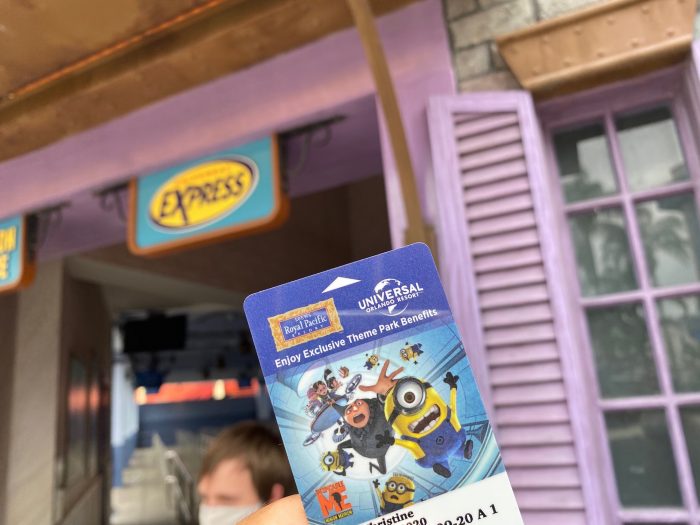 Honorable Mention – Tuk Tuk Market
We mentioned the rooms at the Royal Pacific had undergone a complete refurbishment. Once that was done, the hotel focused on completely transforming the lobby.  This included adding a much-needed quick service location in Tuk Tuk Market. While other hotels like Cabana Bay and Surfside have a dedicated Starbucks location, Tuk Tuk serves Starbucks coffee along with a wide variety of grab-and-go items, ice cream, and made-to-order hot foods.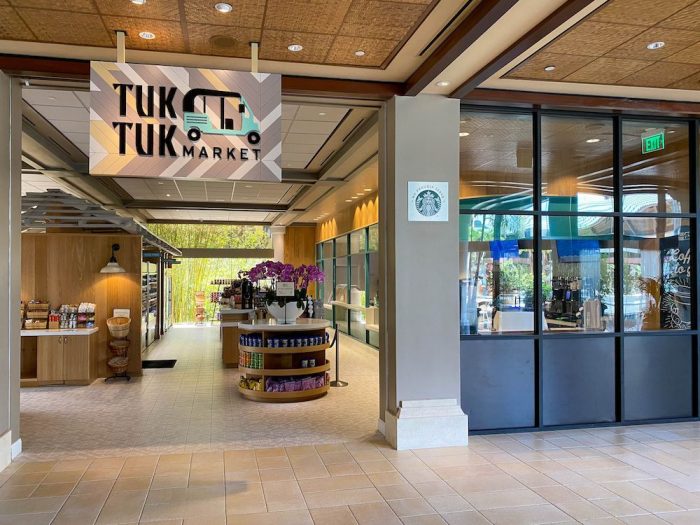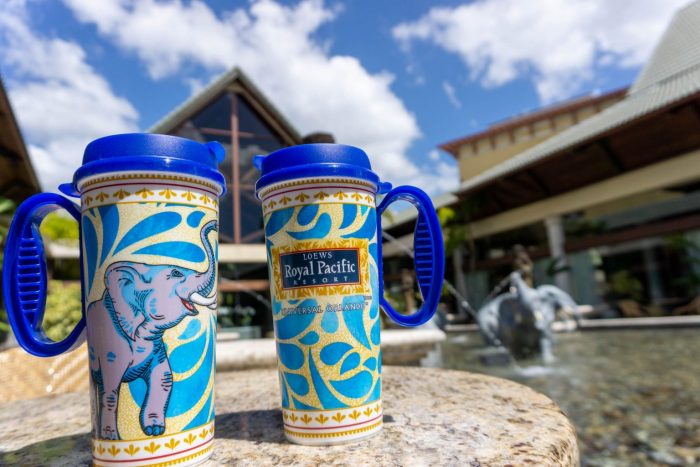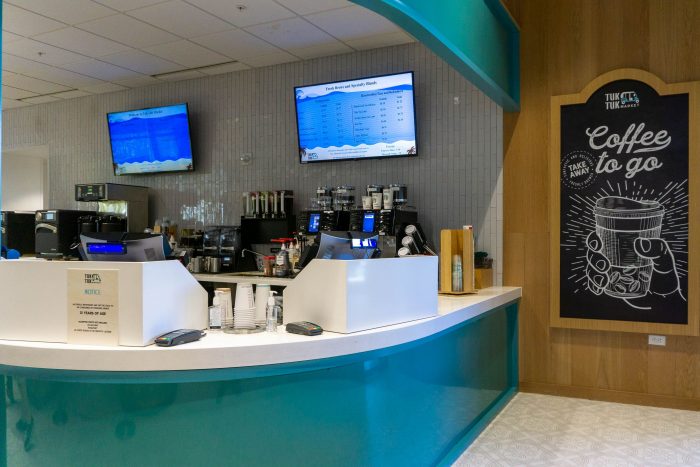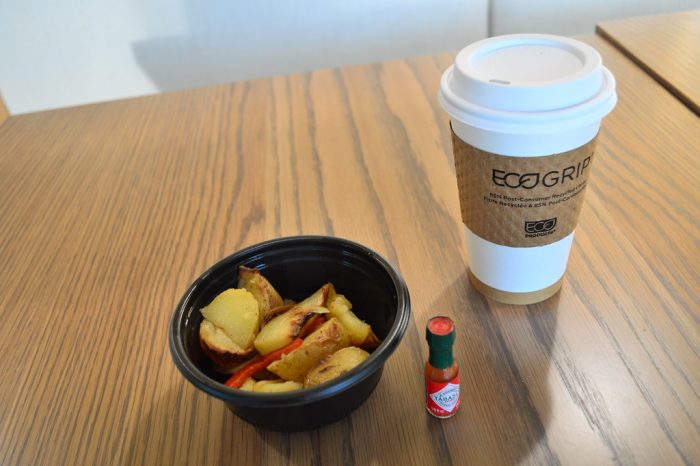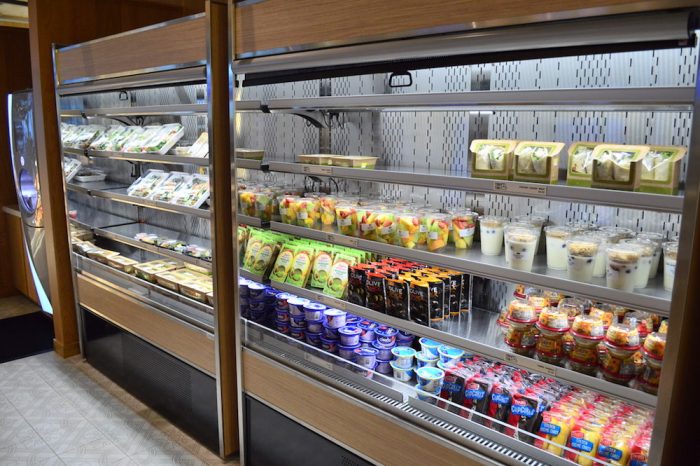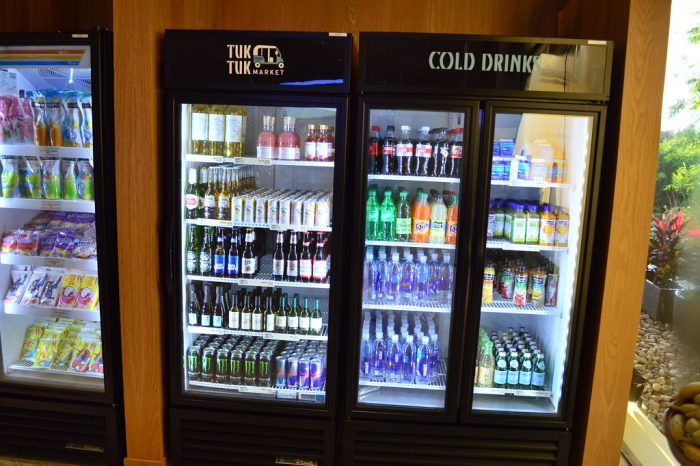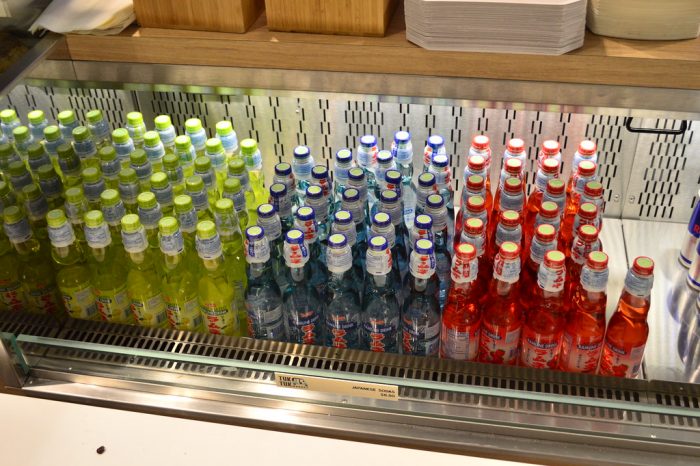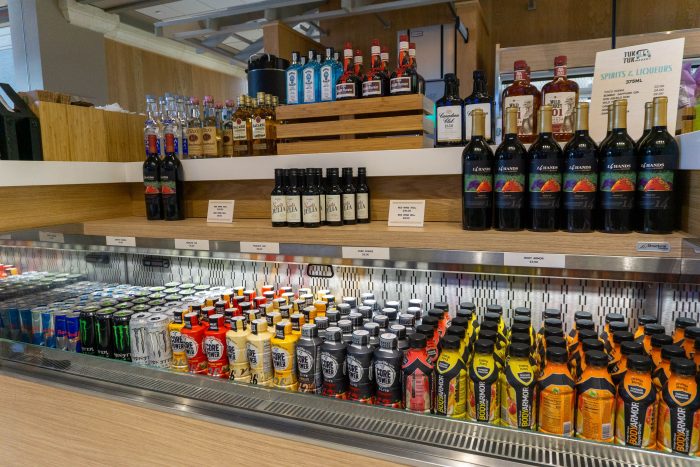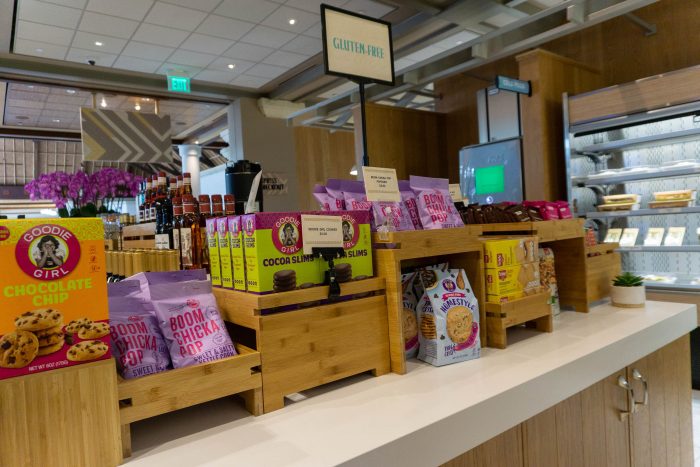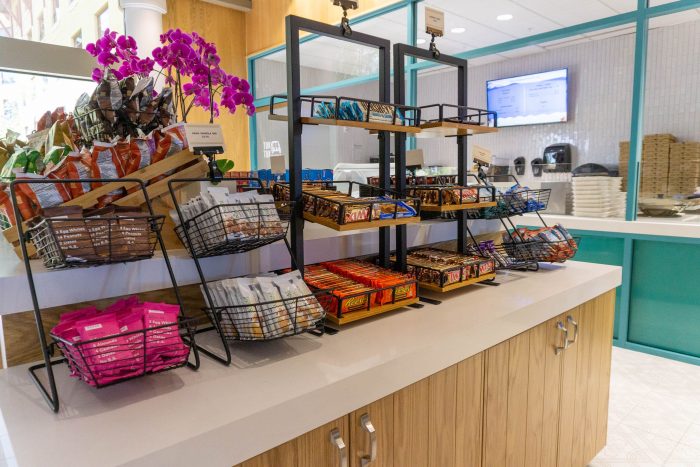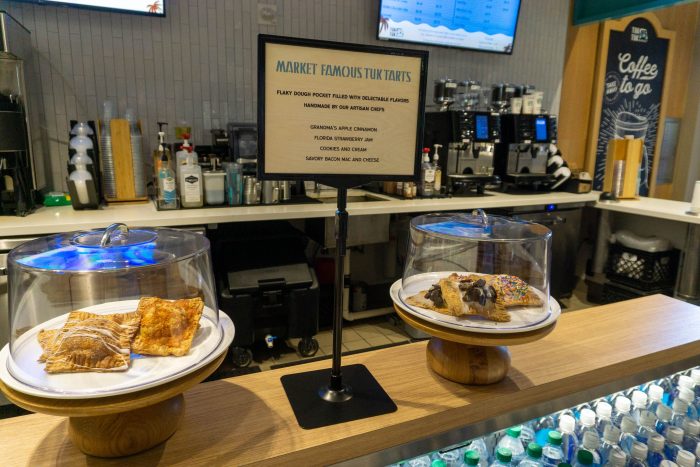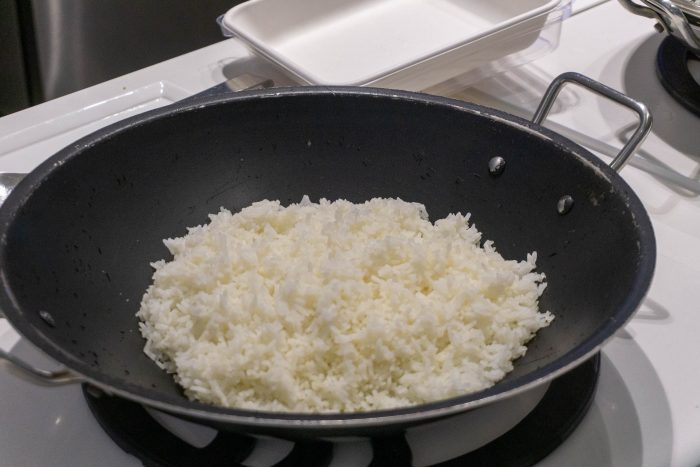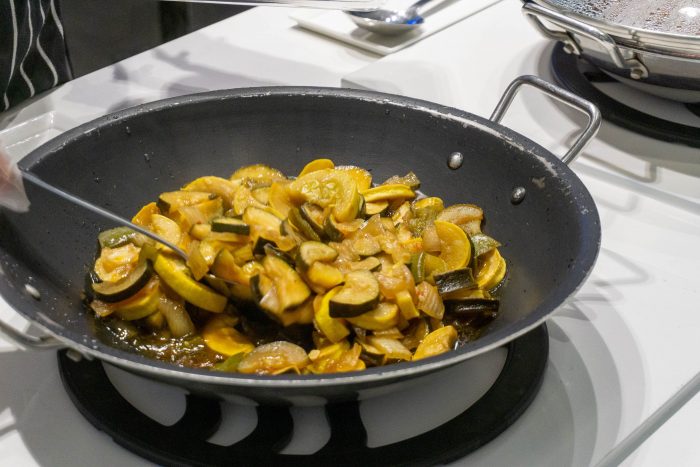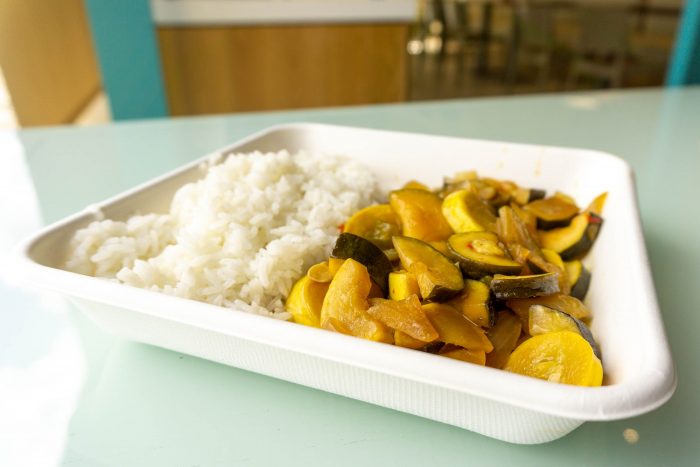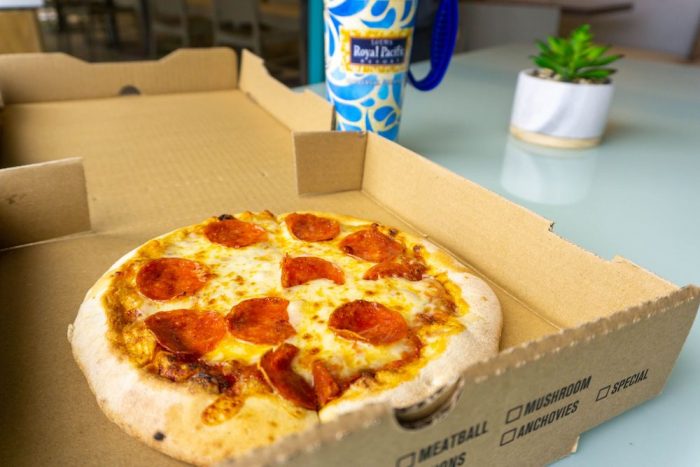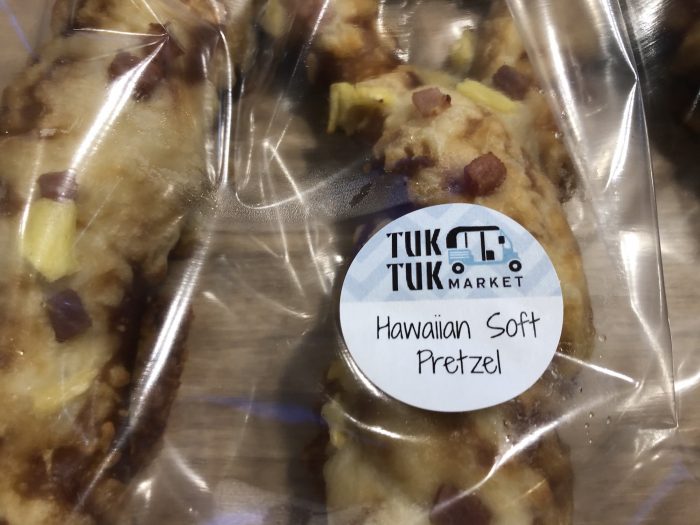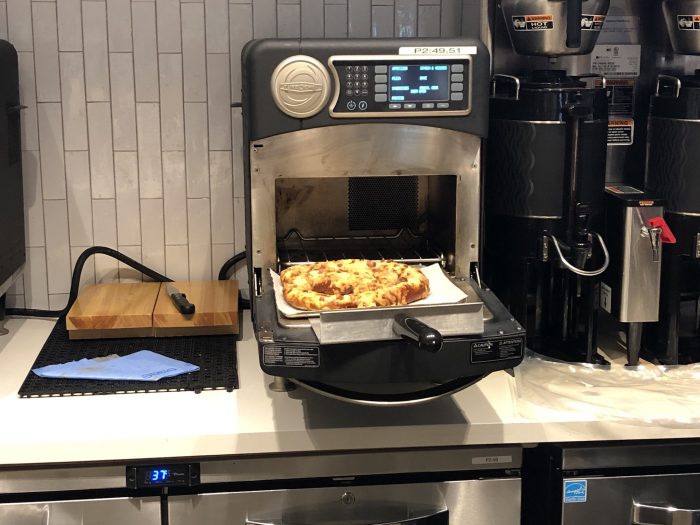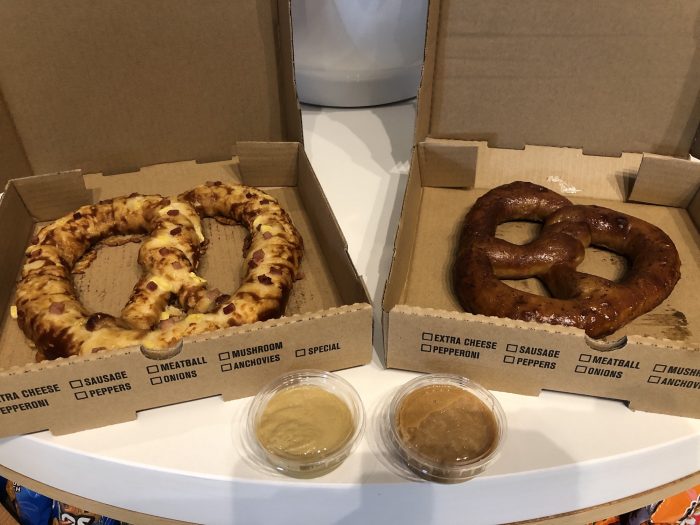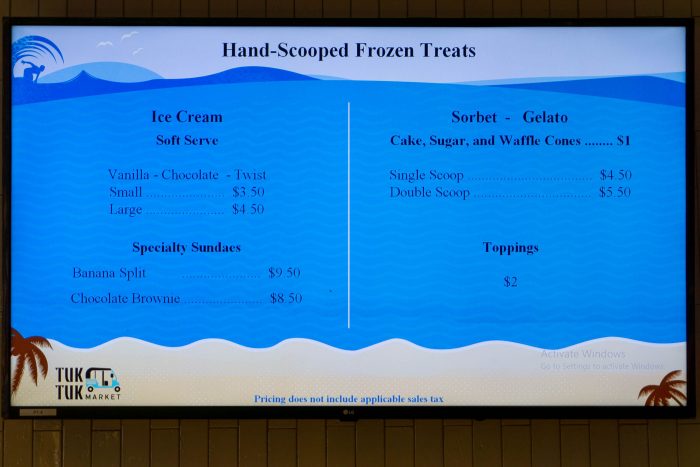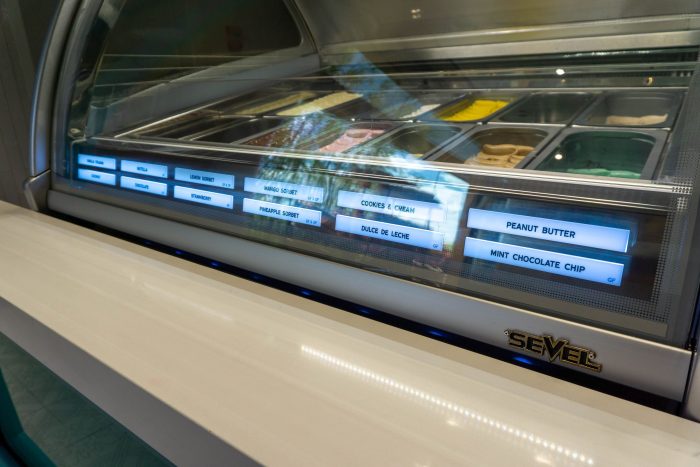 This gorgeous chandelier now hangs above the lobby bar area.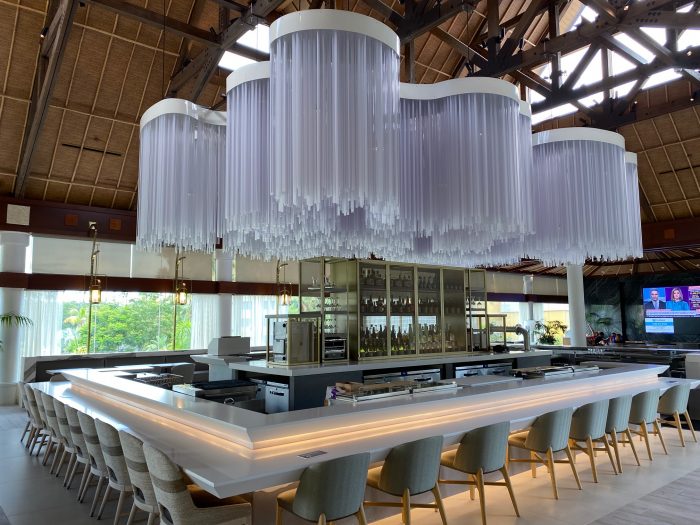 Seating at the bar is very guest friendly. Looking forward to experiencing this once the world gets more back to normal.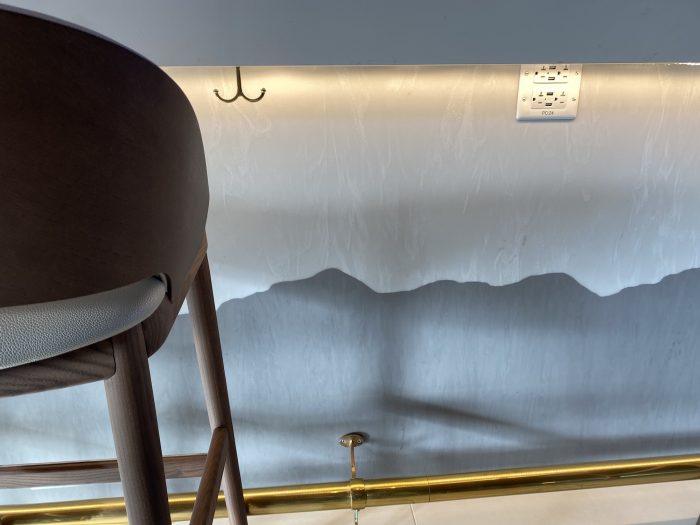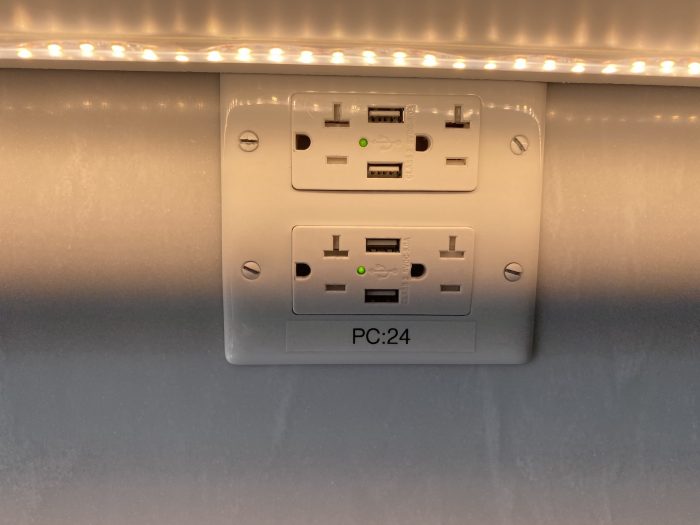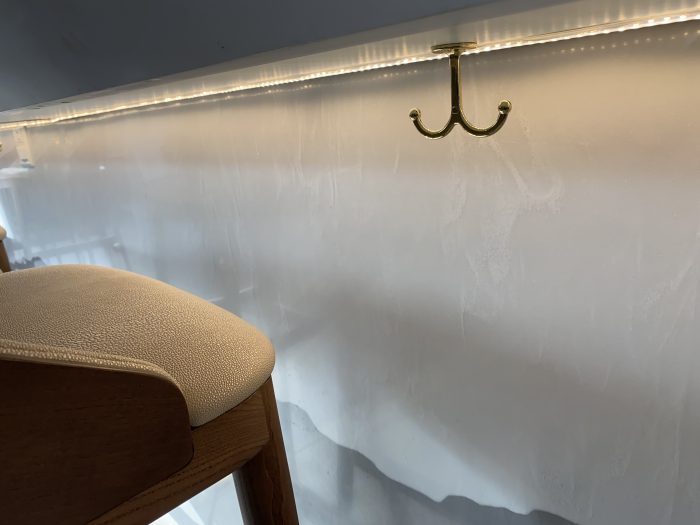 The lighting fixtures next to the bar look like hanging lanterns. Just a great design choice.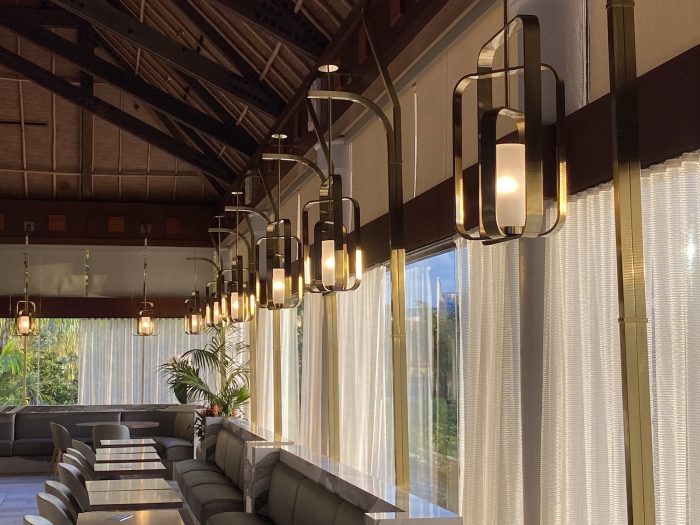 The Royal Pacific Resort's incredible refillable mug was released shortly before the theme parks closed down in March. I absolutely love that it pays tribute to the playful elephants in the lobby courtyard.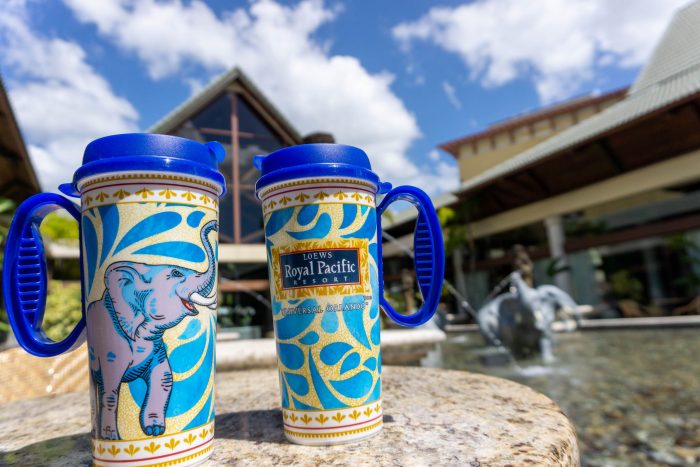 The worst part of a trip to Royal Pacific?
The Ride Home…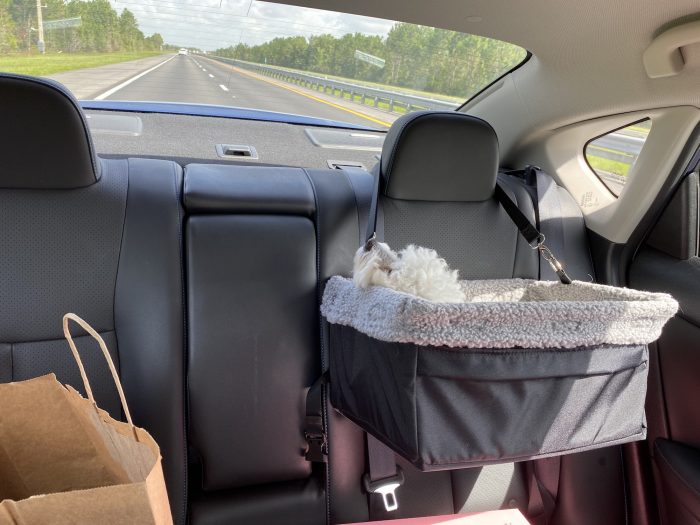 I think I know what he is dreaming of…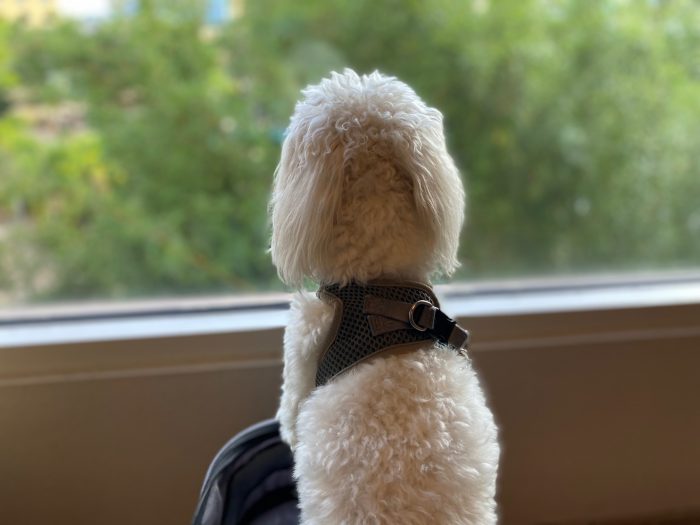 So there you have it: The SATURDAY SIX Spends a Night at Loews Royal Pacific Resort! See you next weekend for the latest installment of the SATURDAY SIX, where we'll look at something fun from the world of Disney and Universal. If you enjoyed yourself, be sure to check out The Magic, The Memories, and Merch! articles covering the latest from the Disney Outlet Stores. You can also follow Your Humble Author on Twitter (@derekburgan).
If you enjoyed this article, you will surely like the following: 
DAVID & DEREK: The Do's and Don'ts of COVID-19 Safety Protocols at the Theme Parks
6 Pieces of Disney Merchandise That Don't Exist (but Totally Should)
SATURDAY SIX Presents: The Disney Signage Hall of Shame
Special Thanks to The Elite Brandon Glover, the bio-est of all reconstructs @bioreconstruct, Captain Cruiseline Scott Sanders of the world famous Disney Cruise Line Blog, my personal protege Hunter "Elvey" Underwood, the SAT SIX Fun Squad of Parkscope Joe and "the Dadalorian" Nick, hot shot Michael Carelli, charter member of the Universal Four @Nitro230, and Hermione Granger's tutor Megan Stump for their invaluable assistance with this article. The SAT SIX is inspired each week by goofballs Aengus Mackenzie and LitemAndHyde and you Potterheads will  enjoy Meg's other blog work over at the Central Florida Slug Club.