SATURDAY SIX: Six Unique Burgers at the Orlando Parks and Resorts
This week's SATURDAY SIX looks at Six Unique Burgers at the Orlando Parks and Resorts. When it comes to Disney and Universal, hamburgers as ubiquitous to a guest's experience as gift shops and lines. They are everywhere, and most of them aren't that good. However, in the last several years some restaurants have upped their burger game. Today we are going to look at some of the most unique, unusual, and great tasting* burgers on property. So sit back, put that ketchup bottle down, and let's begin our countdown starting with…
# 6 – Volcano Burger (Jimmy Buffett's Margaritaville)
If we learned anything over the last year it's that Fritos can make just about anything better. Taco Bell's Beefy Fritos Burritos are surprisingly good, and Frito Pie is reason enough to check SeaWorld's Bands, Brew, and BBQ event. Over in Universal CityWalk, Jimmy Buffett's Margaritaville uses a liberal amount of Fritos in their tasty Volcano Burger. It has more than a little kick, but the combination of chili and Fritos works great, if not messy.
Topped with our volcano chili, lava cheese sauce, pickled jalapeños, guacamole, and Fritos corn chips. $14.99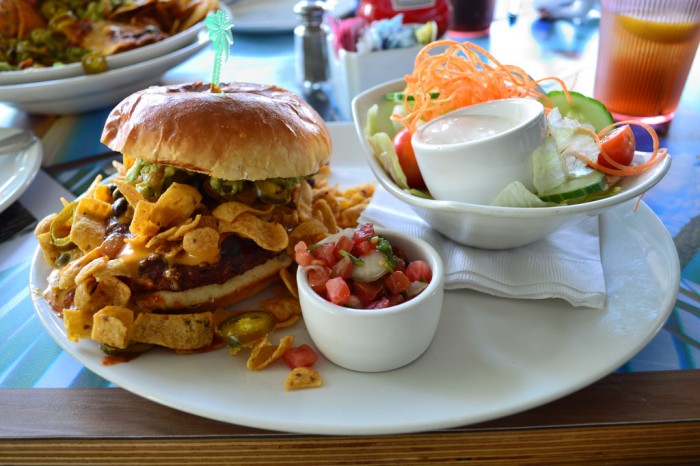 –
Of course when you're talking about Margaritaville and burgers we do have the mention the iconic Cheeseburger in Paradise. It is a "normal" burger compared to the rest on this list, but it is also an iconic one. Eating a Cheeseburger in Paradise out on Margaritaville's Porch of Indecision on a gorgeous Florida day, as the song it is named after plays on the speakers above, is one of those things in life that makes a good day great.
Our signature burger topped with American cheese, lettuce, sliced tomato, pickles, and paradise island sauce. $13.99
–
# 5 – Old World Bavarian Burger (ESPN Club)
Over the years Your Humble Author has been quite critical of the ESPN Club at Disney's BoardWalk, but something surprising has happened slowly over time… the restaurant has greatly improved. Now it just so happens to be a spot within walking distance of some truly exceptional venues on Disney property, but there's certainly no shame in stopping in to try ESPN's menu, especially if there's a game on you're looking to catch. Our recommendation in the burger arena is the Old World Bavarian Burger. Who needs Biergarten with this German meal in a bun? The potato latke would be a good appetizer by itself, and the mustard "emulsion" (whatever that means) was truly fantastic.  The ESPN Club is now worth going out of your way to check out, whoda thunk it?
Grilled sausage, potato latke, smoked bacon kapusta, and lager-infused mustard emulsion on a toasted butter bun $18.00
–
# 4 – The Mad King (Splitsville)
Splitsville just may be the most underrated dining experience in all of Disney Springs. Some of the best pizza at WDW (granted that's a low bar outside of Via Napoli and Wolfgang Puck), terrific bowls (spicy veggie bowl is off the chart), is one of the only places which offers Coke Freestyle, and has shockingly good sushi. This is a burger blog though and the burger you gotta try here is appropriately named The Mad King. This burger is gigantic and if you can finish it by yourself you deserve a round of applause (followed by an EKG). The quality of the actual burgers is excellent, and to say the toppings are plentiful is the understatement of the year. Yes, the BOATHOUSE and Morimoto Asia are off the charts good, but don't forget about Splitsville over on the West Side.
The biggest burger in the land! A 21-oz, triple decker burger with double cheese, bacon and topped with onion rings. Served with lettuce, tomato, pickle, and onion $20
–
# 3 – The Cowfish Has Officially Left the Building (The Cowfish)
With hands-down the most unique (and fun) menu at either theme park resort, The Cowfish in Universal CityWalk also features a burger which sounds next level bananas (literally) but is actually AWESOME. The Cowfish Has Officially Left the Building is a tribute to Elvis, and similar to the King Cupcake at Disney's Pop Century resort, it features a combination of peanut butter, fried bananas, and bacon. You may be thinking it is time to grab an extra large bottle of Pepto Bismol, but it works. As God as our witness, it actually works! For those who prefer the "skinny Elvis" phase, you can order this with just one half pound burger in its SINGLE HUNKA LOVE version.
Full-pound beef burger, creamy peanut butter, fried bananas, applewood bacon, brioche bun $17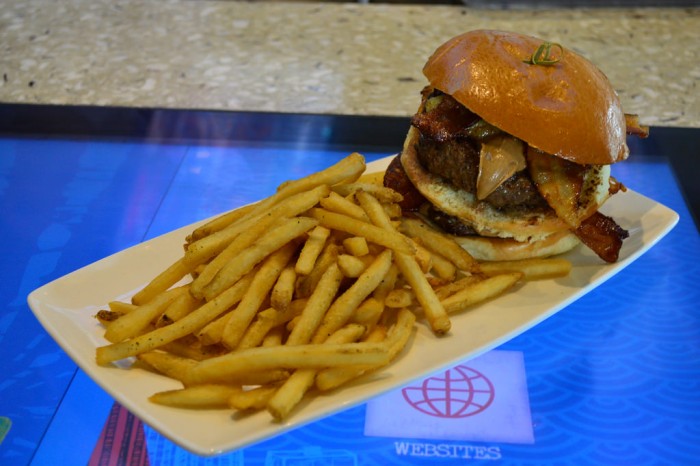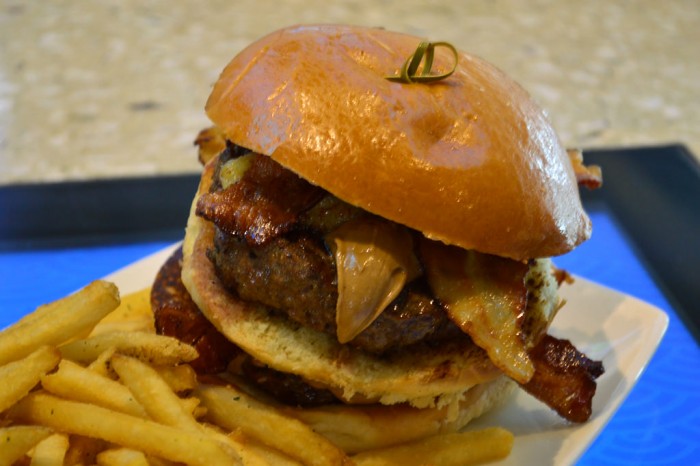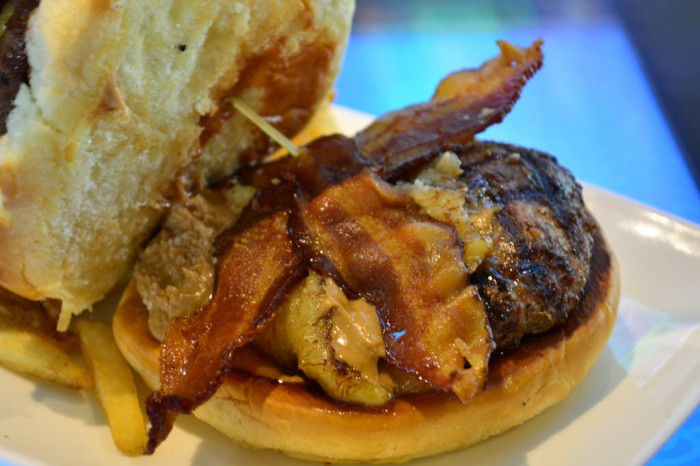 –
# 2 – Picnic Burger (Disney's Pop Century Resort)
In the intro to this very column we had an * after "great tasting" and that's because the Picnic Burger at Disney's Pop Century Resort doesn't actually taste that good. The sum is not equal to its parts. It has too much going on. As we mentioned in our SATURDAY SIX on Extreme Eats, the Picnic Burger is a heart attack represented in food form and if you are ever around someone who says they are so hungry they could "eat a horse," take them to Pop Century and see if their mouths are writing checks their stomach can't cash. There are so many elements going on you're also going to need at least one bib, twenty napkins, a container of wet naps, and one police hose at the end to clean yourself off.
All that said, this is a burger that needs to be seen to be believed. In fact many long time fans of the Sci-Fi Dine In may fondly remember this monstrosity when it was featured on their menu. The Picnic Burger was just one of the insane burgers that Pop Century put on the menu last year including the Johnny Apple Seed, a Salmon Burger, and the Benedict Burger.
Angus chuck patty, grilled hot dog, cheddar cheese, sauerkraut, grilled onions, Kosher pickles, ketchup, mustard, lettuce, and vine-ripe tomato on a brioche roll $12.99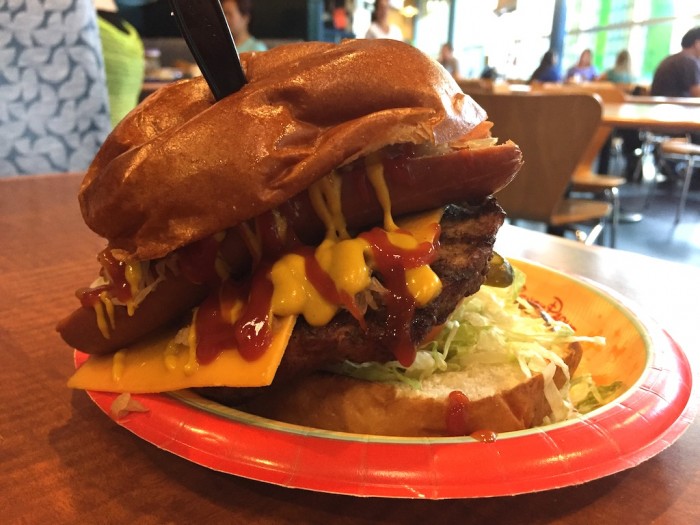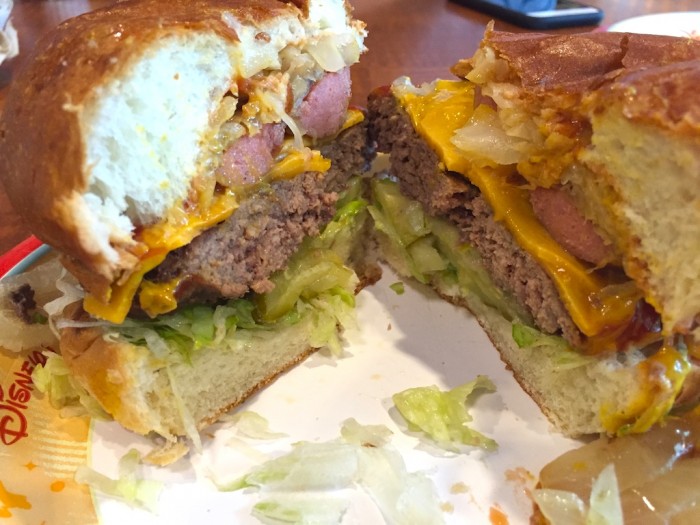 –
# 1 – Webb Burger (Finnegan's Bar and Grill)
We're heading into Universal Studios Florida for our top spot this week, and since we have St. Patrick's Day in just a few short days we are appropriately heading into Finnegan's. For years one of our favorite appetizers at the restaurant was the Finnegan's potato and onion webb. The webb consists of thinly sliced potatoes and onions – hand dipped in beer batter – fried and served with malt vinegar. It's so good. Last year Finnegan's took the next step and created the Webb Burger. Think of it as a Reuben sandwich and a hamburger getting together and having a baby, topped off with the potato and onion webb. You'll find yourself dipping your potato wedges into the incredible mustard sauce on the side. Forget Diagon Alley, you need to come to Universal just try the Webb Burger (not really, but it is damn good).
All beef burger piled high with tender corned beef & Swiss cheese served on a warm pretzel bun and topped with crispy potato onion webb, lettuce, tomato and pickles $13.99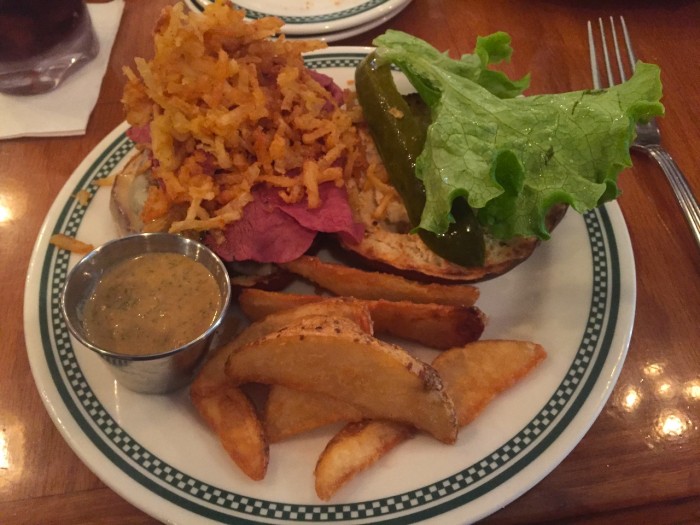 –
Honorable Mention – Krusty Burger at Krusty Burger
C'mon, this is the burger those of us of a certain age have always wanted to try and Universal delivered in a major way. A Krusty Burger at Fast Food Blvd in Springfield USA, a dream come true.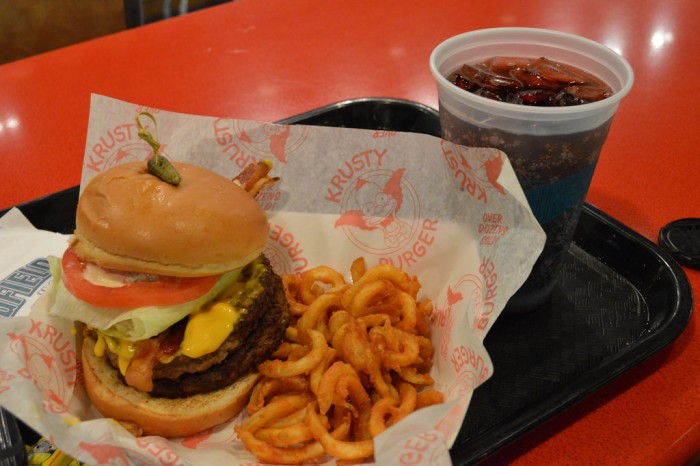 –
So there you have it: Six Burgers You Gotta Try at the Orlando Parks. See you next weekend for the latest installment of the SATURDAY SIX, where we'll look at something fun from the world of Disney and Universal. If you enjoyed yourself, be sure to check out The Magic, The Memories, and Merch! articles, or, for your listening pleasure, check out the E-Ticket Report podcast. You can also follow Your Humble Author on Twitter (@derekburgan)
If you enjoyed this article, you will surely like the following:
Six Most Unique Dining Experiences at Walt Disney World
Disney Dining: 'Ohana at Disney's Polynesian Village Resort
The Six Best Snacks, Drinks, and Food Options in Diagon Alley
Disney Dining: FoodQuest at Disney Quest
Six Reasons We Love Be Our Guest Restaurant
Special Thanks to crack staff photographer Brandon Glover, Nine Dragons' biggest fan Brian Carey, and blogger to the stars Megan Stump for their invaluable assistance with this article. Be sure to also check out Brandon on The Park Blogger podcast with co-hosts Aengus Mackenzie and Brian Carey.