The SATURDAY SIX PRESENTS – Plastic in the Parks!
This week's SATURDAY SIX presents a brand new feature: PLASTIC IN THE PARKS!  Earlier this week, LEGO announced a new Disney Parks Train and Station set that got the attention of many theme park fans.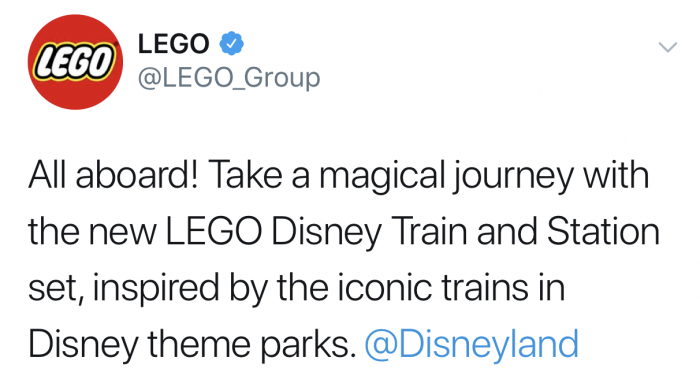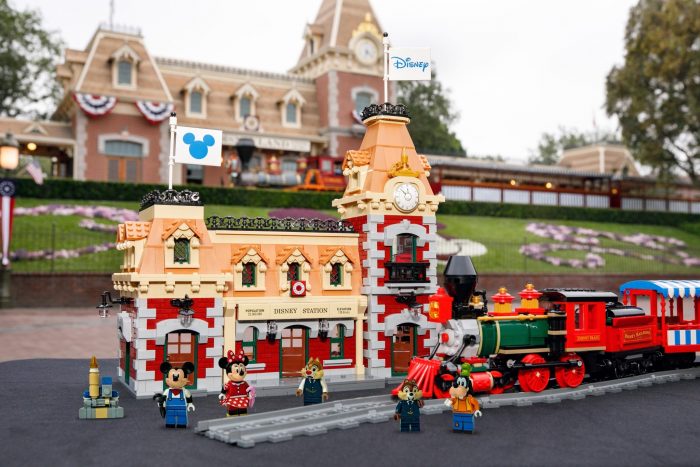 LEGO and theme parks go together like peas & carrots, pepperoni & pizza, or Star Wars: Galaxy's Edge & guests (well, maybe not the last one). Regular readers of the SAT 6 know how much we love LEGOs (especially the Cinderella Castle with "vacation ruining accessory!") and our own hot shot photographer Michael Carelli  has been taking pics of LEGOs at Disney and Universal for a while now. So allow us to proudly present the first in a series of articles we like to call PLASTIC AT THE PARKS, and today we're going to look at some of our favorite places in central Florida theme parks to take photos at, starting with…
# 6 – Magic Kingdom
Speaking of the iconic train stations, Walt Disney World's version is a great backdrop for a shot of our favorite Disney couple.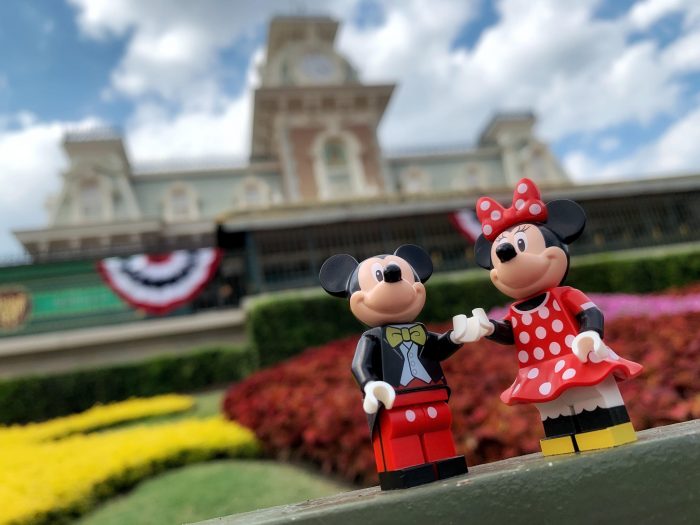 Elsa getting ready to freeze Cinderella Castle.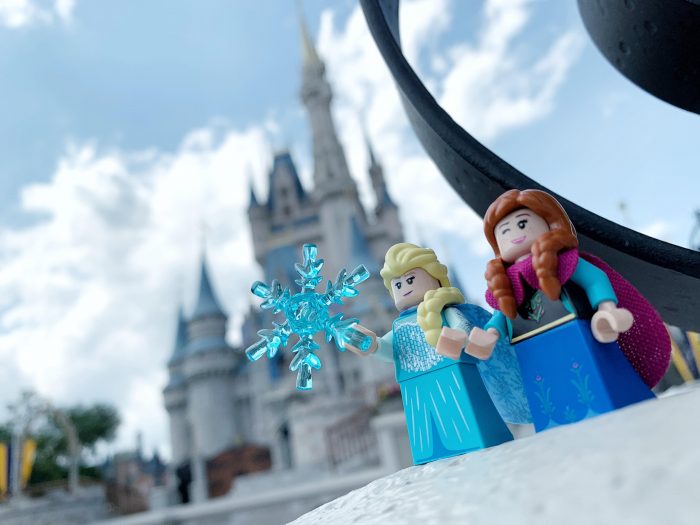 Prince Eric's castle for Under the Sea ~ Journey of the Little Mermaid provides the perfect background for someone who wants to be "part of your world."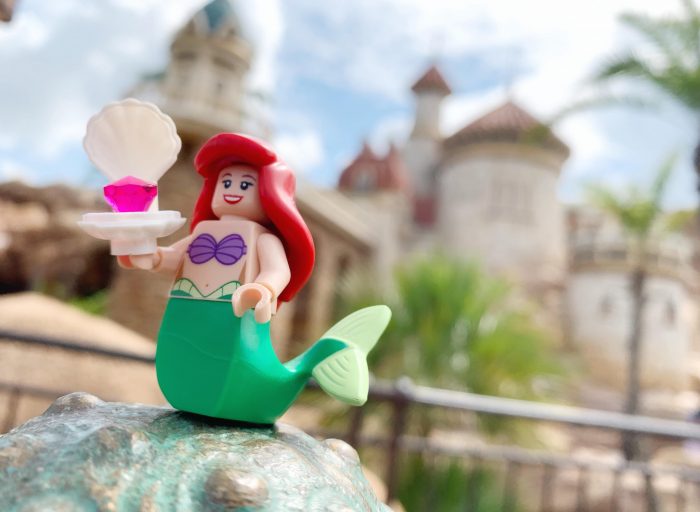 "Fortunately I know a little magic…"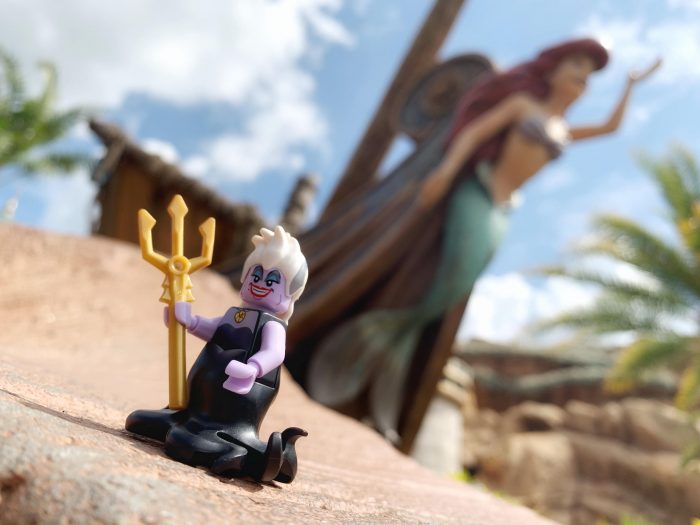 Cheshire Cat and Alice in front of Mad Tea Party.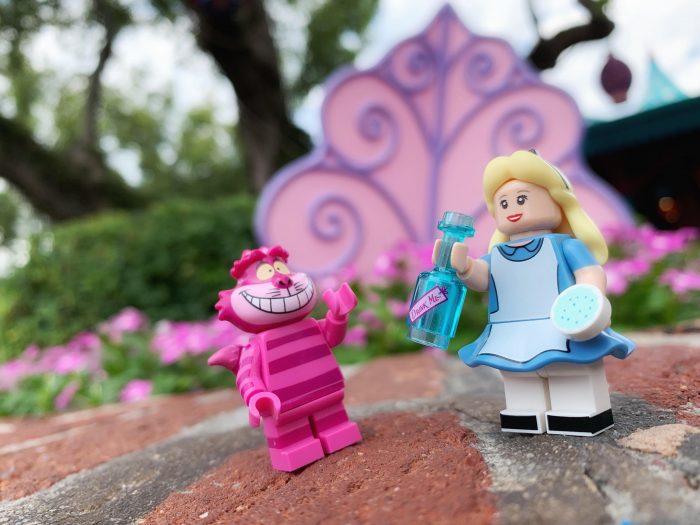 Captain Jack Sparrow looking for treasure at Pirates of the Caribbean.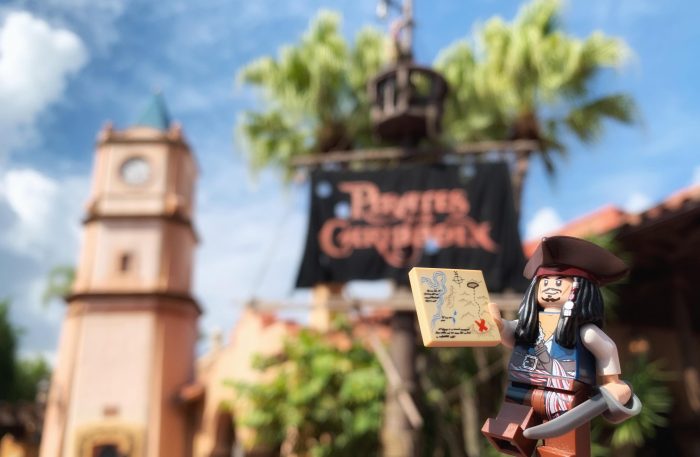 Jack Skellington and Sally wondering when we in Florida are going to get the Haunted Mansion Holiday that Disneyland has. Interestingly enough, in September the The Haunted Mansion LEGO set is going under official review after quickly getting 10,000 online votes of support. That means we may have Gracey Manor joining our Disney train and station set. Disney fans may want to check out the LEGO Ideas website to see some wonderful fan-made creations based on the Main Street Emporium, the 1959 Disneyland Mark I Monorail, the 2019 Mark VII Monorail and even a ride vehicle for the Dinosaur attraction at Animal Kingdom!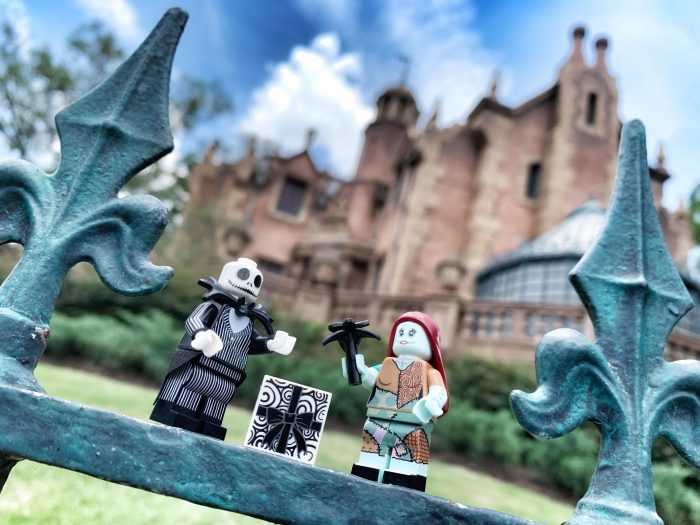 We'll close out with Tink herself in front of the castle.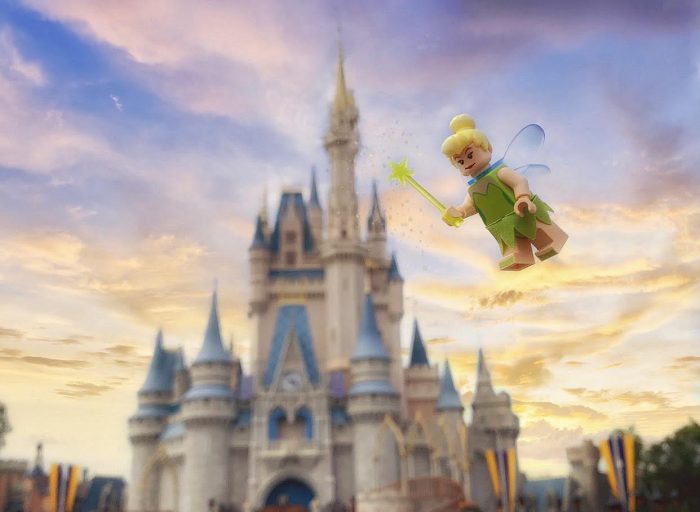 # 5 – EPCOT
One of the biggest surprises of this year in movies was that the live action Aladdin remake was actually good. You still can't beat the original though, and here we have Aladdin and Genie in front of the place you can find Princess Jasmine (and sometimes even a rare spotting of Jafar), the Morocco Pavilion.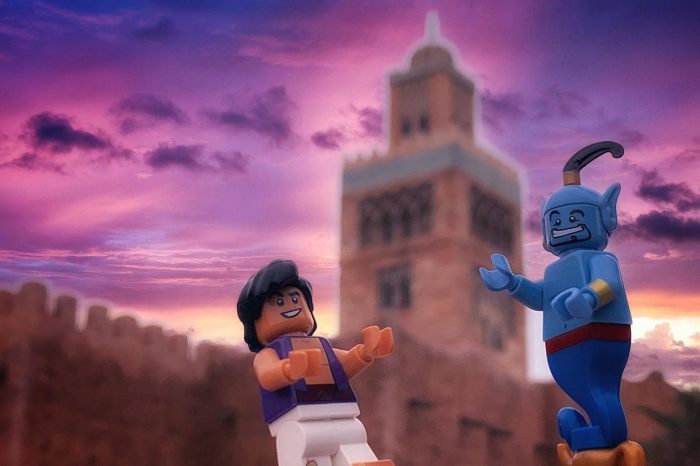 # 4 – Disney's Hollywood Studios
Toy Story Land is the perfect setting for the many LEGO versions of Toy Story characters. Here we have Woody and Buzz taking a ride in RC with Slinky Dog Dash behind them.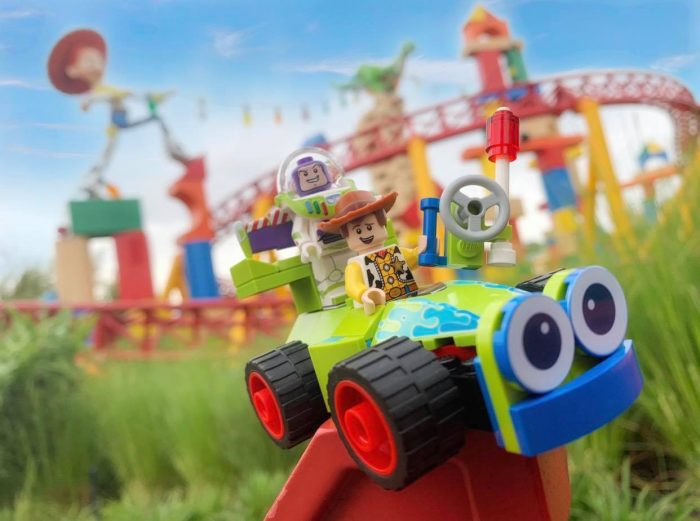 Indiana Jones in front of his incredible stunt show.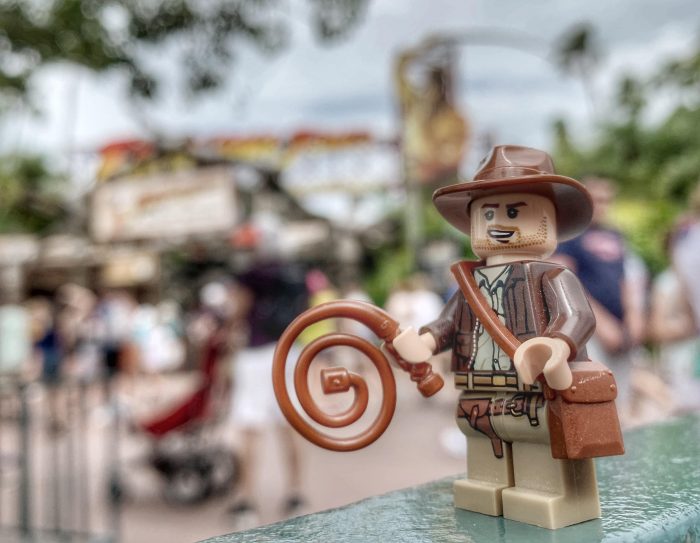 I know I'm pretty much alone on the island, but for me personally, Fantasmic! is pound for pound my favorite Disney's Nighttime Spectuclar. One of the characters who plays an important role during the show is Maleficent.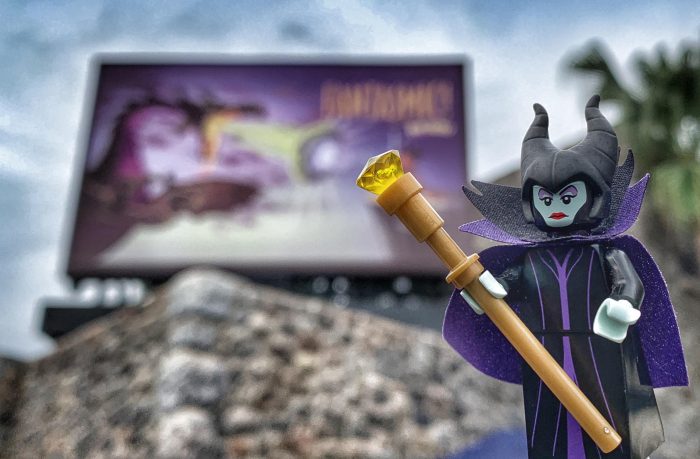 No matter how good Mickey's Runaway Railway may be, losing The Great Movie Ride hurt.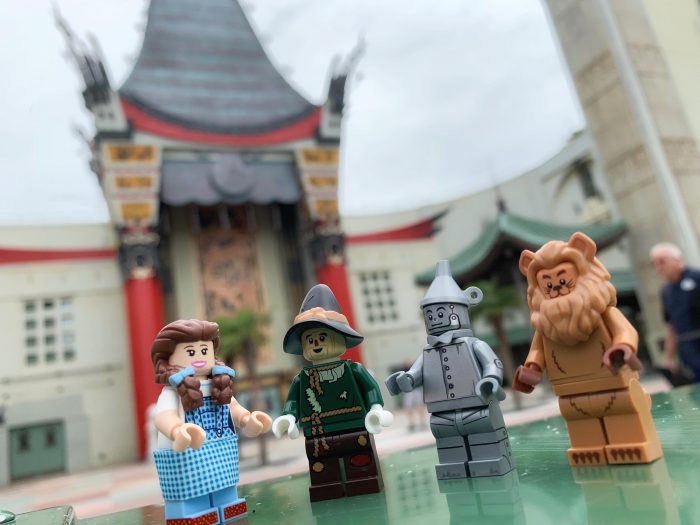 # 3 – Islands of Adventure
Marvel Superhero Island is a picturesque setting for a whole ton of LEGOs, including the green goliath himself.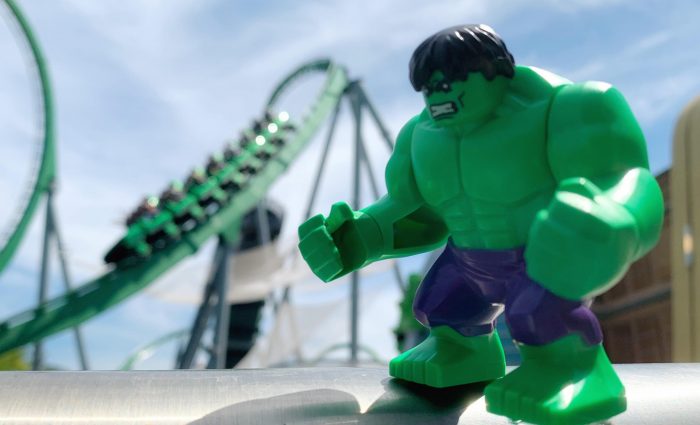 The Sentinel of Liberty himself in front of Captain America Diner.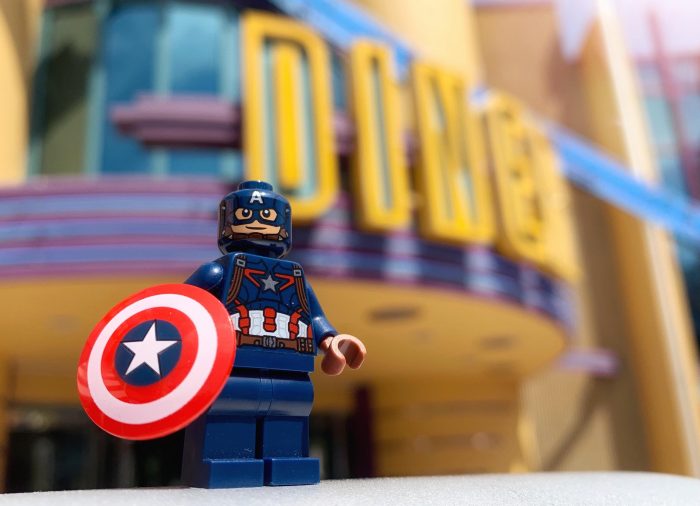 One of the most underrated queues in any theme park is the one for Dr. Doom's Fearfall.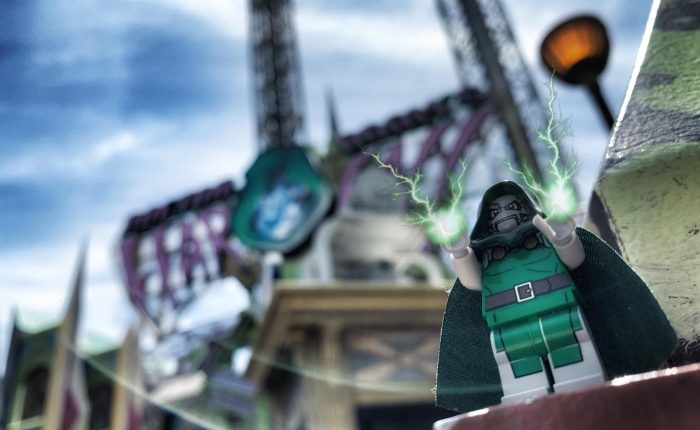 Ol' Web Head himself in front of one of the Greatest Rides Ever Made.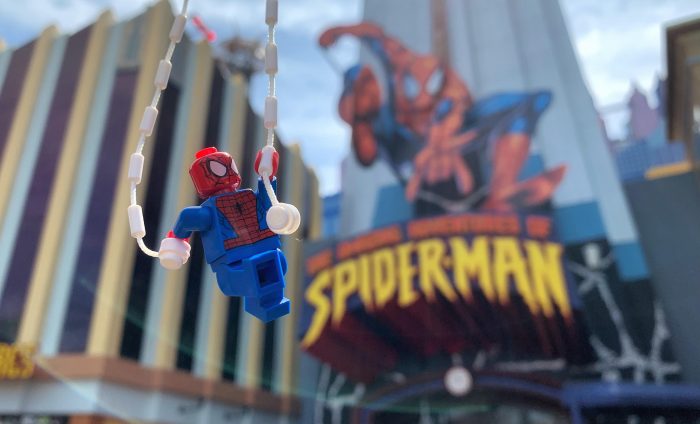 This Summer's Spider-Man: Far From Home was a true delight, but the surprise of finding out J Jonah Jameson was back immediately became of my favorite movie moments of the year.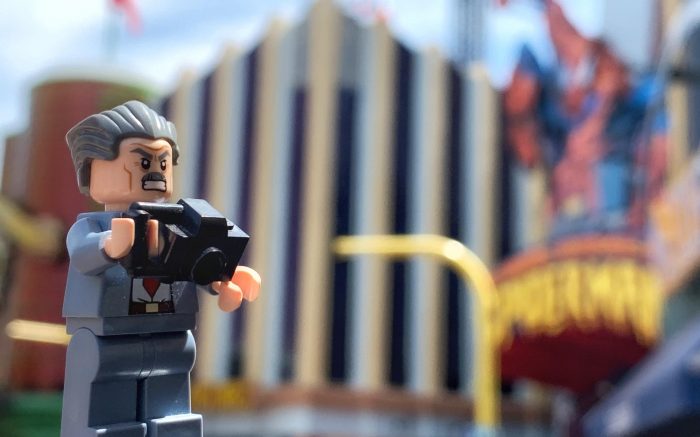 There is a lot of details throughout Marvel Superhero Island referencing many characters, including Tony Stark.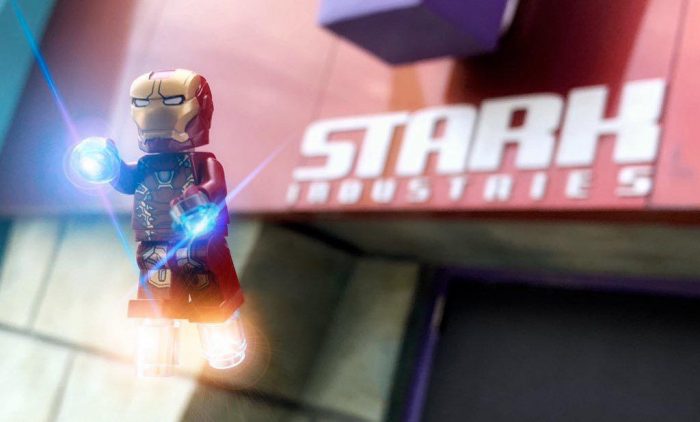 What've they got in there? King Kong?"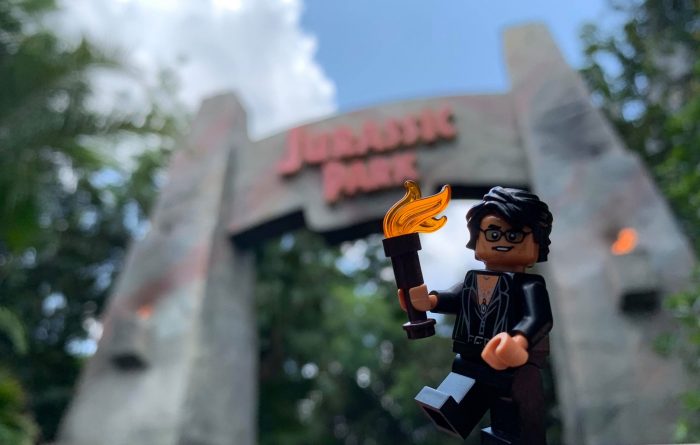 # 2 – Universal Studios Florida
There are not many rides I will chain myself to if a park threatens to close it, but the E.T. Adventure is one of them.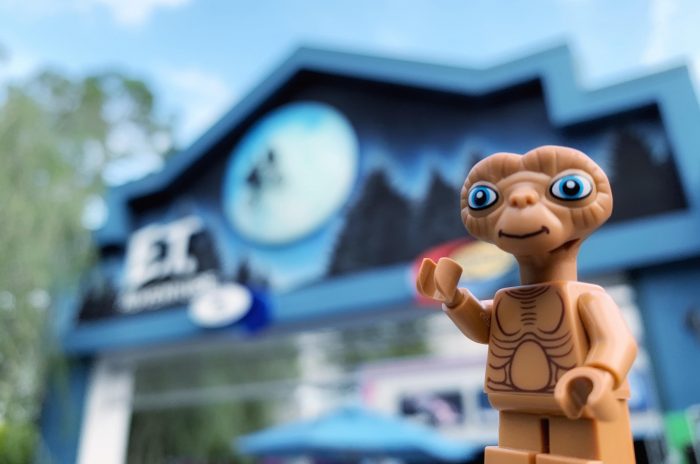 If you've never experienced the Horror Make-Up Show because you're "not into horror," let me alleviate your fears. I was in the exact same boat and put off this show for years until a friend of mine dragged me into it because they loved the art of movie make-up. Turns out the show is a fascinating look into make-up (and special effects) of horror films and is absolutely hilarious. There are two hosts of the live show and they spend much more time on "funny" than "scary" and throw in a whole bunch of pop-culture references for the crowd to enjoy.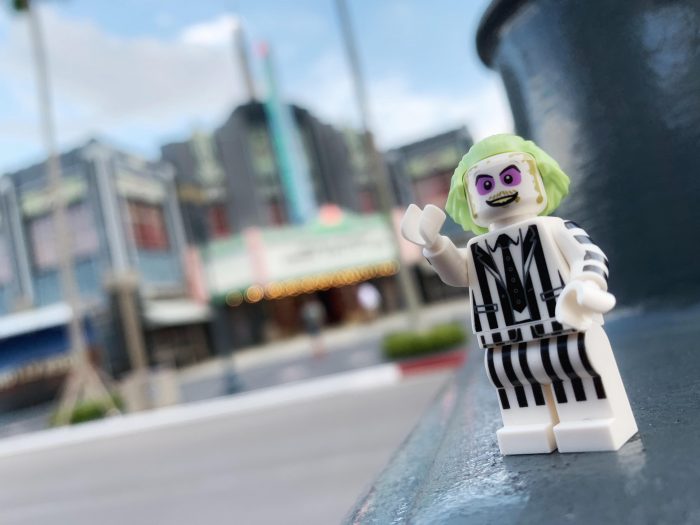 Doc Brown and Marty McFly in front of the most famous automobiles in movie history.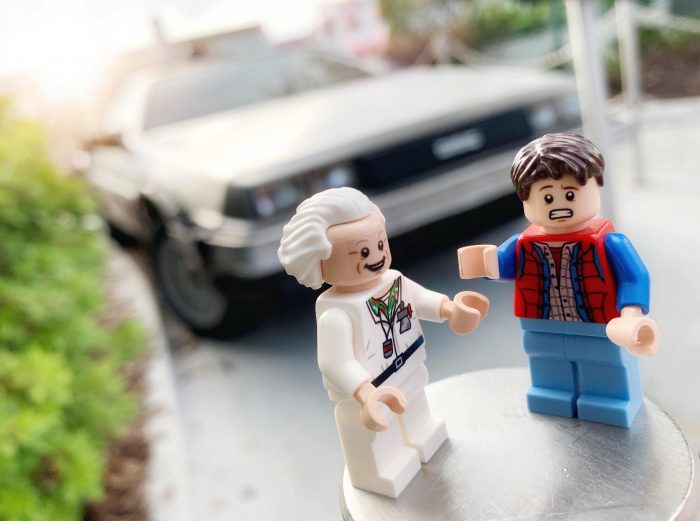 The Simpsons family in front of Springfield USA.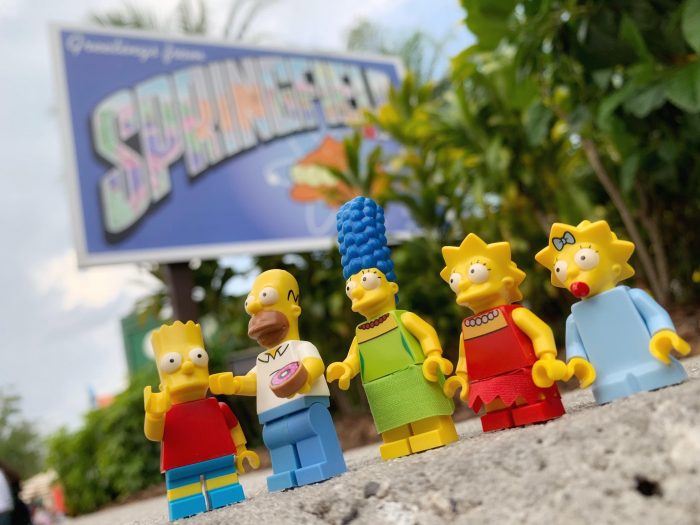 Universal is loaded with great gift shops, but one of my absolute favorites is the Kwik-E-Mart. Filled with spot-on theme park commentary ("Today's souvenirs at tomorrow's prices!") and a bunch of great items (including the perfect gift for the "Bort" in your life,) it's one store Simpsons fans owe it to themselves to experience.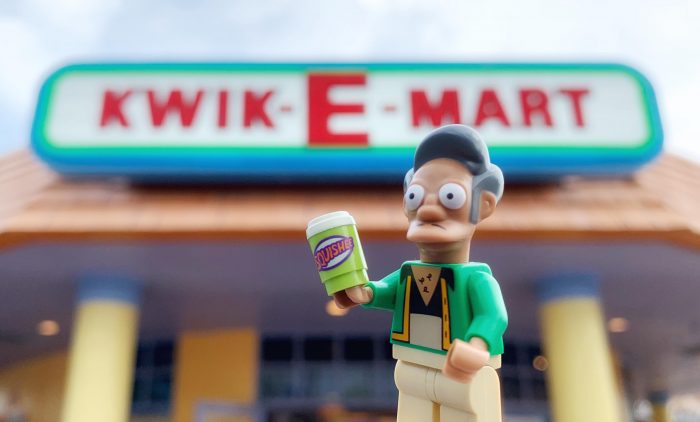 #1 – The Wizarding World of Harry Potter
With the amount of Harry Potter-themed LEGO figures available and two fantastic lands to photograph them at, The Wizarding World takes our top spot. We have to start off with the boy who lived…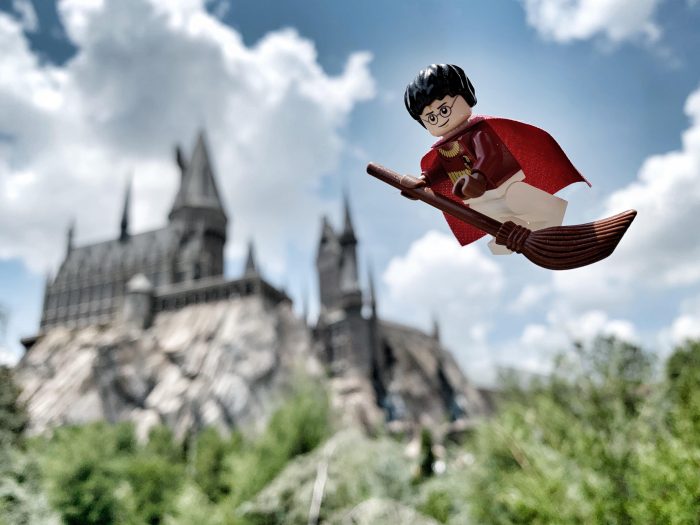 Hagrid in front of Universal's newest coaster.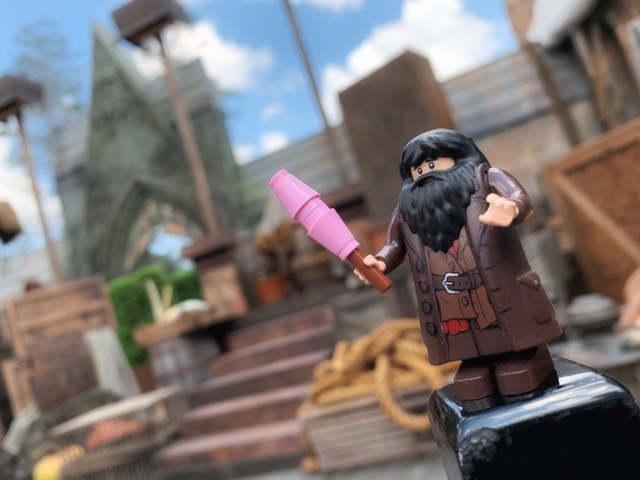 Dumbledore in front of Hogwarts Castle.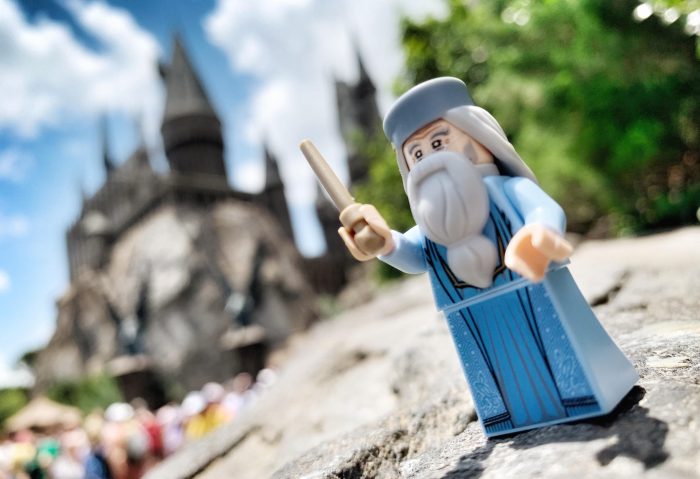 The amount of Wizarding World merchandise that comes straight from the Harry Potter movies is just jaw dropping, and many of our favorites come from the Weasley's Wizarding Wheezes store.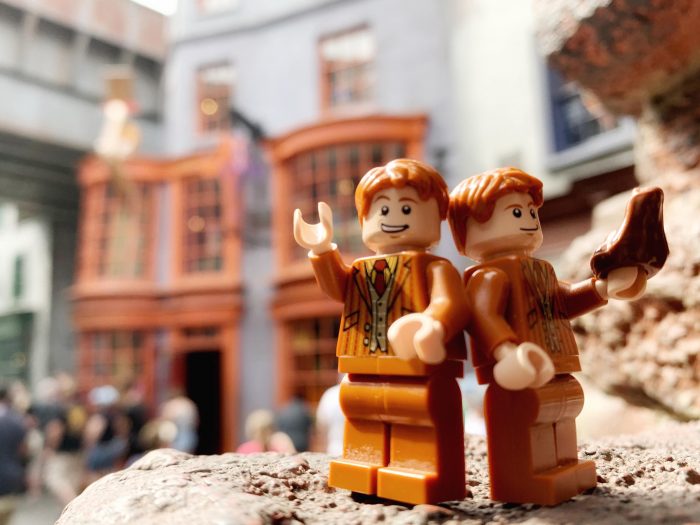 He was in YOUR vault Bellatrix…" – Voldemort in Harry Potter and the Escape From Gringotts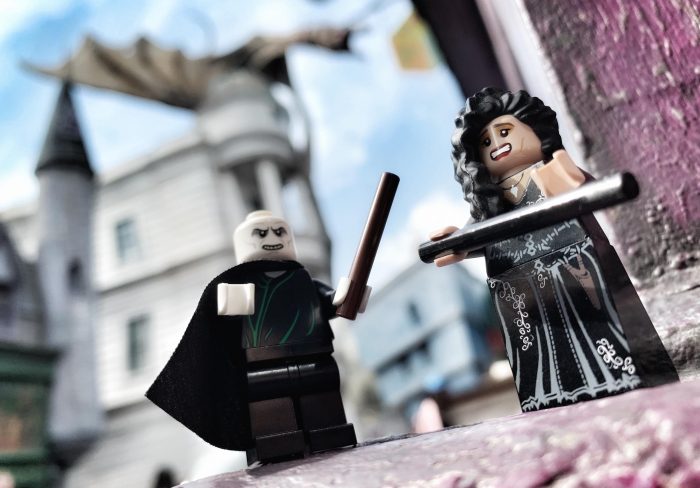 Stay tuned later this year when we have a follow up edition that will include STAR WARS and shots from Halloween Horror Nights. Have a request? Let us know in the comments!
So there you have it: The SATURDAY SIX Presents: PLASTIC AT THE PARKS! See you next weekend for the latest installment of the SATURDAY SIX, where we'll look at something fun from the world of Disney and Universal. If you enjoyed yourself, be sure to check out The Magic, The Memories, and Merch! articles, or, for your listening pleasure, check out the E-Ticket Report podcast. You can also follow Your Humble Author on Twitter (@derekburgan).
If you enjoyed this article, you will surely like the following: 
6 Pieces of Disney Merchandise That Don't Exist (But Totally Should!)
Disney Merch We Really Want to See!
6 Reasons We Love LEGOLAND FLORIDA
Special Thanks to The Elite Brandon Glover, hot shot Michael Carelli, the mistress of merchandise @HedgehogsCorner, the SAT SIX Fun Squad of Parkscope Joe and Nick,  and Hermione Granger's tutor Megan Stump for their invaluable assistance with this article. The SAT SIX is inspired each week by goofballs Aengus Mackenzie and LitemAndHyde and you Potterheads will  enjoy Meg's other blog work over at the Central Florida Slug Club.
FINAL PLUG! Did you know The 2019 Unofficial Guide to Universal Orlando has a special edition of the SATURDAY SIX in it? That's right, ANOTHER NEW ONE EXCLUSIVE TO THIS EDITION! Finally, someone came up with an actual reason to read a book. ORDER this baby now!
Worst SATURDAY SIX ever." – Comic Book Guy