The SATURDAY SIX Looks at Recent News via Theme Park MEMES
This week's SATURDAY SIX takes a look at recent news via theme park memes! Christmas is less than one week away and we all know what you want under the the tree… more theme park memes! Well, we've made our list and we've checked it twice. In fact, we even consulted the grand poobah Len Testa for an algorithm on who's been naughty or nice! Turns out, everyone's been pretty good this year (except Seth Kubersky) so we're here to deliver the goods. Let's kick it all off with…
# 6 – A Mysterious Monolith
What a weird story this was. In late November, it was revealed that a mysterious monolith appeared in the middle of nowhere in Utah. Soon, other monoliths started to appear elsewhere across the globe. Like Disney and Remy's Ratatouille Adventure, turns out the people behind monoliths figured it was easier and cheaper to clone a monolith instead of creating something new.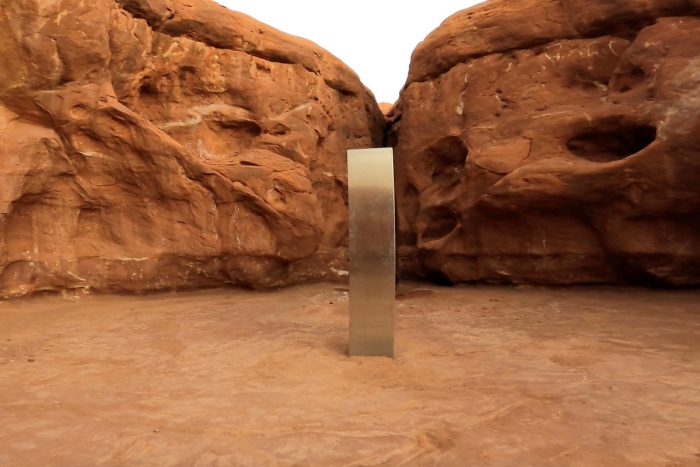 Leave it to DisTwitter to have fun with this bonkers story. First up, a monolith appearing in the Utah-like atmosphere of Big Thunder Mountain.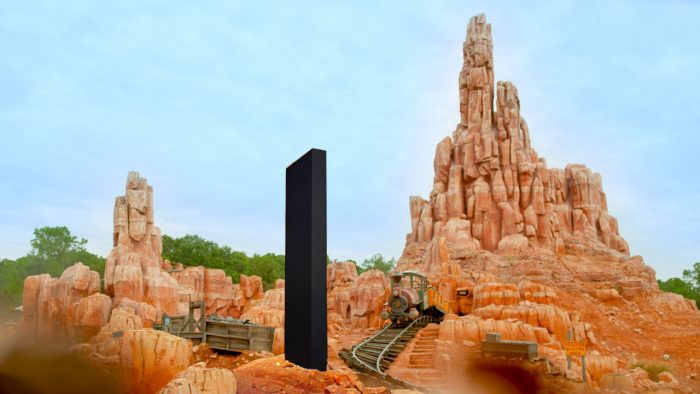 Another had it replacing the Partner's statue in Disneyland.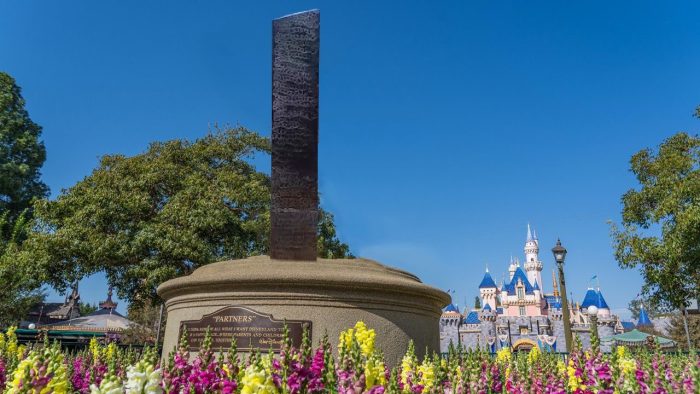 Then came memes replacing the mysterious monolith, such as this one using a Leave A Legacy slab from EPCOT.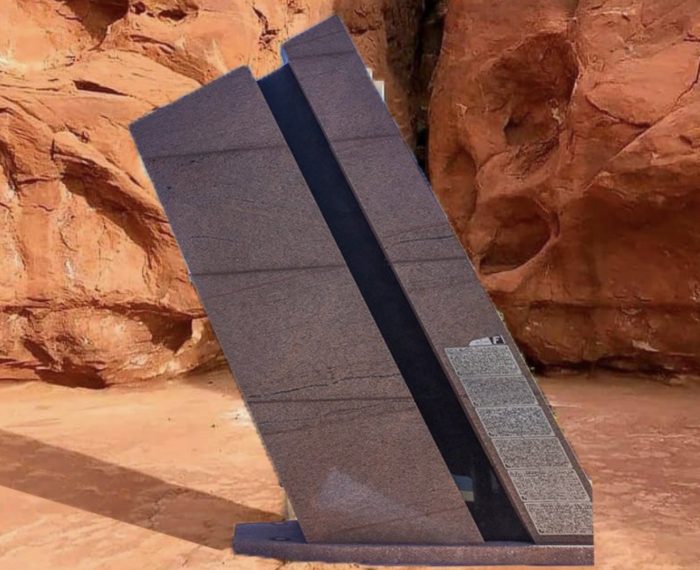 The only thing more mysterious than a monolith that appears out of nowhere? Disney reusing the Castle Mirror Float for almost 35 years.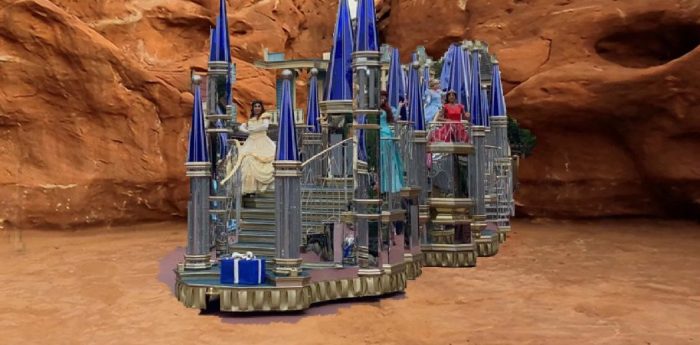 # 5 – Speaking of ugly non-sensical structures
Well, after removing a thousand things from EPCOT over the past few years, this month Disney finally added something new to the park in the form of a massive barge. Pictures do not do justice to the gigantic nature of this eyesore. Thankfully, DisTwitter was around to make things a little easier to swallow…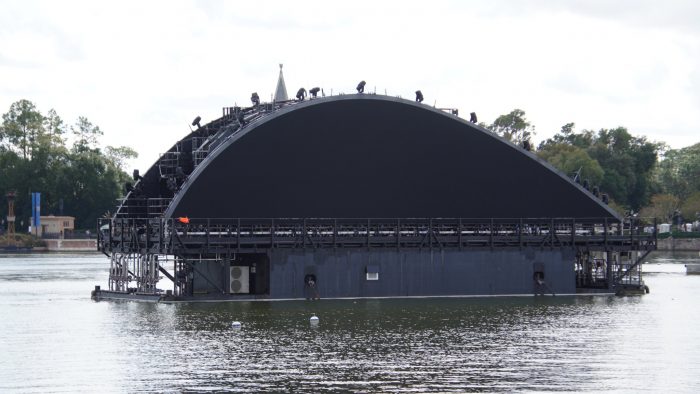 Many noticed the barge's general shape of a taco.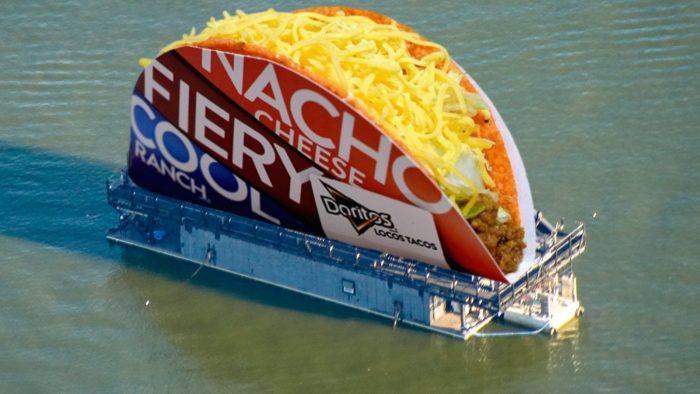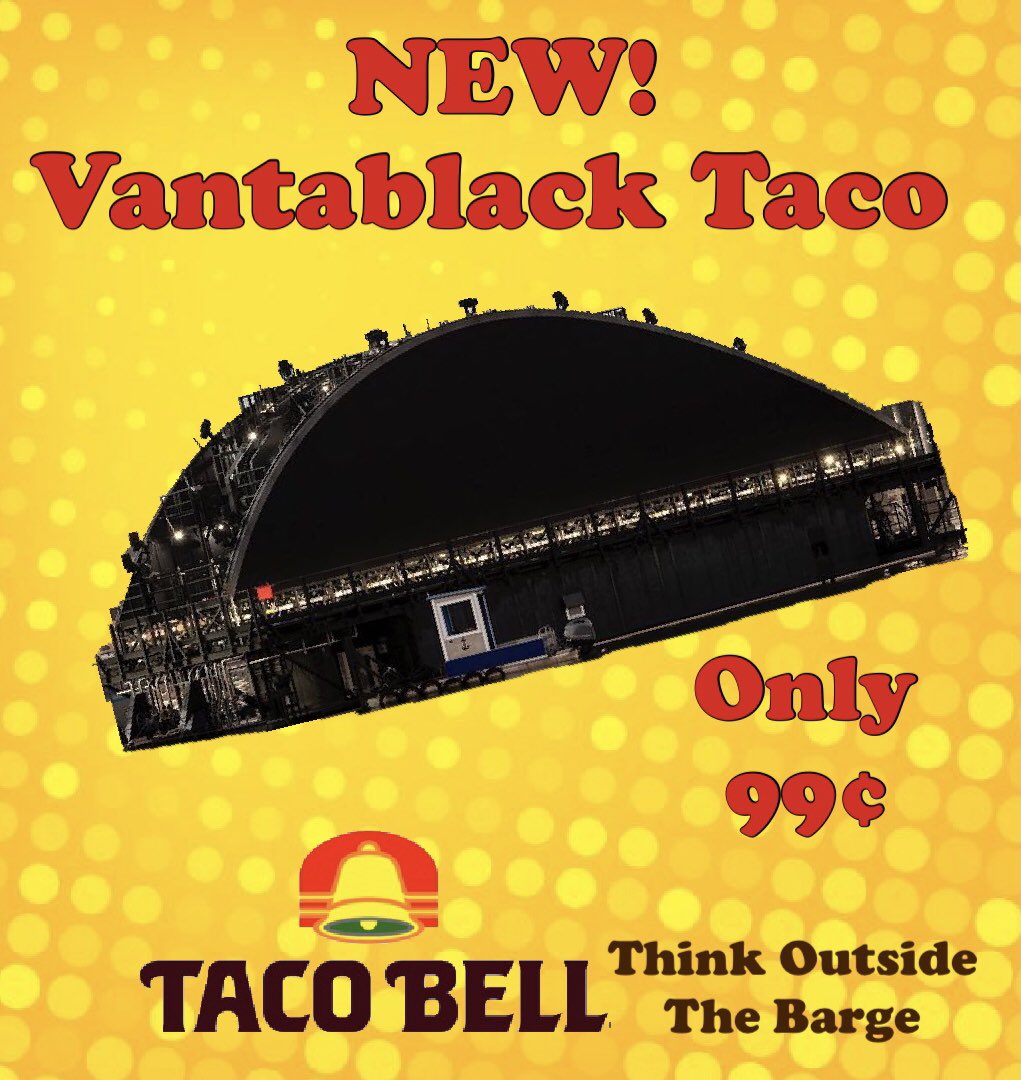 Did we mention it's big?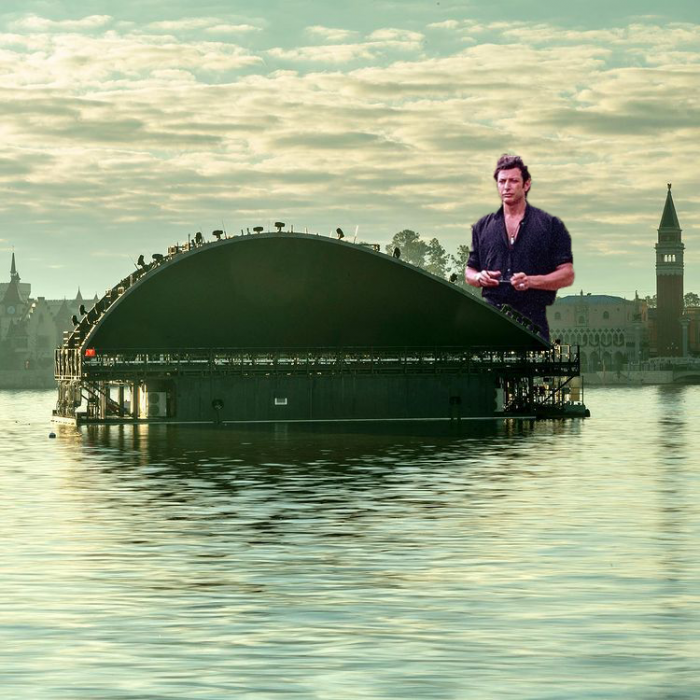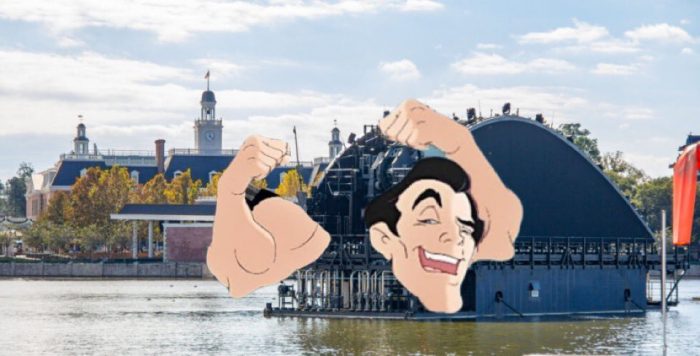 We have the first aerial featured in SATURDAY SIX  that wasn't taken by @bioreconstruct…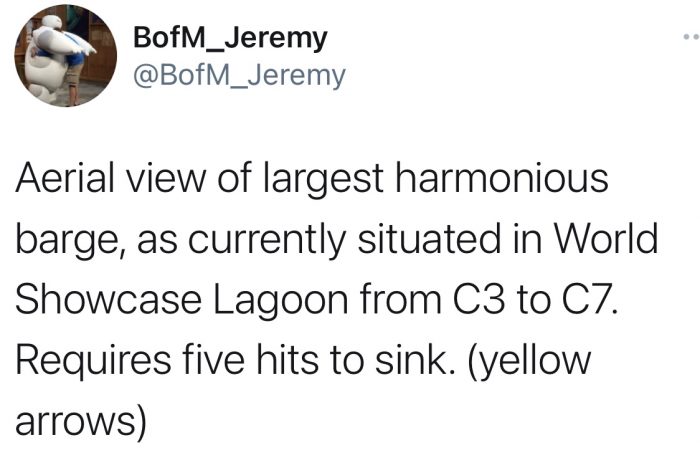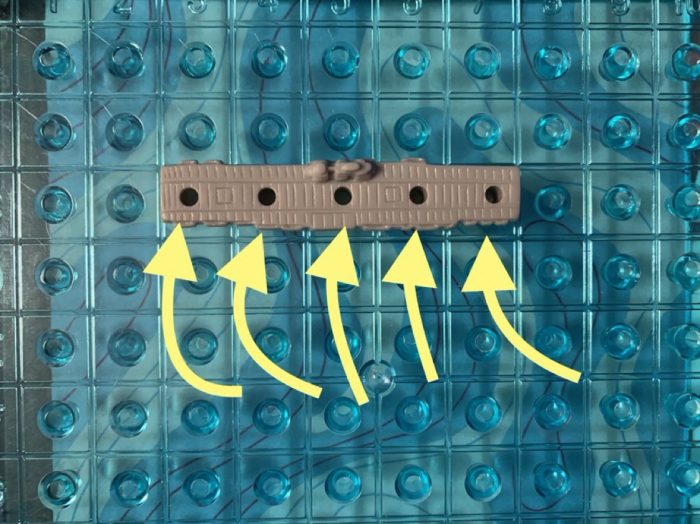 Universal had some fun with this hideous barge by poking fun at one of their old shows…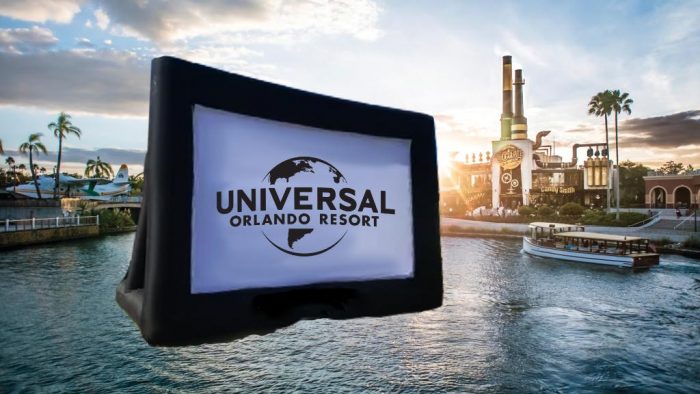 While another user suggested that maybe the odd shape of the barge was for a specific reason…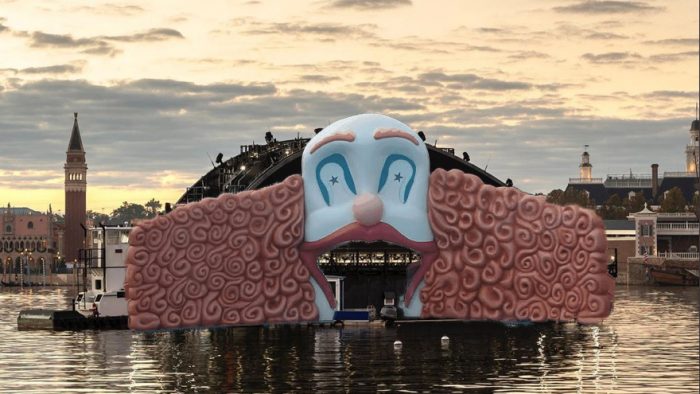 # 4 – What Ya Hiding Back There….
This month a large scrim was erected at the very front entrance of Disney's Magic Kingdom, as the Main Street USA railroad station undergoes some refurbishment. This caused one guest to ask,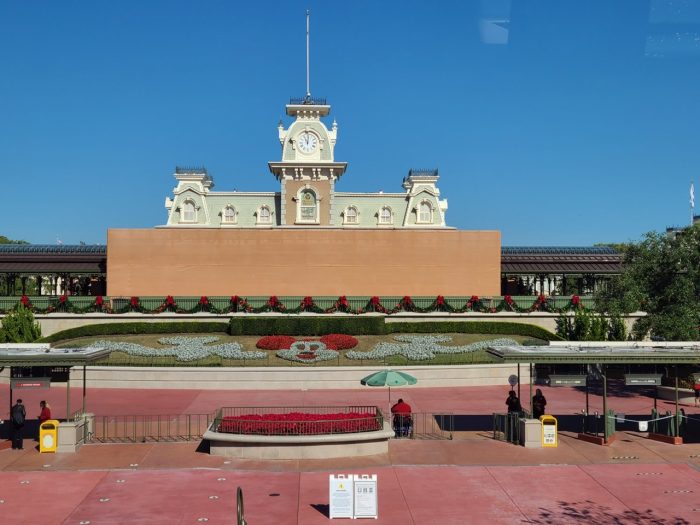 DisTwitter had answers…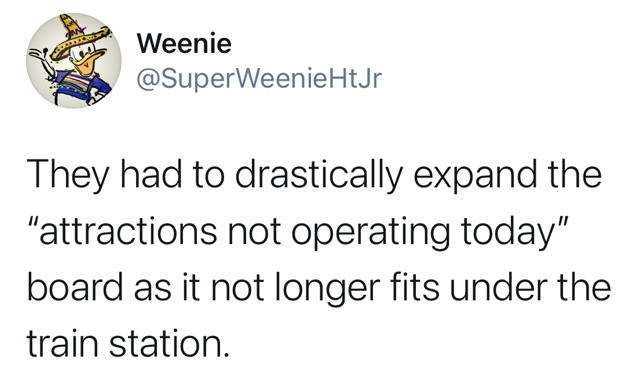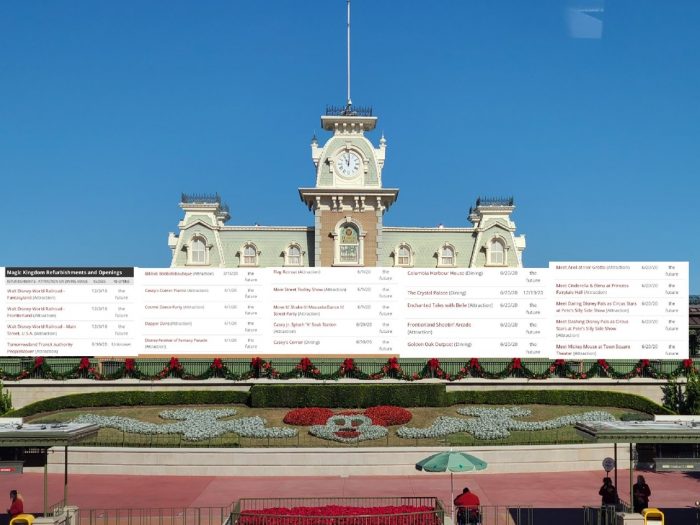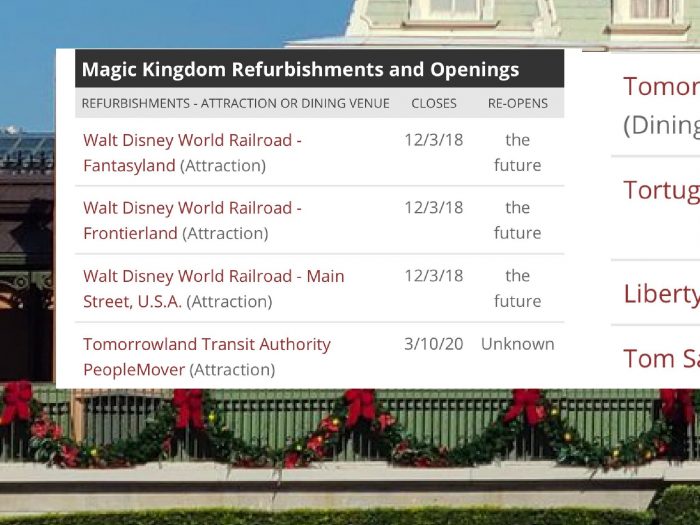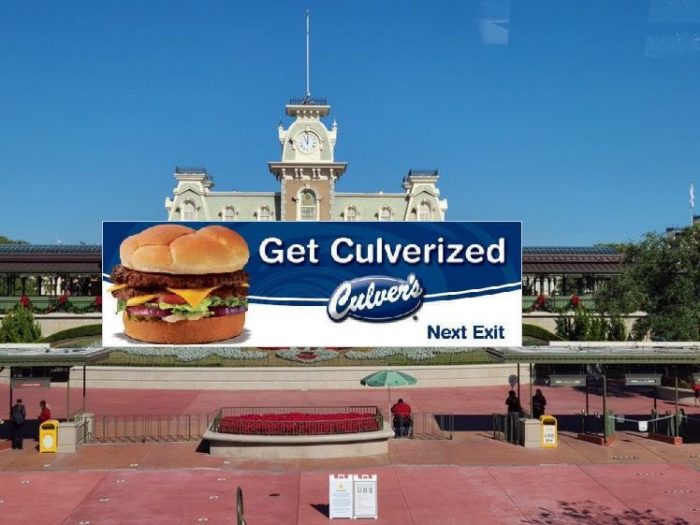 One user did an incredible job photoshopping the scrim out of the picture and replacing it with what the area could look like afterwards…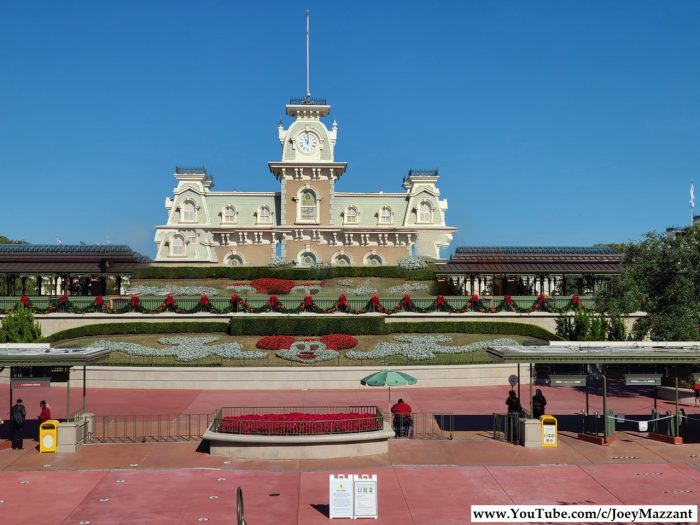 …but he also realized that below has just as good of a chance at happening.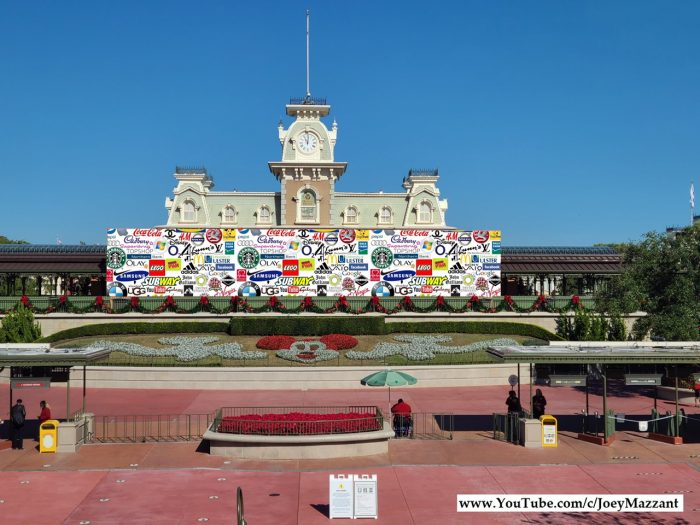 # 3 – New Lockers at Forbidden Journey
After 10 long years of waiting, our long national nightmare is finally over as Universal listened to our pleas and built a new bank of lockers for Muggles to use before riding Forbidden Journey. For those who haven't been before, the old locker system at Forbidden Journey can best be compared to the subways in Japan where people are literally pushed inside the cars. It was a miserable situation, both for the guests and for the Team Members.
For a while, Universal has been working on building a whole new locker setup that is set away from the entrance of Forbidden Journey, much like how guests will find the locker situation at attractions such as The Incredible Hulk Coaster, Rip Ride Rockit, or Men In Black: Alien Attack.
The new lockers make the guest experience much better, and on top of that the entire locker bank is themed with the gorgeous rockwork that surrounds Hogwarts Castle.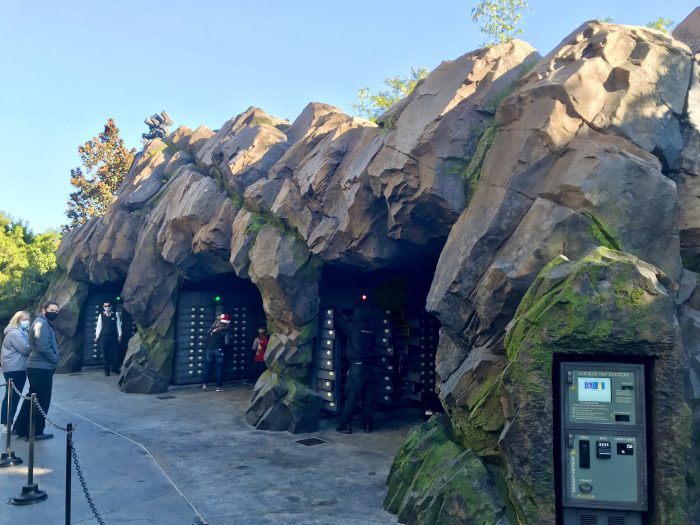 The Forbidden Journey lockers sit at the edge of the Wizarding World of Harry Potter. In fact, the back side of them is actually part of the Jurassic Park section of Islands of Adventure. The section in Jurassic Park is nowhere near as elaborately themed as what guests see in the Wizarding World.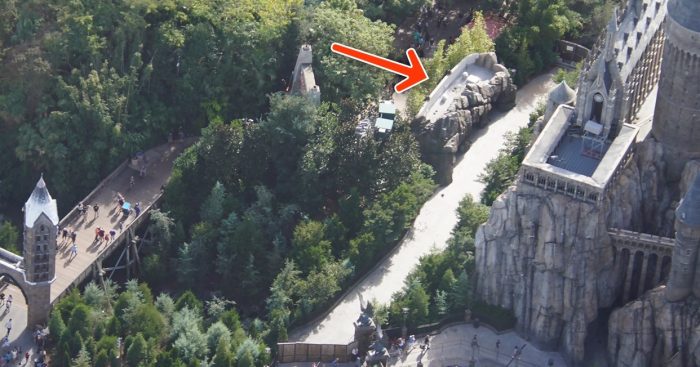 So, you ask, what does any of this have to do with memes? CALM DOWN! We're getting to that!! (EDITOR'S NOTE: Please forgive Derek's anger. For the past few weeks he's had to get up at 4:00 a.m. on Friday mornings to watch The Mandalorian before it got spoiled on social media) One of the most fun viral meme formats this past month was called the "They Don't Even Know" format. The actual meme format itself is based around a similar one called "I Wish I Was At Home," which has been around for over a decade. It is based on a crudely drawn comic strip, with the main character being depicted as uncomfortable and anxious at a party. The main character, alone by himself in the corner, is having issues with his own self-worth. Users would change the dialogue in the comic strip, and it is meant to reflect the main character thinking that he has some sort of knowledge that would impress everyone else at the party if they only knew.
One of the best examples of this meme format was TouringPlans' resident millennial Joe Matt, who used the Forbidden Journey lockers in his self-depreciating comic strip.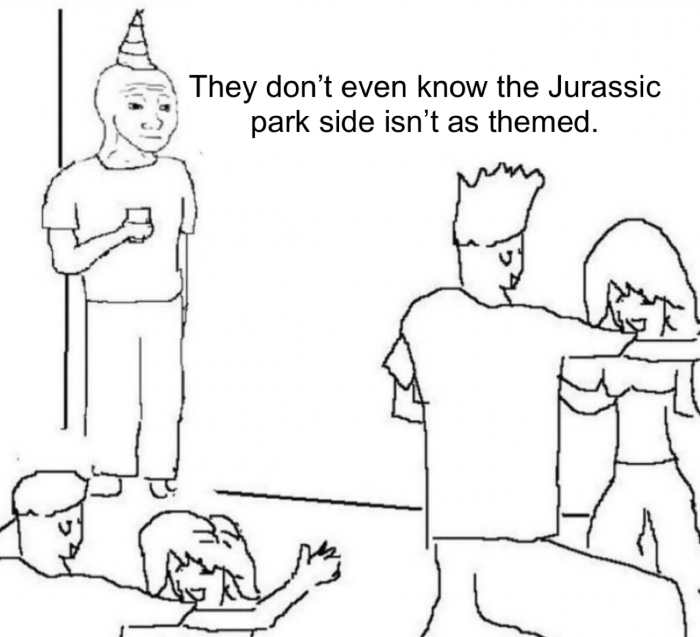 Another person used an attraction that is beloved to many of our hearts, especially now with a seasonal Christmas overlay…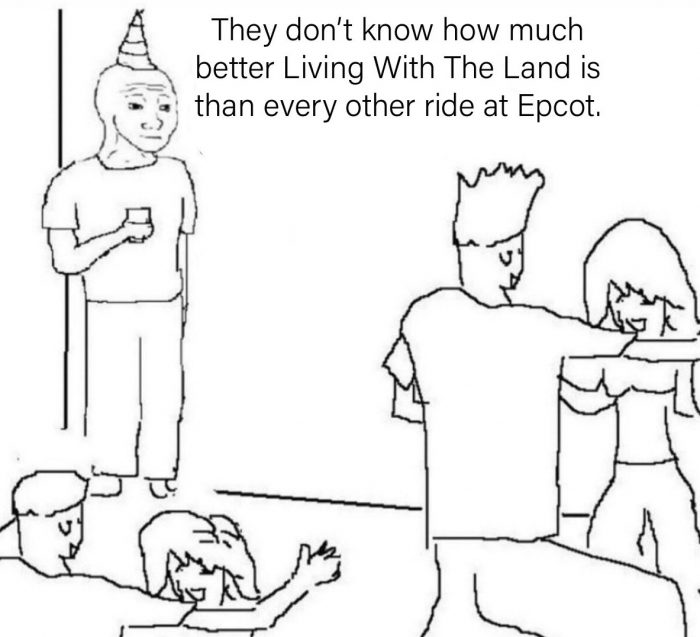 Some used the meme format to make ultra-niche jokes, such as DisTwitter member Mateo, who has probably ridden Mickey and Minnie's Runaway Railway and Rise of the Resistance more times than any other human on Earth.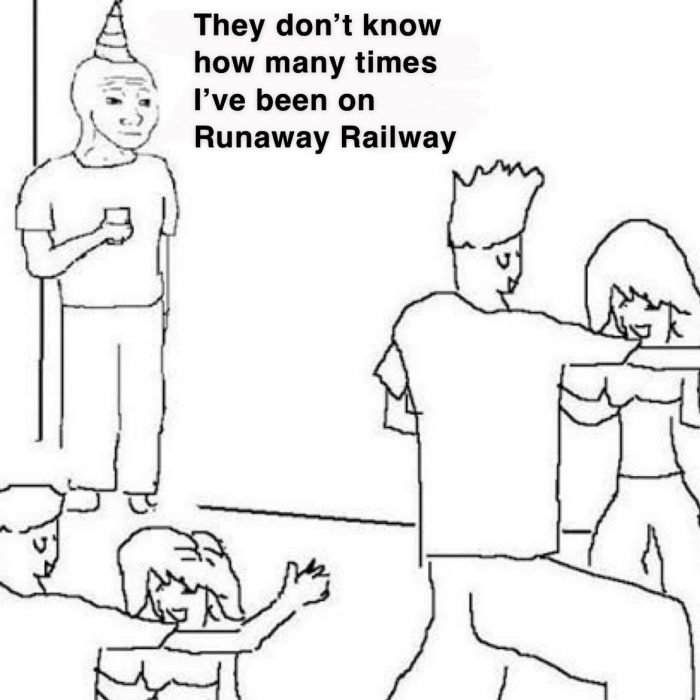 Of course, as the M Night Shyamalan's Unbreakable movie taught us, if there is a superhero there must also be a villain. While Mateo gets boarding group after boarding group every day he goes to DHS, poor Weenie hasn't yet to obtain a boarding group for Rise of the Resistance during any of his recent trips.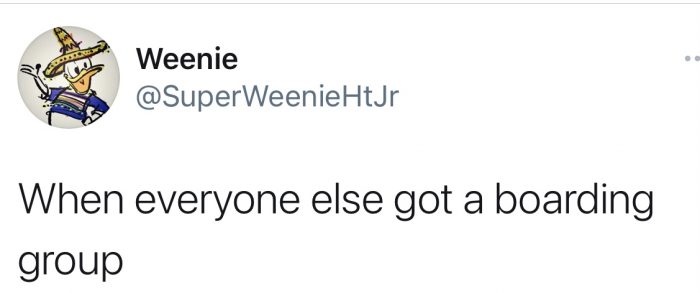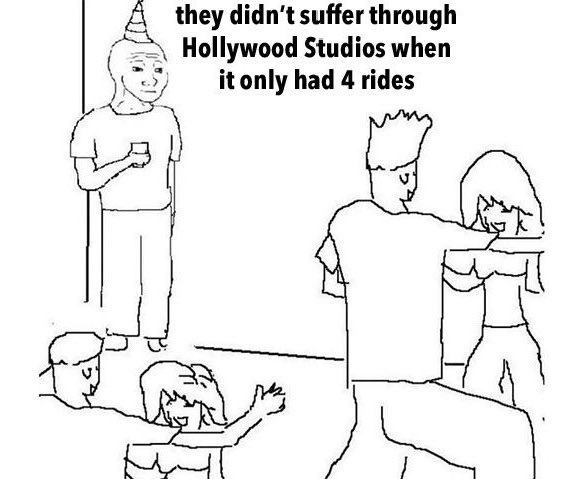 I guess some people would consider a glitter farting Troll to be obscure, but let's not forget that Guy Diamond was a winner at the 22nd annual Burgys honoring theme park excellence.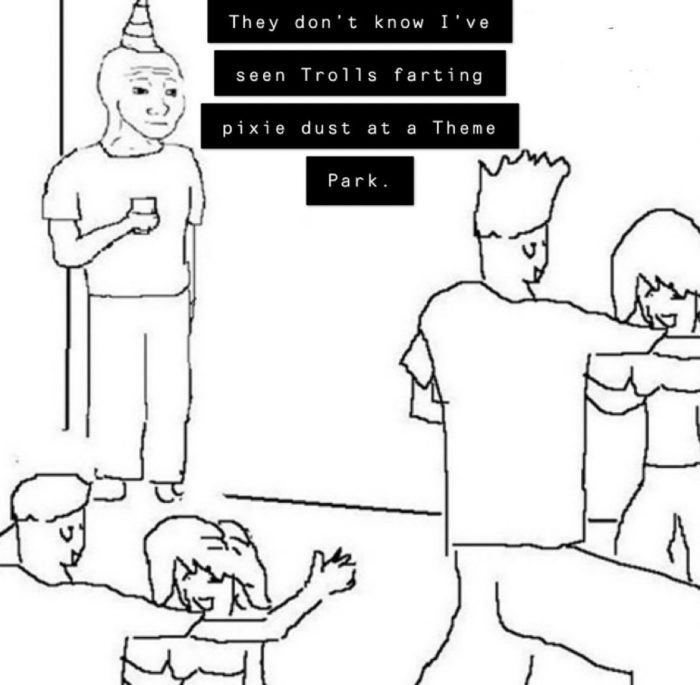 Anyone who is a member of an official Disney or Universal page on Facebook knows how crazy things can get and how almost every person in each group considers themselves The Holder of All Knowledge. The meme below is referencing the "secret" entrance to Universal Studios Florida located next to the Blue Man Group.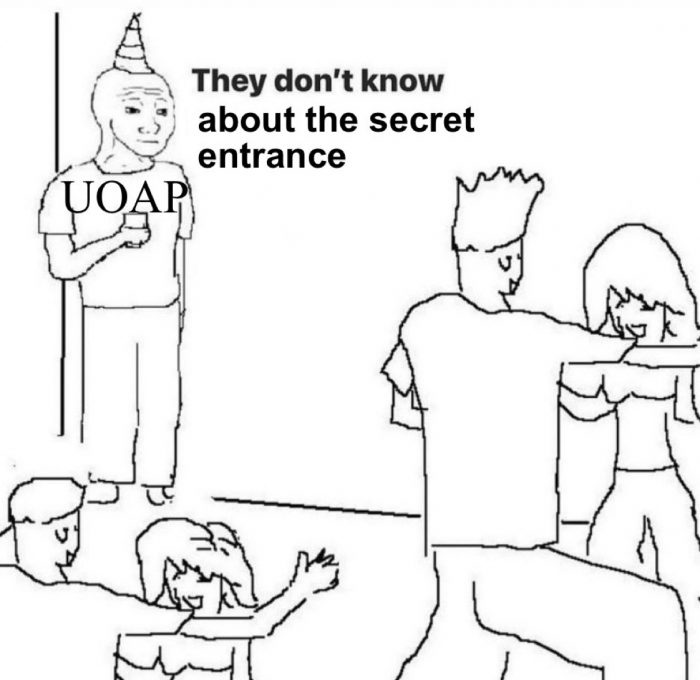 Yours Truly even got into the game, using a bit of trivia for the cinematic masterpiece known as SHARKNADO 3.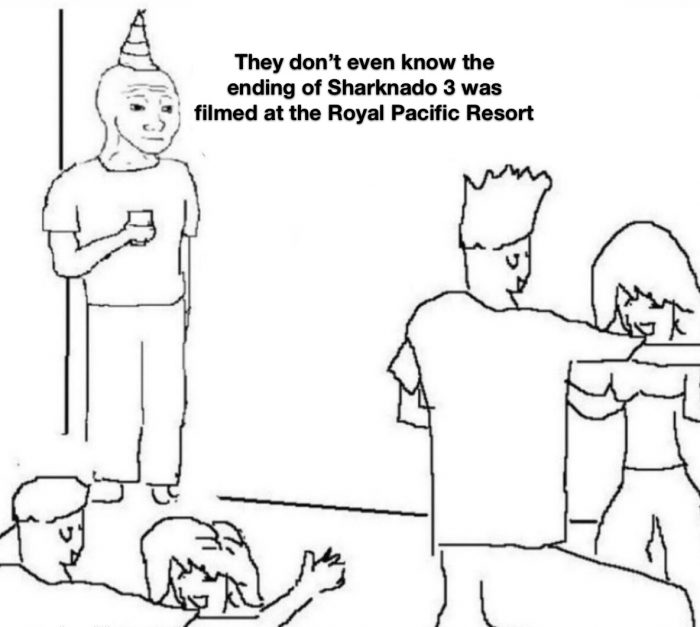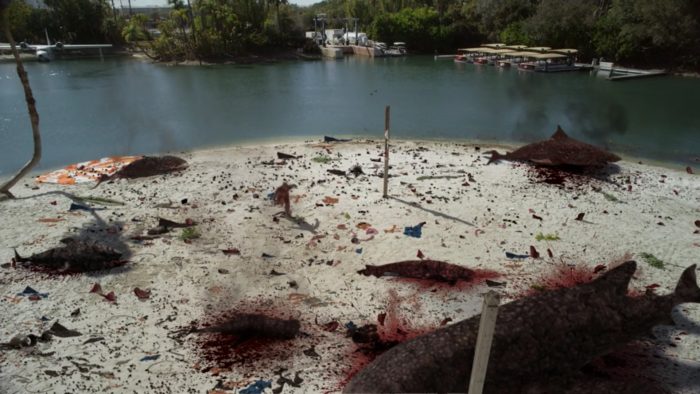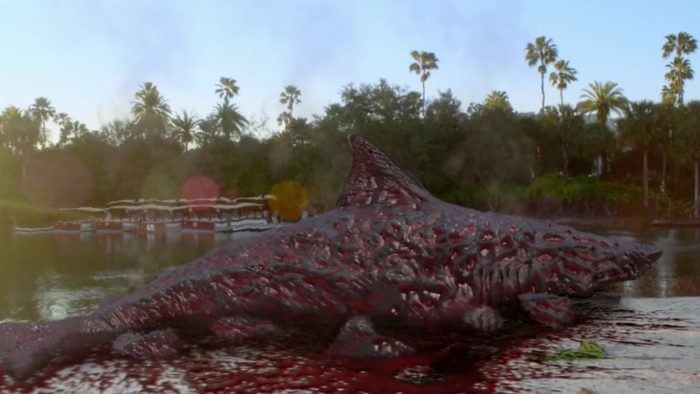 # 2 – Thank You For Changing my Life
One meme format that burned like a red hot sun for a brief period of time was titled "Thank You For Changing My Life." The meme involved a girl saying thank you for changing my life, with users following that up with an item being absolutely ridiculous. For example, one thing that ran wild in theme park circles was when it was discovered that Disney put a new sweater on some Figment characters in Journey Into Imagination. This was a real life version of Malibu Stacey's Hat moment from The Simpsons, as people did not care about the horrible current state of the attraction and were instead obsessed over these minor sweaters.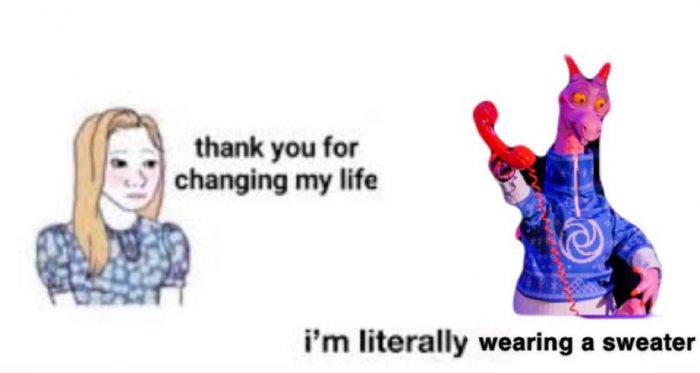 Disney Meme Icon @SuperWeenieHtJr brought back an old school fanboy obsession, Horizons.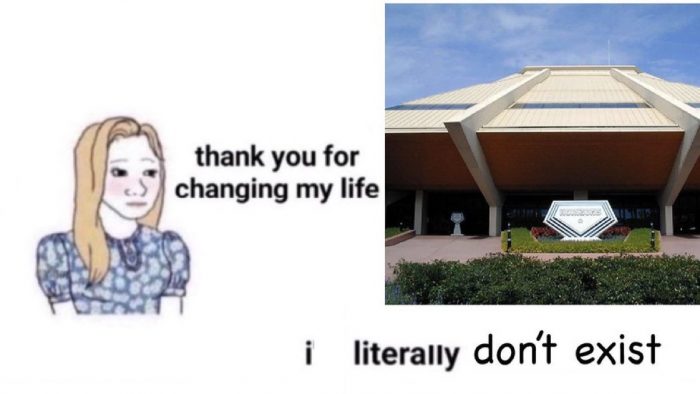 Newer theme park weirdoes perfectly sane fans are more attracted to the colored walls at the parks…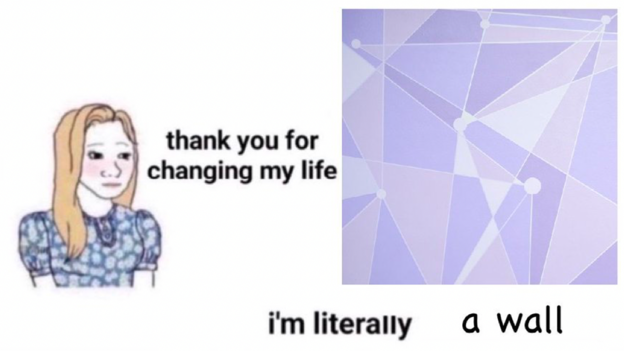 While others of us will live and die by a certain theme park snack.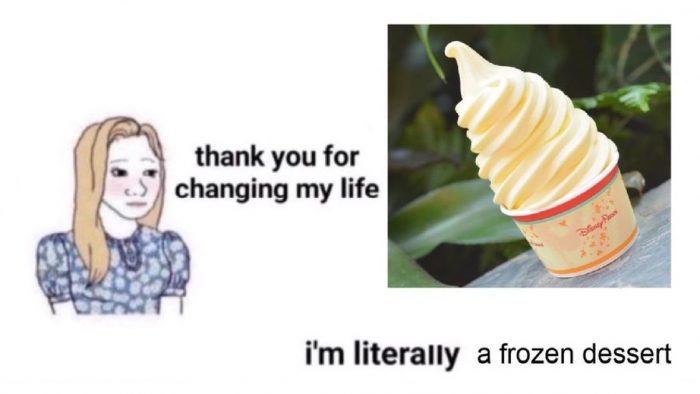 This one may hit too close to home for some…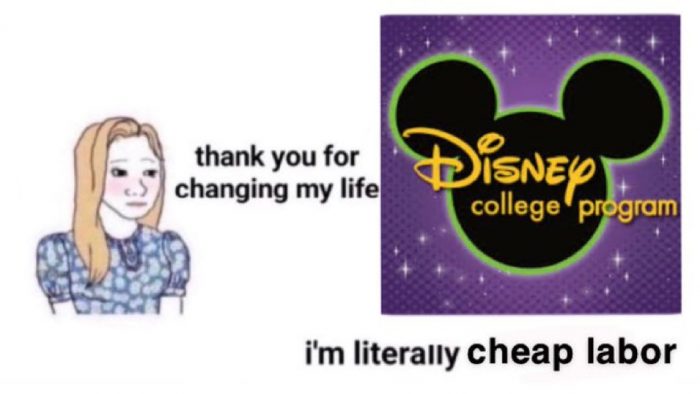 While some memes seem to last longer than others, you know the fire is just about out when the meme itself is in the meme format.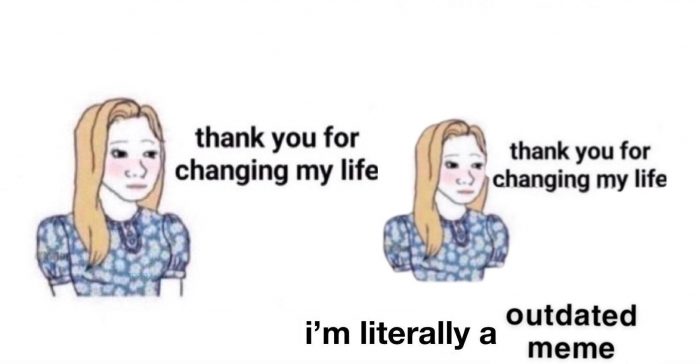 # 1 – You've Heard of Elf on the Shelf….
It's just about Christmas, one of our favorite days of the year, and one of our yearly annual traditions on DisTwitter is to bring back the Elf on the Shelf meme. This one is pretty self-explanatory, as the meme will start off with "You've heard of Elf on the Shelf…" and it is followed by a picture. The reader that figures out what the rhyming combo is, such as Tiger on the Iger.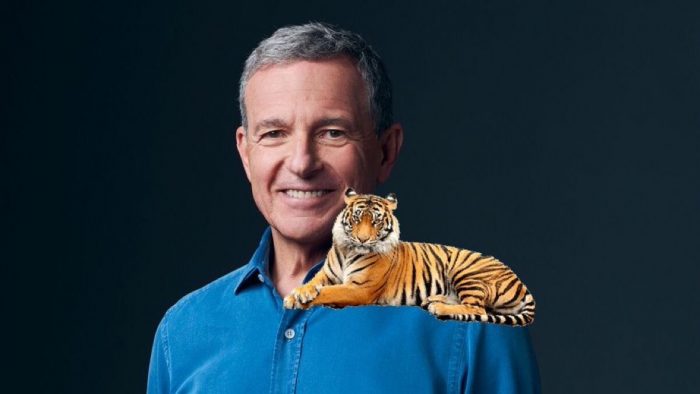 One referencing the Dinosaur attraction in Animal Kingdom with Dr. Seeker on the Beaker.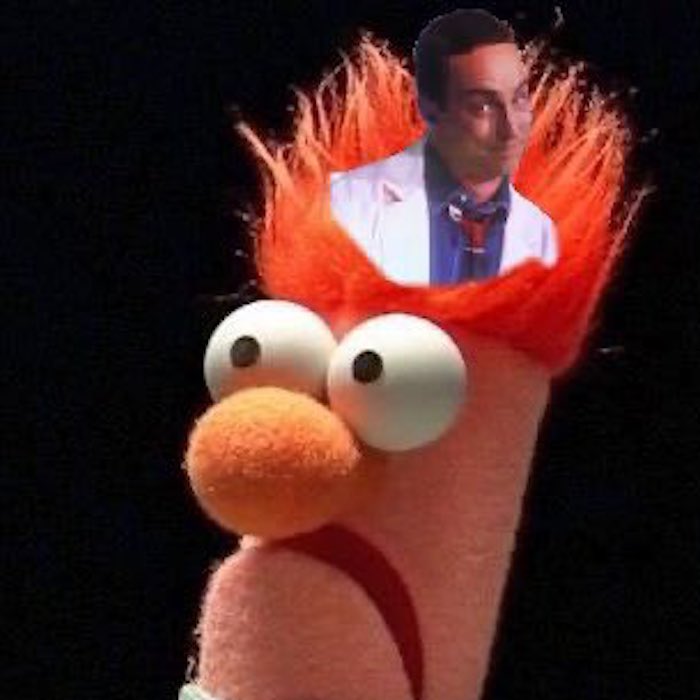 After mourning the tragic loss of one of the three caballeros earlier this year, it was good to see Panchito on the Burrito.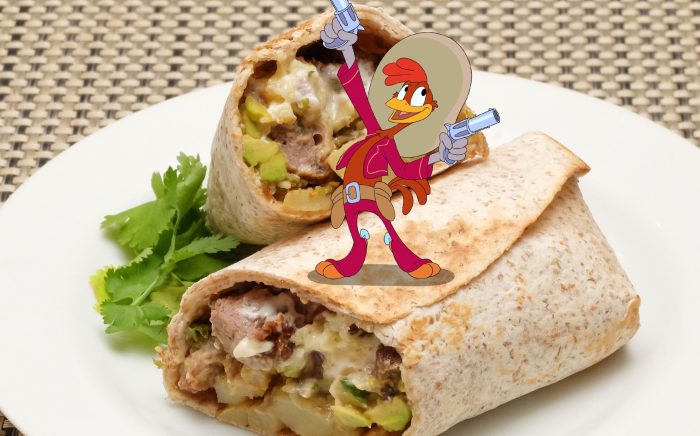 DisTwitter is good for some deep dives, such as Marc on the shark, featuring Walt Disney Imagineer Marc Davis.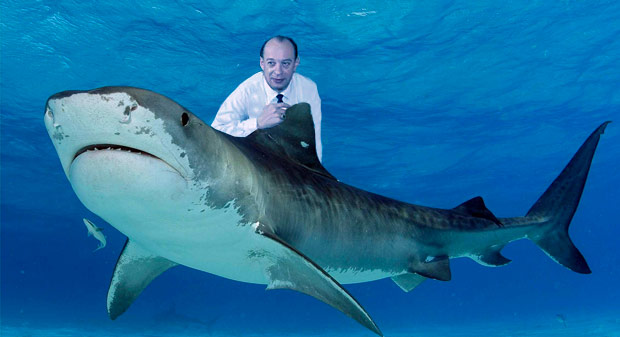 Nothing is hotter on Disney+ than a certain "Baby Yoda" show, so of course we loved Lando on the Mando.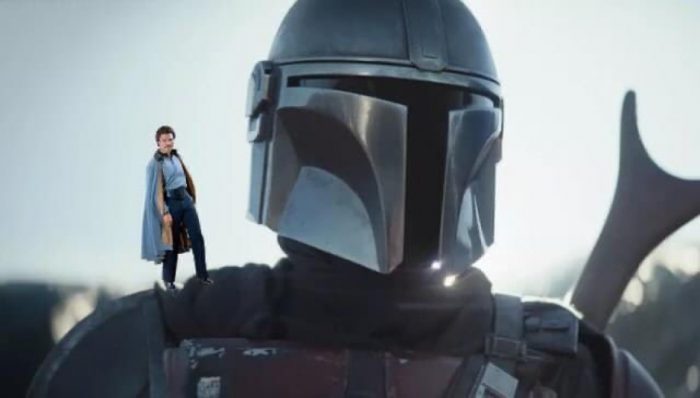 But one user went next-level and showed us that if you zoom in, there's actually a Brando on the Lando.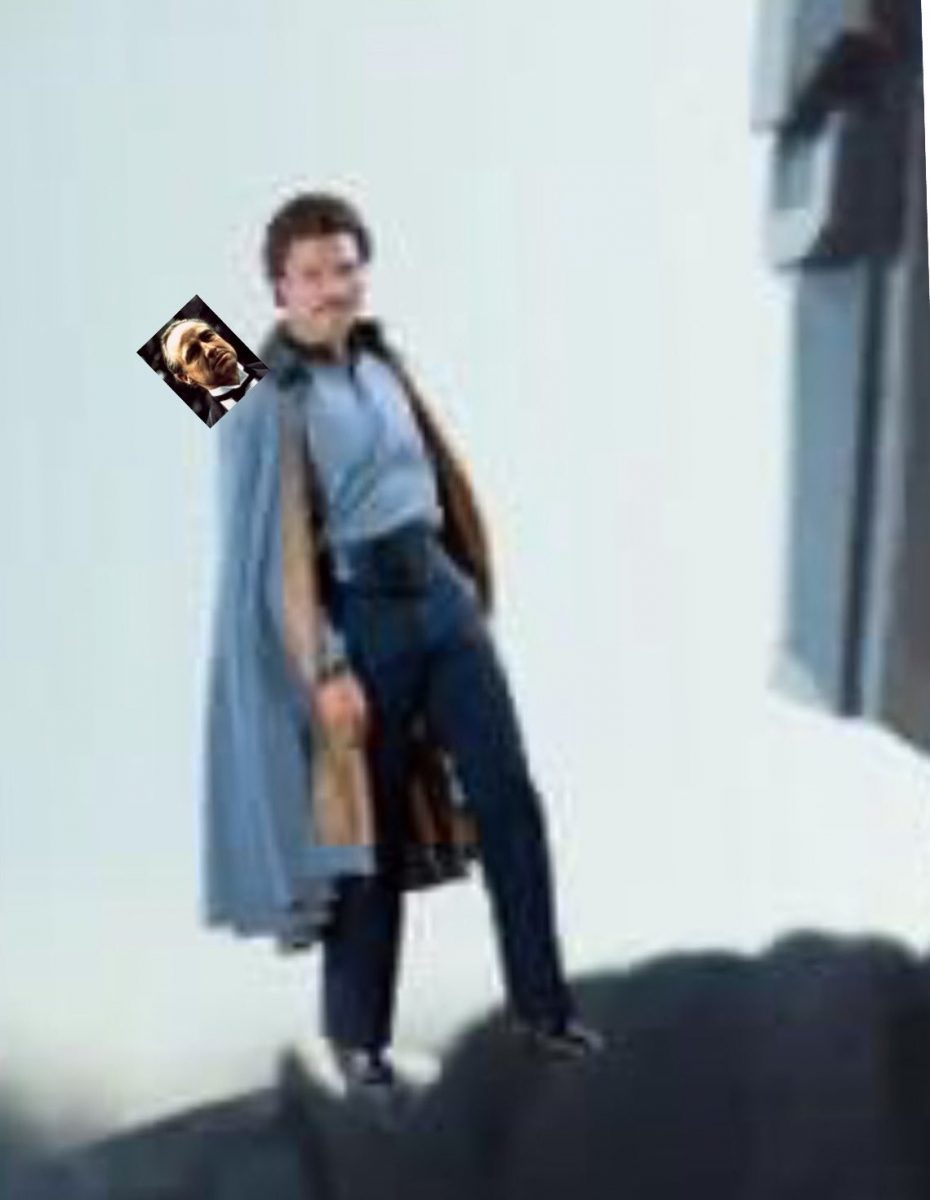 Honorable Mention – EPCOT Attractions in 2020
One of the best designers in the entire theme park community is Howard Bowers. You have to check out his store for shirts, posters, and decals that blow away what we can buy in the parks. This past week he came out with some more incredible artwork that uses the minimalist design of EPCOT Pavilions and mashes them up with what we are currently experiencing in the world. Just genius-level work.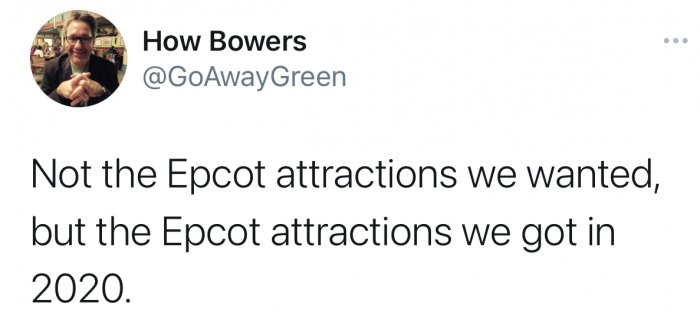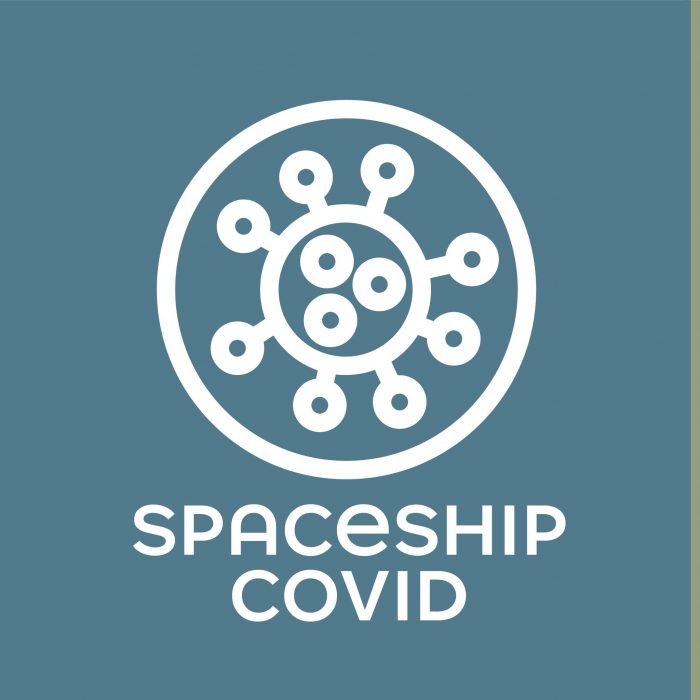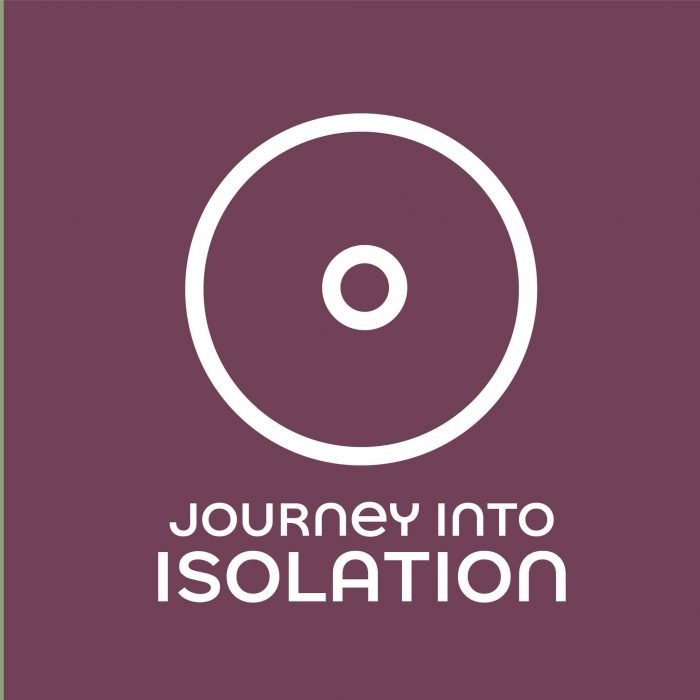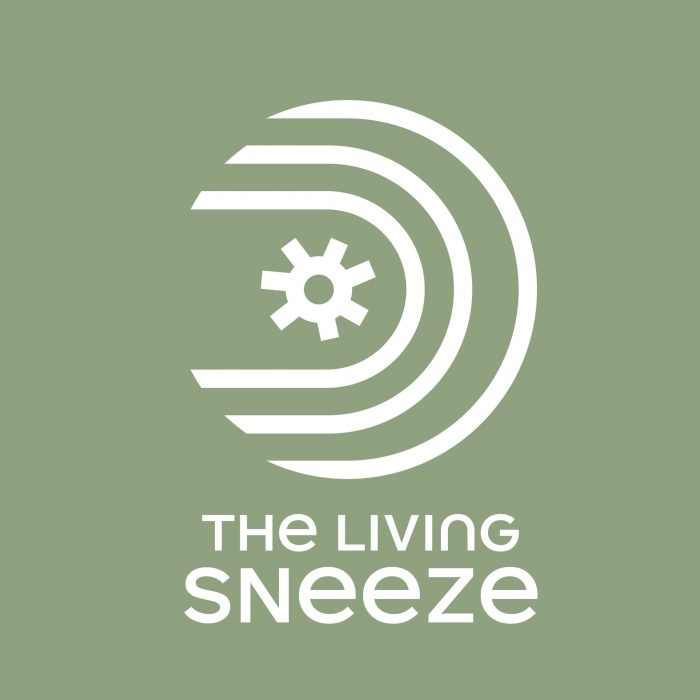 DOUBLE SECRET HONORABLE MENTION – The Chapek Challenge…
We're going to close with an example of a meme which never ceases to make me smile. Generally speaking, the format has a person asking readers to like their tweet. For every 20 likes, they will do something goofy to the picture. In our case, @HackermanJoe asked people to like a picture of Bob Chapek. For every 20 likes, he promised to increase the size of Bob's forehead. That's INSANE, right? Well, that's our type of insanity here at the SATURDAY SIX…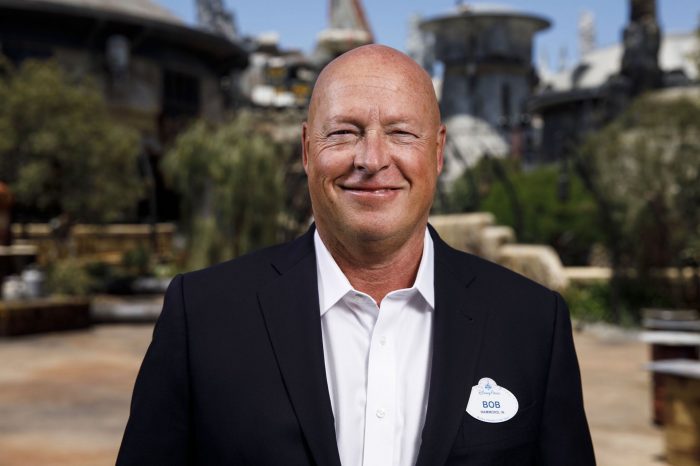 The whole challenge started simply enough, with Bob Chapek's forehead growing and growing…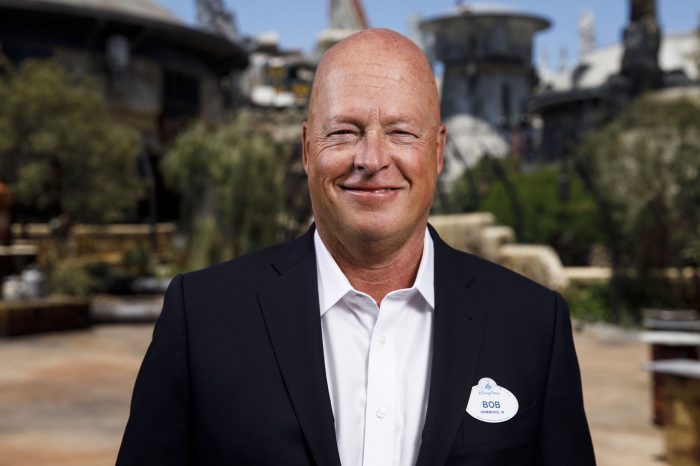 Growing and growing…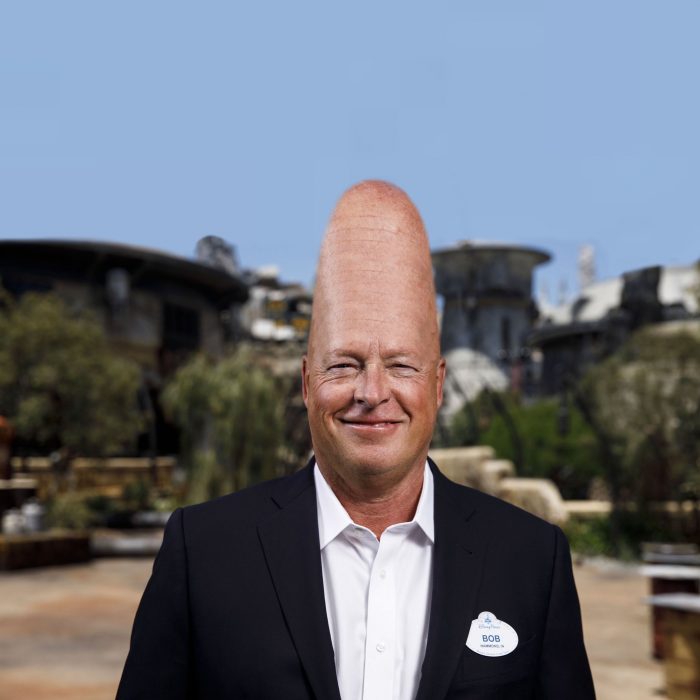 It wasn't long before the forehead starting getting out of hand, because the original tweet went viral. Instead of giving up, our artist went outside the box, and started showing the forehead as if you could see it from outside the park. Here we have the forehead growing up in the distance in the back of a newly finished entrance way to Walt Disney World.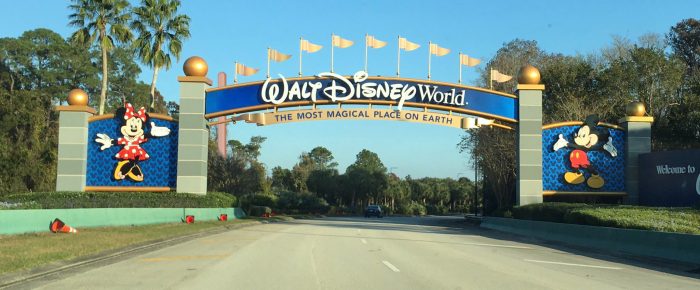 Eventually, even with the new background, after many updates @HackermanJoe would hit the top of the picture. Does he give up?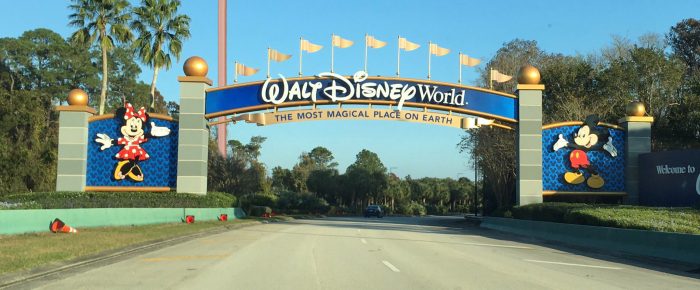 Nay Nay, he finds a new way to have fun.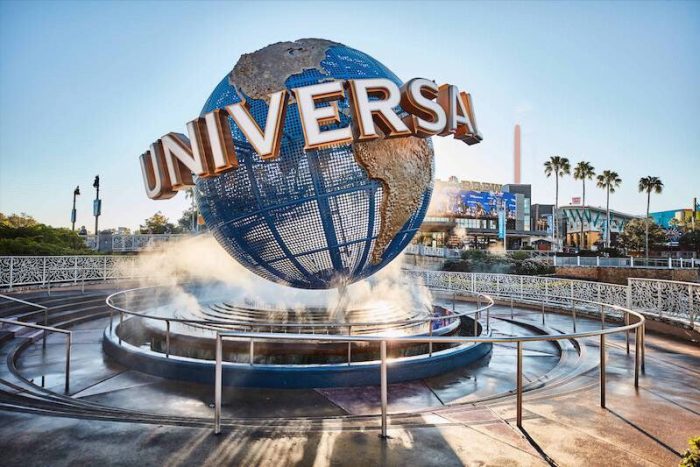 What makes this threads so extra special bonkers is that you are getting a condensed version. @HackermanJoe put in the work, and each one of these pictures was slowly increased in forehead size until it hit the top of the frame. After Universal, Chapek's forehead was seen against the skyline of Orlando itself. But we're still not done…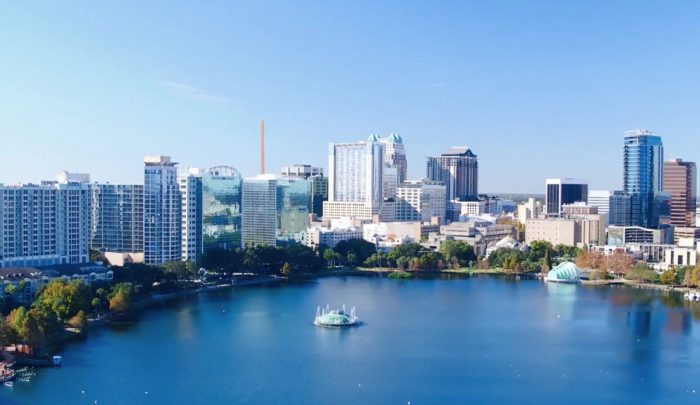 We had to zoom even farther back to the show the world itself. Yes, the original tweet was getting that many likes as people were LOVING IT.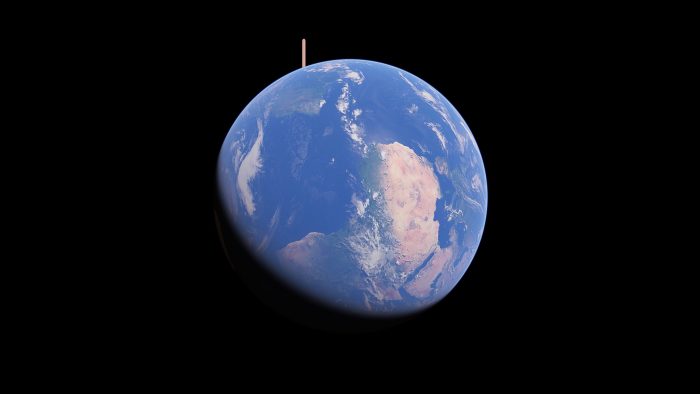 In lieu of going mad, @HackermanJoe finished this exercise by showing Chapek's forehead going up through the Milky Way itself. It was a bravura performance by an hugely talented artist.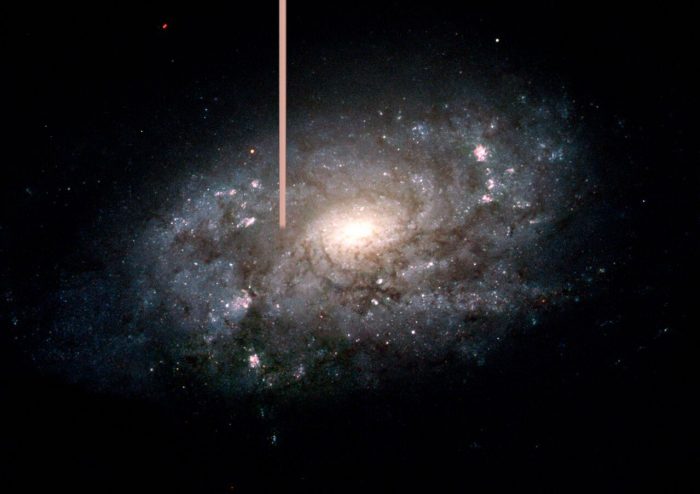 So there you have it: A Look at Theme Park News via MEMES! See you next weekend for the latest installment of the SATURDAY SIX, where we'll look at something fun from the world of Disney and Universal. If you enjoyed yourself, be sure to check out The Magic, The Memories, and Merch! articles covering the latest from the Disney Outlet Stores. You can also follow Your Humble Author on Twitter (@derekburgan).
If you enjoyed this article, you will surely like the following: 
The SATURDAY SIX Looks at Theme Park News via Memes (vol 1)
The SATURDAY SIX Looks at Theme Park News via Memes (vol 2)
The SATURDAY SIX Looks at Theme Park News via Memes (vol 3)
The SATURDAY SIX Looks at Theme Park News via Memes (vol 4)
The SATURDAY SIX Looks at Theme Park News via Memes (vol 5)
The SATURDAY SIX Looks at Theme Park News via Memes (vol 6)
The SATURDAY SIX Looks at Theme Park News via Memes (vol 7)
The SATURDAY SIX Looks at Theme Park News via Memes (vol 8)
The SATURDAY SIX Looks at Theme Park News via Memes (vol 9)
The SATURDAY SIX Looks at Theme Park News via Memes (vol 10)
The SATURDAY SIX Looks at Theme Park News via Memes (vol 11)
The SATURDAY SIX Looks at Theme Park News via Memes (vol 12)
The SATURDAY SIX Looks at Theme Park News via Memes (vol 13)
Special Thanks to The Elite Brandon Glover, the bio-est of all reconstructs @bioreconstruct, Captain Cruiseline Scott Sanders of the world famous Disney Cruise Line Blog, my personal protege Hunter "Elvey" Underwood, the SAT SIX Fun Squad of Parkscope Joe and "the Dadalorian" Nick, hot shot Michael Carelli, charter member of the Universal Four @Nitro230, and Hermione Granger's tutor Megan Stump for their invaluable assistance with this article. The SAT SIX is inspired each week by goofballs Aengus Mackenzie and LitemAndHyde and you Potterheads will  enjoy Meg's other blog work over at the Central Florida Slug Club.