The SATURDAY SIX looks at the DO'S and DON'TS of Orlando Vacation Planning
This week's SATURDAY SIX takes a look at the DO'S and DONT'S of vacation planning! There is a lot of information when it comes time to plan your Disney or Universal vacation. In fact, at times it can be overwhelming.
Enter, David and Derek.
For those uninitiated, "David and Derek" are a nod to the classic "Goofus and Gallant" formula. David is David Davies, a longtime TouringPlans analyst and IT strategist whose hobbies include Sudoku, HTML coding, and nitpicking. Derek is Your Humble Author. Together the two cover all the important Do's and Don'ts of the theme park world, but specialize in hot topics such as Guest Etiquette at the Disney Parks, Star Wars: Galaxy's Edge, and Dog Friendly Hotels. This week the two tackle a subject near and dear to all of us…planning a theme park vacation. We're joined by superstar artist Brian Cooper to examine the right ways – and more importantly – the wrong ways, on each step of the process. So without further ado, let's kick off the countdown with…
# 6 – Booking Flights
Airfare can be one of the most expensive factors when considering a vacation to Orlando, and unfortunately it has become harder and harder to find those "great deals" when booking a flight.  Thanks to the airlines getting a taste of that "baggage fee" money, they now feel the need to inundate us with other up-charges to help pad their bottom line. So where does one start when trying to get the best price on flights to the Vacation Kingdom of the World?
There are basic tips, such as flying on weekdays instead of weekends. You'll almost certainly find better prices on flights that take off or land on Monday through Thursday compared to Friday, Saturday, or Sunday. There are also several websites including Kayak, Expedia, and Airfare Watchdog, who will send you notifications when flights you are interested in have price drops.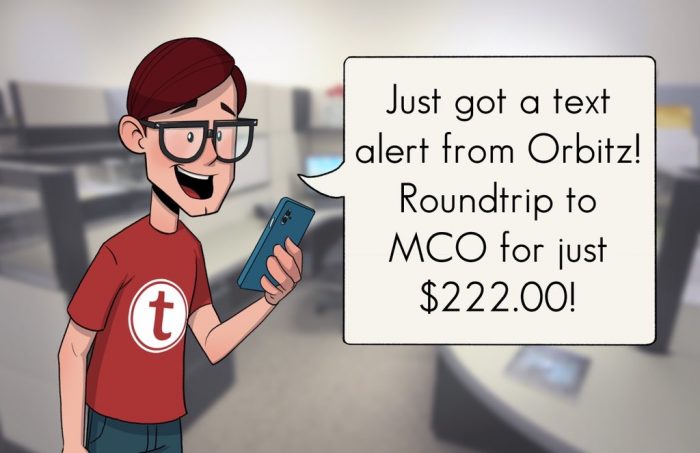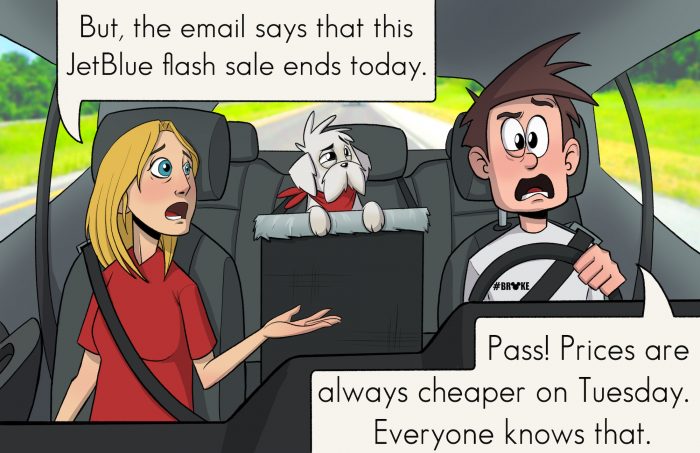 # 5 – Booking Hotels
Okay, so we got a flight to Orlando, now it's time to figure out where we are going to stay. You're almost ALWAYS going to save money by staying off-site, but if you're like us you enjoy staying in "the bubble." Not only are there advantages to staying on-site at Disney and Universal (such as Extra Magic Hours, earlier access to FP+ choices, and package delivery to your room) but most off-site hotels just can't compete with places like Disney's Animal Kingdom Lodge and The Contemporary or Universal's Hard Rock Hotel and Cabana Bay Beach Resort in terms of delivering an "experience."
Sometimes you don't want an experience, you want a "deal." What if you could have both? Many hotel chains, including Disney, have rooms available on search engines such as Hotwire and Priceline. Sometimes the deals can be absolutely incredible, and sometimes it's not much better than various discounts you can get by booking through Disney directly.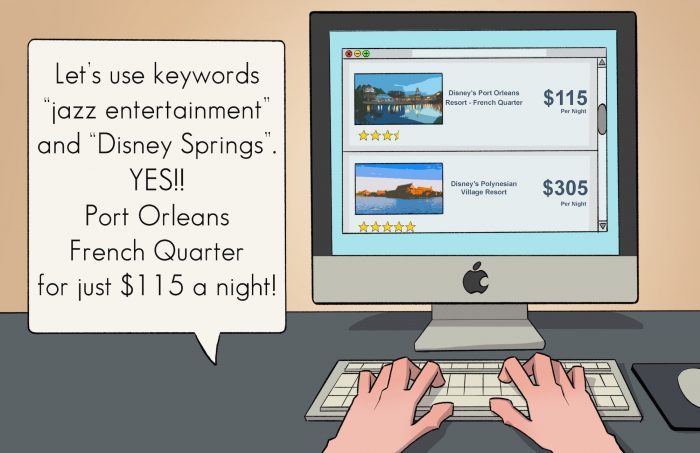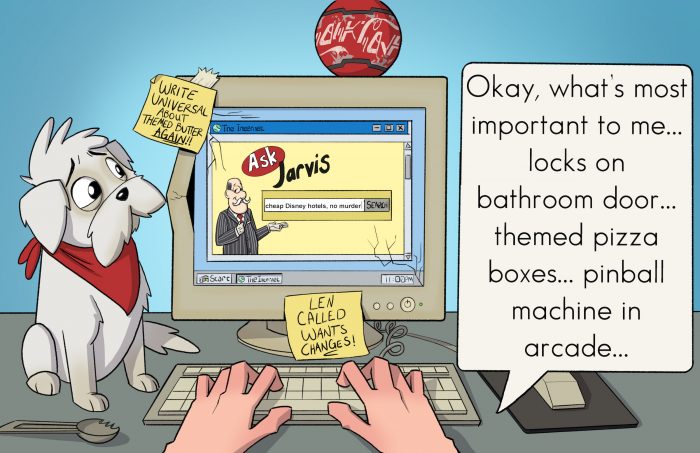 # 4 – Timeshare Presentations
Once you've made the commitment to come to Orlando, one thing you may be tempted into doing is attending a timeshare presentation. Like the mythological Sirens of the sea whose enchanting songs drew sailors to their death, timeshare presentations offer tantalizing promises of free (or discounted) theme park tickets with "no catch."
Of course, there is a catch.
A timeshare salesman can make even the worst used car salesmen look as wholesome as a Dapper Dan. The term "hard sell" doesn't exactly describe the type of pressure and guilt they will put upon you to make a sale. Each person has to decide: what is your time (and sanity) worth to you? Timeshare presentations usually go 2 to 3 times the length you are told they are going to be, and can easily last 3, 4, or even 5 hours, all of which is coming straight out of your valuable vacation time. For some people, a timeshare fits the need and budget of their family, especially with the fact that you can "trade" with hotels across the world. For many others, it's an unforgettable experience that can mar your entire trip. No ticket is worth that price (except maybe Volcano Bay).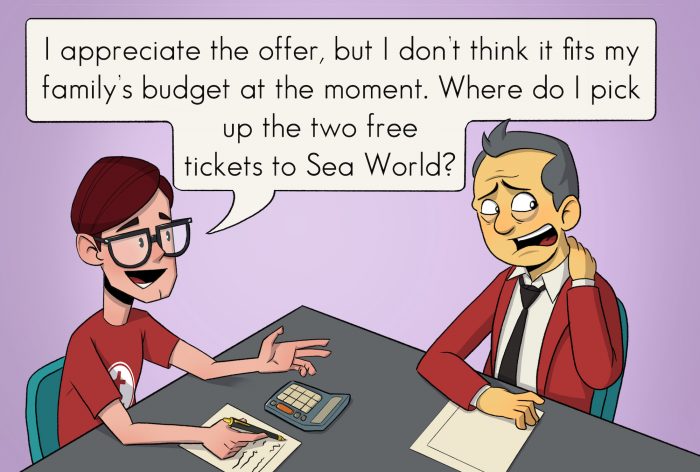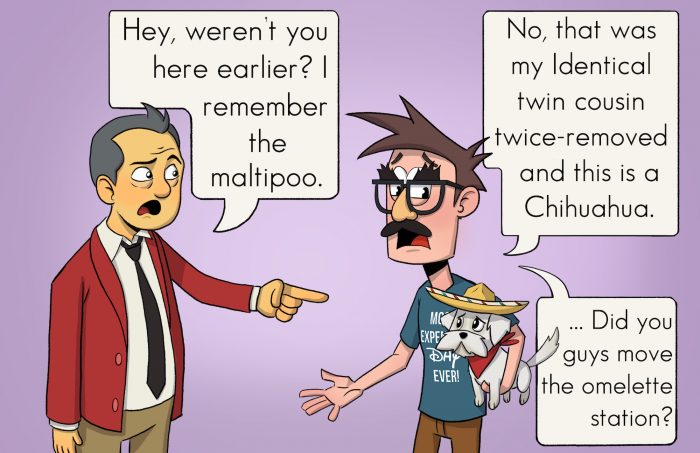 # 3 – DVC Rentals
Disney's version of a timeshare is the Disney Vacation Club, and in general the rooms are a gigantic improvement over the standard Disney hotel room equivalent. There are different types of accommodations available (including studio, 1 & 2 bedroom, and Grand Villa) and usually you are getting much more space than a typical WDW hotel room, along with things like a kitchen and a washer/dryer. This allows you to save money by making meals in the room and being able to pack less clothes since you can clean them along the way. The amenities can be so game changing that once you've stayed in a DVC room, it's hard to go back to a standard hotel room. However, there's a way to stay in DVC hotels without signing a mult-year ownership agreement or pay the exorbitant "cash price" for a room: renting points.
Renting points from a DVC owner – or a third party – gives you the opportunity to stay in a better room without the DVC commitment, and you can also save money compared to renting from Disney directly. The key to renting points is doing your due diligence. There are many people out there offering to rent DVC points, and if the deal sounds too good to be true, it probably is. You are much better sticking with established companies who have a track record with renting DVC points (like David's Vacation Club Rentals or DVC Rental Store), as they can help you navigate the process and will also be there if anything happens to go wrong during your stay. If you are going to rent directly from an owner, use message boards on trusted sites such as DisBoards, TouringPlans, or WDW Magic.
If you are purchasing from an owner directly, only pay a percentage up front and pay the balance upon check-in. Be sure to use a credit card or a payment service like PayPal in case anything goes sideways during the transaction, because paying by check, debit card, or cash could leave you "up Copper Creek without a paddle."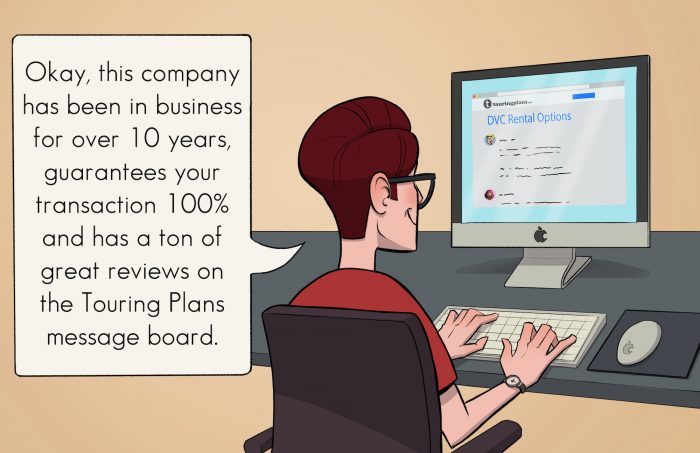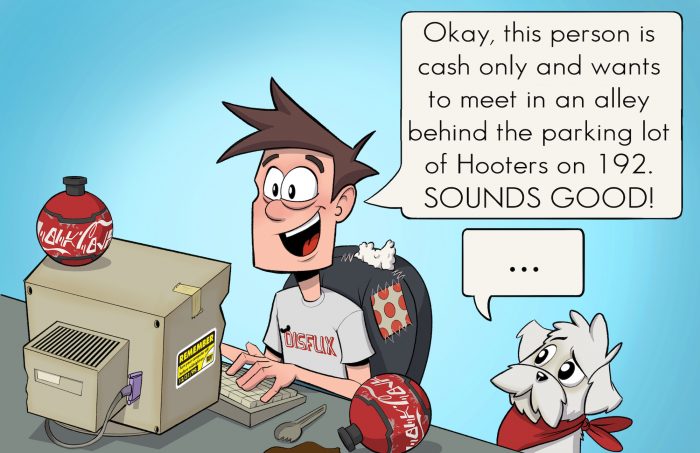 # 2 – Buying Tickets
Now this one's easy! Use the TouringPlans Disney World Ticket Price Comparison Tool.
Every day we check the Disney World ticket prices from Disney and popular authorized Disney ticket discount wholesalers: Tripster, Undercover Tourist, Maple Leaf Tickets, Park Savers, Boardwalk Ticketing, and Official Ticket Center. This search engine will find you the cheapest Disney admission for whatever you want to do, and can find hidden discounts and special prices. The comparison tool knows all kinds of tips and tricks to save money on Disney tickets, too. For example, it knows that if you only want to visit a Disney water park once and want to hop among the theme parks, adding the Park Hopper Plus option is cheaper than buying a separate 1-day water park ticket. So check out this fantastic ticket search engine by clicking HERE.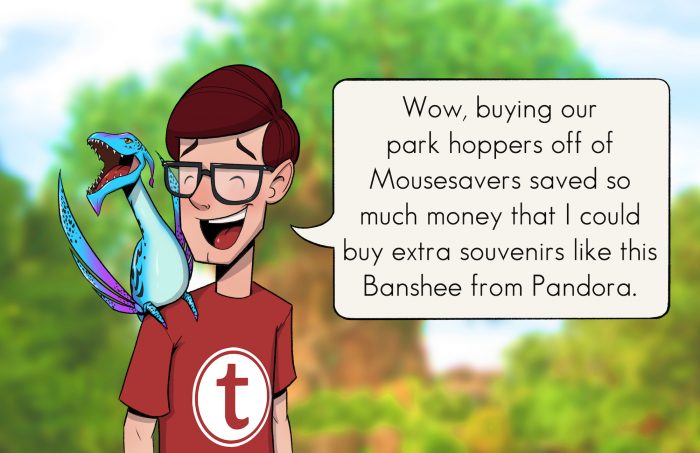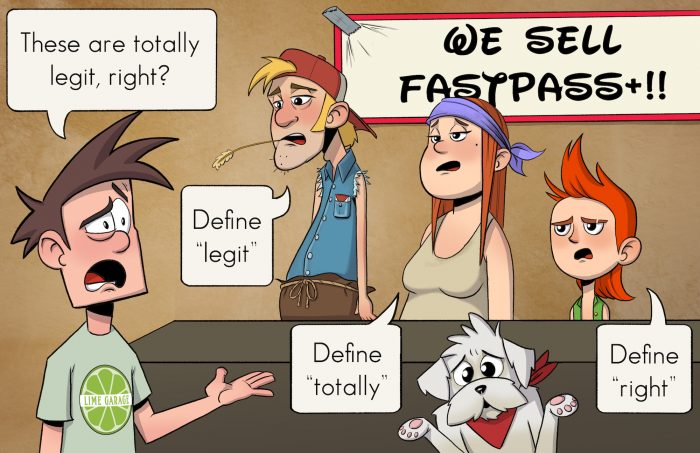 # 1 – Disney Dining Plan
We got our flights. We got our hotel room. We got our park tickets. Is there anything else? Oh yeah, we gotta EAT! We here at the SATURDAY SIX may consider dining on property to be higher on our list than the rides and shows in the parks. From fine dining at the chef's table at Takumi-Tei or brunch at California Grill, to ordering donkey sauce at Planet Hollywood Observatory or eating a Pop-Tart Sandwich, there's something for everyone.
There's so much in fact, that you may start looking into the Disney Dining Plan (DDP). At one point in time, the DDP was a great deal to vacationing guests. Over the years, Disney has slowly eroded the "value" in the plan for those getting it, and in other ways has hurt the dining experience for everyone across the board (but that's another story for another day). What many guests live for is the "free dining" promotions that Disney puts out just about every year. To get "free dining," a guest will always have to pay the full rack rate (ie: not discounted) for the hotel room.
Have the dining plan and want to make those elusive ADRs for hard-to-get places like 'Ohana, Be Our Guest, or Cinderella's Royal Table? Use the TouringPlans Disney World Dining Reservation Finder!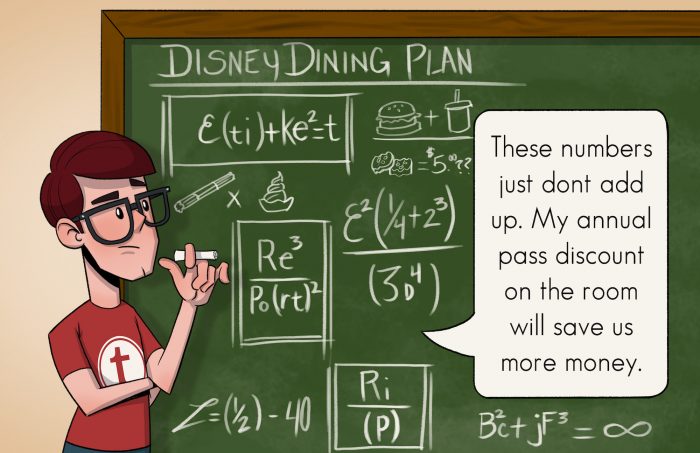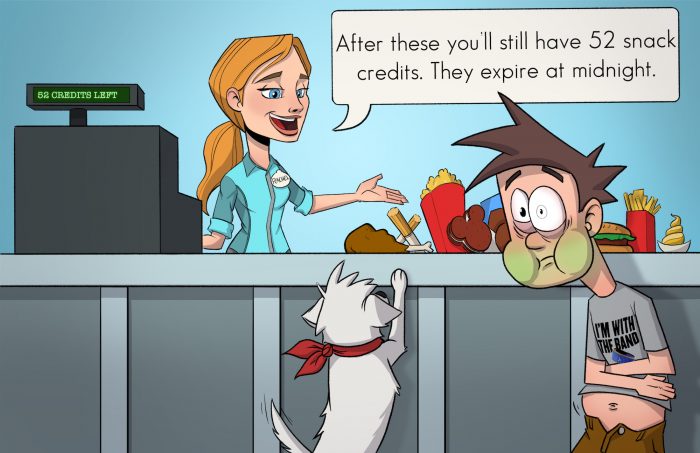 So there you have it: DAVID AND DEREK – The Do's and Don'ts of vacation planning! See you next weekend for the latest installment of the SATURDAY SIX, where we'll look at something fun from the world of Disney and Universal. If you enjoyed yourself, be sure to check out The Magic, The Memories, and Merch! articles covering the latest from the Disney Outlet Stores. You can also follow Your Humble Author on Twitter (@derekburgan).
If you enjoyed this article, you will surely like the following: 
DAVID AND DEREK – The Do's and Don'ts of Star Wars: Galaxy's Edge
DAVID AND DEREK look at Disney's dog-friendly hotels
DAVID AND DEREK look at guest etiquette at the Disney parks
Special Thanks to The Elite Brandon Glover, superstar artist Brian Cooper, Bacini (the official dog of DisTwitter), World Traveler @FelipeWWoHP, the bio-est of all reconstructs @bioreconstruct, Captain Cruiseline Scott Sanders of the world famous Disney Cruise Line Blog, my personal protege Hunter "Elvey" Underwood, the SAT SIX Fun Squad of Parkscope Joe and Nick, hot shot Michael Carelli, and Hermione Granger's tutor Megan Stump for their invaluable assistance with this article. The SAT SIX is inspired each week by goofballs Aengus Mackenzie and LitemAndHyde and you Potterheads will  enjoy Meg's other blog work over at the Central Florida Slug Club.
"This too shall pass…"
There has been a lot going on in the world lately, and of course we all got the shocking news late this week of Disney and Universal closing the theme parks for what may be the new motto for this country: out of an abundance of caution.
The parks WILL open again. We will be enjoying the rides, shows, and even the awful food that we did in the past. Sure, a trip to Costco, Target, or Publix may seem like we're preparing for the zombie apocalypse, but it won't be too long before we're all back in our happy place. Be sure to take a moment for the people directly affected by this past week, including the many Disney Cast Members and Universal Team Members, along with guests who have been looking forward to trips for possibly years. Always remember there just may be a silver lining to all this. The TSA all but admitted the "3 ounce rule" we've had to live with was all a bunch of B.S., Frozen 2 is debuting on Disney+ THIS WEEKEND (months ahead of schedule),  and food delivery services are finally doing something we've wanted from Day One: No-Contact Deliveries.
So when the dust settles and our world gets back to normal there's a great chance that our parks will look better than ever, rides like Hagrid's Magical Creatures Motorbike Adventure and Rise of the Resistance will run better than ever, and rest assured I will be paying MORE for Mickey ice cream than anyone else on the planet.