The SATURDAY SIX Goes "Drinking Around The World" at Epcot
This week's SATURDAY SIX Goes "Drinking Around The World" at Epcot! Longtime SATURDAY SIX readers know we enjoy an adult drink or two on our theme park vacations. We've done articles on the best bars and lounges at the WDW resorts, the best theme park bars, and even Must Try individual drinks such as the Lapu Lapu, Swedish Fish, and the Nautilus. We've talked about popular bar crawls among property; in fact we created the worst one of all time with the Disney Value Resorts Bar Crawl. Today we are going to look at what is probably the most popular drinking "game" across all property, Drinking Around The World. It takes place in Epcot's World Showcase, and features some of the greatest – and most unique – drinks you can get at The World. Today we're going to take a look at some of our favorite stops while we drink around the world, and let's kickoff the countdown with…
# 6 – Japan
One of our favorites stops for a cool down in Epcot is over at Kabuki Cafe in Japan. Their signature Kakigori can be a lifesaver during a Florida summer. However last year the Kabuki Cafe started offering alcoholic versions of these shaved ice treats with the Sake Mists. Available in blood orange, pineapple coconut, and blackberry flavors, the drinks are served in pretty large cups (by Disney standards) so it's not only a refreshing drink, but one you can share.
When it comes to sake at WDW, you also have to make a trip into Teppan Edo. Come for the entertaining chefs slicing and dicing your meal in front of you, stay for the sake flights, and swordfish. Pace yourself though, because a couple too many drinks in Japan may lead you to buying some rather strange items at the Mitsukoshi Department Store (in our defense, you can never have too many personal massagers.)
–
# 5 –  Germany
"Pretzels und bier" at the Germany Pavilion should be the foundation of any good Drinking Around The World game plan. The giant pretzel (another shareable item) goes perfect with a cold German beer, but for those looking for a stronger option, shots of Jägermeister and flights of German wine can be found nearby as well.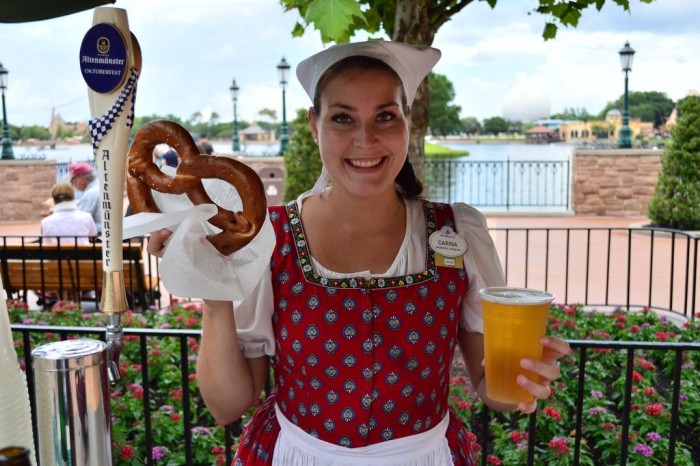 –
# 4 – France
While there are plenty of bottles of wine and champagne to be found in France, our go to drink is located at the kiosk by the lagoon serving Grand Marnier and Grey Goose Citron slushes. One of the most popular drinks in Epcot, these ice cold slushes are refreshing and aren't overwhelmingly loaded with alcohol. The slushes are one of those "be careful" drinks because you'll want to enjoy several of them as they go down so easily and will have you feeling wonderful. We're talking an adult Creamsicle here and you've earned it.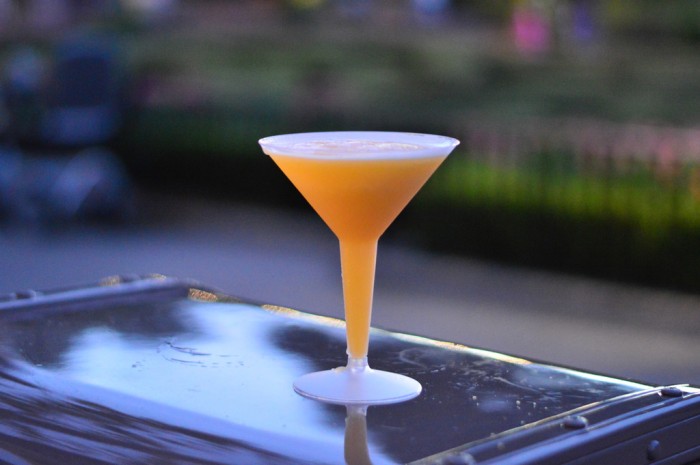 –
# 3 –  United Kingdom
When the TV show Roseanne had an episode where the family went to Disney World, one of our favorite moments of the entire series came when Dan realized they didn't sell beer at the Magic Kingdom, causing him to immediately hightail it over to Epcot. Where did he go in Epcot? The Rose & Crown Pub. Here you can listen to live music while slowly sipping on a pint of your favorite British beer. You also can't go wrong with an order of fish & chips (or their scotch egg) along with a mixed drink like the Welch Dragon, English Rose, or a Lucky Leprechaun.
–
# 2 – Italy
A great stop for drinkers, one of our favorite places to go while Drinking Around The World is Tutto Gusto Wine Cellar. There is a surprisingly large amount of seating inside making it a terrific place to get away from the heat, and it offers a terrific food menu to join your drink of choice. If you're starving, stop in for a large pie at the nearby Via Napoli, but Tutto Gusto's light fare pared with a wine flight or a glass of Red Passion (Campari and grapefruit juice) can make for the perfect Epcot Experience.
–
# 1 – Mexico
Mexico is generally the first stop on many a guest's Drinking Around The World journey, and it deserves its top spot. Whether you get a frozen margarita outside at La Cantina de San Angel or head inside the temple to visit our cherished La Cava del Tequila for one of their legendary tequila flights, you are going to come out feeling great. Our best bet? Settle down for a bit inside La Cava, order some guac and chips, and check out some of their speciality margaritas like the Maelstrom or Avocado margaritas. The bar has an intimate atmosphere and the service is always on point.
–
HONORABLE MENTION –  China
There certainly aren't many drinks in China to choose from, but the Pavilion also has one of our guilty pleasures: Tipsy Ducks In Love. Found at the Joy Of Tea kiosk, this drink is basically a mixture of coffee and tea, with a liberal amount of bourbon mixed in, and topped with chocolate syrup and whipped cream. What does any of this have to do with China? SHUT YOUR MOUTH. It tastes incredible and how can you beat that name?!
So there you have it: The SATURDAY SIX Goes "Drinking Around The World" in Epcot! See you next weekend for the latest installment of the SATURDAY SIX, where we'll look at something fun from the world of Disney and Universal. If you enjoyed yourself, be sure to check out The Magic, The Memories, and Merch! articles, or, for your listening pleasure, check out the E-Ticket Report podcast. You can also follow Your Humble Author on Twitter (@derekburgan).
If you enjoyed this article, you will surely like the following:
The 6 Best Kept Secrets at Epcot
The 6 Best Snack's in EPCOT's World Showcase
The 6 Most Interesting, Unusual, and Strangest Souvenirs in Epcot's World Showcase
The SATURDAY SIX Looks at Epcot's Festival of the Arts
Worst Theme Park Idea Ever: Disney Value Resorts BAR CRAWL
Special Thanks to crack staff photographer Brandon Glover, New York New Hampshire Times Best Selling Author Josh Humphries,, and blogger to the stars Megan Stump for their invaluable assistance with this article. Be sure to also check out Brandon on The Park Blogger podcast with goofballs co-hosts Aengus Mackenzie and LitemAndHyde , while fellow Potterheads may enjoy Meg's work on the Central Florida Slug Club.
FINAL PLUG! Did you know The 2017 Unofficial Guide to Universal Orlando has a special edition of the SATURDAY SIX in it? Finally, someone came up with an actual reason to read a book. ORDER this baby now!