What I Love! Amy's runDisney Experience
So we've all been home a few days now. The really good snacks are gone (looking at you Mickey bars that I should have bought in bulk) and the idea of being in our favorite Disney park is more appealing than ever before. Since we can't get into the parks, we've decided to reflect back on our favorite memories from Walt Disney World! We put out a call to our Liner community (aka the most spectacular group of Disney nerds alive, aka Lines app subscribers) and TouringPlans staff members to send us a few words about their memory and an accompanying photo and the results range from sweet to downright hilarious like the one we're featuring today.
Our next post in the series comes to us from Liner Amy who said:
My husband and I went to Port Orleans French Quarter to celebrate our 20th anniversary. It was amazing! We were supposed to run the Princess Half Marathon with a friend who had to cancel at the last minute. We wound up running the Princess Challenge anyway and it was a good time. Two adults and no kids (but we act like them).  My words to my husband …"hey I'm gonna photo bomb your picture"…and it's actually one of my favorites now!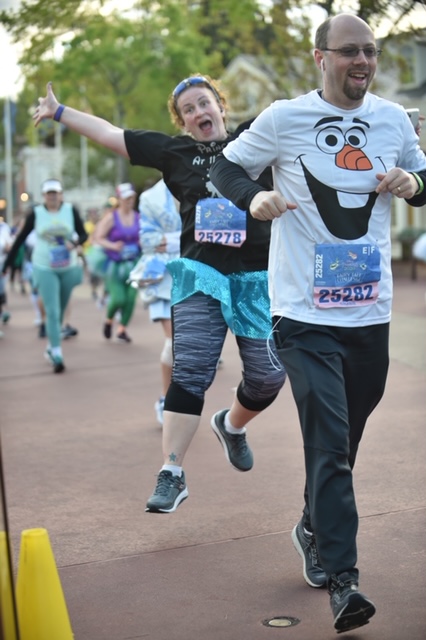 We agree with Amy! This picture is one of our favorites too! Especially because she's so far off the ground and still managed a pretty fantastic pose. Liners have such diverse skills!
If you haven't had a chance to send in your memory and photo, please submit both to christina@touringplans.com and we will post it here.