SATURDAY SIX: 6 Reasons We Love Universal's ISLANDS OF ADVENTURE
This week's SATURDAY SIX takes a look at Universal's ISLANDS OF ADVENTURE! Continuing on after last week's look at Universal Studios Florida, today we look at a theme park around the unlikely concept of reading. Just as Walt Disney World's second theme park  – EPCOT – was wildly different in design than the Magic Kingdom, the Universal Orlando Resort went in an interesting direction with its follow-up park; using lands based on comic books, comic strips, children's books, and novels. Welcome to Islands of Adventure…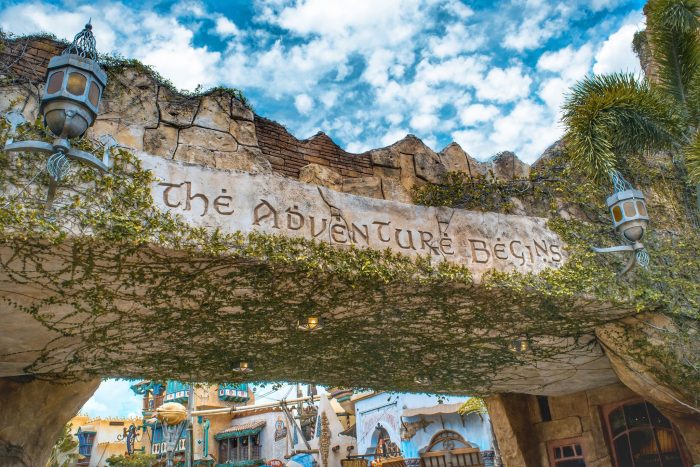 The journey through this exciting park starts before you even hit the front gates, as the impressive Pharos Lighthouse stands tall outside, and the wonderful Ocean Trader Market theme plays in the background. One of the things that I love the most at any theme park is the short walk from the Royal Pacific Resort to Islands of Adventure, and the charming music grows louder the closer that I get.
There are not many silver linings to the recent shutdown of Florida theme parks thanks to the coronavirus, but it did give Universal guests a rare opportunity to see a great detail in Port of Entry that they generally don't see. The gates leading to the park are decorated with "medallions" of sorts featuring the various lands inside the park. It's a neat artistic design that is almost always overlooked because the gates are open, or people are too busy standing in line to enter the park when they are closed.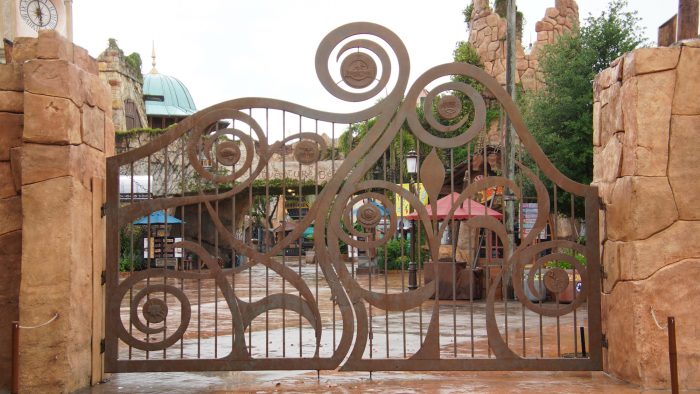 # 6 – Port of Entry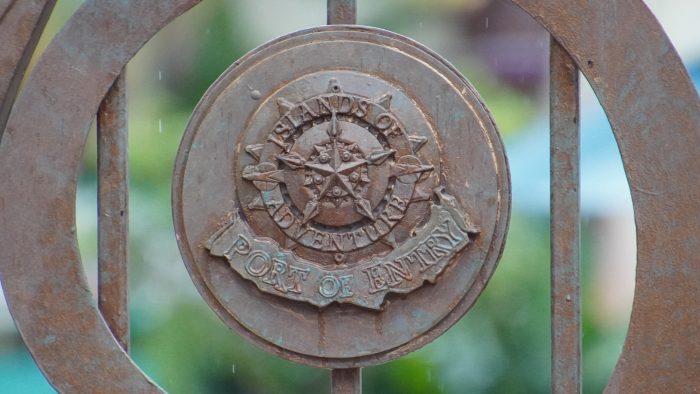 Once through the turnstiles, guests pass by the archway which promises "The Adventure Begins" and they generally make a beeline to the Wizarding World of Harry Potter or quickly head over to the Hulk Coaster and Spider-Man at Marvel Superhero Island. However, with this edition of the Saturday Six we are going to make a plea to you, Dear Reader, to slow down on your race to the rest of the park and take a moment to take in the immersive land Universal Creative has delivered with my favorite theme park "Main Street".
While Universal Studios Florida is filled with popular music, Islands of Adventure mostly has background music created exclusively for the park. While I love the iconic theme of Jurassic Park from John Williams, it is a calypso version of that very music that I absolutely adore. Port of Entry has pound for pound the best music in the entire park. I recommend checking out this episode from the Unofficial Universal Orlando Podcast where they interview the man behind the music of IOA, William Kidd. Also head on over to YouTube where UORadio has a ton of awesome Universal music up, including all the best stuff from IOA.
There are tons of little details in Port of Entry to look for. Sitting together along the walls of POE are two love birds.  These two birds actually took me a while to find myself, and I have combed over the Port of Entry many times. I had asked Team Members about them and even went to Guest Services, and you would have thought I asked where the Seven Dwarfs Mine Train was in the park. No one had any idea what I was talking about.
While I won't spoil the fun in discovering where they are, I actually stumbled upon them when checking out another item on this list (that's your only hint).  There is a "coo-ing" playing over speakers in their area, and once you see them you'll wonder how you missed them for so long. I would imagine this is a detail that 99.44% of IOA guests never notice, and that's what I love about it. The term "Disney Difference" gets thrown out a lot when it comes to detail in theme parks, and while some may be wondering where the Disney Difference went at Epcot and Disney's Hollywood Studios, I think they will find it in spades at IOA.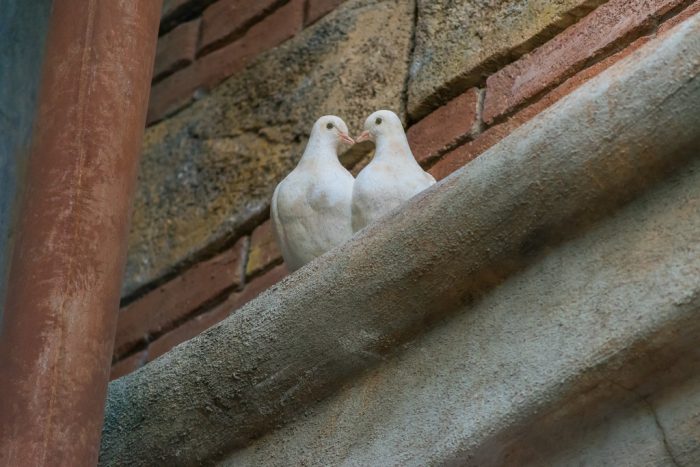 Getting a window on Main Street at the Magic Kingdom is one of the highest honors one can achieve at Walt Disney World. Whether it's Disney family members Elias and Roy Disney, Imagineers Mary Blair and John Hench, or management like Lee Cockerell and Frank Wells, having your name in tribute on one of these windows is a theme park equivalent to having a star on the Hollywood Walk of Fame, except that they are much harder to attain and actually mean something.
Universal also pays homage to the people who helped create their resort in a variety of ways at both Islands of Adventure and Universal Studios Florida, including window tributes. This particular window in Port of Entry is for "Codiga Adventures" and is referencing David Codiga, a former Executive Vice President of Universal Creative. One of Mr. Codiga's most recent projects was the High Roller observation wheel in Las Vegas, the world's tallest ferris wheel.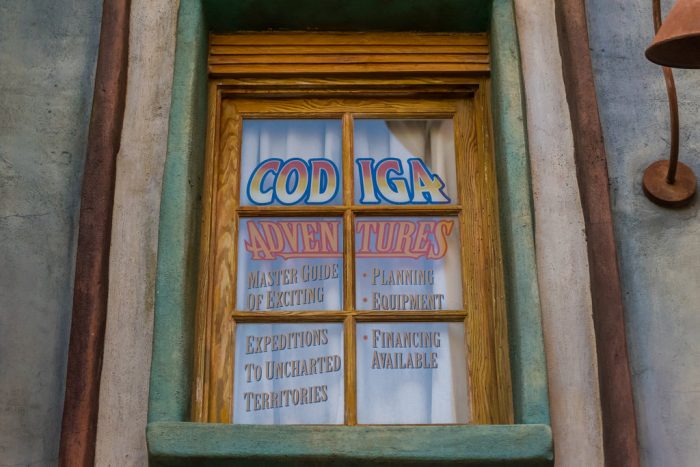 Throughout Port of Entry the overall richness of design is spellbinding. Like the best lands at Disney, theming in the area is taken to the Nth degree wherever you look. From signs outside the camera store, to giant skeletons of mythological creatures hanging in a gift shop, to a wheelchair rental sign that includes dirigibles and gondolas, Port of Entry is packed to the brim with great details. While I love the whimsical signs like The Lost Explorers Club (with all the meeting times cleverly cancelled), one of my favorite touches in Port of Entry is references to other areas in IOA, including Jurassic Park.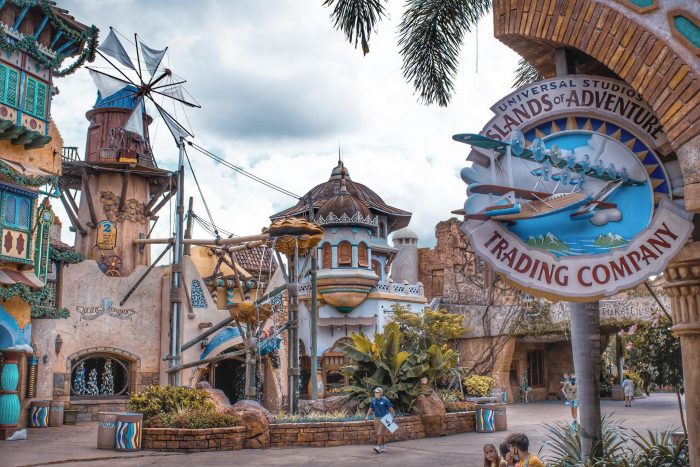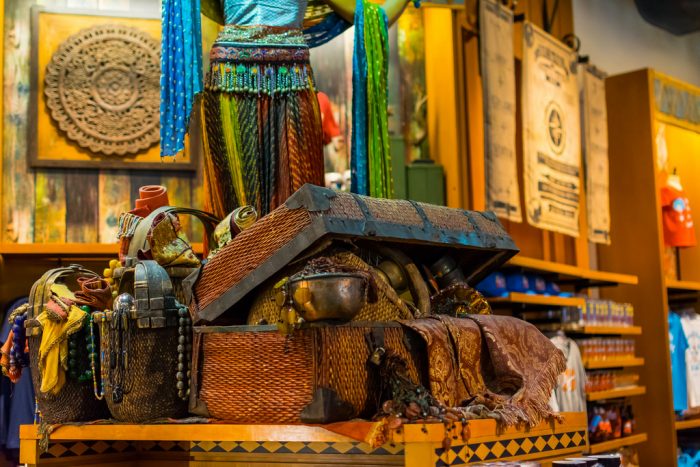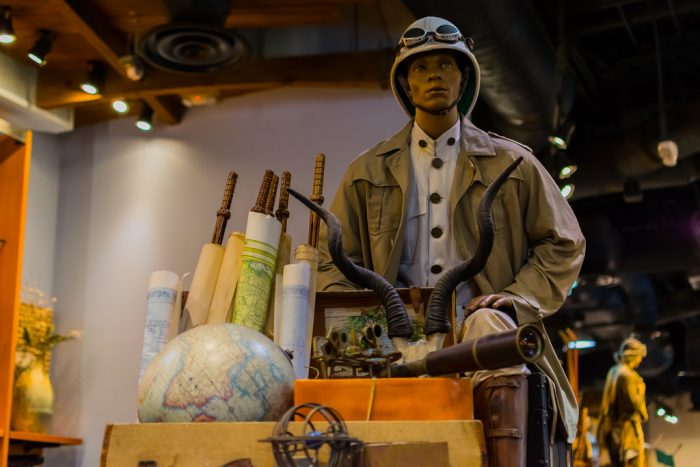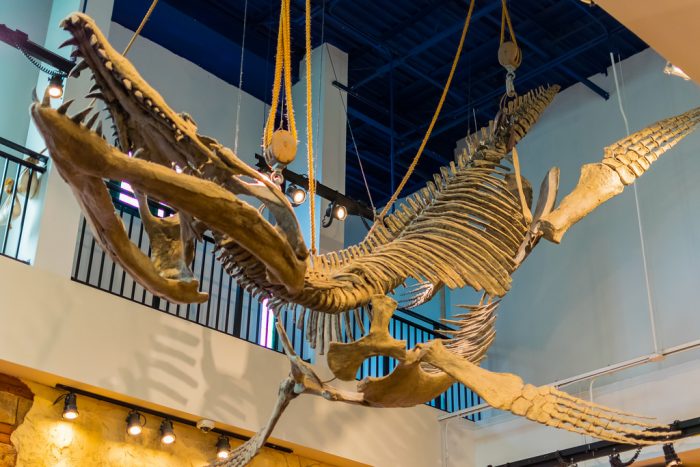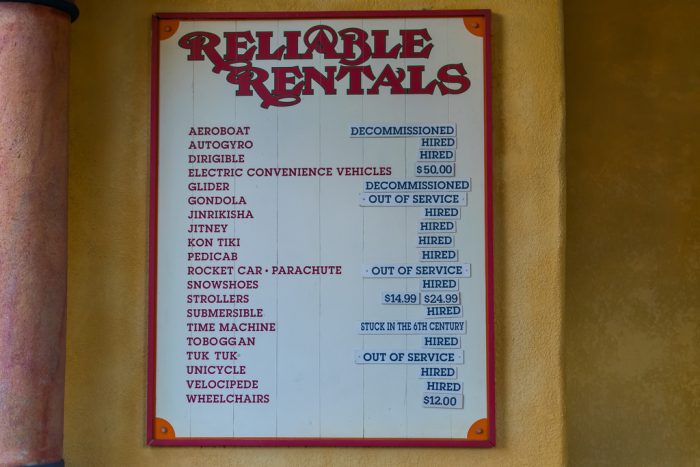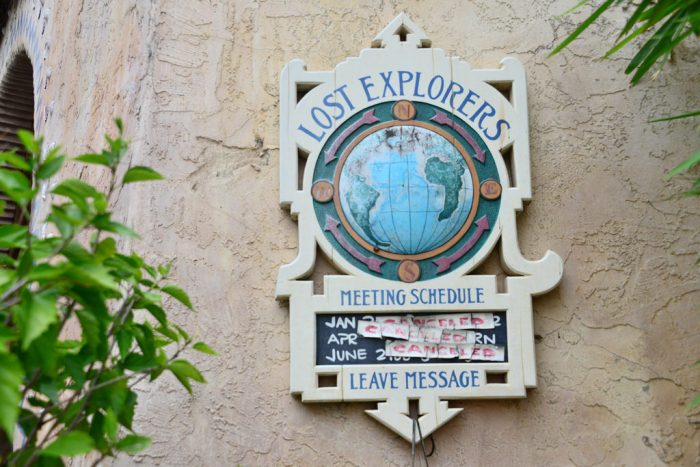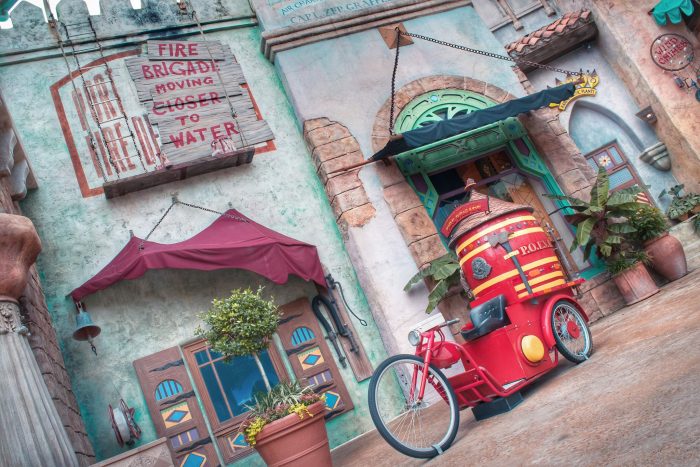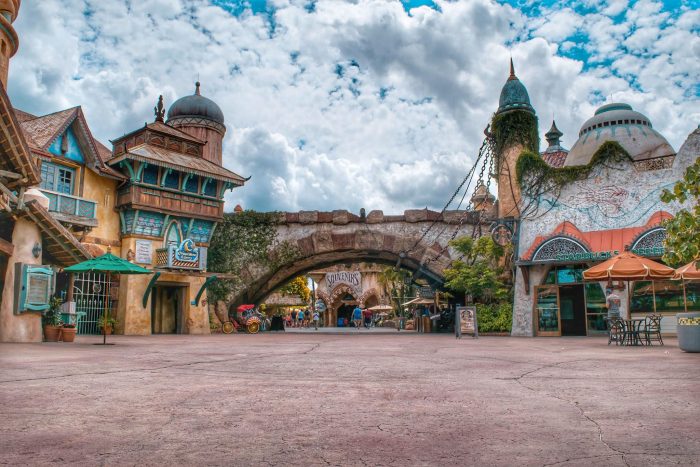 Speaking of references to other lands in the park, Confisco Grille is one of the more underrated dining venues at the Universal Orlando Resort, but hands down the best place to go for hardcore fans of IOA. The restaurant's name refers to items that have been confiscated from travelers coming into Port of Entry. While one can only marvel at a land that is conspicuously absent from the collection, inside you will find some really neat props from the other "islands of the park." With a menu featuring options including Mediterranean, Italian, Mexican, and Asian dishes, there's something for even the pickiest of eaters. Our best bet is to go with the wood-fired pizzas and take in the ambiance. Also worth checking out is the adjoining Backwater Bar, which offers the Confisco Grille menu and has a great selection of cocktails and appetizers.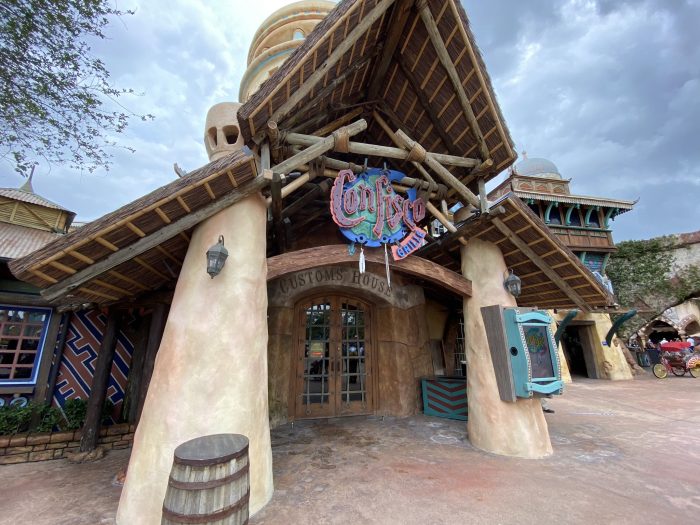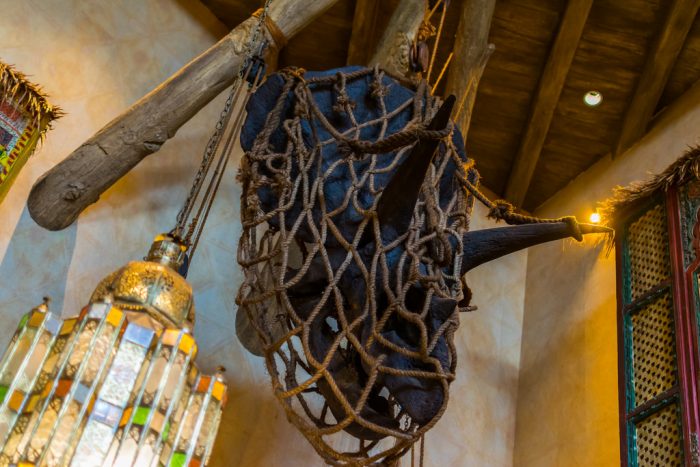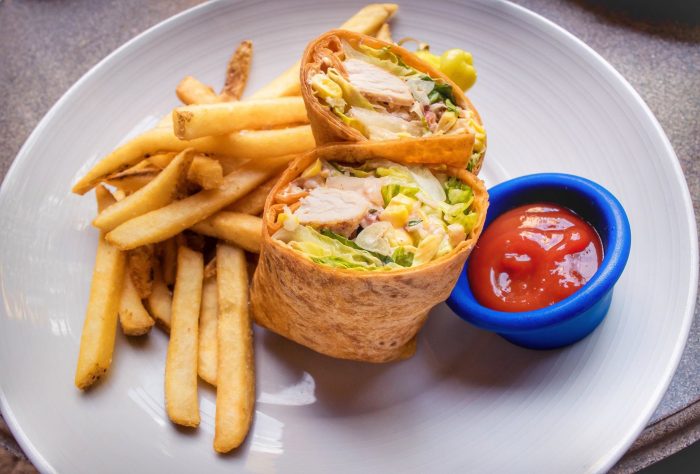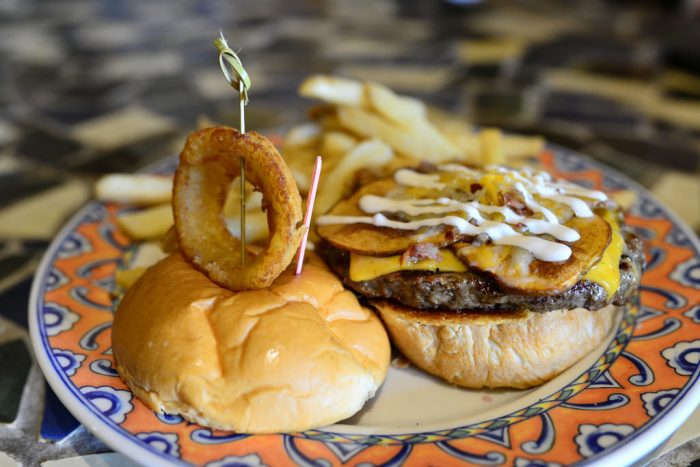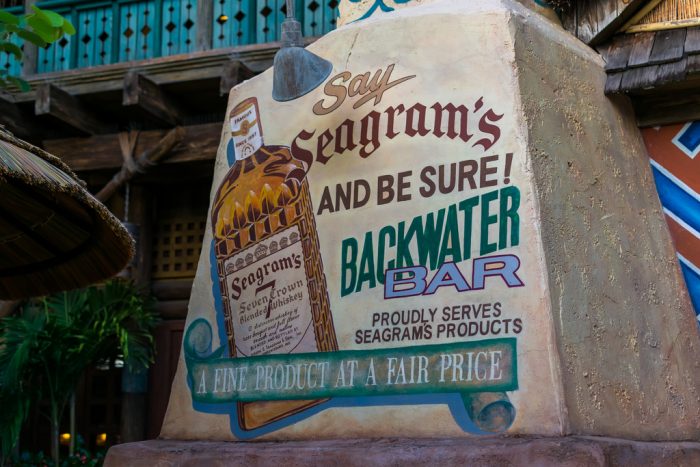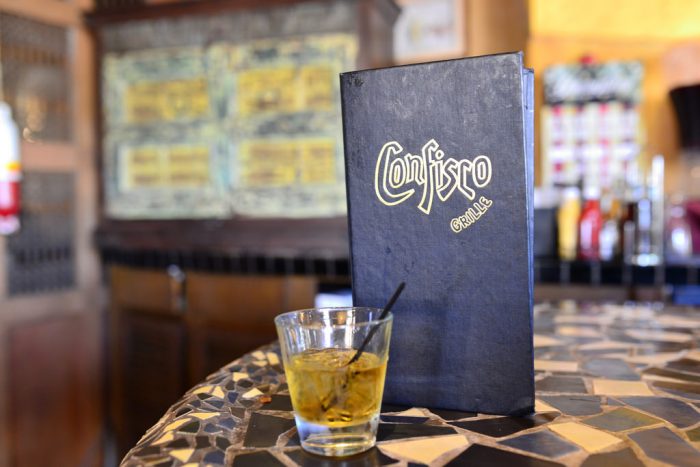 # 5 – Marvel Super Hero Island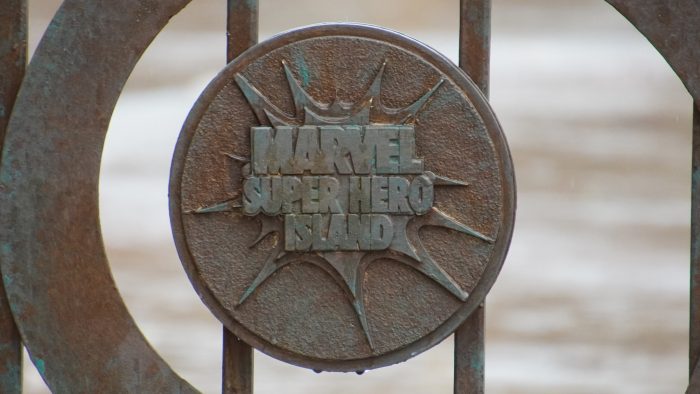 With the Marvel Cinematic Universe becoming the biggest thing in Hollywood, and the Marvel characters starting to be involved at the Disney theme parks, the Marvel comic book characters having their own land at a Universal park is a pretty big deal. Marvel Superhero Island also has a super cool backstory that almost all guests miss, because to really see it you need to be above the land looking down. That's right, the story behind this theme park land is that an explosion hit the area, and out from it came the Marvel superheroes and villains. From high in the sky, you can see the explosion and the "smoke clouds" that billow away from it.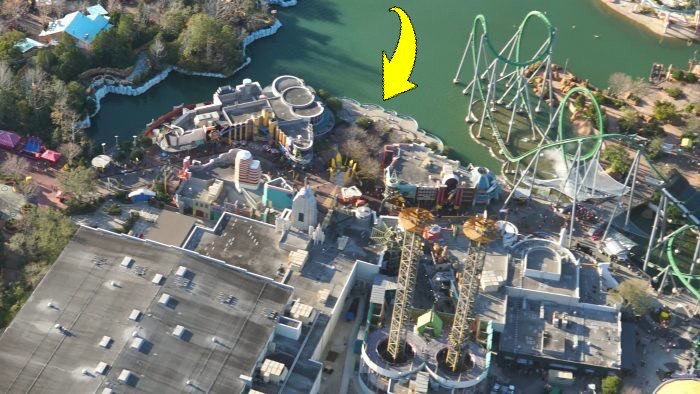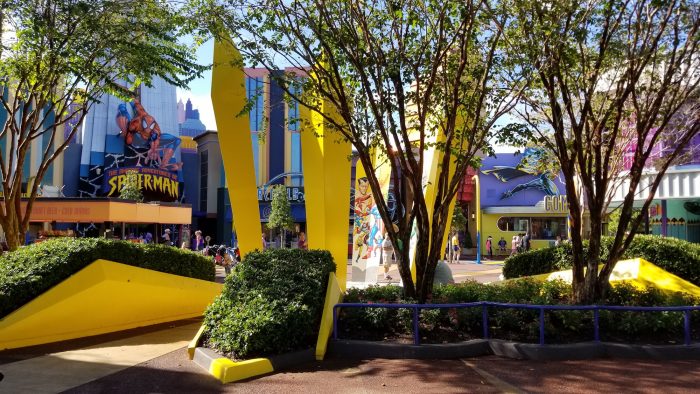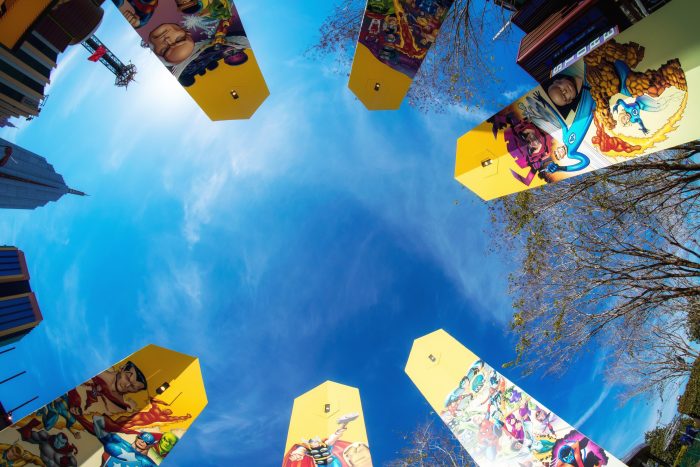 Marvel Super Hero Island is home to what many consider one of the all-time greatest theme park attractions with The Amazing Adventures of Spider-Man, and one of the best roller coasters in Florida with the Incredible Hulk Coaster. Both attractions have received some major upgrades over the past few years and are better than ever.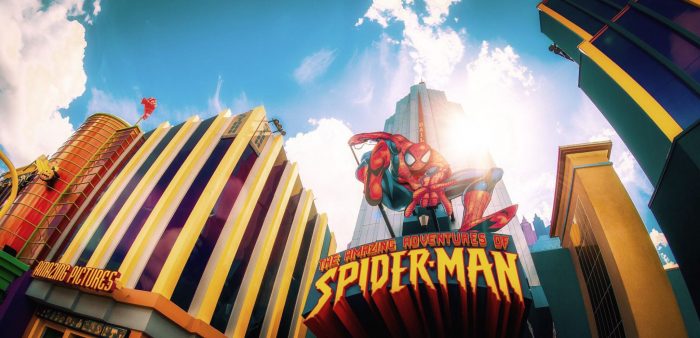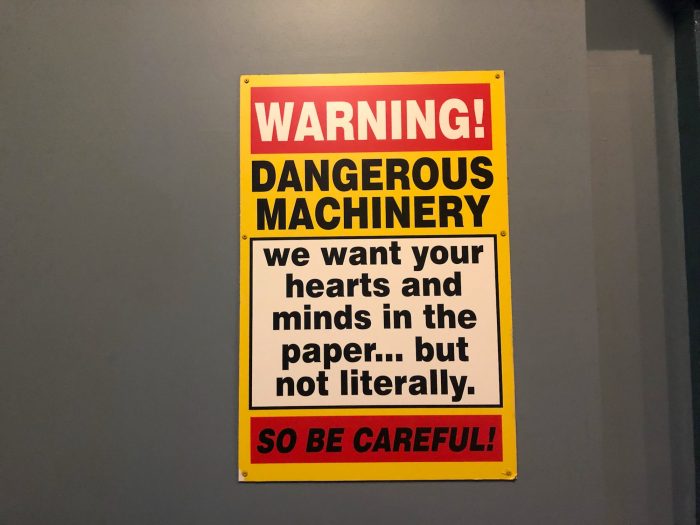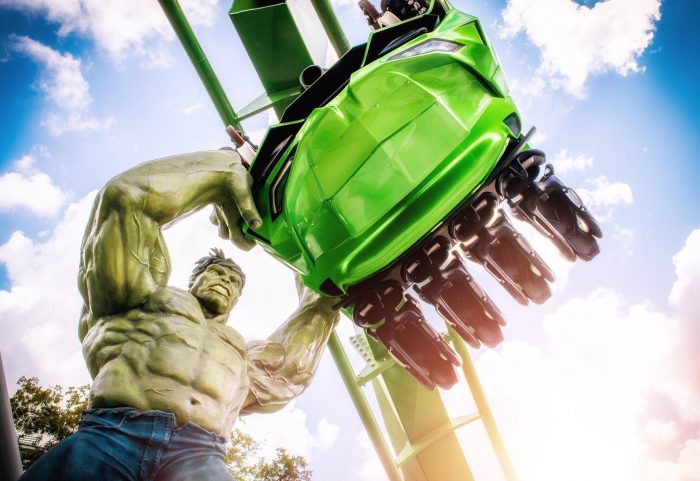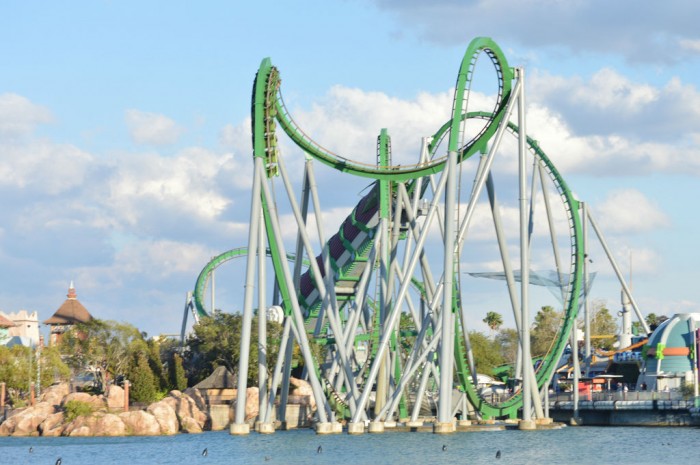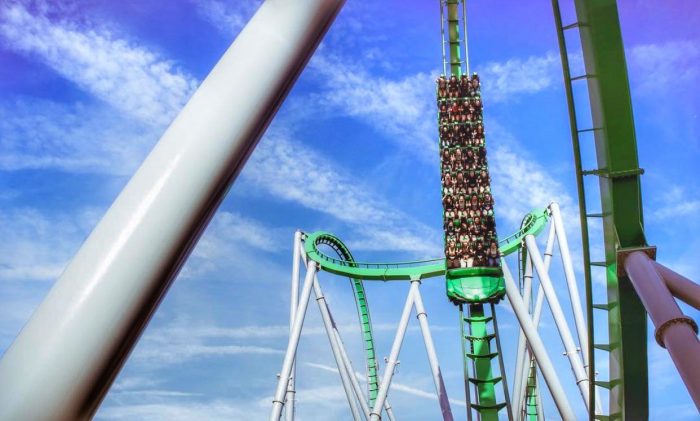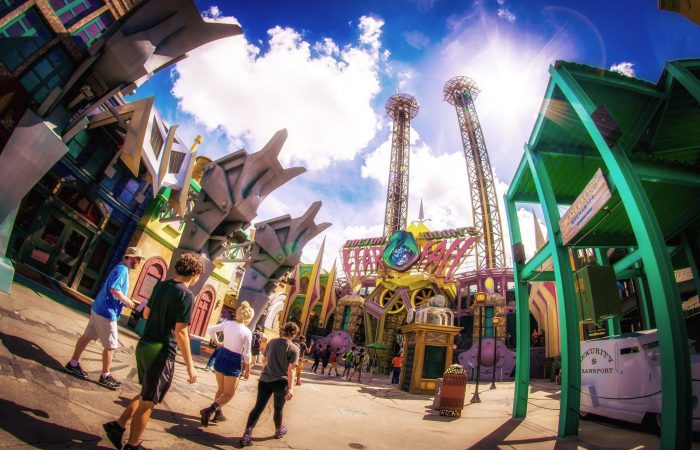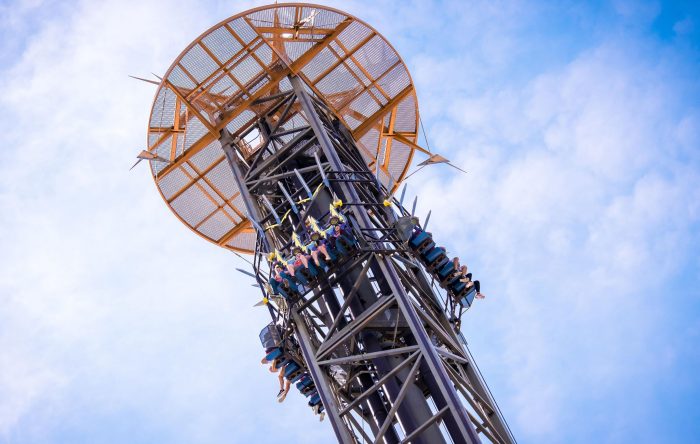 Comic books and theme parks are a natural fit. The biggest readers of comics are kids and adult males, two of theme parks' biggest demographics. The SATURDAY SIX has looked at the very best theme park-related comic books, and followed that up with another article featuring even more of our favorite comics. 
After purchasing Marvel in 2009, Disney has started to bring comics slowly back into Walt Disney World (mostly in the form of trade paperbacks, but Memento Mori at the Magic Kingdom not only carried single issues of the Haunted Mansion comic, it had park-exclusive variant covers). Both Universal Studios Florida and Islands of Adventure carry a lot of comic books, with Marvel Superhero Island having a working comic book store.
Stocked with single issue comic books, trade paperback collections, action figures, and other collectibles (Marvel high end guitars?), this is a store that the guys from the Big Bang Theory would have no problem spending some time in. Even better, the store has an entire backstory that is told in a comic book form via a huge mural by one of the registers. The story goes that the X-Men villain Magneto amassed a huge treasure trove of Marvel comics and was able to channel the entertainment value of the items themselves into pure energy.
The X-Men's Storm ended up defeating Magneto and allowing guests the ability to purchase their favorite Marvel products. Talk about a story told in the Mighty Marvel Manner that would make Stan Lee proud.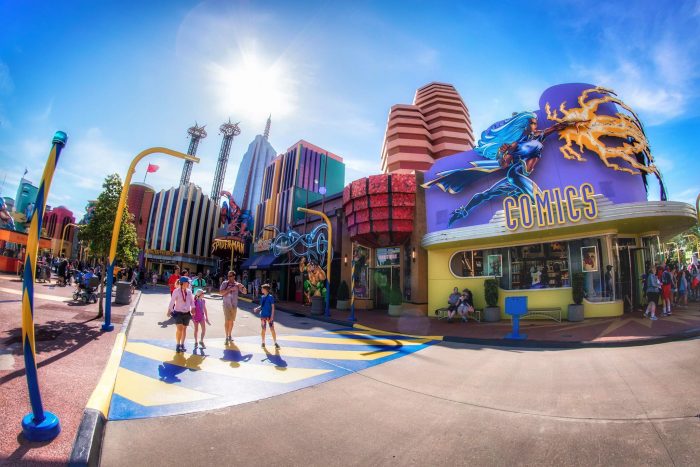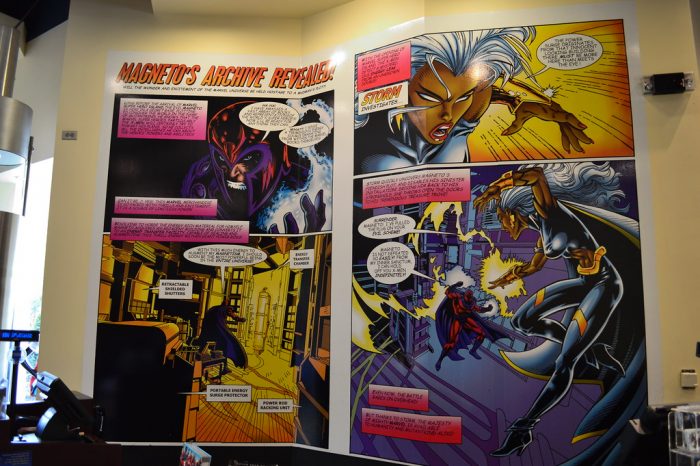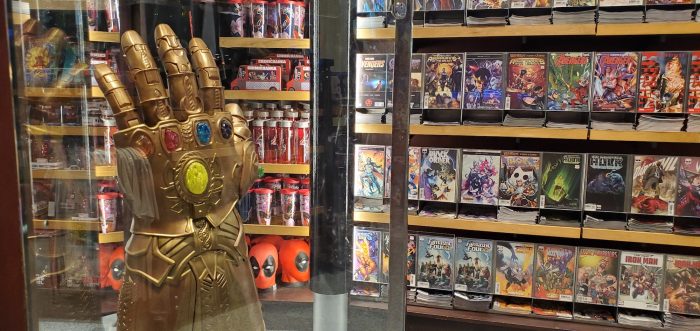 Marvel Super Hero Island is where guests can meet many of their favorite Marvel characters, including Spider-Man, Captain America, and the X-Men.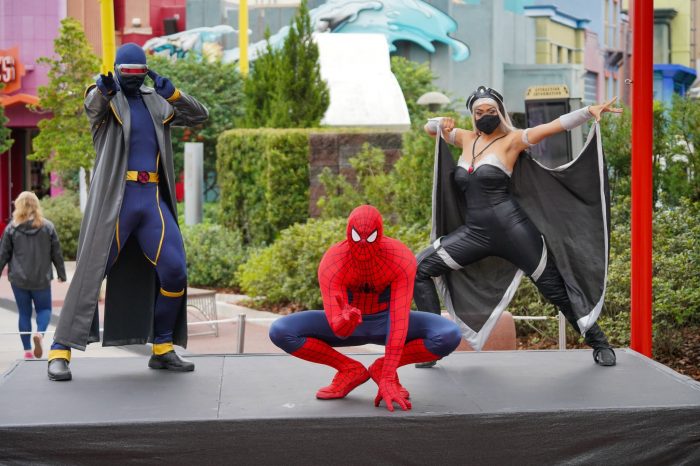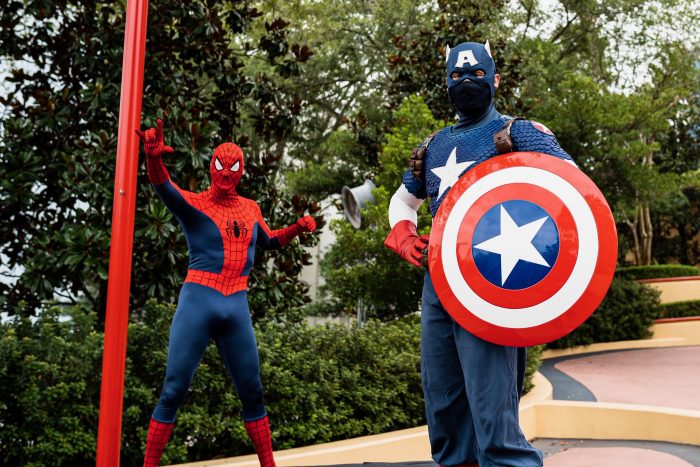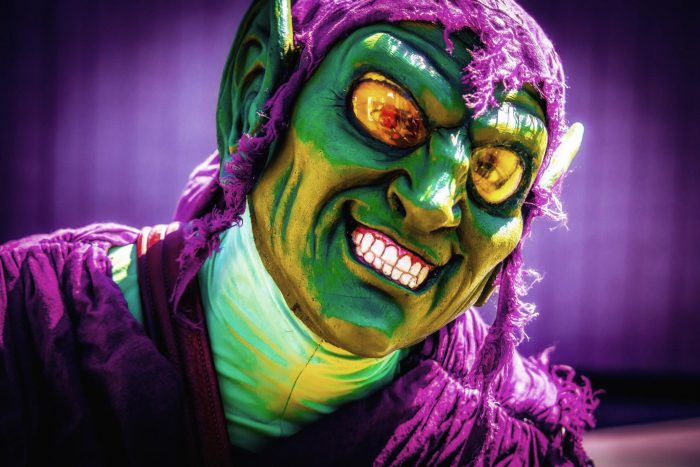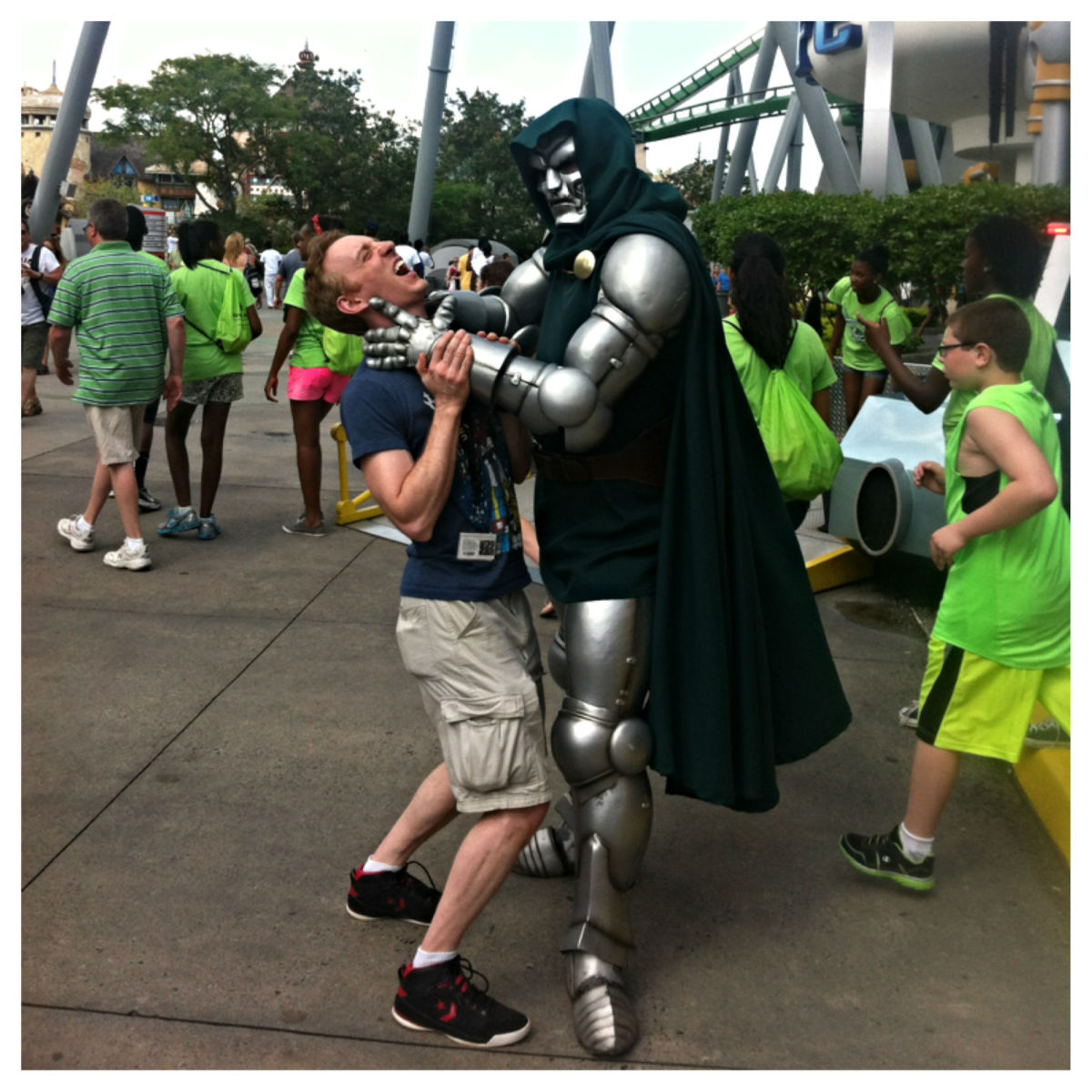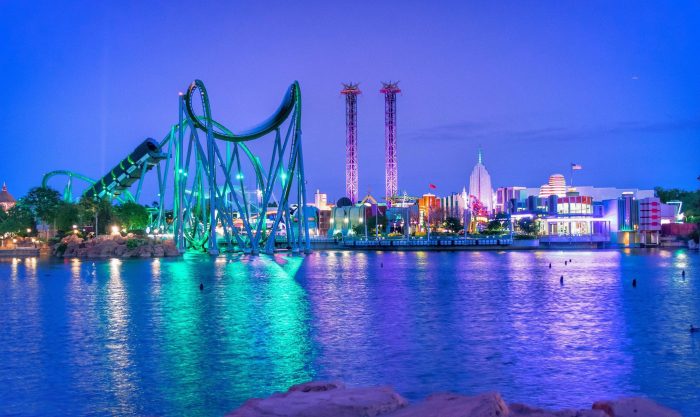 # 4 – Seuss Landing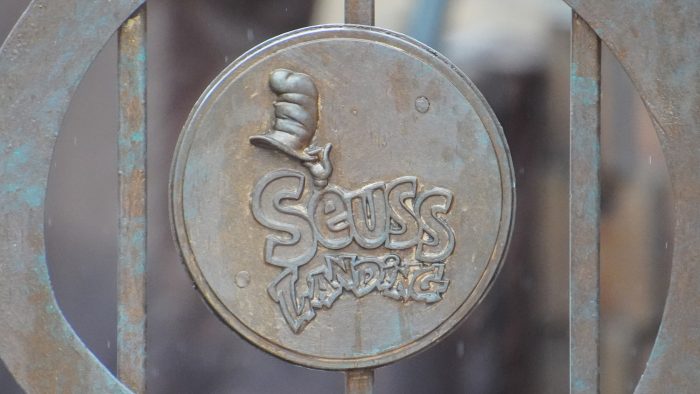 For me personally, the works of Dr. Seuss worked in many ways like the best of The Muppets. Children like the fun characters and easy to understand stories, but underneath that there was another level that was targeting adults who were paying attention. Whether it's skewering commercialism with the Grinch, or showing the importance of environmentalism with the Lorax, Seuss was decades ahead of his contemporaries in using children's stories to teach valuable lessons. Seuss Landing is an appropriate tribute to his work, filled with color and whimsical attractions.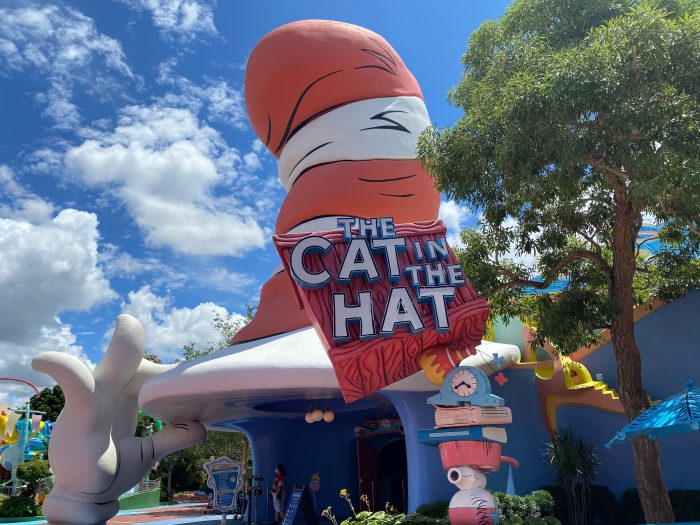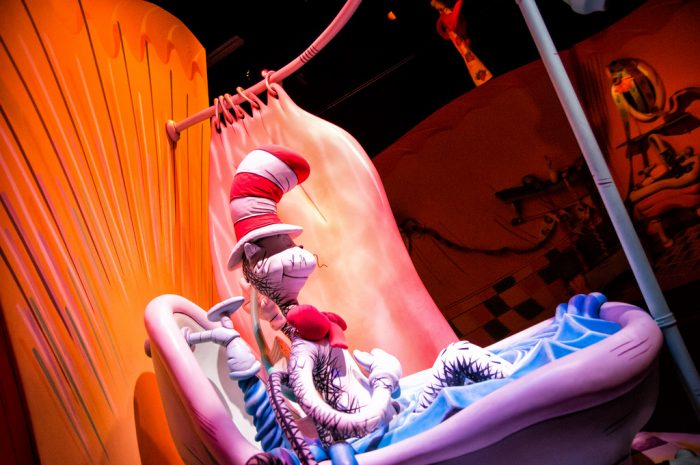 One of my favorite attractions in all of the Universal Orlando Resort is The High In the Sky Seuss Trolley Train Ride! Extremely reminiscent of one of my favorite Disney rides – the Peoplemover – guests board trains and ride along an elevated track. This allows for some extremely great views of the park. Even better, there are actually two different ride experiences depending on which track you choose to take. To top it off, the ride goes through the Circus McGurkus Cafe Stupendous quick service restaurant. Disneyland has Blue Bayou overlooking Pirates of the Caribbean, EPCOT's  Garden Grill lets us look down into Living with the Land, and Universal has the Trolley. What we really need is more rides that go through restaurants. (After this article please sign my petition at Change.org).
It is also worth noting that the ride is based on the Dr. Seuss story of The Sneetches, and it could not be more relevant with today's society.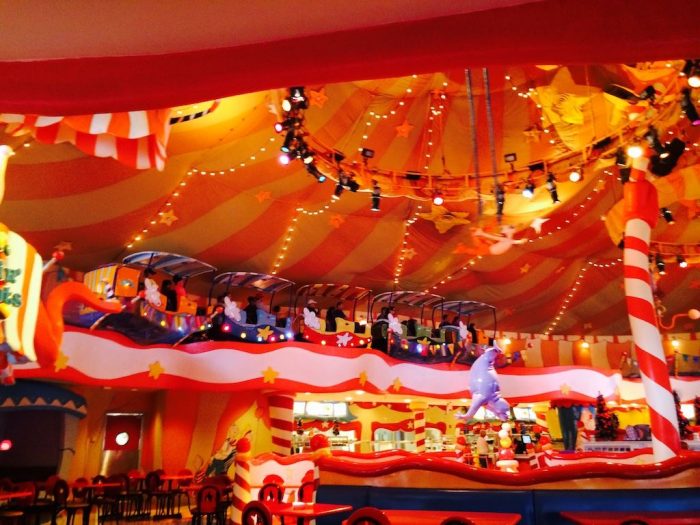 When Universal does a spinner ride, it does them right. Over in Universal Studios Florida, the Kang  & Kodos Twirl 'n' Hurl is one of the most subversive experiences you can have in a theme park. Seuss Landing has One Fish, Two Fish, Red Fish, Blue Fish, a spinner that can get you more wet than the average guest on Kali River Rapids. The One Fish, Two Fish song that plays on a constant loop has become an earworm for me, to the point where I find myself humming the song long after we have left the land. The song is actually giving instructions on how not to get wet, by moving your ride vehicle (a Seussian fish) up or down at the right time. One Fish, Two Fish is interactive, has a memorable soundtrack, and it wouldn't be Universal if they didn't try to give you an on-ride baptism with a liberal use of water. What's not to love?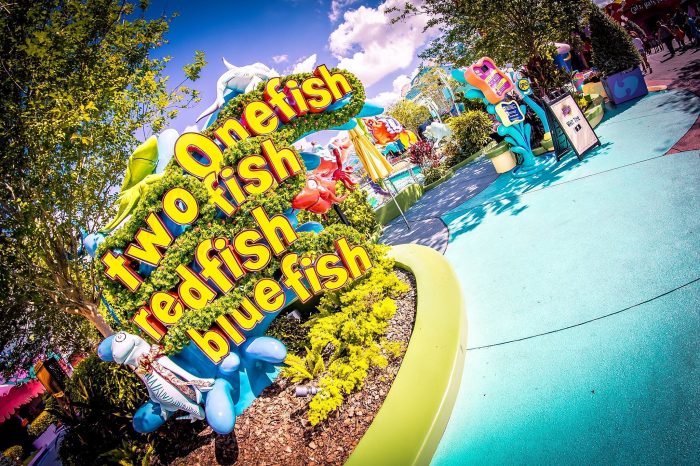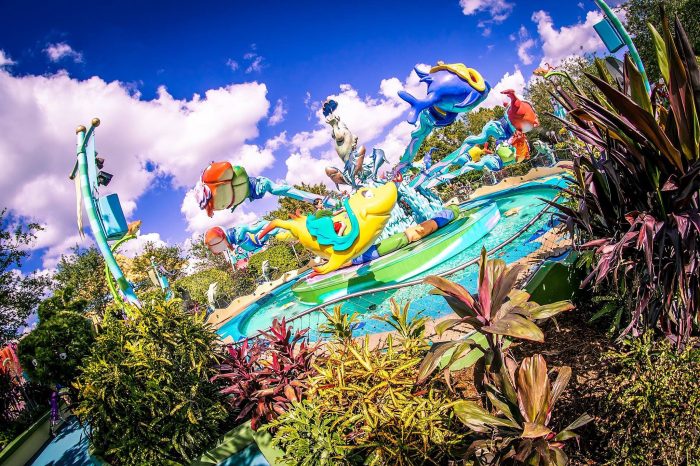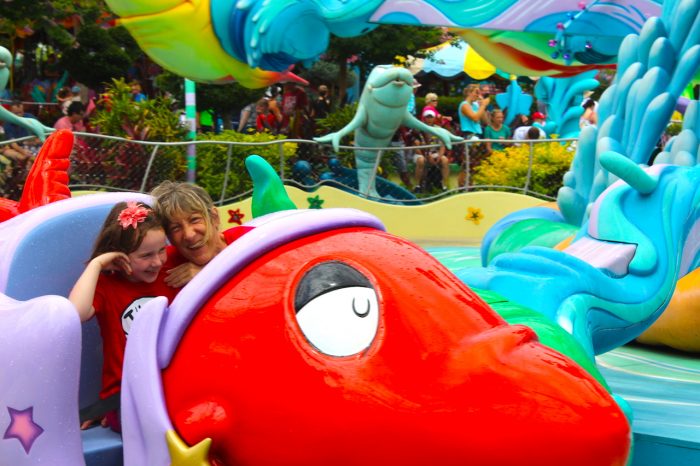 Seuss Landing's Caro-Seuss-el is hands down the most creative carousel I have been on in any park. There are over 50 different "animals" to ride, and all bear the trademark Dr. Seuss insanity in their design. Many of the mounts also have an interactive feature for the rider to control as well, such as blinking eyes. An E-Ticket carousel.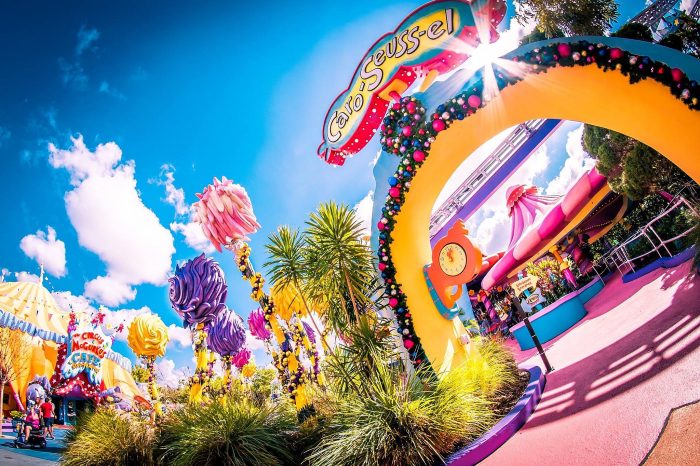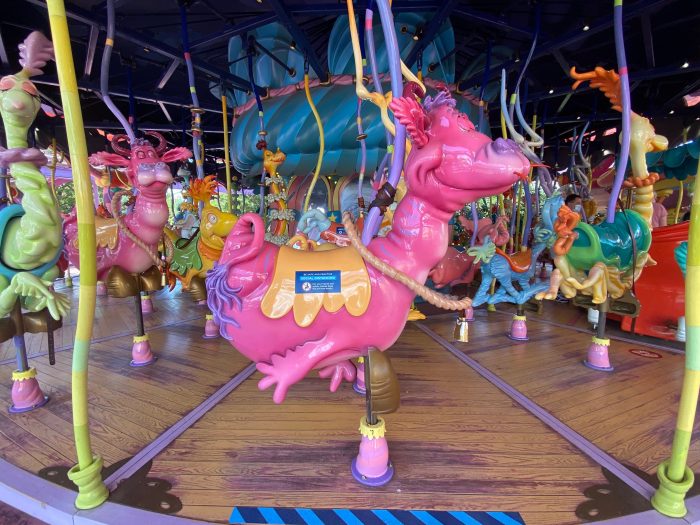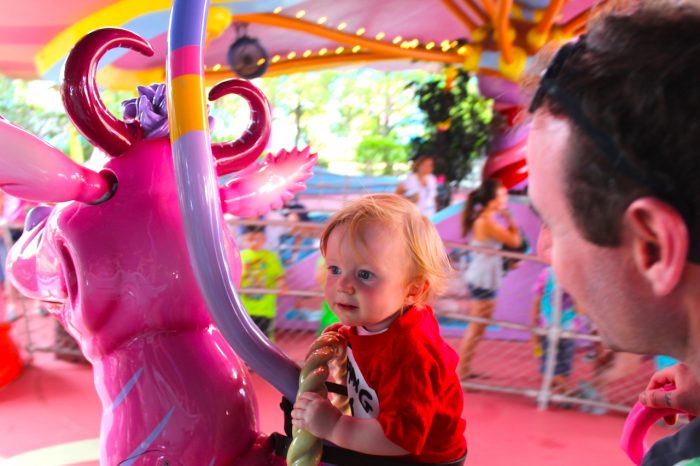 For years the Green Eggs and Ham quick service restaurant sat dormant, but late last year it surprisingly reopened featuring a new menu that was an instant hit. Any dish using tater tots as a base is going to be a guest favorite, but the Who Hash served in a themed can is a must get.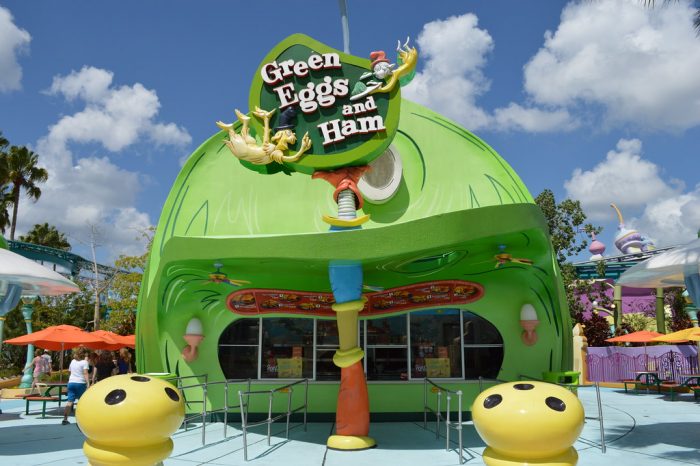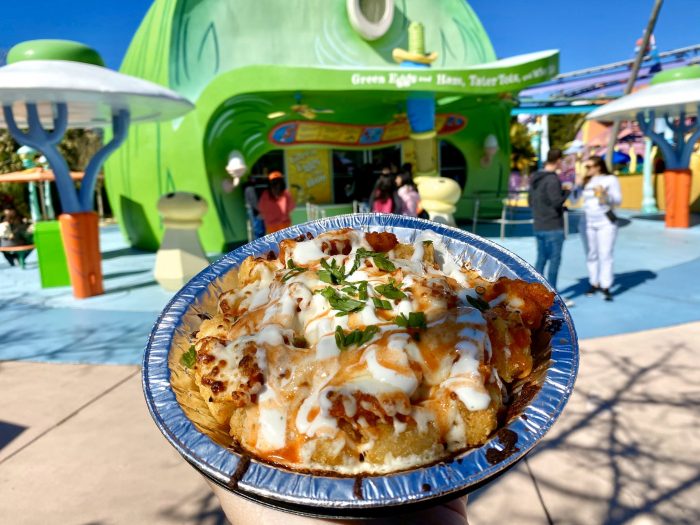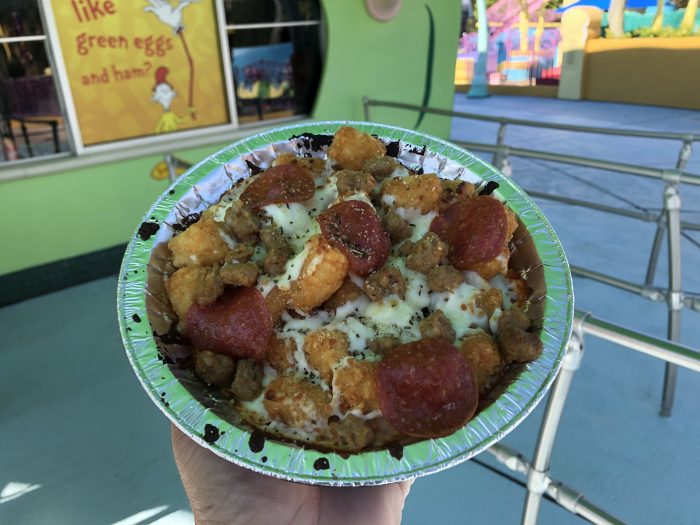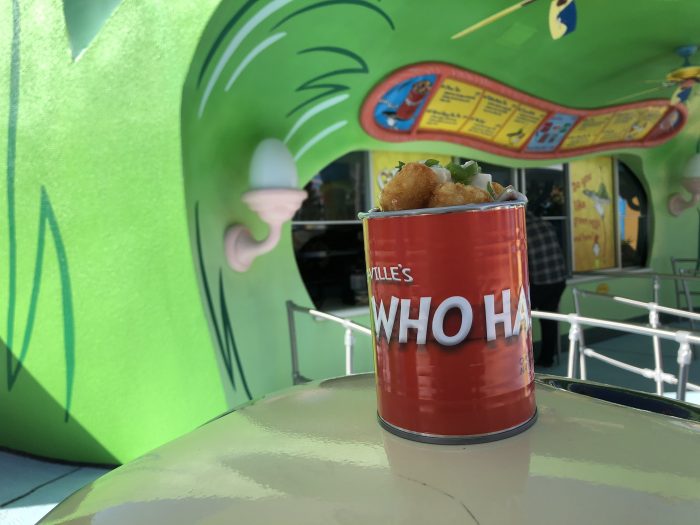 Like Marvel Superhero Island, Seuss Landing also has a great detail you can only truly appreciate from 1,000 feet in the air. The very building itself and surrounding area is themed to "green eggs and ham" on a plate!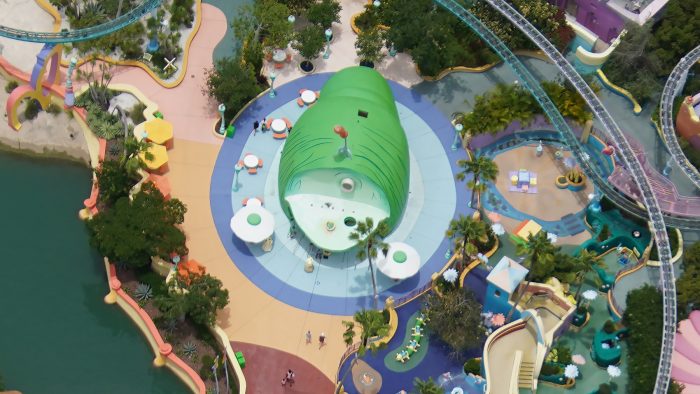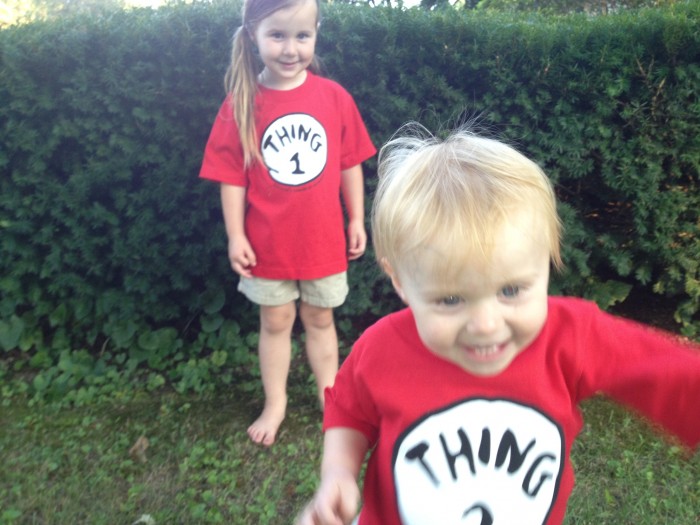 # 3 – Toon Lagoon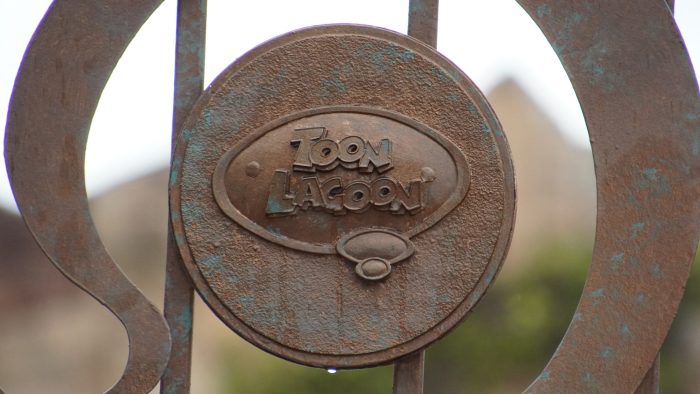 The biggest "complaint" about Toon Lagoon is also – in my opinion – one of the land's strengths. Toon Lagoon is based around characters from newspaper comic strips and the subversive Jay Ward cartoons. As anyone who has read a newspaper lately – and judging by newspaper sales that probably isn't you or anyone you know – comic strips are becoming a dying breed. Once a daily staple of American life, comic strips and editorial cartoons have slowly had their space in newspapers reduced. In fact, the NY Times made headlines last year with the announcement that they would no longer publish editorial cartoons, something which our parents and grandparents would have considered unthinkable growing up.
Toon Lagoon is a reminder of the importance comic strips once held in America. Filled with humor, heartbreak, and a healthy dose of speaking truth to power, newspaper comics can appeal to every single person in the household – young or old, male or female, rich or poor – in a way that no other section of a newspaper can.
Now the land itself is also great for another reason, it features some of the best water rides that you'll find in any theme park, including THE BEST. While I'm not a big fan of walking around theme parks in wet clothes, the kids in our family love water rides. However, several times when we have gone on Kali River Rapids at Animal Kingdom they have gotten off of the attraction upset because they didn't get wet.
This doesn't happen on Popeye & Bluto's Bilge-Rat Barges. You are going to get wet: no ifs, ands, or buts about it. It is impossible to walk off Bilge Rat Barges without getting drenched. No "You 'may' get wet" warnings here–you will get soaked.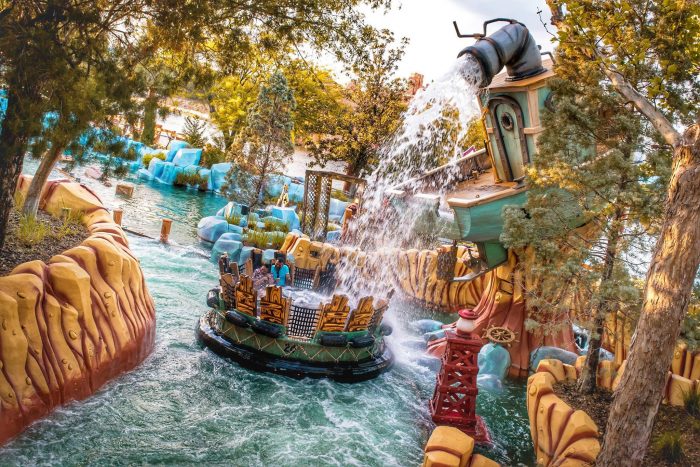 With Disney's Splash Mountain, we are blessed with not just the best flume ride ever made, but one of the all-time greatest attractions. While Dudley Do-Right's Ripsaw Falls is filled with the trademark humor (and puns) of the Jay Ward cartoon it is based on, thanks to budget and time constraints under which it was built, it doesn't have the "wow" factor of animatronics or the immersive scenery that Splash has. What it does have is an amazing facade, several decent drops, and one great drop at the end. In fact, the final drop of Ripsaw Falls can hang with any flume ride and includes a rather interesting surprise, but Ripsaw Falls doesn't quite end there….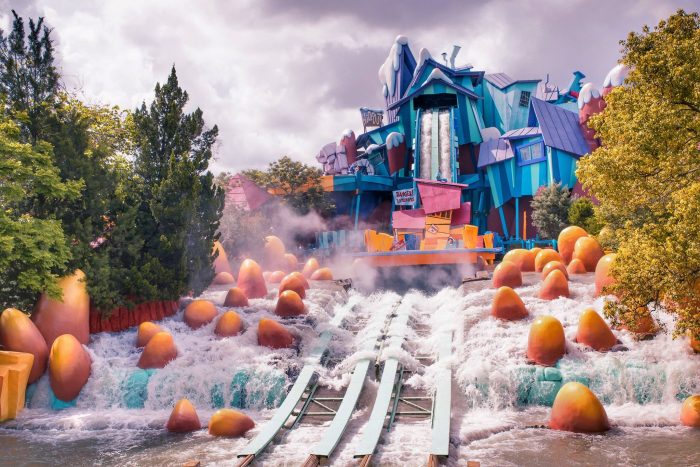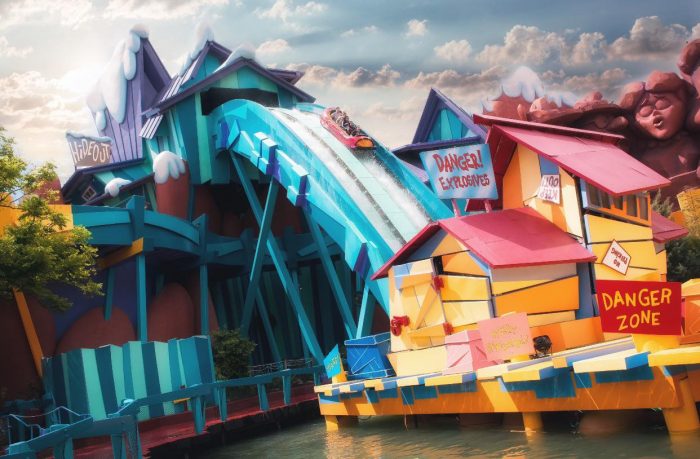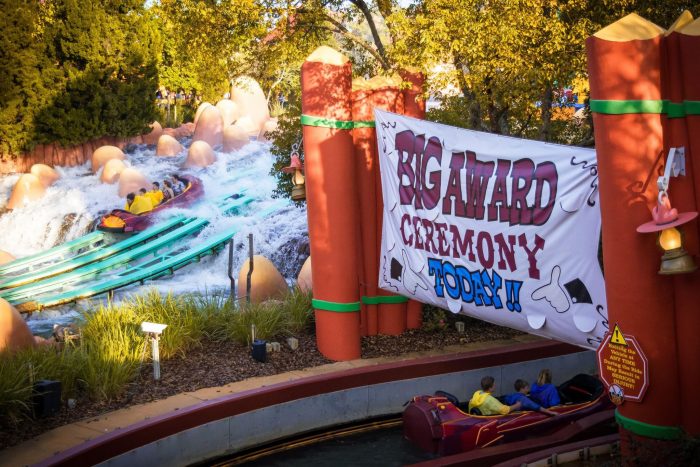 Once guests go down the intense final drop at Ripsaw Falls, most assume that they've been through the worst and the ride is over. NAY NAY, this is where the fun really begins. As the logs circle around back to the unload station, they travel under a bridge. This bridge connects Toon Lagoon to Jurassic Park and is quite large. After purchasing a token, guests on the bridge have an opportunity to trigger one of the dozen water cannons aimed directly at the guests on Ripsaw Falls. It can not be expressed in mere words how fun this is (for the guests on the bridge, at least), and seeing the look of surprise from the unsuspecting riders as they get one final blast of water is almost worth the price of admission to Universal itself.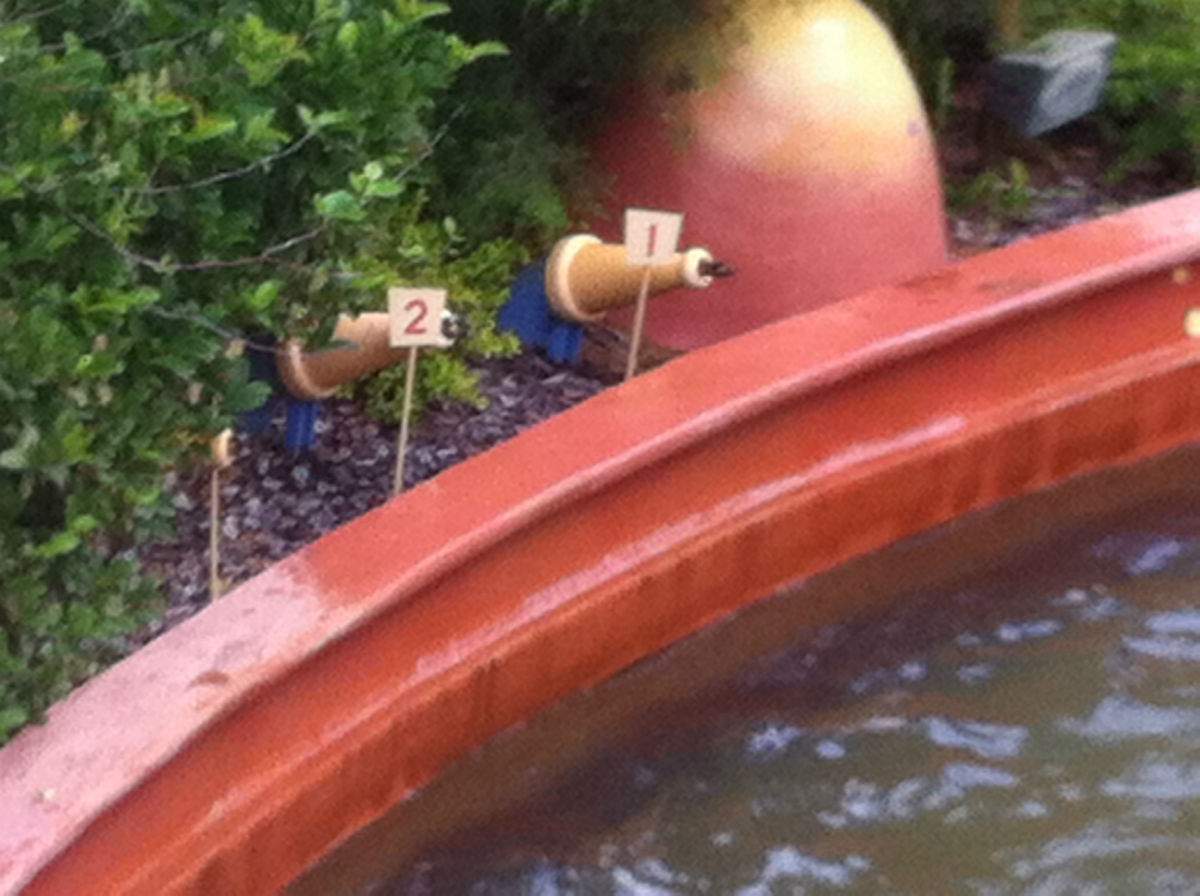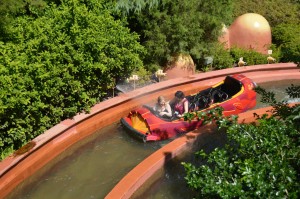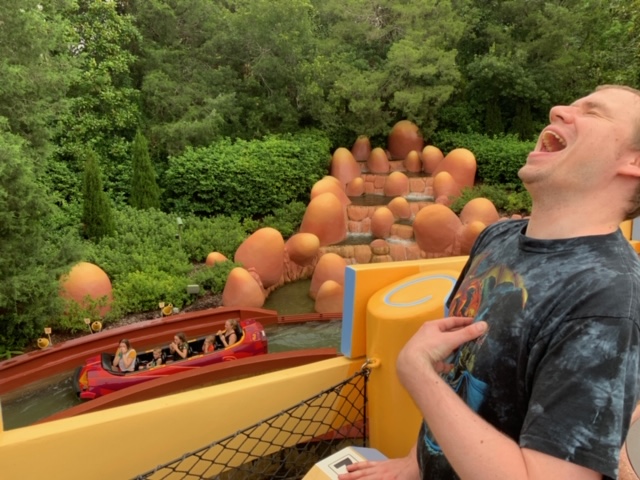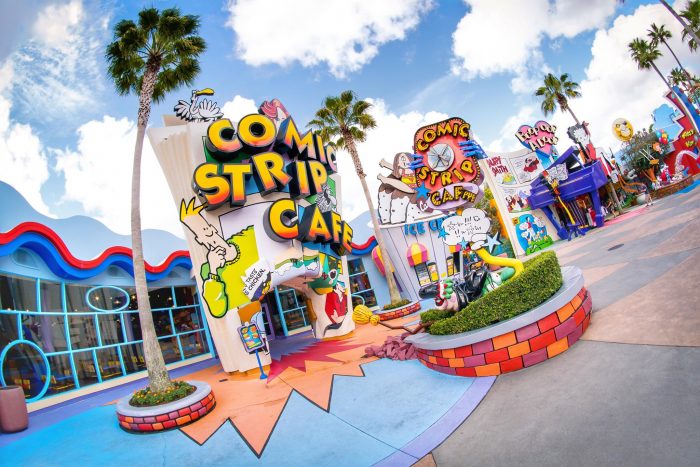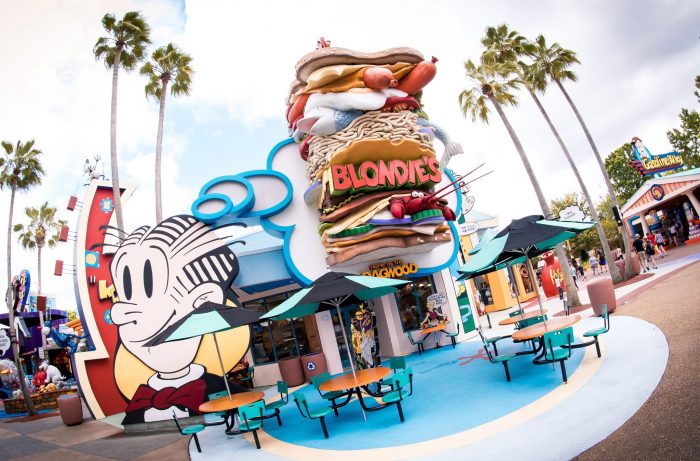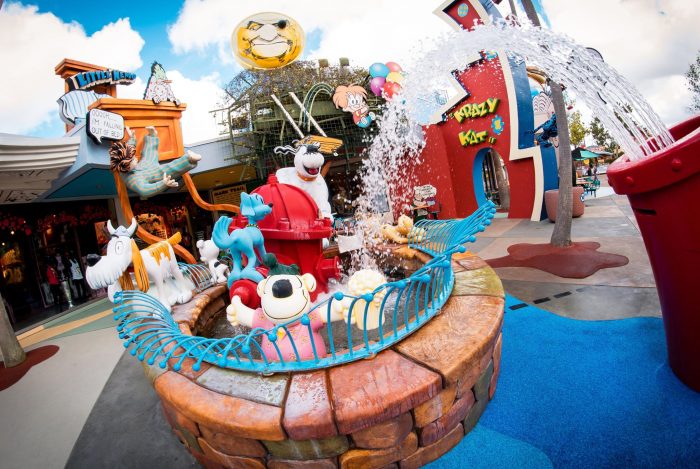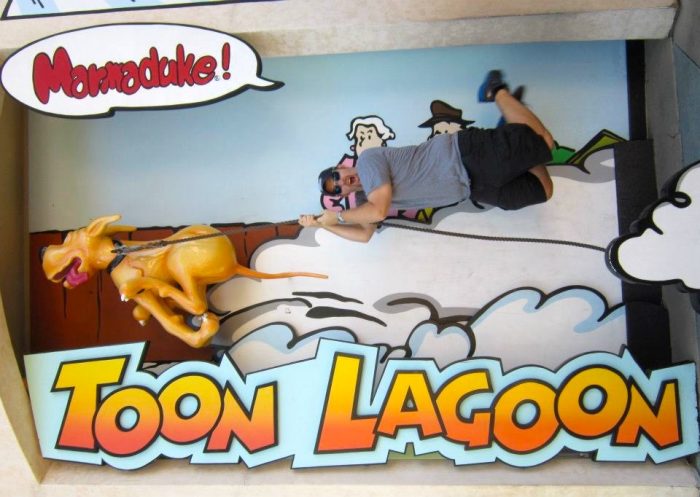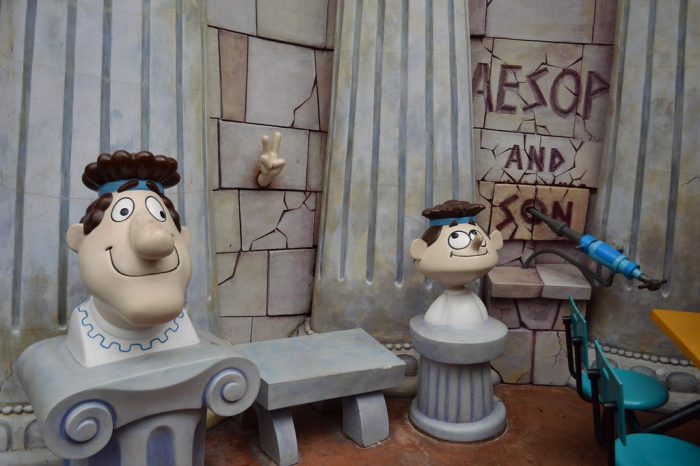 One of my favorite "secrets" of Islands of Adventure is the waterside areas that you can explore. No matter how busy the park is, these areas are almost always completely empty and often have fun surprises to discover, such as Sneetch Beach in Seuss Landing. Toon Lagoon has possibly the largest quiet area of all the lands. With great views of the Wizarding World, Lost Continent, Seuss Landing, and Marvel Superhero Island, this is the perfect area to take a break and relax, while also being able to see some great details.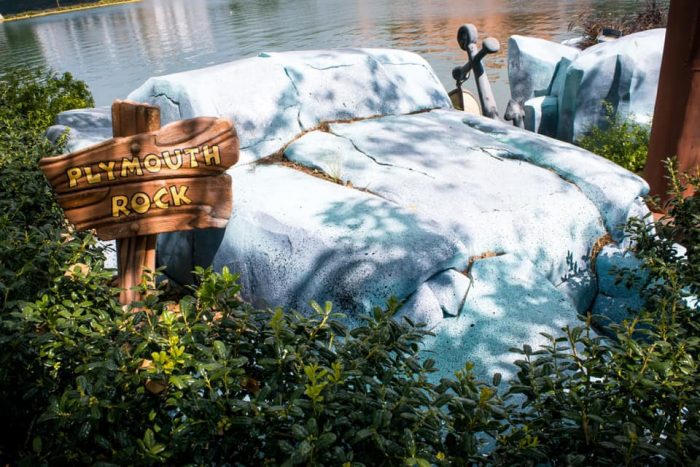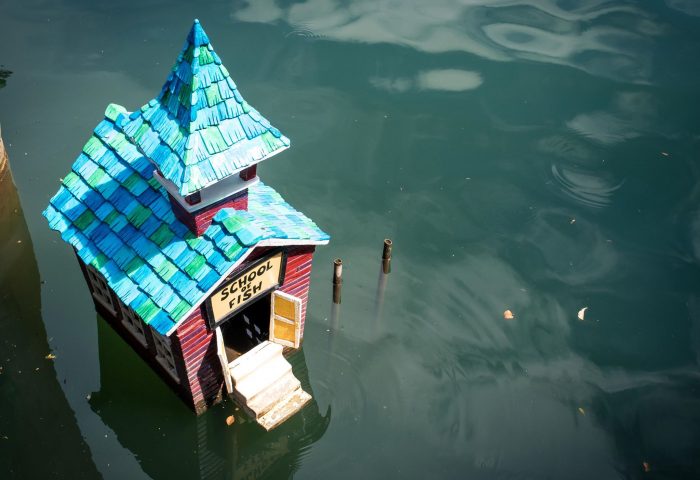 # 2 – Jurassic Park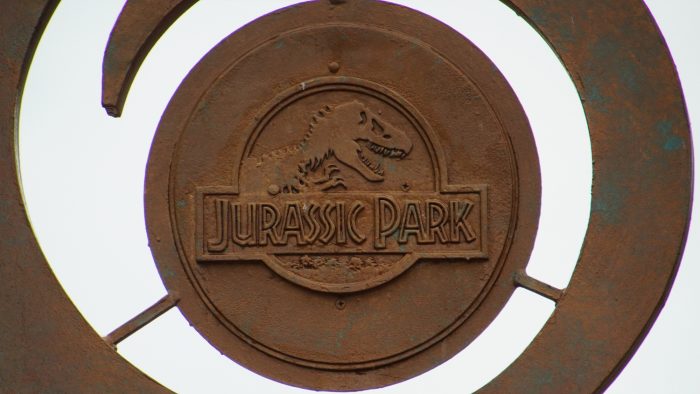 While the Amazing Adventures of Spider-Man has been the critic's darling since the day it opened in 1999, and the Wizarding World of Harry Potter completely changed Orlando tourism when it debuted in 2010, Jurassic Park has always been my favorite "island" in the park. Why? For as much as a phenomenon that Jurassic World was, those of us a certain age can remember when the original Jurassic Park film was released and the seismic effect it had on not just the film world, but pop culture in general.
The tagline for the original Superman film in 1977 was "you will believe a man can fly," and the original Jurassic Park's might as well have been You will believe that dinosaurs have been brought back. The ground breaking CGI and physical effects work were years ahead of their time, to the point where the movie has aged better 25 years after its release than pretty much any special effects laden film made in the last 10 years, let alone 20. The score by John Williams is as iconic and well known as those in Star Wars and Jaws. And lastly, it's about dinosaurs, and everything is better with dinosaurs (at least that's what Tom Bricker keeps trying to tell us).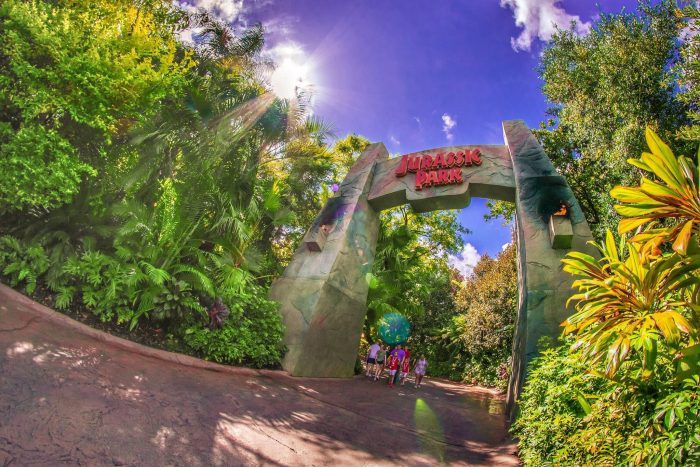 Jurassic Park River Adventure hits a lot of great beats for me and it all starts with the attraction being a boat ride. From the Jungle Cruise and Pirates of the Caribbean at the Magic Kingdom to Living with the Land and Gran Fiesta Tour starring the Three Caballeros in Epcot, if it's a boat ride, it's probably one of my favorite attractions in the park. Our journey on JP River Adventure begins by passing through the iconic Jurassic Park gates and proceeds to give a Jungle Cruise-like leisurely ride while enjoying some larger-than-life dinosaurs. As theme park rides will do, "something goes terribly wrong" and we find ourselves smack dab in the middle of a raptor attack and surprise, you're NOT the alpha. In fact you just may be dinner. It is during the second half of the ride when the tension gets amped up, highlighted by the incredible T-Rex animatronic and a huge drop to cap off the ride. When all the effects are working, Jurassic Park River Adventure is one of the greatest water rides in any theme park.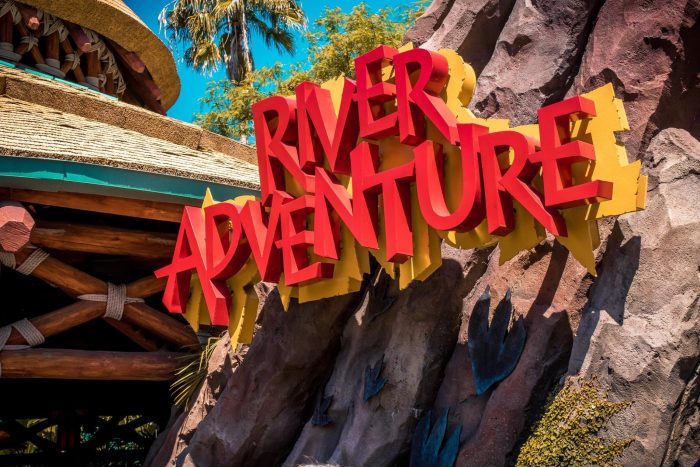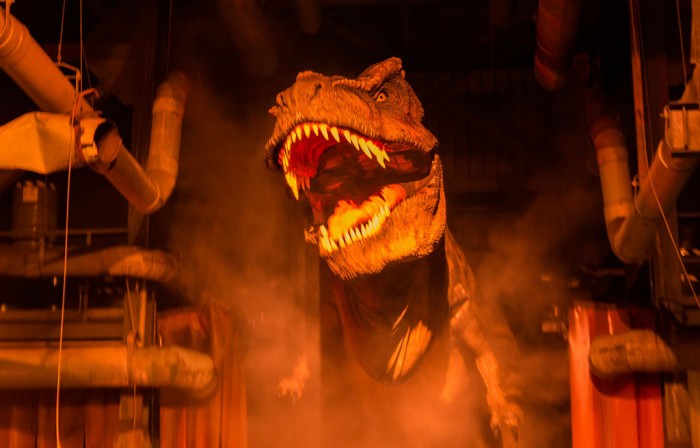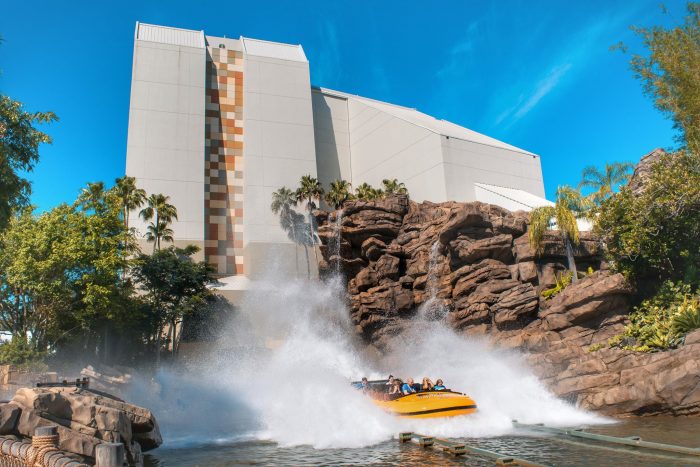 Some readers may remember the time that Walt Disney World tested a walking velociraptor experience at Animal Kingdom. It was something that was impossible for many of us to forget (no matter how hard we tried). So when Universal announced they were opening a Raptor Encounter, to say we were skeptical is an understatement. We should have had more faith in Universal Creative though, especially after they nailed the Transformers meet and greet over in USF. It turns out that the Raptor Encounter is perfect. With raptor puppets designed by Michael Curry (the same genius behind the puppets in Finding Nemo: The Musical and Epcot's legendary Tapestry of Nations parade) and a themed set that hides the human actor, this is a meet and greet that will bring you right back to the days of When Dinosaurs Ruled The Earth. The raptor sound effects and the Team Member "Gamekeeper" are the cherries on top of this awesome theme park sundae.
What I love about the Raptor Encounter is that it is one of the few theme park attractions where not only is your experience fun, but it's great just watching others interact with the raptor while waiting your turn in the queue. Now that Talking Mickey has taken a vow of silence over at Magic Kingdom, the Raptor Encounter has become the best pound for pound meet and greet experience in the theme parks.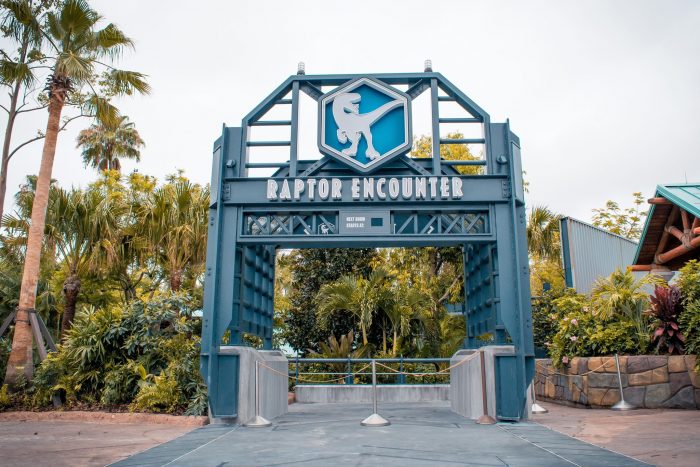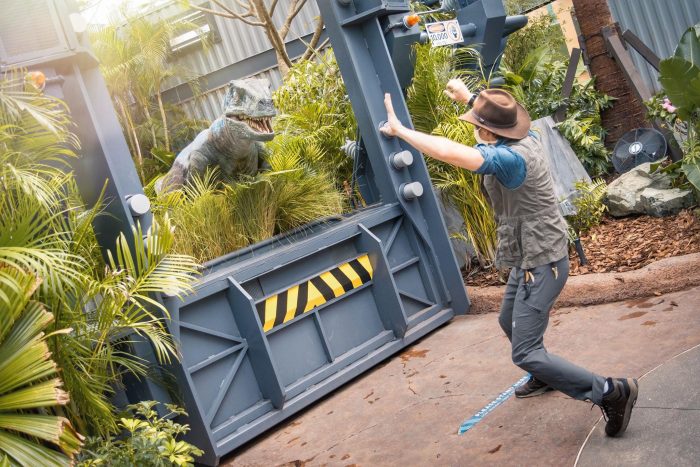 Make sure to have your camera ready when going through Jurassic Park, because there are plenty of great photo-ops. These include meeting the baby raptor Sierra, along with iconic dinosaurs and vehicles from the film series.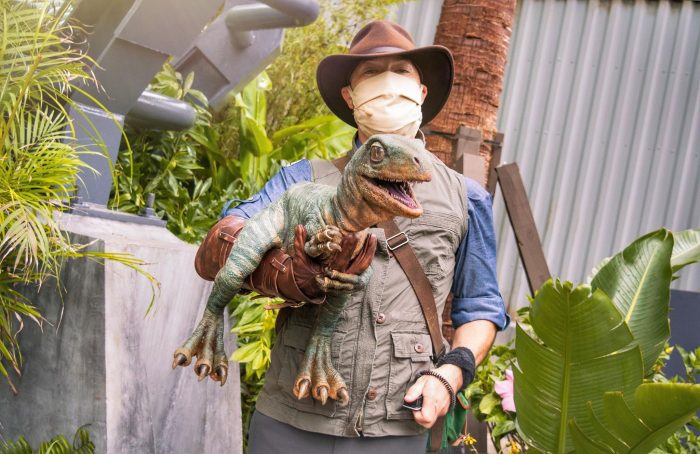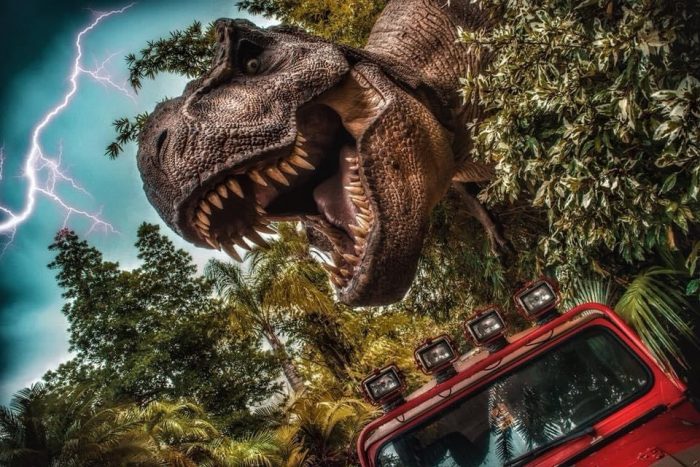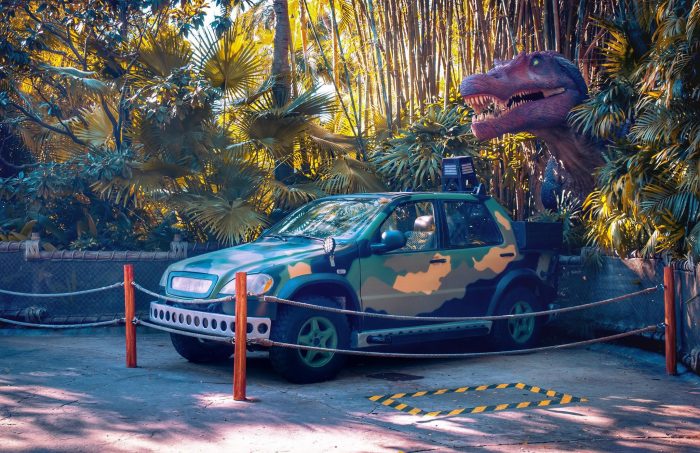 I am going to take some heat for this one, especially from hardcore Universal fans. But that's okay, and I'm ready to die on this hill. Pteranodon Flyers makes the "worst" list for many guests, mostly because of its horrendous loading time. I'm not here to defend that, but I think that it is awesome that a theme park has an attraction which caters directly to small guests, especially at Islands of Adventure. One of the knocks against Universal, and one they have made great strides in overcoming, is a perception that the parks are not kid friendly.  At IOA, there is one ride after another that they are told "No" to, but not only is Pteranodon Flyers a "Yes," it is the one ride at either park where you have to be with a small child to ride. I think it is fantastic that there is an opportunity to make these smaller riders feel special, that they can go on a cool ride that their older brothers and sisters can't, because it's almost always the opposite. Pteranodon Flyers is also cool, having that Magic Kingdom Skyway-feel that many of us miss. Thankfully the attraction has gone to a "virtual queue" experience, which is a huge positive, and the queue itself is gorgeous to walk through.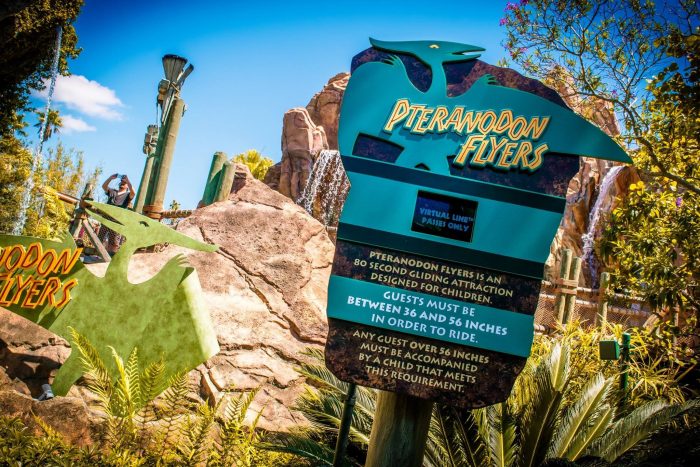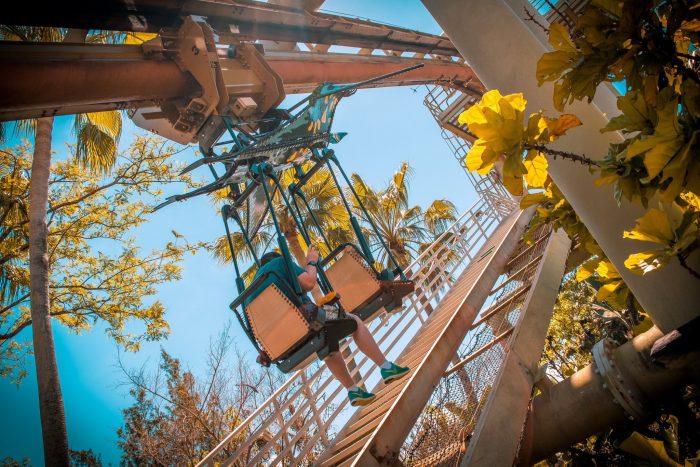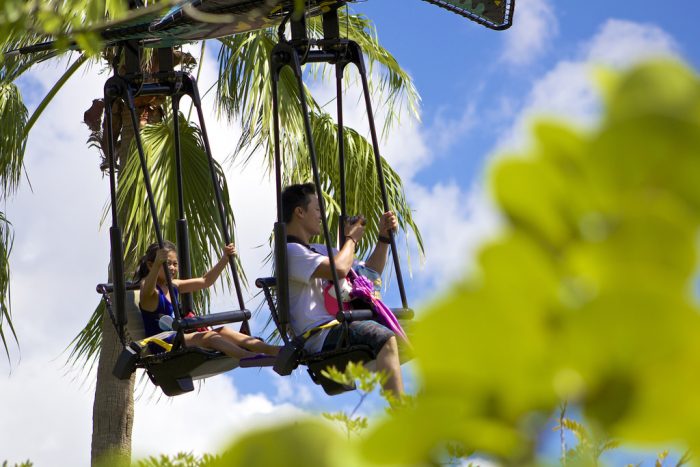 One of the most underrated quick service locations in all of Universal is Thunder Falls Terrace. It has large indoor and outdoor seating areas that face the big drop of Jurassic Park River Adventure, so you can see (and the hear the screams of) guests as they plunge down into the water. This is even more fun to watch when guests walk by this area not realizing they are about to be in the Splash Zone and get soaked. It also has a menu that contains many of the items found at the Three Broomsticks, so your family can enjoy items such as charbroiled ribs, rotisserie chicken, and corn on the cob instead of the normal theme park burgers, chicken strips, and pizza. It is also one of the only counter service locations where you can get a mixed green salad made in front of your eyes.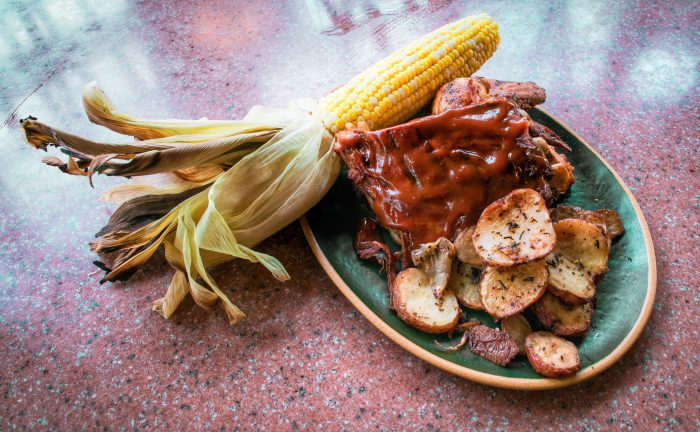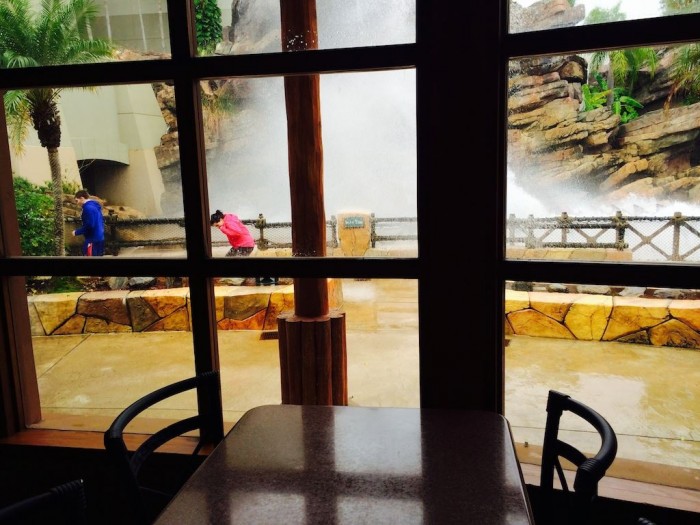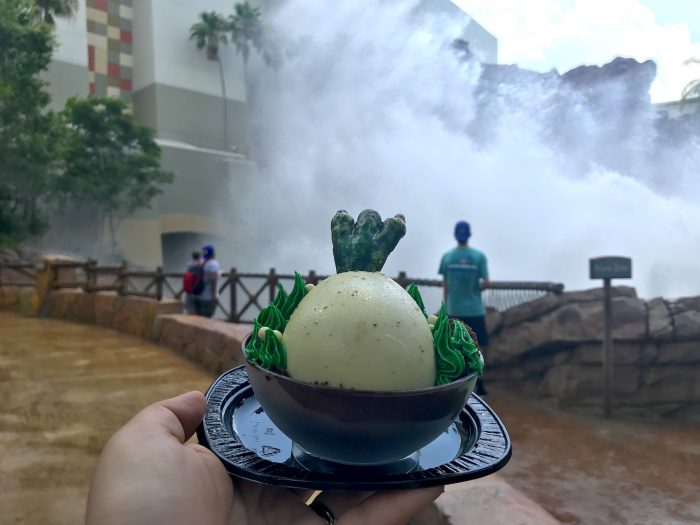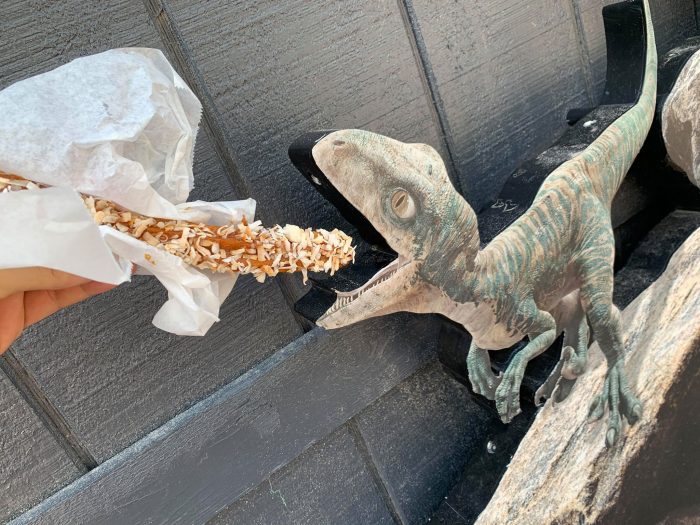 # 1 – Wizarding World of Harry Potter – Hogsmeade Village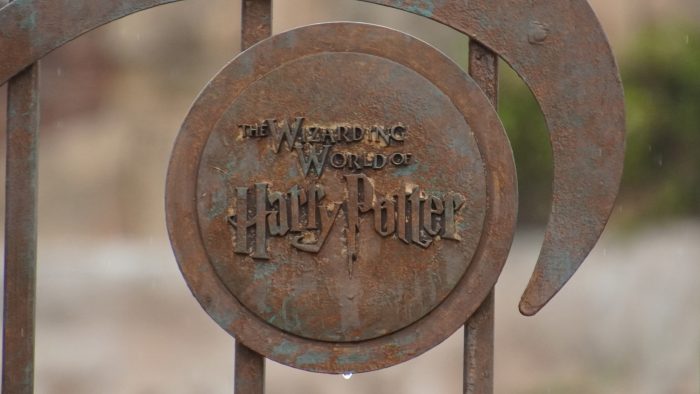 The game changer of all game changers.
When Universal opened Islands of Adventure back in 1999, it was intended to be the jump start of a "theme park war" of sorts between themselves and Walt Disney World. Instead of just one theme park, the Universal Orlando Resort was created with a second park (Islands of Adventure), a shopping and dining district (CityWalk), and several on-site hotels. However, thanks to one of the all-time worst marketing campaigns – along with ownership that may not have been up to the task – Universal didn't get the slice of the "theme park pie" that they wanted.
It took another decade, and the backing of new owners Comcast, to finally deliver on the promise. This very week we are celebrating the 10 year anniversary of The Wizarding World of Harry Potter – Hogsmeade Village, a land that not only completely changed the course of the Universal Orlando Resort, it rocked the entire theme park world. Disney would see its market share in Florida dip below 70% for the first time ever, and SeaWorld has yet to recover from the effect of The Boy Who Lived. At the time, the success was seen as a "fad," but it turns out that Hosgmeade Village was instead a blueprint for what both Universal and Disney would use going forward to spectacular success in lands such as Diagon Alley, Pandora: The World of Avatar, and Star Wars: Galaxy's Edge.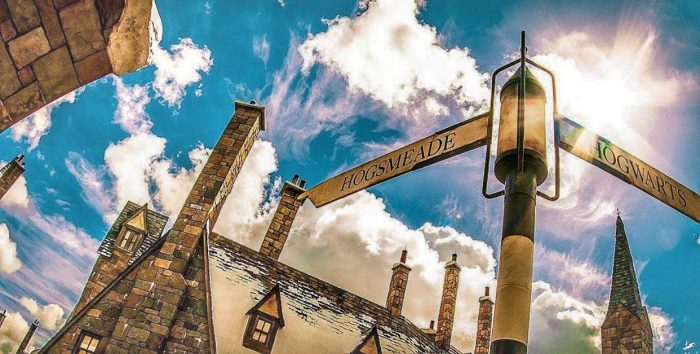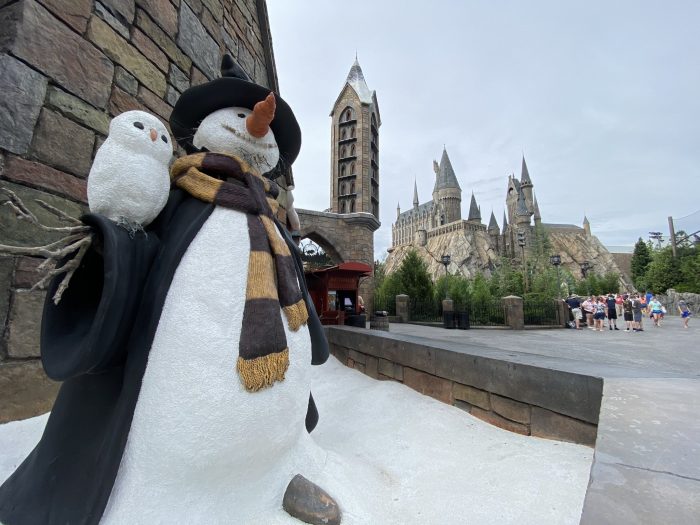 Until Hogsmeade Village, gift shops were a necessary evil in the theme park world. None of us really wanted them, but we all knew that it was the money generated from the stores which allowed us to ride the attractions. Hogsmeade Village "flipped the script," and made gift shops themselves an attraction. With ultra-themed stores and area-specific merchandise, the land was maybe the first in theme park history which needed to have queues for guests waiting to get in.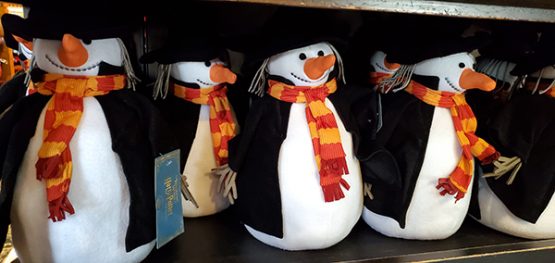 Not only were there fantastic new pieces of merchandise based around the land itself, the stores will filled with items straight out of the Harry Potter universe. Like Harry himself, we Muggles were slowly introduced to a whole new world of wizardry in The Sorcerer's Stone. One of the first bits of true wonder came during Harry's trip aboard the Hogwarts Express as he was introduced to a Chocolate Frog. Universal took this memorable moment of the film and recreated it for the parks, but then went even farther. The Potter film explains that each Chocolate Frog comes with a Wizard Card, and so does each one sold in Hogsmeade. The Frog boxes at the parks originally came with cards randomly containing one of the four founders of Hogwarts (Godric Gryffindor, Salazar Slytherin, Rowena Ravenclaw, and Helga Hufflepuff). In years since, several other members of the Wizarding World have had cards added to the mix including Albus Dumbledore, Gilderoy Lockhart, Bertie Bott, Hengist of Woodcroft (the founder of Hogsmeade village), and even Merlin.  While the chocolate frog, itself, isn't going to make Messrs. Hershey, Lindt, or Cadbury lose sleep any time soon, the overall quality of the entire package is among the best on property and a perfect gift to buy for the Potter fan back at home.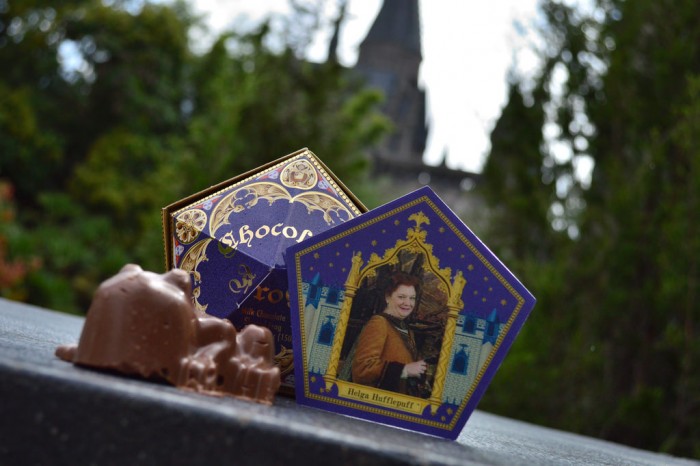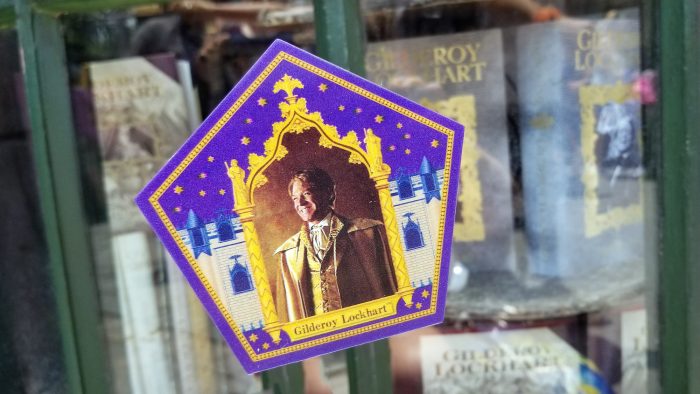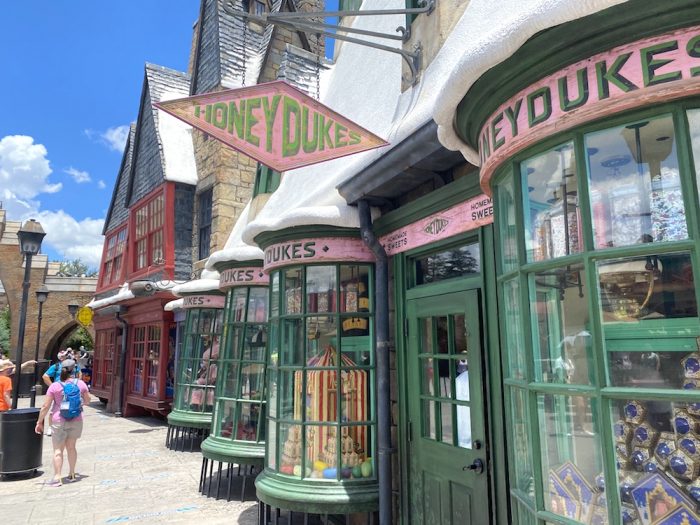 The packaging of the items throughout the land was straight out of the movies.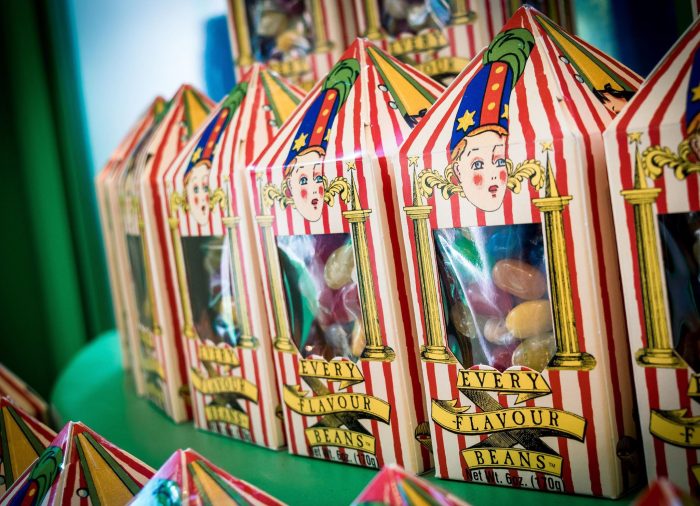 The latest attraction in the Wizarding World has immediately become of one of the most popular in all of Florida. Hagrid's Magical Creatures Motorbike Adventure is a family-friendly thrill ride coaster that also includes classic dark ride elements such as show scenes and animatronics.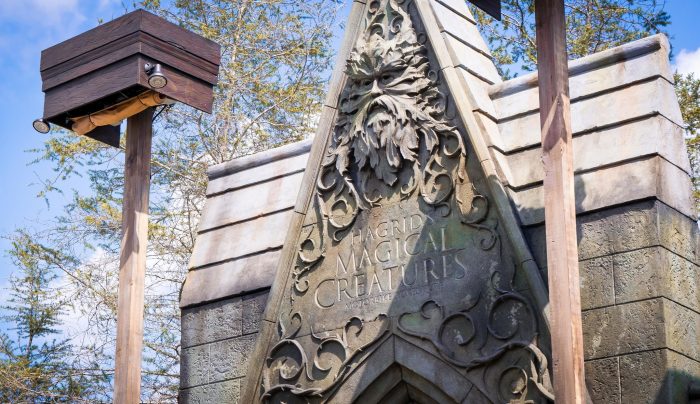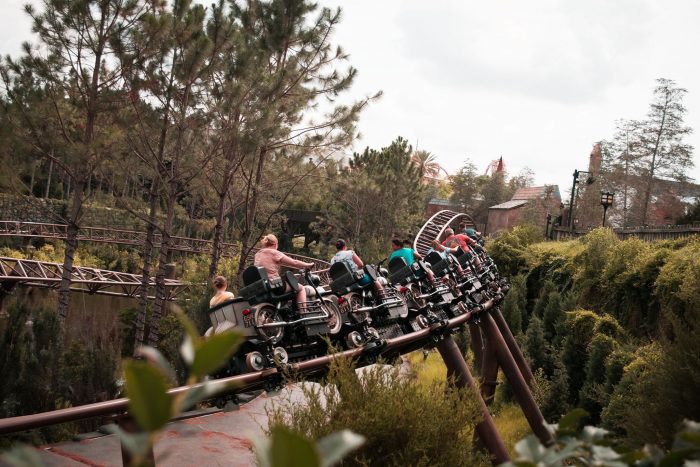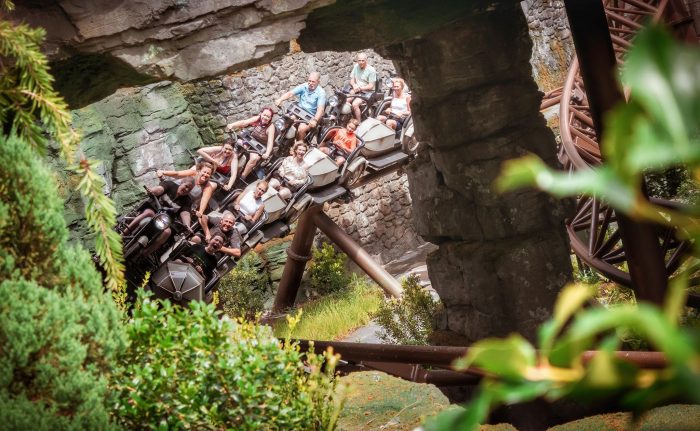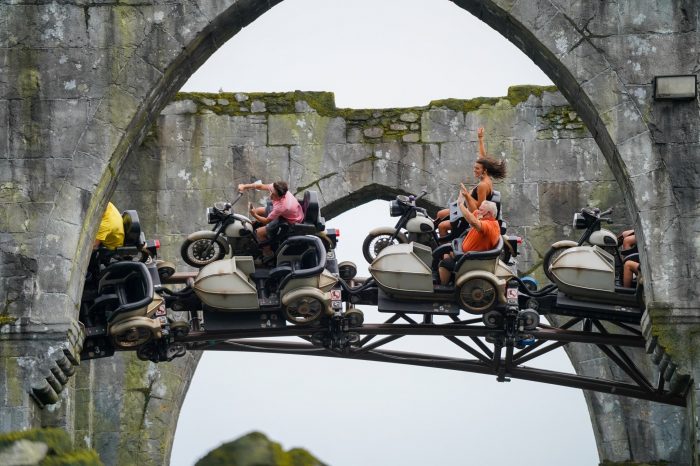 There are two outdoor shows in Hogsmeade Village.  One is based around characters introduced in Harry Potter and the Goblet of Fire, as students from Beauxbatons Academy of Magic and the Durmstrang Institute take part in the Tri-Wizard Spirit Rally.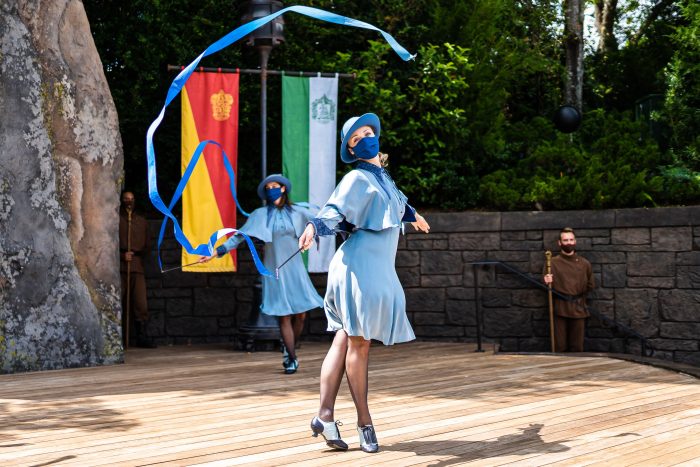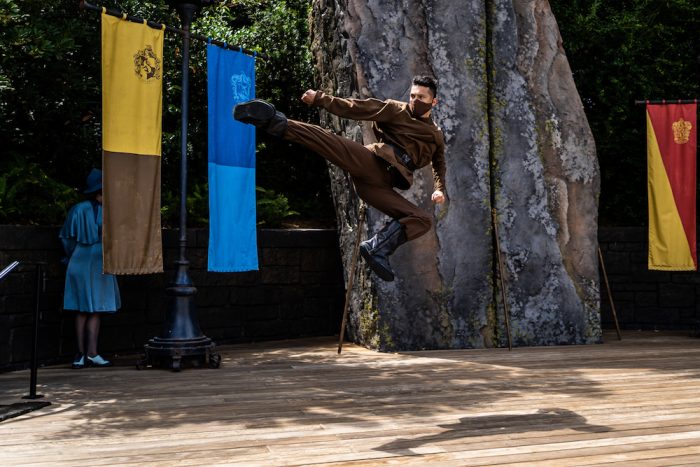 The Frog Choir is composed of four singers, two of whom are holding large amphibian puppets sitting on pillows. Inspired by a brief scene in Harry Potter and the Prisoner of Azkaban, the group sings three or four a cappella wizarding-related songs, including "Hedwig's Theme" and "Something Wicked This Way Comes."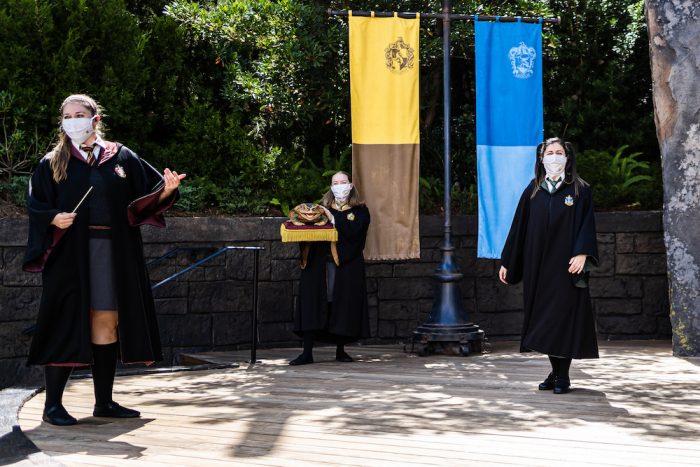 Wands play an important part in the Wizarding World, even moreso now that the land has many interactive "spells" that guests can do with their own wand.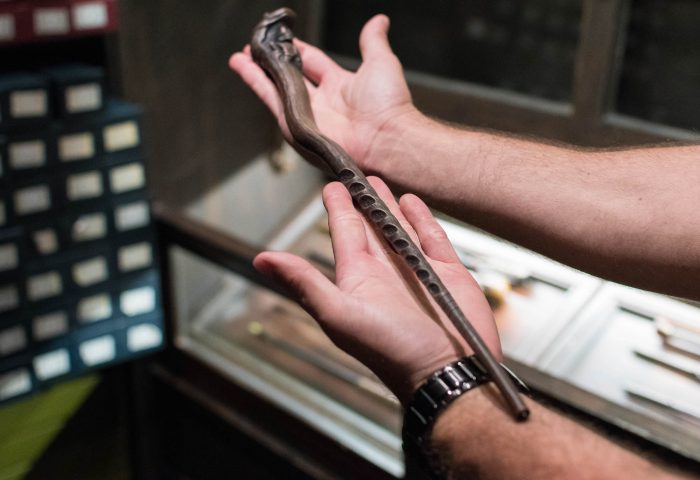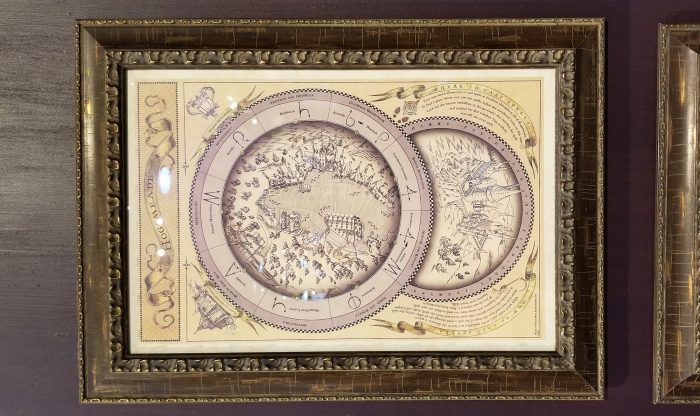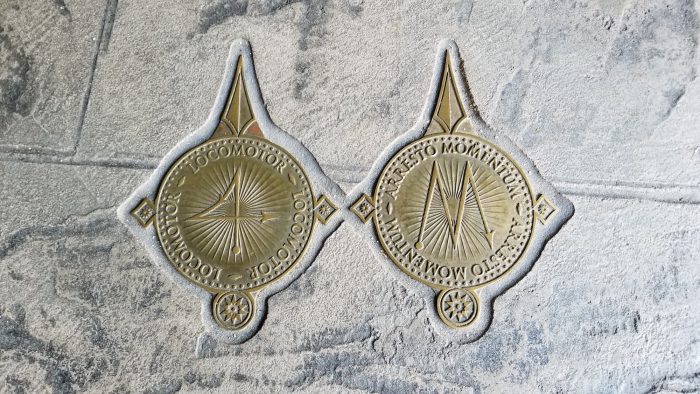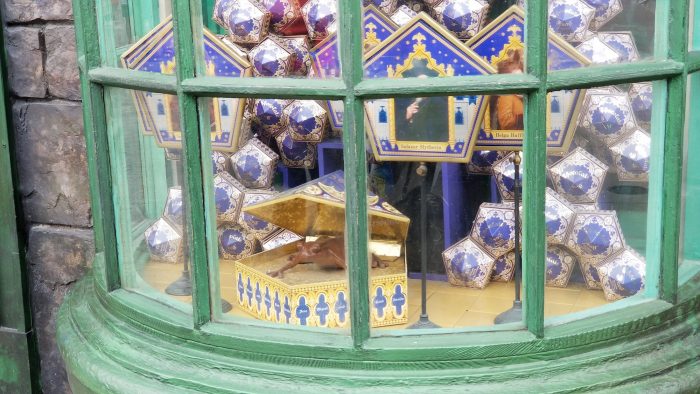 There are many types of wands to get in the Wizarding World, including several made famous by various characters in the Harry Potter film series, but the best wand to get is the one that chooses you. The wand experience at Ollivander's is must-do attraction that is fun to watch, but even more special if you happen to be chosen by the wand keeper. At the end of each show, a wand chooses its Muggle owner with the addition of special effects in a very memorable moment. Afterwards, every guest at the show is invited into the Ollivander's wand shop to purchase their own wand, and I would say that at 90% of the shows I've been to, the person who was chosen in the show bought their wand. In many cases, they wouldn't let the wand out of their sight. There is a real connection made between guest and merchandise that is almost palpable.
What do you get when you add cutting edge media, life like animatronics, a breakthrough ride system, pinpoint accurate robotics, and the boy who lived? You get one of the best rides on the planet. Harry Potter and the Forbidden Journey changed the way we look at rides and how we experience them. Everything within this attraction is nothing short of amazing. The grand facade, the elaborate queue, and – heck – even the Sorting Hat safety spiel perfectly demonstrate the level of detail and technology you'll find on this amazing adventure. Forbidden Journey is the complete experience and a must-ride attraction for anyone visiting central Florida.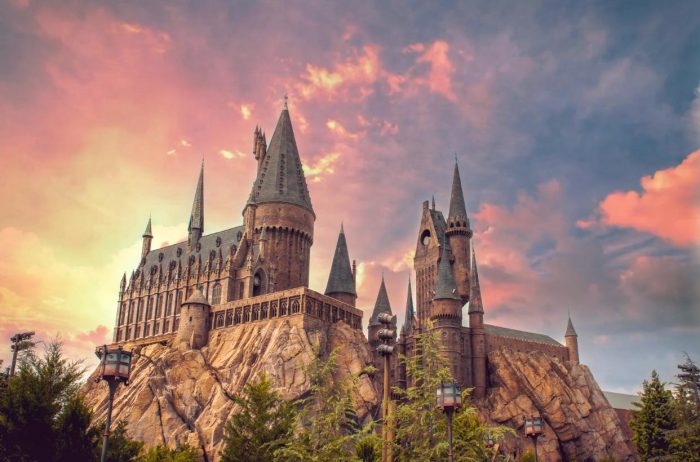 With Forbidden Journey, Universal Creative also accomplished the impossible: they built a queue that guests wanted to spend more time in. Being able to walk through Hogwarts Castle is a lifelong dream for many Potter fans, but it can be just a cool experience for someone who has never seen the films. The idea of "living portraits" was neat to read about in the Potter books, cool to see on the big screen, but becomes something else to behold when you see paintings having discussions with each other while in line. Like the Potter books, Forbidden Journey's queue is filled with details that will reward guests who return again and again. For the movie fans, the queue has two scenes using Universal's Musion technology. One featuring Dumbledore, and the other with Harry, Ron, and Hermione. The Hogwarts Castle facade sets expectations high, but the queue itself somehow over-delivers to the point where many guests let others pass them so that they can fully appreciate the environment around them.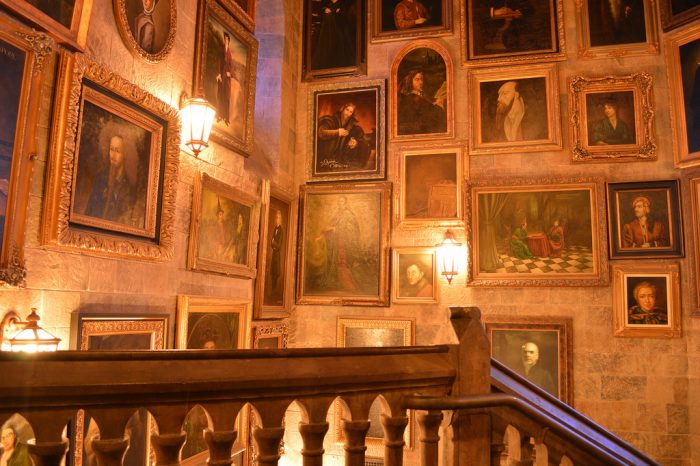 It's hard to pick what is the most mind-blowing aspect of the Wizarding World. We've seen them have stores so popular that guests waited to queue for just to experience. We've seen them have a stand-by queue so extraordinary that guests want to spend more time in it. But with the Hogwarts Express, Universal may have outdone themselves, as we now have an attraction that takes guests from one theme park to a completely different theme park, all while staying in story.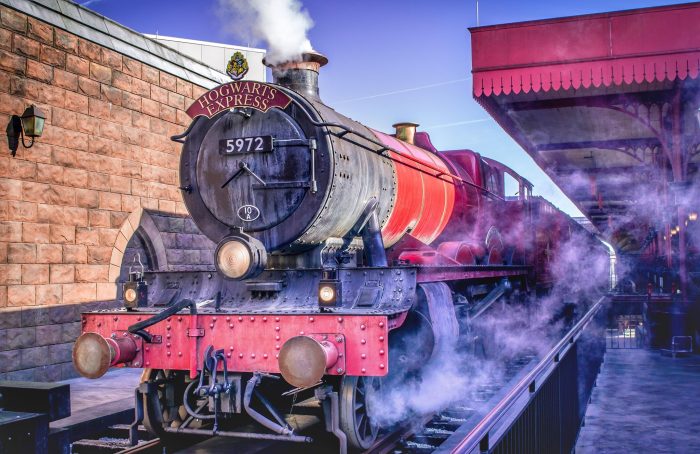 So there you have it: Six Reasons We Love Universal's ISLANDS OF ADVENTURE! See you next weekend for the latest installment of the SATURDAY SIX, where we'll look at something fun from the world of Disney and Universal. If you enjoyed yourself, be sure to check out The Magic, The Memories, and Merch! articles covering the latest from the Disney Outlet Stores. You can also follow Your Humble Author on Twitter (@derekburgan).
If you enjoyed this article, you will surely like the following: 
Six Reasons We Love UNIVERSAL STUDIOS FLORIDA
The SATURDAY SIX Looks at the DO'S and DON'TS of the New Coronavirus Procedures at the Theme Parks
SATURDAY SIX Presents: The Disney Signage Hall of Shame
Special Thanks to The Elite Brandon Glover, the bio-est of all reconstructs @bioreconstruct, Captain Cruiseline Scott Sanders of the world famous Disney Cruise Line Blog, my personal protege Hunter "Elvey" Underwood, the SAT SIX Fun Squad of Parkscope Joe and "the Dadalorian" Nick, hot shot Michael Carelli, charter member of the Universal Four @Nitro230, and Hermione Granger's tutor Megan Stump for their invaluable assistance with this article. The SAT SIX is inspired each week by goofballs Aengus Mackenzie and LitemAndHyde and you Potterheads will  enjoy Meg's other blog work over at the Central Florida Slug Club.